Contestants 2019
SWEDISH SELECTION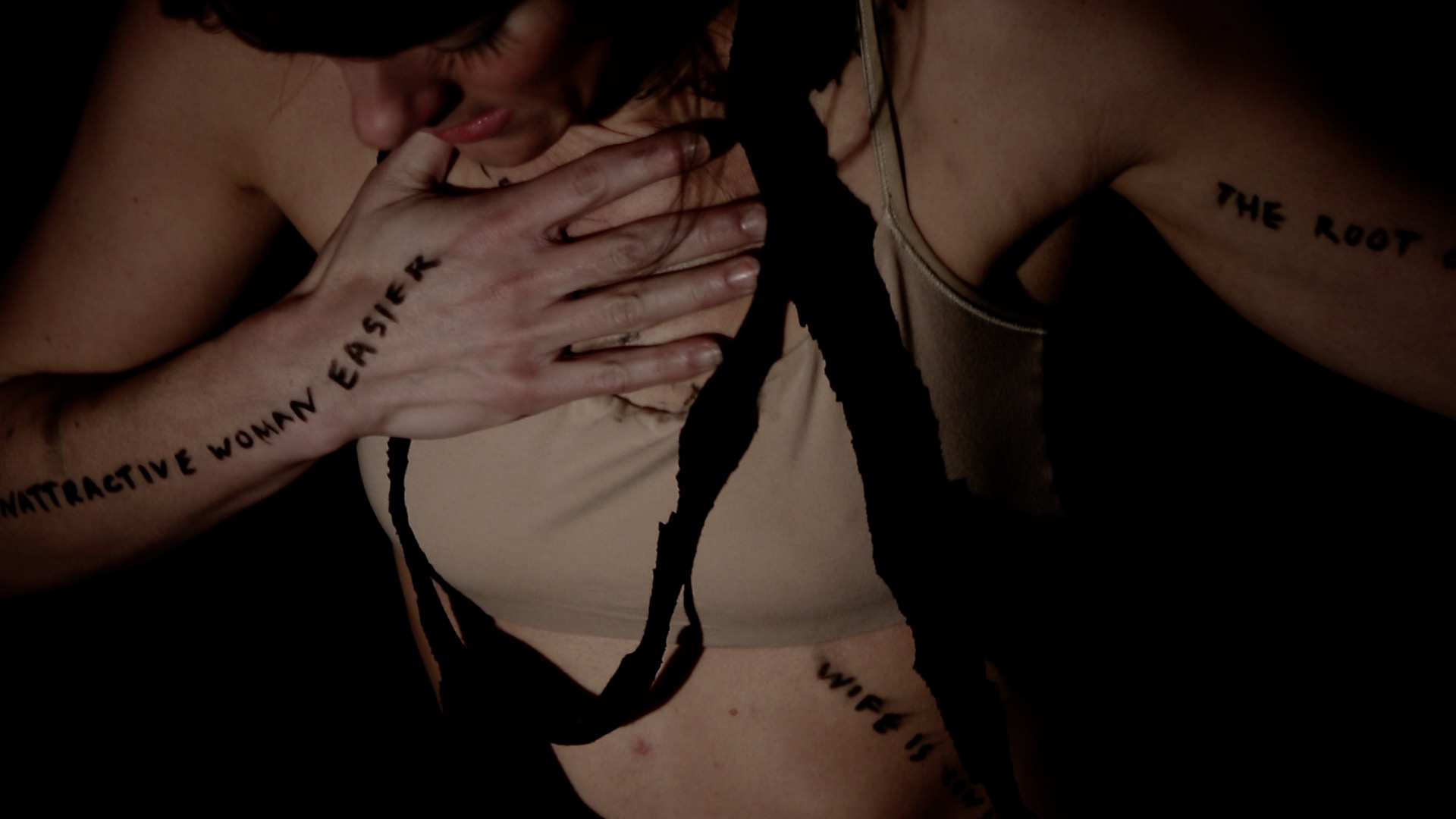 FUTURE BECOMES PAST
Is a solo about becoming, transforming from a contained being into a liberated self. Historically the female body has been identified, marked, subjugated, and oppressed which is represented by the writing on the dancer's body in the film. By wiping away the words, experiencing the physical and emotional labor of undoing this inscription, and interrogating the weight of words and the gravity of history, the dancer is freed. She liberates herself from the confines of her environment towards a brave new world. This is the first film in a trilogy of Feminist dance films which all have accompanying live performance works.
Generous support for the world premiere of Future Becomes Past comes from the Swedish Arts Council/Konstnärsnämnden. The film was created in part through a 2018 DANCE NOW Silo Residency.
Director & Choreographer:  Janessa Clark / Performer: Courtney Drasner / Cinematographer: Kathleen Kelley / Music: Ben Lukas Boysen & Sebastian Plano
USA / Sweden – 8´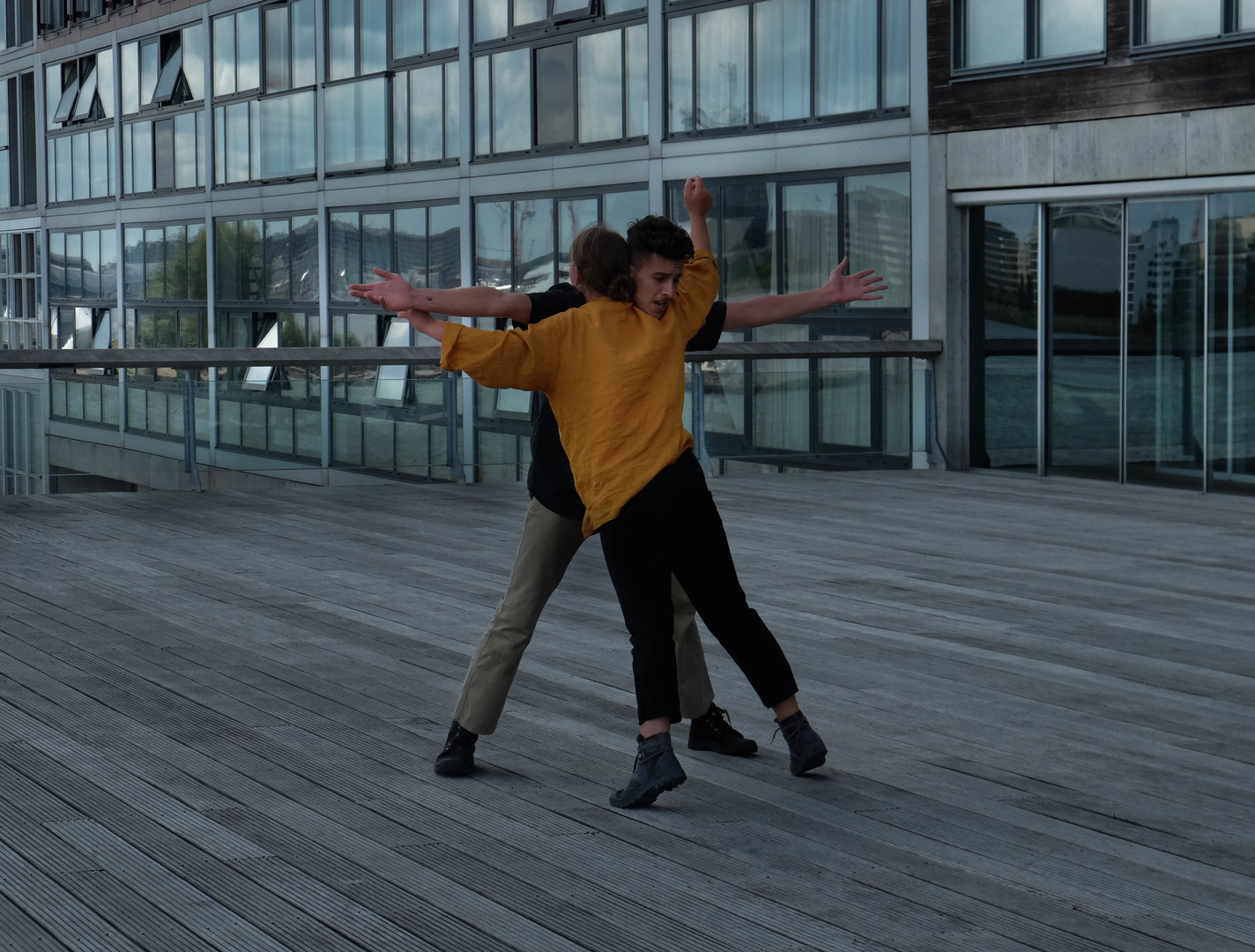 TRACES
A man and a woman together alone in a relationship that seems to drain them both. Is this the end or the beginning of the end?
The film Traces takes its inspiration from Jason Mabana's dance piece 'Last Line' which he created for the JMD/Urban Contemporary Department of the Amsterdam School of the Arts in 2018. Director Nicola Hepp felt a deep connection to his work and juxtaposed the movement material with ideas of representing a failing relationship. The underlying sense of time, rush and fragility informs the viewer of a sadness inherent to the duet.
Director: Nicola Hepp.
Netherlands / Sweden – 3´33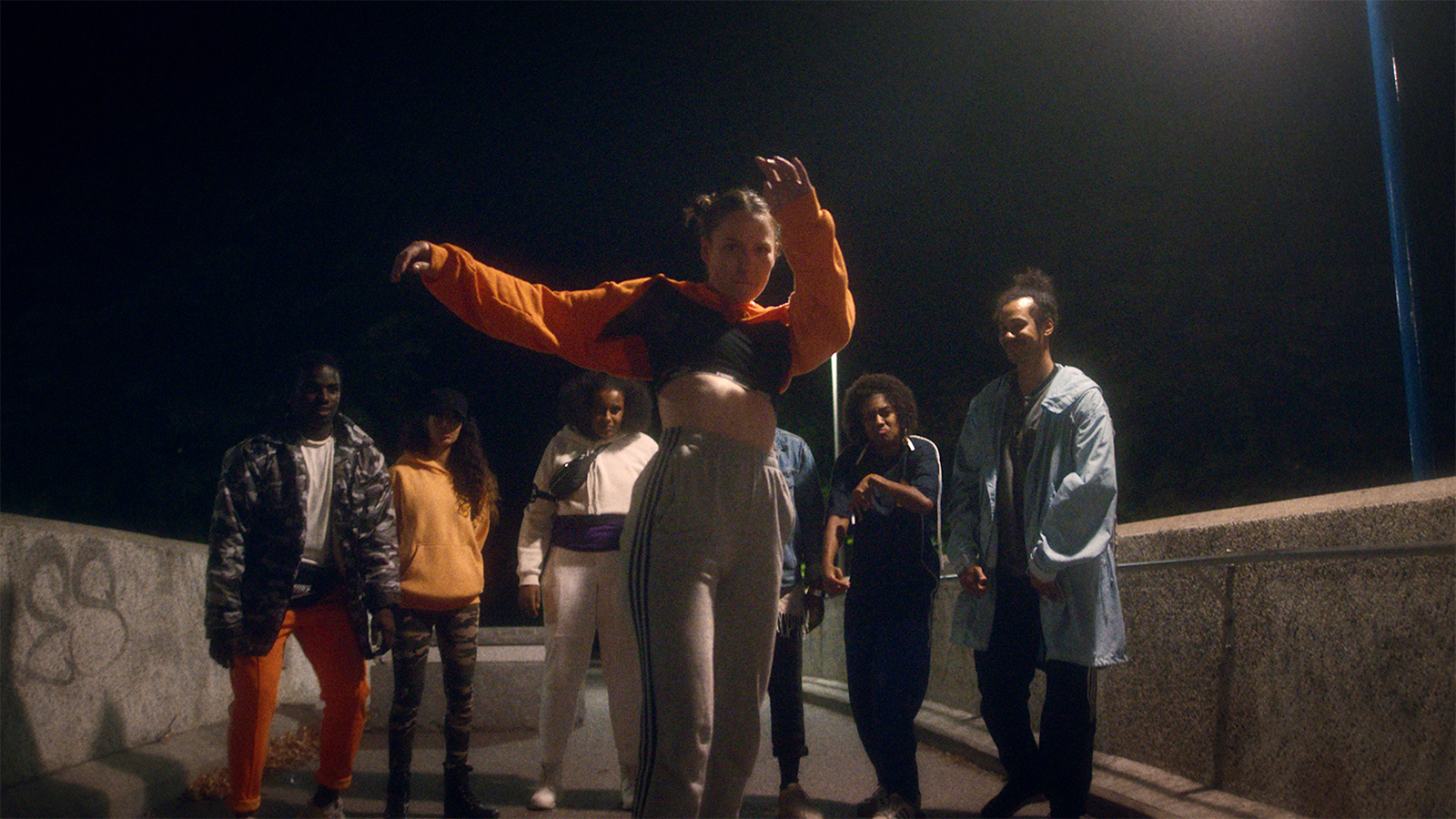 NORRSKEN
We follow a group of youths in the outskirts of the metropolis as they dance through the night.
Director: Sebastian von Wachenfeldt / Producer: Linda Skjevik
Sweden 2018 – 6´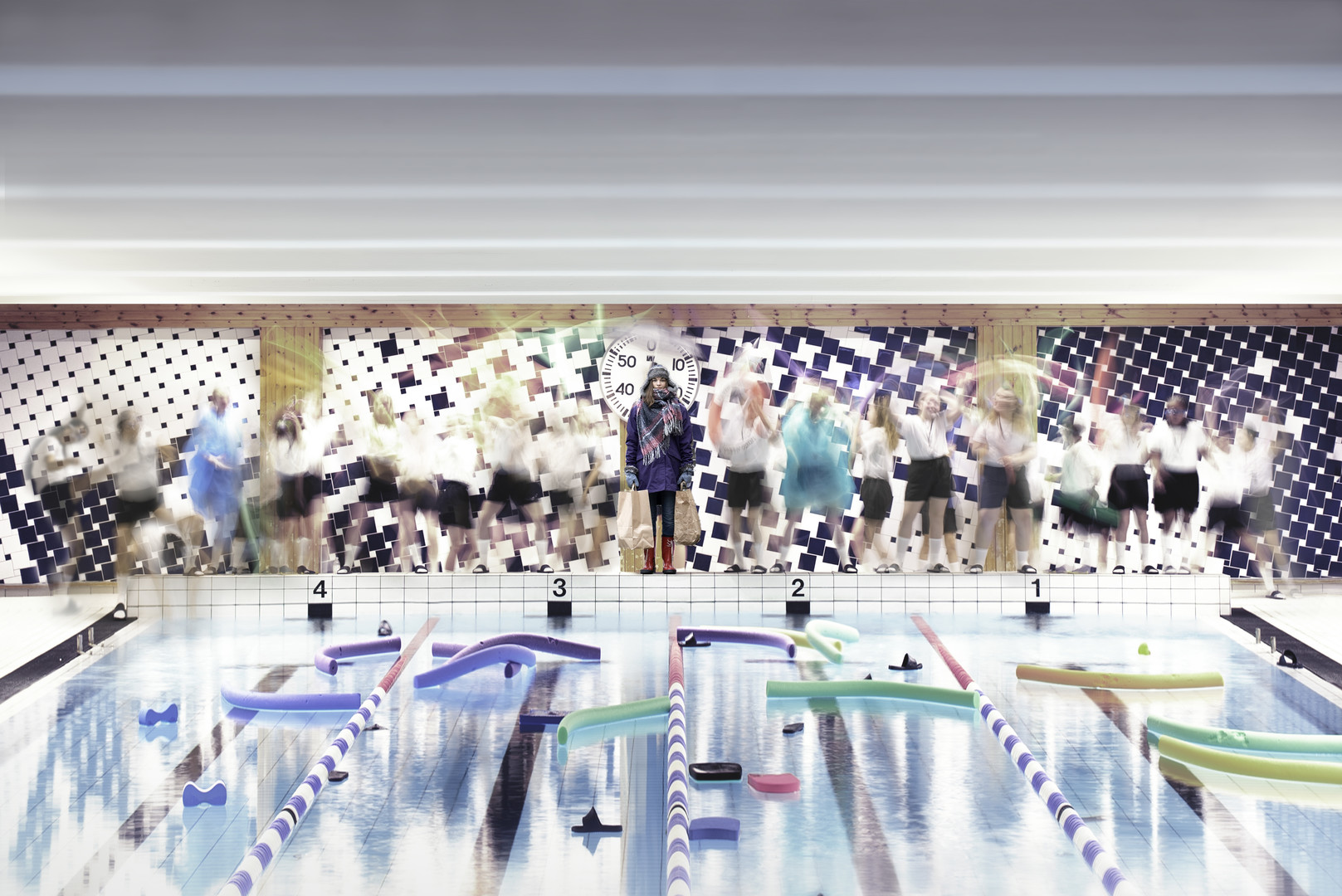 TILES
If I were a colour I'd be transparent. I am many different personalities. When I am all alone I can care for them. – Sophia
Director: Jelnek & Jennifer Drotz Ruhn / Producers & Choreographers: Jelnek Dance Company/ Sound design Stuart Docherty
Sweden 2019 – 7´50
TO MISS BODIES
15 years since the tsunami in South-East Asia, the water still carries memories. A film about anxiety, longing, sorrow and what the body remembers.
Director Freja Andersson / Performers: Andrea Hackl & Lina Winberg 2019
Finland / Sweden – 8´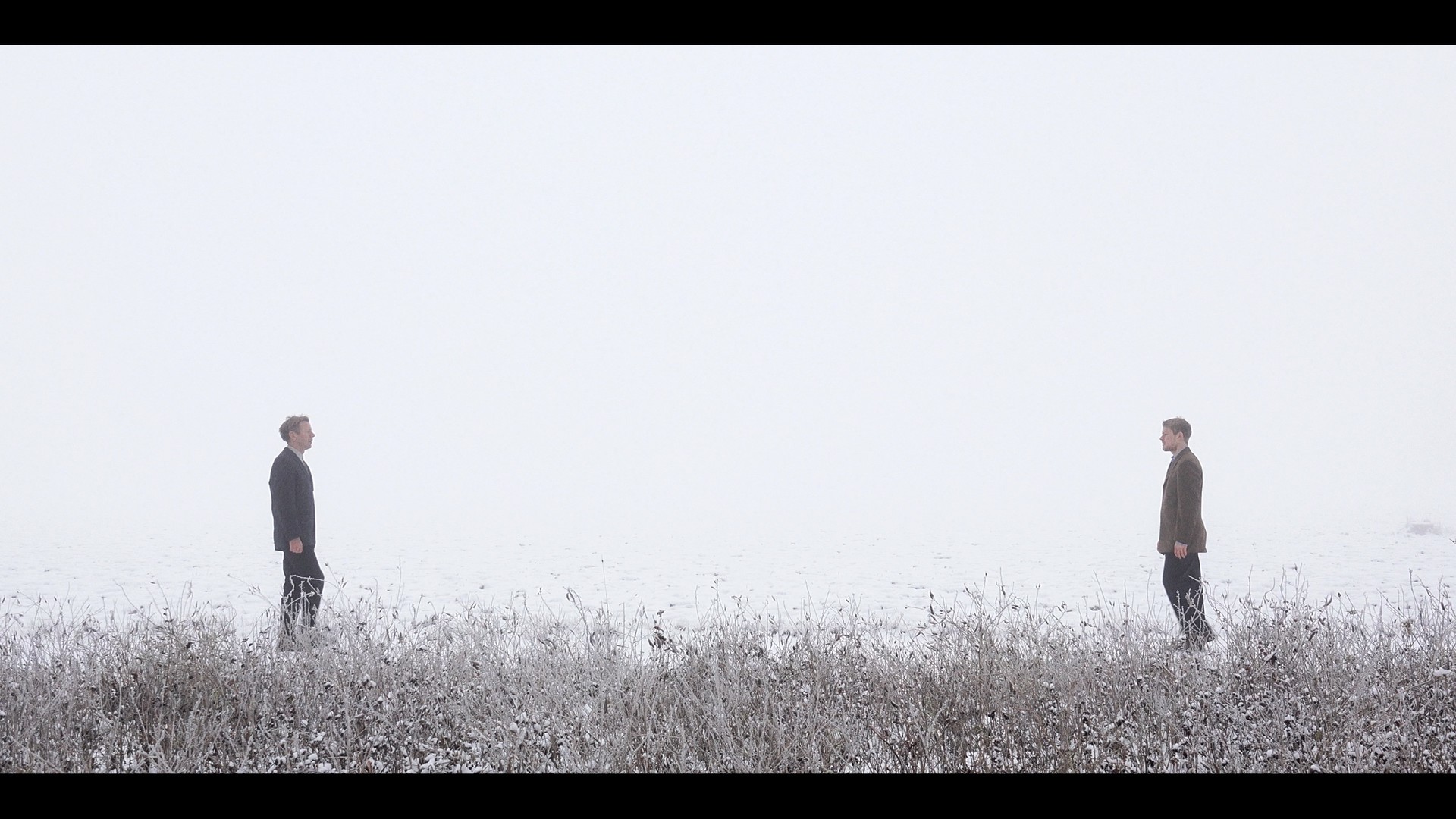 STRANGE BIRDS
There are lots of things that we cannot explain- and yet they happen… Strange Birds is a danced roadmovie with two lonely men that happen to meet in a frosty landscape.
How did they end up there and do they dare to meet within a tango?  About things that happen without any reason but grows to something greater.
Director: Helena Franzén & Håkan Jelk / Performers: Ossi Niskala & Ville Oinonen
Sweden 2018 – 6´23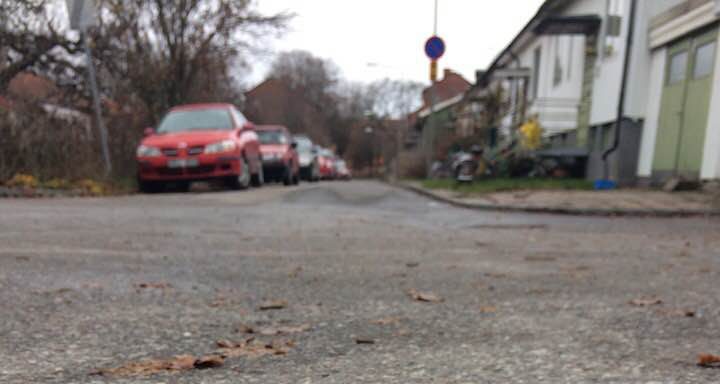 THE SERENADE OF THE STREET
A community dance based on a true story when neighbours got together and won against the municipal. Power!
Director Teresia Vigil Lundahl
Sweden 2019 – 4´30
(Bild)
HAEX
The modern society is in a total turmoil. A few people seem to have obtained mysterious HAEX powers coming from abstract movements. We witness a lethal struggle between three of them fighting for answers…
Director: R. Tumpum Peters
Sweden 2018 – 11´4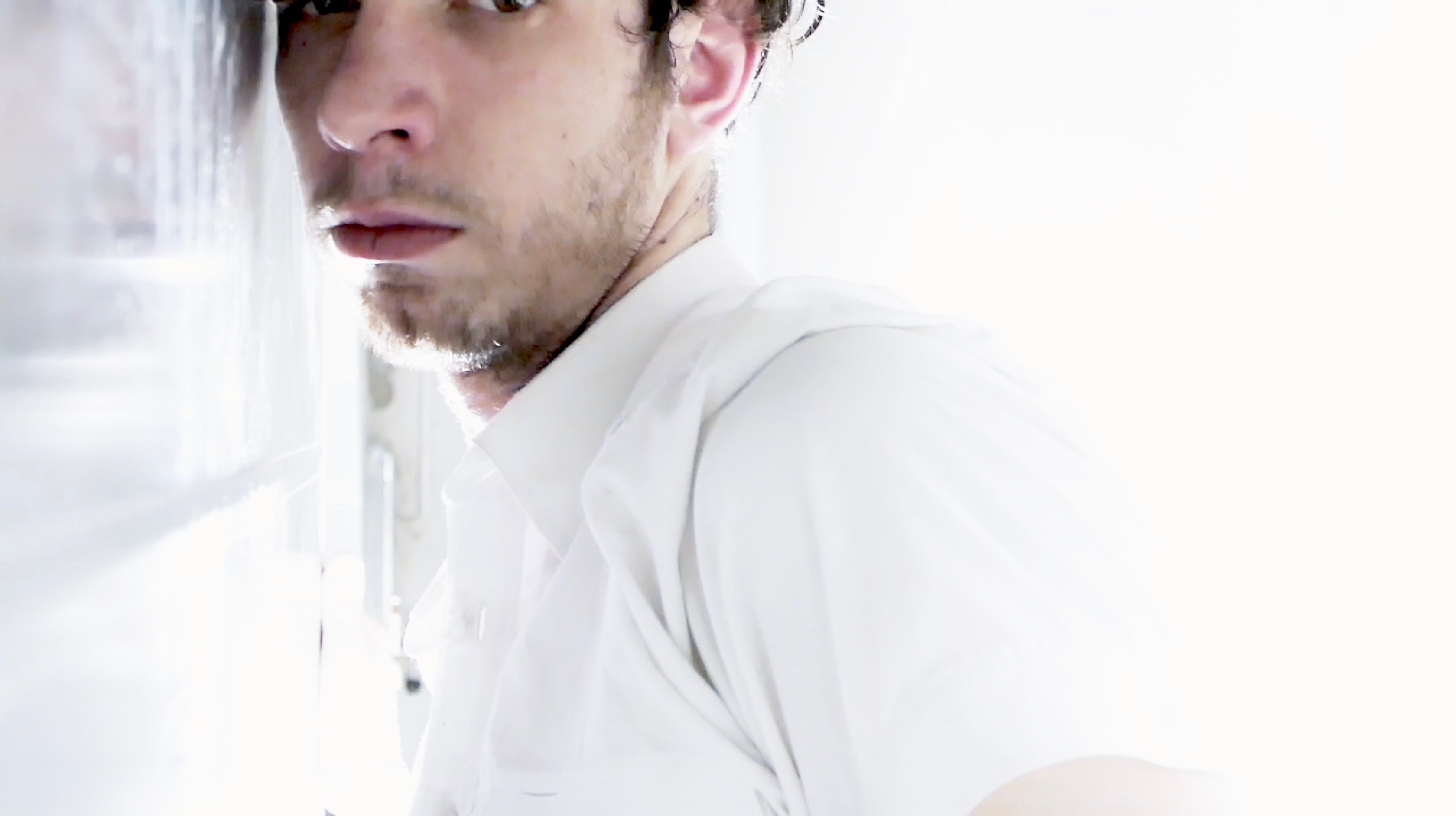 PLACE 0
Place 0 could be the place visited when for a split second time stands still, moves extremely fast or extremely slow or everything at once. It could be the physical place or state of mind which links reality to imagination. Or perhaps it is its own place beyond both. This place of co-existing, a constant fade in and fade out, could be a beginning, an end or both. A place to reset, restart or get stuck on repeat. Because you can get stuck here forever (and choose to leave whenever you want). It could be a place for an imaginary goodbye. It could be a recall of something that got lost, a memory, a projection or a made-up situation that suddenly leaves traces and consequences in reality. Above all this, Place 0 could be the location where time is not linear, relative, curved or circular. Because here time is neither measured nor observed.
Director: Johanna Wernmo / Performer: Lukas Pergande.
Germany / Sweden 2017 – 8´41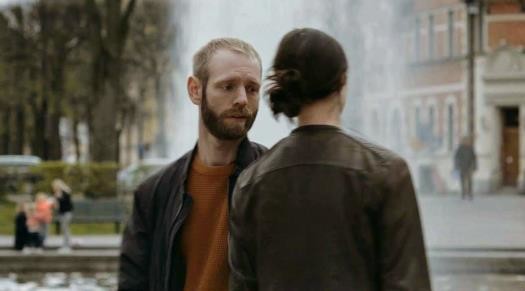 SQARE OF THE STARS
A hybrid documentary exploring how choreography can be used as a tool in filmmaking. The filmmaker Karl-Oskar Gustafsson explores Karlaplan in Stockholm – a square built in the shape of a star. He creates a pattern where people walk in different orbits like planets, circling around and into the fountain, making encounters with each other. Interviews became the dialogue in the film.
Director: Karl-Oskar Gustafsson
Sweden 2018 – 10´
INTERNATIONAL SELECTION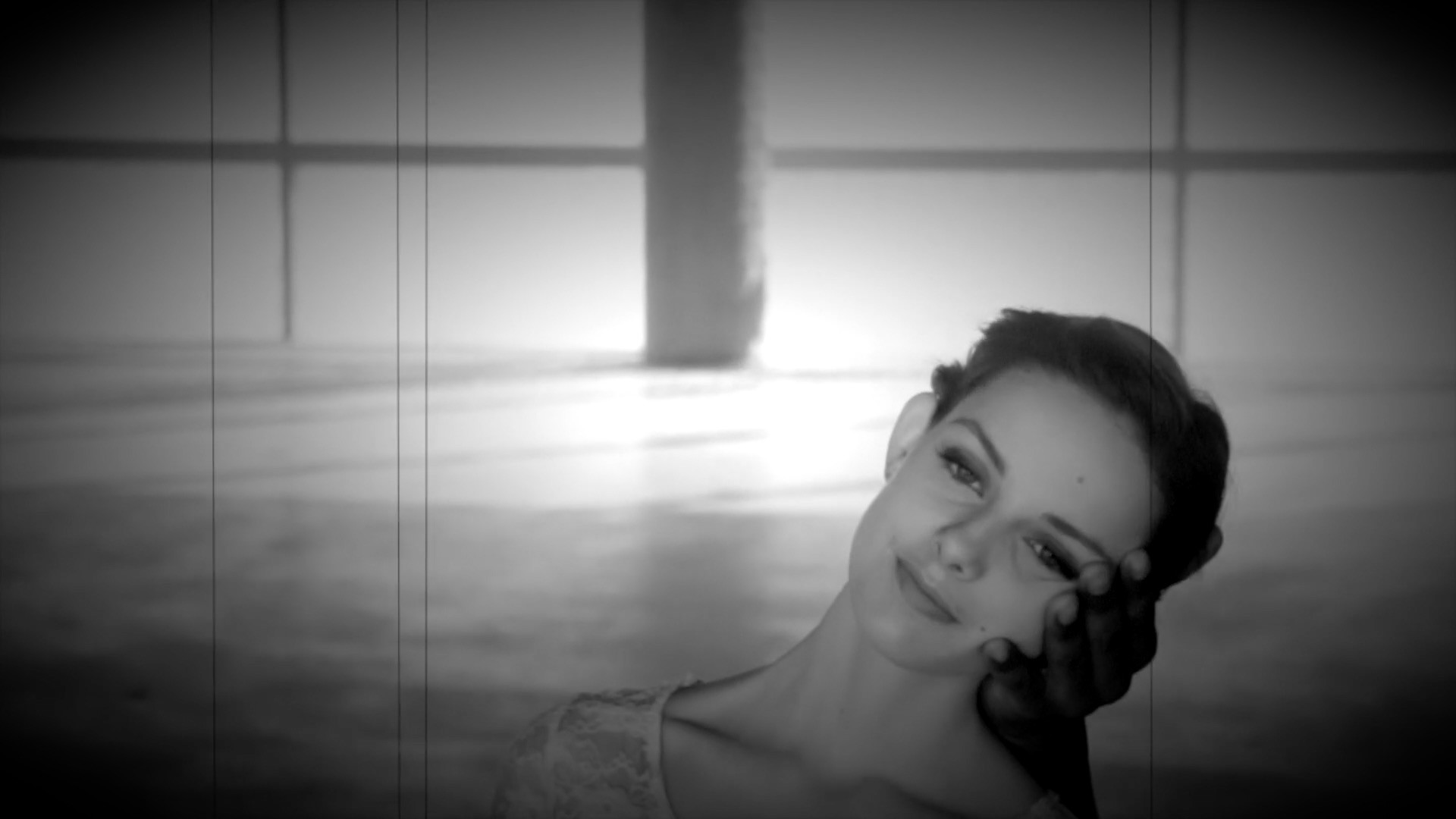 IN THE OTHER WORLD
In the Other World explores Othello's tragedy within the unique frame of after-death. We see Othello's remorse, guilt, and regret along with their memories, seeking Desdemona's forgiveness, and her decision to not forgive him of his crime and leaving him.
Director Eloy Barragan / Performers: Seneade Short & Alvon Reed/ Videographer: Miriam Avila & Kory Basset.
USA 2018 – 3´49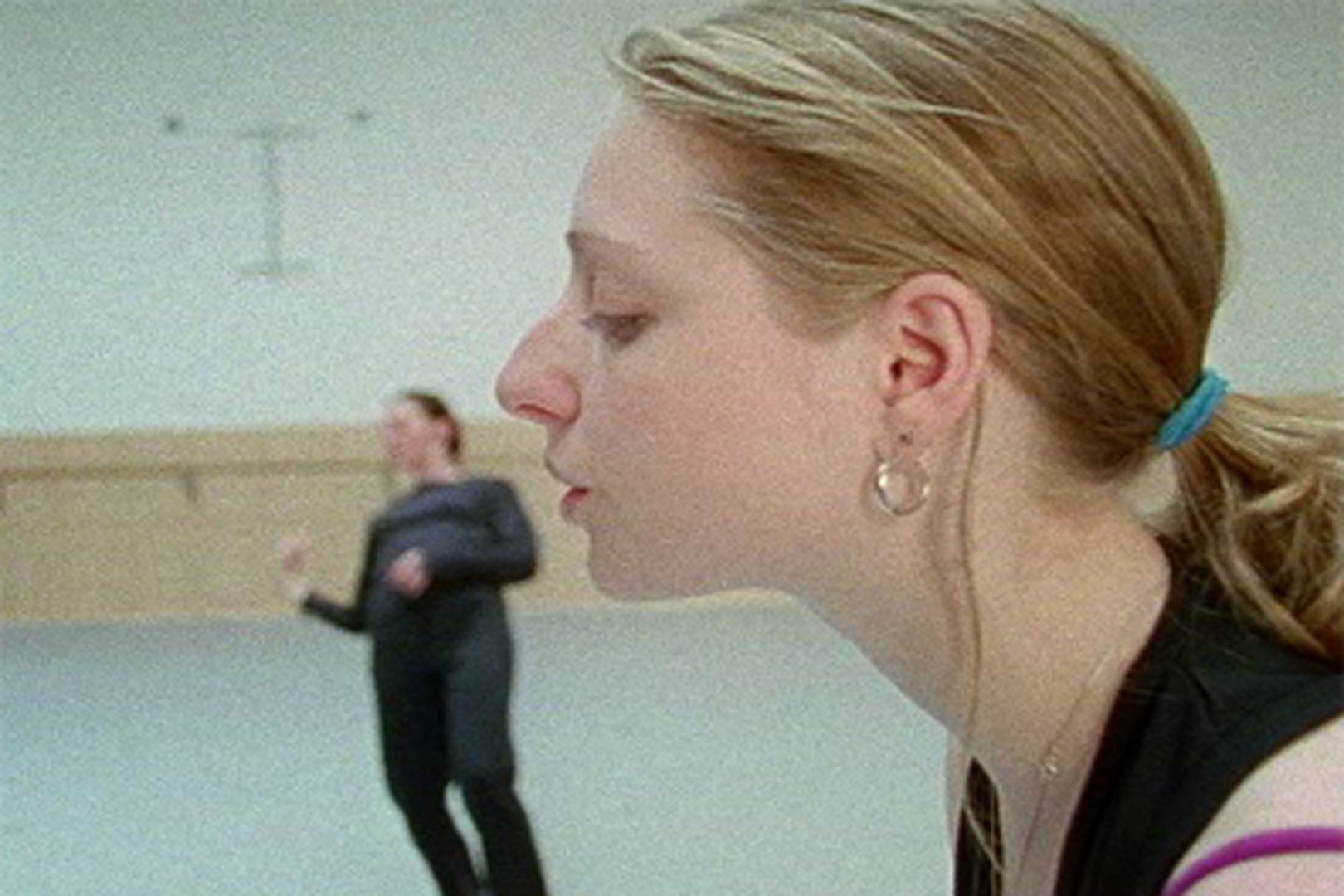 THE INDEXICAL DANCE-A-THON!
A mediated lexicon of how to shoot dance. Remixing her archive of 16mm film and years of dance cinematography, Siebens creates a messy yet emotional montage, using visual phasing to jump-cut across time and individual dancers. Shot in seminal dance environments Ballett Frankfurt in Germany and The Western Front in Canada, the film mixes professional and amateur dancers, probing their gaze and the search for the sublime through simple improvisational gestures.
Director: Evann Siebens / Performers: Cora Bos-Kroese, Justine A. Chambers, Kevin Cregan, Jane Ellison, James Gnam, Amy Raymond.
Canada / Germany 2016 – 4´15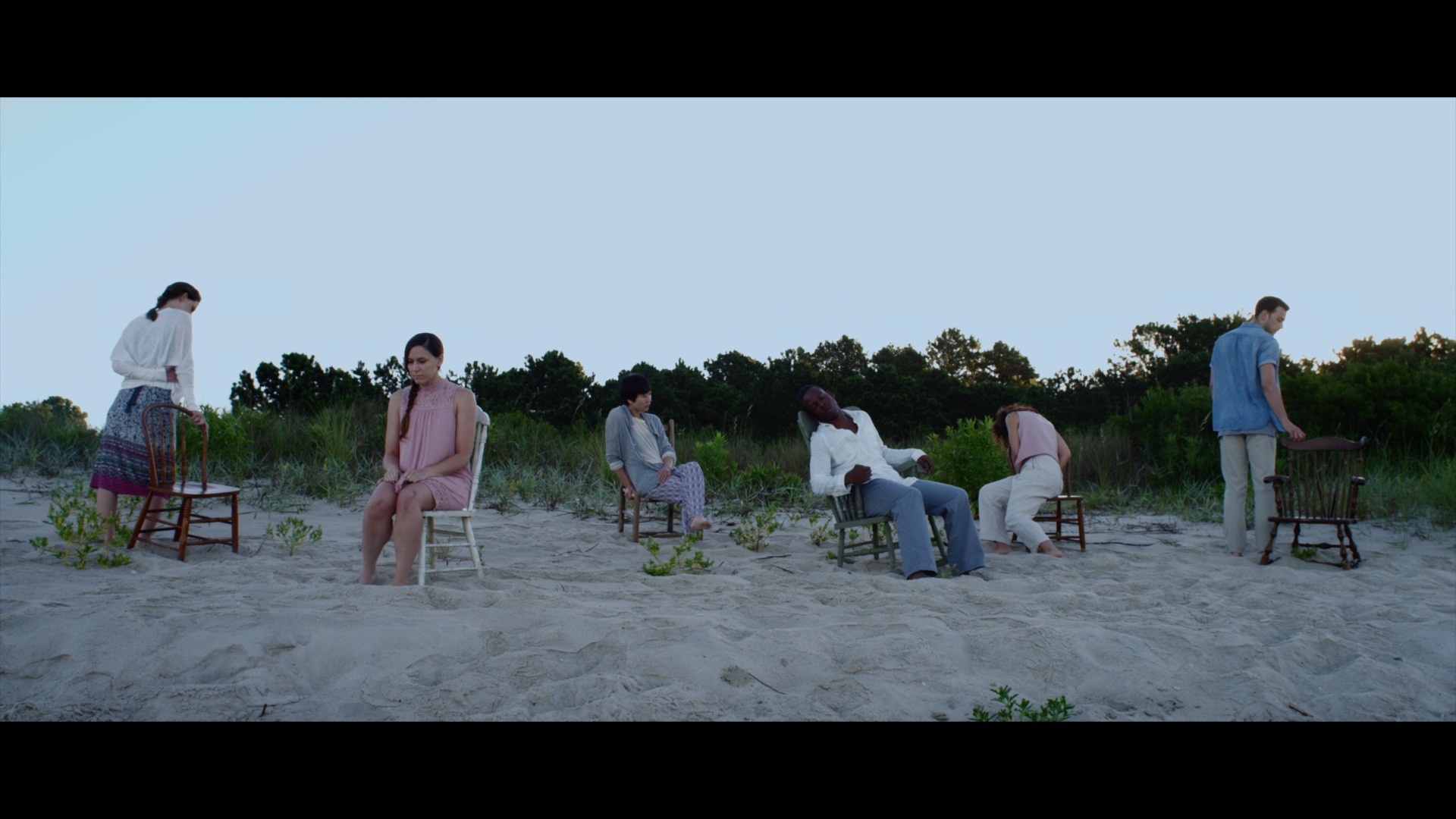 DWELL
While working on dwell I was inspired by an article in which photographer Gregory Crewdson discusses his interest in making work that fuels one's "…search for meaning, search for home, search for connections." Through this short dance film I sought to explore what it means to belong, to reside, to feel at home. Are these concepts tied to our individual bodies, other people, places, objects, a combination? Through a half-remembered dream of place, space, and relationship dwell blurs the line between concrete and elusive spaces and relationships investigating our desire to linger alongside our search for belonging.
Director: Kim Brooks Mata.
USA 2018 – 4´45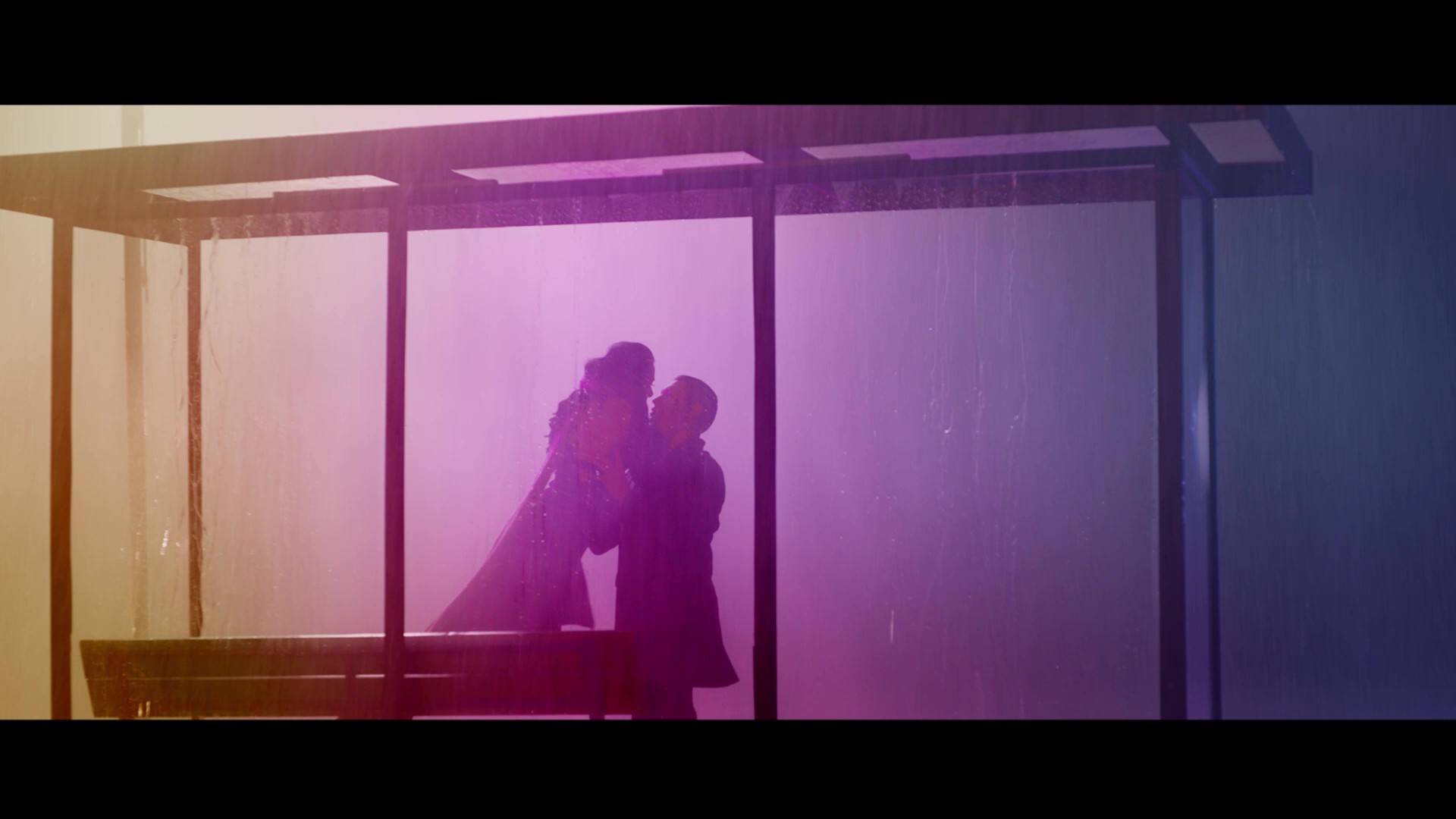 THE STOP
A girl who had a dispute with a respectable man in a car leaves him. At the bus stop she meets a young man and fell in love with him. The man in a car comes back.
Director: Komrakova Liudmila / Dancers:Maria Marinova-Vasilieva, Anton Popichenko & Nikolay Burov.
Russian Federation – 4´57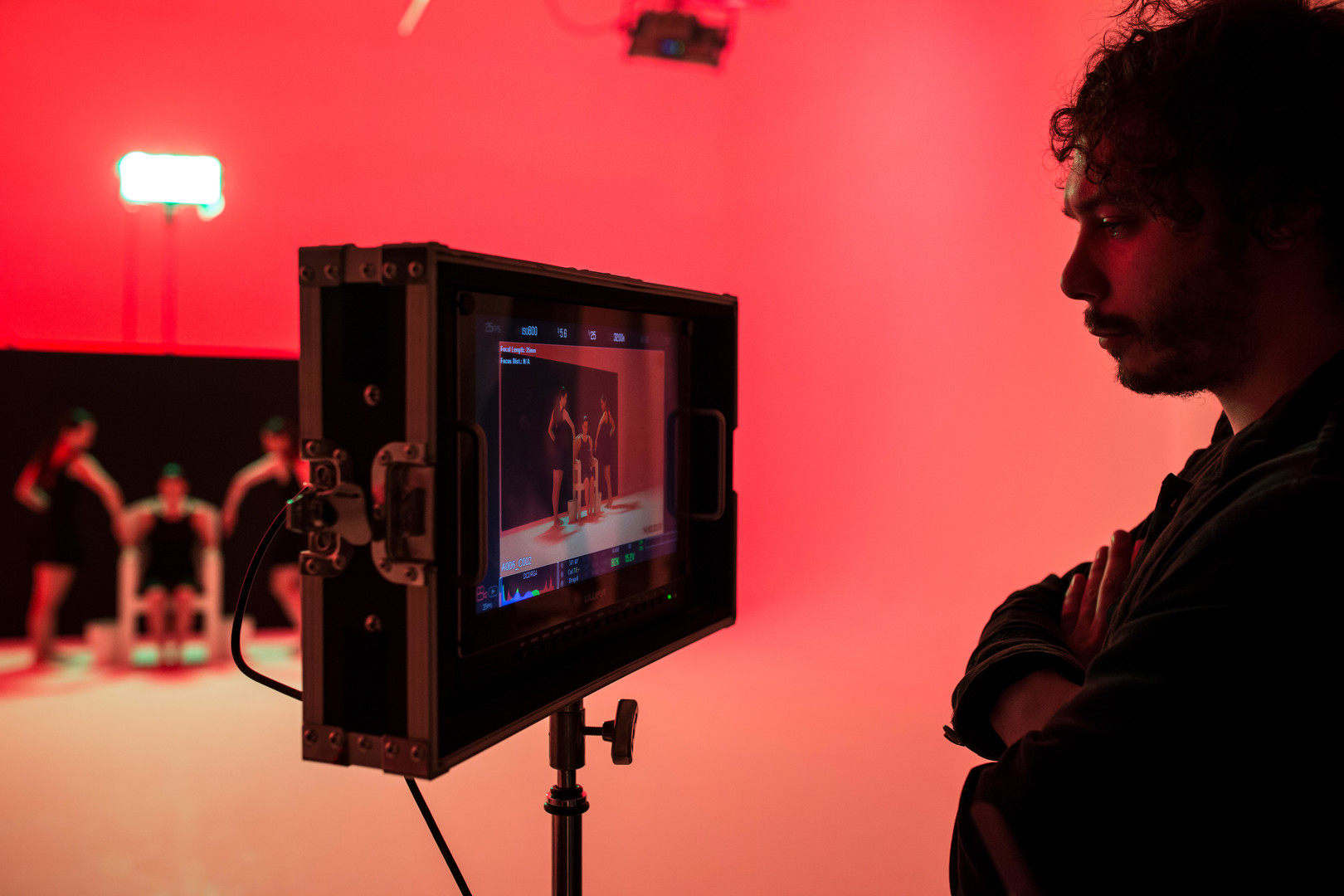 ICON
ICON is about the creating of an image, an unattainable icon of perfection that is pursued in vain. Again and again we are confronted by this, as are the figures in this film. In the world that they created, they discover their imperfections and project this on the icon they designed themselves . They give her the shape they can not attain, a shape of this perfect image that can last only briefly. An endless practice in repetition, in increased expectations, in the self-imposed expectation of perfection that can never be fully achieved.
This pursuit of perfection is something that reflects on our society in many different ways. In the dance, and film industry, these expectations are further enhanced. The constant inner and external pressure to be the best, to meet a beauty standard and to be a model of perfection, creates an enormous pressure on the self-image. As a result, we create an ideal image for ourselves that we almost worship but equally despise, because it emphasizes all our shortcomings. We should be better, faster, prettier. The form and content of the film emphasize and abstract this inner struggle.
Director: Guillaume Versteeg / Choreographer: Alicia Verdú Macián/ Dancers:Alicia Verdú Macián, Daniel Barkan & Gaülli Stam.
Netherlands 2018 – 6´30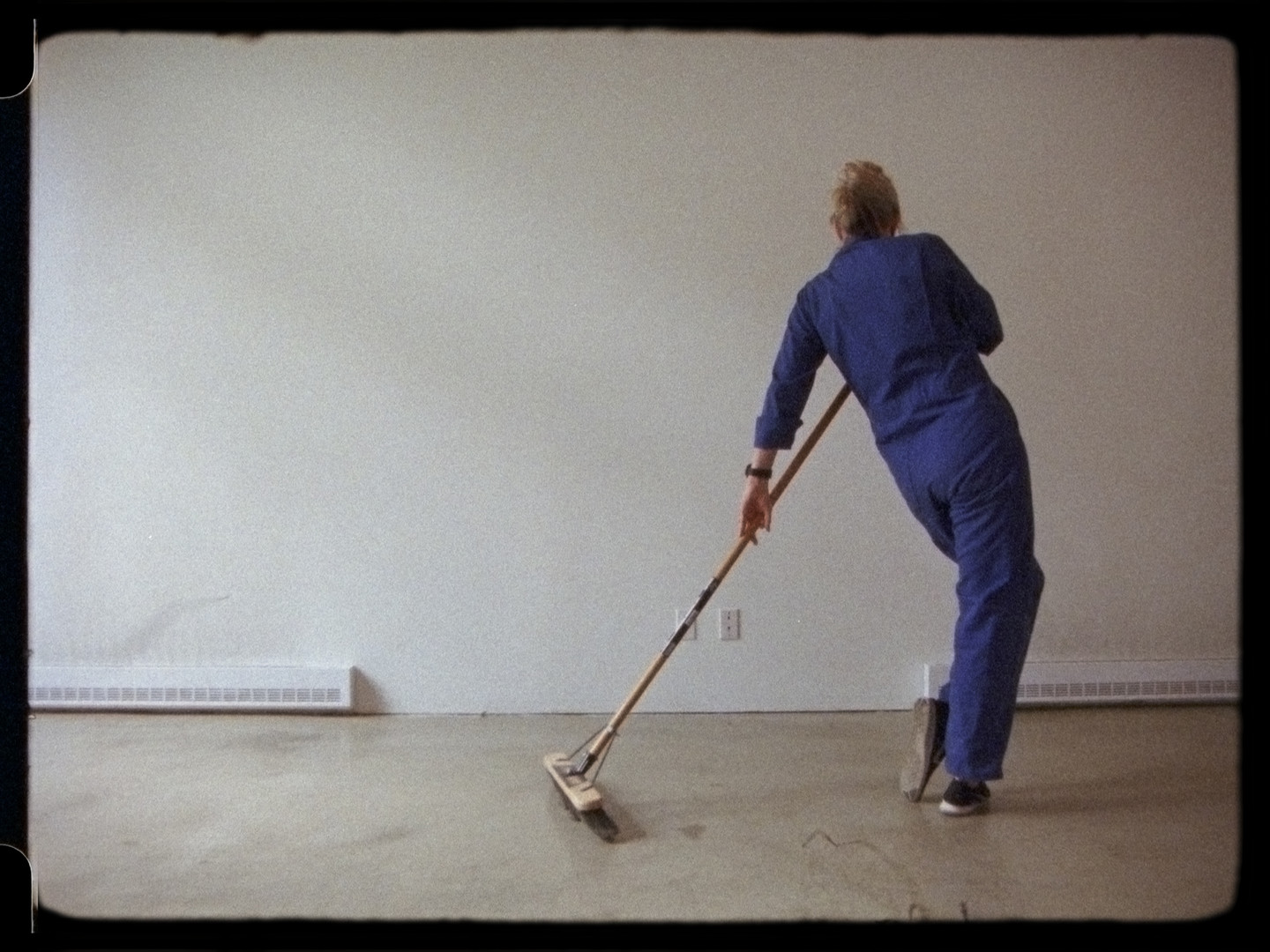 TIME REVERSAL SYMMETRY
Time reversal symmetry is part of LOoW – a collaboration between artists and scientists at TRIUMF: Canada's national laboratory for particle and nuclear physics. Shot on 16mm film, Siebens uses pedestrian movement to represent the oscillating dance between matter and antimatter.
In time reversal symmetry Siebens uses dance, movement and media to visually exemplify how neutrinos 'oscillate' between flavours when they travel. The switch between 16mm colour and B&W film represents the oscillating dance between matter and antimatter. Additionally she has played with the concepts of charge-parity symmetry and time-translation symmetry, as seen by mirroring and asymmetry. Artists working with the body and media are referenced, such as Yvonne Rainer, Trisha Brown and Bruce Nauman; particularly his 1966 film Manipulating the T-Bar. She was also interested in the multiple meanings behind the term 'time-reversal' and what that means for the aging technology of 16mm film, as well as the aging female body.
Director: Evann Siebens / Performers: Pina Bausch the dog & Sunshine Frere.
Canada 2018 – 8´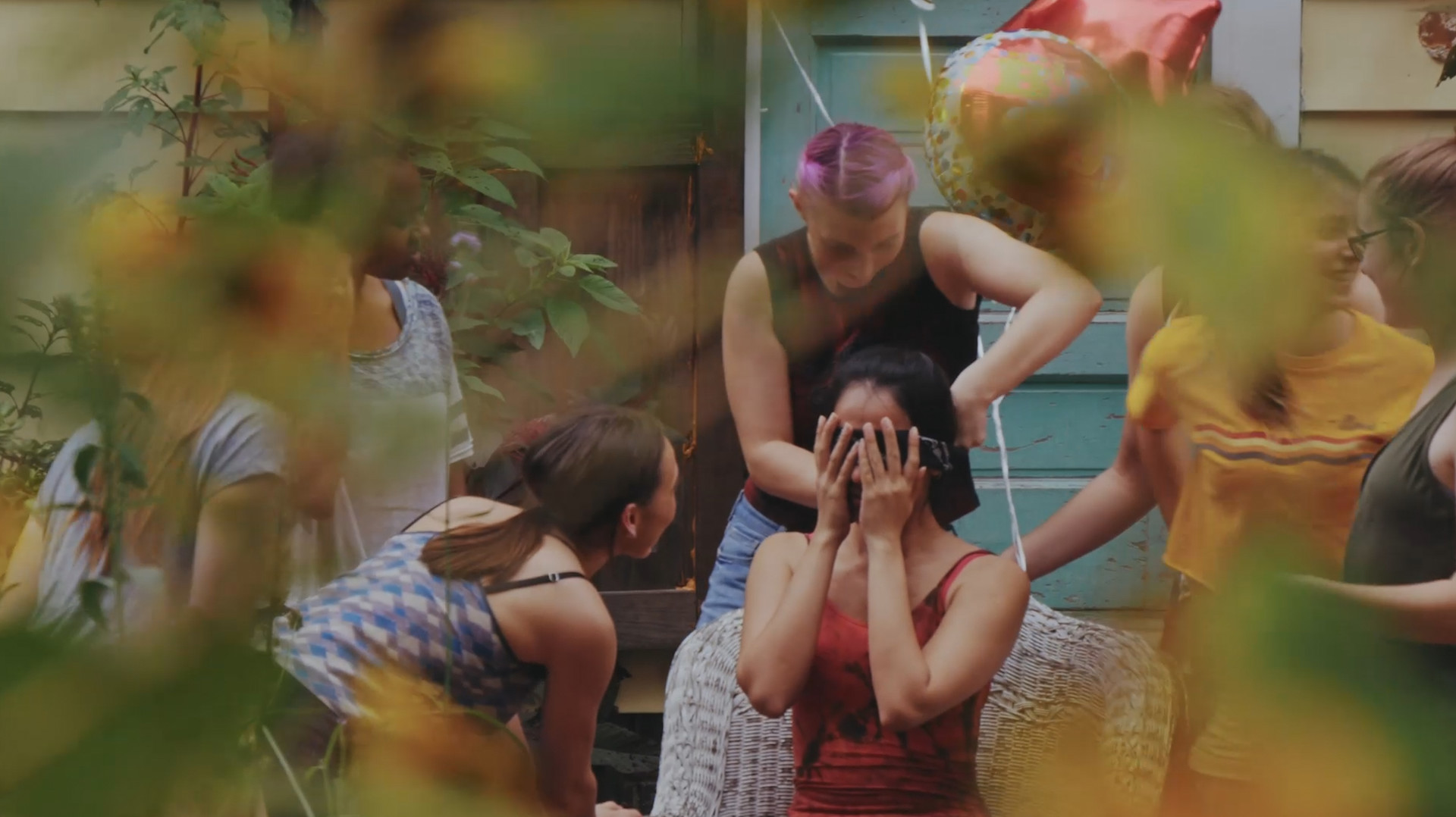 WHERE LOVE LEADS
It's her birthday and all she wants after the slumber party is a visit to the thrift store and a stop for shaved ice at The Snowman. Everything happens as she expects, plus a tailgate party at the reservoir, and the arrival of some surprise guests.
Director: Marta Renzi10.00
USA 2019 – 10´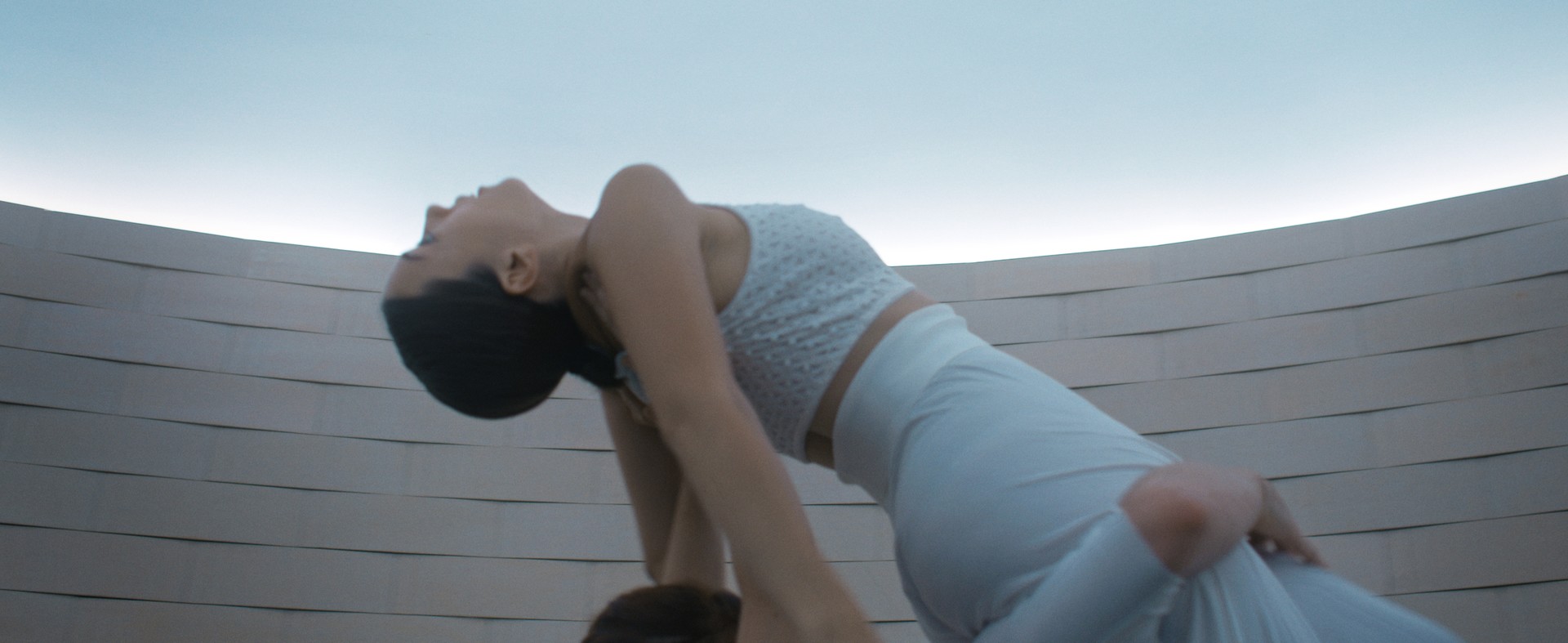 RONDE
A screendance quintet between four dancers and a camera operator exploring the dynamics of an enclosed space. Created as part of a Performance Lab Residency at Crystal Bridges Museum of American Art at James Turrell's Skyspace.
Director: Monica Thomas / Dancers: Angela Luem, Liz Conway, Gretchen Soechting & Zach Bird. 2019
USA – 2´38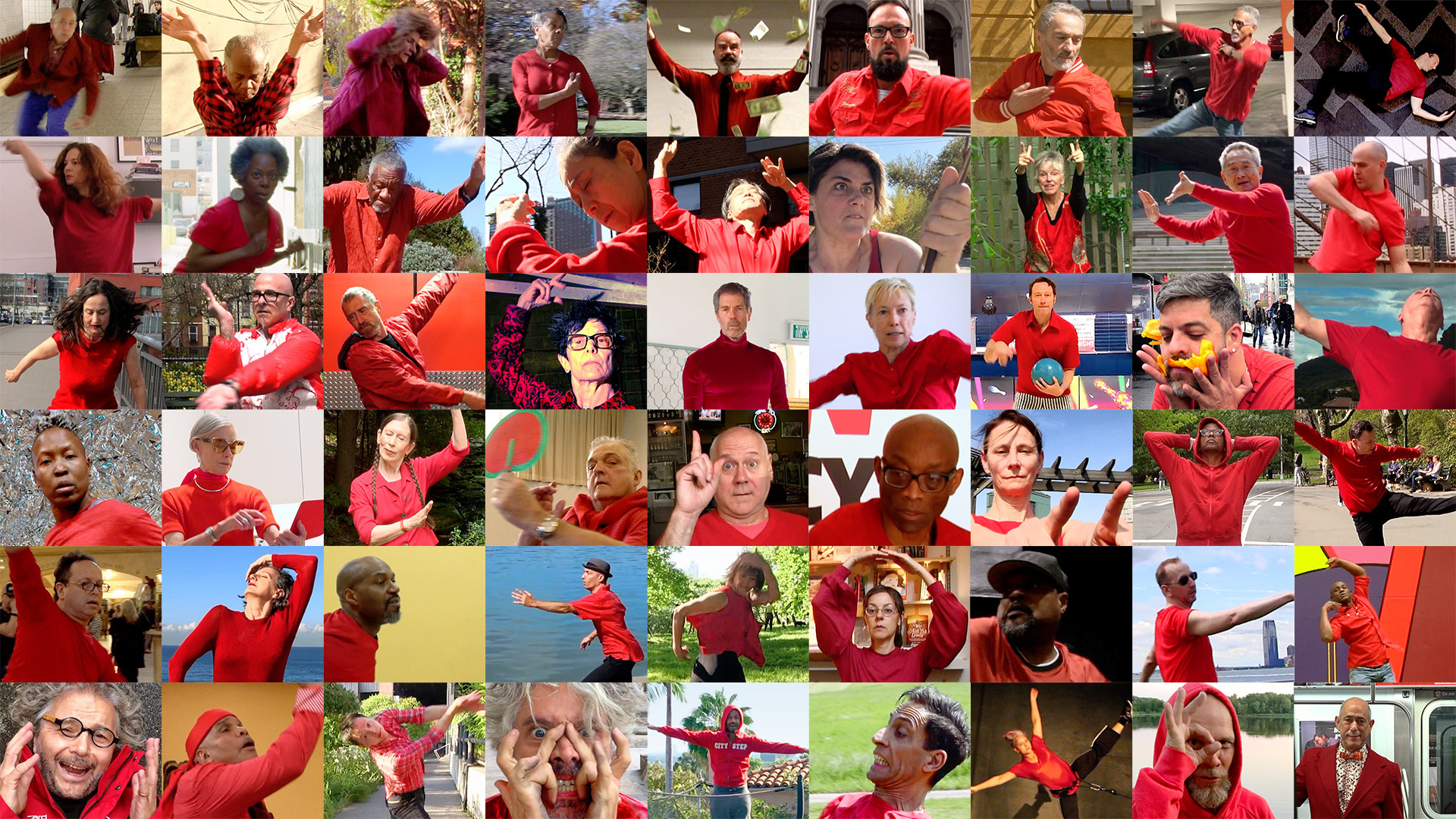 AND SO SAY ALL OF US
52 seminal international choreographers link together on a chain love letter to dance. Featured artists include Ohad Naharin, Mark Morris, Elizabeth Streb, Bill T. Jones, Meredith Monk, William Forsythe, and Lucinda Childs. Commissioned by the Brooklyn Academy of Music in honor of Joseph V. Melillo's 35 years of service as its executive producer.
Director: Mitchell Rose / Dancers & Choreographers: David Dorfman, Reggie Wilson, Trey McIntyre, Bebe Miller, Kate Weare, Sean Curran, Faye Driscoll, David Rousseve, Gideon Obarzanek, Jodi Melnick, Jawole Willa Jo Zollar, Rodrigo Pederneirasa, Eiko Otake, Koma Otake, Angelin Preljocaj, Brenda Way, Lin Hwai-min, Brian Brooks, Sasha Waltz, Donald Byrd, Stephen Petronio, William Forsythe, Nora Chipaumire, Karole Armitage, John Heginbotham, Miguel Gutierrez, Elizabeth Streb, Zvi Gotheiner, Ron K. Brown, Larry Keigwin, Annie-B Parson, Doug Varone, Bill T. Jones, Rennie Harris, Ralph Lemon, Meredith Monk, Lucinda Childs, Meryl Tankard, Ohad Naharin, Daniele Finzi Pasca, Ivy Baldwin, Mark Morris, Susan Marshall, John Jasperse, Solo Badolo, Abdel Salaam, Martin Zimmermann, Aurélien Bory, Benjamin Millepied, Brenda Angiel, James Thierrée, Kenneth Kvarnström.
USA 2018 – 9´40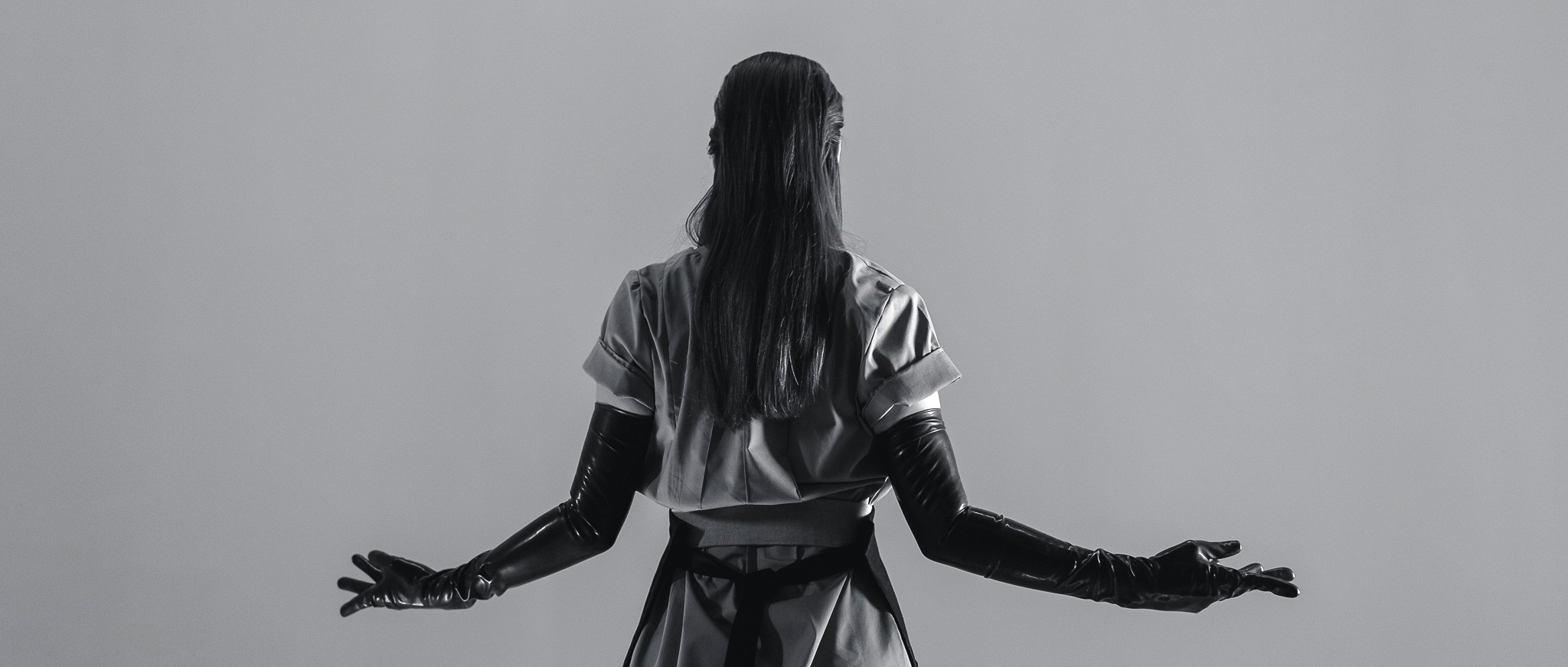 4 ~
4 ~ is an exploration of a world initially marked by precision of movement and lack of emotion. Set in a minimalist world devoid of life 4 ~ unfolds through contemporary dance, unsettling sounds and surreal visuals.
Director: Rodrigo Rocha-Campos / Dancers: Felicia Lau, Erika Mitsuhashi, Mahaila Patterson O'Brien & Linnea Gwiazda / Choreography: Farouche Collective.
Canada 2018 – 13´53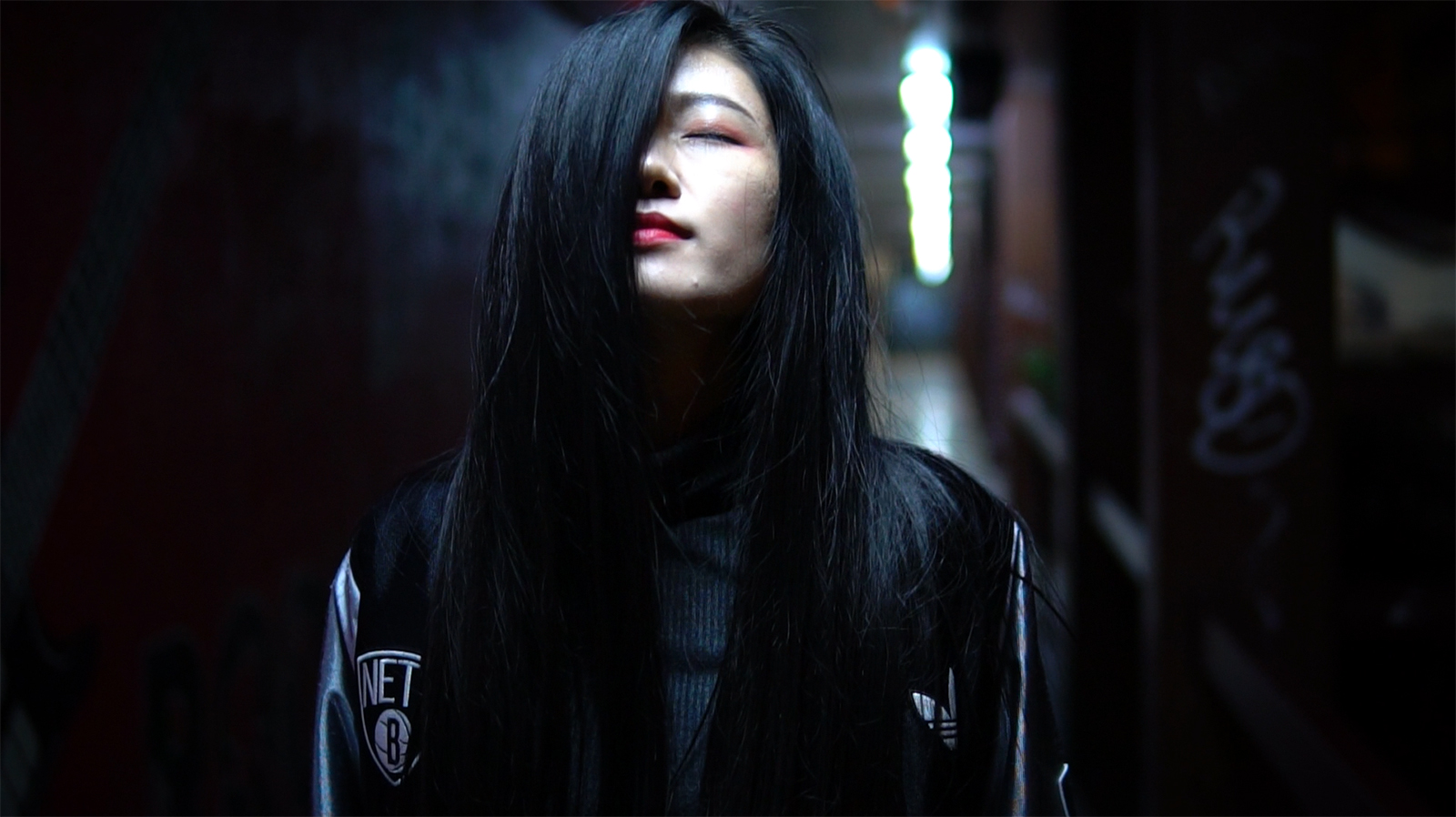 DANCE, WICKED GIRL
They say in some streets of this neighbourhood, when everyone is sleeping, maybe you'll be unlucky and see her dance. If she catches you, very likely you'll appear lifeless, sitting on the street with a stupid expression of having seen other worlds through your eyes.
Director: Carlos Velasco / Dancers: Violeta Zheng & Olmo Algarra.
Spain 2018 – 3´30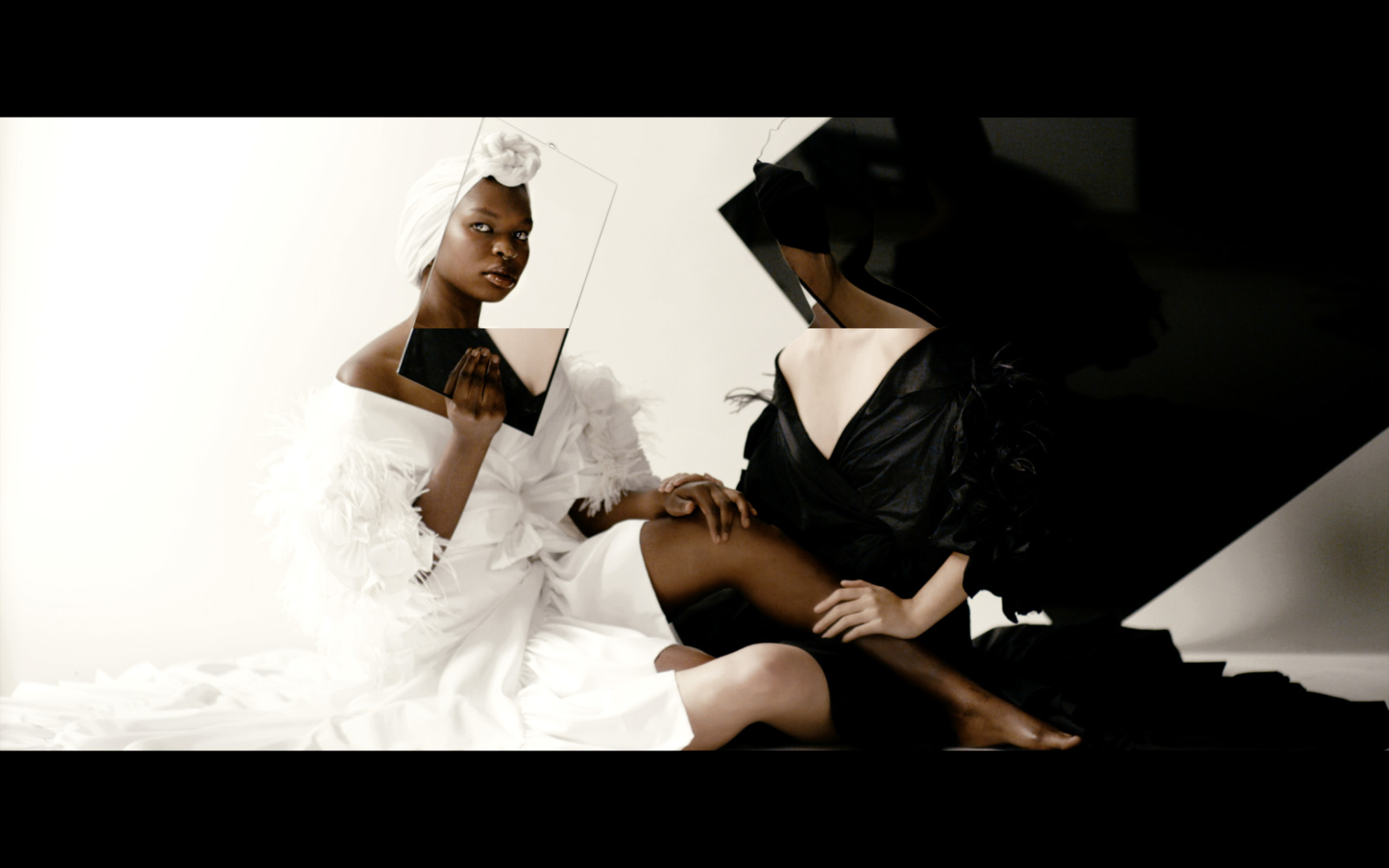 HAPPY ENDING
In 1997 magician/psychic, Uri Geller tried to help Second Division football club Exeter City win a crucial end of season game by placing "energy-infused" crystals behind the goals at Exeter's ground (Exeter lost the game 5–1). Although made famous by his spoon-bending theatrics throughout the 1970's and 80's, Geller was unable however to ever successfully bend a fork.
Both the convex and concave complexity of the bent spoon is explored as a reflection of the duplicitous ambiguity of Geller; the fine line between artist and conman in a post-truth world. Well, something like that.
Director: Ryan Renshaw / Choreography: Jack Lister / Dancers: Vanessa Morelli & Rian Thompson.
Australia 2018 – 4´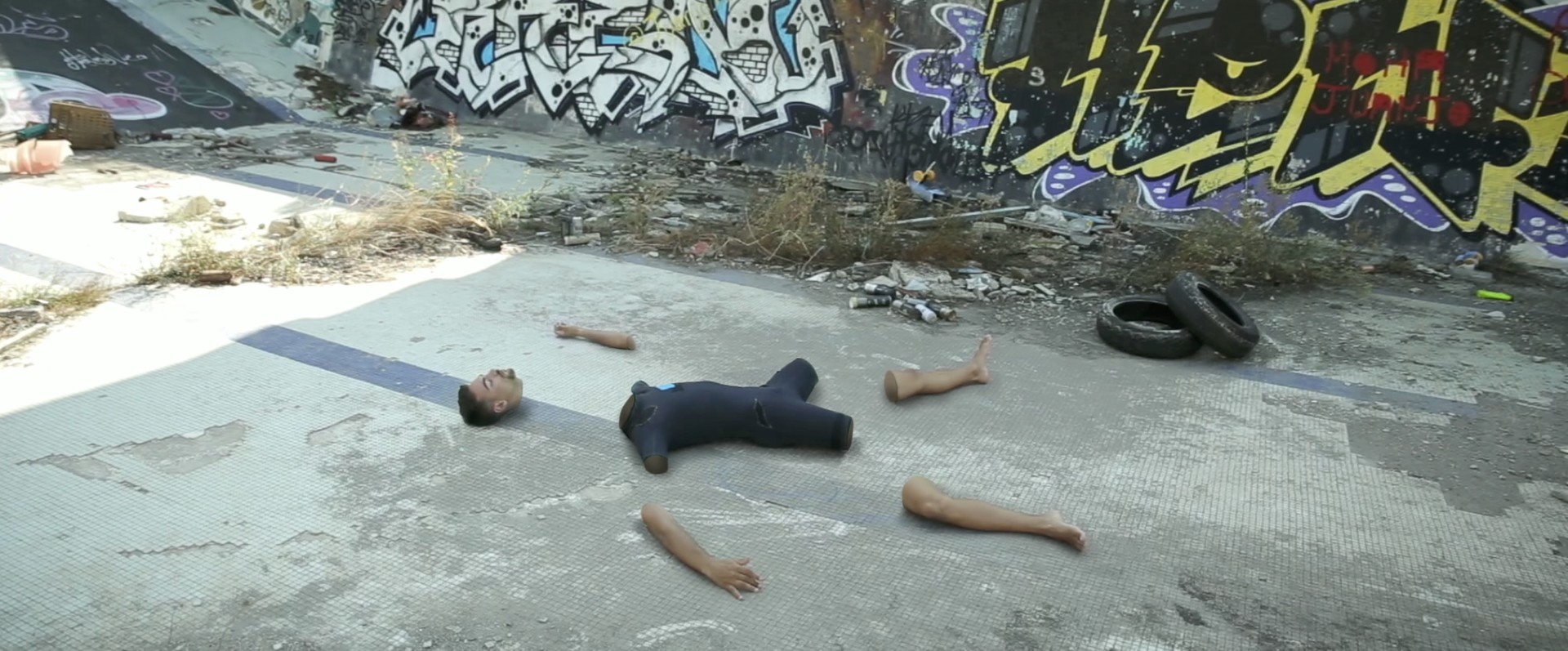 POOLING
A breakdancer breaks…literally.
Director: Dawn Westlake / Dancers: Marc Carrizo Vilarroig.
Spain / USA  2018 – 4´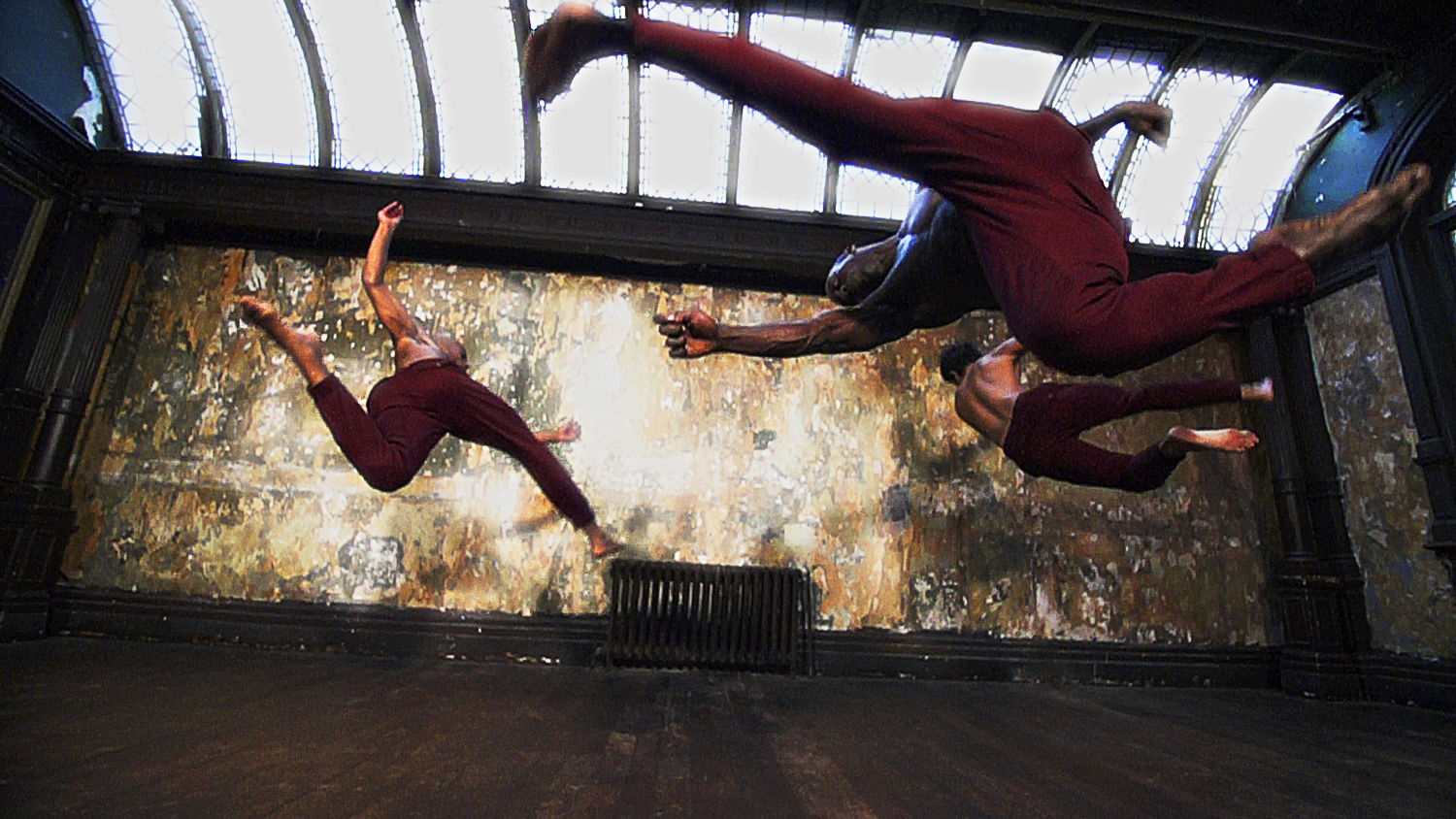 DESCENT
A man crawls to his death. Spilling out the essence of life, he envisions vivid memories to accompany his decline.
Director: Antoine Marc / Dancers: Sade Alleyne, Renako McDonald & Roman Tio.
UK 2017 – 4´55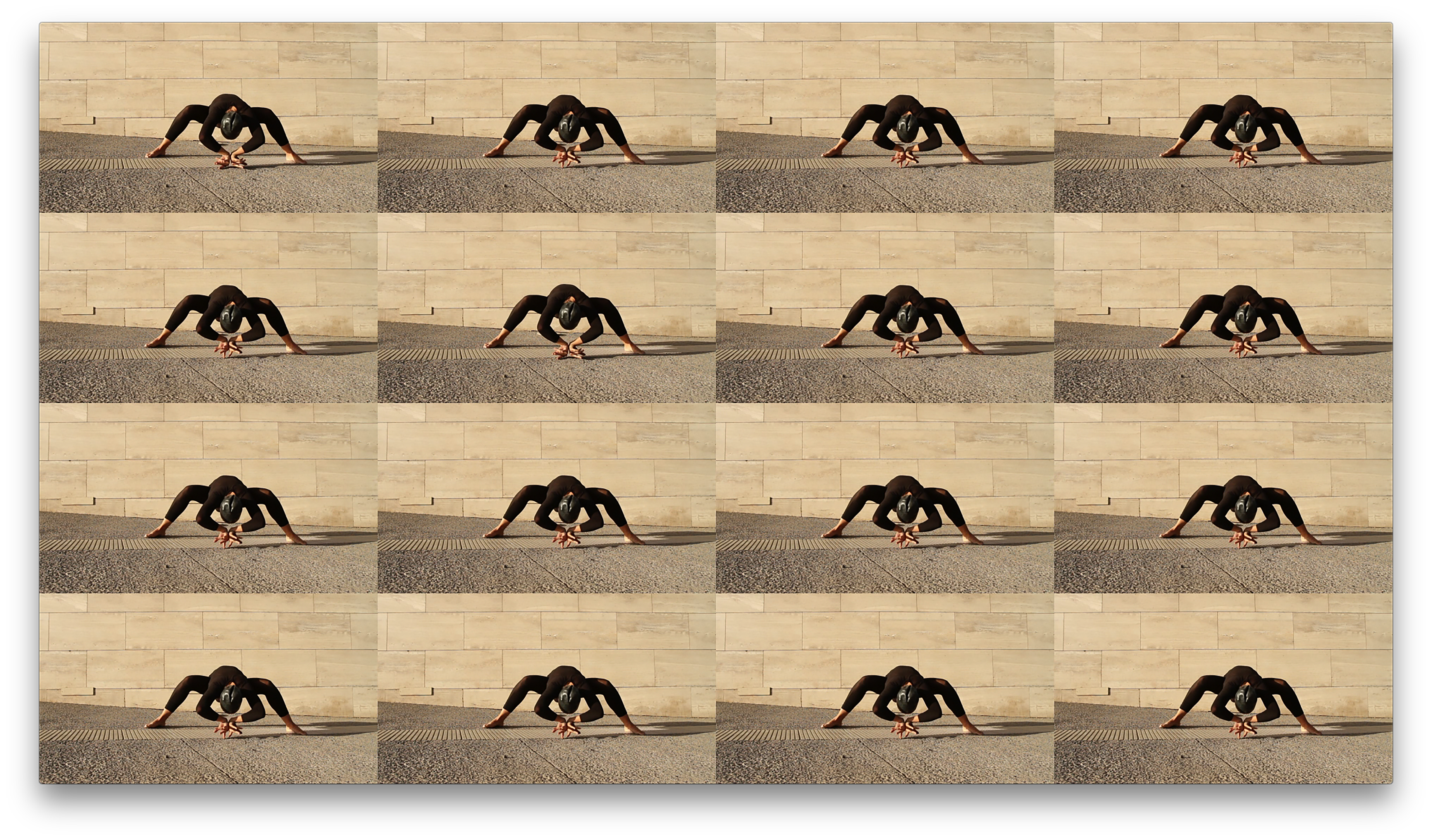 HUMANA
Humana is a dance film that imitates the body language of spiders and explores the idea of film editing as a primary tool for the choreography. Juggling with the numbers "4" and "2", the result is 16 frames where the possibilities of choreographic composition are explored. 4º2 or 2º4 This mathematical game amplifies possibilities, creating unlimited dancers, movements, effects and times. Using editing tools instead of live performance time management, choreographic times such as canon, unison, accumulation and repetition are achieved. Playing between reality and surrealism, bodies are alienated so that the line between spider and human becomes blurry: has the spider become human or the human an animated animal?
Director: Paulina Rutman / Performers: Natalia García & Daniel Ruby.
Chile 2018 – 5´25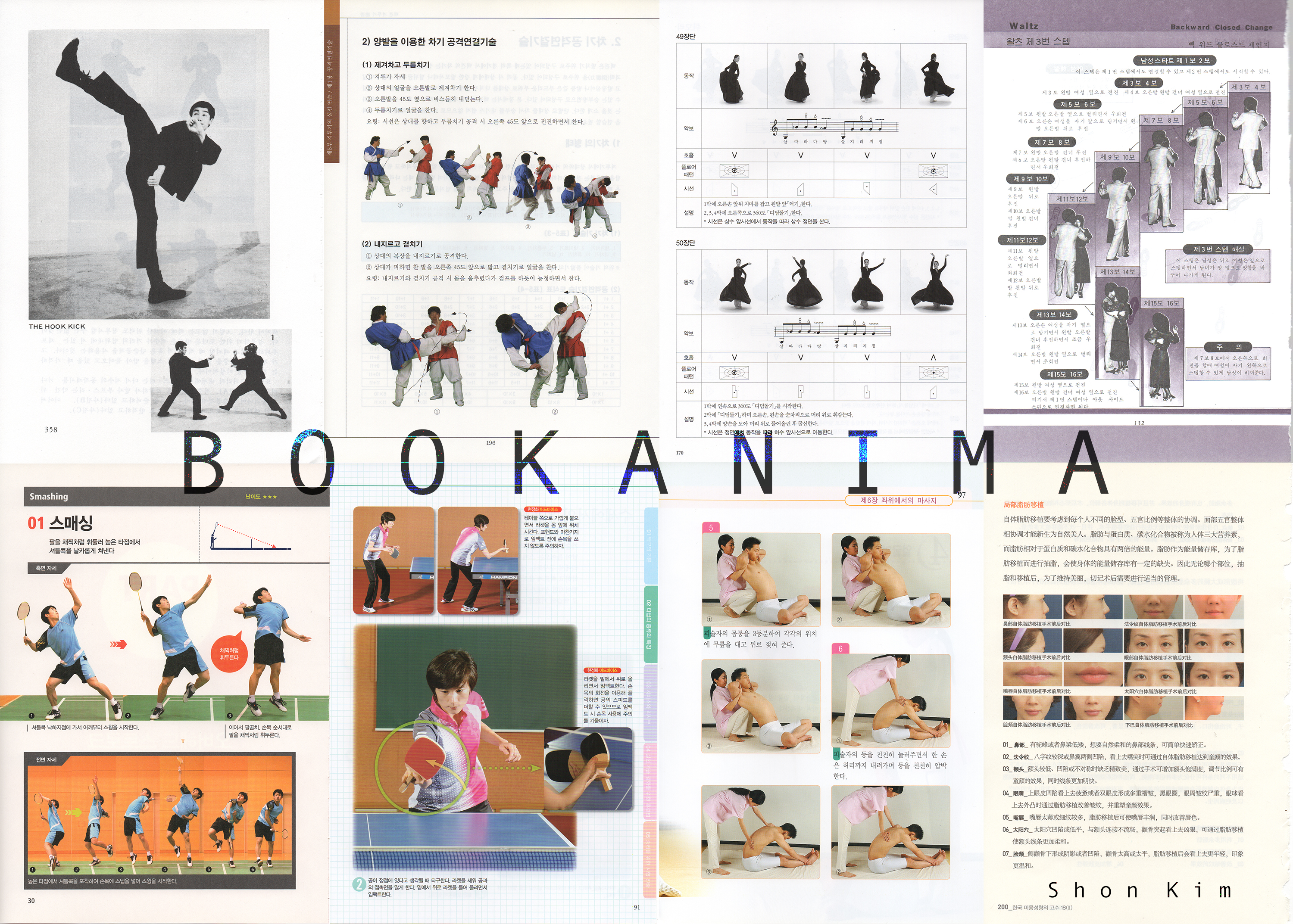 BOOKANIMA
BOOKANIMA, a compound word of 'Book' and 'Anima', is Experimental Animation to give new cinematic life to book. It aims to create 'Watching Book' in the third scope between Book and Cinema. Animation links Book to Cinema. Along the way, it experiments Locomotion based on Chronophotography Animation, paying homage for Edward Muybridge and Entienne Jules-Marey. It experiments locomotion of Dance along with its stream: Ballet-Korean dance-Modern dance-Jazz dance-Aerial Silk-Tap dance-Aerobic-Disco-Break dance-Hip hop-Social dance.
Director: Shon Kim.
Republic of Korea – 7´31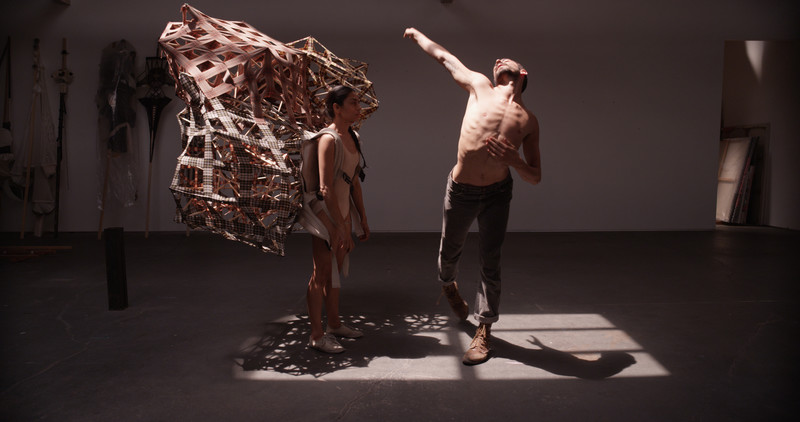 BURDEN HALVED
Four dancers, each bearing their own burden, find comfort when their isolated experiences converge in a lush, emotionally intense exchange.
Director & Choreographer: Kitty McNamee / Dancers: Reshma Gajjar, Zak Schlegel, Raymond Ejiofor & Derek Schiesel.
USA 2018 – 8´23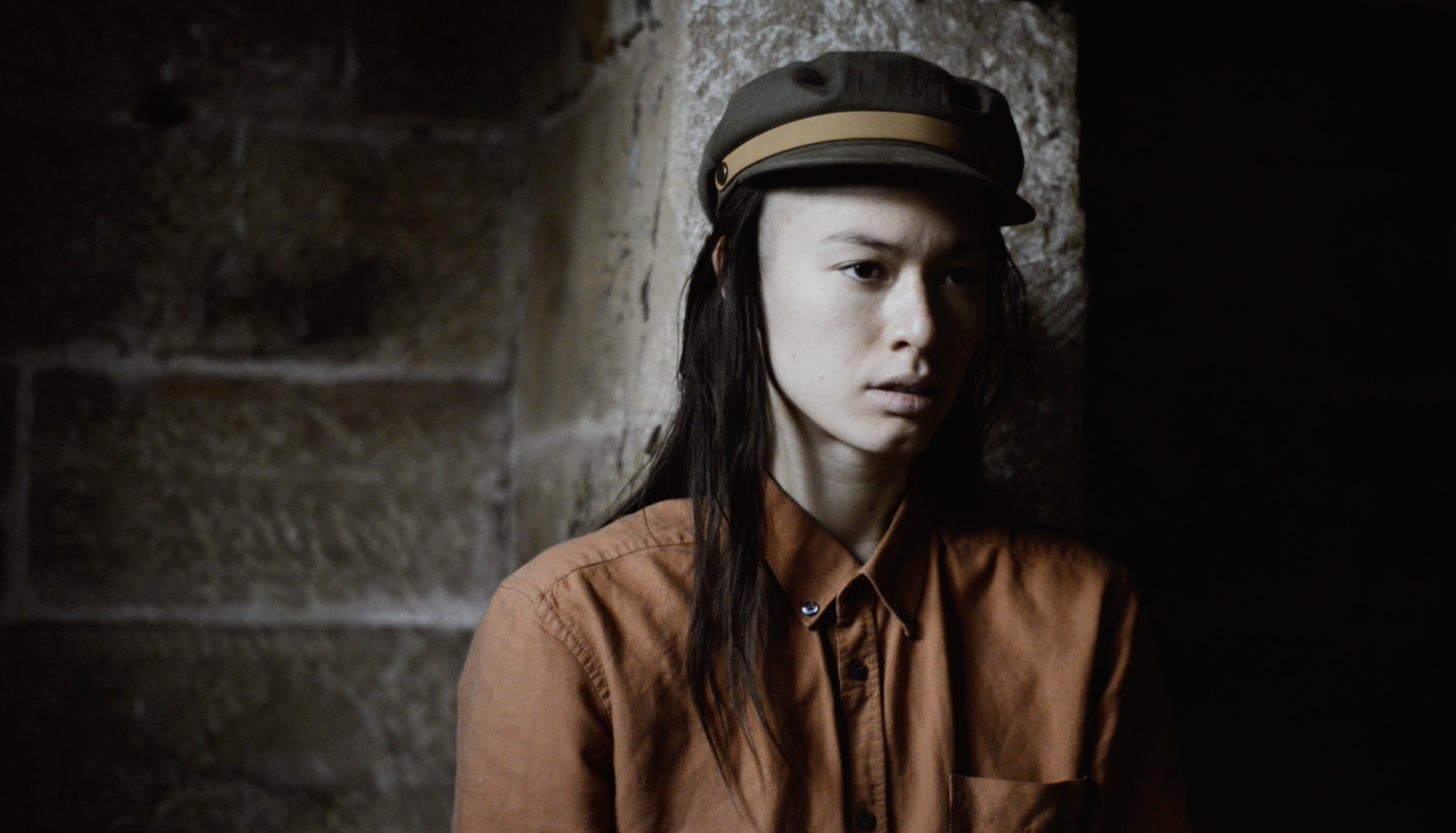 SINGEL MAN´S HUT
Our goal is to question and brake through our conditioned ideas of gender. Exploring not only what it may mean to be conceived as a man or a woman in this world, but to also and more importantly, delve into the masculine and feminine nature that exists with in all of us. How might the blurring of these gender lines effect the way we see each other and, see ourselves. Could the opening up of these expectations serve to expand our potential as individuals, and as a community.
In a more fluid and evolved state of openness, could we be a strong, wise and courageous protector in one breath, and a gentle, nurturing creator in the next.
We hope to create a glimpse into a universe where there is space for all expressions of masculine and feminine, regardless of the body you were born into and inspire a path towards a more balanced flow between the two.
Director: Pippa Samaya & Tara Jade Samaya / Performer: Tara Jade Samaya.
Australia 2018 – 8´41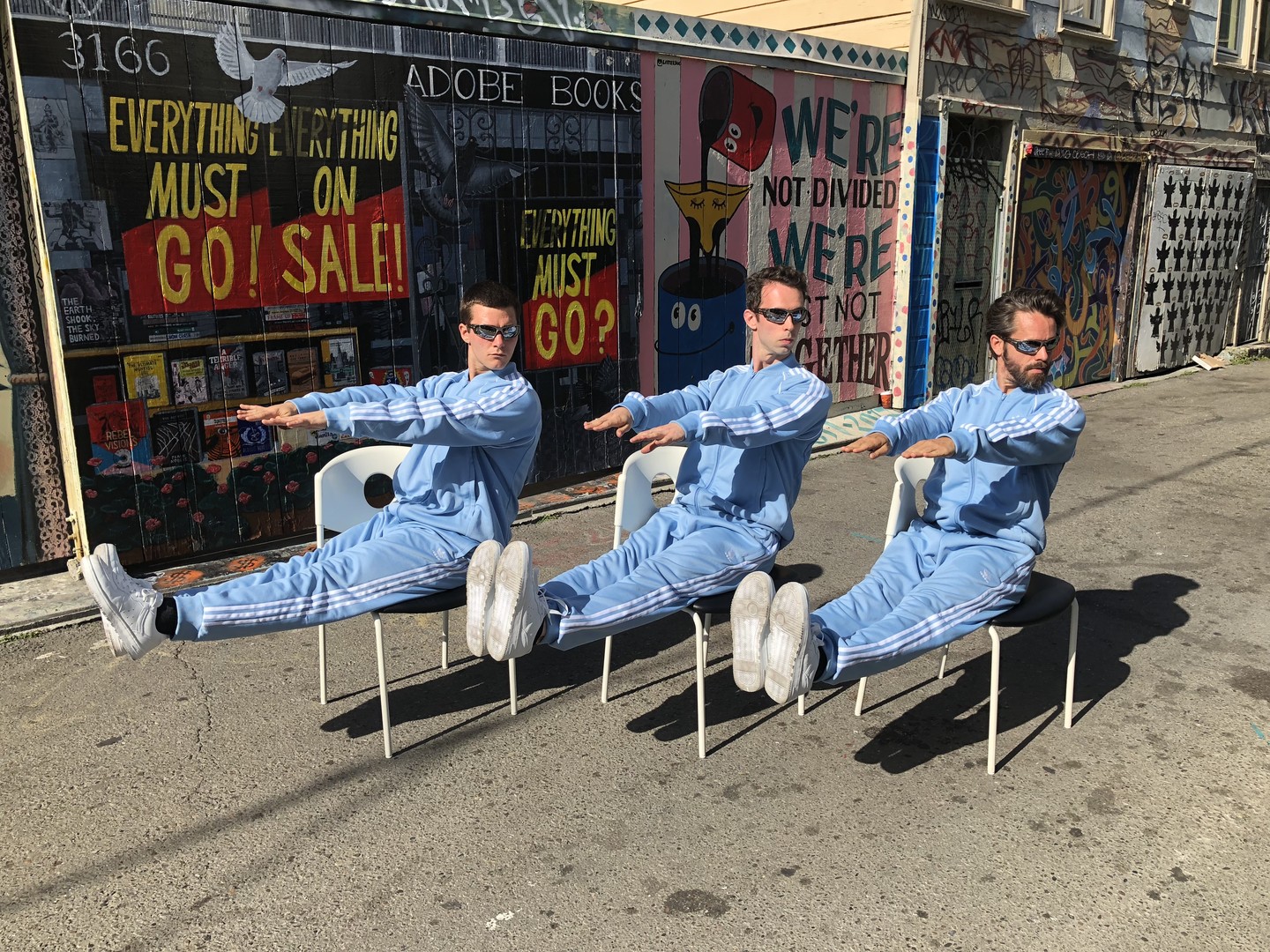 EKMAN´S CONCISE GUIDE TO NATURAL MOVEMENT
Dance Film SF commissioned the renowned choreographer Alexander Ekman ("A Swan Lake" with the Norwegian National Ballet, Midsummer Nights Dream with the Royal Swedish Ballet and "Play" with the Paris Opera Ballet) to collaborate with his favorite filmmaker T.M. Rives and create a short dance film for the San Francisco Dance Film Festival's ninth annual festival.
The film is neither very concise nor totally natural, it is purely Ekman.
Director: T.M. Rives / Choreographer: Alexander Ekman / Dancers: Alexander Ekman, Nathanial Moore, Britt Juleen, Ben Needham-Woood & Sarah Cecilia.
USA – 8´48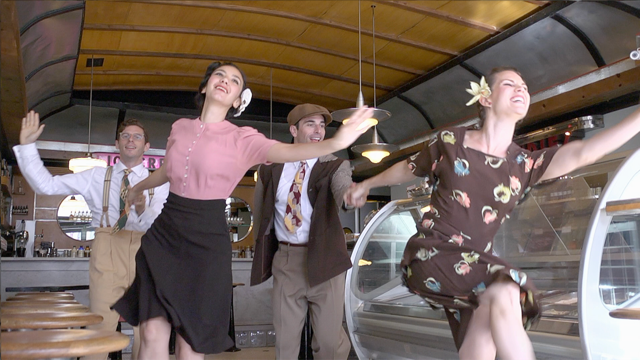 SWING TIME
Seeing a 1930s swing dance troupe on TV inspires a young couple to call their friends, step back in time, and dance their way across Art Deco San Francisco
Director: Brian Hollins.
USA 2018 – 9´58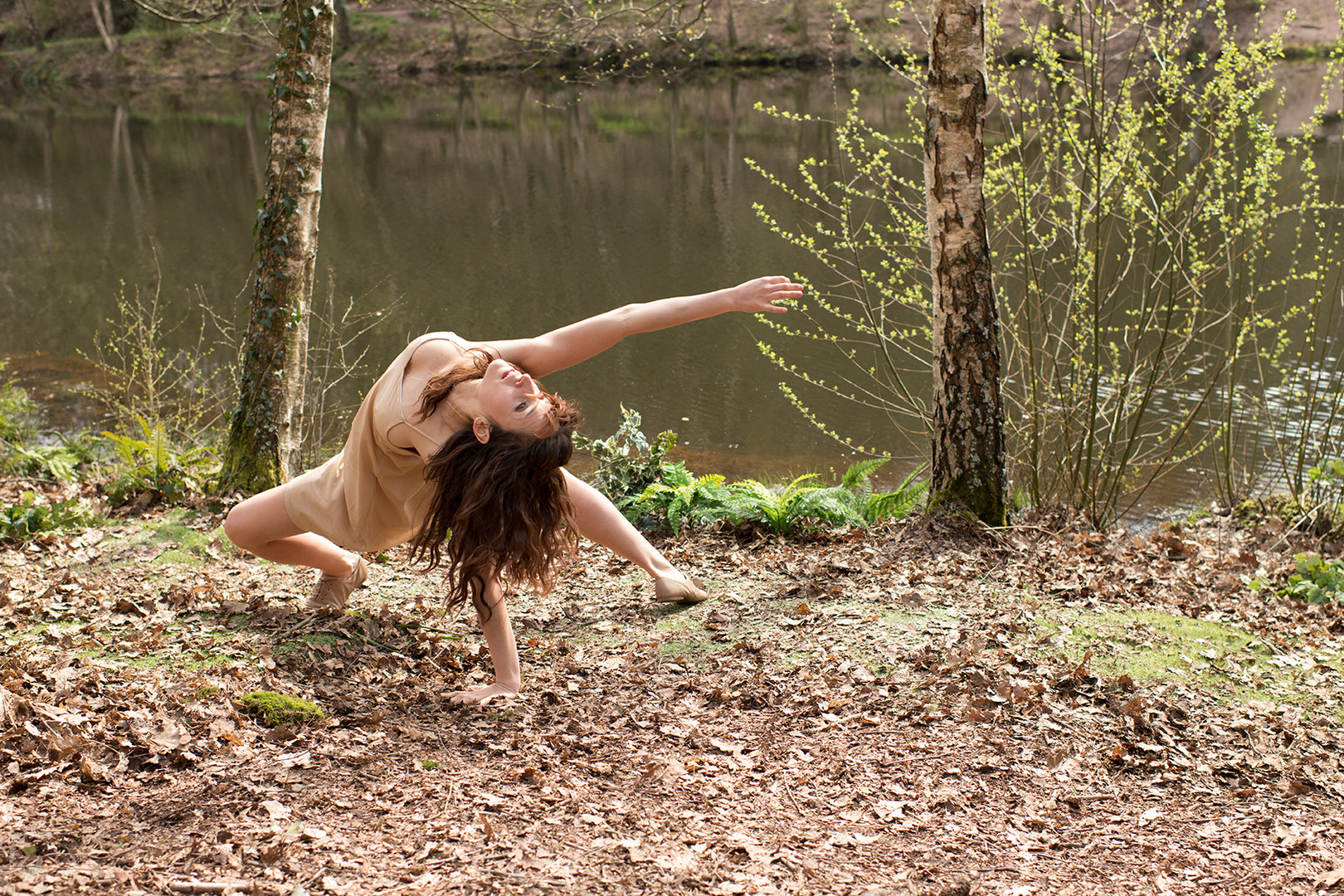 THE SHE-WOLF
Marion mysteriously appears in a clearing populated by marauding wolves. Attracted by the melody of a cello, a strange dream brings her to the heart of a wonderful forest. But as she tries to get closer to the cello, their bodies gradually cover themselves with a strange bark-colored skin.
Director: Virginie Kahn / Dancer & Choreographer: Marion Parrinello.
France 2019 – 10´29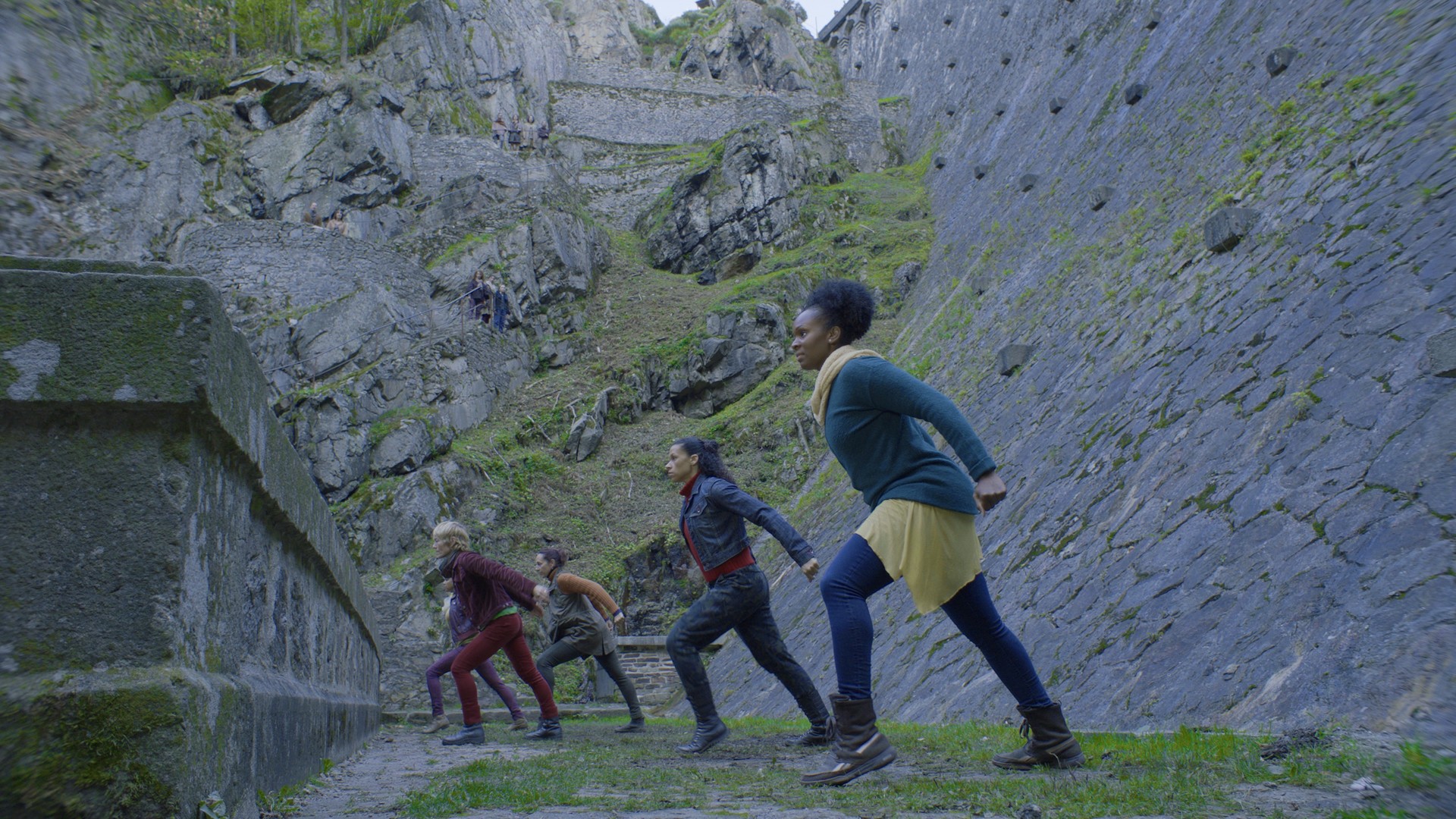 TRAVERSE
Traverse weaves the powerful performances of five women into a tapestry of collective experience, revealing an intersection of dance, movement and voices, a unity of experience in a profound personal yet collective journey. This expedition is set within natural and man-made structures that surround them: an ancient massive wall, stairs etched in stone, a perilous bridge – places they occupy and move through, discovering openings and connection, and encounter strangers sharing a similar trajectory passing into undiscovered terrain.
Director: Marlene Millar / Performers: Afia Douglas, Sonia Clarke, Helene Lemay, Kimberly Robin & Sandy Silva.
Canada 2018 – 13´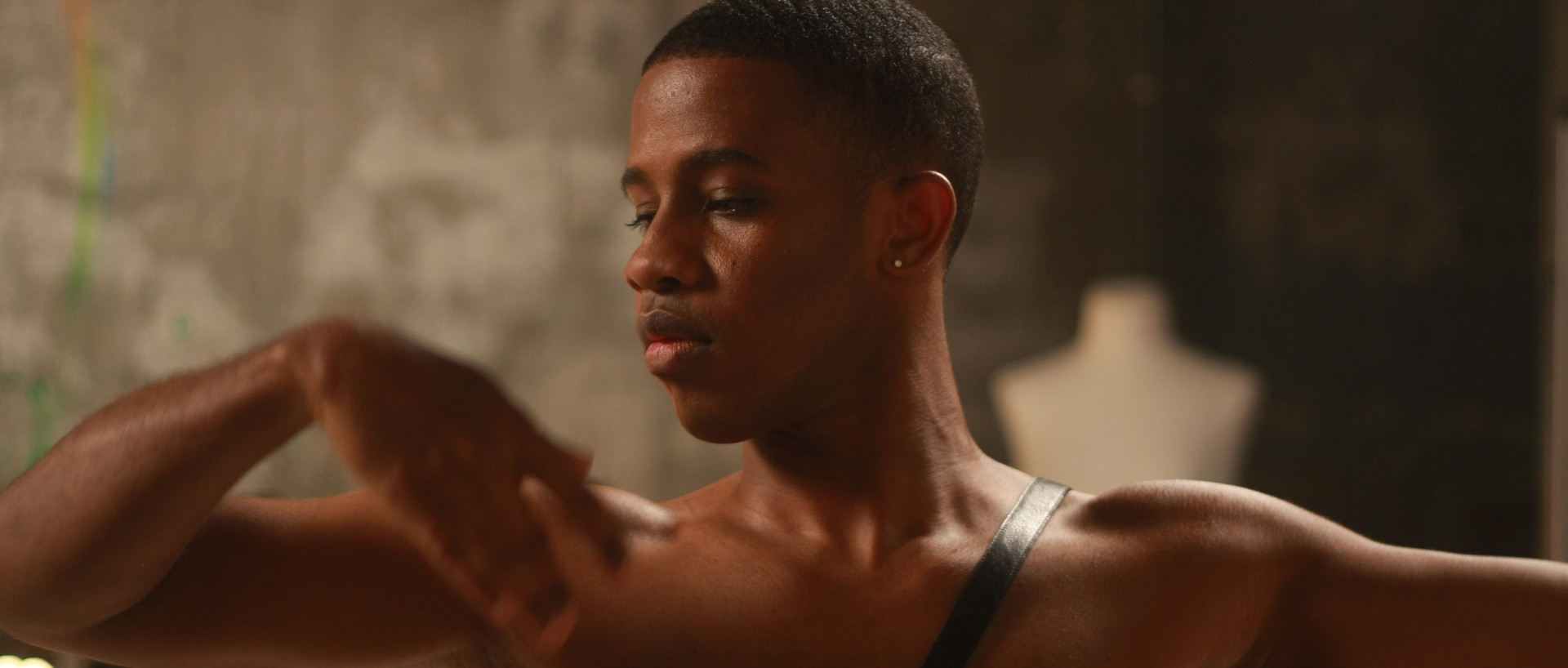 OTHERLAND
A Vogue dancer performs at a Voodoo Carnival Ball, an important dance contest where he will have to prove himself to be accepted by the local ballroom community. He remembers growing up on Sint Maarten, a small island in the Caribbean and all the changes he has been through since. The freedom he longed for seems within reach. Based on the biographical story of Elvin Elejandro Martinez and narrated by him, 'Otherland' is a juxtaposition of two narratives that evoke new associations for viewers: while the visual story of the ball is fictional, the film is based on in-depth research into the Dutch ballroom community and all the characters and dancers are part of the European ballroom/vogue community.
Directors: Jan Pieter Tuinstra & Keren Levi / Choreographer: Keren Levi / Performers: Elvin Elejandro Martinez, Xavier Barthelemi, Zelda Dapaah, Joby Shayron Tremus, Guilliano Pinas, Marvin Oliveira, Cyril Adaine, Amber Vineyard, Mattia Palumbo, Naimah Janse, Debbie Ruijter, Natascha Ruimwijk, Ronja Breuk, Ole Lehmkuhl & Orlando Haynes.
Netherlands 2018 – 13´30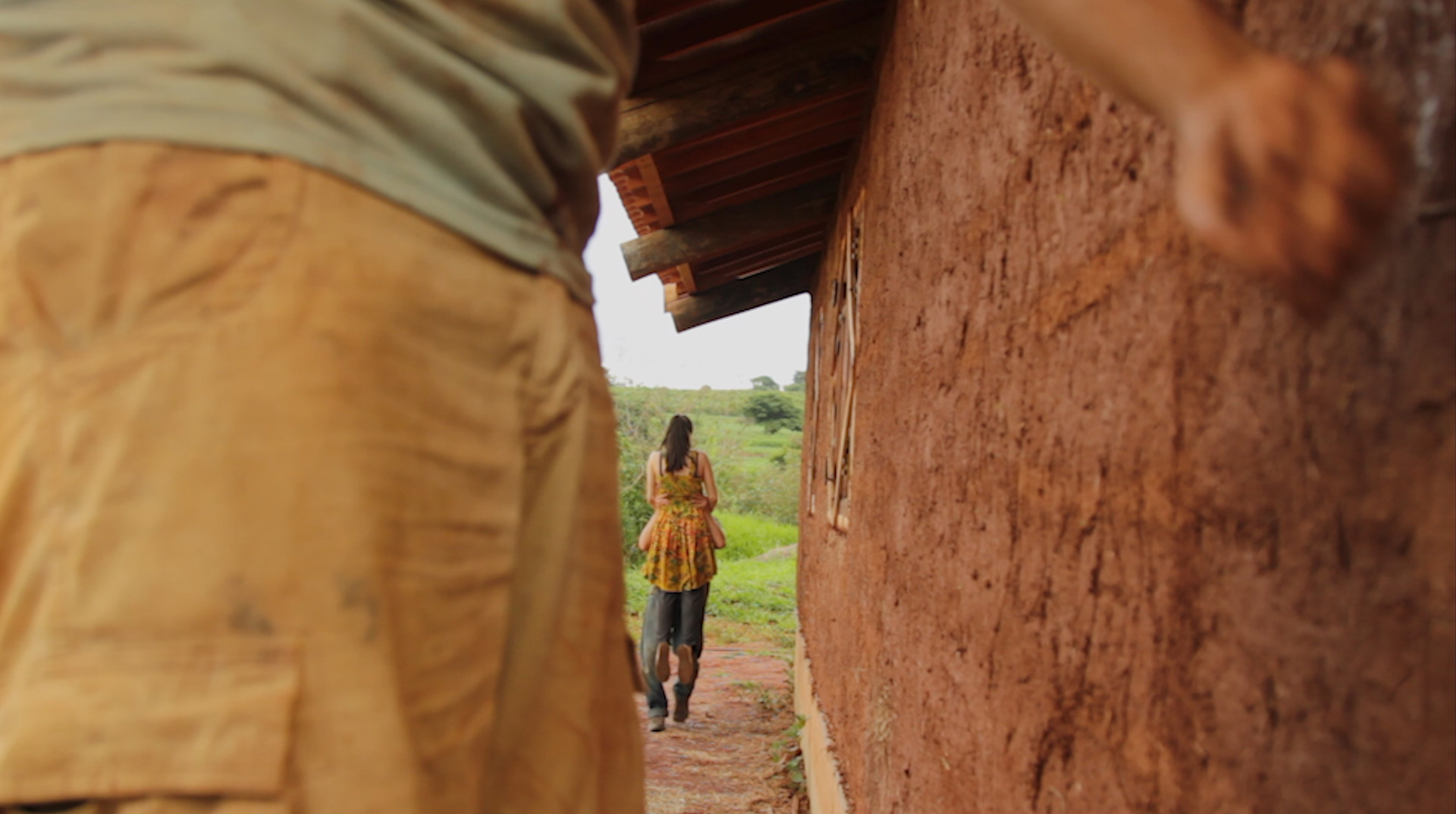 TERRA VERMELHA
Woven among everyday actions like sweeping a broom, smoothing an adobe wall, and riding a bike are moments of heightened activity: an intimate duet in the woods, a flirtation in a bedroom, a spell cast over a card game. Shot at an eco-village outside of Sao Carlos Brazil, with choreography by Francisco Silva and danced by Urze Companhia de dança, the vista in DIRT shifts from distant landscapes to intimate music-making, from mystery and romance to sweat and labor, with a communal spirit that makes the voyeur a participant.
Director: Marta Renzi / Choreographers: Marta Renzi & Francisco Silva.
USA 2018 – 14´19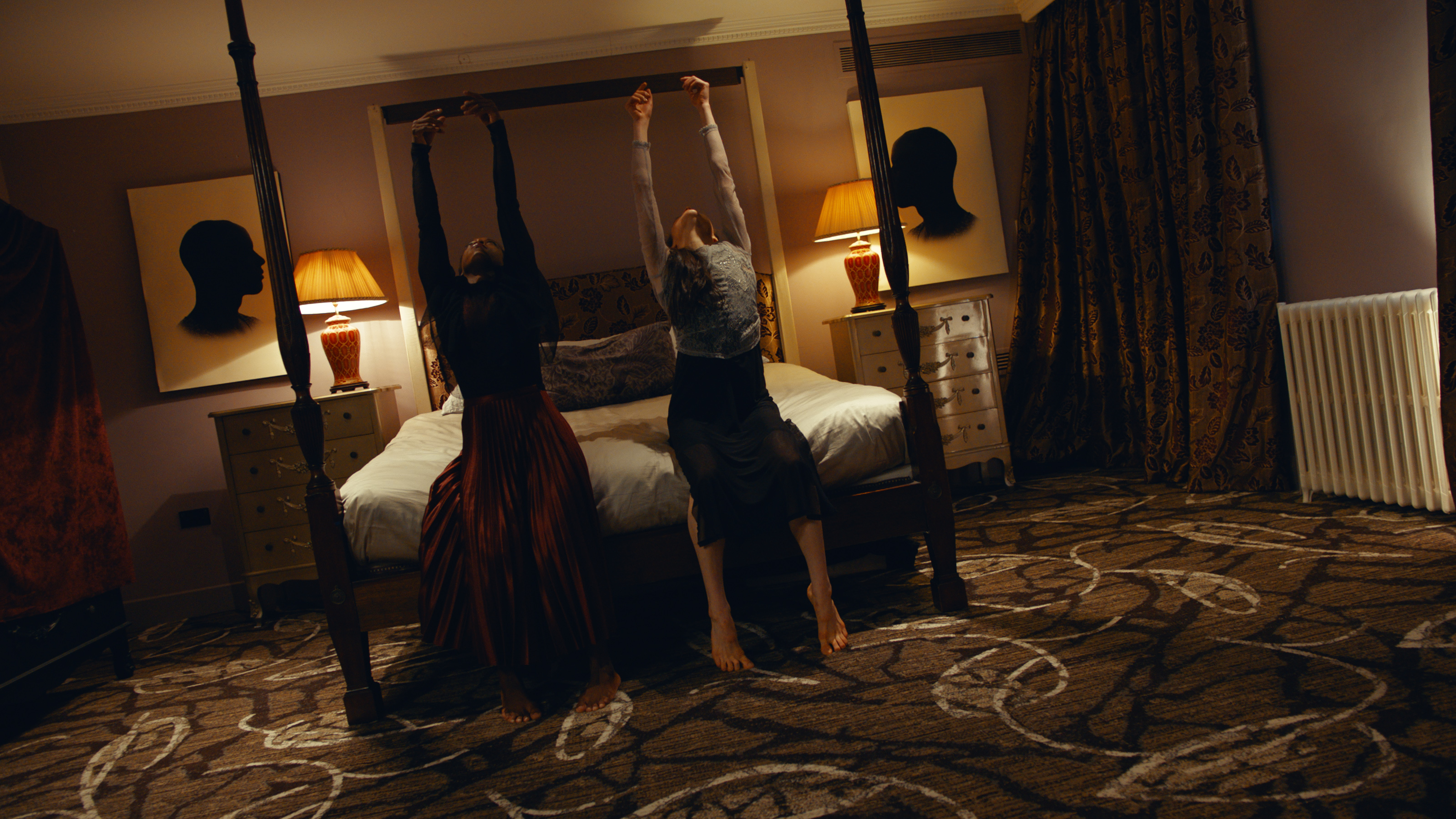 REMAINS
Falling in love with the admiration of an essence within its absence. A fantasy detached from reality where the mind dances and loses itself, unaware of consequences…
Director: Antoine Marc / Performers: Dekaos, Emma Farnell-Watson, Dear Marie & Sadé Alleyne
UK 2018 – 3´20
1-MINUTE SELECTION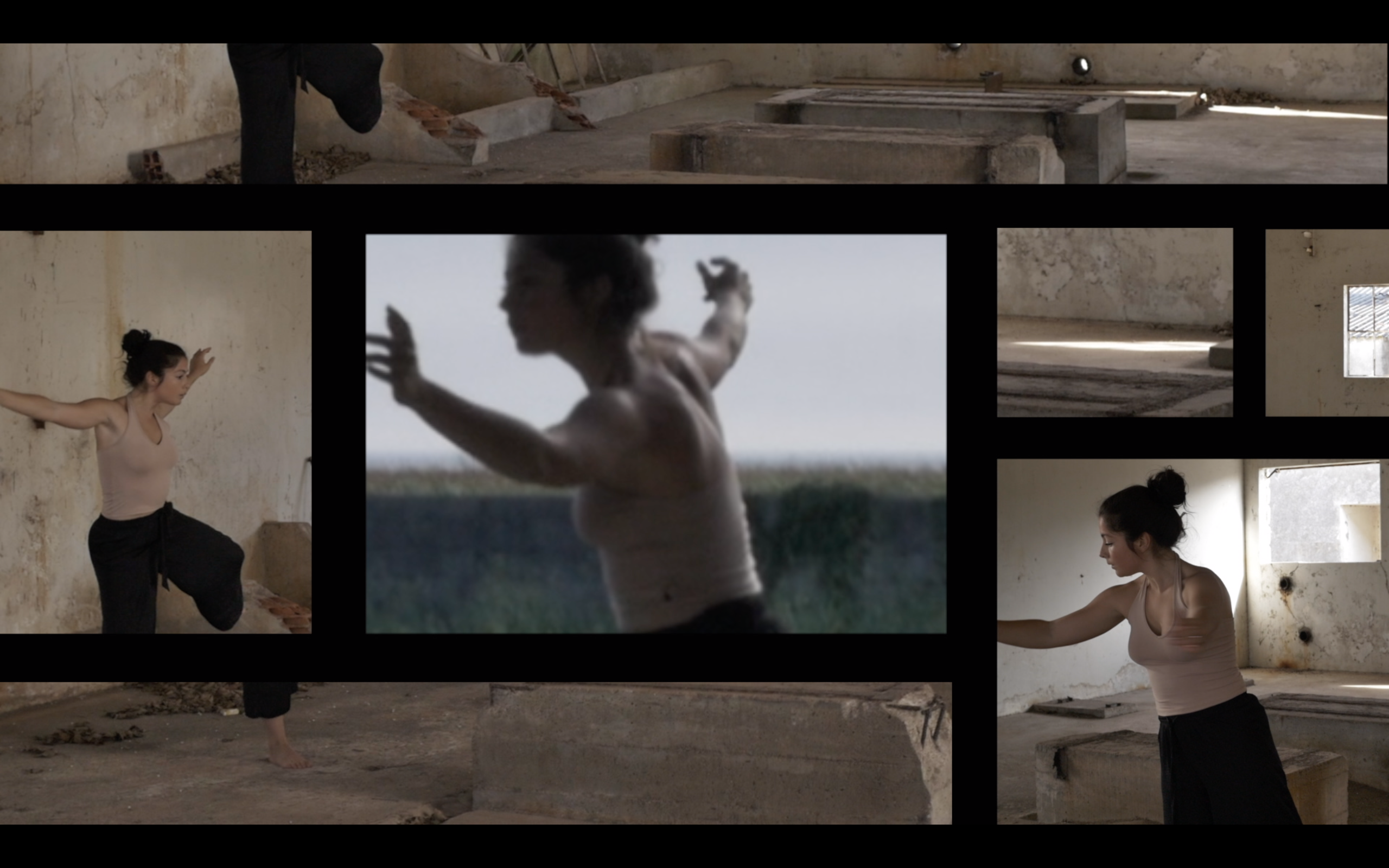 ERROR 500
Movement as a way out of a fragmented reality.
Director: Rita Al Cunha / Performer: Juliana Fernandes.
Portugal – 2019
(bild)
HUMAN
Human is an expression of the changing nature of humanity set to music as synthetic performers self-assemble and come to life. Combining music and cutting edge 3D animation technology, the synthetic performers express that individuality may be the key to being human. Even for a synthetic organism, repeating their programming reflects the same growing loss of humanity seen in modern society. The more we try to be like everyone else and go through the motions, the less human we become. The challenge to redefine her programming gives us a glimpse into the shifting boundaries of humanity.
Director: James William / Producer: Catherine Fairbanks & Lauren Ford
USA – 2017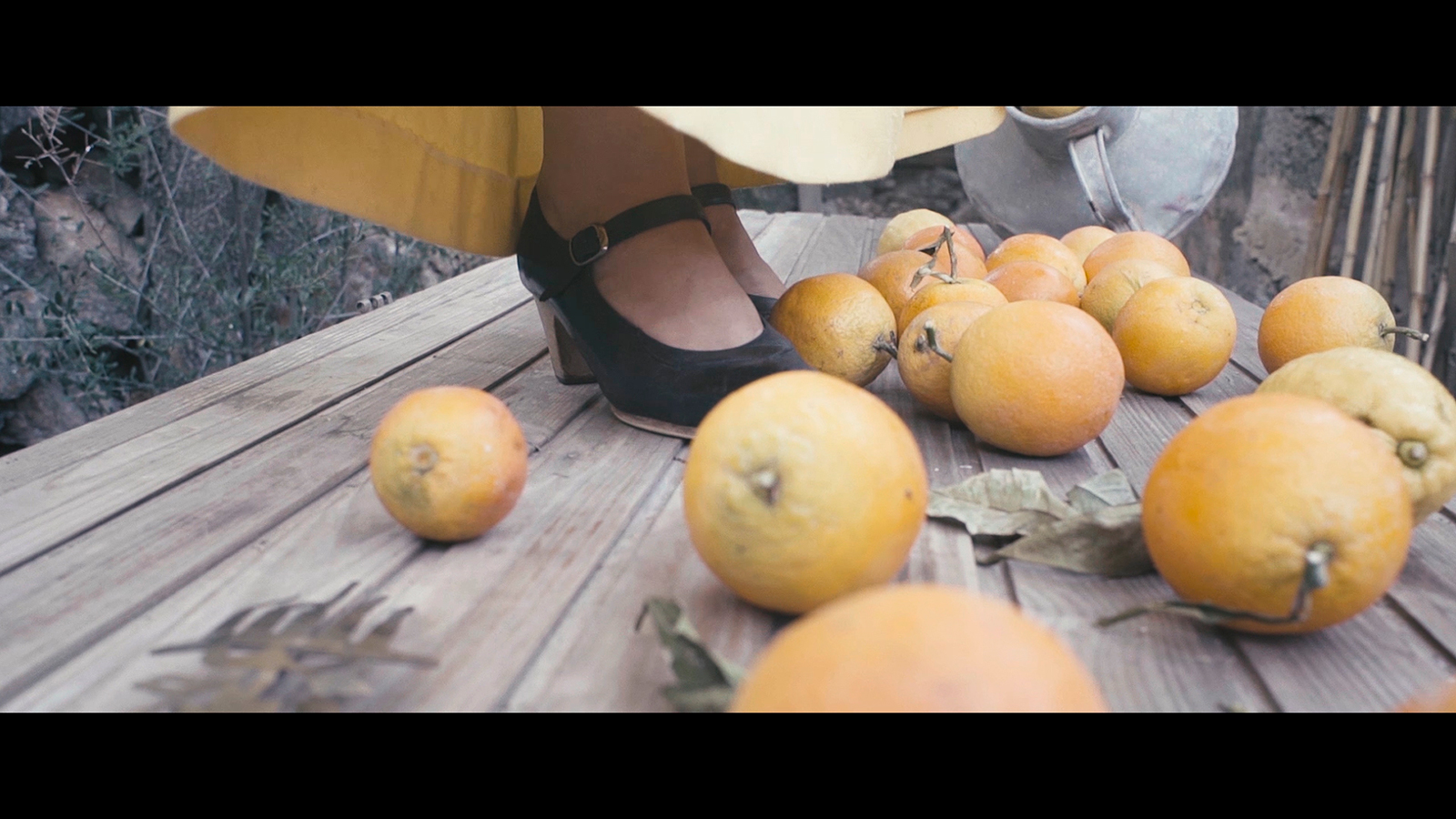 LEMON
To all the women who live in me, guiding me, giving me strength, casting a spell over me, encouraging me to go forwards and helping me to make decisions, sometimes sweet ones and other bitter ones but always going forwards with an open mind.
Director: Ángel Vallejo / Dancer: Patricia Moro.
Spain – 2018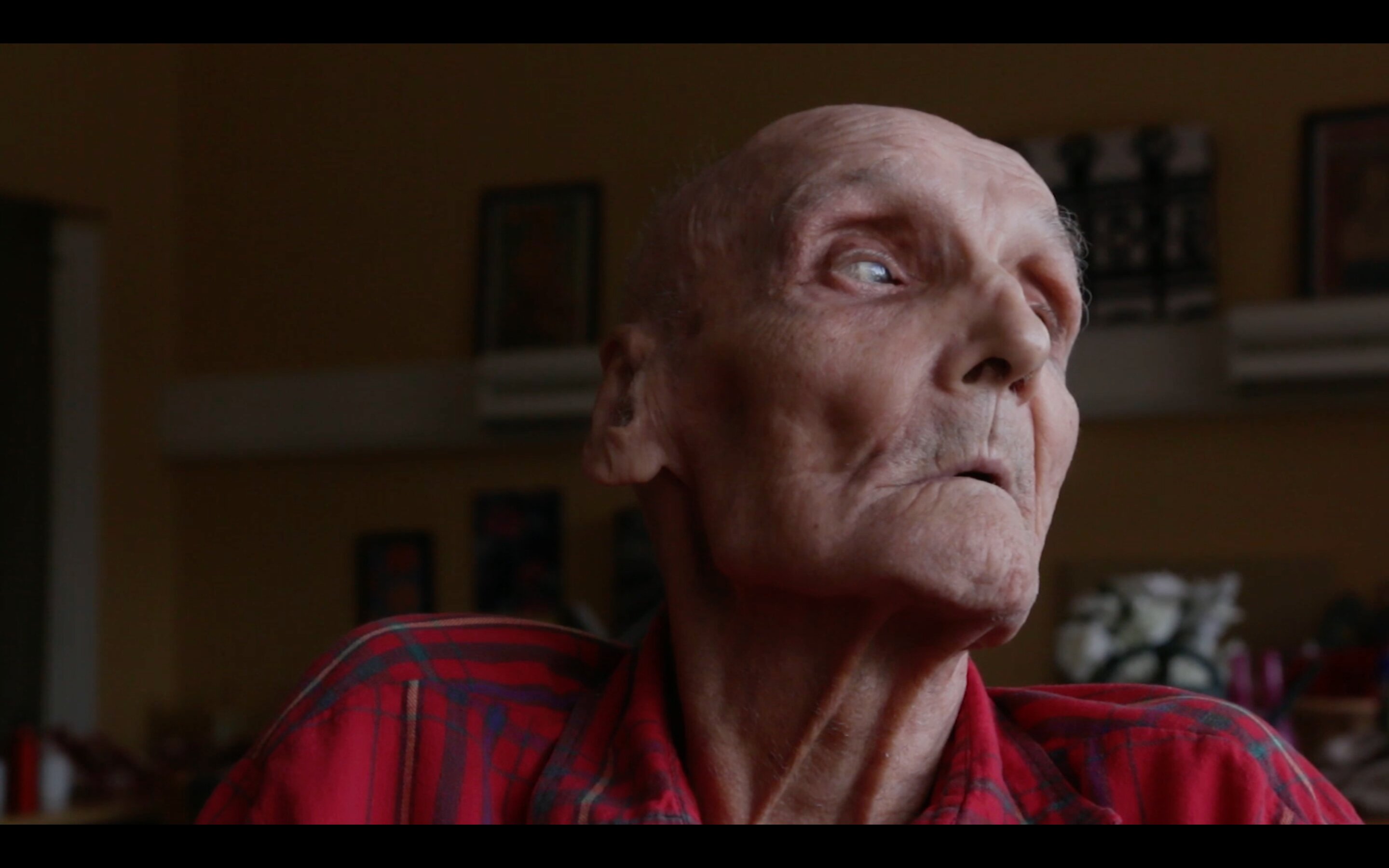 HOPE IS A WAKING DREAM
Portrait of a man who still loves to dance.
Director Kati Kallio / Performers: Reino Kumlander & Helmi Fagerlund.
Finland – 2018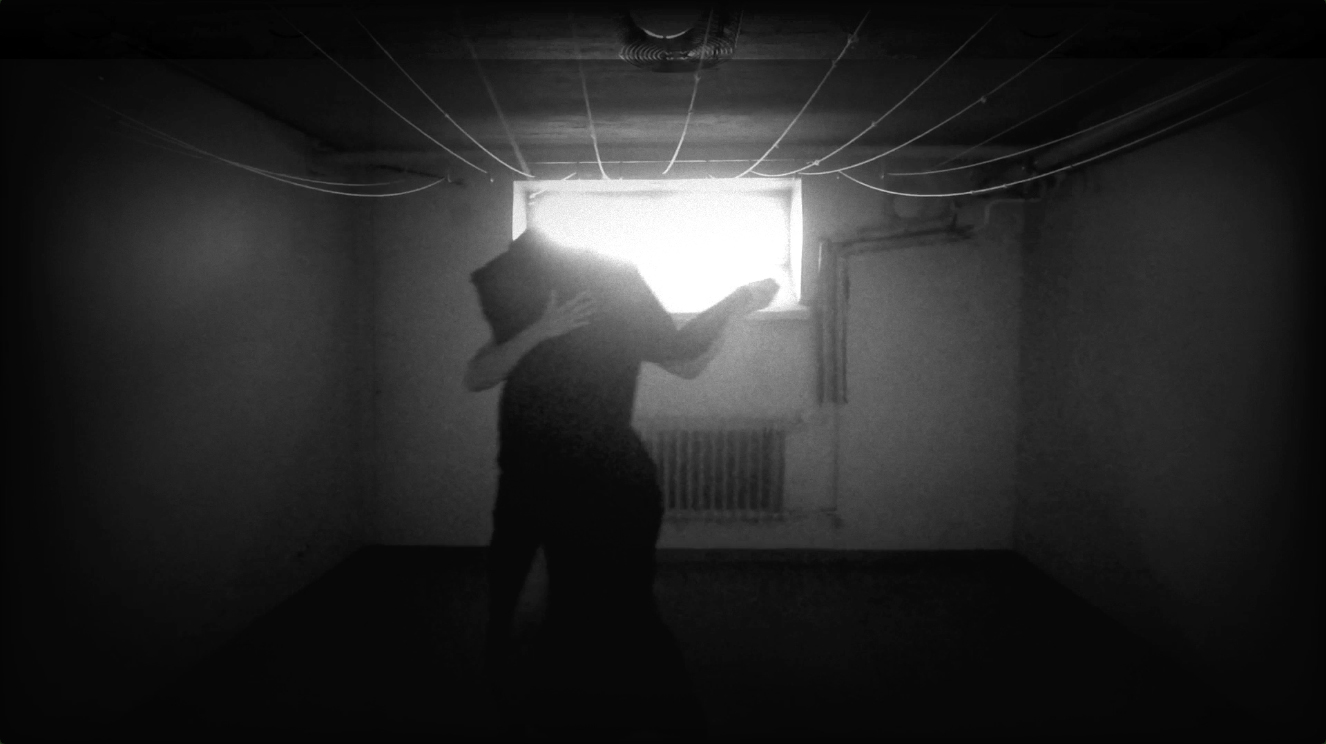 SOLITUDE
Director: Hanna Ojala.
Finland 2018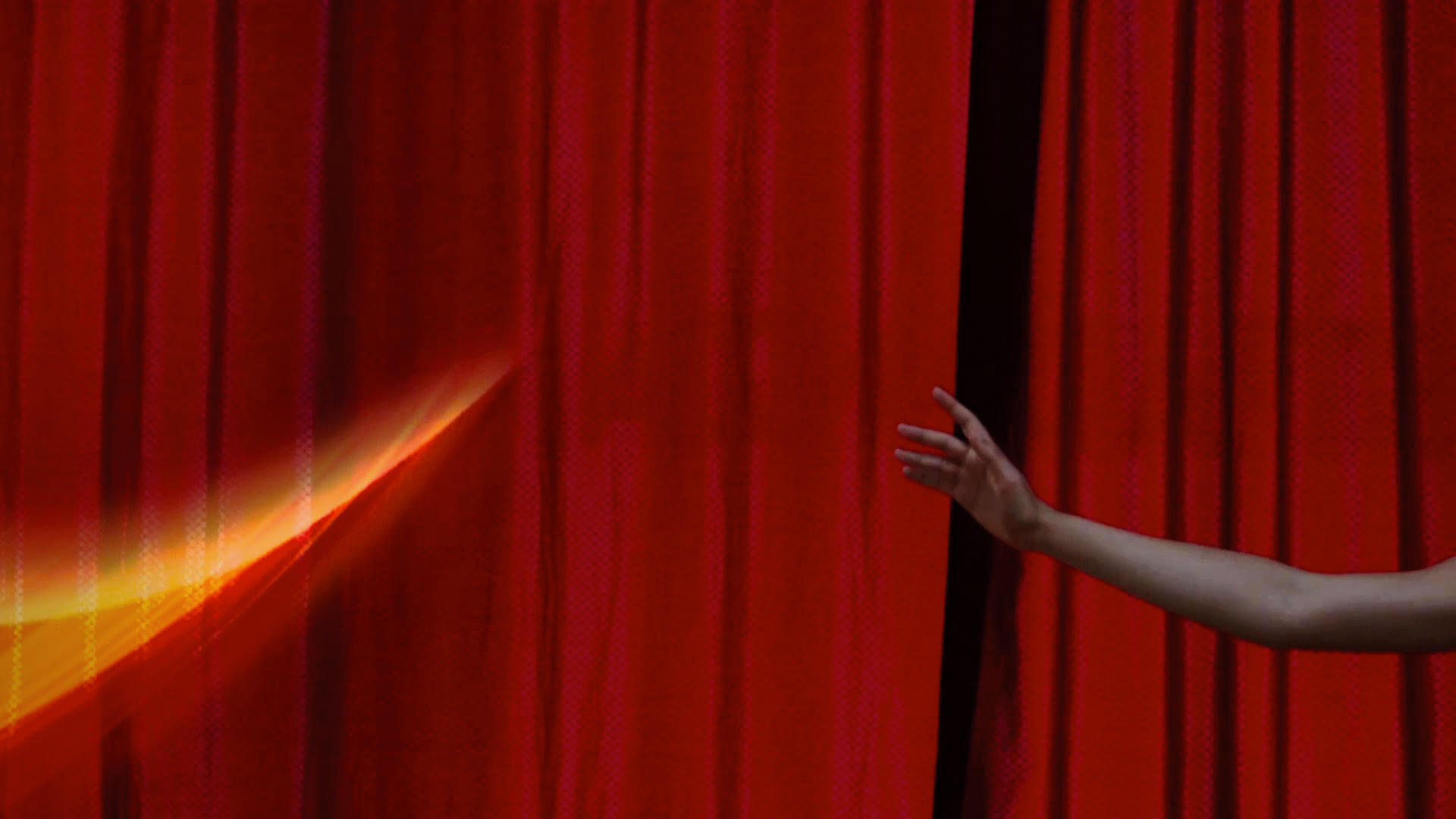 STILL LIFE
Basket of Fruit is a still life painting by the Italian Baroque master Michelangelo Merisi da Caravaggio. This choreographic project is inspired by this art work, focusing the theme about the fading beauty, and the natural decaying of all things. There is a real, deep beauty that is hidden behind the cycle of life. A beauty that goes beyond the noise of the video's soundtrack that recalls a presence of ""stains"", negative parts of human beings similar to the apple's stain of the Basket of Fruit. Someone could hate a stain of his soul, but our weakness is the only thing that makes us vulnerable, passional and unique.
Director & Choreographer: Francesca Mommo / Performer: Elisa De Martis.
Italy – 2017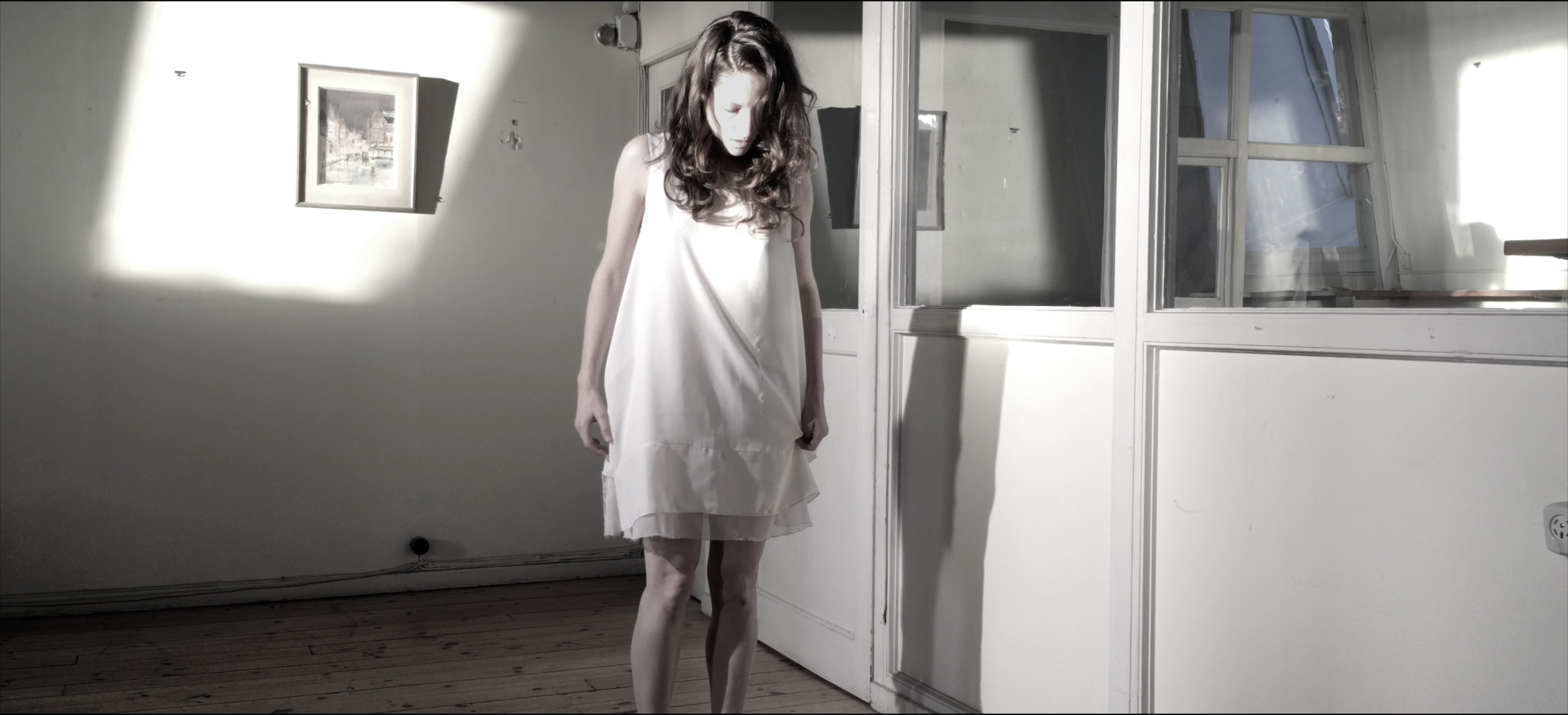 DISSIPATED THOUGHTS
A woman as three selves entrapped in a warped time and space. One form tormented and buffeted against a shattering soundscape one form witnessing another, inanimate and displaced. 'Dissipated thoughts' addresses inner conflict and the altered perception and multiplicity of self.
Director: Camille Marchadour / Performer: Maria Pilar Abaurrea
Sweden – 2017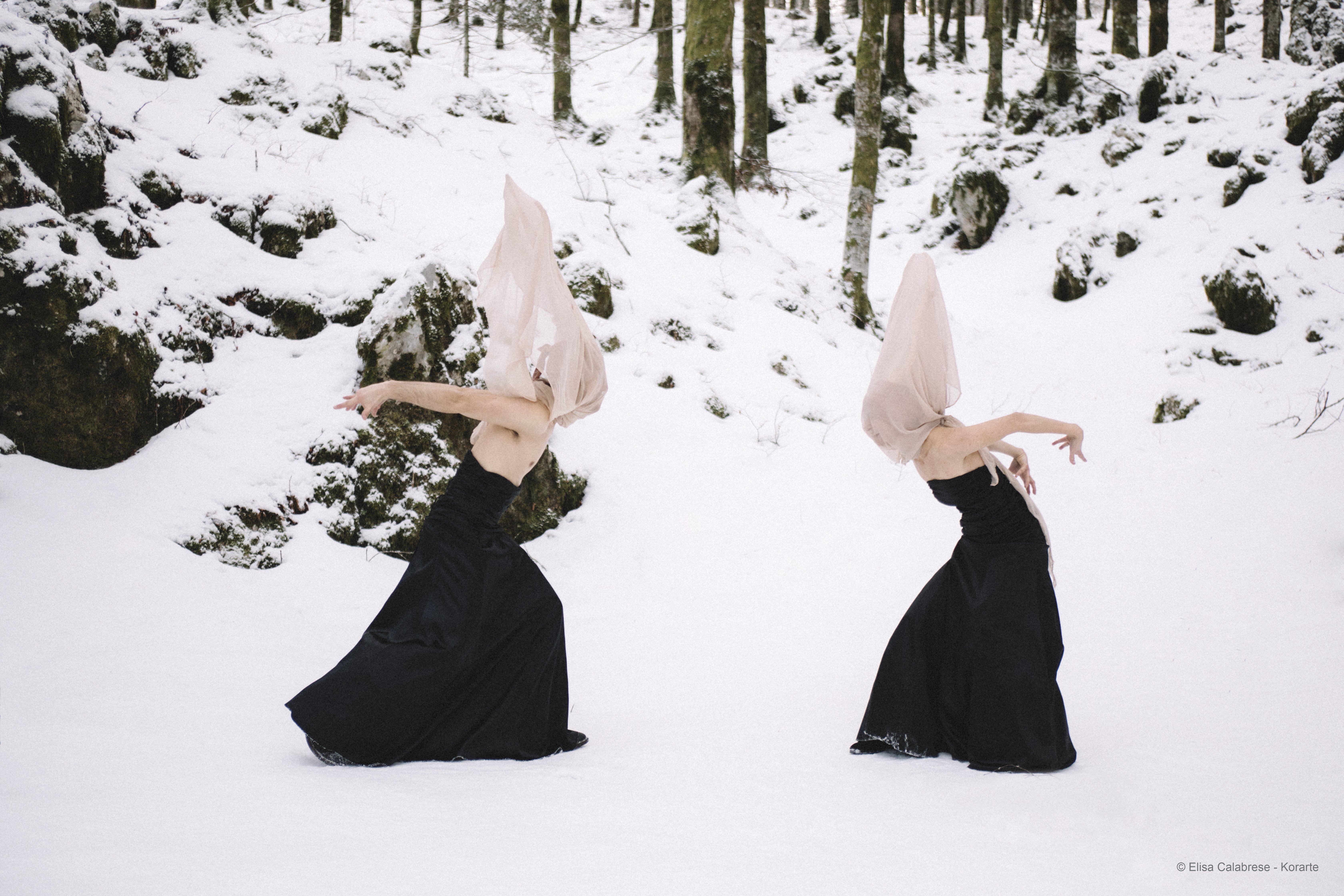 VIS
Journey on fleeting borders. Wild nature and un-defined freedom. Hybrid souls in search of the limit. Bipolar "vis"
Directors: Laura Zago, Giorgio Tollot & Federico Boni.
Italy – 2018
REMAINS
A lone human being with an unfulfilled existence. The remains of a ruined world. What remains of a soul that feels different from the rest. A human remains there, always watching the world he could never be a part of. He tries to find a meaning to his very existence, but every time what remains of him is his incompleteness.
Director Vasilis Arvanitakis.
Greece – 2018
(Bild)
UNDERBRIDGE
Underbridge is a single sequence shot that consists in a complete and precise choreography of the all dancers, camera and light operators. The action is a continuous night flight from an unknown beginning, in which the characters, facing the same situation, bump against a vertical architecture made of concrete. On a social perspective related to mass urbanization, we could say that the action is an escape from freedom into the walls.
Director: Fu LE / Producer: Taipei Performing Arts Center / Performers: Liu Chun-Liang, Chung Chih-Wen & Chen Yi-Ching.
France /Taiwan – 2017
GIF_DANCE SELECTION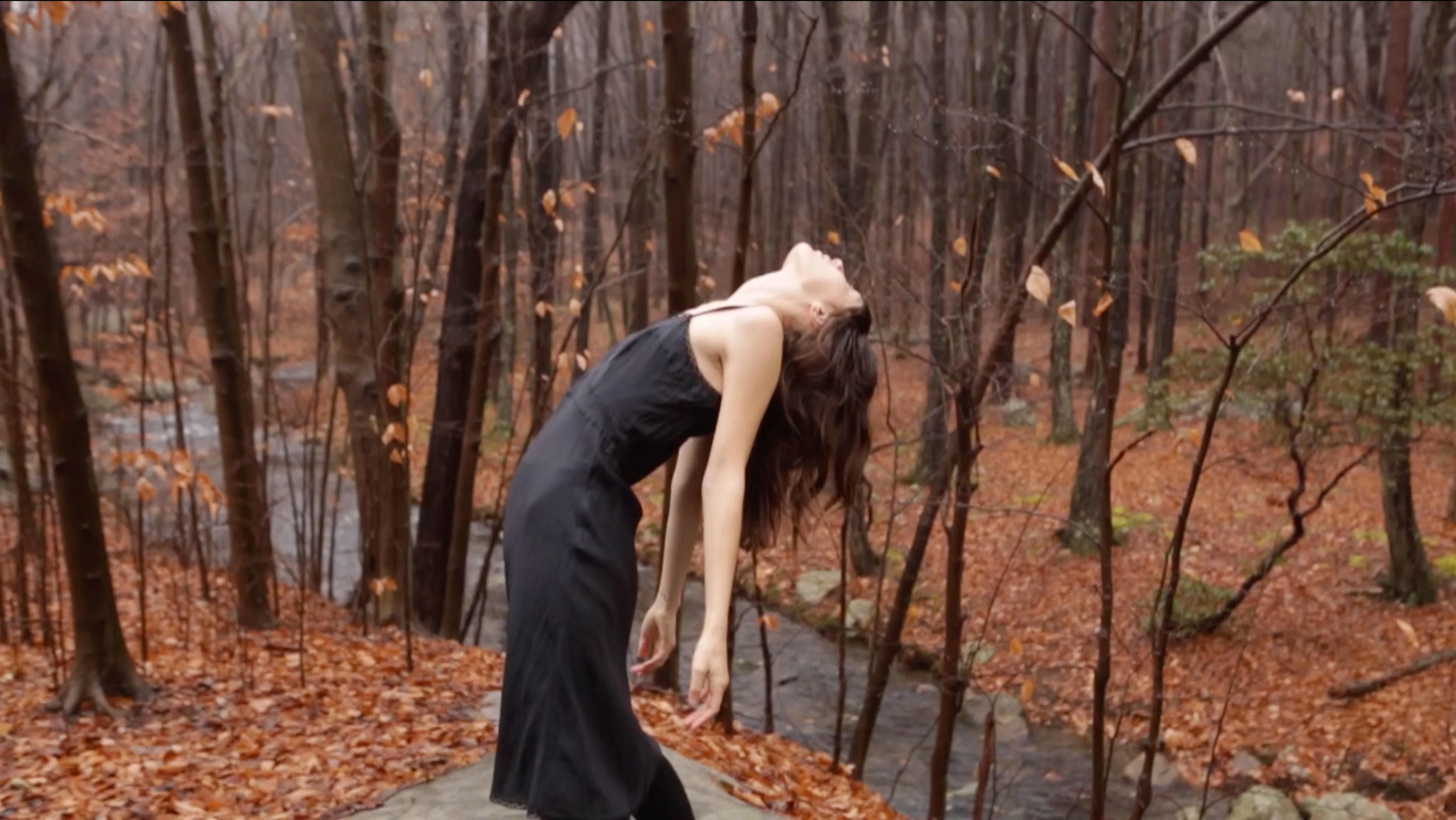 STUCK (I – VI)
Director: Erica Shires / Performance: Alexzandria Jade.
USA 2019