Contestants 2017
SWEDISH SELECTION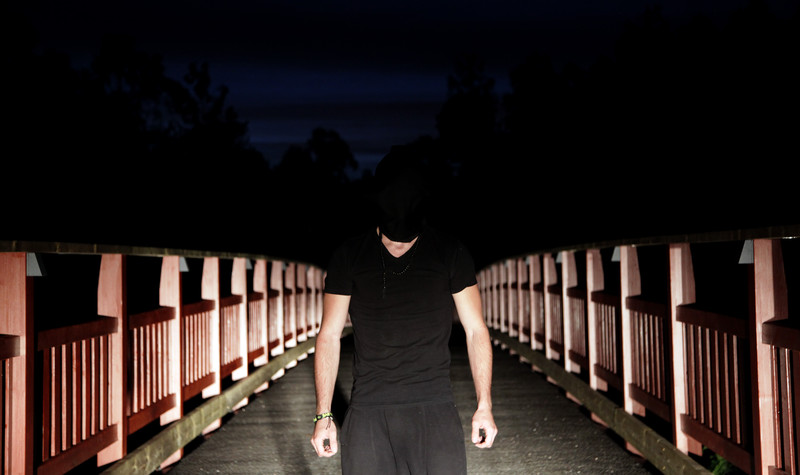 Last Dance
In memory of people who died while fleeing the war Syria.
Director: Eda Emirdağ/Dancer: Ghaith Saleh
Turkey/Sweden  2016 1´48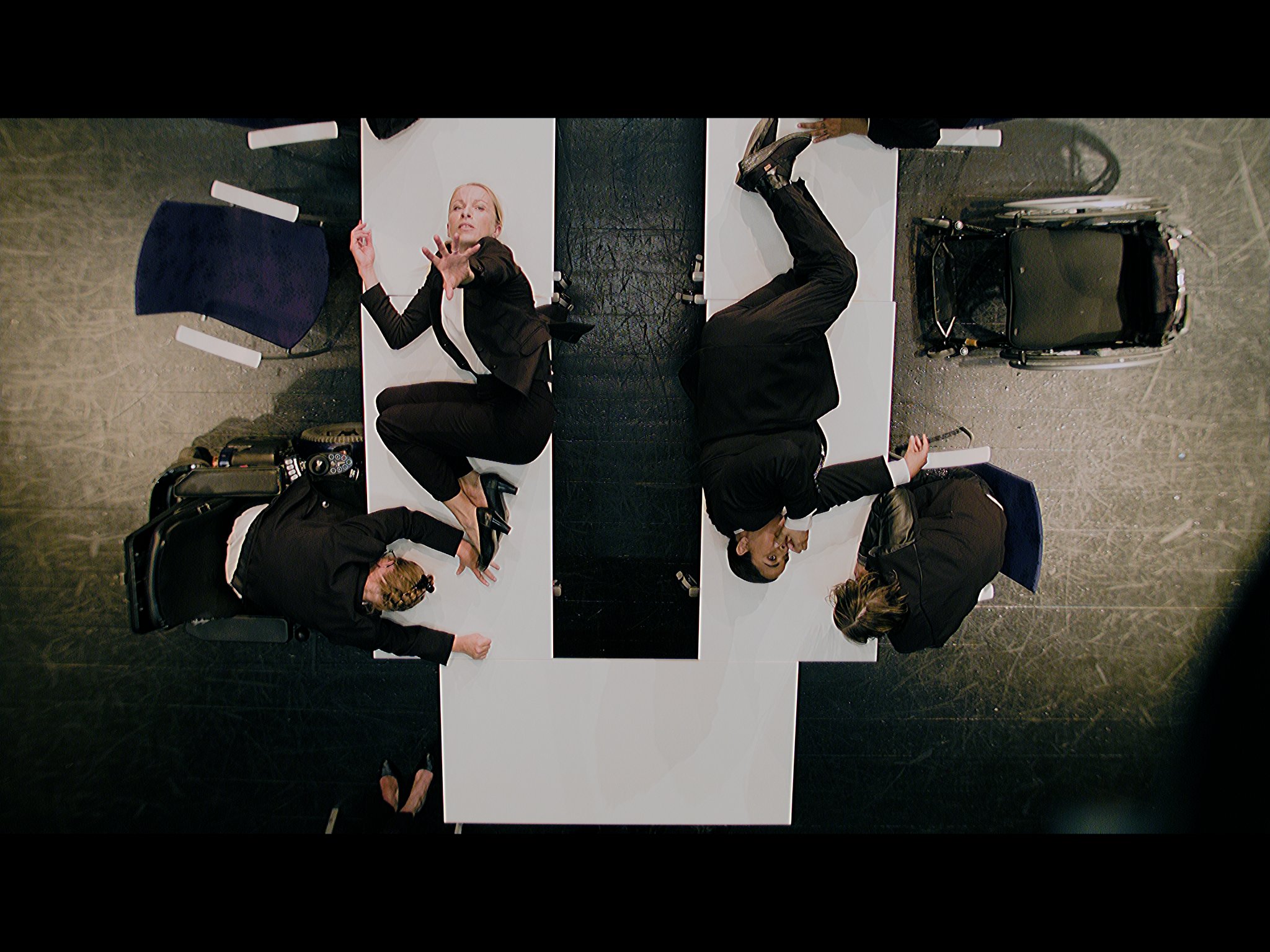 The Eye Of The Norm
Who is given access to the rooms of power? What rules are applicable in the boardroom? 'The Eye Of The Norm' puts light on the lack of variety and diversity in the room of power, but is more than a politically correct message in the form of a short film. It also challenges the norms of art and dance as such.
The purpose of the dance film is, in addition to providing a strong artistic and emotional experience, to work towards development and change in regards to participation of people with different abilities in the arts.
Directors: Helene Karabuda and Alfons Karabuda/Dancers: Per Holmberg, Linnéa Backgård, Destiny af Kleen, Karin Ahlinder, Mary Hagman, Anna Westerberg, Tomas Börsbo, Helene Karabuda
Sweden 2016 11´02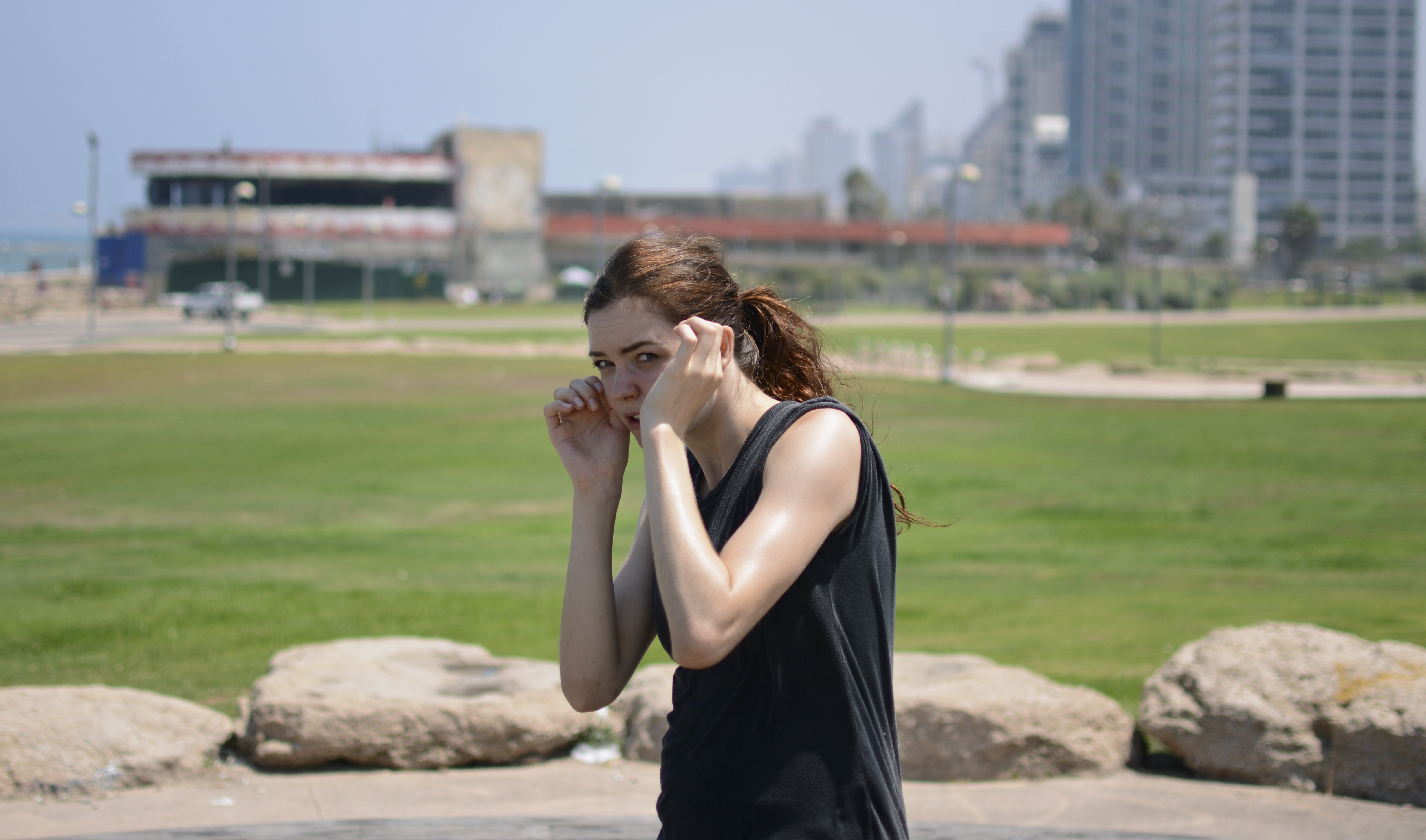 HER
Fighting herself or fighting HER.
Director: John Wannehag/Dancer: Stephanie Troyak
Sweden 2016 1´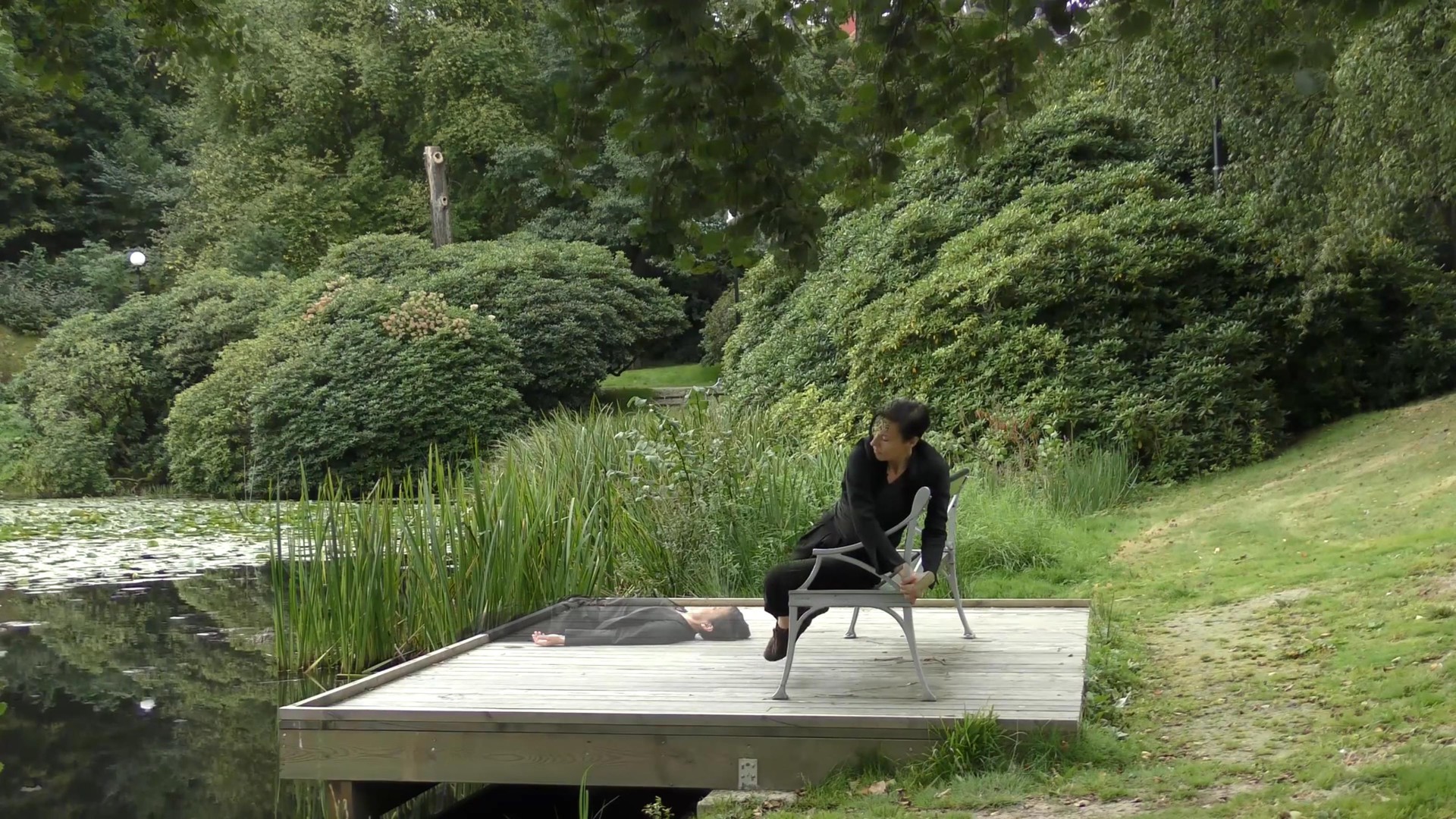 Conversations in the park 1:1
How does public space affect the dancer, choreography and its content? Can dance make a permanent imprint to the society? What about the post-modern dance today, who represents it and is it still proposing a critical body with radical settings that articulates issues of art and politics? Let´s dance.
Director: Benedikte Esperi
Sweden 2016 6´27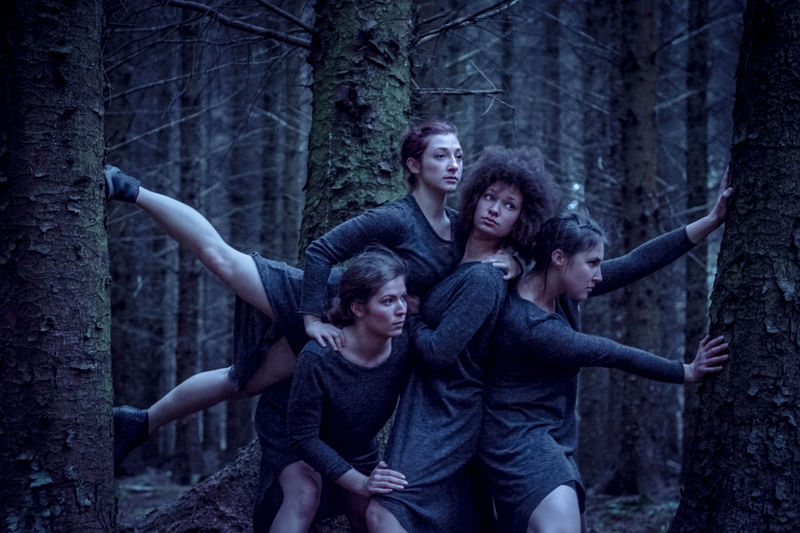 Magna Mater
The Earth was once viewed and worshipped as a living, female being: the Great Mother. Across the world this primary goddess took different names and shapes but was never limited to the sole quality of motherhood. She was a warrior, birthing life and causing death, in control of the forces around her: a power to honour and respect.
Director/Choreographer: Jennifer Drotz Ruhn/Dancers: Marion Cronin, Bethany Howitt, Christina Reed-Richards and Michaela Wate
UK/Sweden 2016 12´50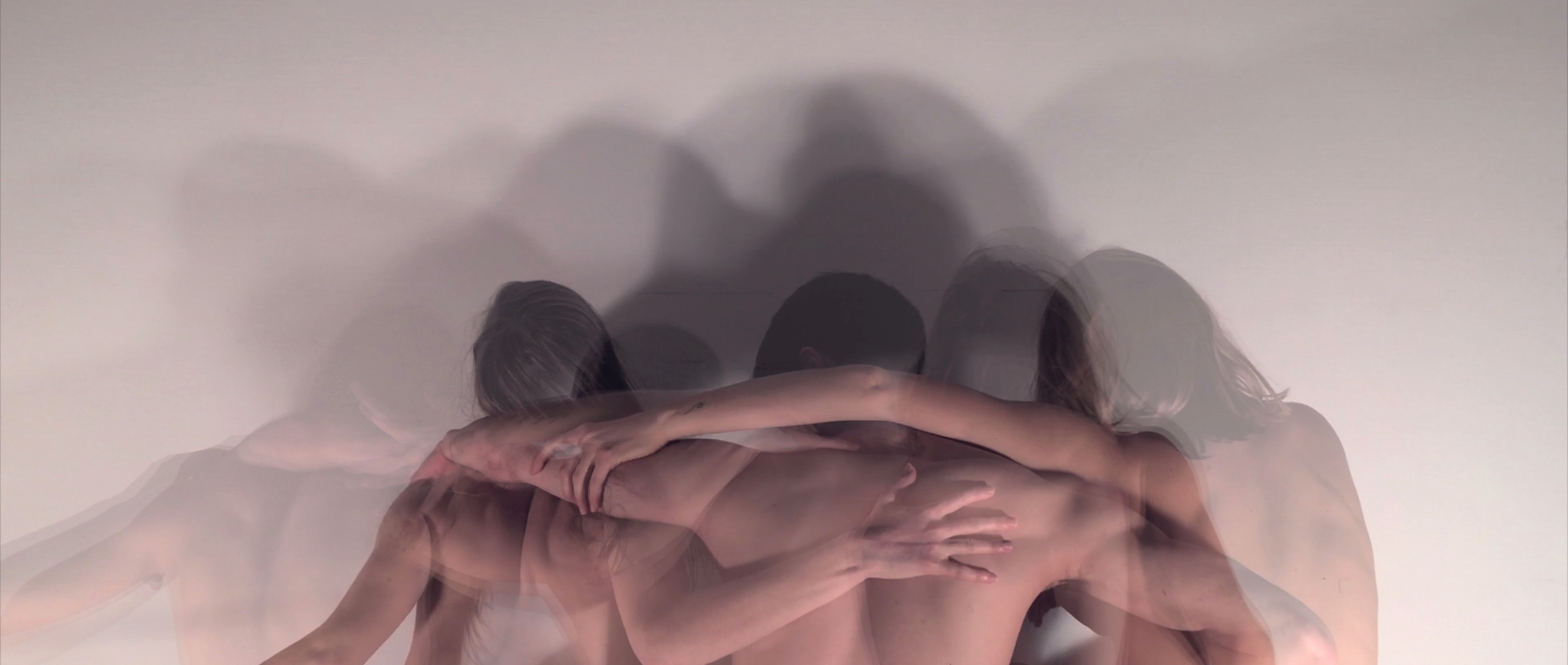 There is one undone
This video plays with the limited vocabulary of three bodies fixed in a constricted space. Through the use of superimposed images alongside contrasting dynamics the film evolves towards a more pared down visual and choreographic style.
Director: Camille Marchadour/Dancers: Julie Koenig, Romane Petit and Kit Brown
Sweden 2016 3´34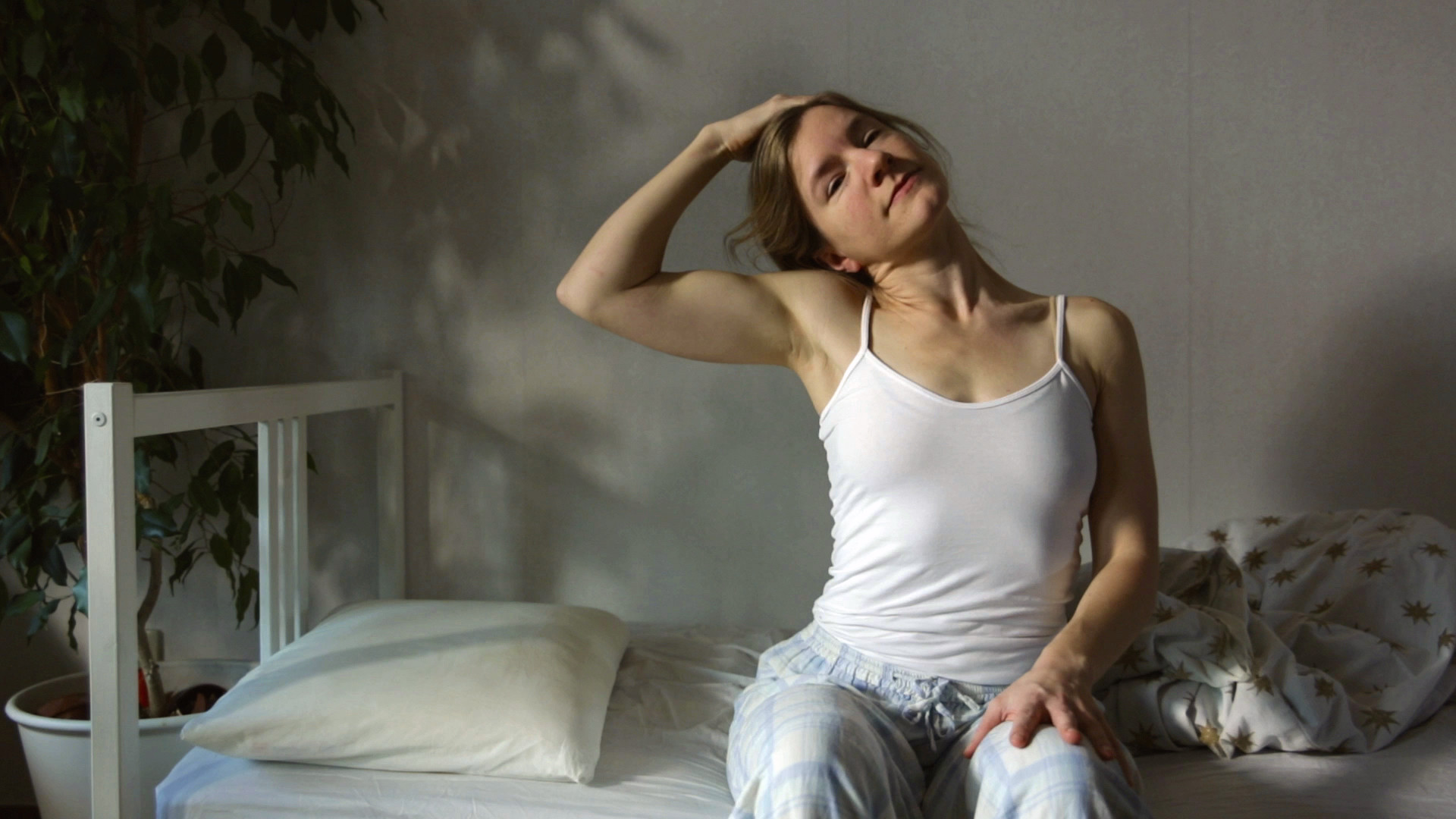 The Crackdown
A film inspired by the pursuit of dreams of Sleeping Beauties and Nutcrackers. A morning when a dancer's body gets down to the crackdown.
Director: Mervi Junkkonen/Dancer: Zala Pezdir
Sweden 2016 1´03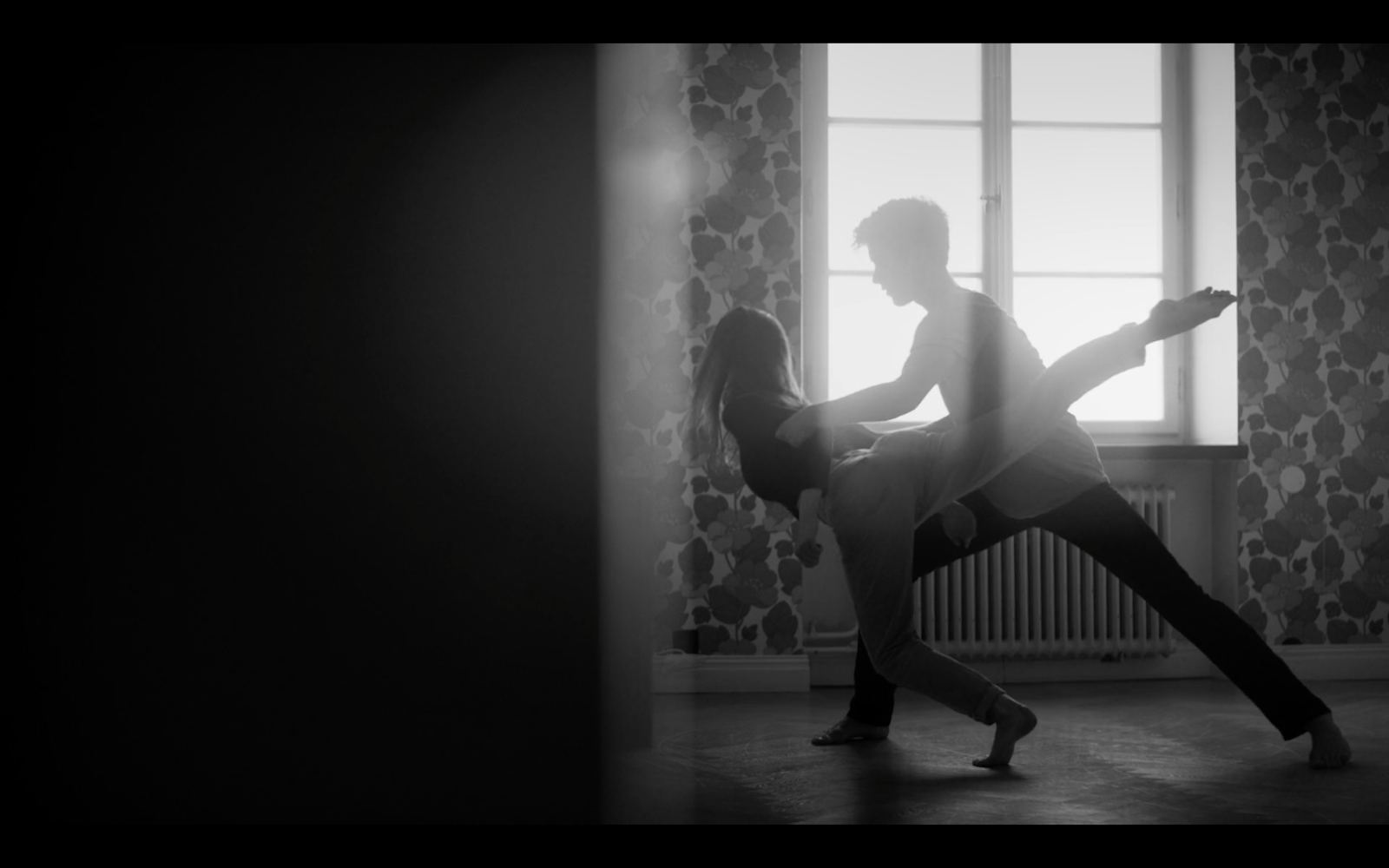 GONE
Director: Engeli Broberg/Dancers: Julia Bengtsson and David Lagerqvist
Sweden 2015 3´ 6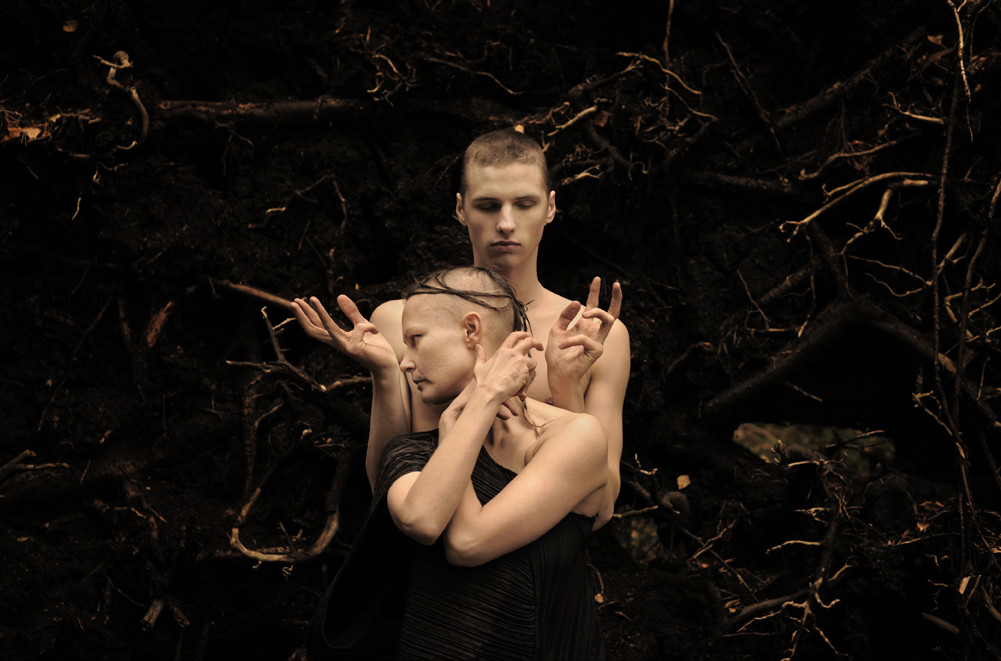 Fall
A gigantic uprooted tree forms the background to the dancing couple, whose entwining limbs seem to be organic parts
of primeval nature. Invisibly reaching skyward, searching a foothold in viable ground they are capsuled in earthly paradise of
decay and new beginning. Roots link one with strata of evolution process. Time-lapses and relapses. Synapses glow in a cycle
of life and death.
Directors: Virpi Pahkinen and José Figueroa/Dancers: Virpi Pahkinen and Oskar Landström
Sweden 2016 4´20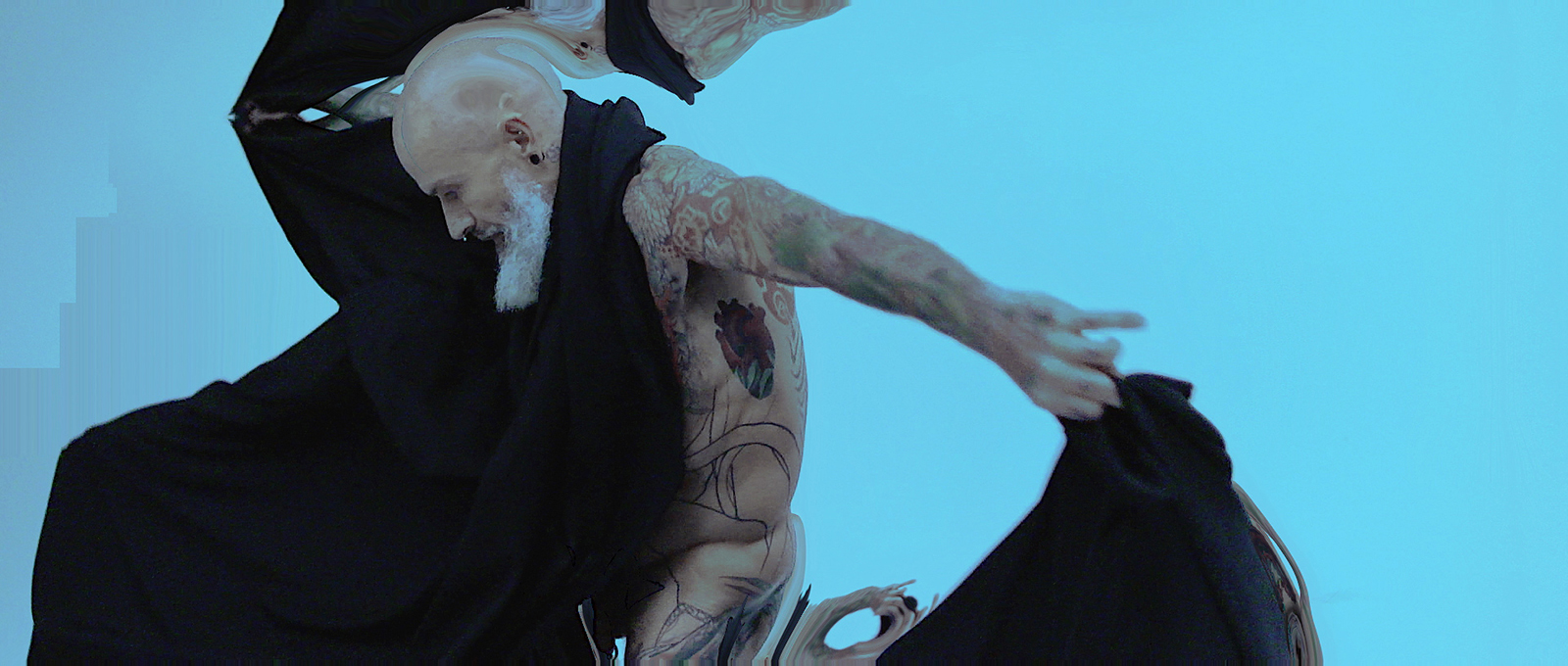 NAKEN
Fenceless and fragmented. Sheared and smeared. A synthesis of shell and shred.
Director: David Strindberg/Choreographer&Dancer: Matthew Morris
UK/Sweden 2016 3´11
INTERNATIONAL SELECTION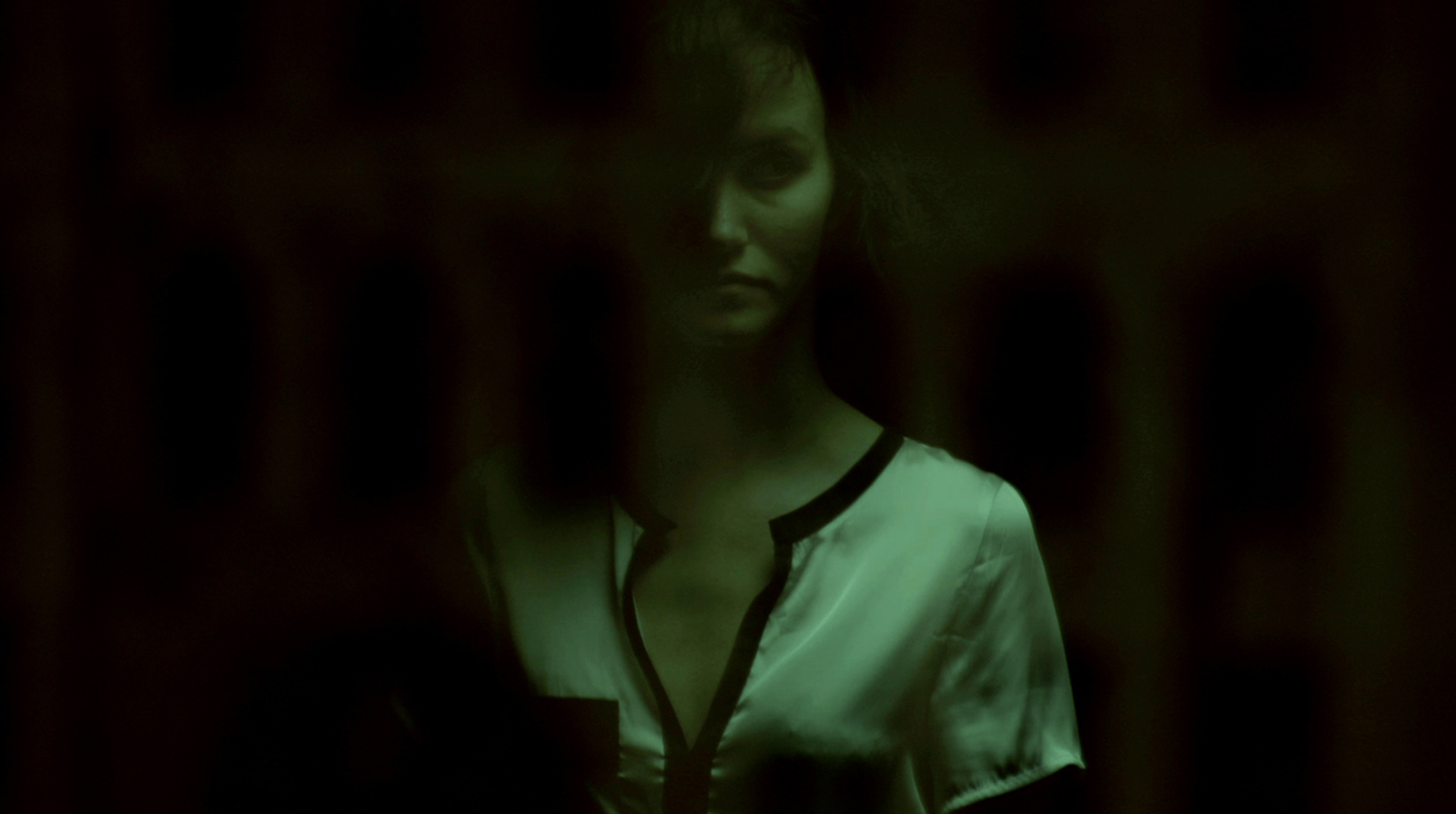 THE BOUDOIR
A film about a young woman experiencing music through a psychotic phase.
Director: David Latreille/Dancers: Emilie Dumas (Specs Models Montreal)
Canada 2014  2´22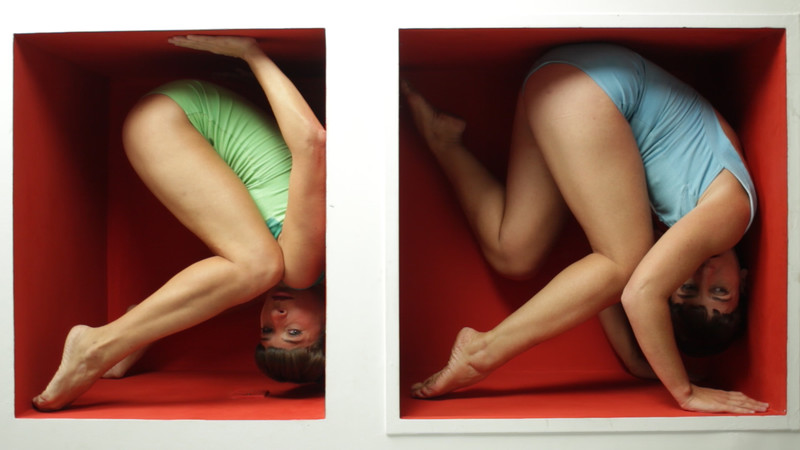 Promenade
The film brings together dance, video and architecture in order to find new readings of space, making connections that design a virtual journey between functional and symbolic dimensions of architecture and poetic and geometric dimensions of space. Articulated by the choreography, our bodies and the camera's eye look for new associations and senses.
Director: Cirila Luz Ferron/Choreographer: Florencia Olivieri/Dancers: Florencia Olivieri, Julia Aprea, María Bevilacqua, Paula Dreyer, Mariana Provenzano, Carola Ruiz and Mariana Saez
Argentina 2015 8´50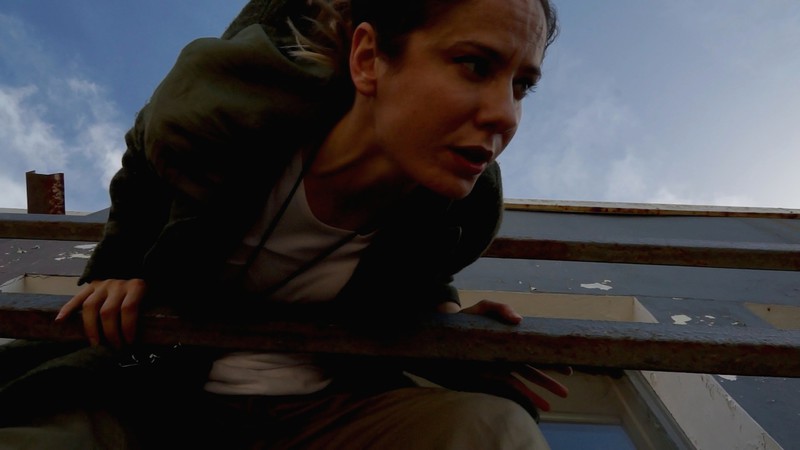 60 pulses
60 pulses is a video that explores the idea of making the effort to adjust the moment by moment of timing of action. With the outcome of having alertness to tactics and setting goals.
Director: Aliki Chiotaki/Choreographer: Christina Mertzani/Dancers: Christina Mertzani
Greece 2016 3´32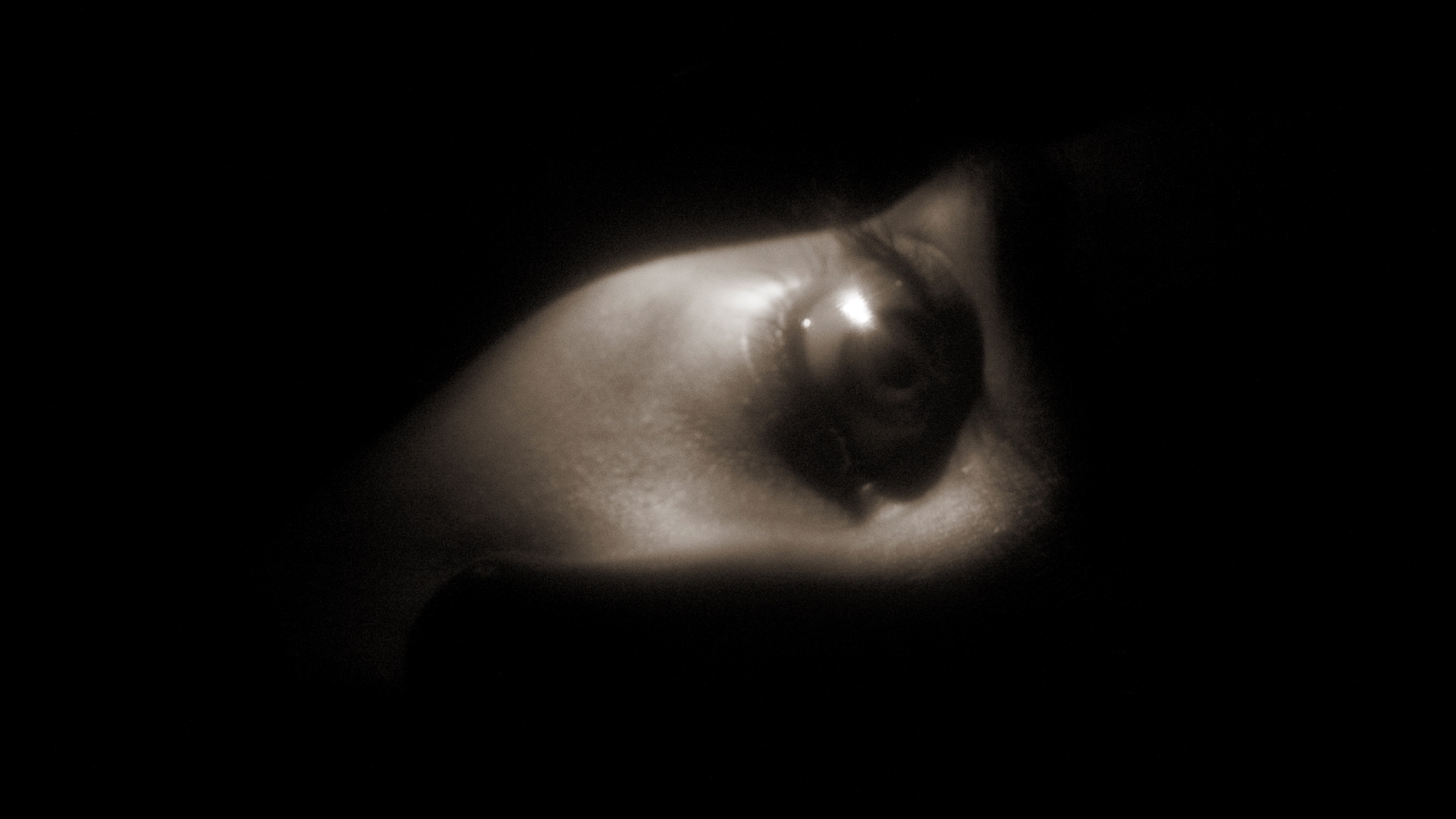 Ourself
In the darkness I can see no other.
Director: Hannah Subotnick
USA 2015 02´10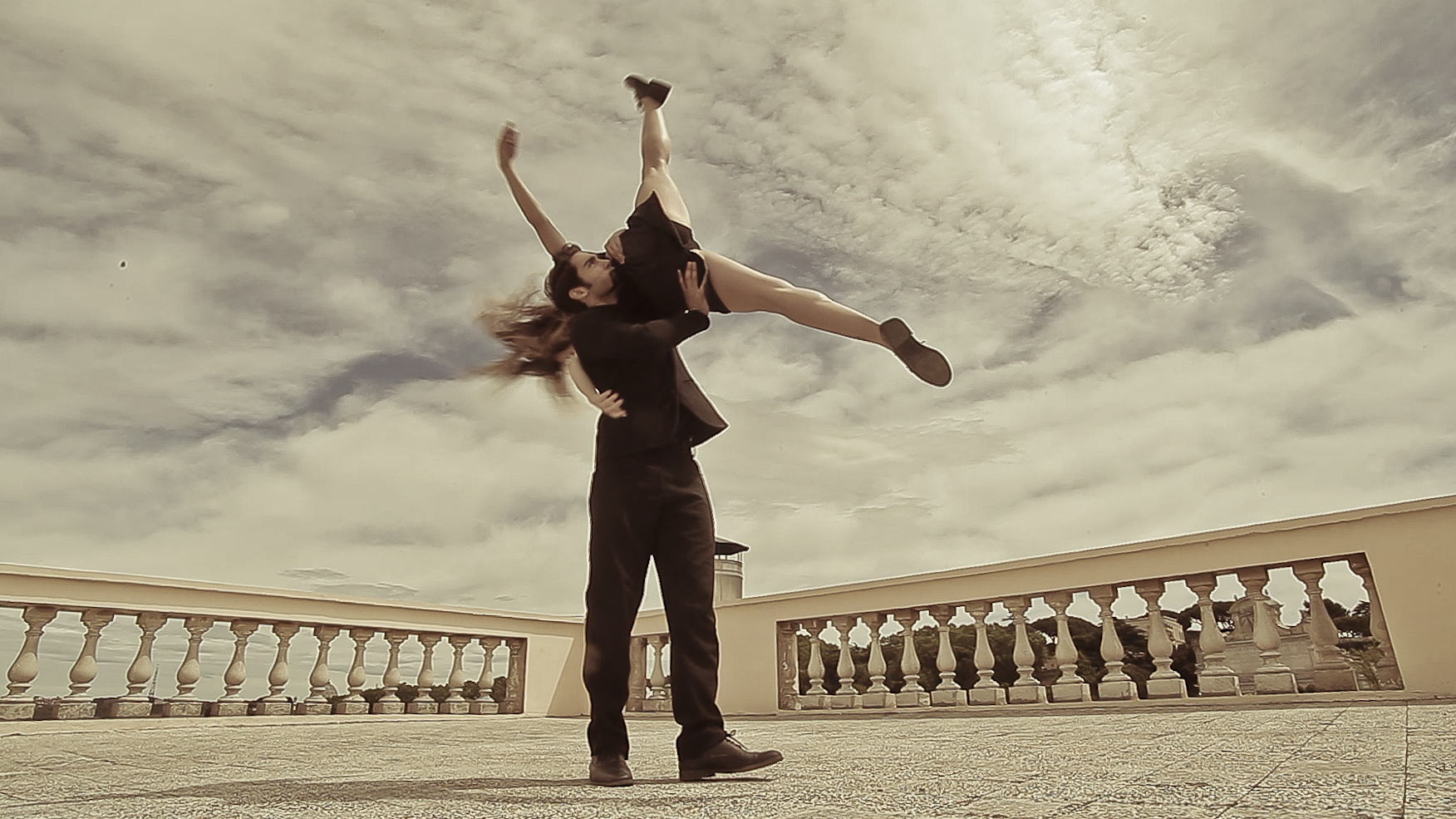 Dance Rome Rise
You yourself have walked free among the flowers.
Director: Javier Cardenete Rivera/Dancers: Michele Mastroianni, Teresa Agut, Rachael Mossom, Marianna Vincenti, Federica Ribezzi, Eleonora Berti and Anna basti
Spain 2016 7´41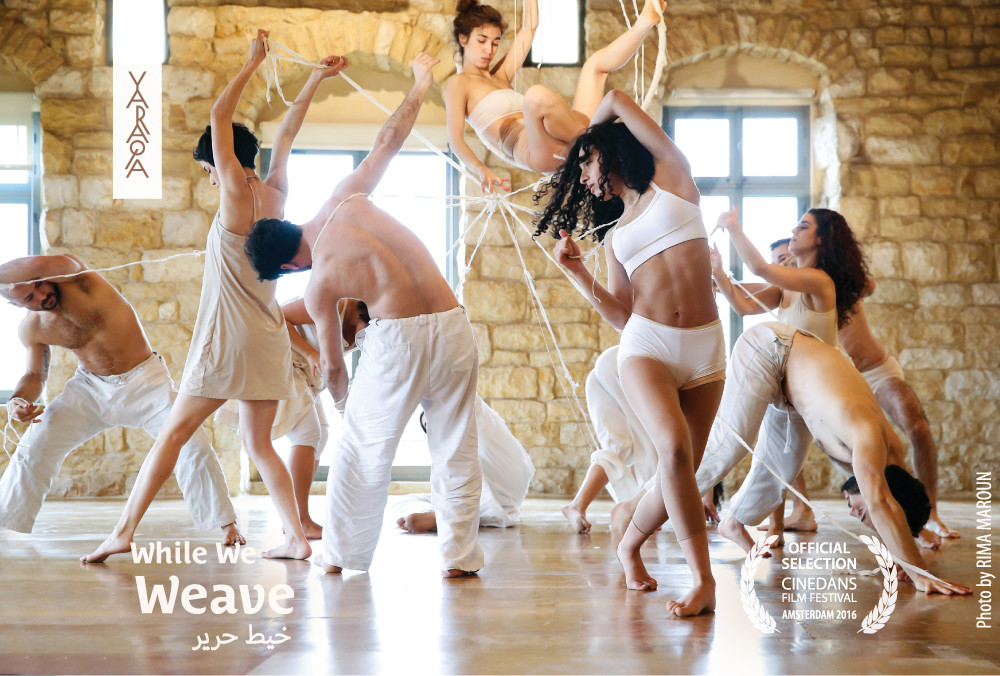 While We Weave
A yaraqa — silkworm in English— intricately weaves a delicate yet strong silk-webbed cocoon around itself as it literally transforms into its full potential. The single thread it produces is valuable to the entire luminous fabric.
Director: Wafa'a Halawi/Choreographer: Corinne Skaff/Dancers: Bassam Abou Diab, Corinne Skaff, David El Achkar, Elissa Mansour, Lisette Chehade, Malek Andary, Rabih Yammine, Rami "Cavalo" Eid, Romy Assouad, Romy Lynn Attieh and Yara Boustany
Lebanon 8´03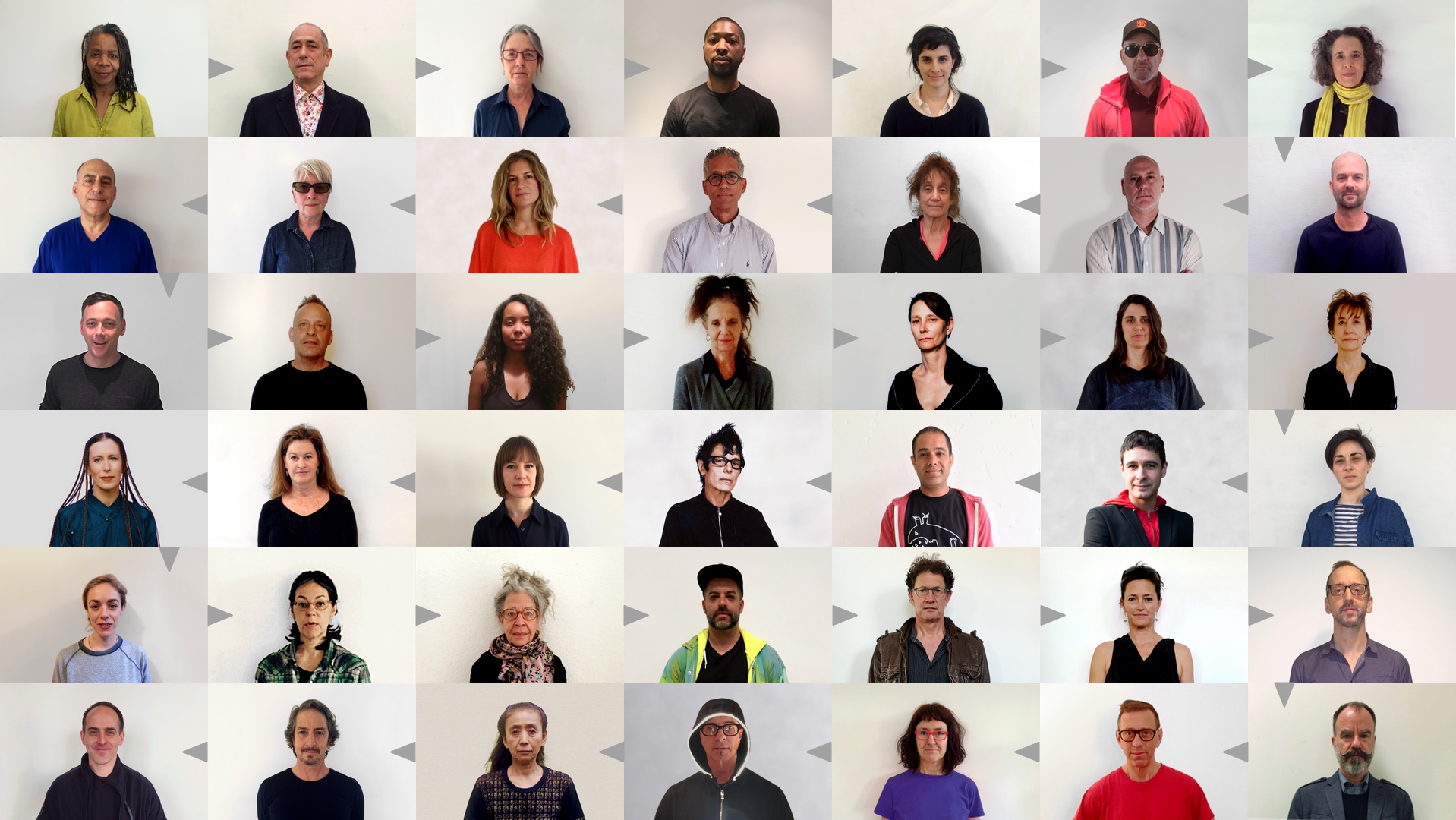 Exquisite Corps
42 American contemporary choreographers link together on a chain love letter to dance.
Director: Mitchell Rose/Dancers: Bebe Miller, David Dorfman, Victoria Marks, Kyle Abraham, Andrea Miller, Joe Goode, Sara Pearson, Pavel Zuštiak, Doug Varone, Liz Lerman, David Rousseve, Kate Weare, Ann Carlson, Stephan Koplowitz, Larry Keigwin, Mark Dendy, Sidra Bell, Vicky Shick, Susan Marshall, Faye Driscoll, Claire Porter, Beth Gill, Jonah Bokaer, Lionel Popkin, Elizabeth Streb, Ivy Baldwin, Jane Comfort, Meredith Monk, Zoe Scofield, Annie-B Parson, Deborah Hay, Miguel Gutierrez, Jamey Hampton, Ashley Roland, John Jasperse, Sean Curran, Neil Greenberg, Pat Graney, Stephen Petronio, Eiko Otake, Daniel Ezralow and Brian Brooks
USA 2016 5´49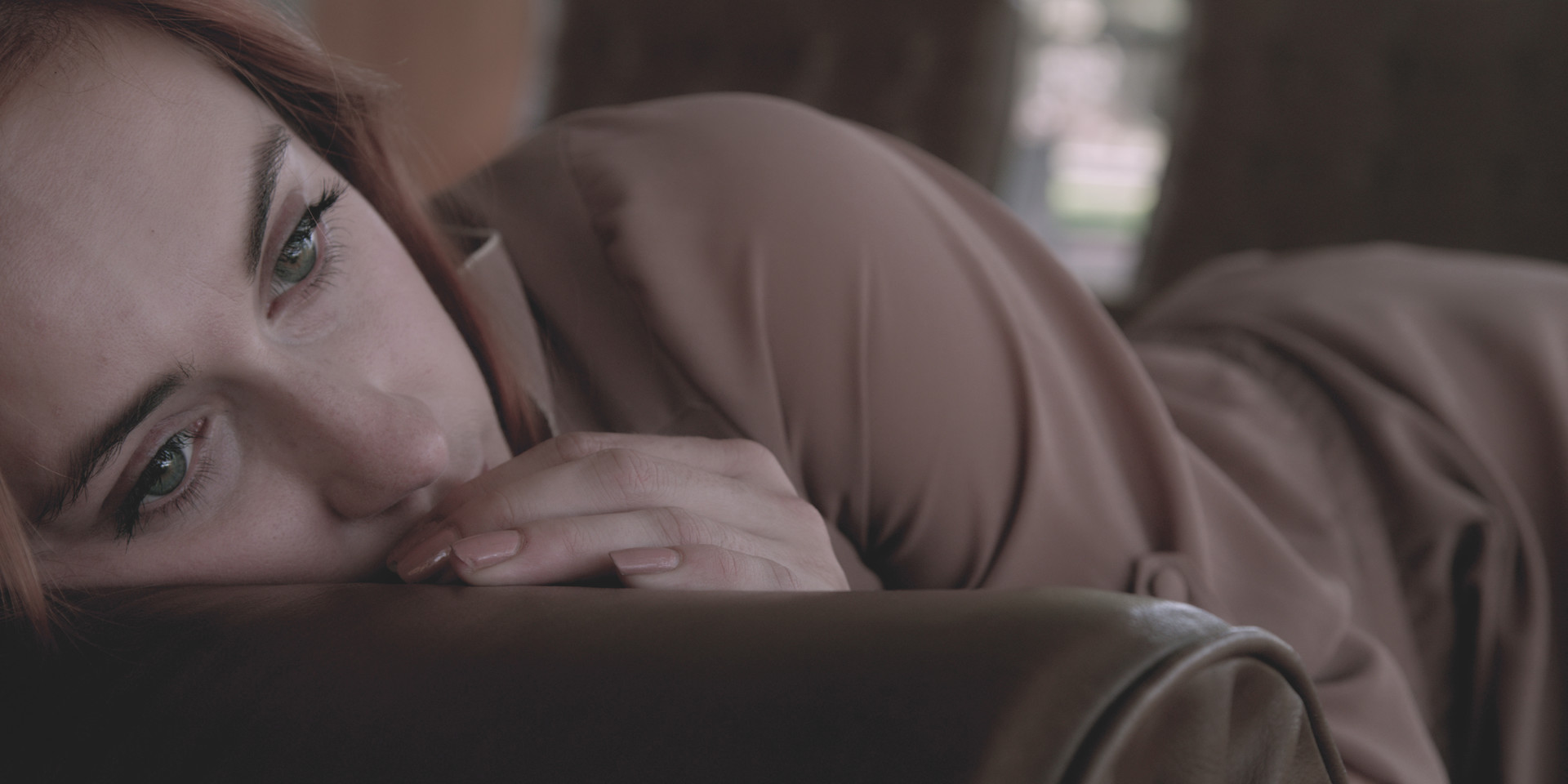 Otis Walks Into The Woods
Otis Walks In The Woods depicts the dynamic relationship of power, possession and otherness within a transparent environment. Set within the historic landmark, The Philip Johnson Glass House, the dancers are at once within and without the glass enclosure, oscillating between the frustrating realities of the banality of their present and the idealizations of the outside world. The architecture of the grounds becomes the anchoring metaphor for the pair's dual states of rigidity and flow. Within the seemingly fixed and defined walls of the main structure, the minds of the dancers are explored in an excerpt of their complexity.
Director: Derrick Belcham, Emily Terndrup/Dancers: Emily Terndrup and Maxwell Perkins
USA 2016 9´22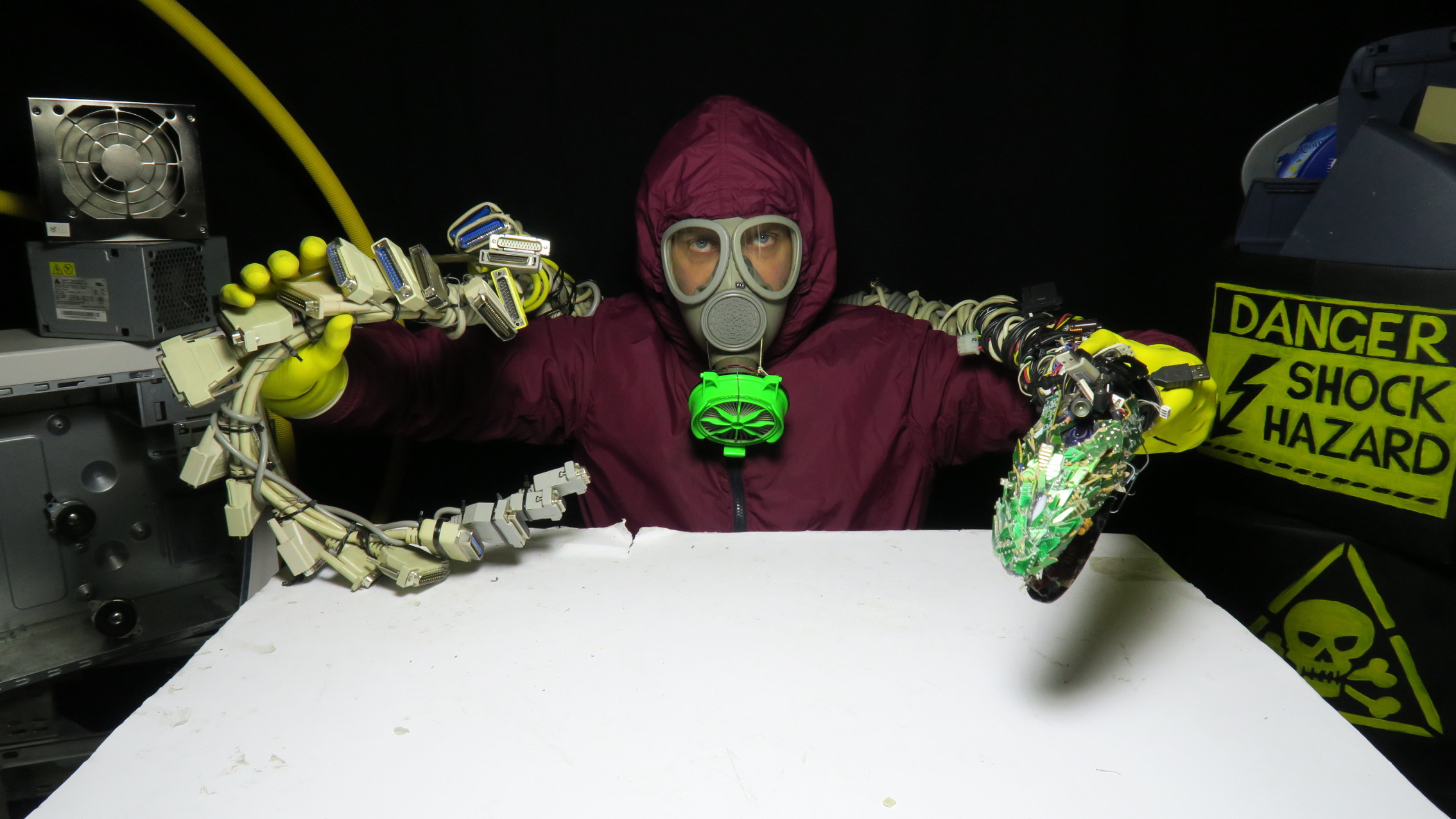 WHAT WEEE ARE – The Snake Charmer
Director: Alessio De Marchi, Alessandra Turcato/Dancer: Alessio De Marchi
Italy 2016 3´33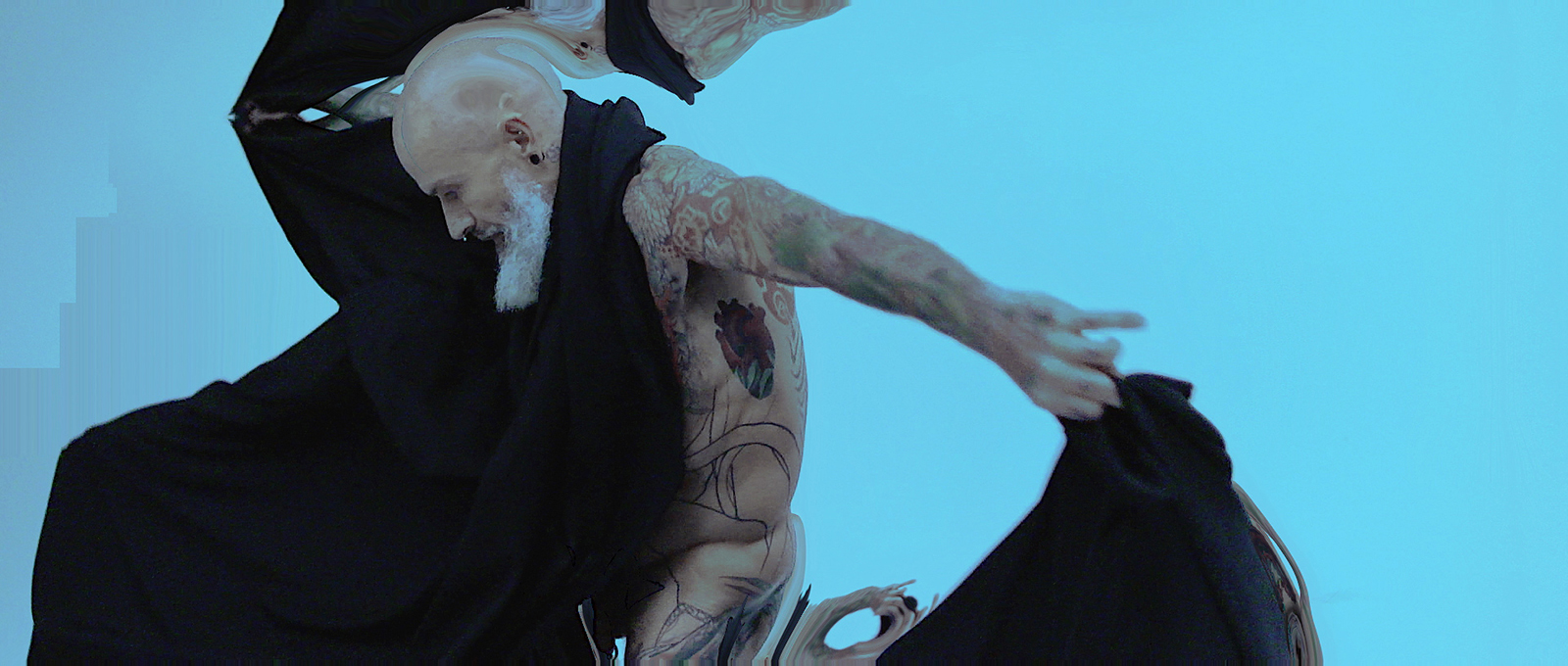 NAKEN
Fenceless and fragmented. Sheared and smeared. A synthesis of shell and shred.
Director: David Strindberg/Choreographer&Dancer: Matthew Morris
UK 2016 3´11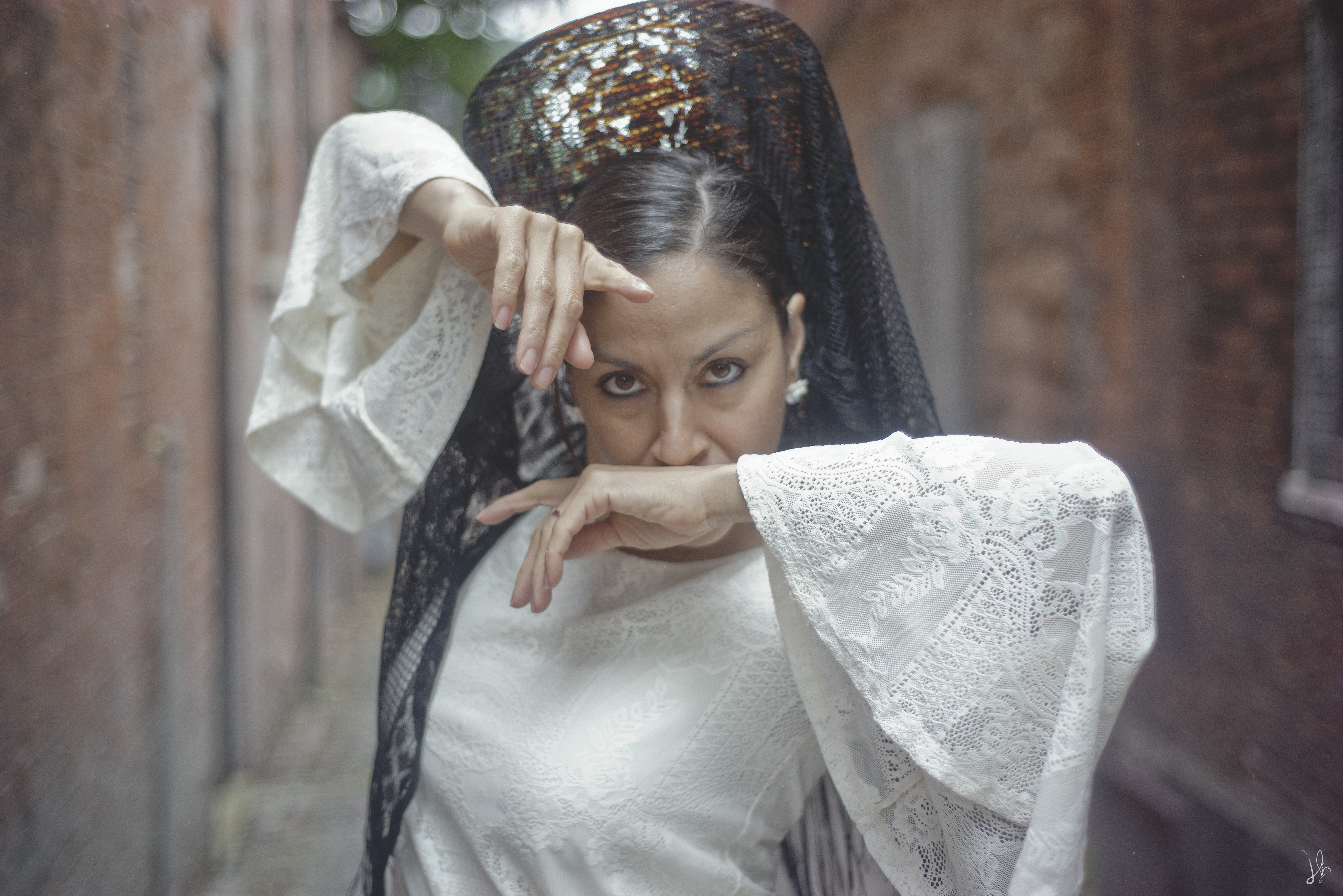 Saeta:The mourning
A dance film that looks closely at Flamenco and more particularly the Saeta style. The film takes traditional flamenco to an abstract level with an eerie overtone.
Director: Rosamaria E. Kostic Cisneros/Choreographer&Dancer: Rosamaria E. Kostic Cisneros
UK 2016 5´30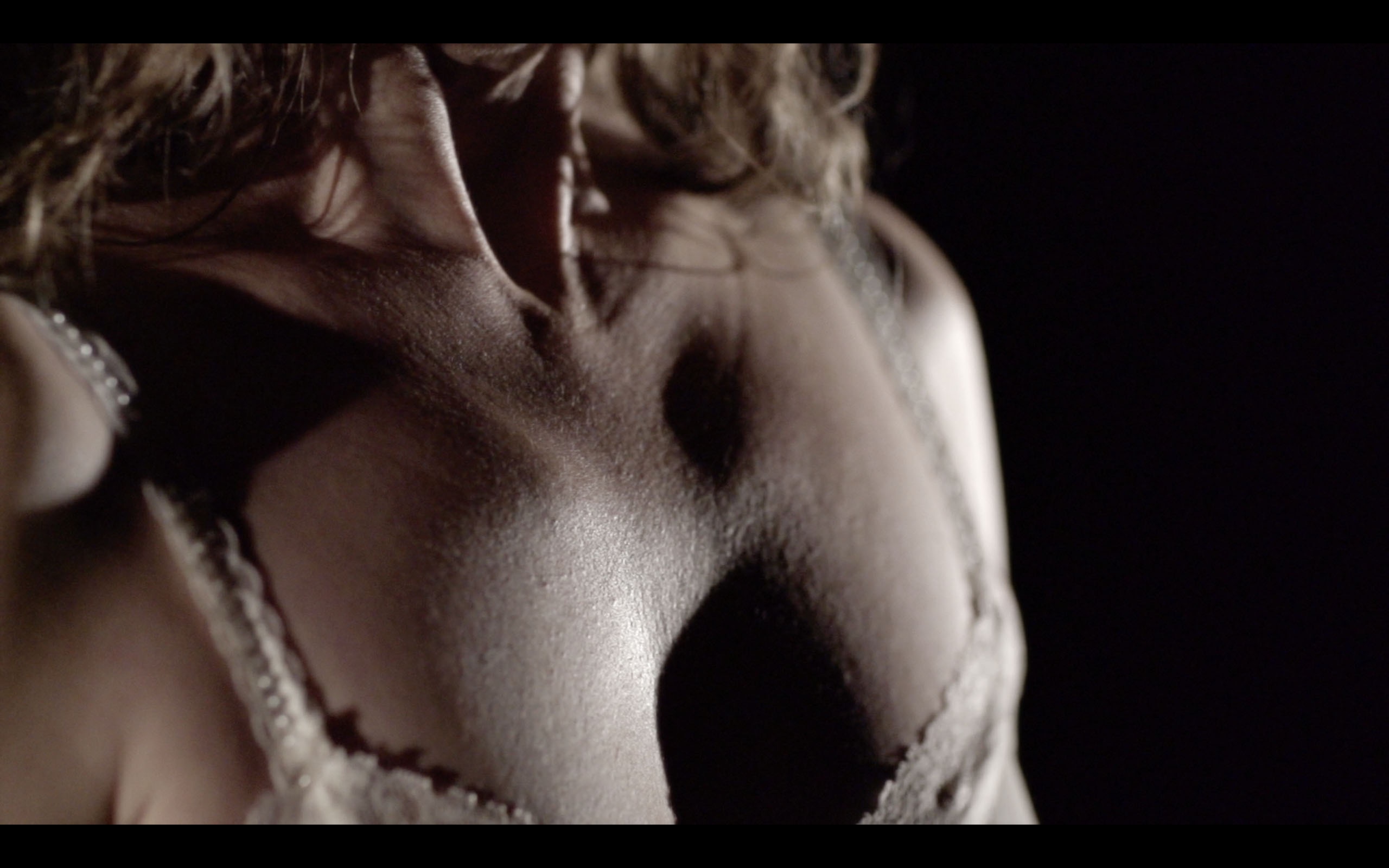 Vis-er-al
Vis-er-al is a single screen film that continues the artists' series of solo works that draw upon her own lived experience as well as archetypal images, often drawn from the world of visual art. The work explores trauma on the body and psyche.
Director/Choreographer&Dancer: Polly Hudson/Director of Photography: Matthew Beckett
UK 2015 4´07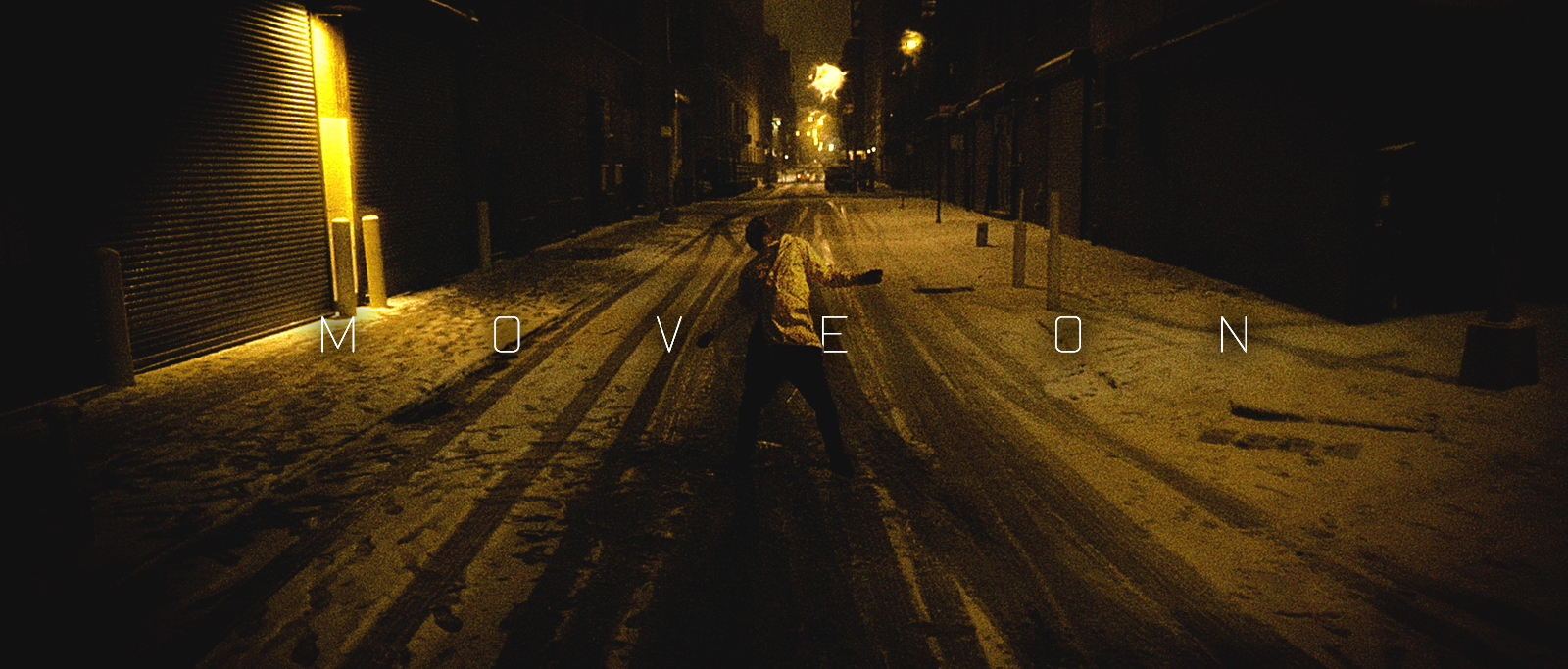 Move on
This story is the guy who is pursuing some keys for himself, however he doesn't try to break his rule, so he have to change himself from "same as usual" He dance as hard as he can. He keep saying to himself just "Move om, move on" What kind of key is he pursuing? He knew it finally, and then…
Director: Yasuaki Fujinami/Dancer: Aiichiro Miyagawa
Japan 2016 3´54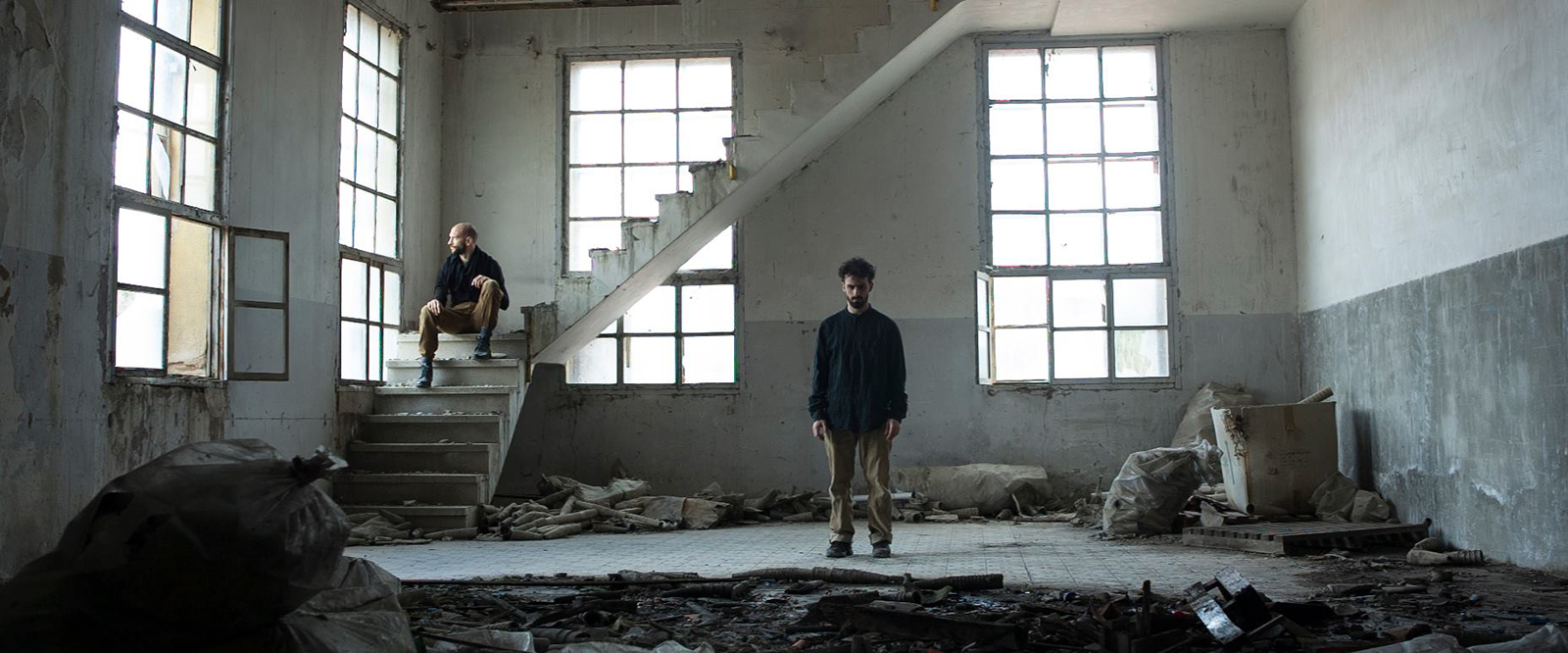 IRØN MODVM
Iron Skulls Co, it´s a group of people with different preferences and journeys that set a way together, beyond the dance. An union that feeds with their differences, and strengthens of their individual experiences . A transition between the dances, that has established itself as a fresh and inspiring proposal.
Director: Derek Pedrós
Spain 2016 3´46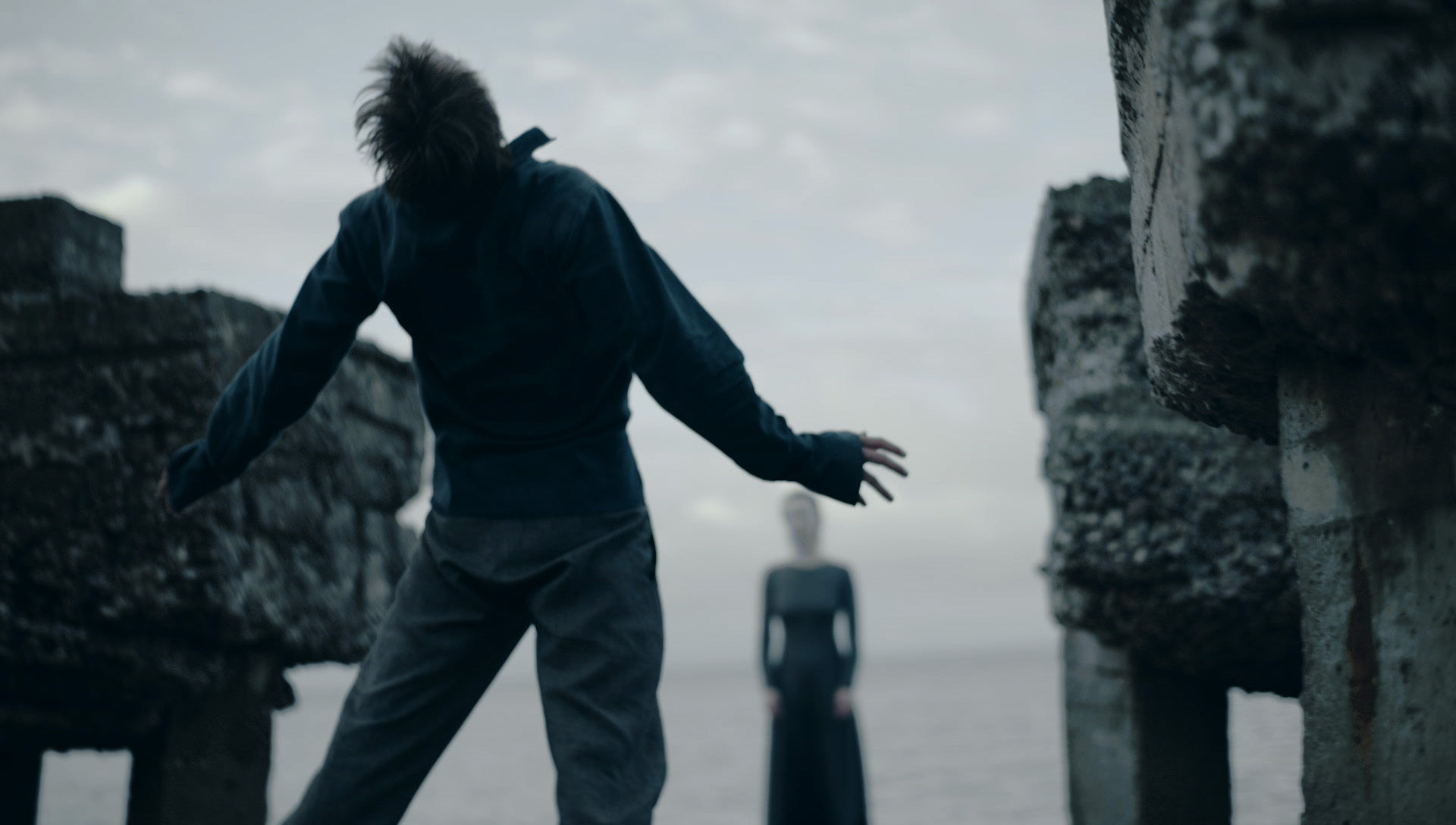 AQUARIUS
This film is a metaphor for who we are… for where we come from… a secret held in the abyss. To read the message – through fear and prejudice, from imitation to communion, from meditation to movement. Dance to the horizon – from points of no return. The irony of our metamorphosis – in order to grow, the seed must die.
Director: Timo Zhalnin/Choreographer: Elena Kuzmina/Dancers: Olga Mandrikova Lanceray and Mikalai Radziush
Russia 2016 9´09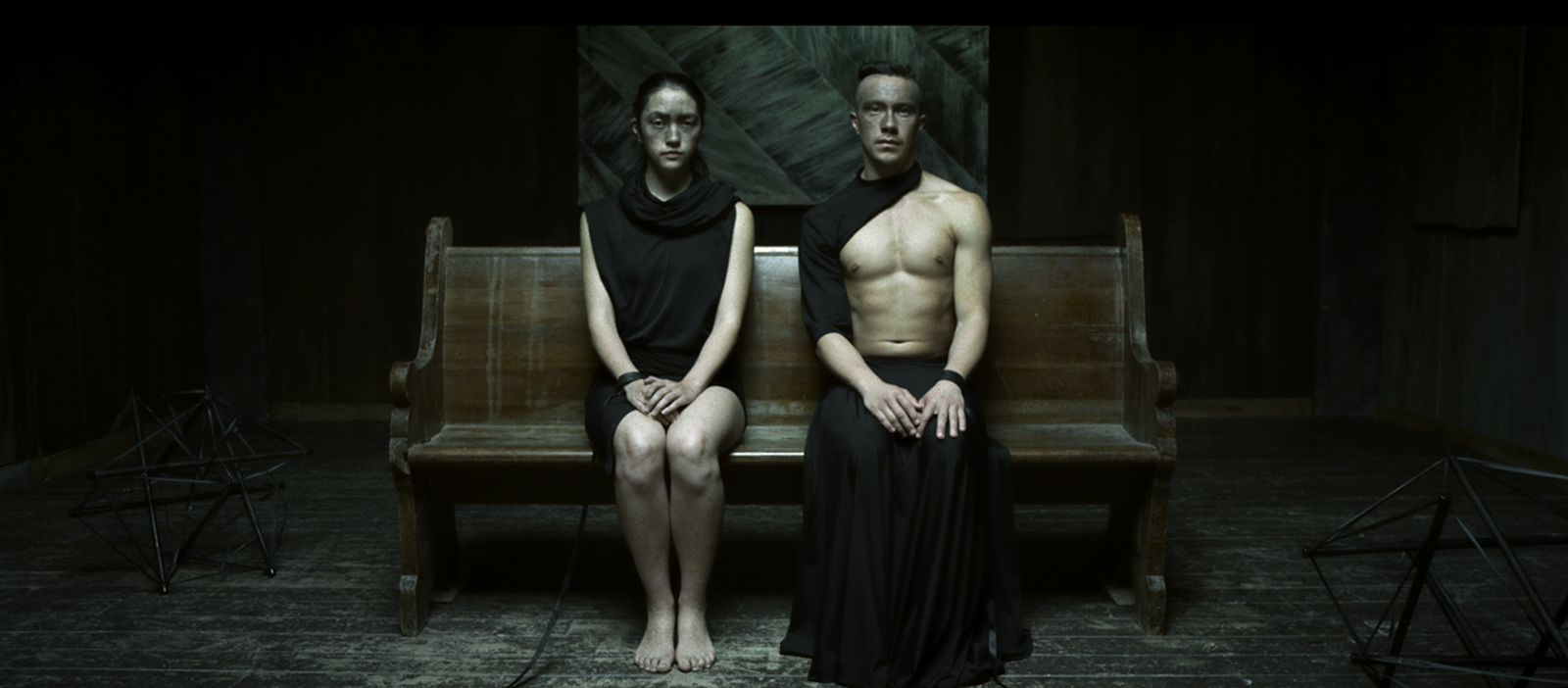 A Full Circle – Movement #3
A Full Circle is a three part series exploring the dark and visceral human emotions through contemporary and cutting-edge dance performance. Movement #3 exposes two characters, the siblings, to an emotional roller-coaster in three defined moments – rivalry, clash and reconciliation. From a tightly connected duo to complete polar opposites the siblings go through a downward spiral vying for dominance. After reaching the deepest bottom, how will they make it back up to the light?
Director: Rodrigo Rocha-Campos/Dancers: Erika Mitsuhashi and Michael Ethan Kong
Canada 2016 8´55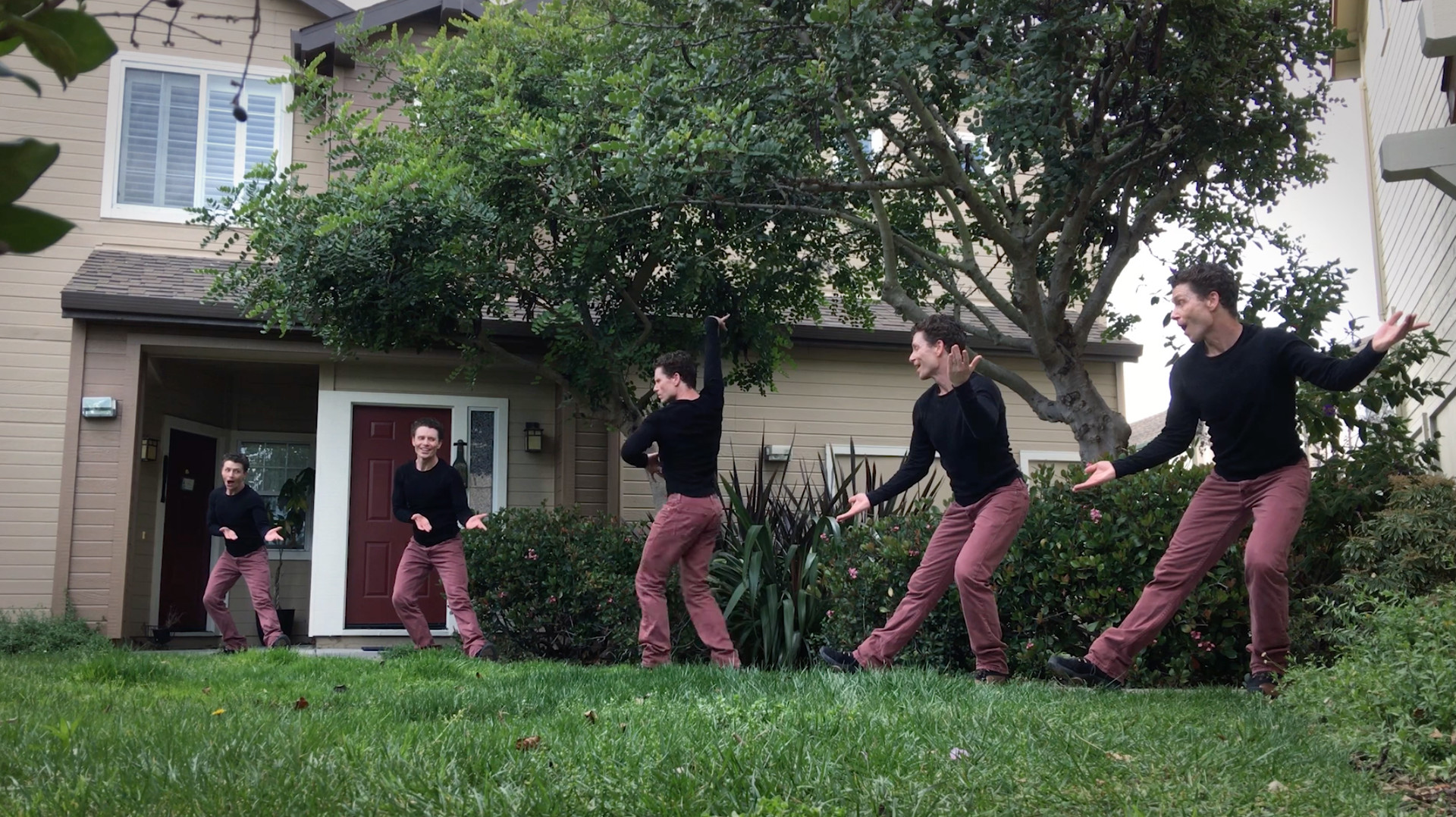 Dancing Day
Fantasy about playing hooky from work, and a little surprised to see what follows when leaving the house.
Director: Tytus Bergstrom/Choreographer&Dancer: Tytus Bergstrom
USA 2016 3´53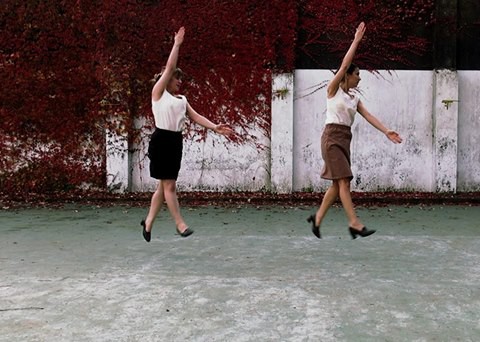 Ernestina "To (H)err is human; to erase, divine"
In a half-open twilight of an underworld filled with a blind and blinding faith, running water is wasted in the solitude of a train station and dilutes in the melody of a porch that opens to give way to the devotees. In the interiority of a perimeter surrounded by ancient histories, and under a turquoise dome of the coulour of time, they dance on their knees "the forgiveness of sins, the resurrection of the body and everlasting life", declining their faces covered by  always stranger hands. A light hole radiates a subtle glow; the tentacles of a sordid death opens the passage to disappearance. The blade of a forgotten scissors irrupts the cut of the nuptials between reason and faith. A cracked rubber destroys the foundations of the founding mistakes, whose registration opens the door to a black sky that pronounces: "To (H) err is human; to erase, divine". The frenzy of the body unfolds and the redeeming boiling blood culminates in an oceanic eye, which is  a daily battle against the monsters that inhabit the depths of the spirit. The black waters assauges the thirtst of that dead girl who's eternally looking for the glass; she becomes a nightmare and her feet reaches the end of the threshold. Tongues of fire behind the devotees announce the arrival of the unexpected, sighing in a drown of the unspeakable. Crucifixion is now a symbol of a new presence that is found only in the divine absence. In the intimacy of a room, the humidity of a tub shouts "my fault, through my fault, through my most grievous fault!", the unfaithful are purged from the circumspect purity, and theweak stigmas falls like a sheet of rice. Amen the body, each one dance their own apocalypse.
Director: Vanesa Menalli
Argentina 2016 8´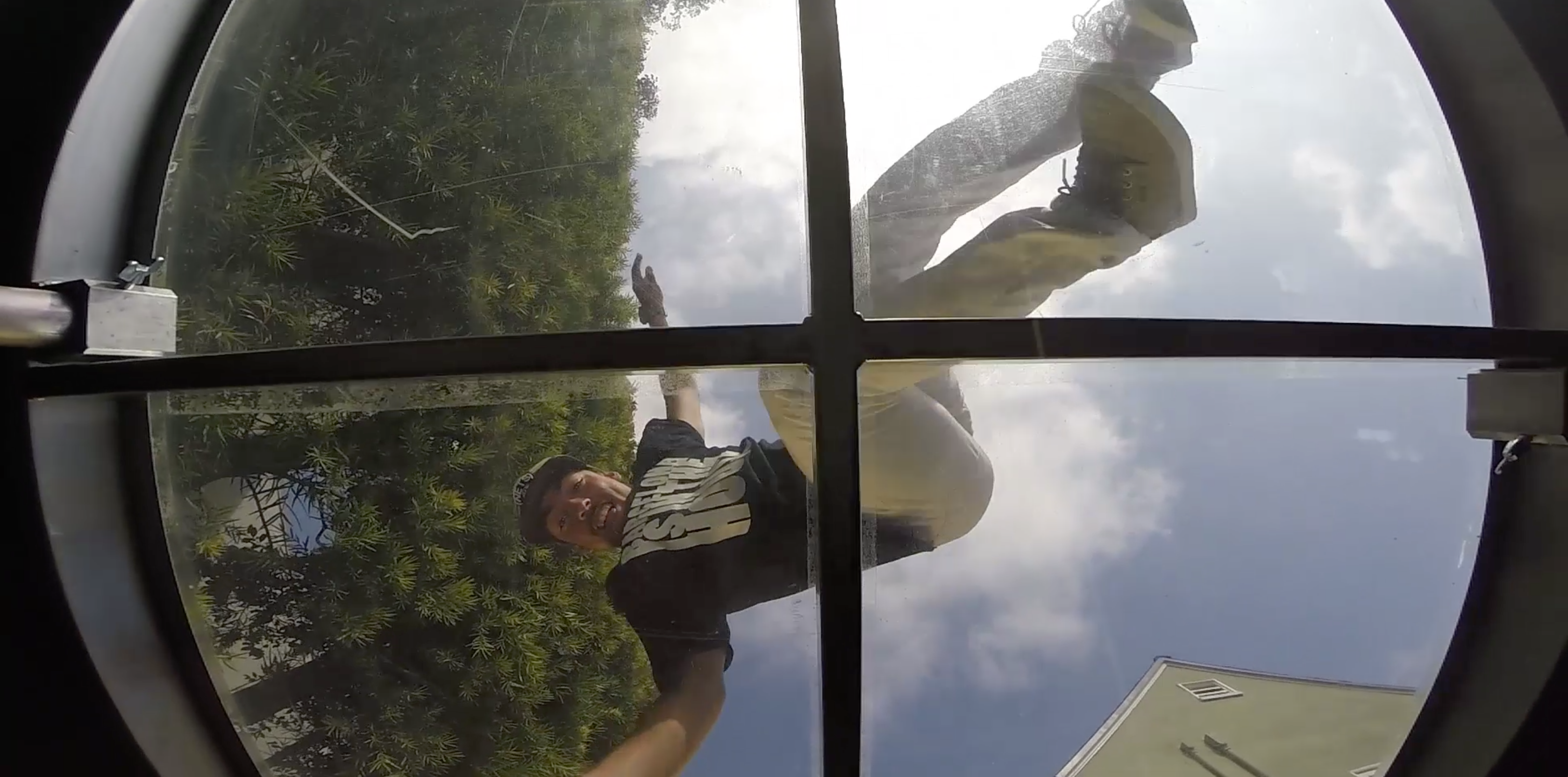 WindowsDance.0
WindowsDance.0 is an experimental dance film saluting the secret life of gardeners.
Director: Dawn Westlake/Dancer: Markitus
USA 2016 2´55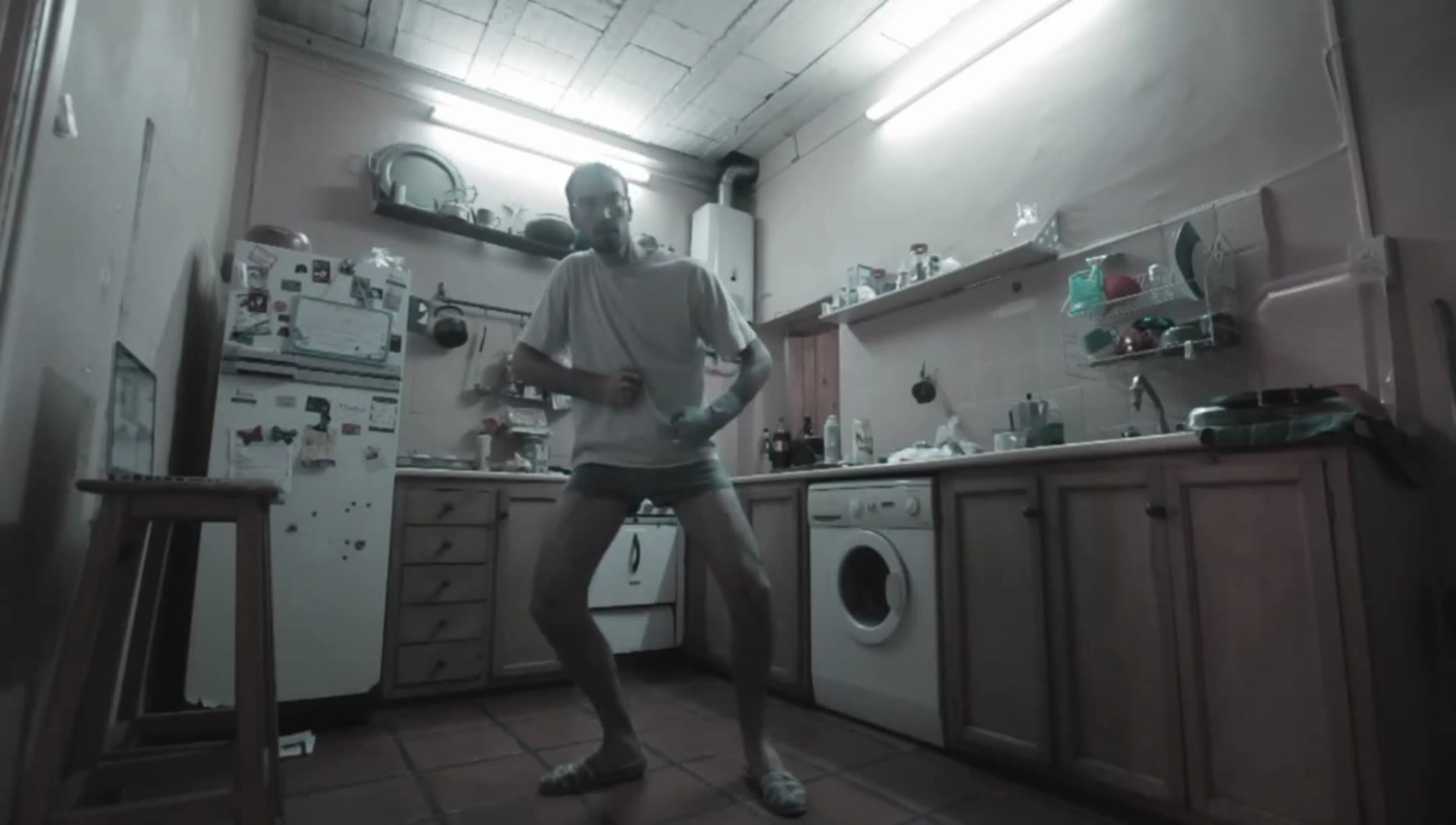 The inhabitant  (shameless)
This project links the language of movement with technology with the goal of inquiring about the singularities of bodies in motion in a virtual scope. In it, the work "El habitante" or "The inhabitant" is created. This is a web based work of art, it is thought of as an interactive virtual space, where users are encouraged to take their places in prepretation on interconnectivity, thus creating a videodance. This piece "Sin verguenza", or "shameless" belongs to the website elhabitante.com.ar and functions as a stimulation for creation.
Director: Ariel Martinez/Dancer: Ariel Martinez
Argentina 201 4 1´22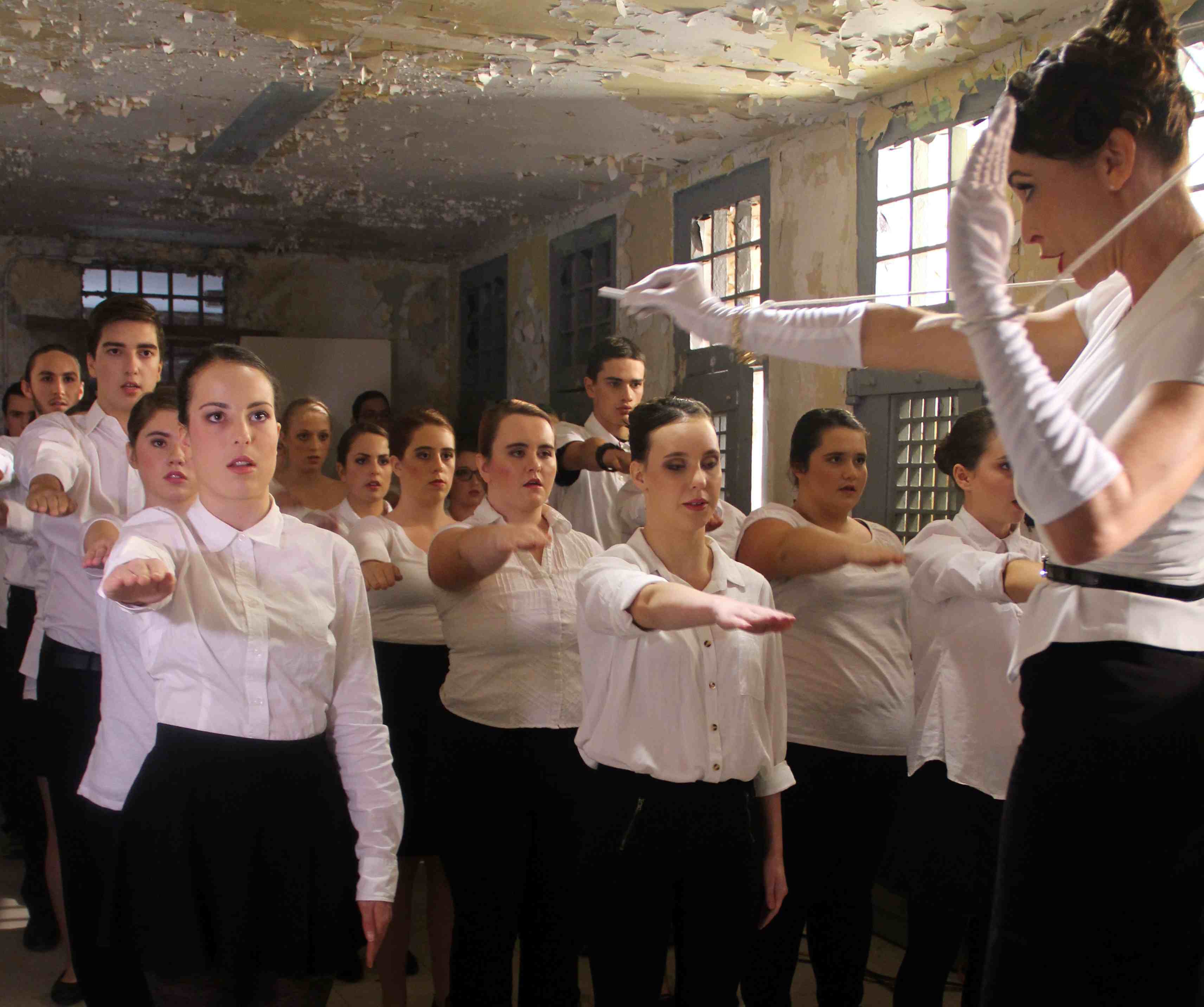 The Big Class
Lined up in perfect rows like an army, students mindlessly copy the teacher who, herself, is being controlled like a puppet by strings from a higher source. Dropped into a world where differences can not exist, will Logan be assimilated or will he keep his identity?
Director: Marie-Lou Béland
Canada 2016 6´12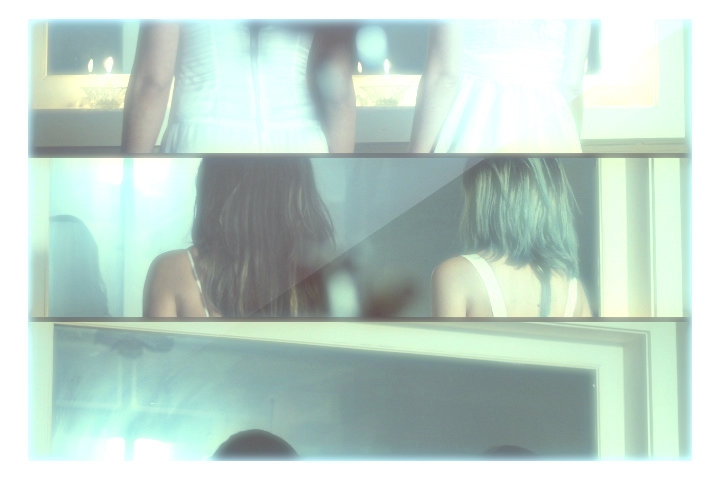 G(o)d
God counts the start of the history of a bilateral being (as the majority of the beings of the planet land), represented for two people who represent for itself the two sides of a being (since animal some symmetrical does not exist perfectly). This being is born for a new circumstance of unexpected life if becoming God of its proper destination having that to live an eddy between facts of daily, the emotions and sensations imposed for the new life in an unknown environment.
Director: Jr. Pereira/Choreographer: Kathyn Carvalho, Jessica Samara/Dancers: Kathyn Carvalho and Jessica Samara
Brazil 2016 7´01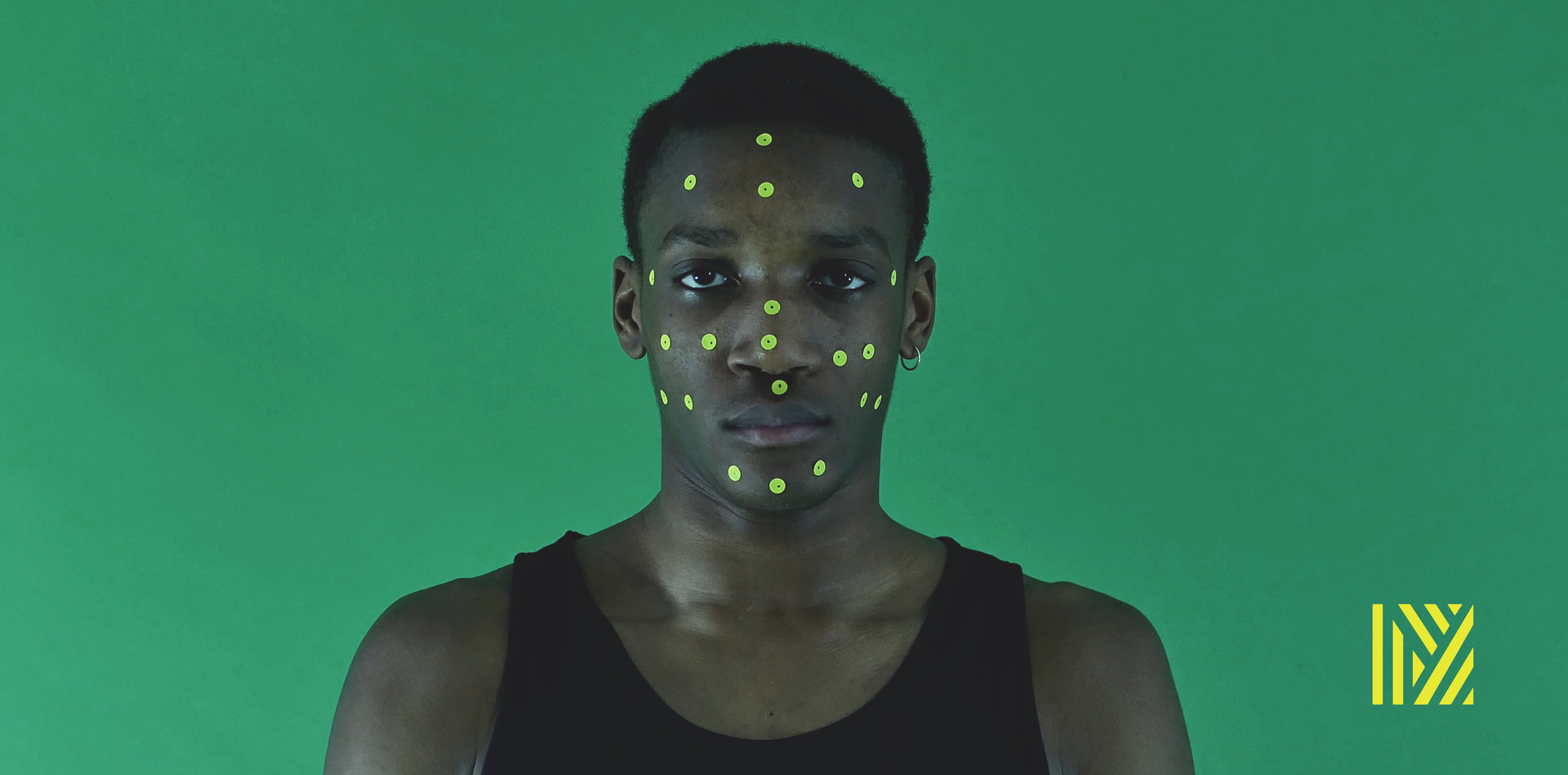 Wyrd – Glass Animals
Inside this experimental project, we are trying to explore the body and the way to dance, and we wanted to have everything be connect, body, dance, music, instruments, textures…
Director: Josh Why
France 2016 4´06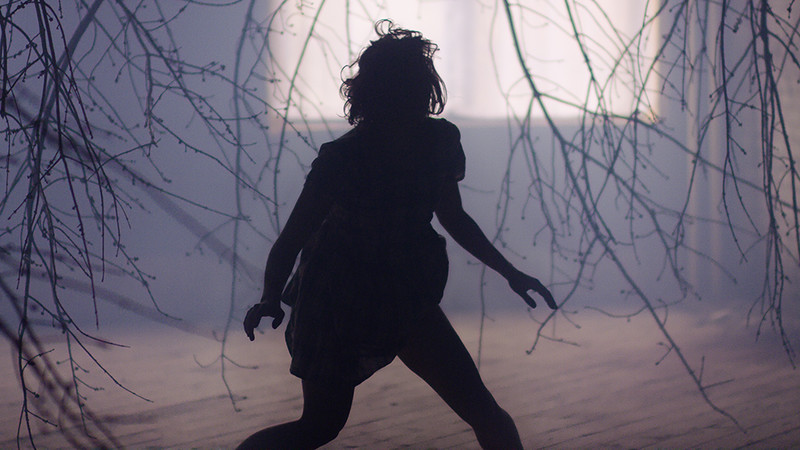 Through the Eyes of My Meal
A contemporary dance film, featuring movement investigating vulnerability and betrayal.
Director: Jordan Taylor Fuller/Dancers: Nicole Jones, Koliane Rochon, Tina Wang and Rebecca Steinberg
USA 2016 6´29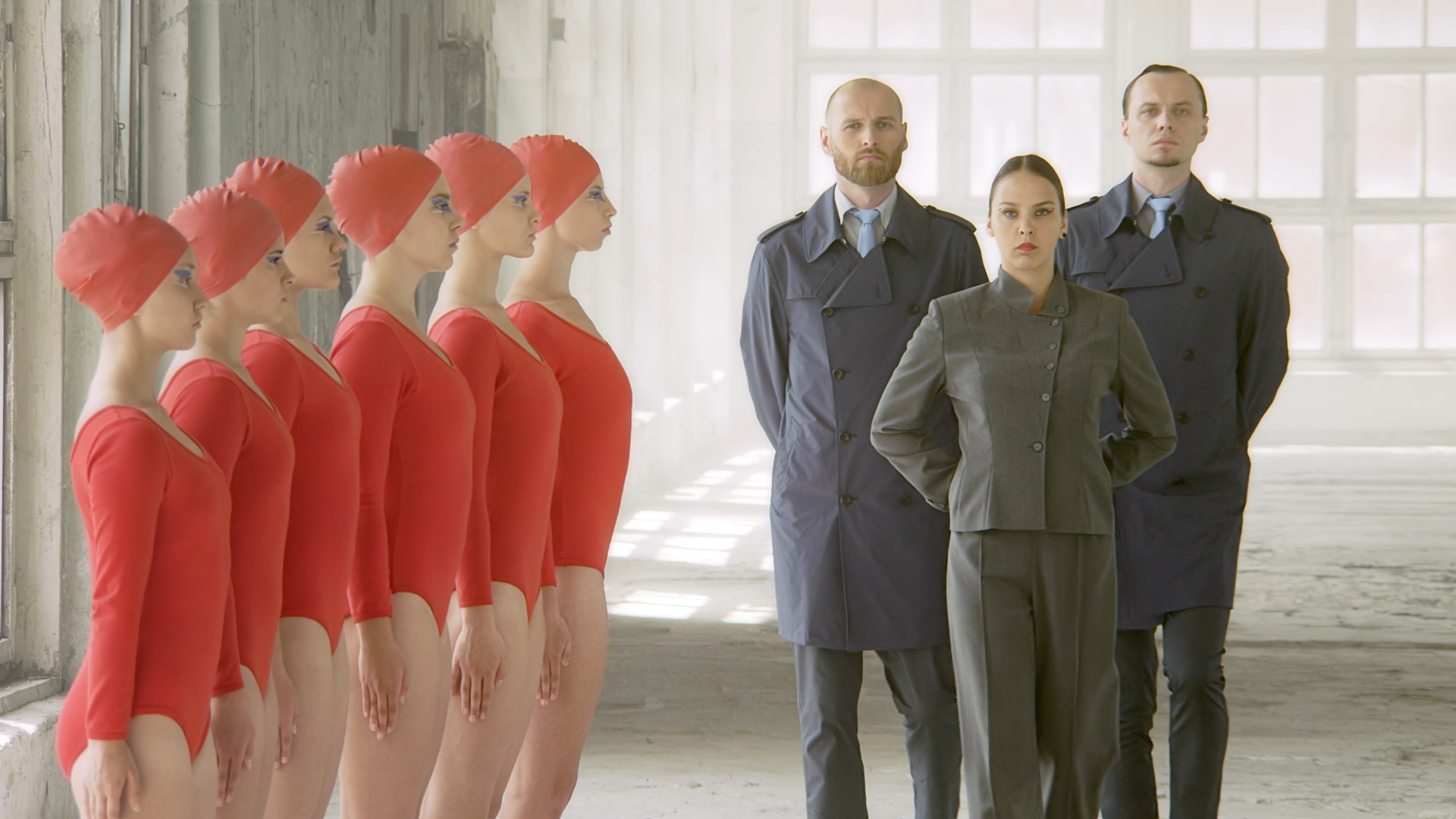 Get Live
"Get Live" music video is a surrealistic and ironic story, set in a dystopian world where any individuality is suppressed, and among many rules, loose hair is a taboo. An absurd dry land synchronized swimming team is being evaluated by the representatives of a totalitarian government. To their surprise, performance doesn't go as planned.
Director: Adriana Roze/Choreographer: Sintija Silina/Dancers: "Benefice" dance studio, Bandmaster and Lauma Balode
Latvia 2016 3´33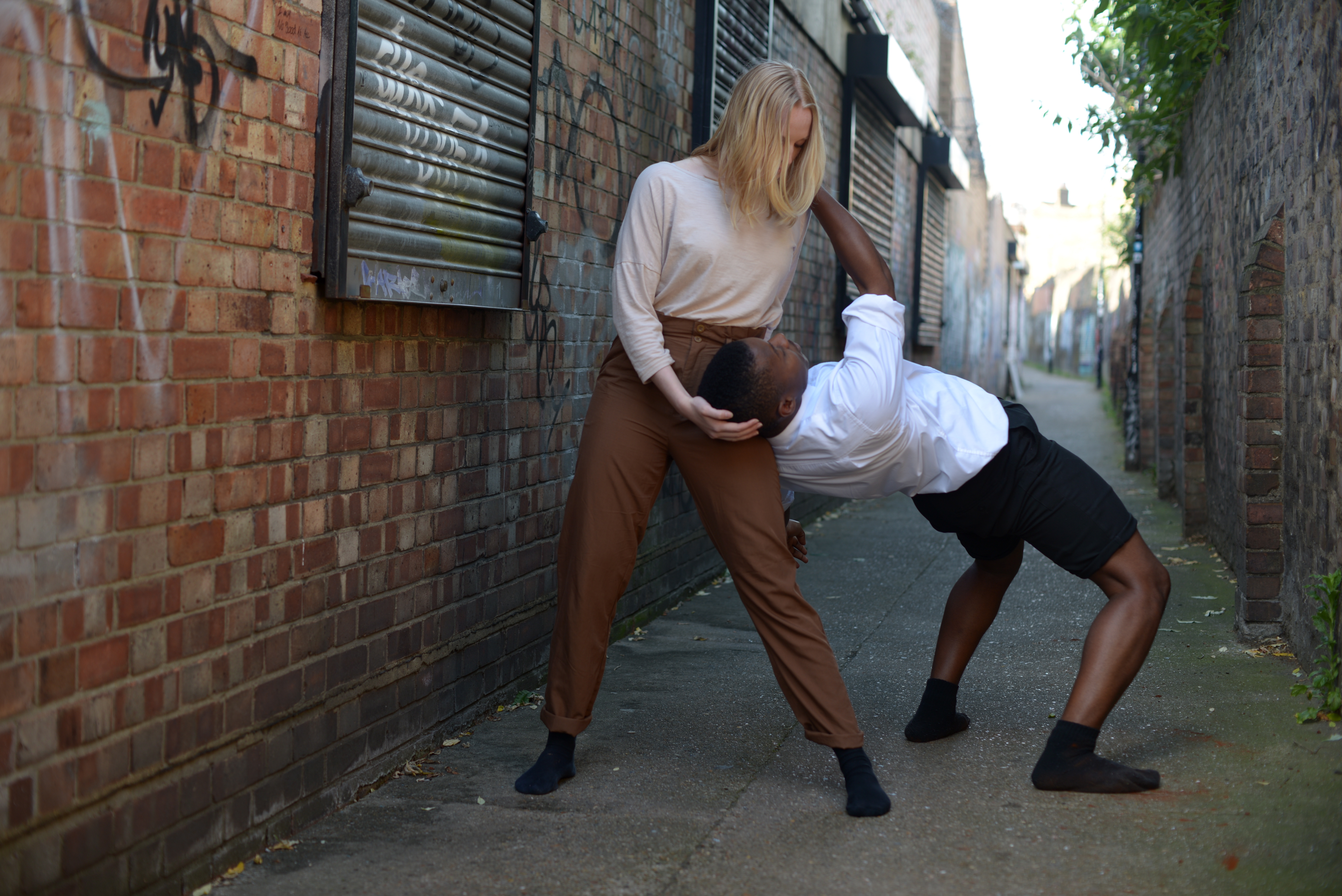 Rolling Frames
Rolling Frames is an intimate and personal look into the scenarios of three very different relationships that are affected and manipulated by dependency.
At the heart of Rolling Frames are a series of shifting voices and characters that inhabit three very different relationships. These relationships are linked by the role that dependency plays in each. To some extent, every relationship involves a yielding of independence. The poem dissects this manner of yielding: the manifestation of greed in desire, the vulnerability in love, the loneliness in lust.
The physicality and inner rhythms of the words are translated once over by the expressive movements of dance, and once again through the gaze of the camera's eyes.
Director: Katie Garrett/Choreographer: Anna-Lise Marie Hearn/Dancers: Laura Boulter, KJ Clarke-Davis , Lydia Costello, Jennifer Jones (Jennifer Graham), Nathalia Lillehagen and  Eleanor Mackinder
UK 2016 3´02
Searches
Five stories , five women , five searches . Our protagonists are in a very personal search. They are searching freedom , searching awaken , searching fun again, searching break a hard time and also searching to themselves. This is a research where each interpreter put something of herself to develop each of the stories. Through dance they try and find what they seek in reality and in fiction.
Director: Pablo Pattenden/Dancers: Caro Campos, Ximena Tamara Pinto, Macarena Bravi, Adriana Louvet and Eugenia Schilling
Argentina 2015 5´19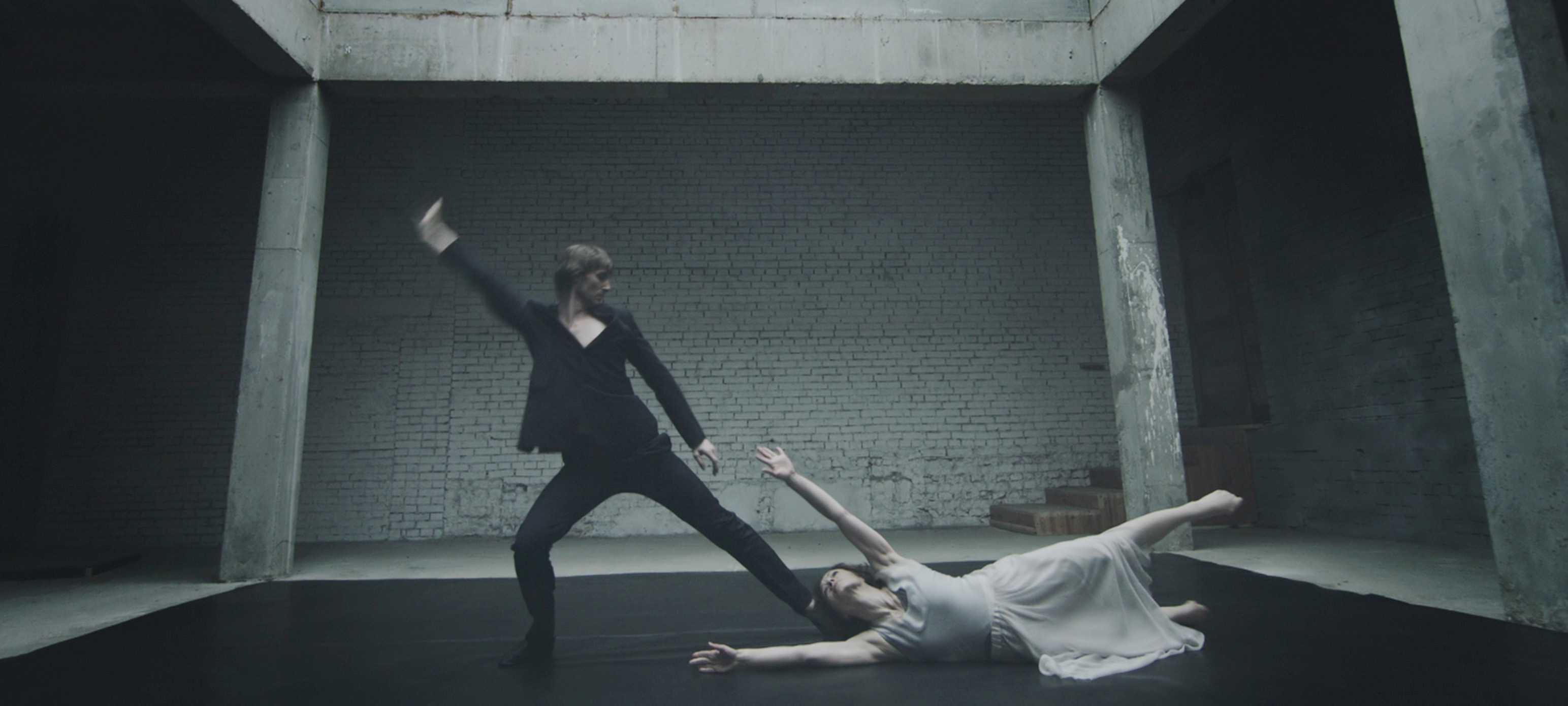 BLACK SQUARE
This film is a choreographic response to the Black Square by Kazimir Malevich. This piece of art won worldwide fame as a Manifesto of Suprematism, one of the brightest areas of the Russian avant-garde. Black Square was painted in 1915 as scenery for opera performance. From that moment and for the next 100 years Suprematism defines a new language of art, in its various forms: non-figurative painting, modern architecture, industrial design, fashion, book graphics and scenography.
The film is dedicated to the 100th anniversary of the Black Square, the main content of which is energy. A replica of this masterpiece of non-objectiveness is the energy of dance.
Director: Timo Zhalnin/Dancers: Mikalai Radziush, Olga Lanceray and Elena Kuzmina
Russia 2016 4´52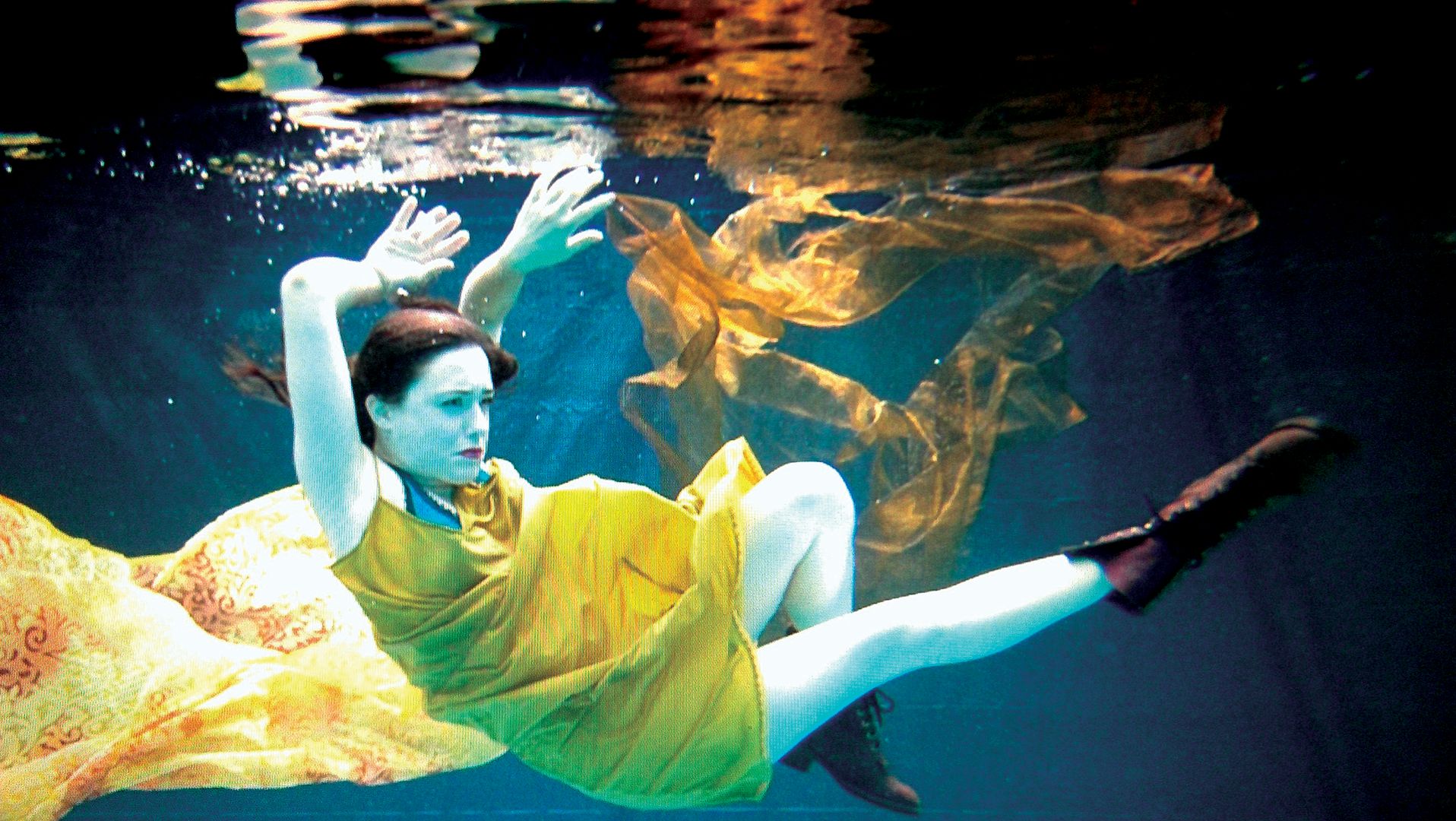 Hers Is Where Yours Begin
Mingling a sense of drowning with a sense of dreaming, "Hers…" explores the overriding impulse to submerge our sorrows with anger.
Director: Janet McIntyre/Choreography: Tracey Durbin/Dancers: Eowyn Emerald Barrett, Anna Hooper, Claire Olberding
 and Emily Zarov 
USA 2016 4´35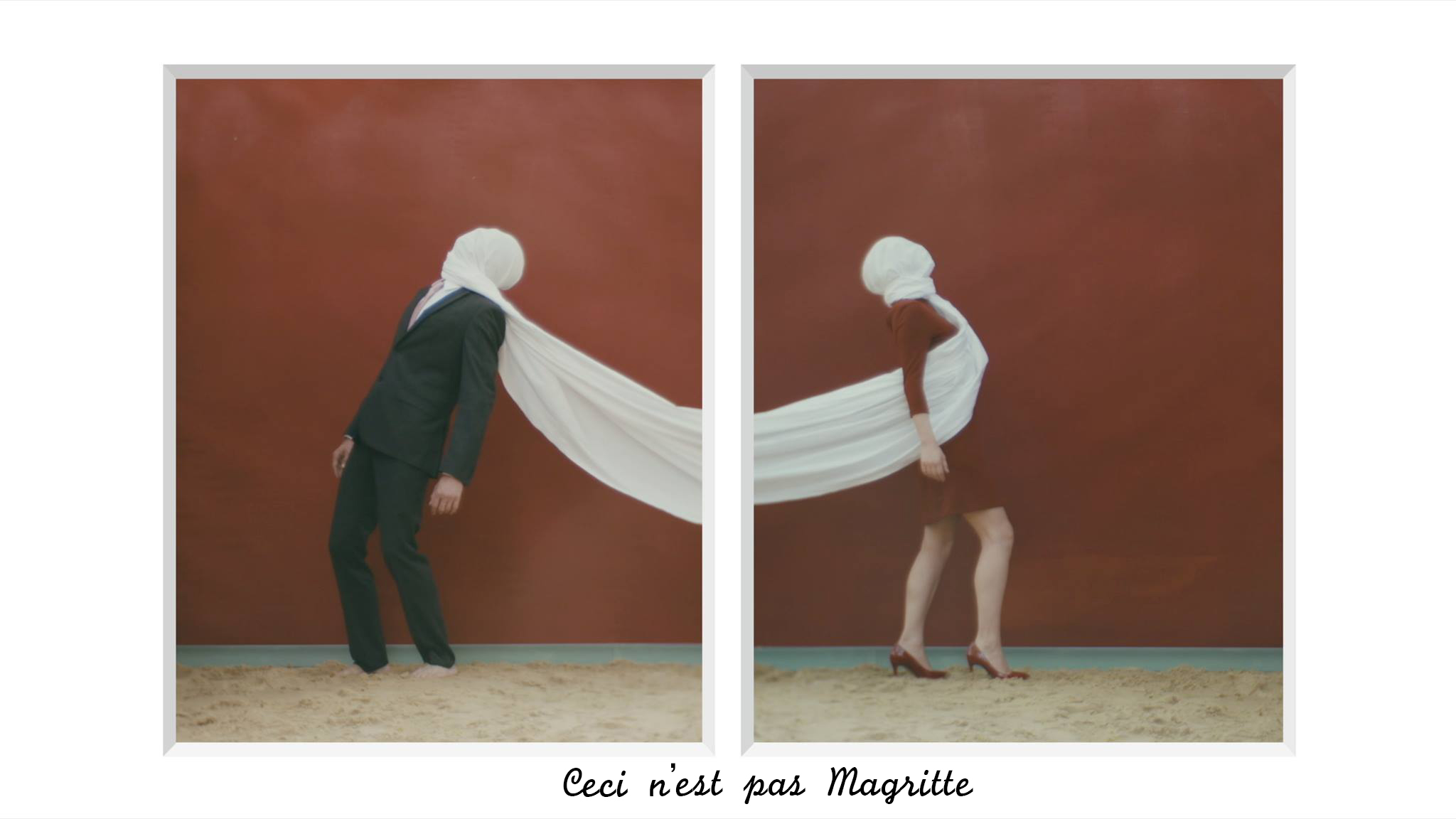 This is not Magritte
A story inspired by paintings of René Magritte.
Director: Ivan Skorik/Dancers: Nikita Kurilow and Olesya Astapova
Russia 2016 5´54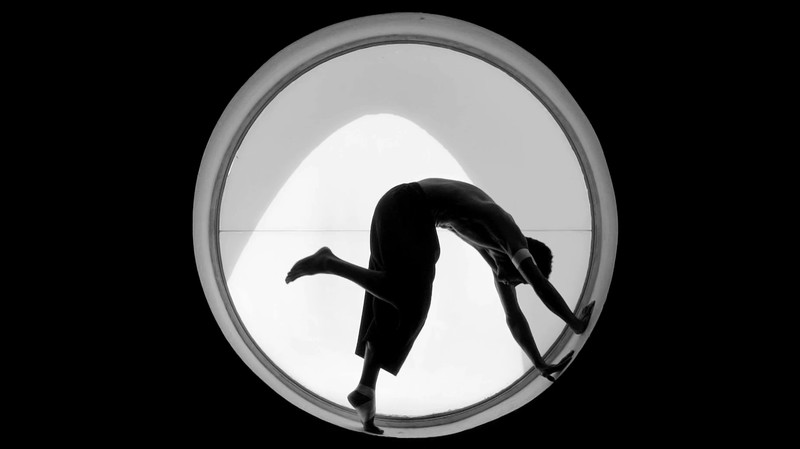 Anthropophagy
Poetry Pau-Brazil is told here by two men who attract and repel each other. Barbarians, credulous, picturesque and gentle. They become one. They transform taboo into totem. Against antagonistic sublimations brought in caravels. They want the Caraíba Revolution. The unification of all effective revolts toward the man. In an undated world. Not signed. Without Napoleon. Without Caesar. They see with free eyes. They give body and dance in this dance film to the "Anthropophagic Manifest" written by the Brazilian writer Oswald de Andrade, in 1928.
It express a reaction against all indigestions wisdom. The best of our lyrical tradition. The best of our modern and contemporary demonstration. They say that what only care is not mine. Man Law. Eating law. Robert Mapplethorpe, Heitor Villa-Lobos, Claudia Andujar, Haroldo de Campos. They ate them. They live in the oca. Oca is the Indian home. The house of Brazil. And the Oca drawed by the celebrated Brazilian architect Oscar Niemeyer, built in Ibirapuera Park in São Paulo, is out concrete poem. The brick. The body. The architecture. The movement. The synthesis. The balance. The invention. The surprise.
Before the Portuguese discovered Brazil, Brazil had discovered happiness. Tupi or not Tupi that is the question. Today only anthropophagy unites us. Socially. Economically. Philosophically. Only law in the world. Masked expression of all individualism, all collectivisms. Of all religions. Of all peace treaties. Why being one of a two when it can be one of many?
Director: Vinícius Cardoso/Choreographer: Irupé Samiento/Dancers: Samuel Kavalerski and Marcos Novais
Brazil 2016 3´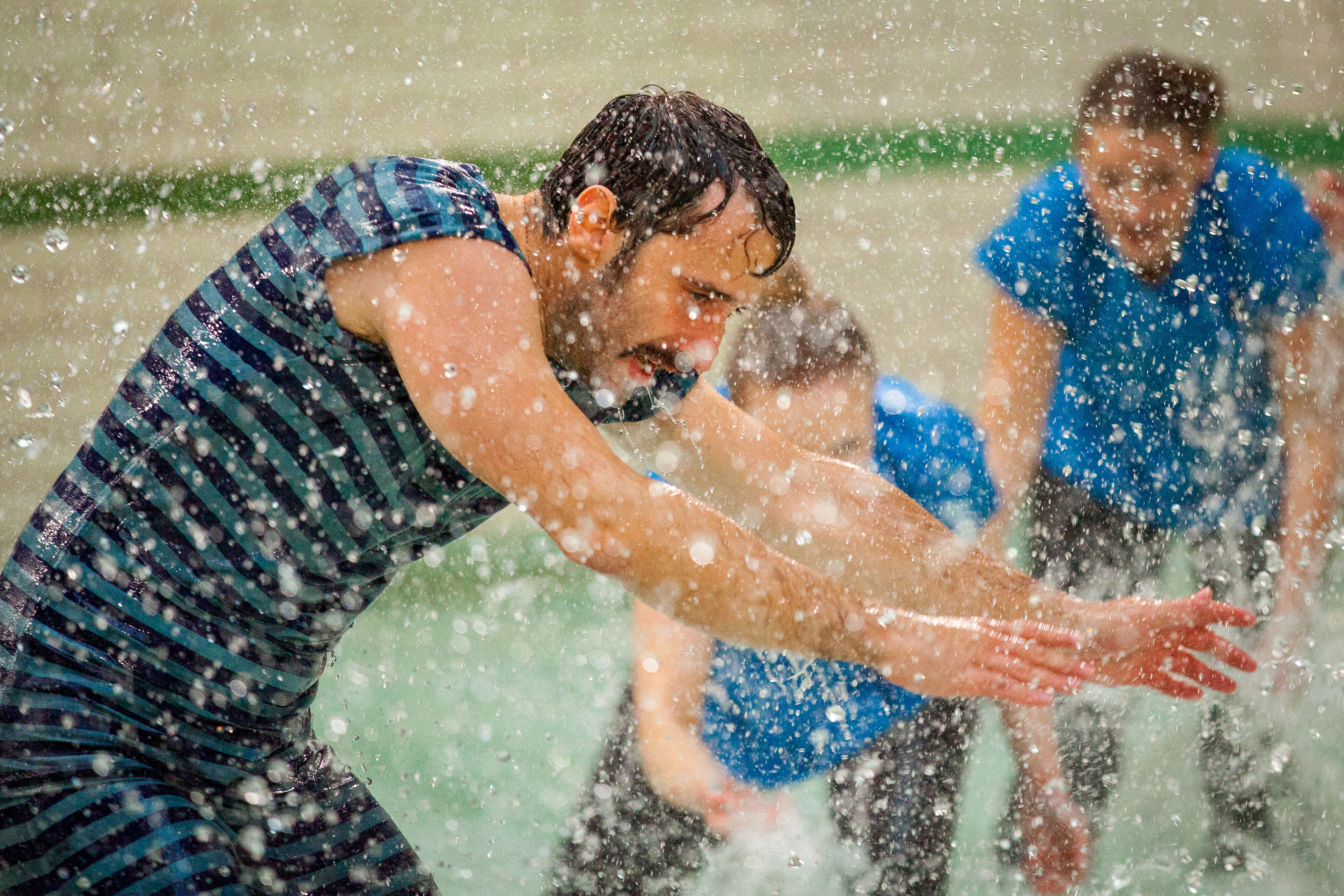 Curing Albrecht
A young man checks into a bespoke institution, hoping to be cured of his inability to stop dancing.
Director: Jessica Wright and Morgann Runacre-Temple/Dancers: Sam Coren and Jenny Runacre
UK 2016 5´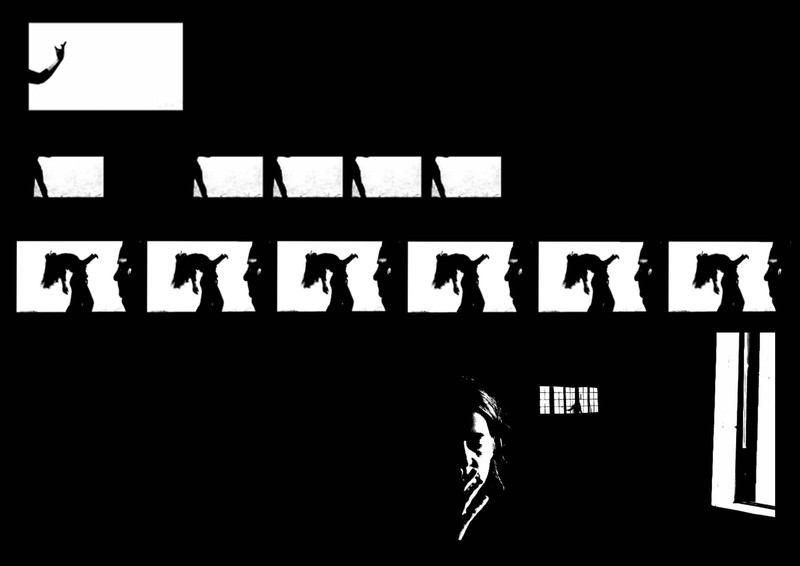 FALL
FALL, bodies hold onto a backlight. A moving shadow, just one. Are the waves rising up and falling into themselves? or the sea when tows and leaves a fine film of shining on the shoreline? FALL, an experimental dance film. Unceasing fall when the dance is announced in the shadows, as they go within every framework revealing the tide inside that room. The outside light comes through a large window. It auscultates and the film of the dance inside its glasses goes surrounding the bodies edge. One shadow, a prism through the memory of the sea rises dragging you.
Director: Paulina Rutman/Dancers: Gonzalo Beltran, Matilde Amigo, Maria Paz Correa, Natalia Garcia and Damian Ketterer
Chile 2015  6´17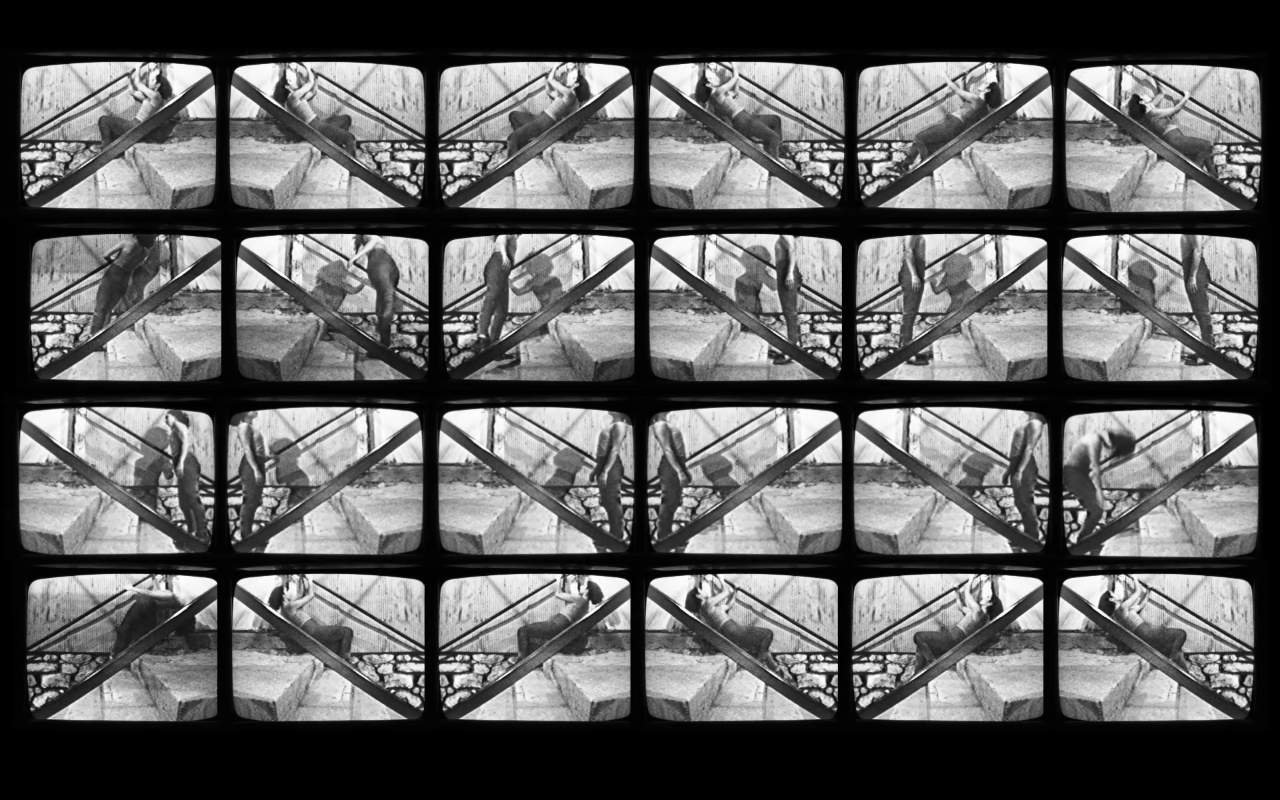 The Natural Route
A geometrical-spatial human essay. The body goes through the natural route, the stairs to enter endless possibilities of combinations and patterns. An eye looks us in the city, a security camera watching us, giving an image, the minimum unit to compose with the multiplication of these geometries. The city consists of the body / composition / movement.
Director: Goga Riveros och Irvin Castro/Dancer: Paola Cortes
Chile 2016 5´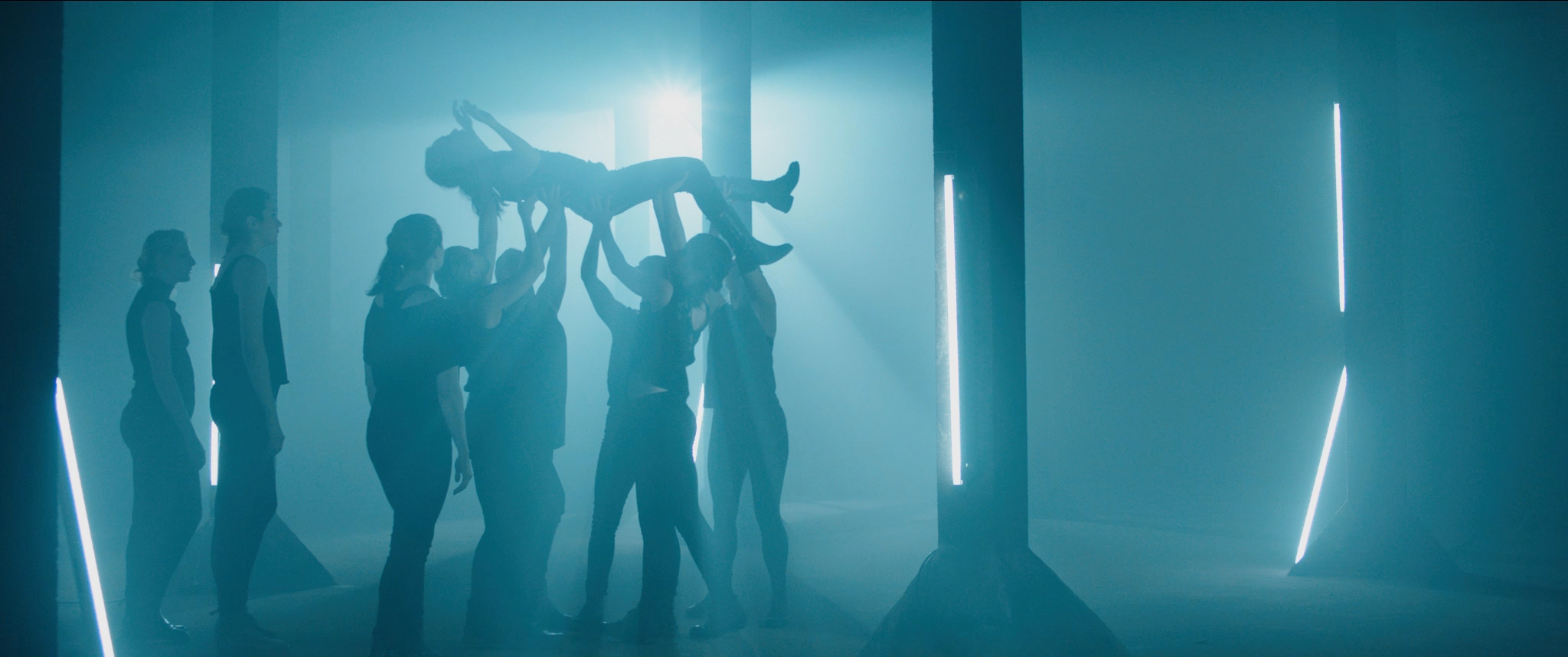 Silent Pack
Silent Pack is a short experimental dance film, that in a poetic way explores being alone in the world contrary to being together with others, and what that does to us emotionally and physically. This is explored through choreographed and improvised group constellations in a massive underground concrete location with a unique character.
Director: Björn Larsson/Choreographer: Jon Ole Olstad/Dancers: Mirjam Dorthea Berg Hilde Bjørnebøle Christine Vik Bratvold Cassandra Loo
Benedicte Victoria Lütken Hanna Mjåvatn
Dina Jaroussac Moen Hedda Rivrud
Caroline Skjørshammer
Norway 2016 12´29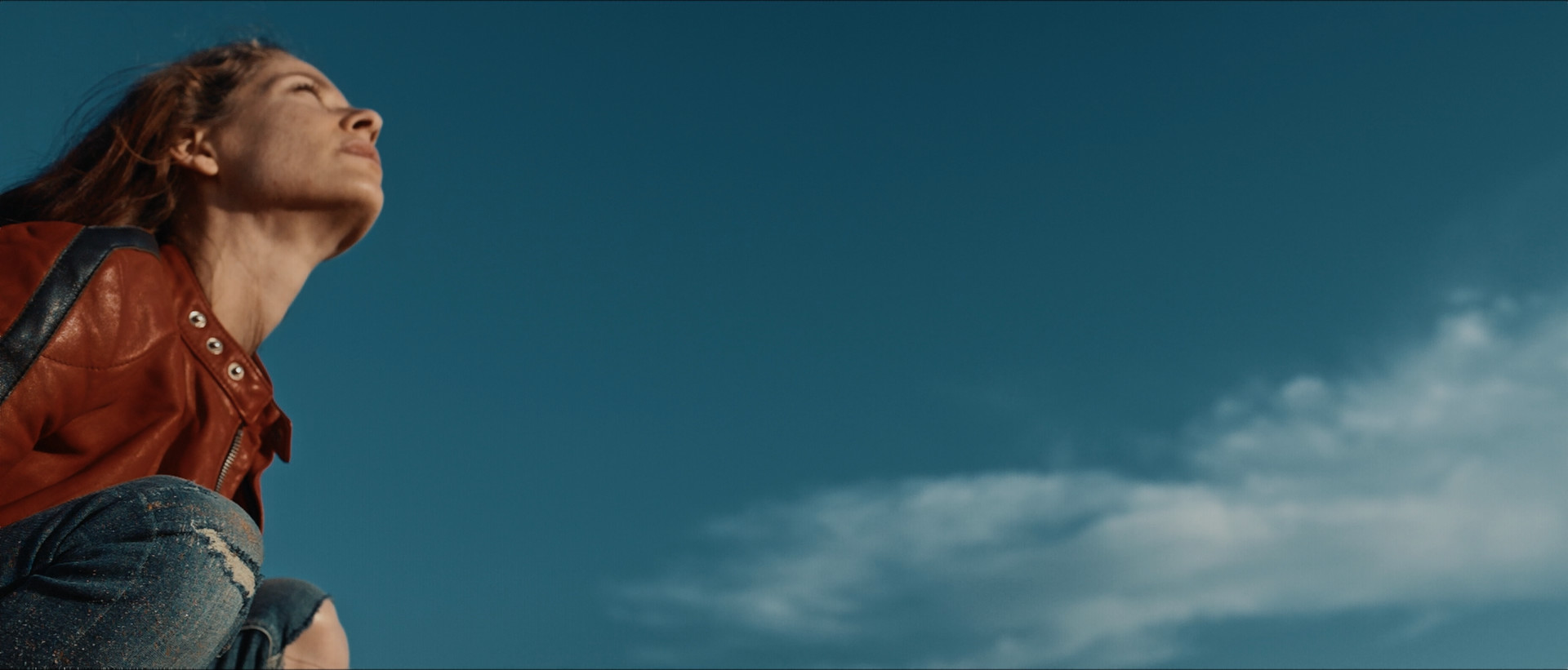 We no longer wait for the barbarians
They are already in us. They dress us, haunt and fascinate us. Even naked, as the very first morning of the world with free body and soul, would we give up the promethean dreams?
Director: Alain El Sakhawi/Dancers: Valeria Zampardi, Fernando Roldan Ferrer and Silvio Laviano
Italy 2016 8´27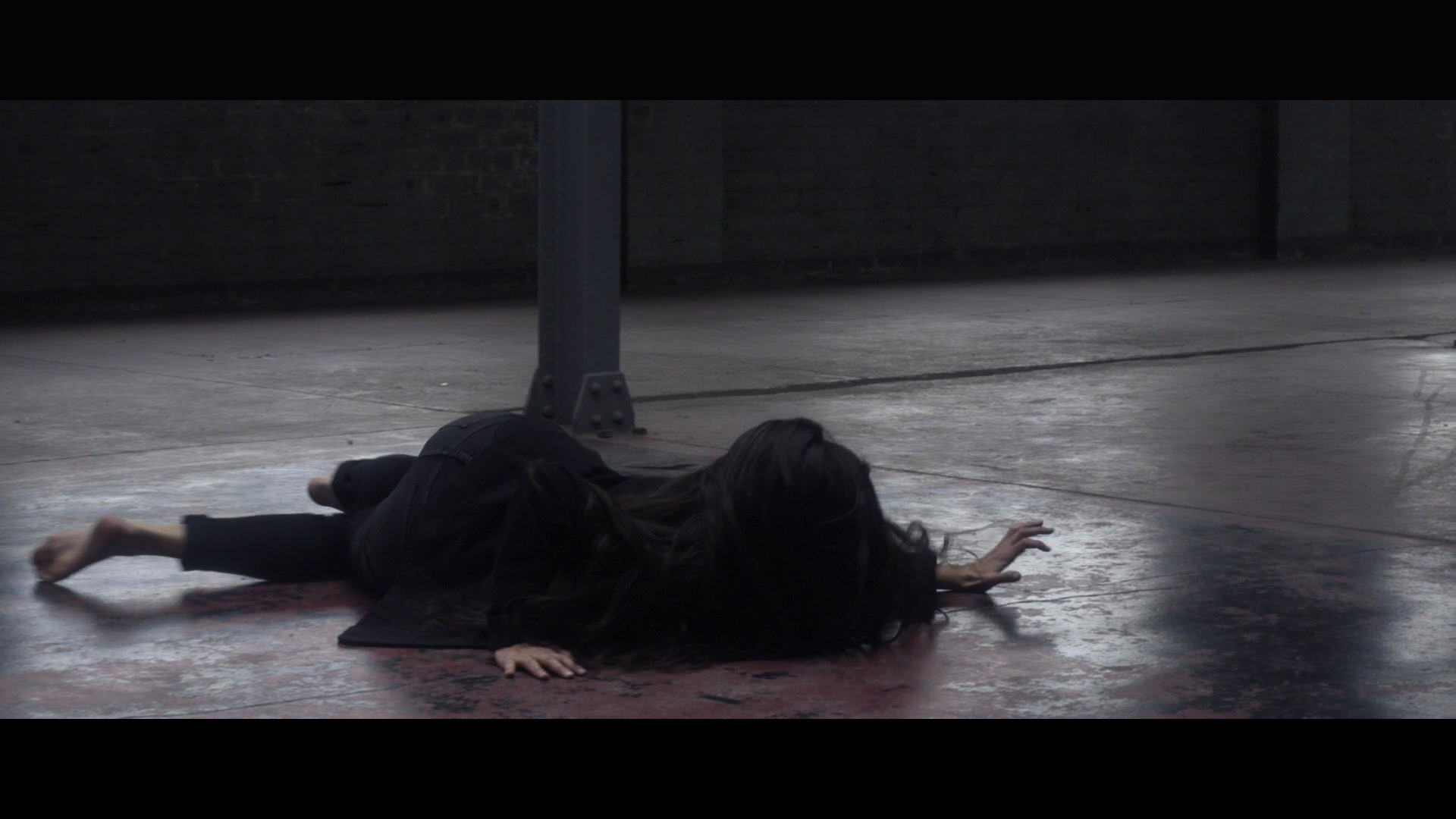 Crow Black
A contemporary dance/ poetry film.
Director: Leo Bruges/Dancer: Gabriela Sanchez
UK 2016 4´07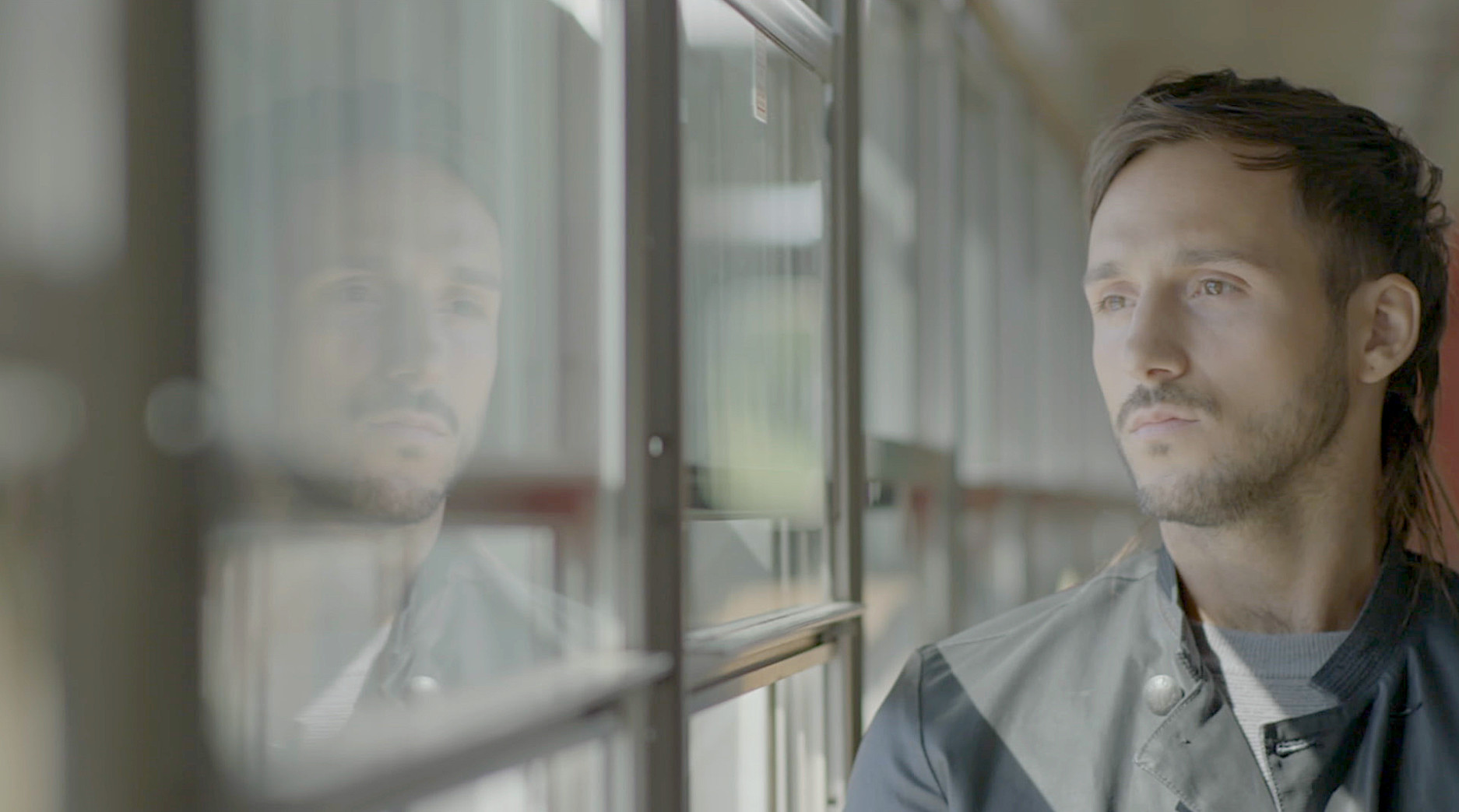 Move
Gathered in a train car waiting on the tracks, destination unknown, nine dancers and singers perform a soulful rendition of the gospel song "You Gotta Move" accompanied by body percussion. Past reflections and future dreams kindle a communal calling.
The rhythms, vocals and visuals are influenced by choreographer Sandy Silva's work with percussive dance traditions from around the world, notably her long-standing relationship with songs and rhythms of the American South. With 25 years of experience producing, filming and editing performance based films, Marlene's direction seeks to capture the nuanced dynamics and intricacy of percussive dance, and to convey the emotion of the storyline with intimacy and detail.  As part of the Migration Dance Film Project, Move evokes the crossroads of the personal with the communal and the sense of hope that emerges in their interstice.
Director: Marlene Millar/Choreographer: Sandy Silva/Dancers: Andrew Bathory, Sonia Clarke, David Cronkite, Dominic Desrochers, Afia Douglas, Hélène Lemay, Kimberly Robin, Sandy Silva and Bobby Thompson
 Canada 2016 3´45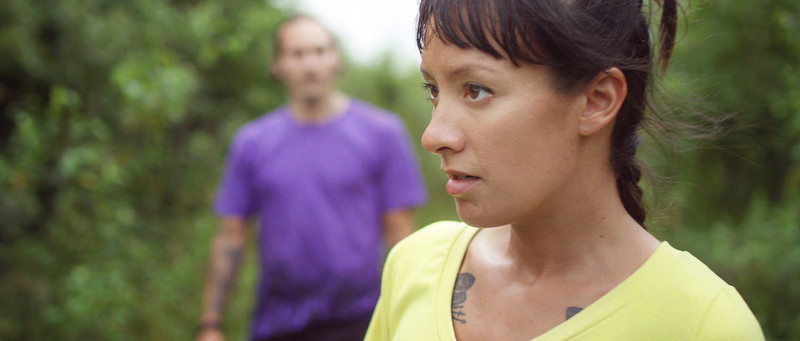 Crack the Cypher
In this dance for camera short directed by Marites Carino, one b-boy's curiosity lures him away from an urban meander towards a kinetic adventure. The short film explores the power of choice and  imagination. The nomadic dance zigzags through Montreal streets and beyond to a score by Toronto's Afiara Quartet and DJ Skratch Bastid.
Director: Marites Carino/Choreographers&Dancers: Emmanuelle Lê Phan and Elon Höglund
Canada 2016 7´28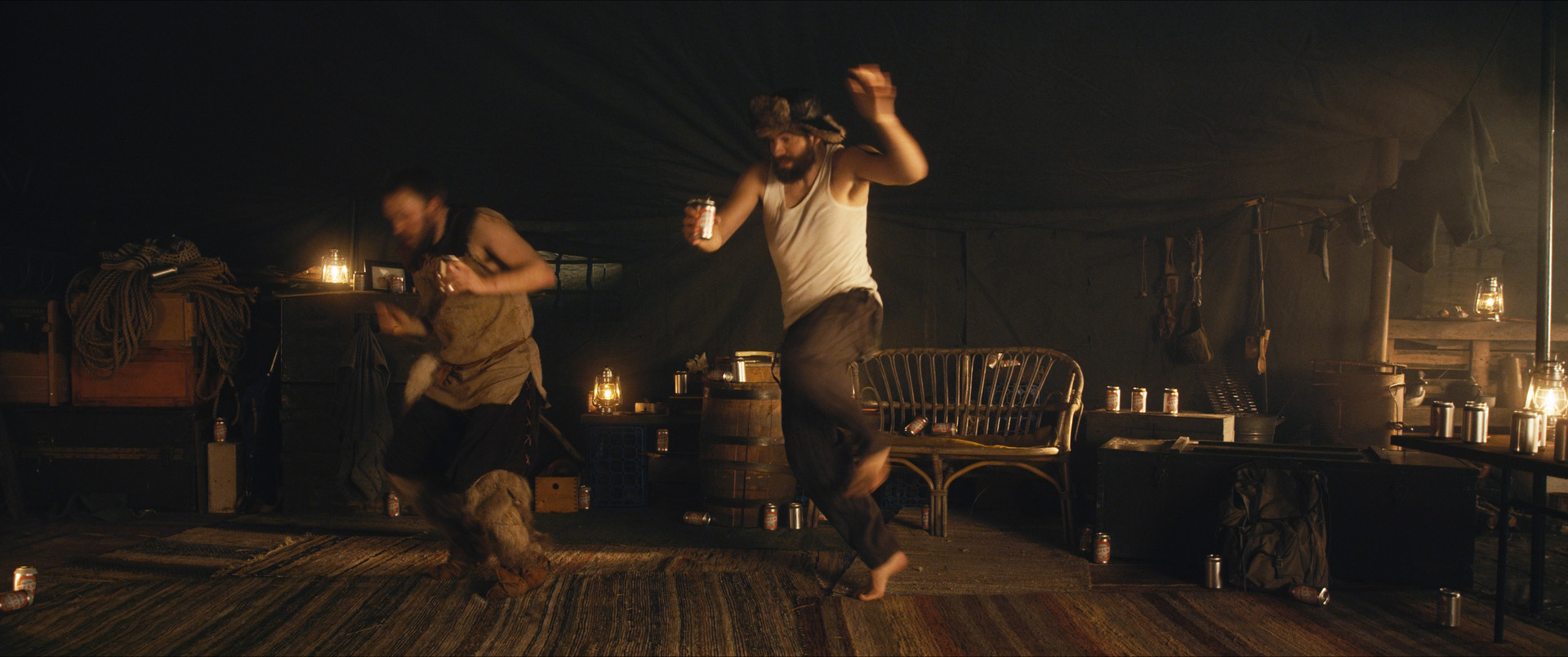 Cold Storage
Cold Storage is a short dance film that pays homage to the virtuosic physical performances and melancholy comedy of the classic silent screen. On a desolate arctic shore, a lonely ice fisherman discovers his prehistoric counterpart frozen in the sea ice, and thaws him out as his newfound soul brother. A wild all-night drinking and dancing party in the fisherman's tent ensues, but in the harsh light of the morning he must once again confront his own loneliness and dependency. As the ice melts under the foundations of his life, he is forced to even question the reality of the space and time surrounding him.
Director: Thomas Freundlich/Choreographer: Valtteri Raekallio/Dancers: Valtteri Raekallio, Eero Vesterinen
Finland 2016 8´46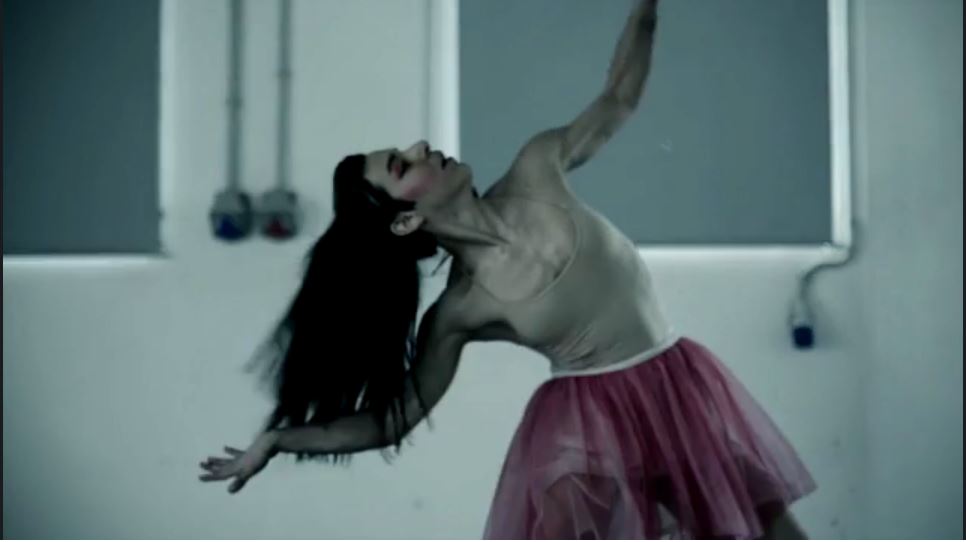 Broken
A marionette escapes in full control and she dances in a remote and abandoned industrial space about the fall and the restart, two fundamental movement forms that describe adequately the modern dance and life, in general.
Director:  Chris Tourlakis/Choreographer: Fenia Apostolou/Dancer: Silia Karfopoulou
Greece 2016 2´22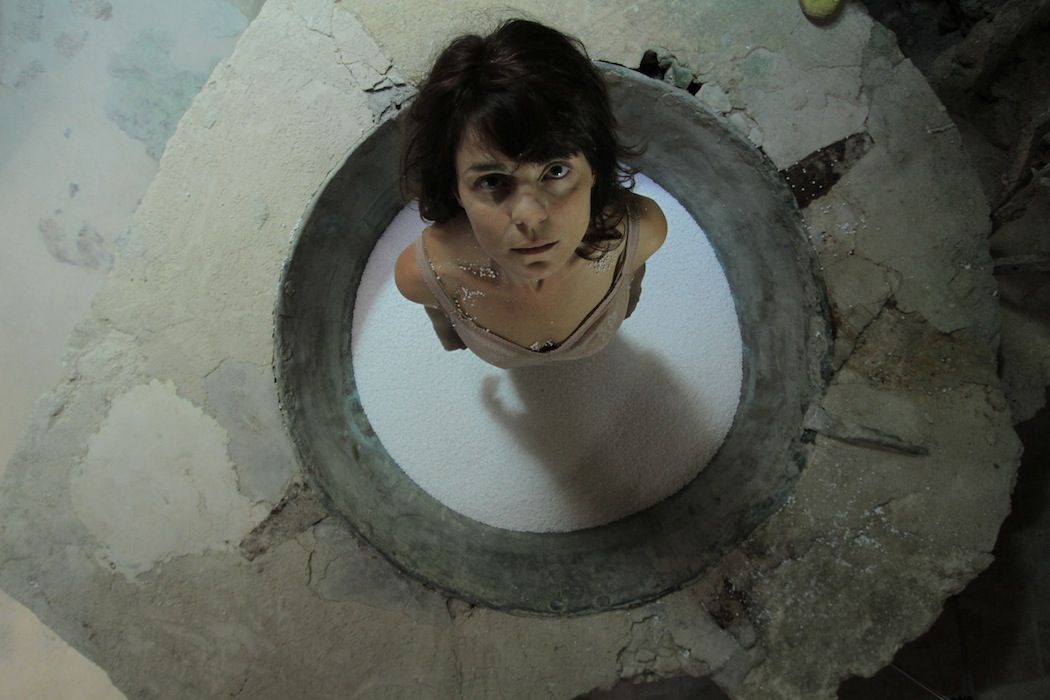 Diving into your absence
Diving into the emptyness of an absence.
Director: Concha Vidal
Spain 2014 3´58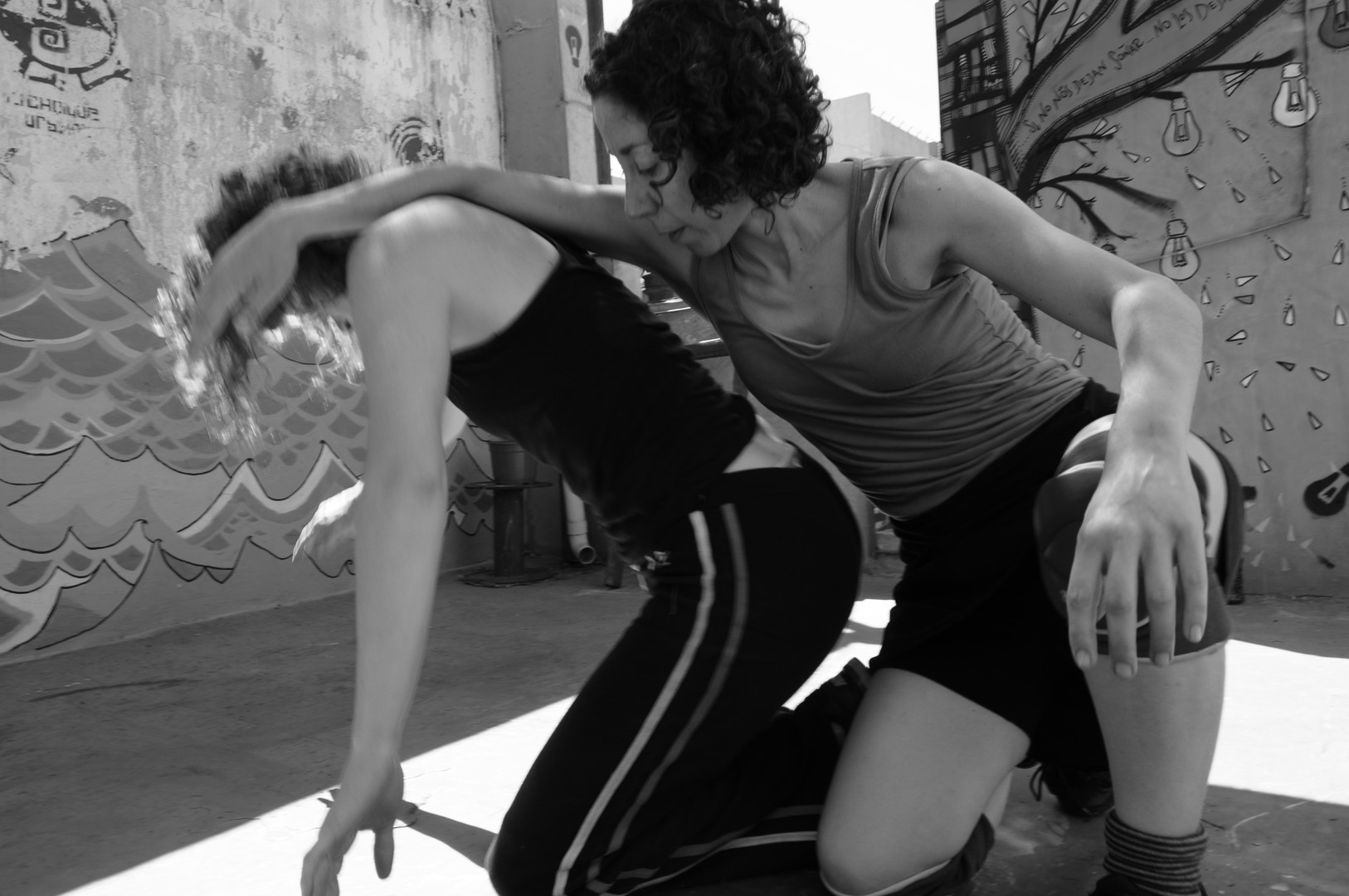 Absence
A woman is missing another one, who was her lover and dance partner. She is living as detained in her memories until she can dance them. A relationship of dance and love as well. Absence of the loved one as the territory of uncertainty. Loss as presence and dance as sublimation.
Director: Carolina De Luca/Choreographer: Carolina De Luca/Dancers: Maite Esquerré and Karina Cartaginese
Argentina 2015 5´44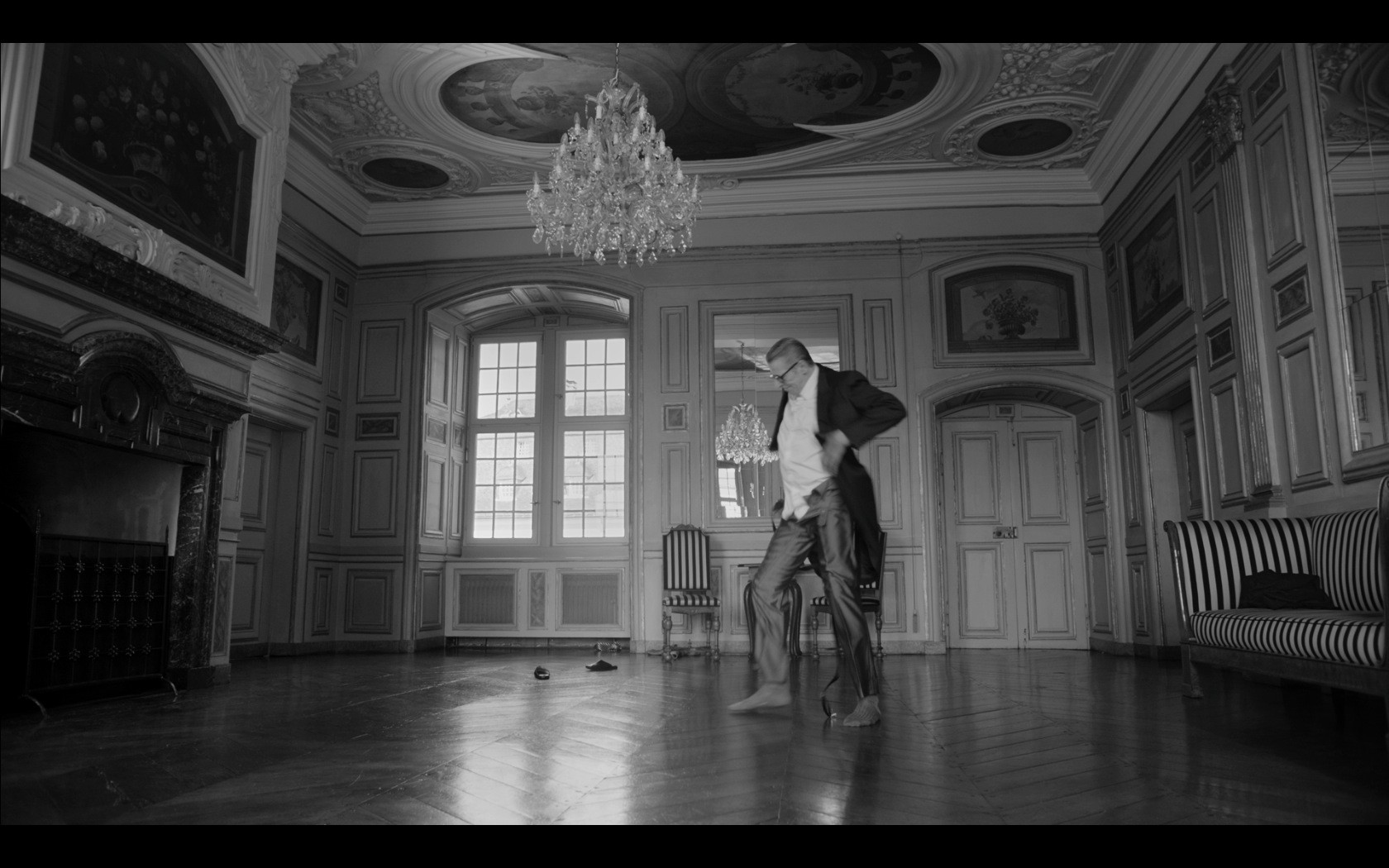 In and Out of Control
In and Out of Control represents the complete breakdown of control for a man who's used to commanding the lives of many. He reaches the limits of his control, where even the laws of physics seem suspended.
Director: Emir Eralp/Dancer: Lutz Förster
UK 2015 4´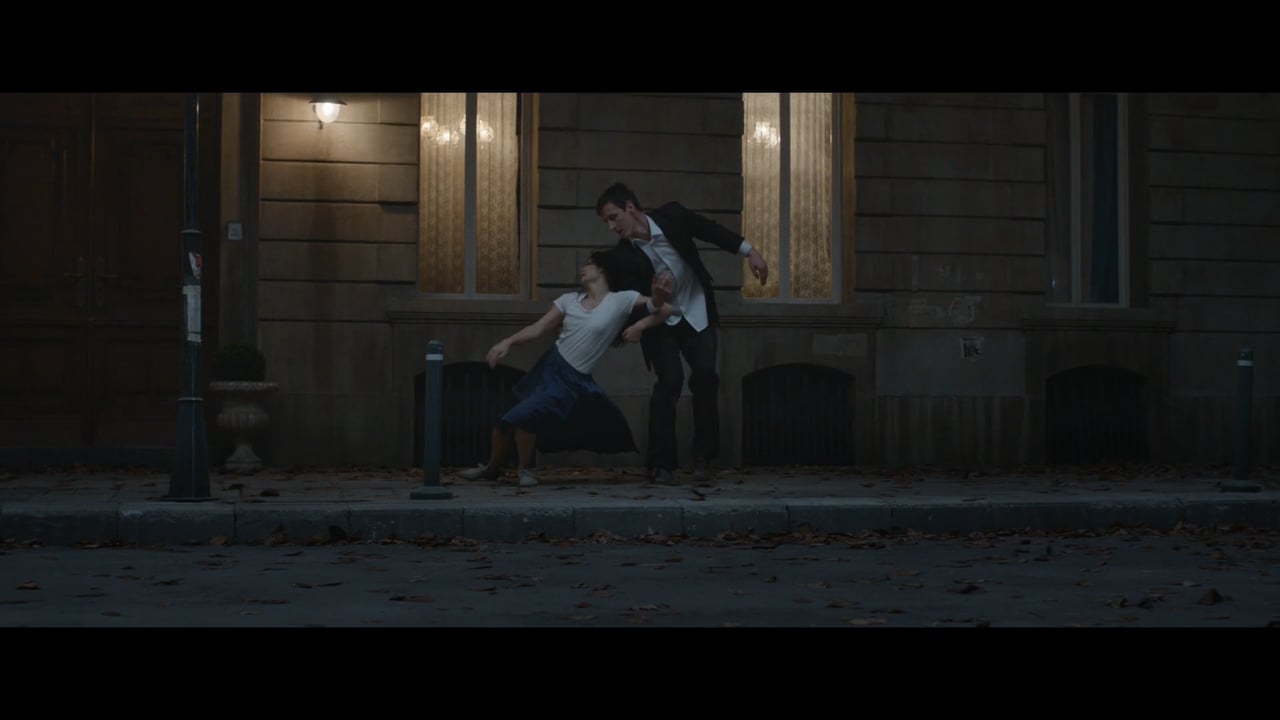 Night Dancing
Every night, Bob sees a beautiful young woman dancing outside his window. He is transfixed by her. Wonders if she's real. Then things become more complicated….
Director: Barney Cokeliss/Dancers: Jason Thorpe, Louise Tanoto, Jacob Ingram-Dodd and Alister Cameron
UK 2016 6´30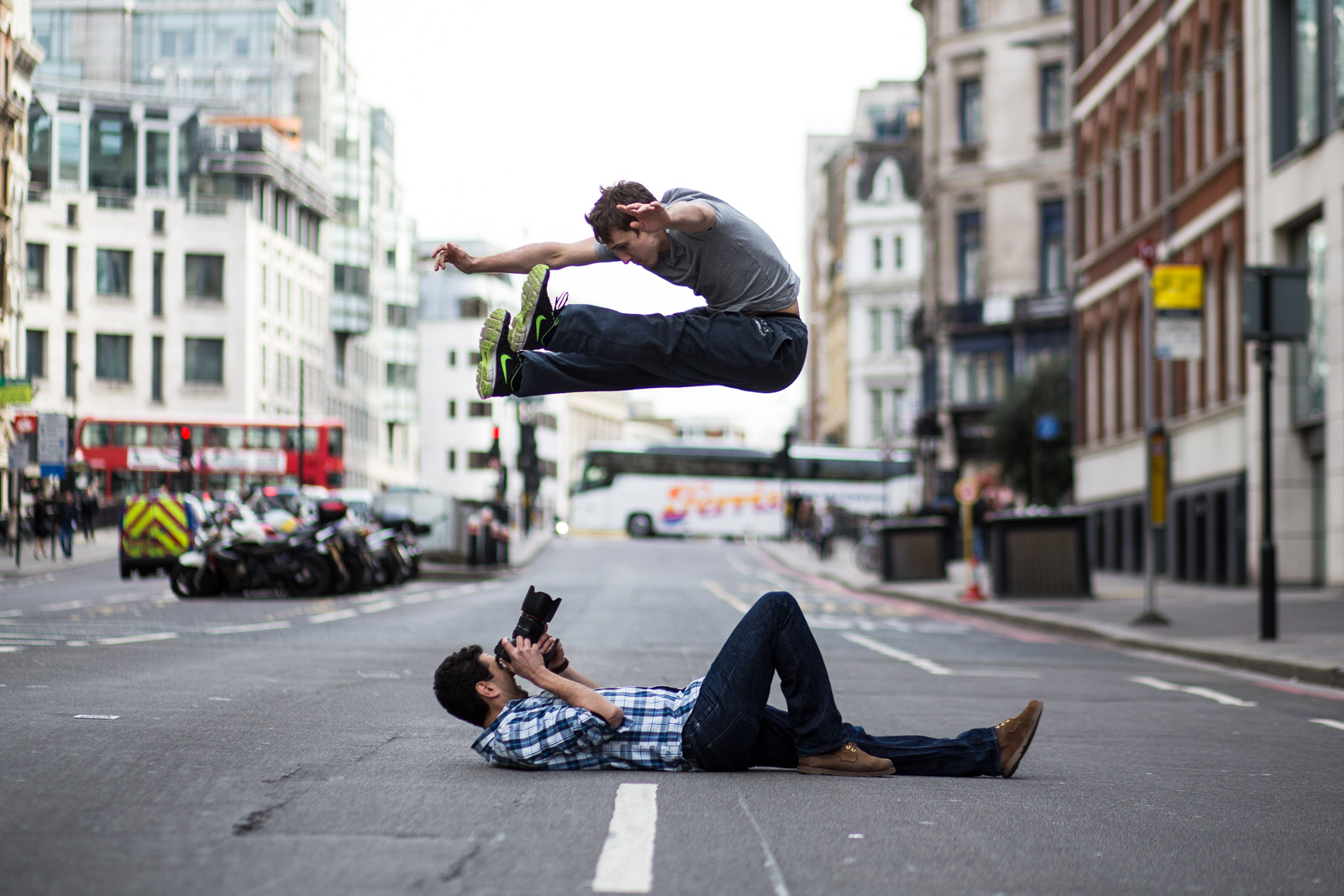 Moving Southwark
The dying moments of 24 dancers, each consumed by the city of London. Moving Southwark is a magical realist expression of London's medieval backyard.
Director: Jevan Chowdhur/Dancers: Nadine Marshall and Bryony Harrison
UK 2016 5´29
SEE | OBEY
SEE | OBEY film tells simultaneously three different narratives about human emotions, every day events and conflicts by physical expression and movement. The time is manipulated by cinematic means and the moments that happen in a blink of an eye get a new depth with slow motion. The film uses both several professional dancers and almost a hundred volunteers.
Director: Jouka Valkama/Dancers: Pekka Louhio, Raija Ojala, Helga Valkama, Natasha Lommi, Eero Vesterinen, Sanni Giordani, Elina Häyrynen and Aksinja Lommi
Finland 2015 15´05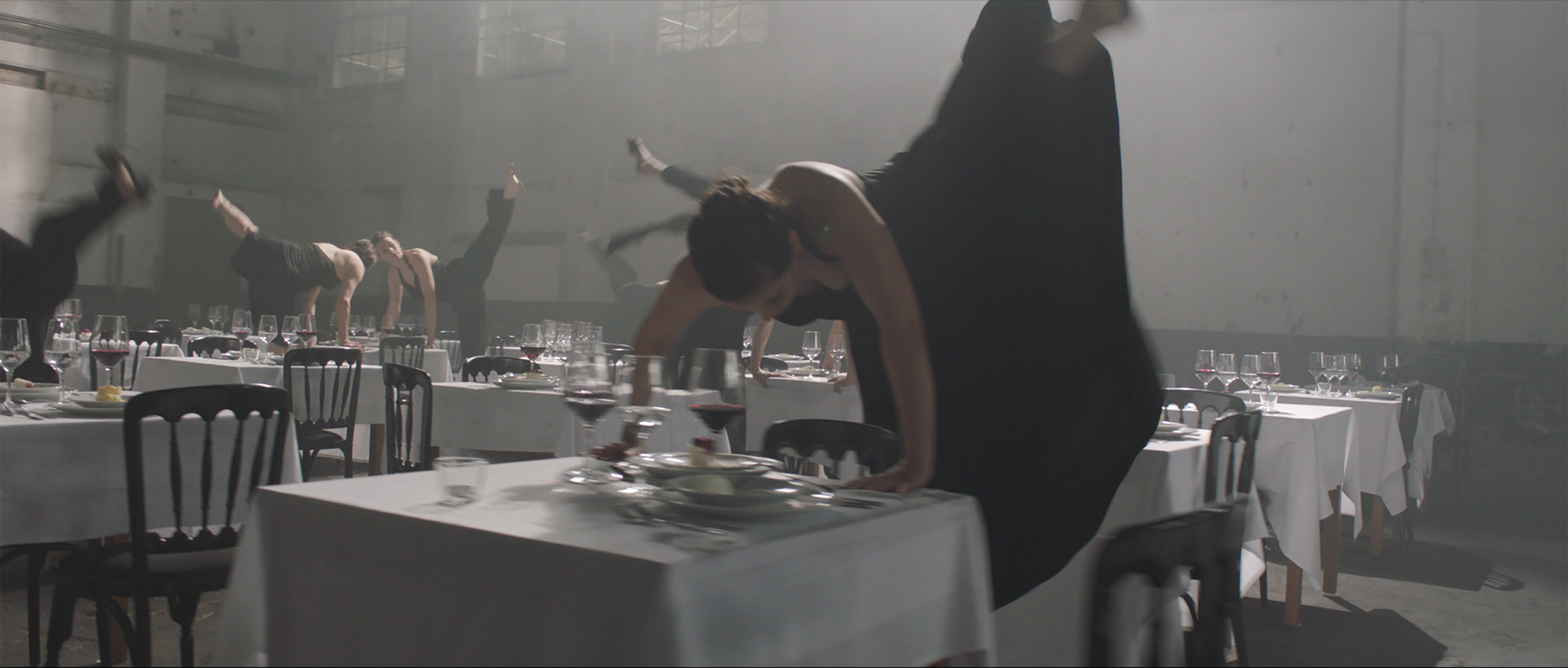 Amuse
A large restaurant, full of people who are having a good time. They're chatting and paying attention to each other. At least, that's what it seems…
Director: Ivo van Aart/Choreographer: Jonne Covers
Netherlands 2016 6´30
1 – MINUTE SELECTION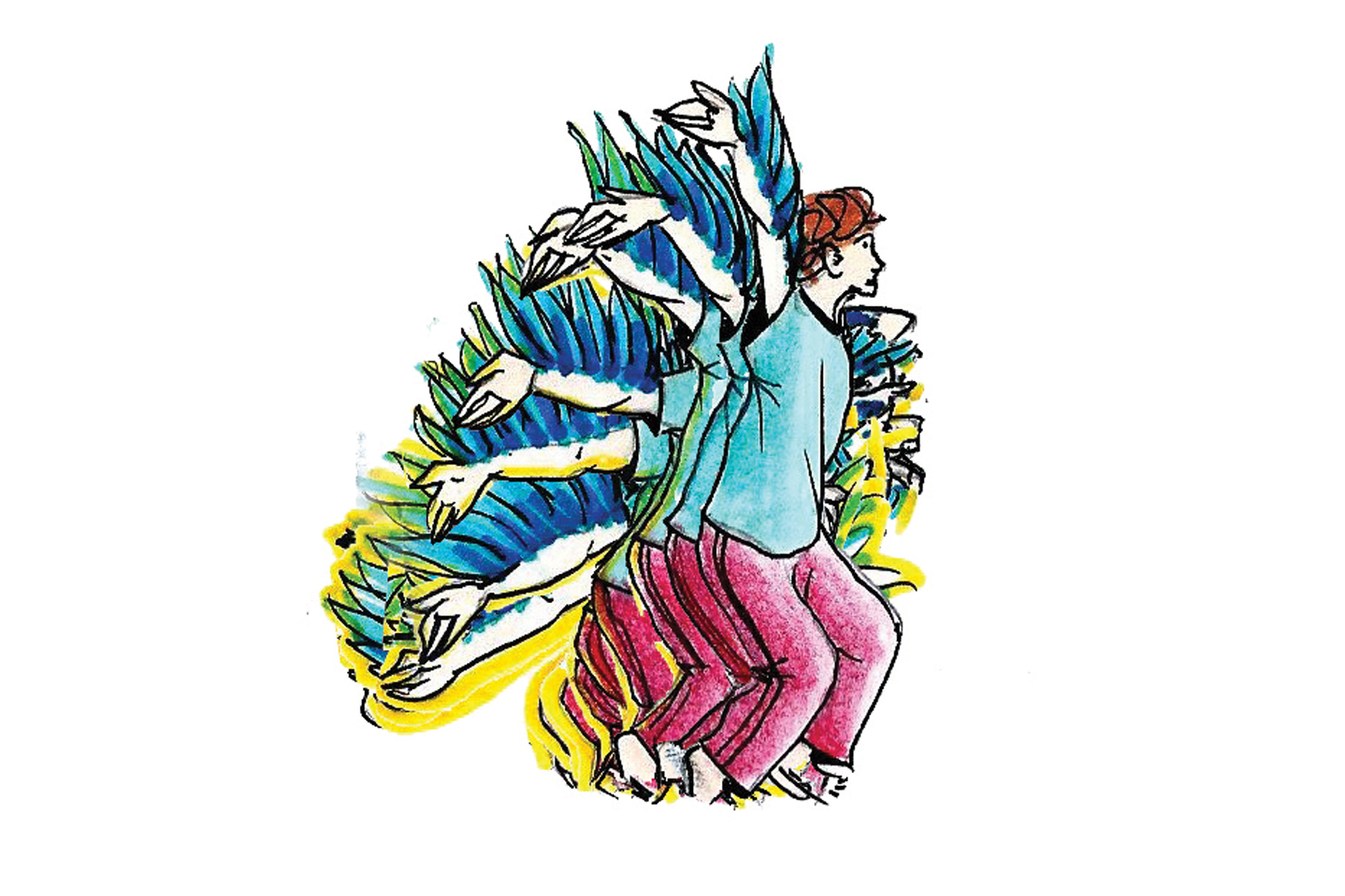 1180 AND MORE
Drawing and dance meet to generate a dialogue between staticity, represented by singular images, and movement, created by their succession. While LOTIMEOP has explored the vision and the analysis of a kinetics which is crystallizes through repetitions, in this animation has been researched the opposite process , in which succession of images, apparently different from each other, create the movement itself.
Director: Riccardo De Simone
Italy 2016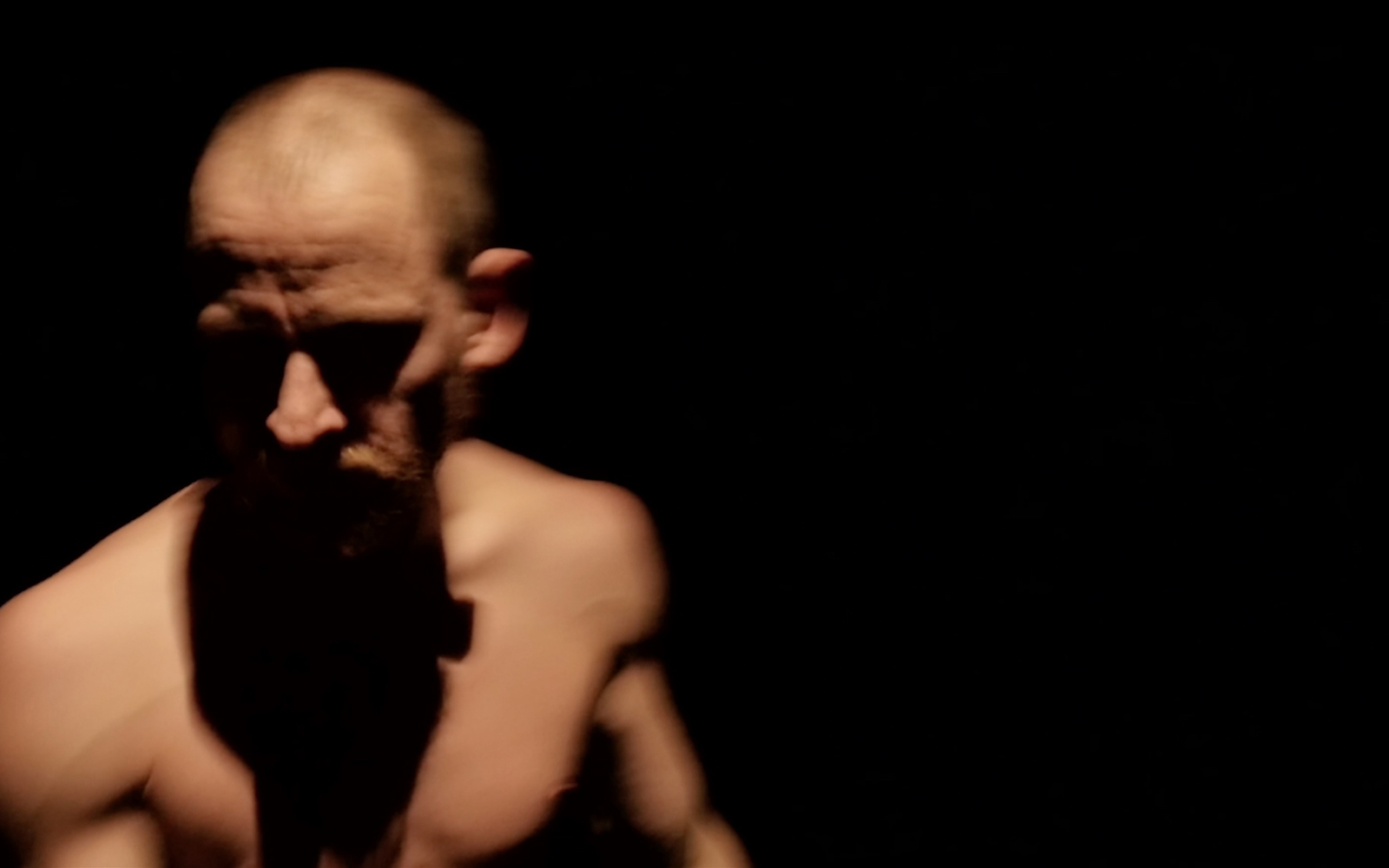 AS60
'AS60' shoot at 96fps (slow motion) while camera person swinging the camera side to side constantly. It came out as the result of the experimentation in the collaborative/choreographic process with dancer and camera person. There is no visual effect involved in editing process except little correction of the position/speed and the order of the video footage.
Director: Shumpei Nemoto/Choreographer: Shumpei Nemoto/Dancer: Adam Schütt
Sweden 2016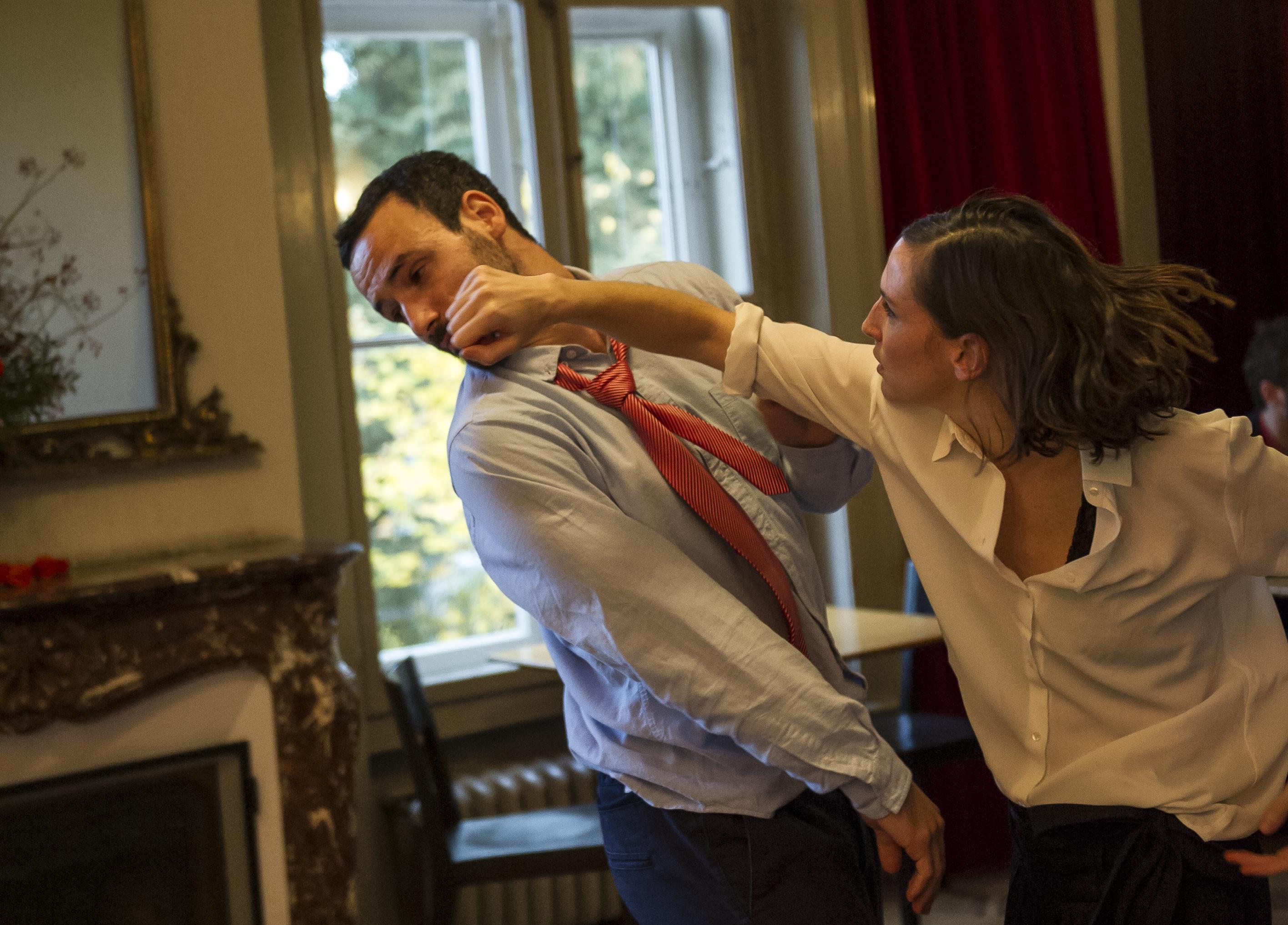 Joy
"Joy" explores the unexpectedly joyful art of stage fighting, freed from the constraints of plot and psychological realism. The choreography explores how violence has such an electrifying effect upon its viewers — even though many are loathe to admit this most guilty of pleasures. Central to the work is Freud's notion of Schadenfreude — the ways in which we are all capable of taking pleasure in other people's misfortune.
Director: Alessandro Schiattarella
Switzerland 2016
Daydream
Director: Pawel Grajnert/Dancers: Ellyzabeth Adler and Lucy Vurusic Riner
2016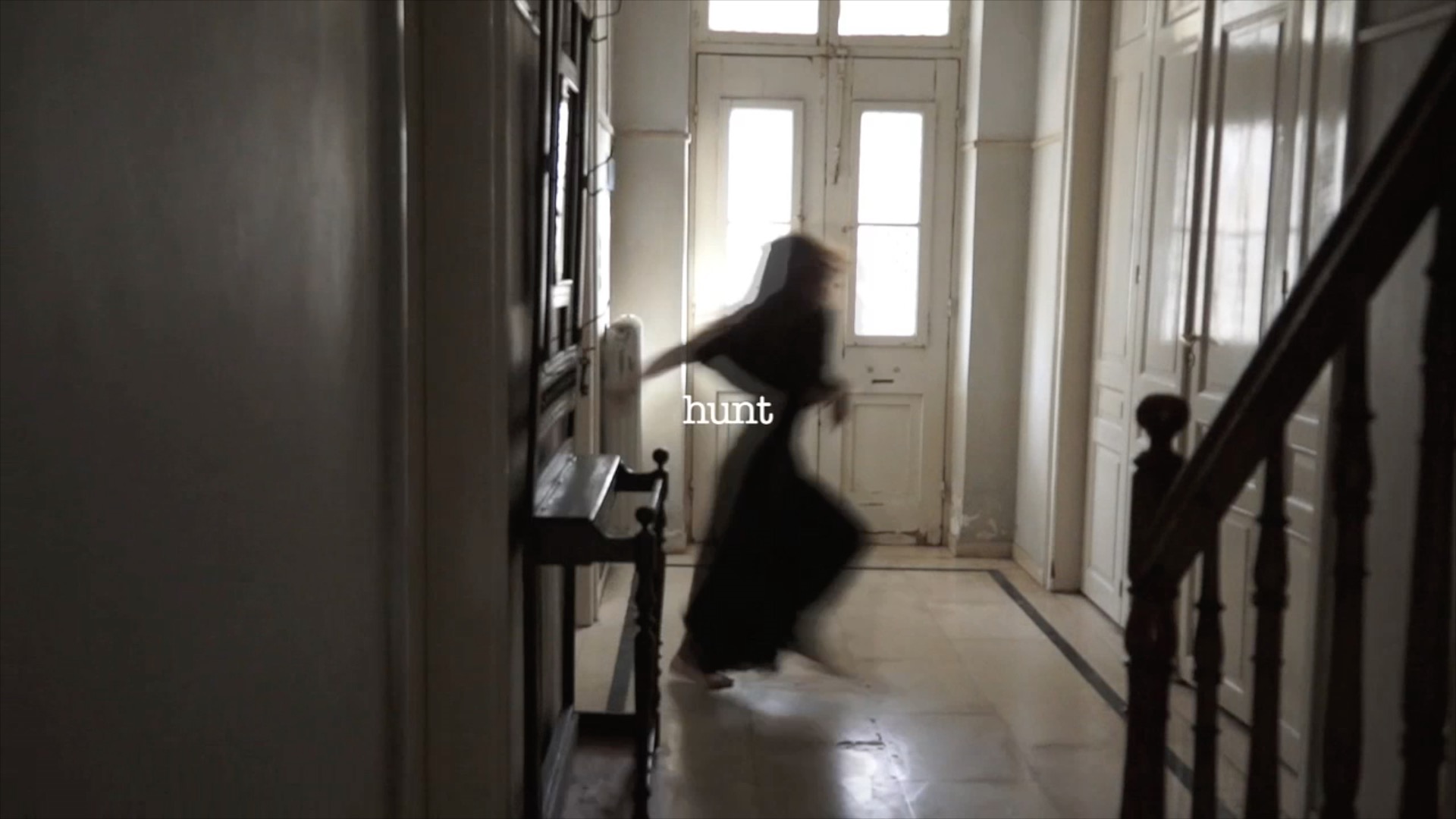 hunt
Inside the notion of hunt: to chase or search for (game or other wild animals) for the purpose of catching or killing. to pursue with force, hostility, etc., in order to capture often followed by down to search for; seek; endeavor to obtain or find often followed by up or out to search (a place) thoroughly. to scour (an area) in pursuit of game. Hunt is a one minute dance film that explores the idea of a human being whose physical substance expresses the inability of escaping from a space/environment which phenomenically restrains her from gaining perspective of alternative "exits".
Director: Aliki Chiotaki/Dancer: Xenia Kyriakopoulou
Greece 2014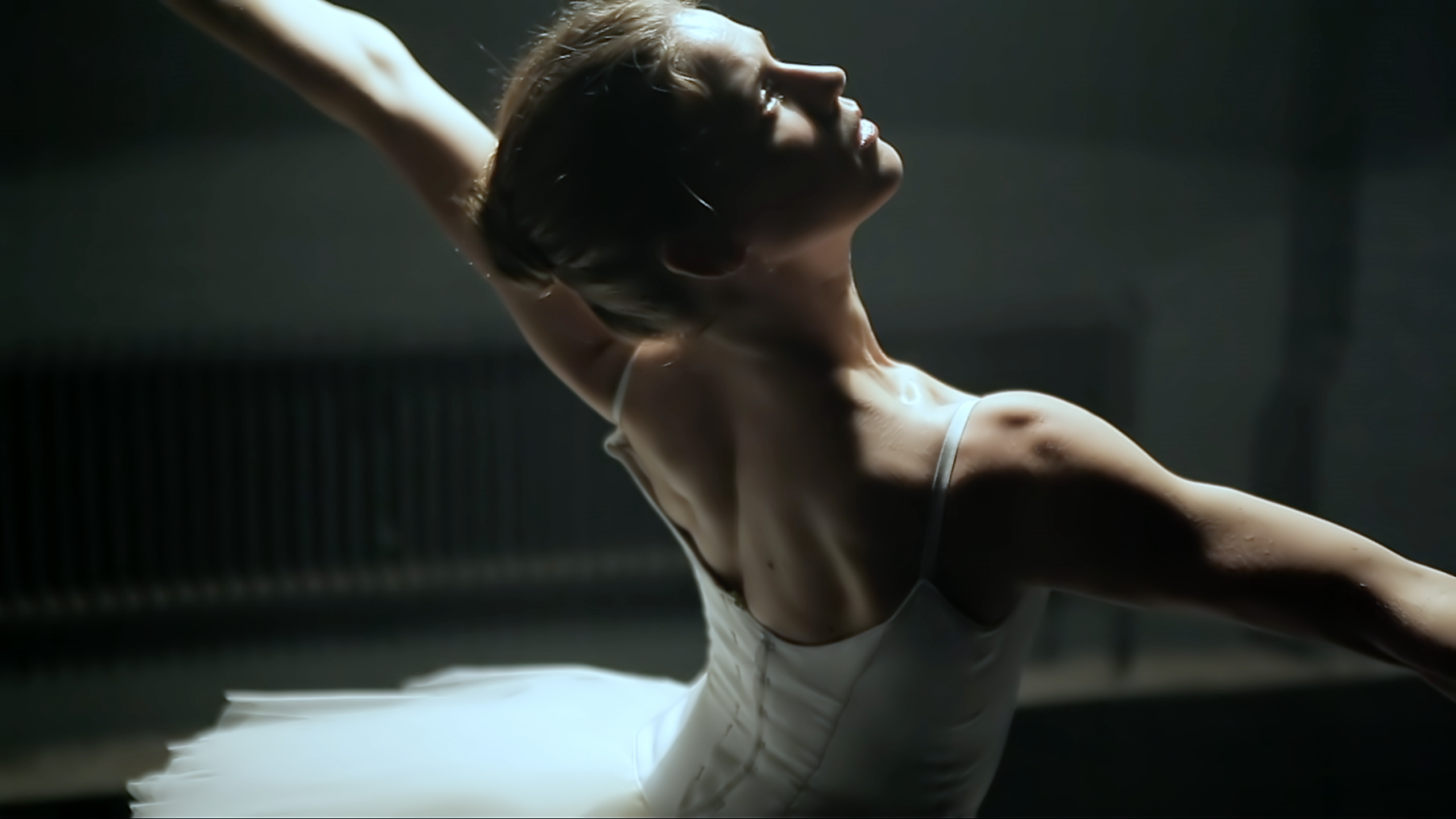 Unseen
A young ballet dancer is struggling with here choices about her future as a dancer.
Director: Justin Krul/Dancer: Imre van Opstal
Netherlands 2016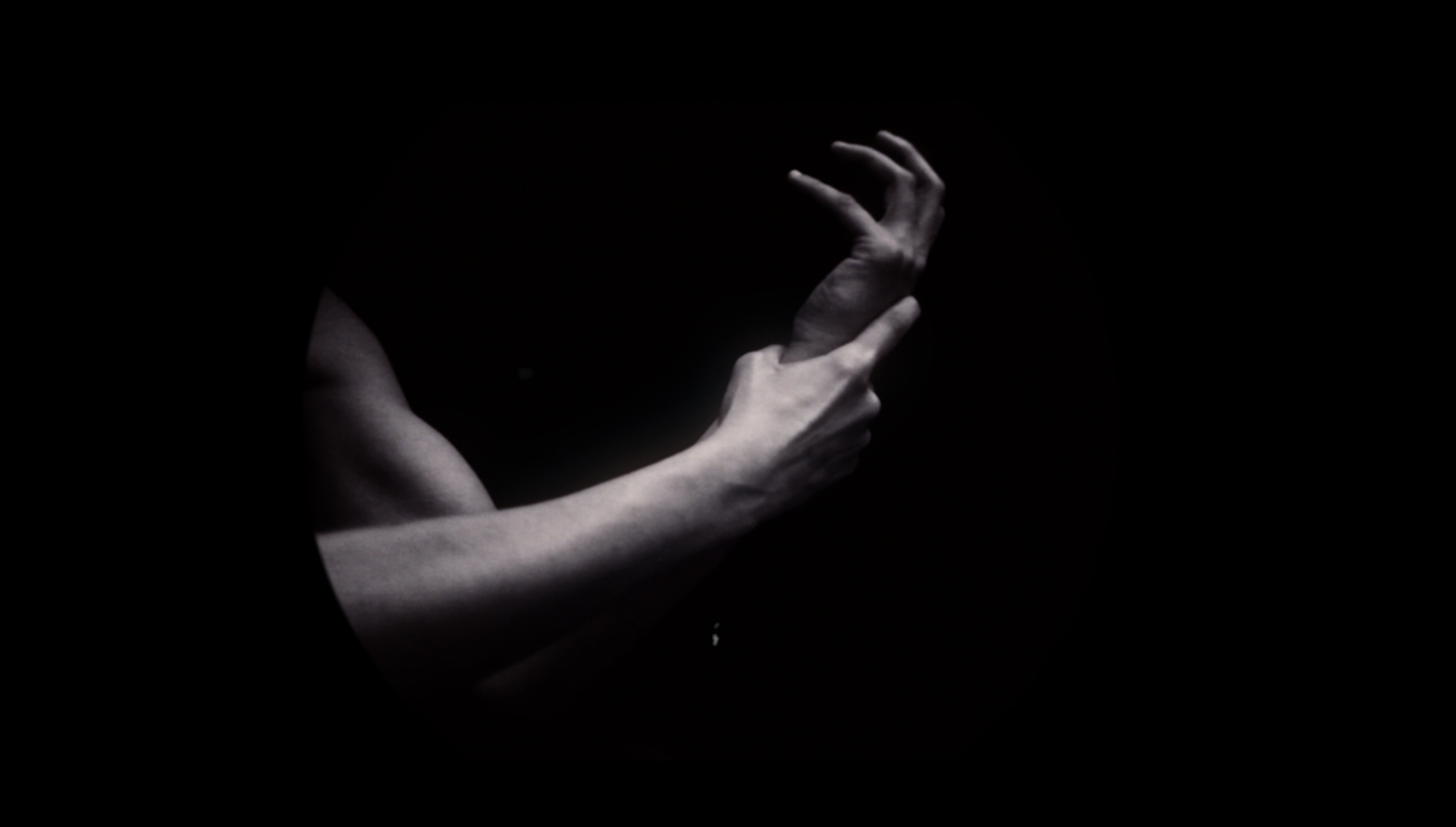 Hands 
Director: Giorgos Efthimiou/Dancer: Dimitra Aggelou
Greece 2016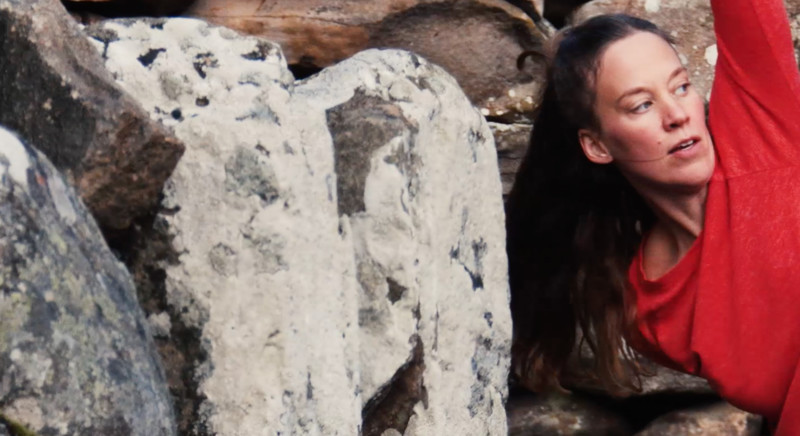 Circle
A 1 minute dance set in a 5000 year old burial chamber.
Director: Simon Fildes/Choreographer: Wyn Pottratz/Dancer: Wyn Pottratz
UK 2016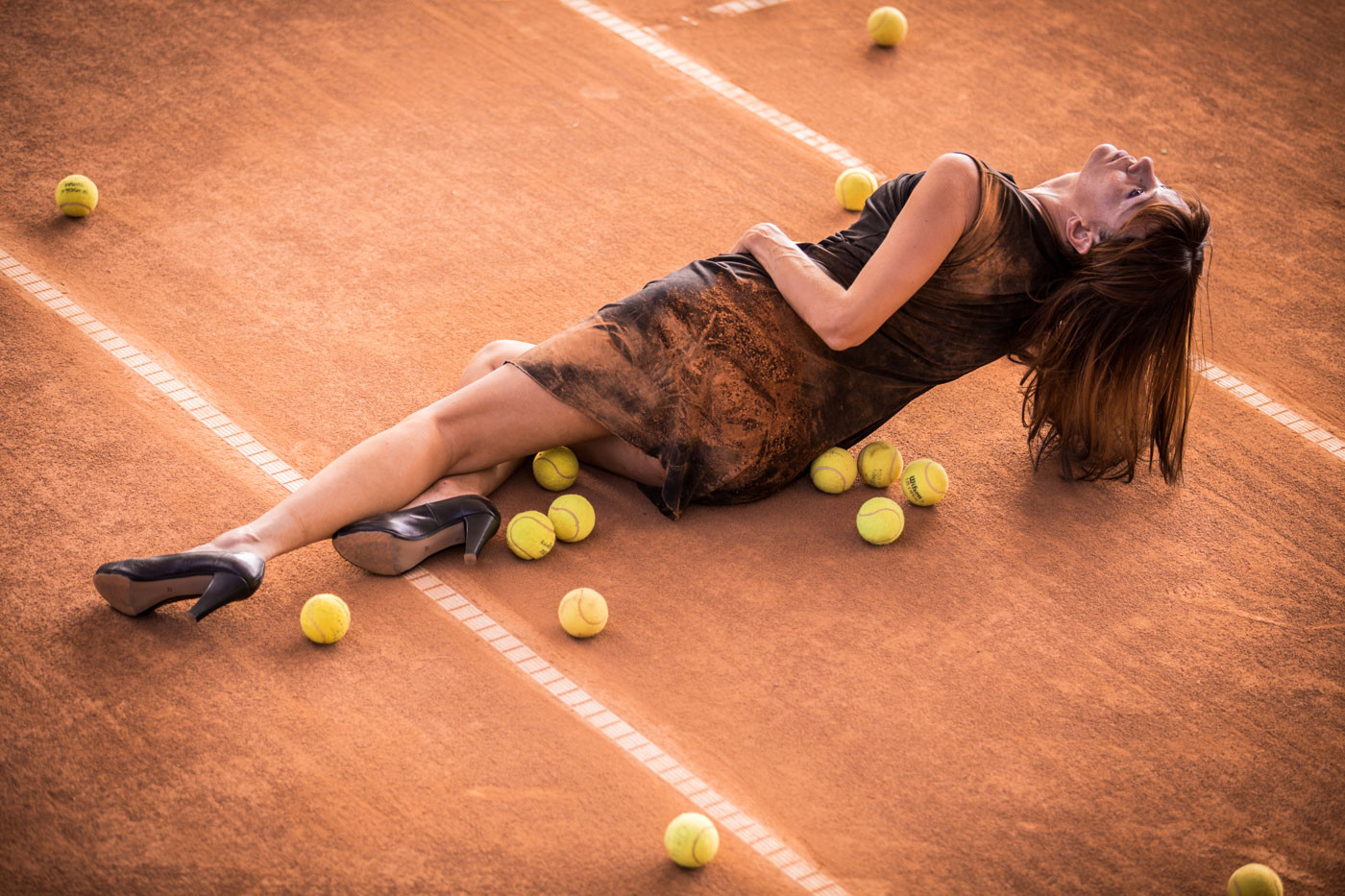 DIH.breath
The contemporary short dance film originates from a dialogue between the camera and the moving body generated by the rhythm of breathing which expresses the sense of the body. The act of breathing arises from silence, and goes from the outside to the inside, from the inside to the outside, in a ceaseless pulsating movement. It is a breath of life endowing our body with soul and intellect.
Director: Luca Quaia/Dancer: Daša Grgič
Italy 2016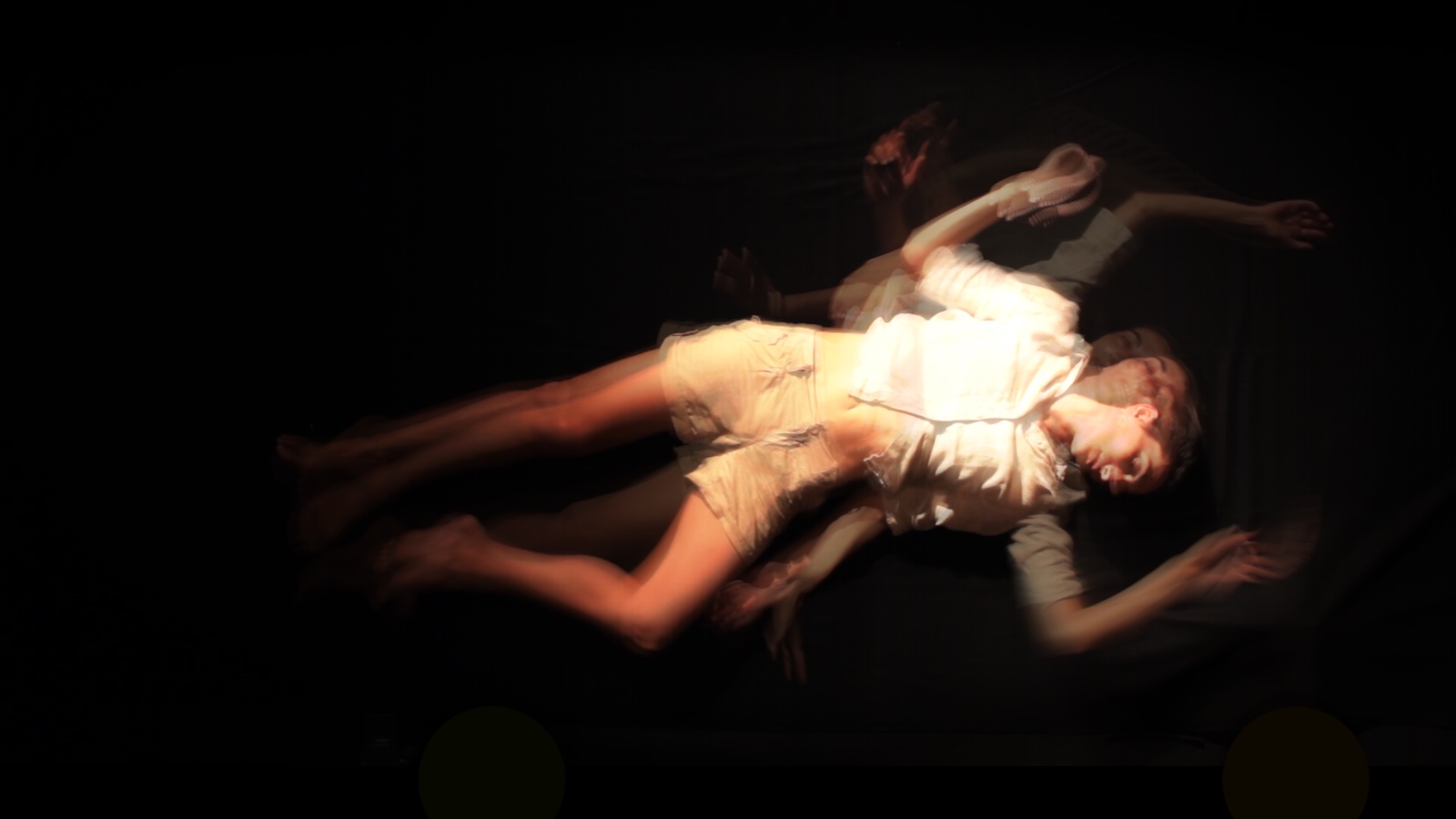 Entranced
A woman living a mystical rapture, her floating body gets ethereal and divided while she looks for the divine elevation. Inspired by the writings of Saint Teresa of Avila.
Director: Blas Payri /Dancer: Flora Vannini
Spain 2016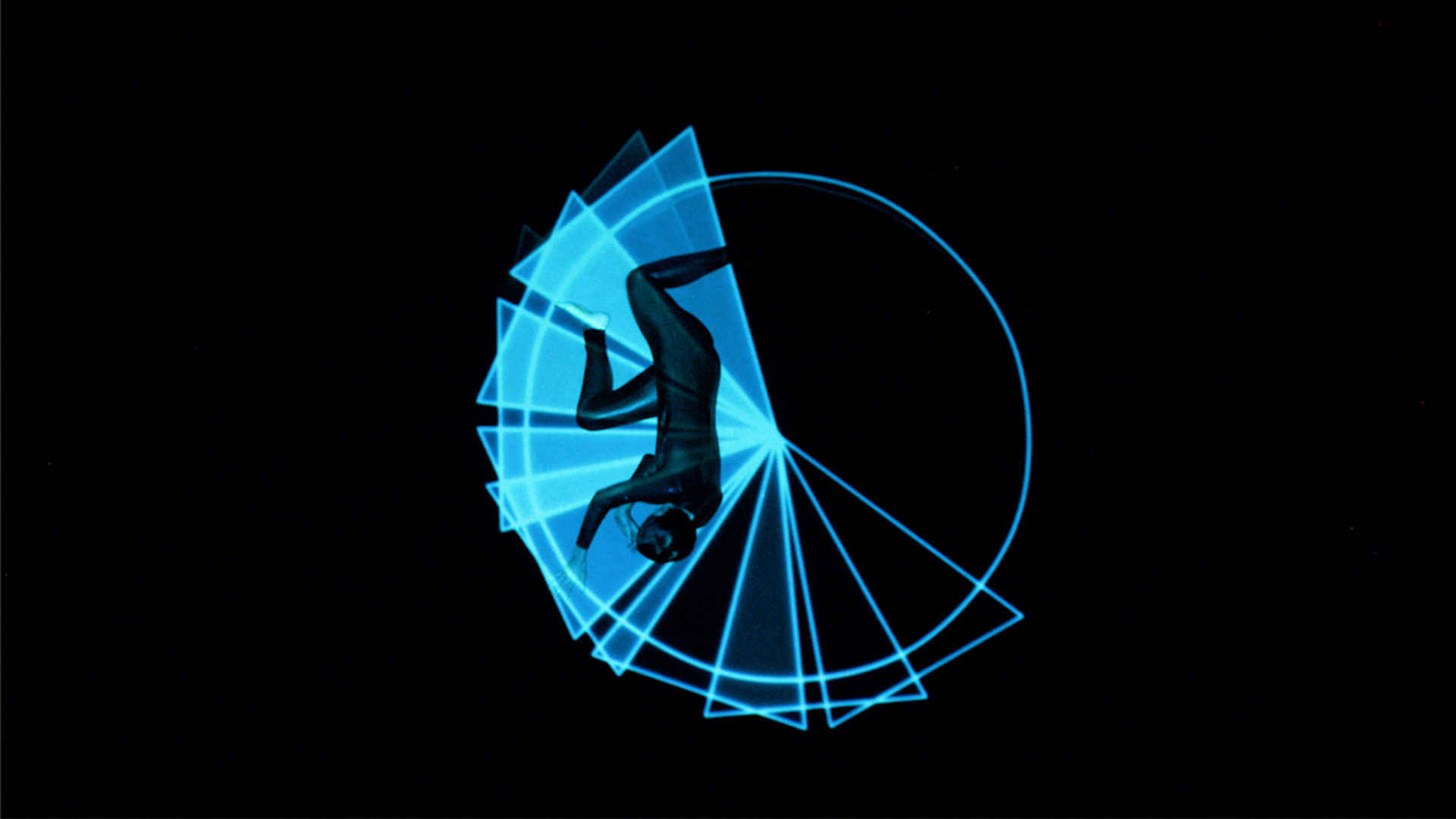 Line Scanner
Line Scanner is an illusory exploration of projected line animations onto human motion. In-camera effects only—all animations were projected live onto the performer.
Director: Dejha Ti /Choreographer&Dancer: Ania Catherine
USA 2016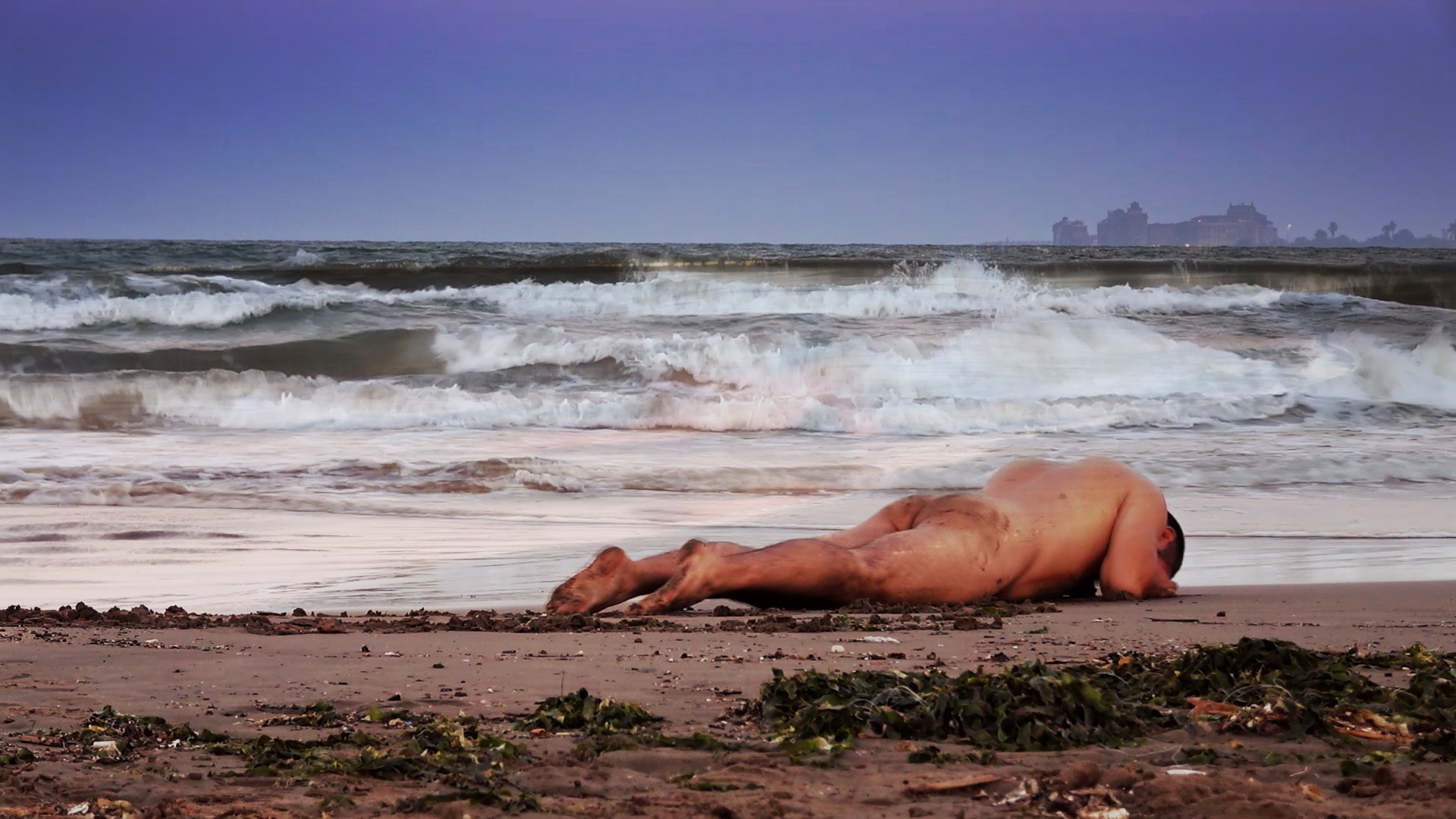 Étude sur sable, nº 1
Director: Rafel Arnal & Blas Payri
Spain 2016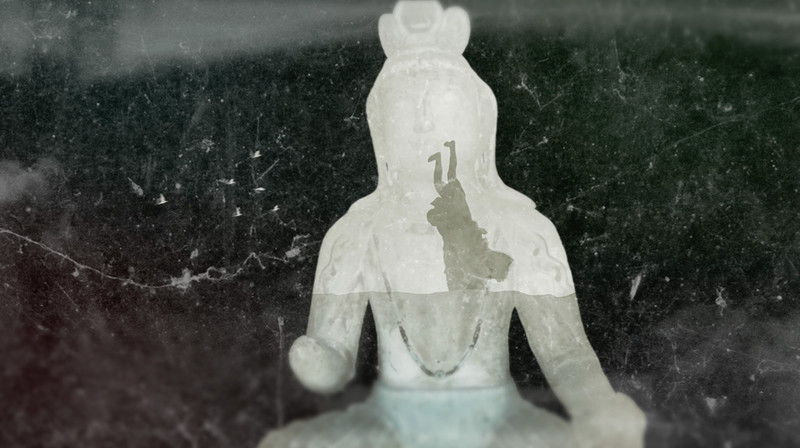 Reveries about Dunhuang
It is a dance about dunhuang.
Director: Alex(Zhen Wu)/Dancers: Yang Jia, YueLi Guo, Lang Liu and Yang Liu
China 2016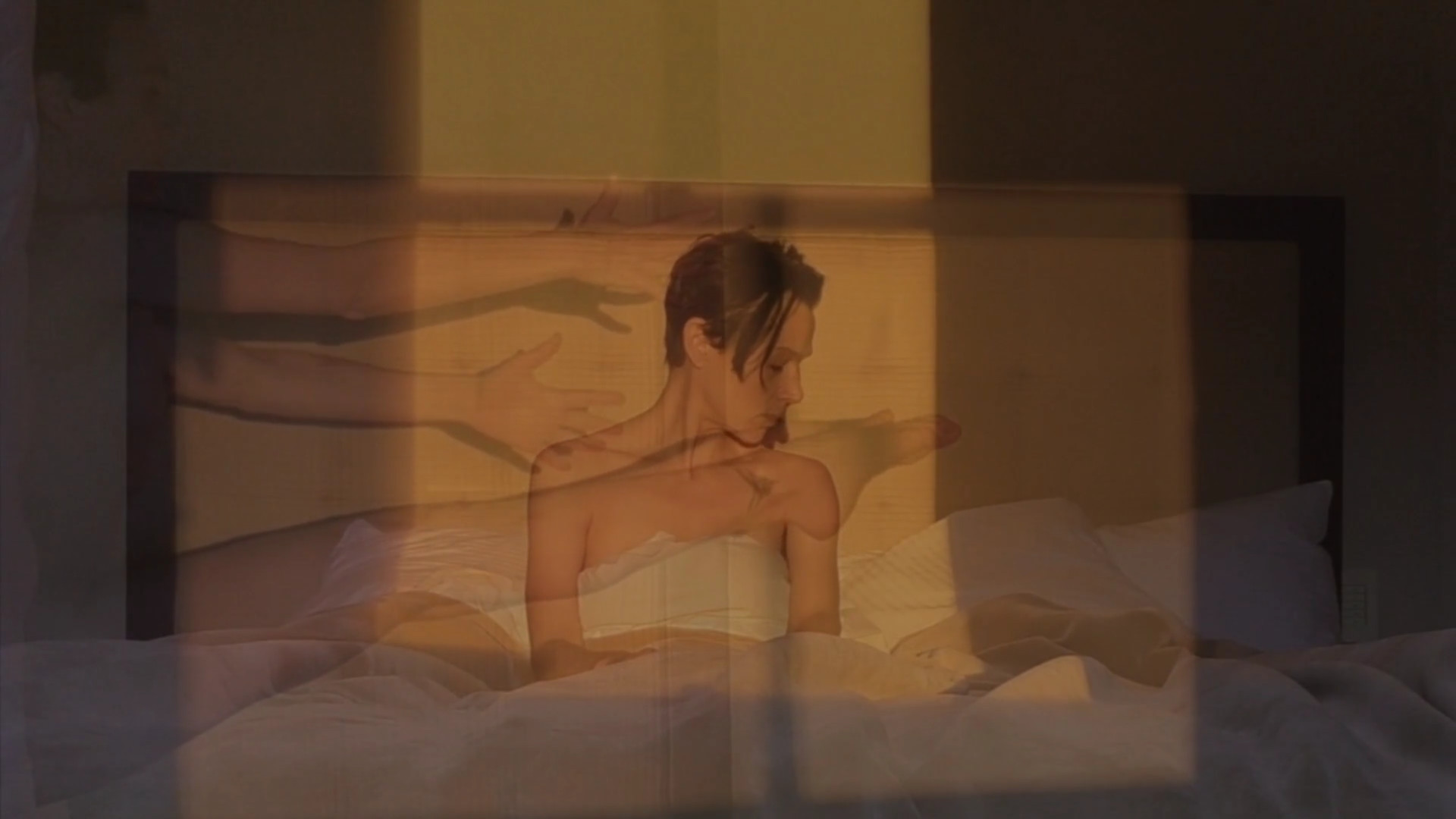 Amnesia in New York
Amnesia. In her attempt to grasp where she is, her corporal memory of a dancing body leads her to the awareness of being in New York 7.24 am January 2017.
Director: Benedikte Esperi
Sweden 2017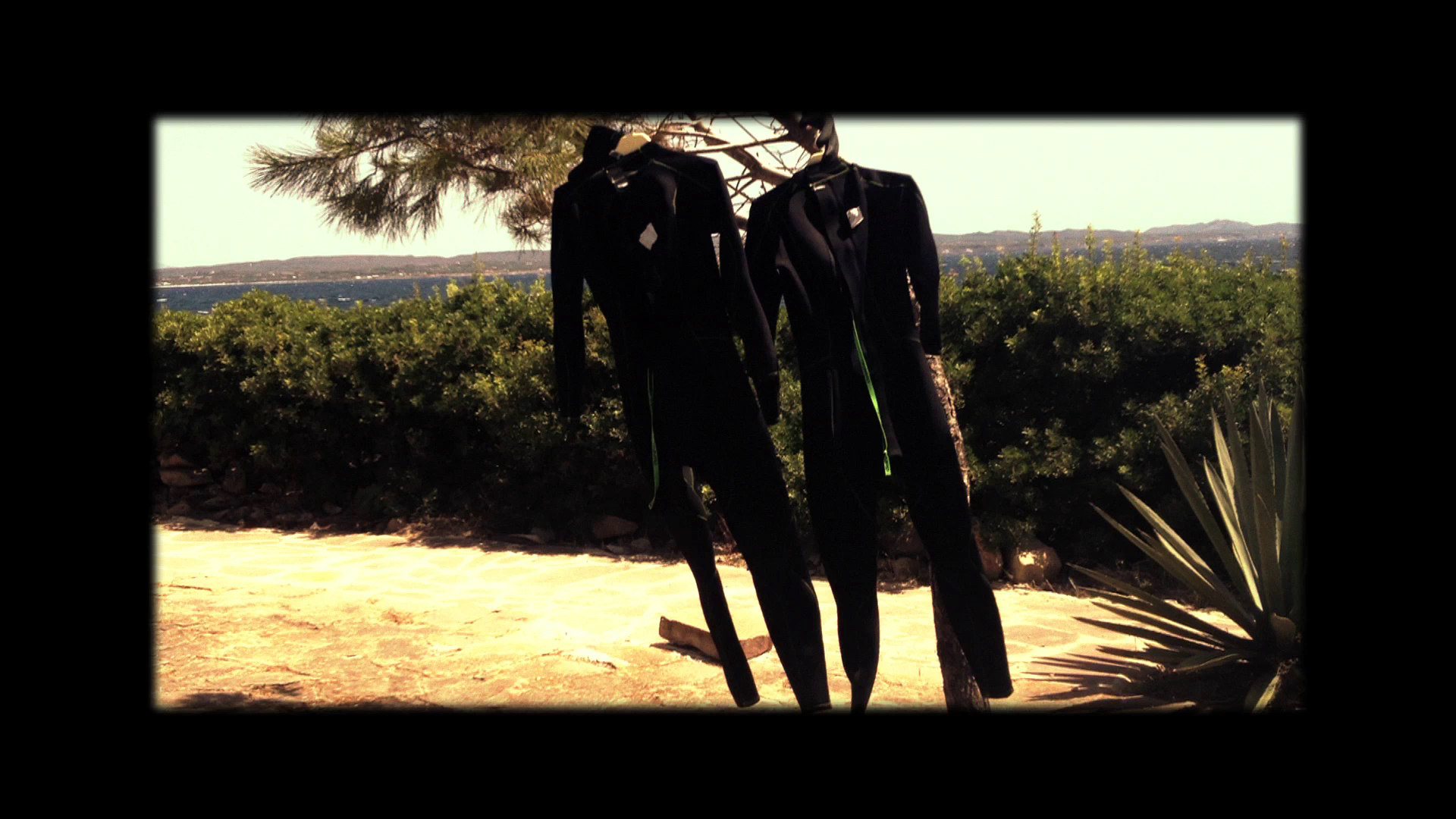 Muta Dance
Somebody put out to dry two diving suits. I saw them dance. A surreal vision with wind complicity.
Director: Laura Mazza
Italy 2013
Passing Through
Passing Through: Wilmington, North Carolina the first in a collection of super short dance films made to provide a snapshot look into locations around the world.
Director: Autumn Mist Belk/Choreographer: Autumn Mist Belk/Dancers: Natalee Campbell, Gerren Mobley, Christina Serafino, Kelley Murphy, Jill Bradley, Rachel Mehaffey and Brianna Cooper
USA 2016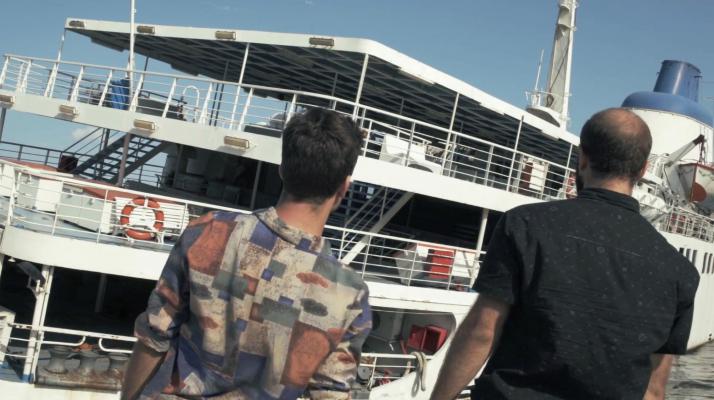 Sink Up
Director: Andi Xhuma and Christos Xyrafakis/Dancers:Andi Xhuma and Christos Xyrafakis
Greece 2016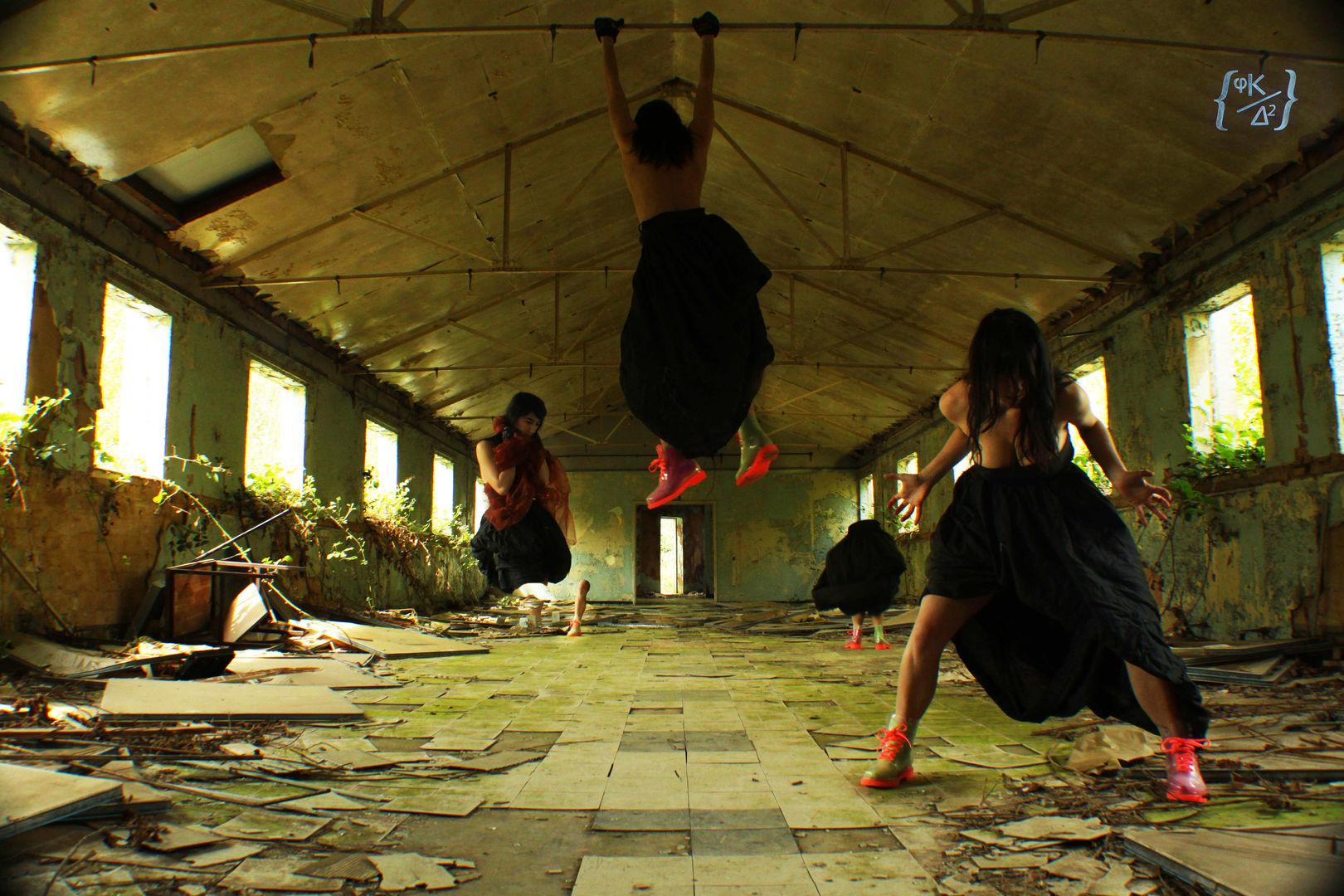 Unrevisitation
"The tensions between fleeing and remaining, inhabiting and disappearing – abandoned space and the desire to explore."
Director: Daz Disley and Fenia Kotsopoulou/Dancer: Fenia Kotsopoulou
UK 2015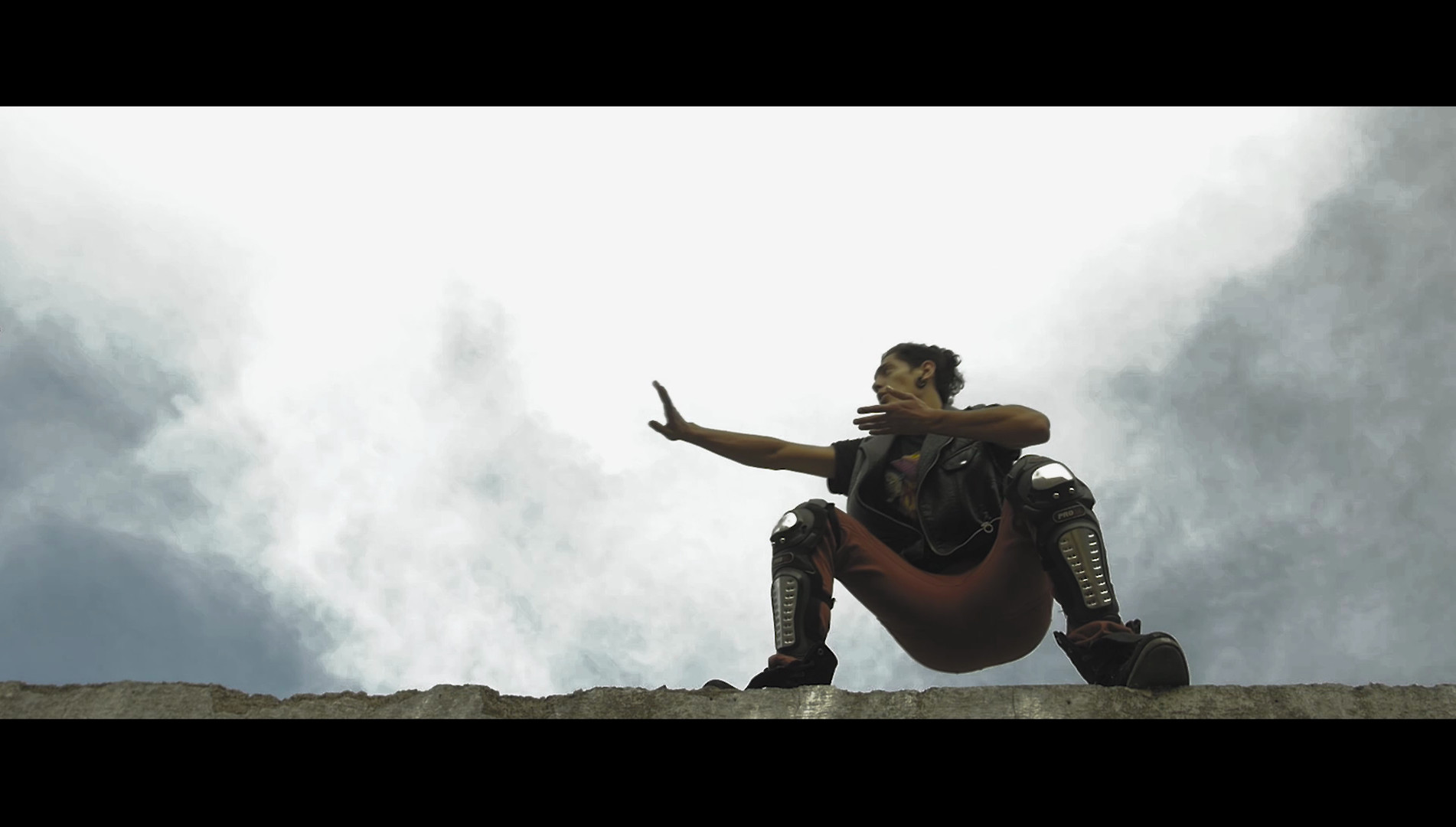 We are connected
Nature brougth these four strangers into the unusual situation of seeing themselves in others people movement. We dance, we are connected, we are connected when we dance.
Director: Jeanette Soria/Choreographers: Collective Creation/Dancers: Víctor Ellington, Josué Barrios, Leslie Romero and  Jeanette Soria
Guatemala 2016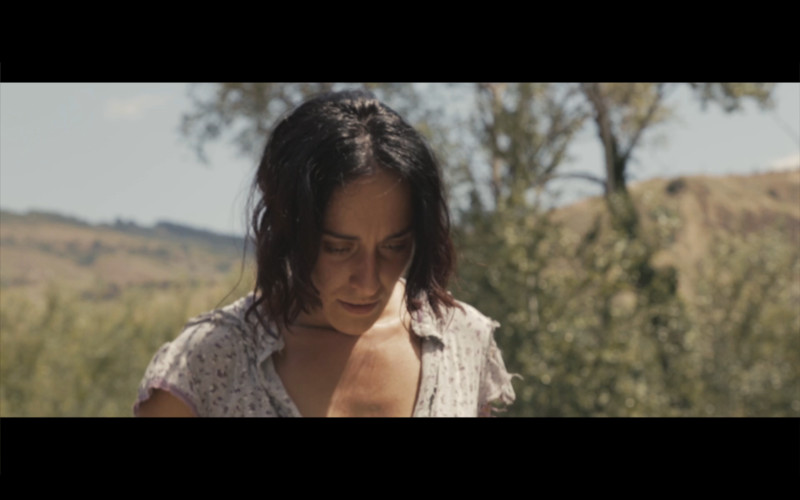 PLEASE
A woman on the run, following a survival istinct, sees again in few moments her recent past. She made a choice. Her way is in a new movement, her thought stopped to what she has lived: the submission and the violence of the life in the tomatoes fields in the South of Italy. The routine of the movements, similar to a deafening machine and without evolution, breaks thanks to an instant of crystal clear decision. Now she moves towards a new desire, outside of that prison.
Director: Angela Calia/Dancers: Angela Calia, Marco Bileddo, Annapia Albanese, Federica Fierri, Maria Grazia Marsico and Valeria Porcari
Italy 2016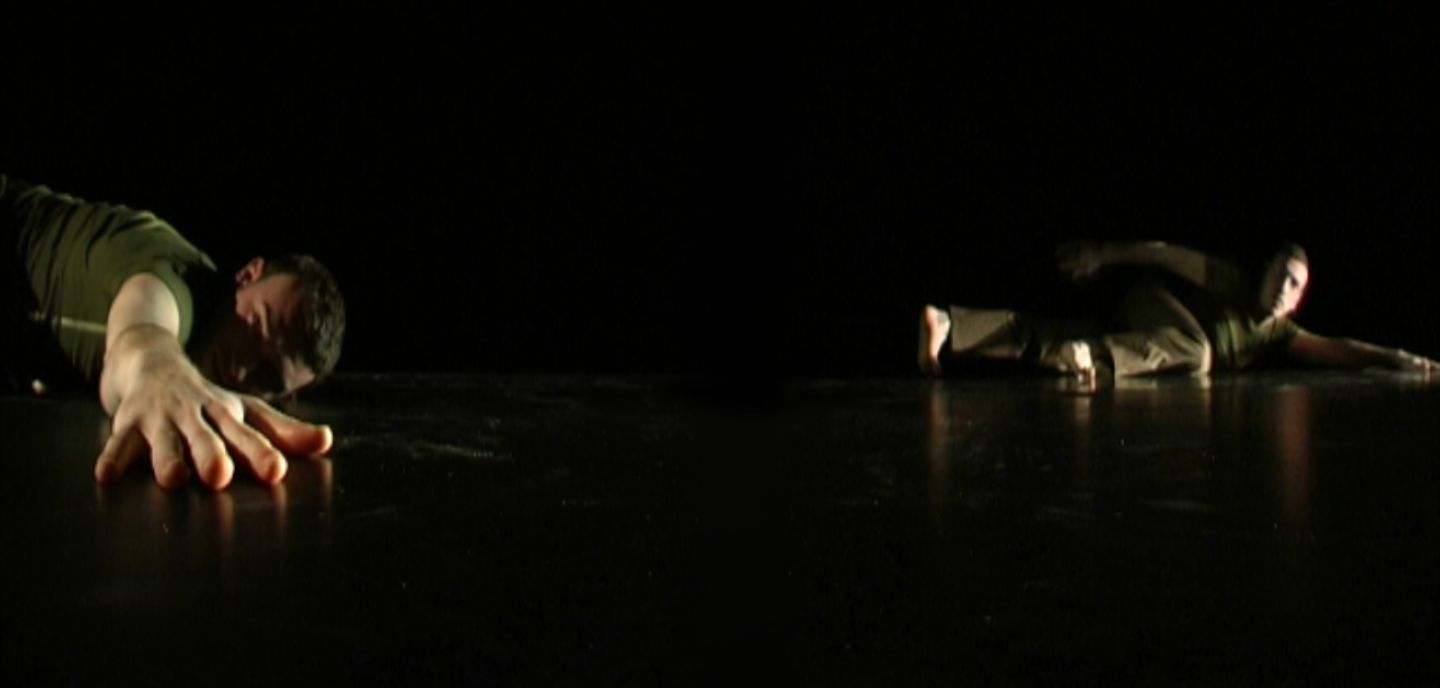 Walk
"The day of my birth, my death began its walk. It is walking toward me, without hurrying." Jean Cocteau
One man's fear of the relentless aging process and how death catches up with us all.
Director: Nicola Balhuizen Hepp/Choreographer: Nicola Balhuizen Hepp/Dancers: Aimar Perez Galí and Rolf Hepp
Netherlands 2015
GIF_DANCE SELECTION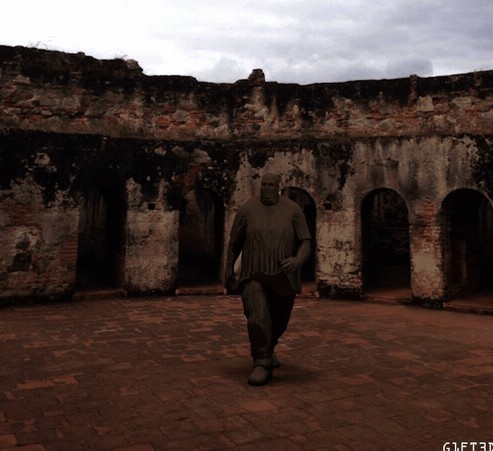 The bishop
gif art
Director: Gustavo Adolfo Fajardo Mazariegos
Guatemala 2016
edge #1
a gif dance project
Director: Simon Fildes
UK
UK 2016 4″
edge#2
a gif dance project
Director: Simon Fildes
UK 2016 2″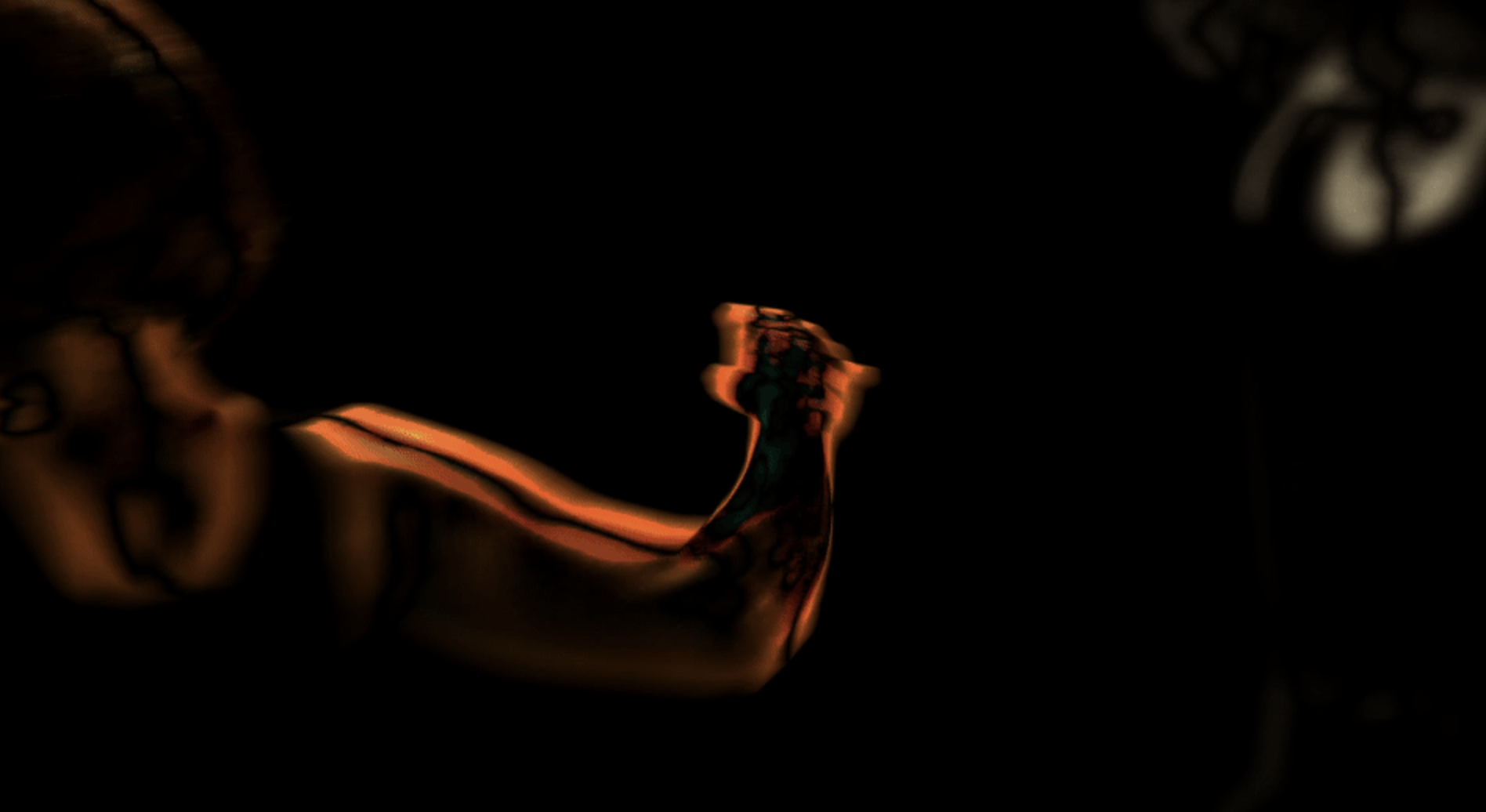 Swirling Selenite
A selenite is swirling forever
Director: Blas Payri
Spain 2017 3″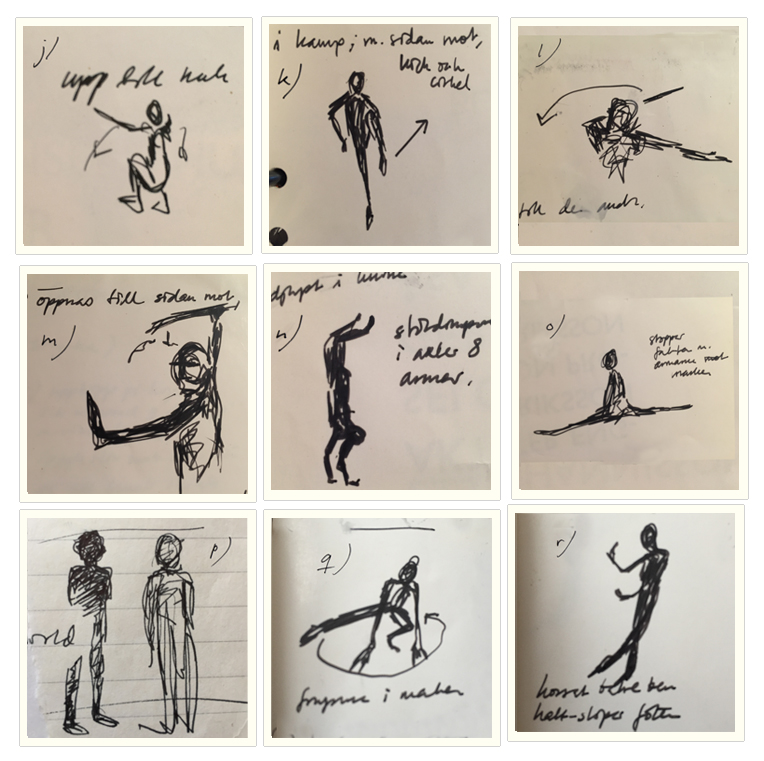 Possible and hardly possible moves
"Possible and hardly possible moves" is a serie of GIF animations that is based on physical interpreations of a Kung Fu sequence.
Director: Helene Berg
Sweden 2015 6″