The winners of Stockholm ScreenDance Festival and ScreenDance Residency 2017!
April 28, 2017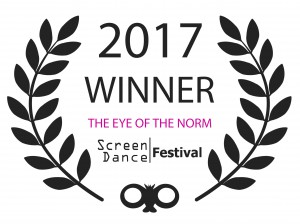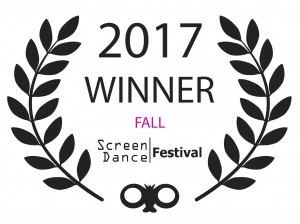 Congratulations from ScreenDance Festival jury: Allyson Way Wanselius, Sofi Lagergren, Anders Bohman, Klara Berggren and Cyntia Botello
Winner:
THE EYE OF THE NORM
Directors: Helene Karabuda and Alfons Karabuda / Dancers: Per Holmberg, Linnéa Backgård, Destiny af Kleen, Karin Ahlinder, Mary Hagman, Anna Westerberg, Tomas Börsbo, Helene Karabuda
Sweden 2016 – 11 ́02
The jury's motivation:
En dansfilm som tar upp ett aktuellt och viktigt ämne med stil och känsla. Den beror och stannar kvar i medvetandet, oförutsägbar, inkluderande och generös.
A dance film that takes up a current and important subject with style and feeling. It touches and stays in consciousness, is unpredictable, inclusive and generous.
Winner:
FALL
Directors: Virpi Pahkinen, José Figueroa / Dancers: Virpi Pahkinen, Oskar Landström
Sweden 2016 – 4 ́20
The jury's motivation:
Förtrollande och vacker dansfilm som lockar in åskådaren till en dynamisk och organisk upplevelse där rörelsen möter naturen i ett vackert samspel.
Enchanting and beautiful dance film that captures the spectator into a dynamic and organic experience where the movement meets nature in a beautiful interplay.
The jury wants to give a special mention to:
HER
Director: John Wannehag / Dancer Stephanie Troyak
Sweden/Israel 2016 – 1 ́
The jury's motivation:
Rakt på sak och under en minut med hög puls och tempo kastas man in i en virvelvind av rörelse i gränslandet mellan koreografi och dynamisk dans.
Straight to the point and under a minute with a high pulse and tempo the spectator is thrown into a whirlwind of movement in the intersection between choreography and dynamic dance.
Important Notice!
We wil be screening the films at:
DANSMUSEET
Saturday 29 April 18.00-21.00 during the Culture Night
Sunday 30 April 12.00-16.00 (nonstop)
BIO RIO
Sunday  10.30 during Filmfrukost: Dancer