Contestants 2016
Swedish Films

HEM
Director: Emelie Boman/Choreographer: Emelie Boman
Sverige 2014 6′
What is home? This question is explored and portrayed in the beautiful mountain landscape of northern Sweden. The concept of home is dynamic and it's not always obvious what creates the sense of feeling at home somewhere. In this film the choreographer explore four different emotional states that she felt was the most prominent from living with her parents until where she lives today.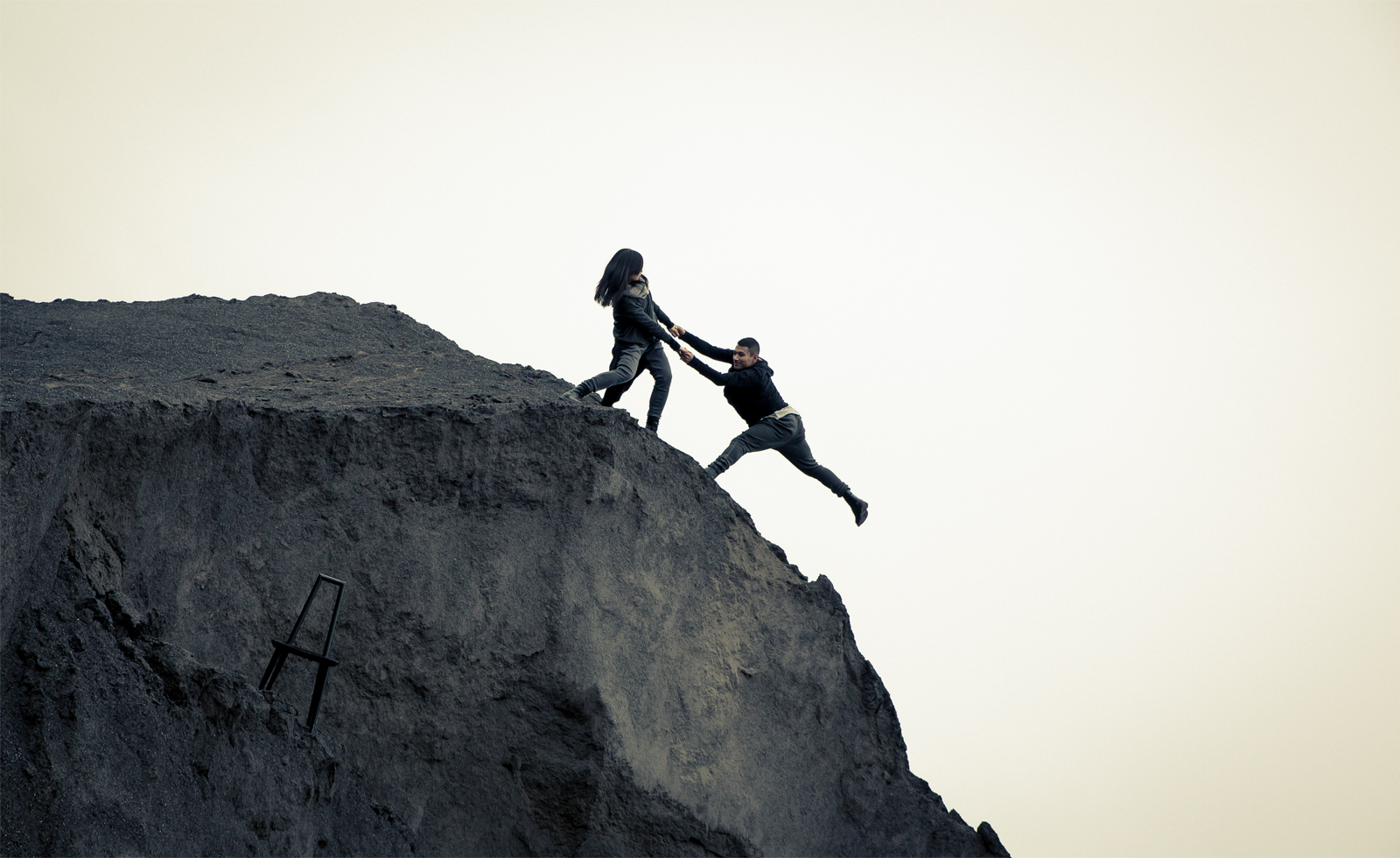 LONGING TO FLY
Director: Erika Janunger/Choreographer(s): Oskar Frisk, César Garcia&Stacey Aung
Sverige 2014 12′ 05"
The world as we know it consists of a large set of complex structures and rules. Everything holds together, is connected and controlled by invisible forces. Strong currents surrounds us that we cannot see – only read the objects they interact with. So it is with gravity, it keeps us grounded, it directs us, gives us a sense of up and down, gives us a sense of time and holds our very universe together. Yet we can't see it, we can't feel it, we can only see the object that falls, or the human body that moves along with it. This project is a choreographic & architectural experiment. Through an illusion we make the vastness of the gravitational pull, slightly more visible.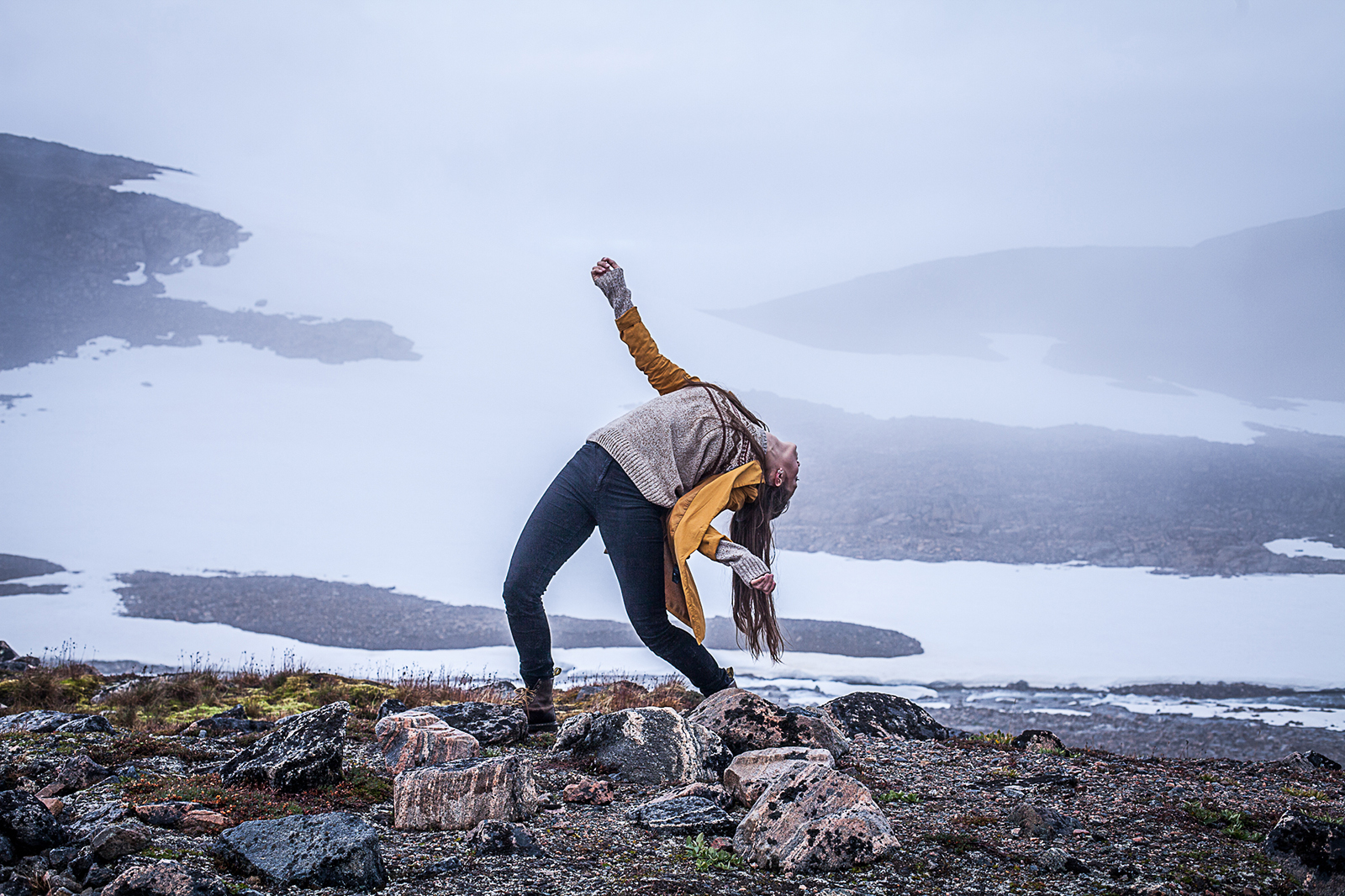 DIRECTION(S)
Director: Ena Kurtagic Granulo/Choreographer(s): Sarah Aviaja Hammeken
Denmark 2015 3′
One of the most isolated places in Greenland, one dancer, several directions". Direction(s) is a dance video shot in Ittoqqortoormiit, Greenland. Ittoqqortoormiit is one of the most isolated villages on Greenlandic east coast, a truly beautiful and wild place. In a such savage place, the movements of a passionate dancer will try to find a direction. A dance that wants to honour and merge with the spectacular nature of a remote and little-known land.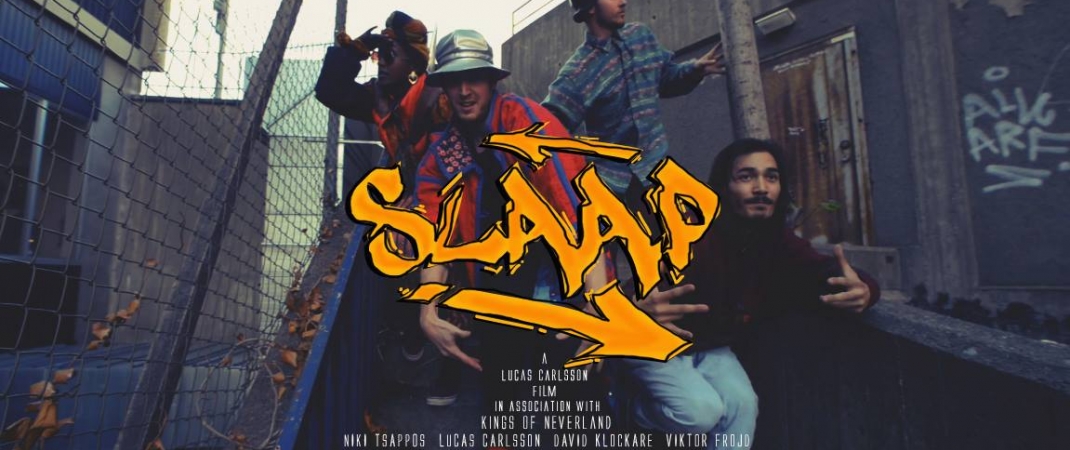 SLÄÄP
Director: Lucas Carlsson/Choreographer(s): Lucas Carlsson/Performer(s): Niki Tsapos, David Klockare, Viktor fröjd, Lucas Carlsson.
Sverige 2014 4′ 28"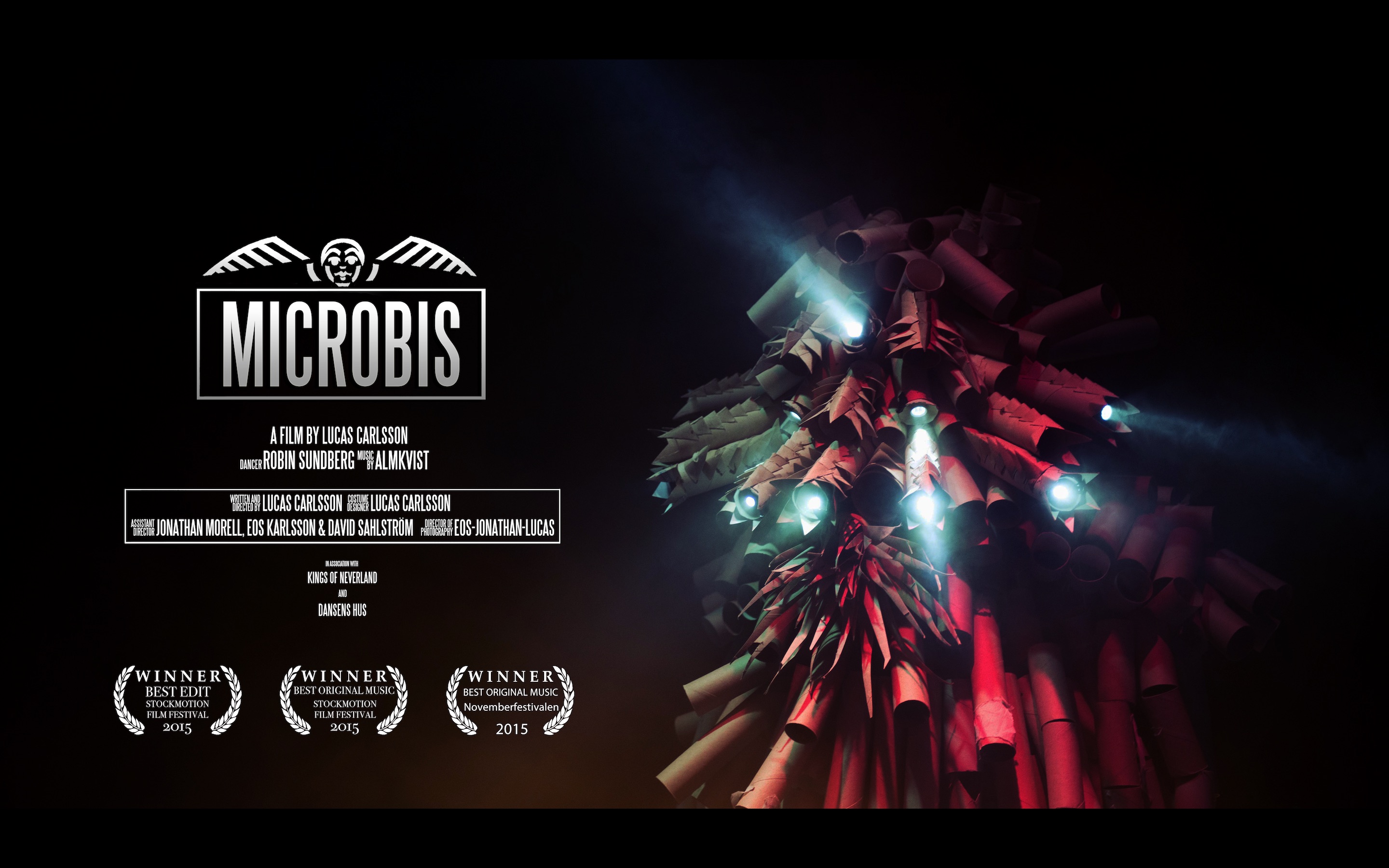 MICROBIS
Director: Lucas Carlsson/Choreographer(s): Lucas Carlsson/ Performer(s): Robin Sundberg 
 Sverige 2014 4′ 41"
In this dance film, we go on a magical journey down to the In this arty dance-film i wanted to calange the general convention of street dance and expose it to new challenges and expressions.depths of the sea.Deep down there in the darkest corners, we meet the bizarre deep-sea creature Microbis, which takes us on a dance journey through the deep sea's endless darkness.The dance works as a way of giveing life and character to a moving sculpture made entirely of toilet rolls. The sculpture's appearance draws its inspiration from various invertebrates deep-sea animals, whose pattern of movement also inspired the dance that picked his physical vocabulary from popping and waving.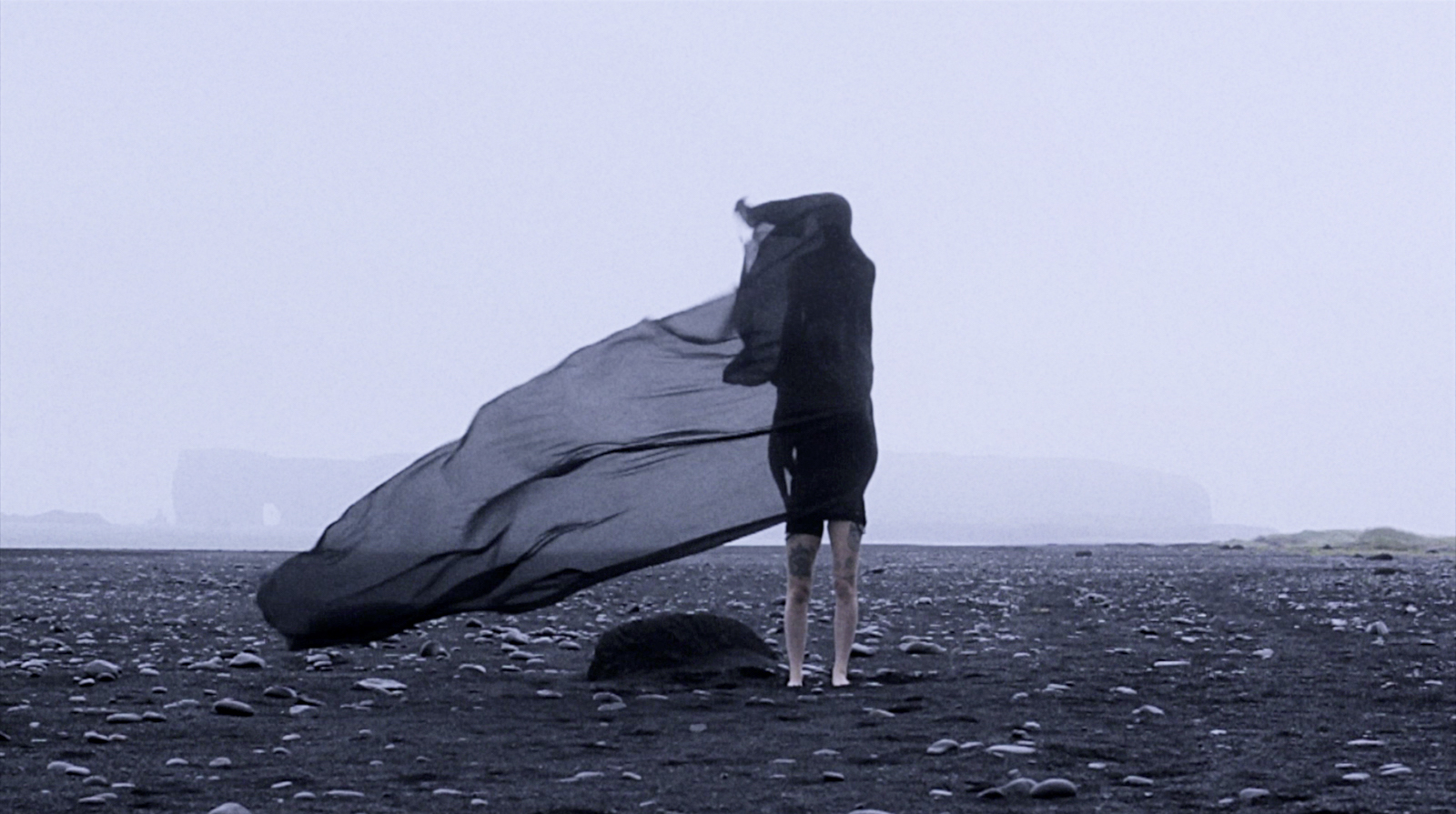 NORðUR
Director: Karolin Kent & Sarah Armstrong/Choreographer(s): Karolin Kent & Sarah Armstrong
Iceland 2015 8′ 34"
Two people venture into the state of hopelessness seeking answers in the void of nothingness.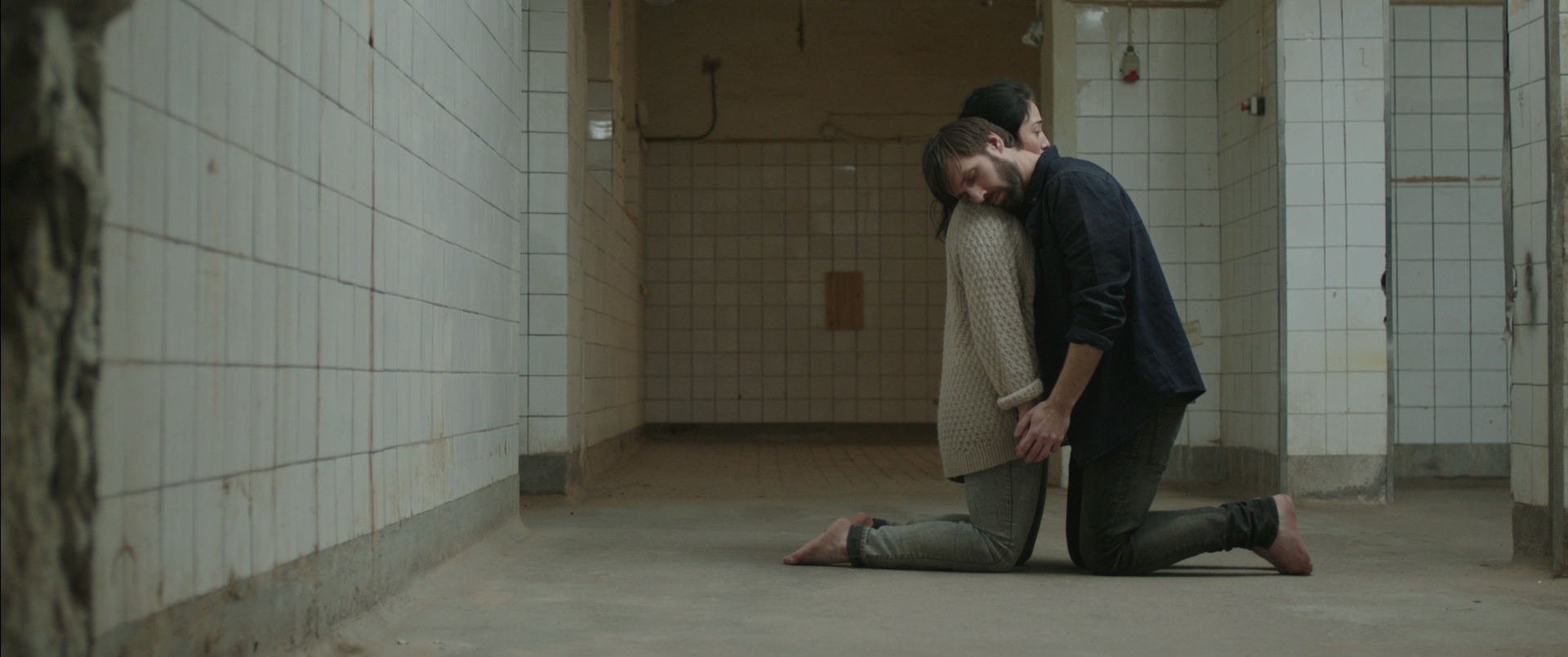 DOMNA
Director: Isabella Kågström/Choreographer(s): Nelly Harrysson/ Performer(s): Adriana Savin, Mattias Pettersson, Garbriella Carlson
Sweden 2015 10′ 42"
Det är kallt, kalt och smutsigt. Kvinnan är sliten och ledsen, mannen ångerfull. Genom dans och melankolisk sång följer vi deras maktkamp och känslospel. Han förbereder henne inför avrättning. Han dränker henne i ett badkar och vi förstår att kvinnans oskyldiga dom till döden symboliserar mannens otrohet.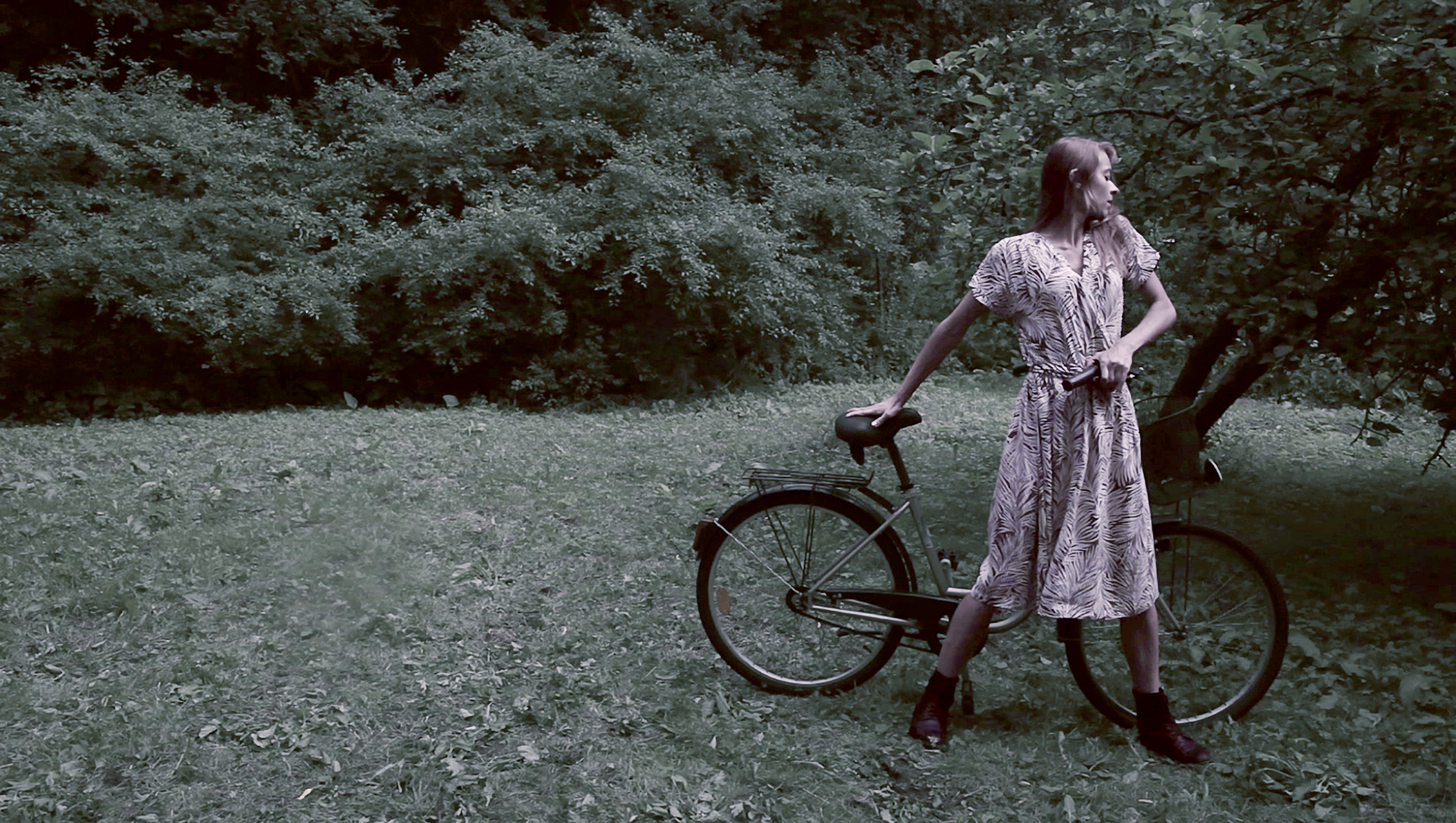 THE BELL
Director: Pijus Mickus/Choreographer(s): Indre Pivoraite
Lithuania 2013 8′ 38"
A Girl gets a new bicycle from her parents however, she notices that the Bell does not work….She embarks on a journey to get it fixed however, her bicycle gradually fall apart during her journey…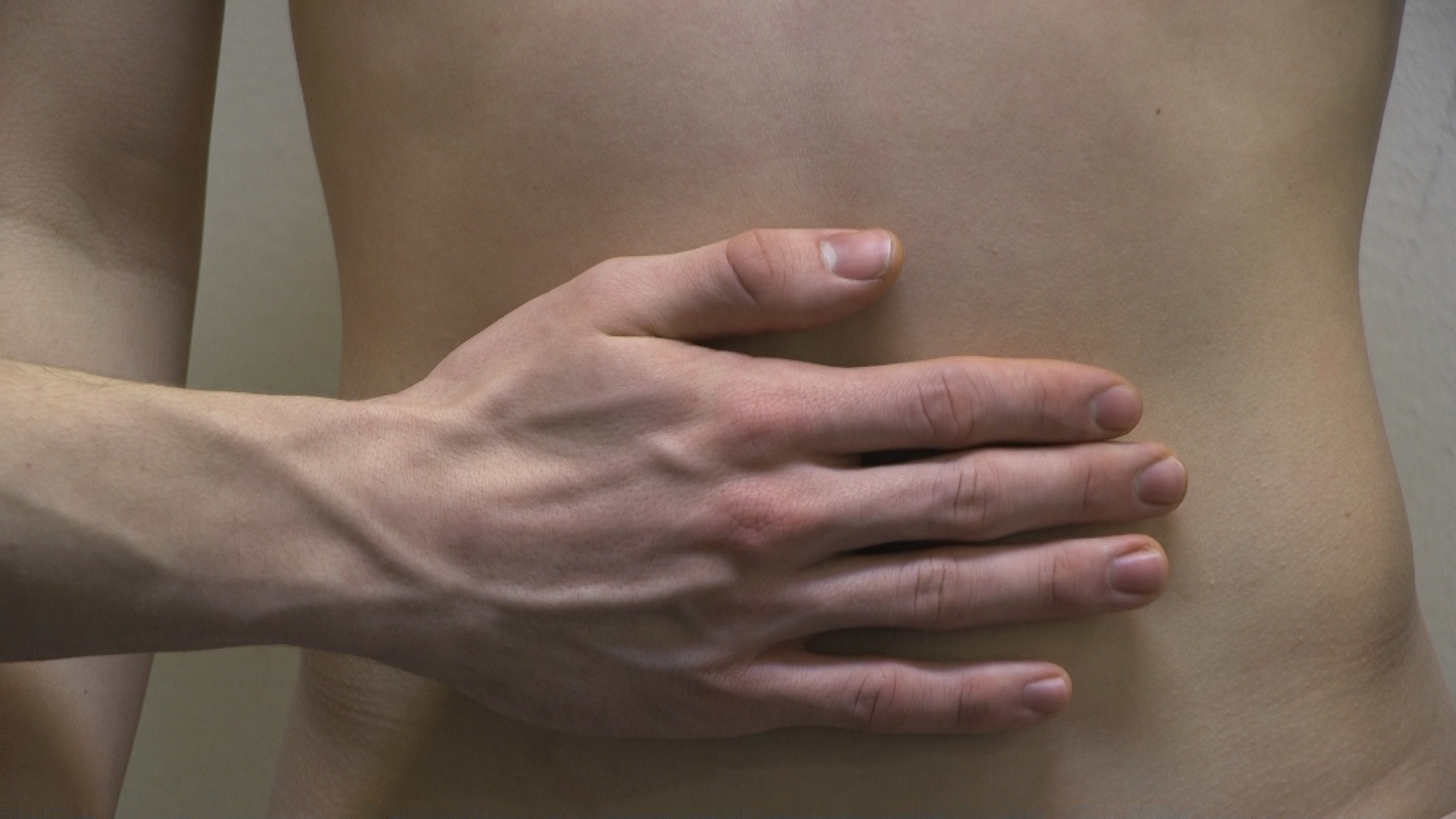 TOMMA ORD
Director: Tehilla Blad/Choreographer(s): Tehilla Blad/ Performer(s): Tehilla Blad/Levi Blad
Sweden 2015 4′ 07"
About girl's and women's vulnerability and how they blame themselves for any abuse the have been exposed to.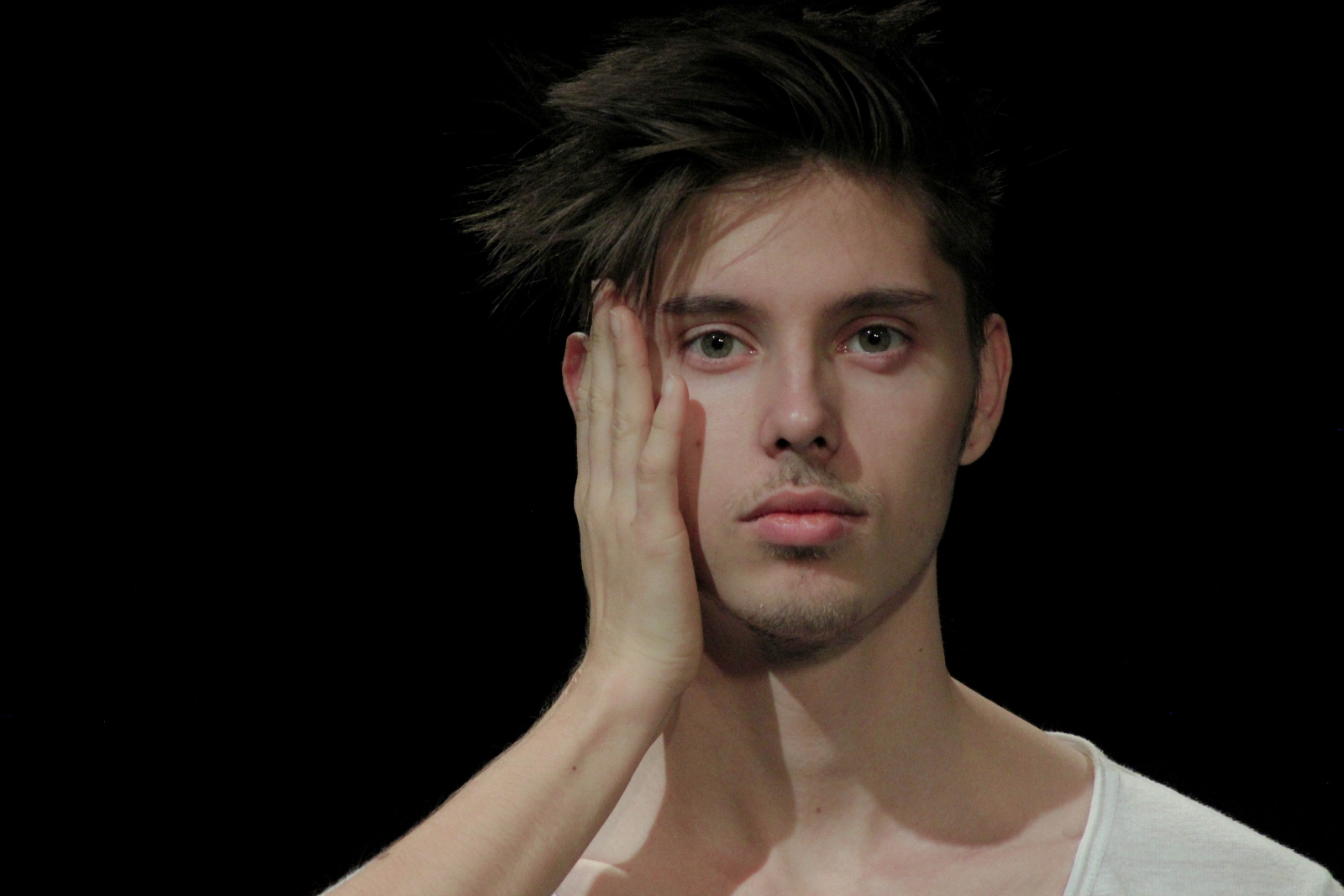 CLOSER TO CLOSE
Director: Nilla Björkman/Choreographer(s): Nilla Björkman/ Performer(s): Nilla Björkman & Christian Jensen
Sweden 2015 6′
Can you identify what is truth, and what is not? In this story we will tell you one truth, one episode of a humans life. We hope that if you didn't listen before, you will listen to this. Maybe it will change you in some way. Maybe you will take action, maybe you will choose your words more carefully. Hopefully it will move you in some way.
SNÖSPACE
Director: Julia Adzuki/Choreographer: Julia Adzuki Deniz/Performer(s): Soyarslan, Titta Court, Julia Adzuki
Sweden 2015 9′ 58"
Three creatures journey across the snowscape in accord with a mountain,to build a link between the above and below. A channel for their travel in between.In this flux of inner and arctic landscape, a reflective nature and mutual vulnerability unfolds.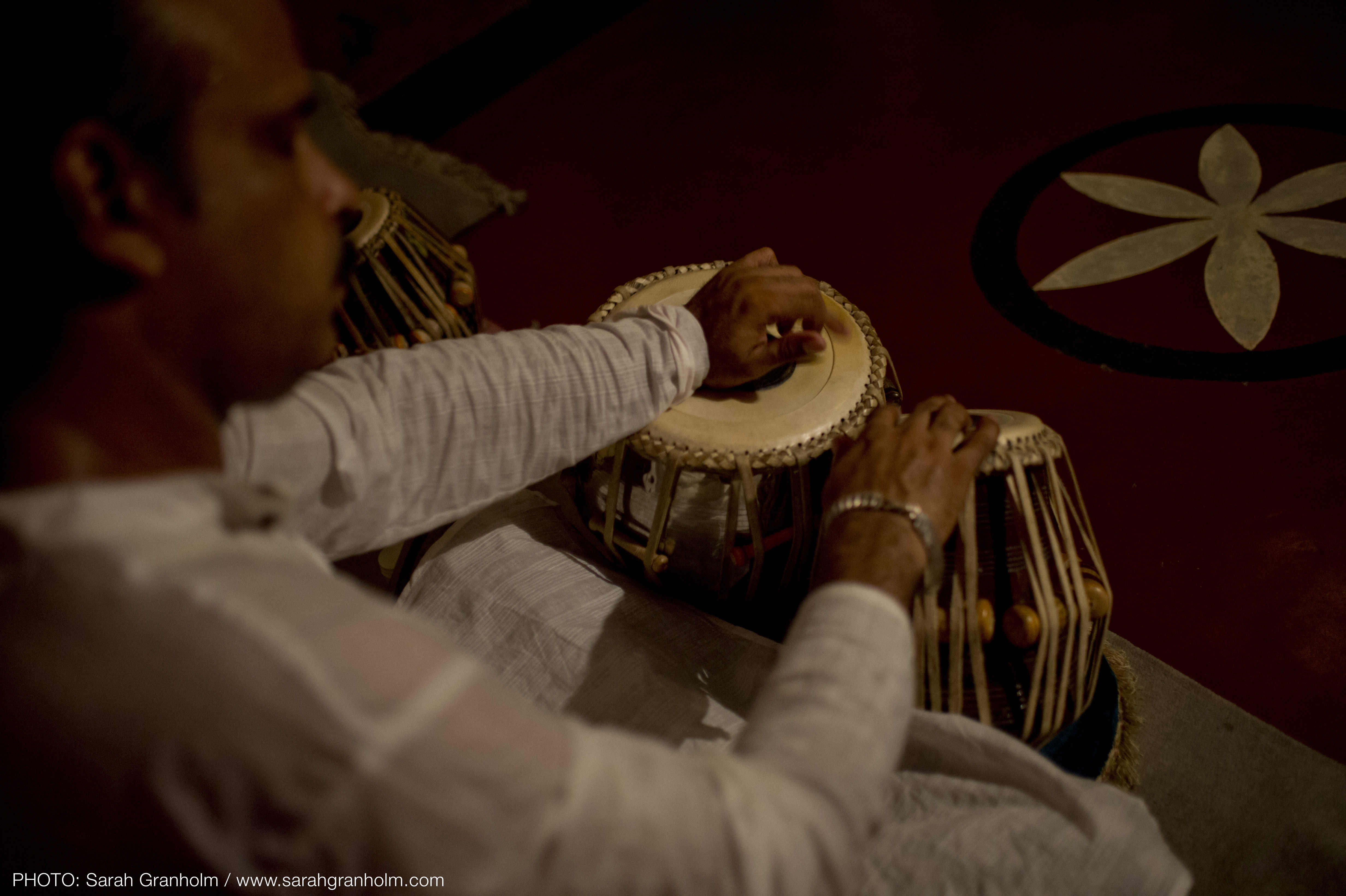 FINGRAR
Director: Veronica Tjerned/Choreographer(s): Nelly Harrysson/ Performers: Debasish Mukherjee/ Veronica Tjerned
Sweden 2015 59"
A guru in an intimate situation with a student
International Films

NOSTALGIC ONION
Director: Eva Campos Suárez/Choreographer: Marta Kosieradzka/
Belgium 2015 3′ 14"
In a romantic world, a girl arrives abroad. Before she even opens her suitcases, she feels nostalgy for her country. Through dance, we will see her regrets, her sadness and her doubts.Additional Information CEBA NOSTÀLGICA is the original title of the story in Catalan. Literally translated means NOSTALGIC ONION. And why an onion? Because this film means to be a dedication to all citizens from Sabadell, a city in Catalonia (Spain) that has in his heraldic shield a green onion.The name of Sabadell is read for the first time in a manuscript from 1050. There are several theories explaining where the name comes from, but none of them is verified as of today. In the past, the villagers that could not read would use comparisons with objects, food or animals to remember the name of their village and the surrounding ones by similarity. In the case of Sabadell, people used the Catalan word "ceba" (pronounced as /sebə/ and meaning "onion"). This association between the village and the onion lasted long and reflects the modest origins of the city.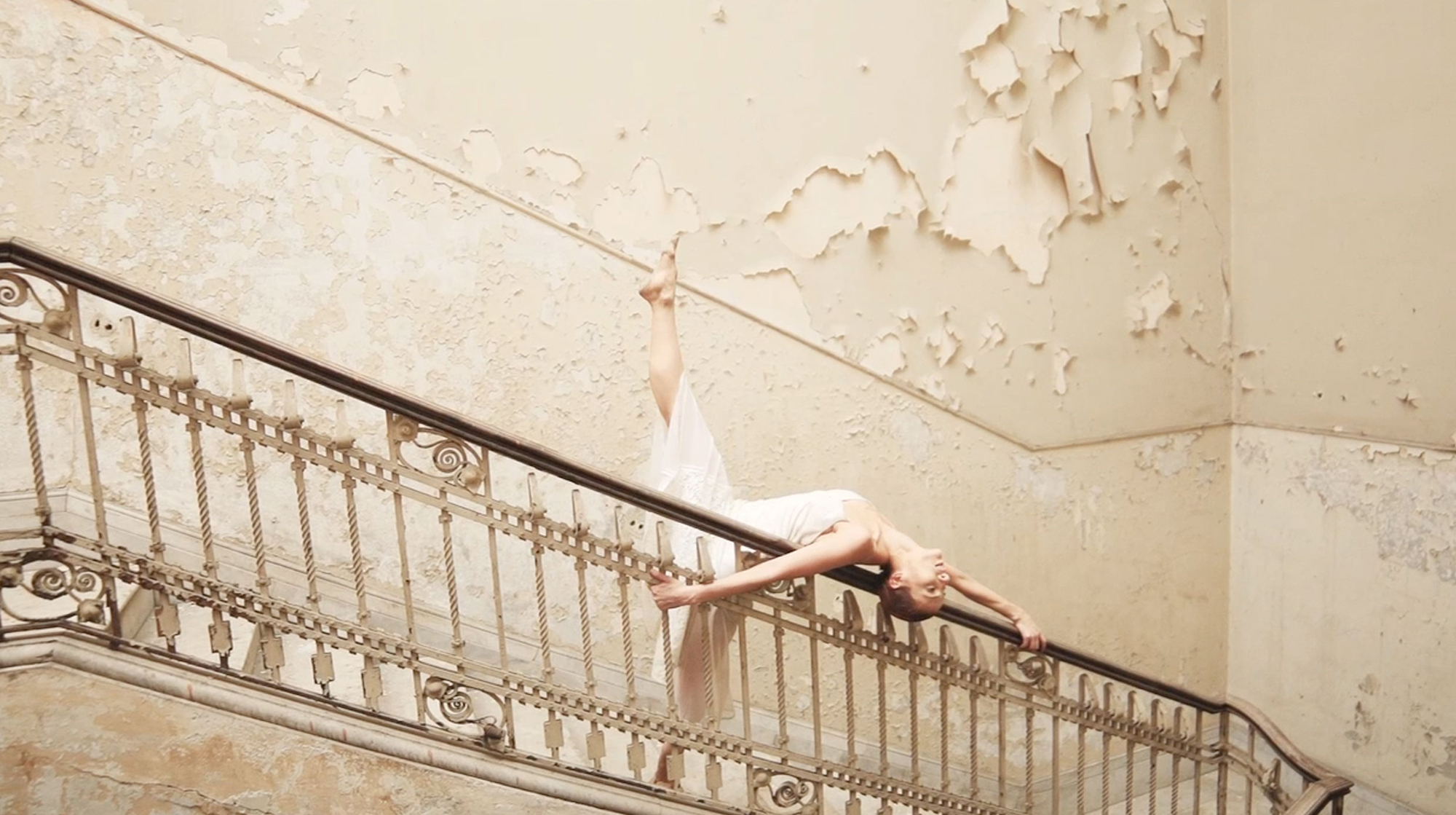 CRUSHING WEIGHT
Director: Vinícius Cardoso/Performer: Irupé Sarmiento
Brazil 2015 3′ 38"
This is a visual poem that goes from decay to light. It's a soul that walks this abandoned place. A spirit that passes and is no longer there. It is the transcendence represented by ballet in the chaos. Even in the moments when she is very powerful, all moves have an ambiguity. This film talks about rawness, whereas this is about doubt. The location in a hospital abandoned 20 years ago that has been taken by a contemporary art exhibition. A set of historic buildings located in the center of São Paulo, Brazil, opened to make a portrait of Brazilian contemporary ballet. The strangeness of space and its connection with the art works have been translated in the choreography of the dancer Irupé Sarmiento, first ballerina at Balé da Cidade de São Paulo.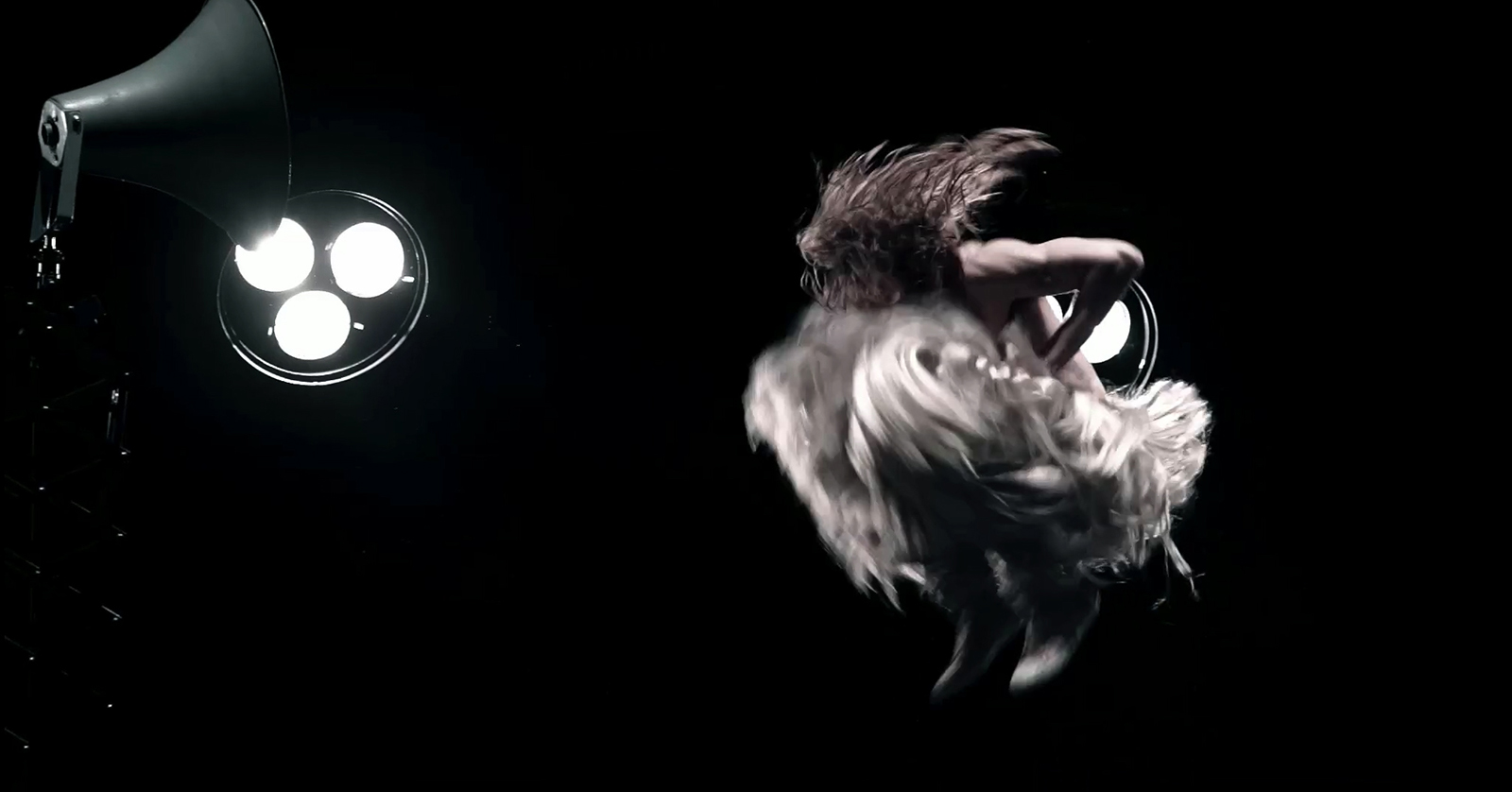 THE TREE OF OBLIVION
Director: Vinícius Cardoso/Choreographer(s): Jorge Garcia for Balé da Cidade de São Paulo/Performer(s): Joaquim Ribeiro Karina Bur
Brazil 2015 3′ 03"
Africans who were enslaved in Nigeria in the eighteenth century were subjected to ritual around the "Tree Of Oblivion": men should spend nine times, and the women, seven around the tree . So that duante the ship's voyage to America they forget their land, from its origins, its history, its identity. Each turn represented the death of memories. Mystical action. Profane and sacred, all together and mixed, as all that is Africa, as all who vent the immeasurable richness of this magical, lush continent , home of the most joyous gods, linked to raw nature.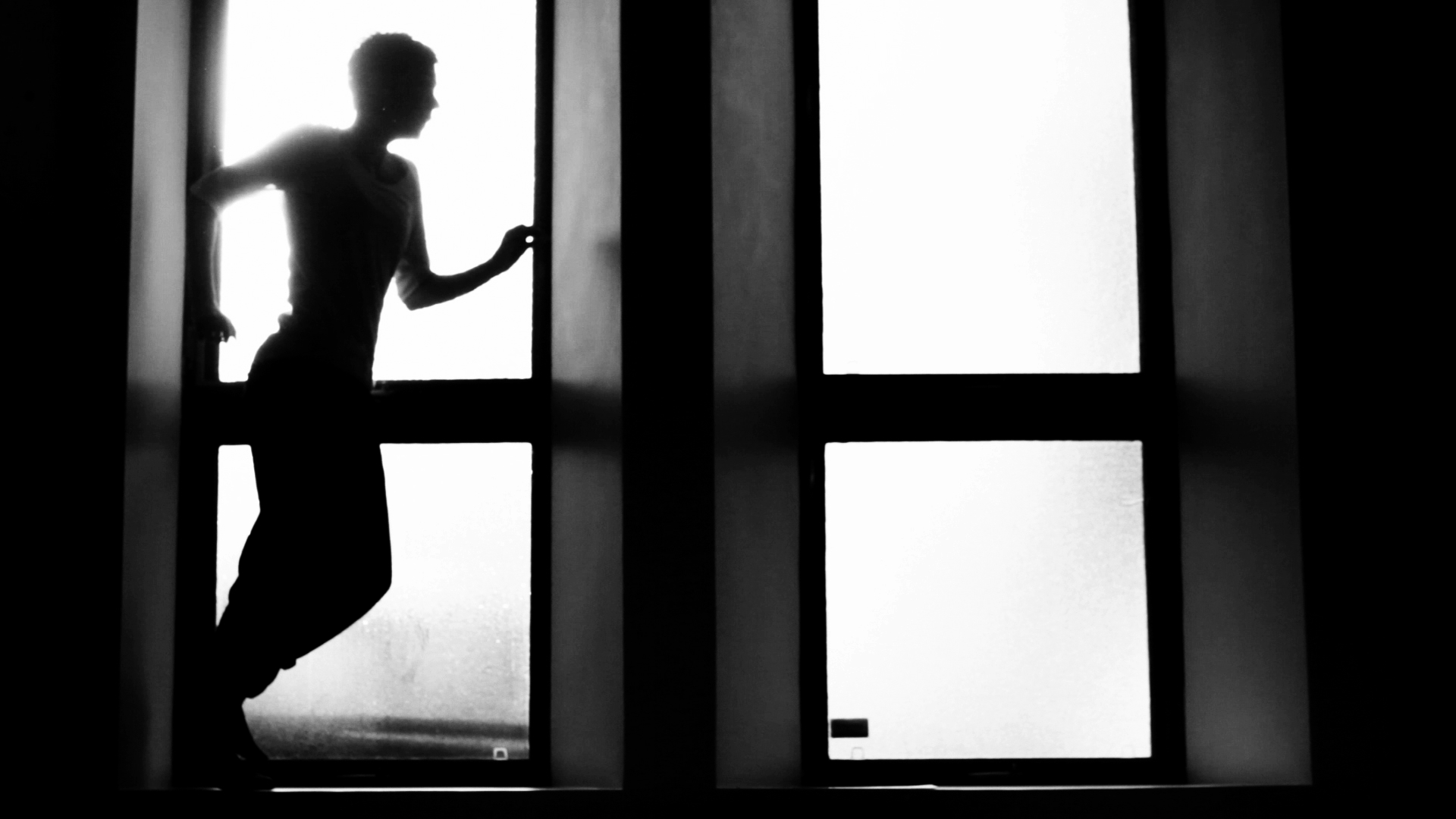 THE RUN
Director: Alecska Divisadero/Choreographer: Emilie Durville
Canada 2014 1′ 57"
An instinctive exploration of spontaneous movement within the constraints of frame and place.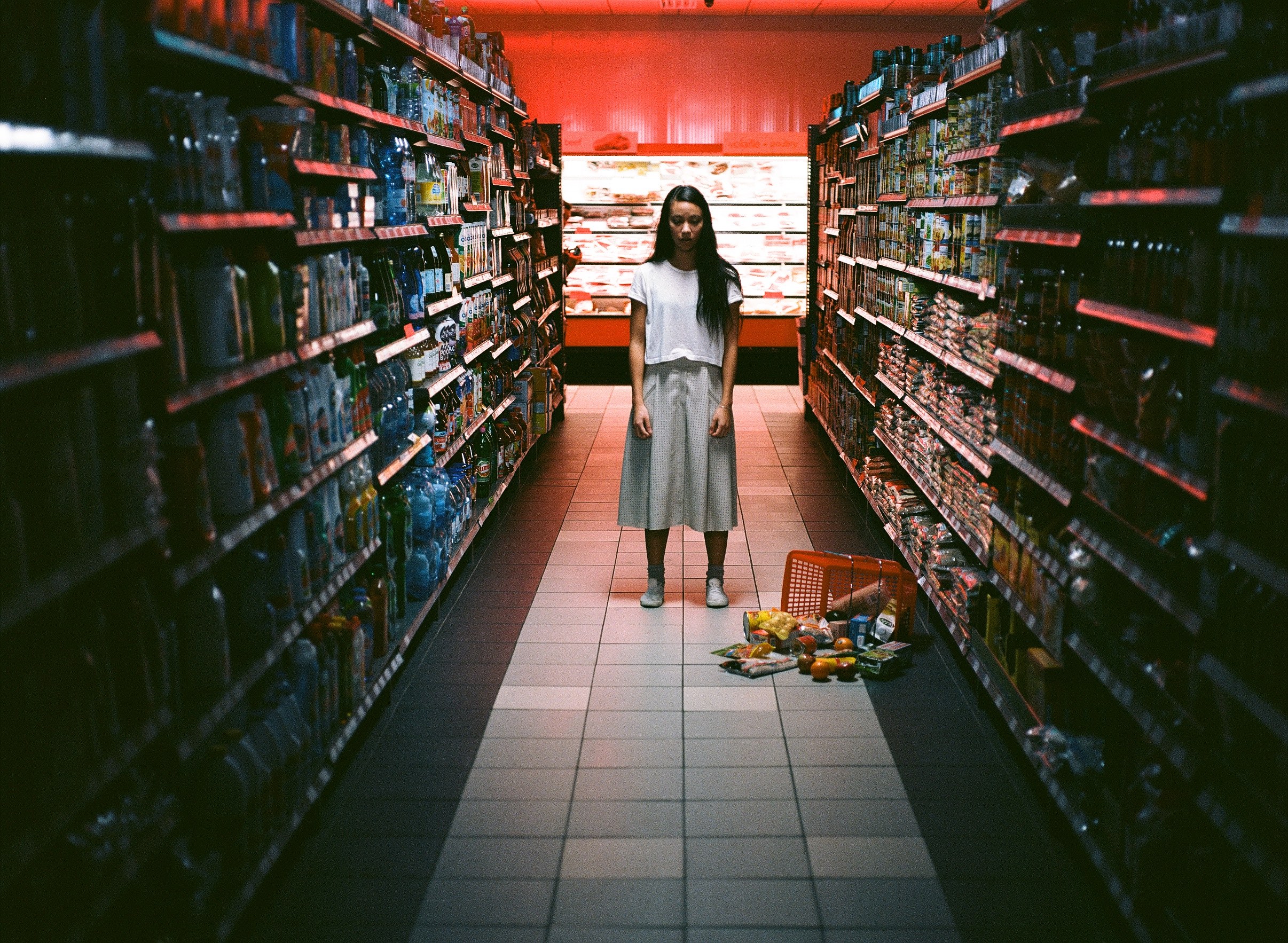 NÉANTS
Director: Nellie Carrier/Performers: Patricia Gagnon, Léo C. Lafleur, Claudia Chan Tak, Greg Selinger
Performer(s):Canada 2015 9′ 44"
Four characters see their destiny falling apart. An exploration about mourning.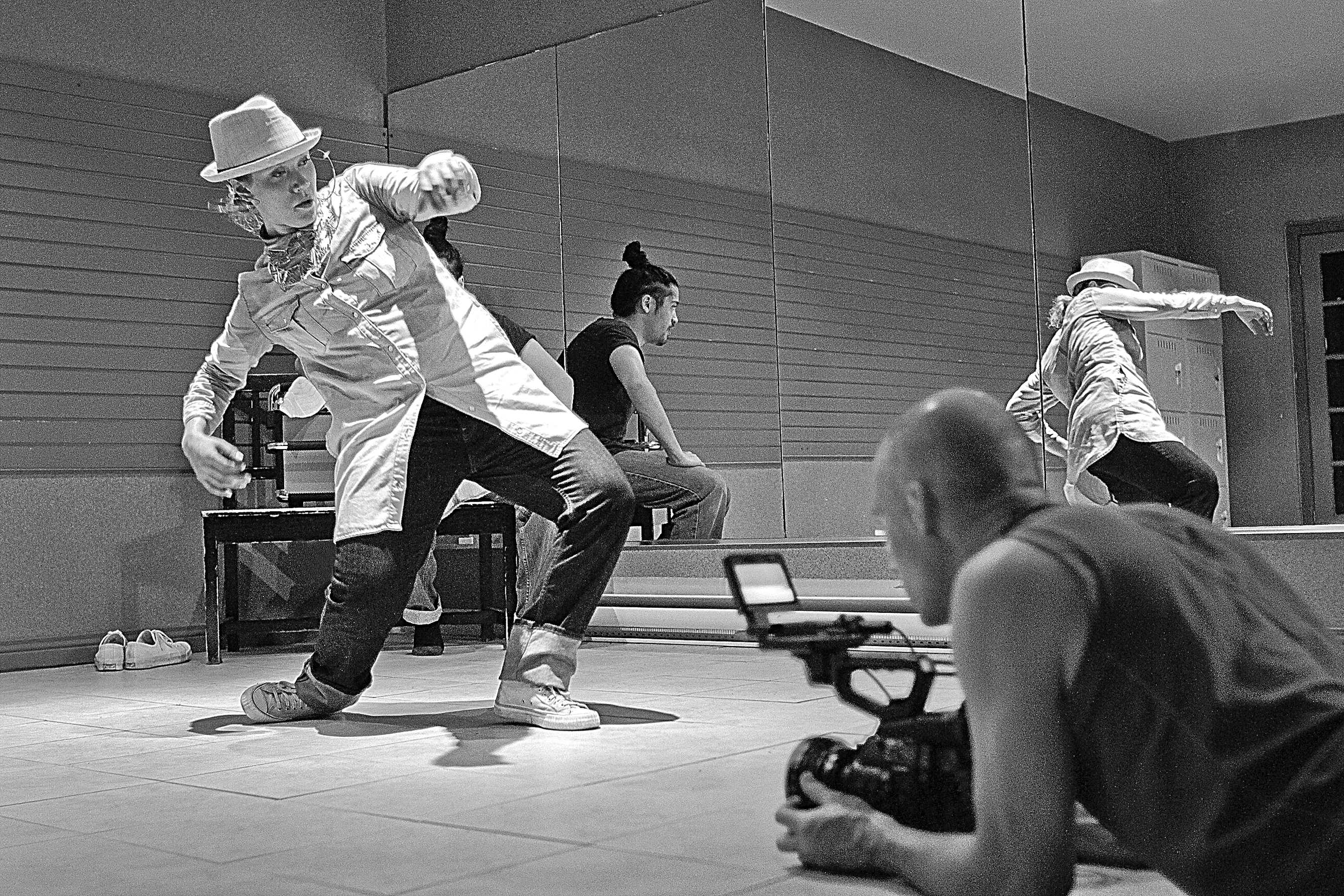 CRU – LADY C
Director: Marlene Millar&Philip Szporer/Choreographer: Caroline "Lady C" Fraser
Canada 2015 4′ 16"
CRU is a web-series, about shedding the "right" light on the energy of the expanding street dance culture, and working with talented artists at the heart of the movement. In this episode, emerging actor and "popper" Étienne "ATN" Lou gets down with Caroline "Lady C" Fraser, an award-winning street dancer specializing in popping, locking, and house dance. CRU keeps it real!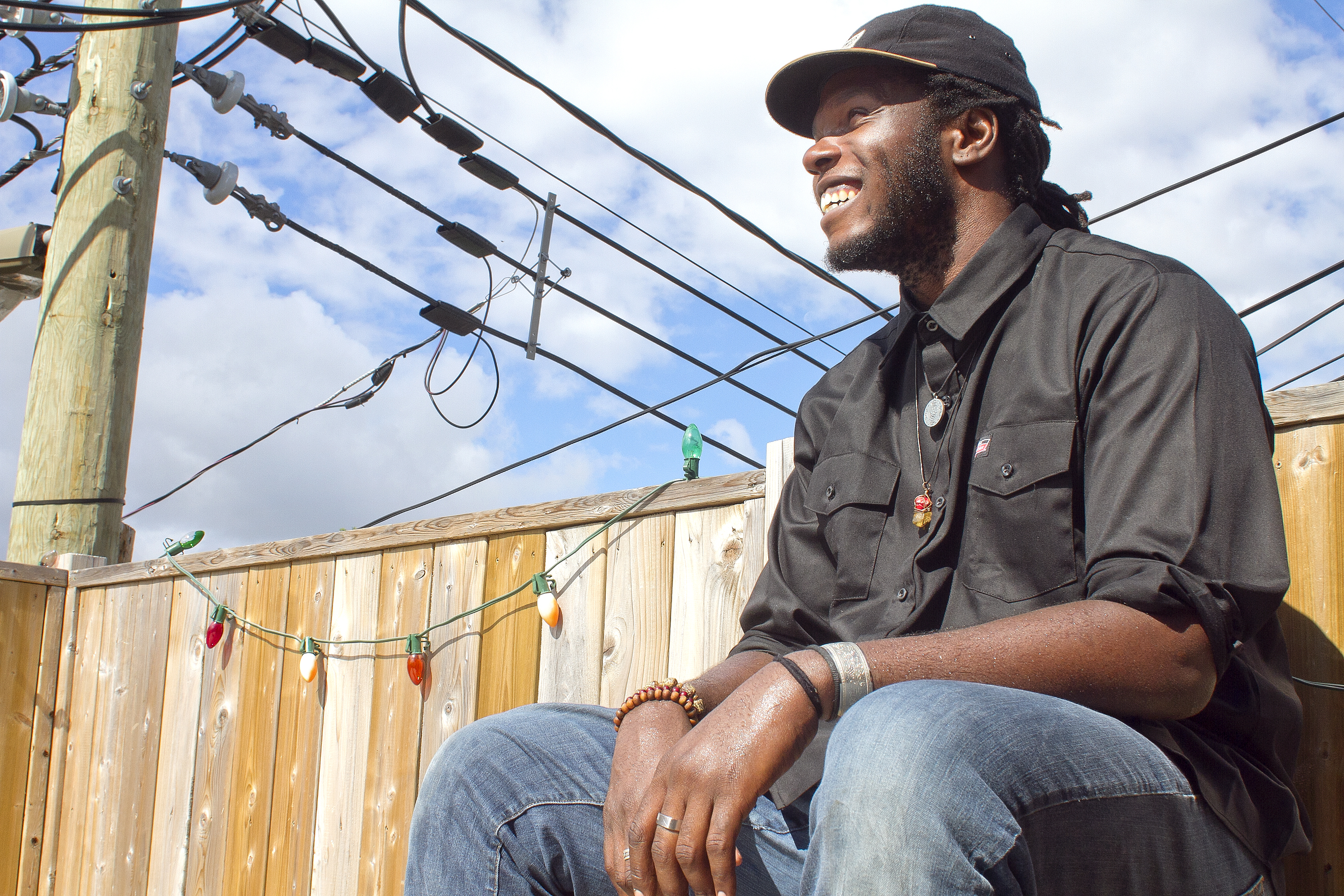 CRU – MONSTAPOP
Director: Marlene Millar&Philip Szporer/Choreographer: Handy "Monstapop" Yacinthe
Canada 2015 3′ 51′
CRU is a web-series, about shedding the "right" light on the energy of the expanding street dance culture, and working with talented artists at the heart of the movement. In this episode, emerging actor and "popper" Étienne "ATN" Lou gets down with Handy "MonstaPop" Yacinthe, a force in the Montréal street dance community, who integrates the intricate techniques of robotic/illusionary/control/popping-related dances. CRU keeps it real!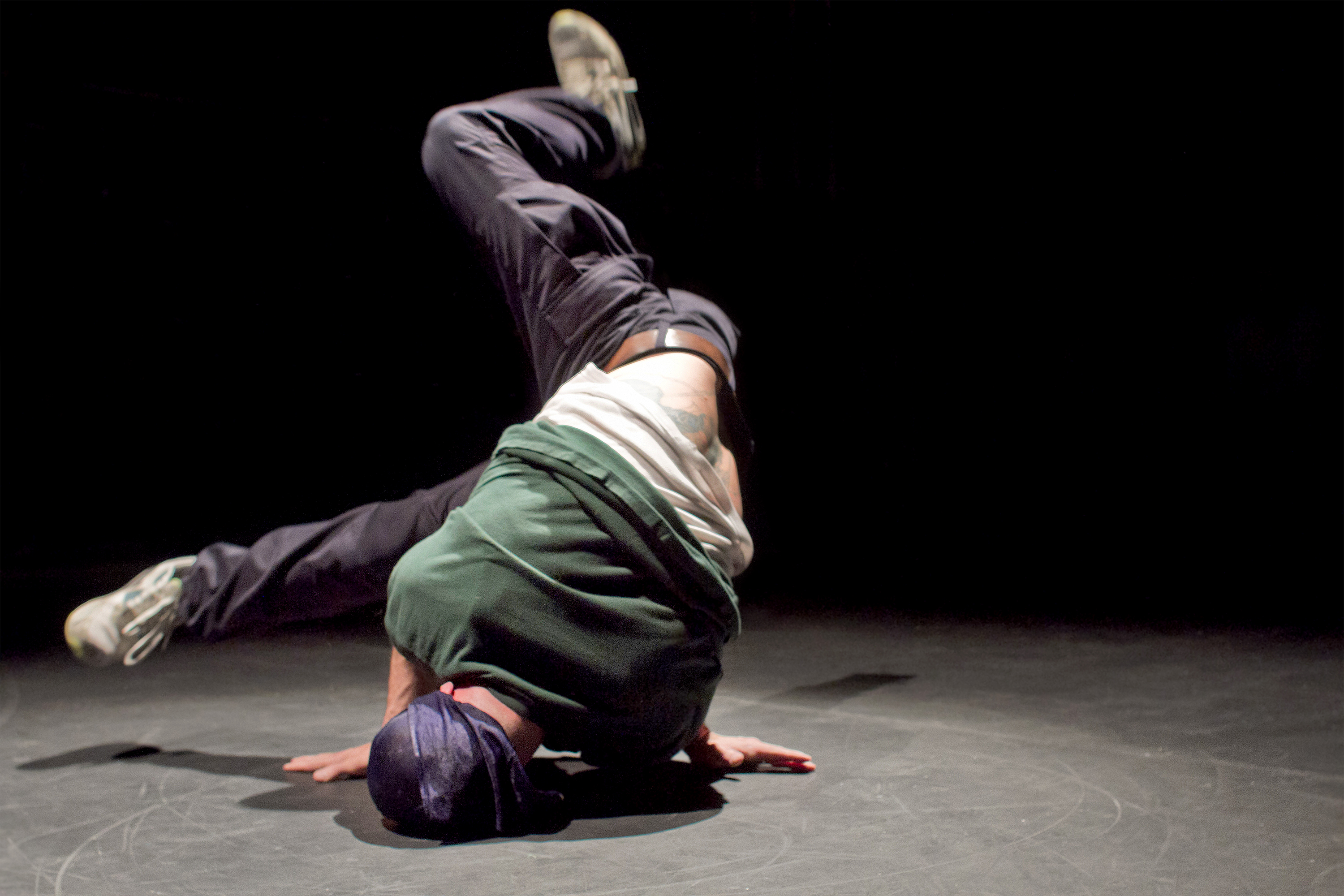 CRU – MONSTAPOP
Director: Marlene Millar&Philip Szporer/Choreographer: Mathieu "SoulStep" Ulrich
Canada 2015 4′ 21′
CRU is a web-series, about shedding the "right" light on the energy of the expanding street dance culture, and working with talented artists at the heart of the movement. In this episode, emerging actor and "popper" Étienne "ATN" Lou gets down with Mathieu "SoulStep" Ulrich, who is entrenched in Montreal's hip hop culture, and has built a reputation as a defender of the pure and original style B-boying. CRU keeps it real!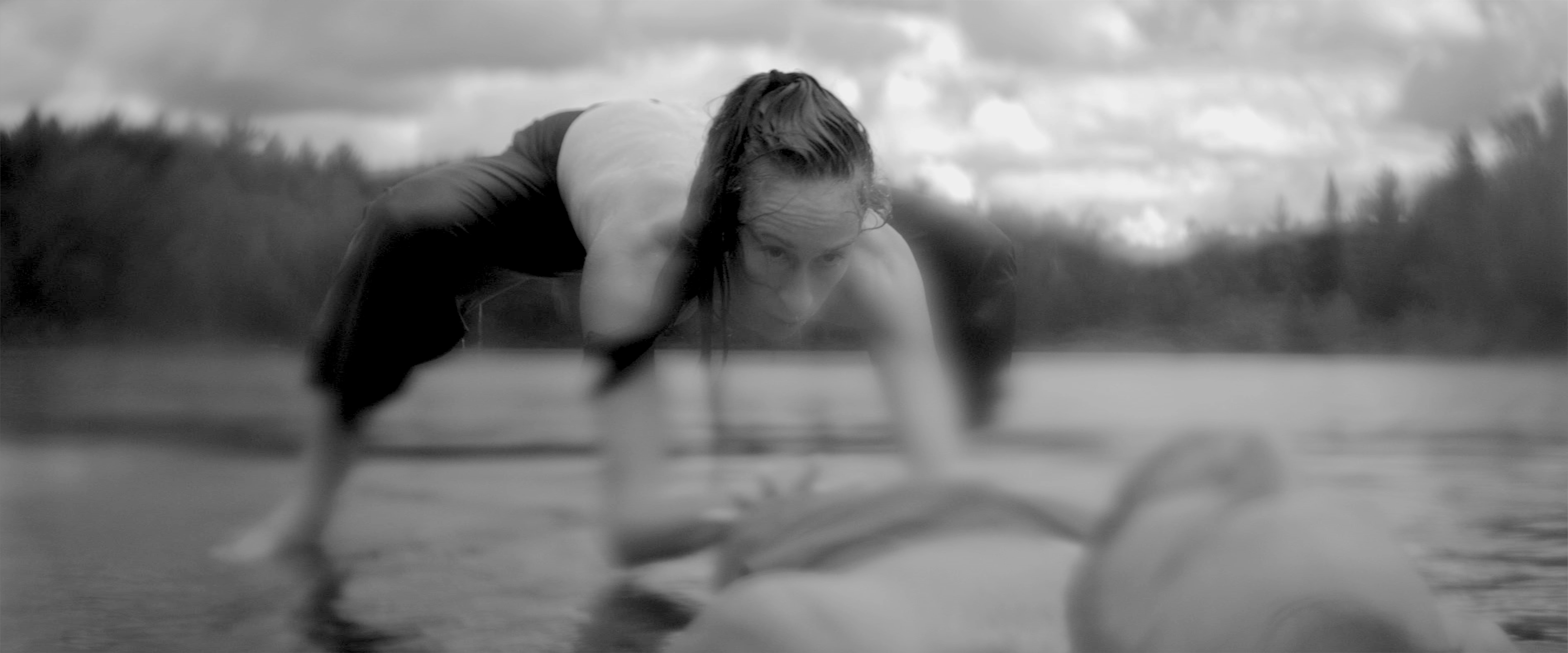 ABISMO
Director: Pablo Diconca/Choreographer: Catherine Gaudet/Performer(s): Caroline Gravel&Danny Desjardins
Canada 2016 8′ 12"
A woman and a man drifting on a raft, choose the only possible way.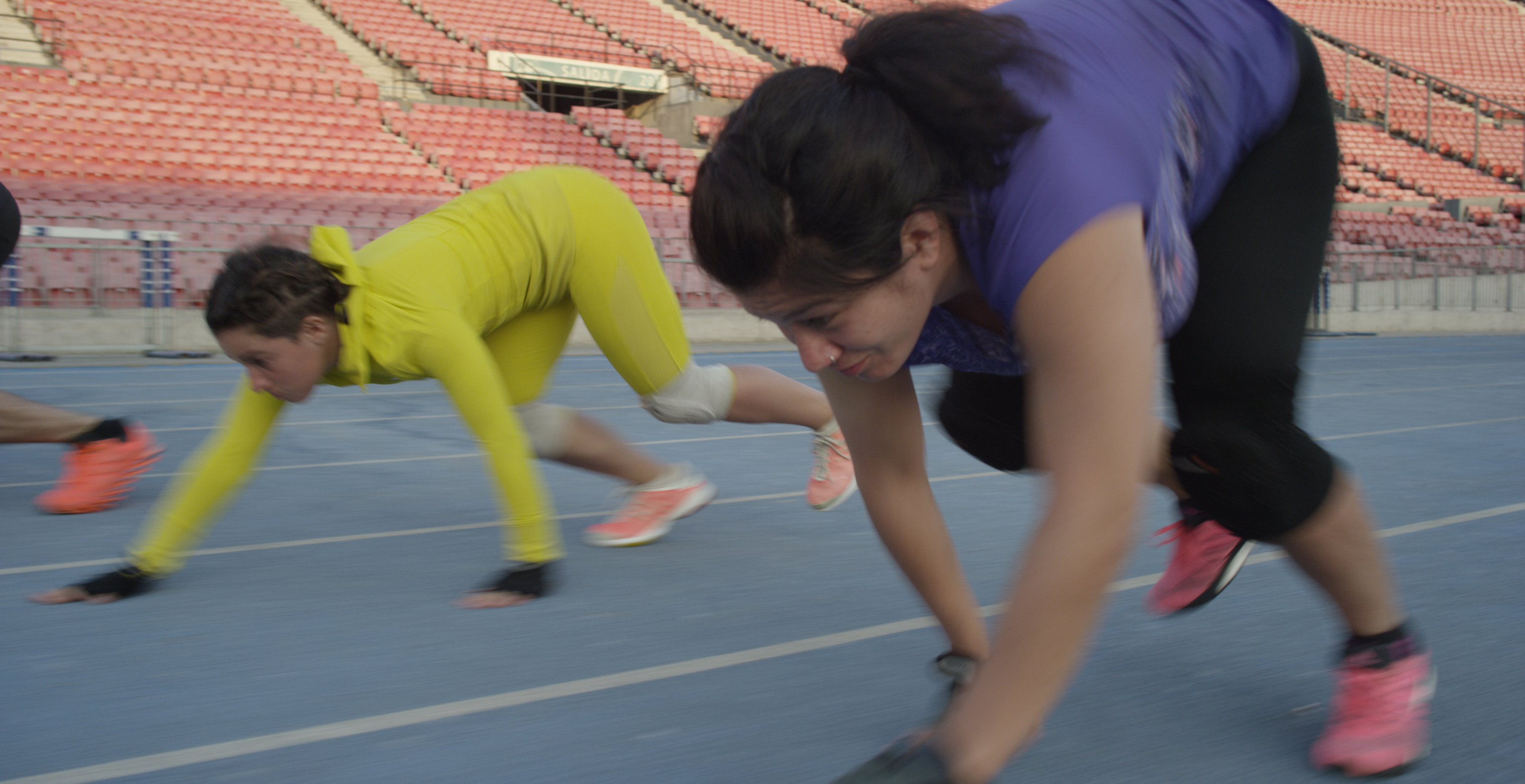 DOMINIO
Director: Patricio Soto – Aguilar/Choreographer: Ana Luz Ormazábal/ Performer(s): Diana Carvajal Diego Nawrath Nicole Sazo
Chile 2015 6′ 16"
A research into the potential of sports as a choreographic narrative, which builds through a race that unveils those moments that we miss in the rush of competition, displaying the body and its ability to modify itself and keep up in demanding conditions.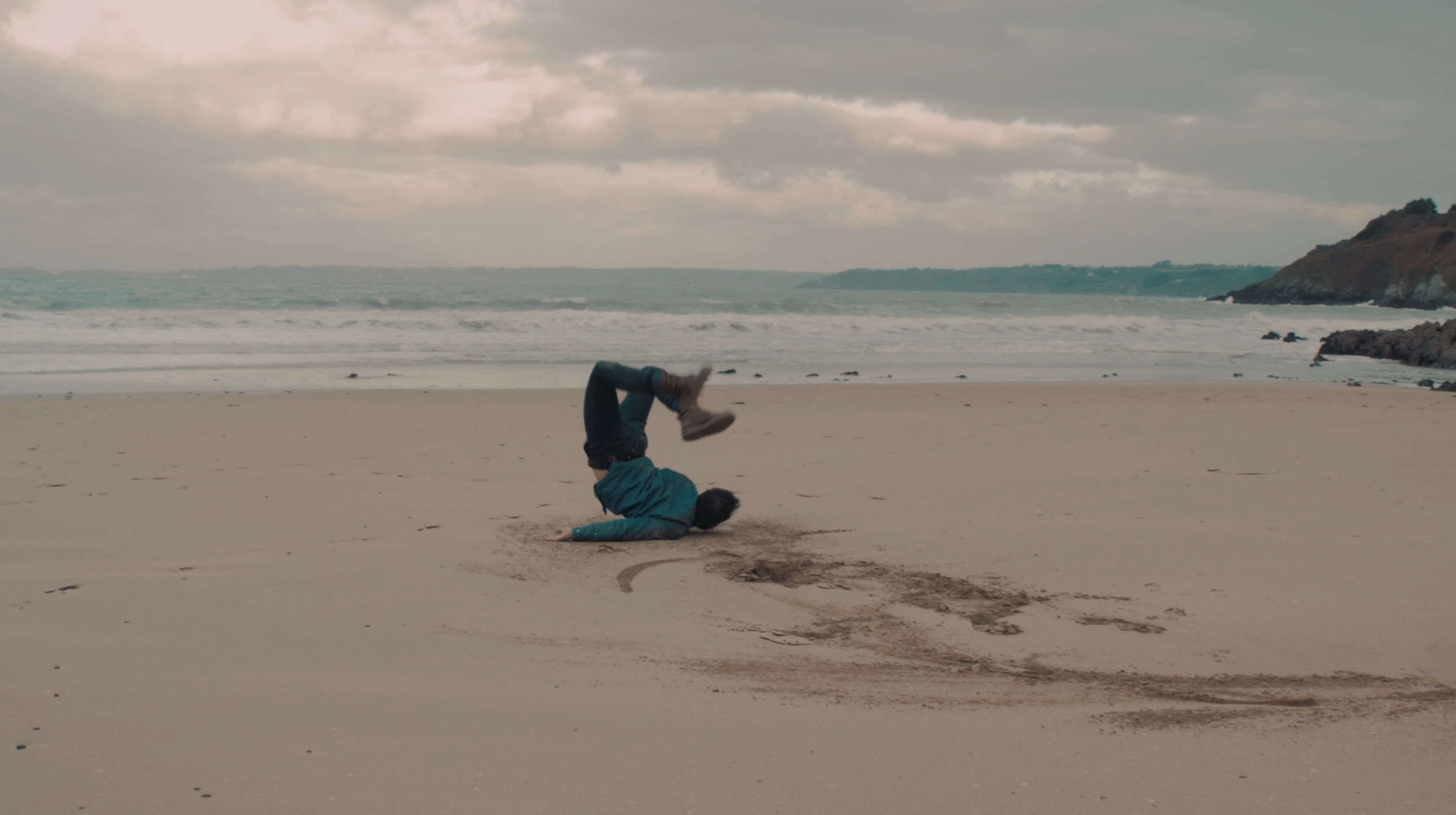 OCEAN´S MEMORIES
Director: Bertrand Guerry&Thibaut Ras/Choreographer: Cie Arkosm
Performer(s):France 2015 8′ 42"
Ocean's memories unfolds as an encounter between a dancer and a musician, musing along on a deserted beach. In the cold light, in the wind, by the water and the golden sand, the elements mix to accompany their vivid choreography.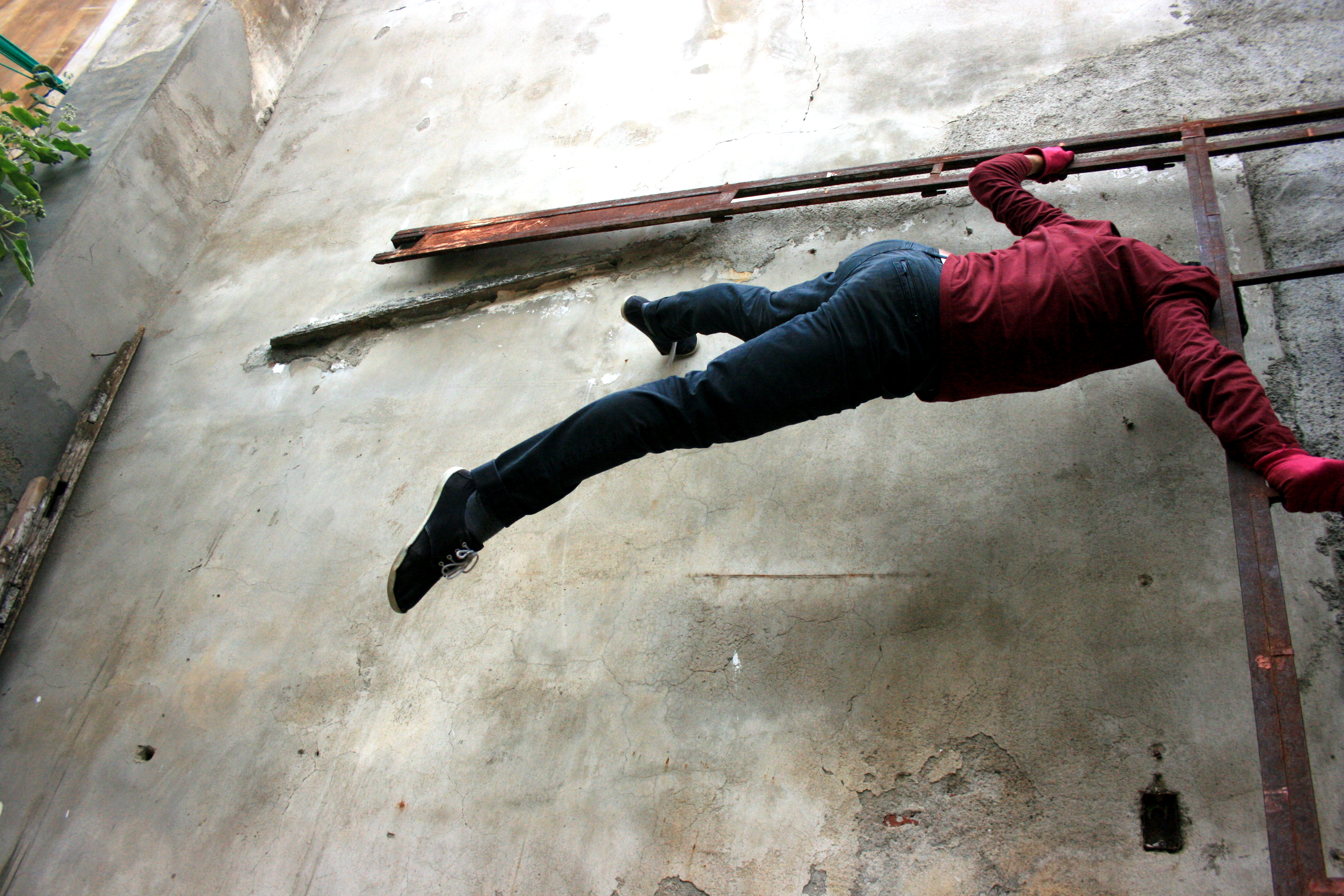 SI ES NECESARIO ES PRECISO FLOTAR
Director: Colectivo Loquetuquieras/Choreographer(s): Colectivo Loquetuquieras/Performer(s): Laura Vera, Giovanni Adrián Ortega, Amira Ramírez, Carla Pais, Álvaro Buenaventura, Argelia Alonso, Manuel Badás, Giorgia Minisini, Eduardo Rucarba, Ximena Monroy, Jean-Baptiste Fave, Paulina Rucarba, Isabela Matus y Mahsa Luna Llena.
Mexico 2015 11′ 10"
Pieza colectiva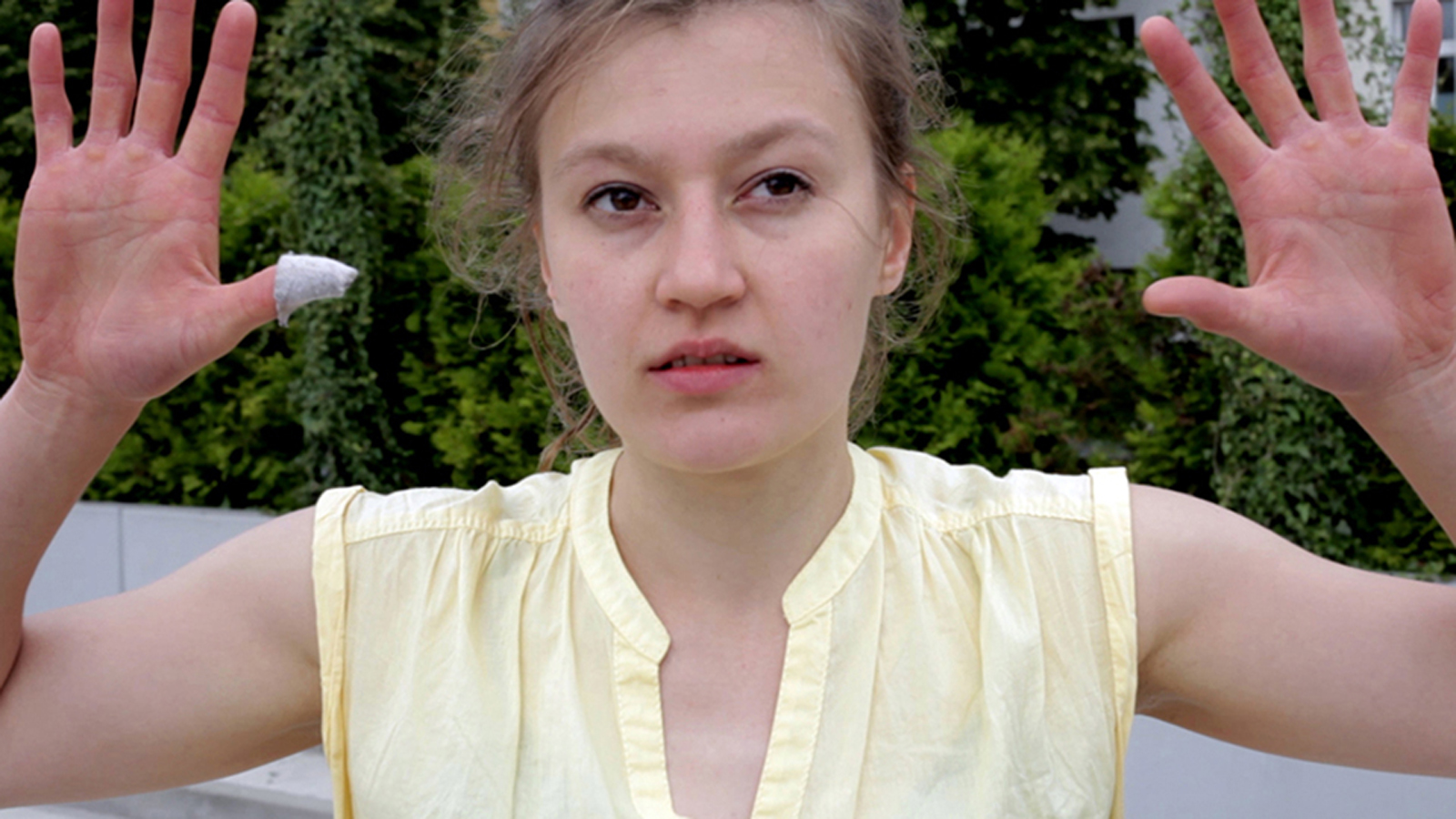 PATHETIQUE
Director: Alicja Hoppel/Choreographer: Alicja Hoppel/Performer(s): Justyna Kalbarczyk Valentin Braun Beto Ruiz Alonso
Poland 2015 4′ 10"
Patheticness – The state or quality of being pathetic.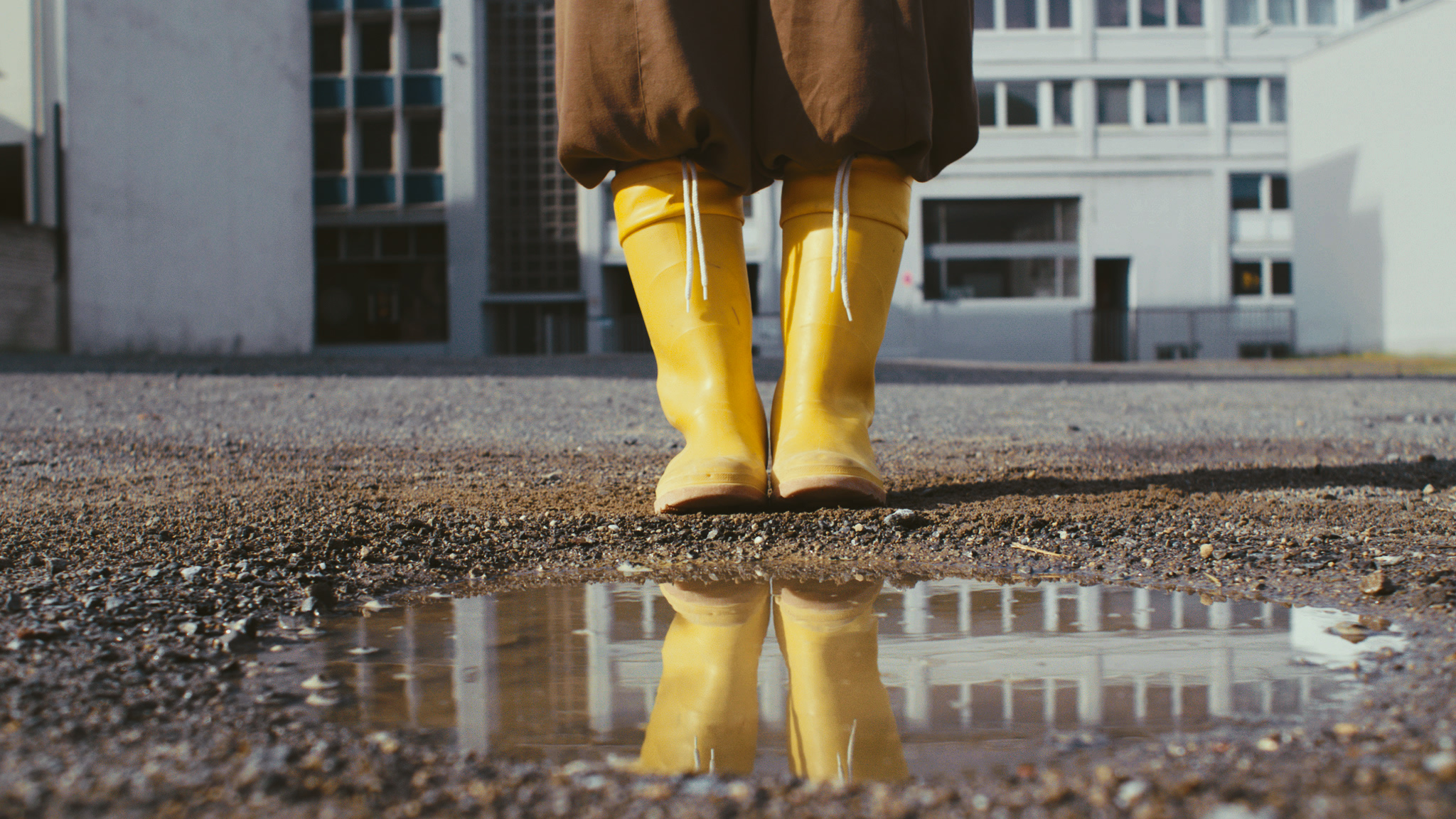 APPROACHING THE PUDDLE
Director: Sebastian Gimmel/Choreographer(s): Sebastian Gimmel&Homai Toyoda
Germany 2014 8′ 33"
A curious woman, appropriately dressed for a rainy day, explores her environment at an empty car park. Around puddles she dances in child like play, drifts into a fantastic inner world, unravels a magical place as her rubber boots come to life.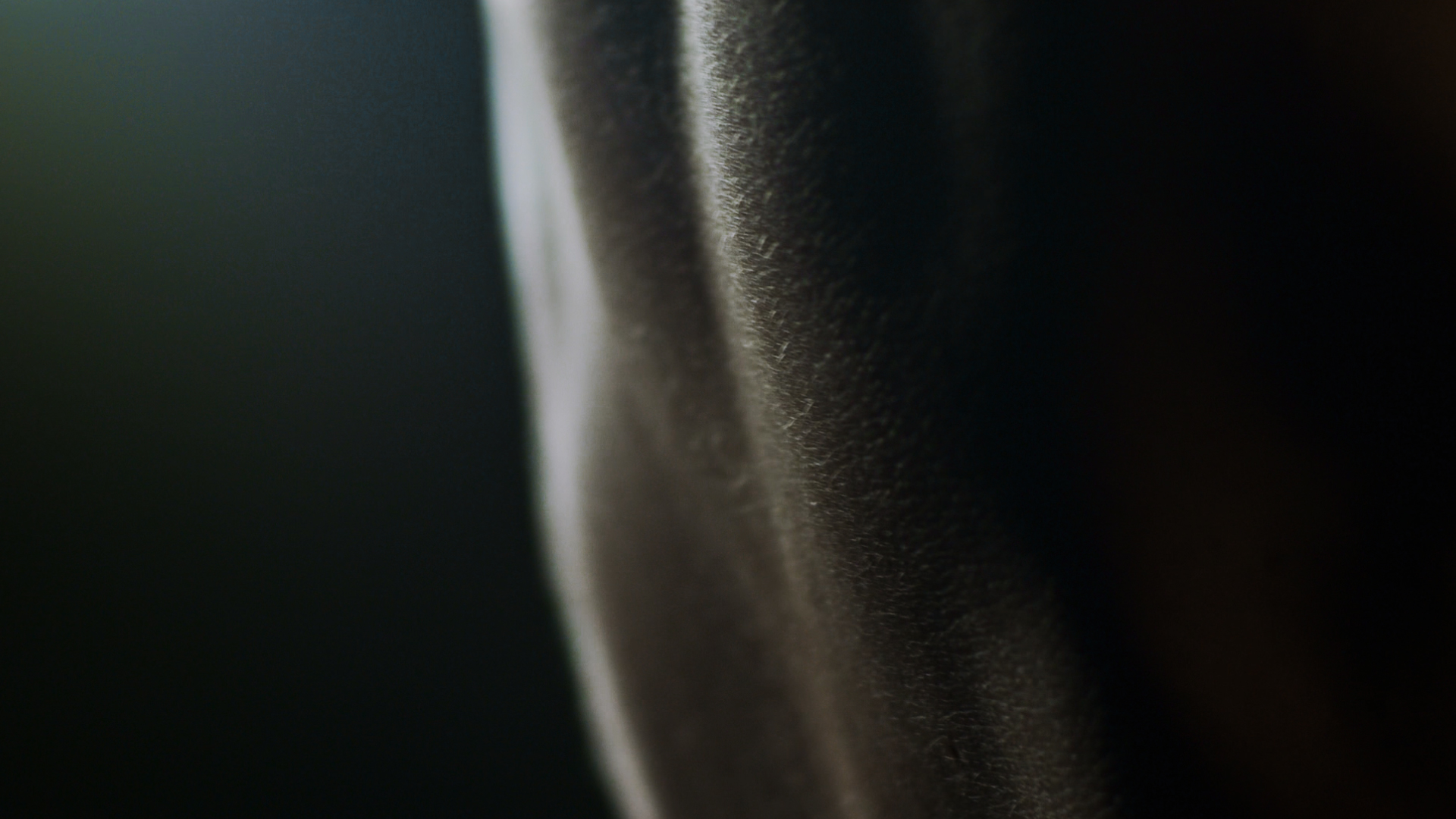 LOLA
Director: Florence Freitag&Co-Director Johannes Plank/Choreographer: Alexandre Munz
Germany 2015 4′ 12"
A body that is not just a body anymore. A body that takes space, that starts to think itself, dance itself and that is danced by somebody else. (inspired by J.L.-Nancy)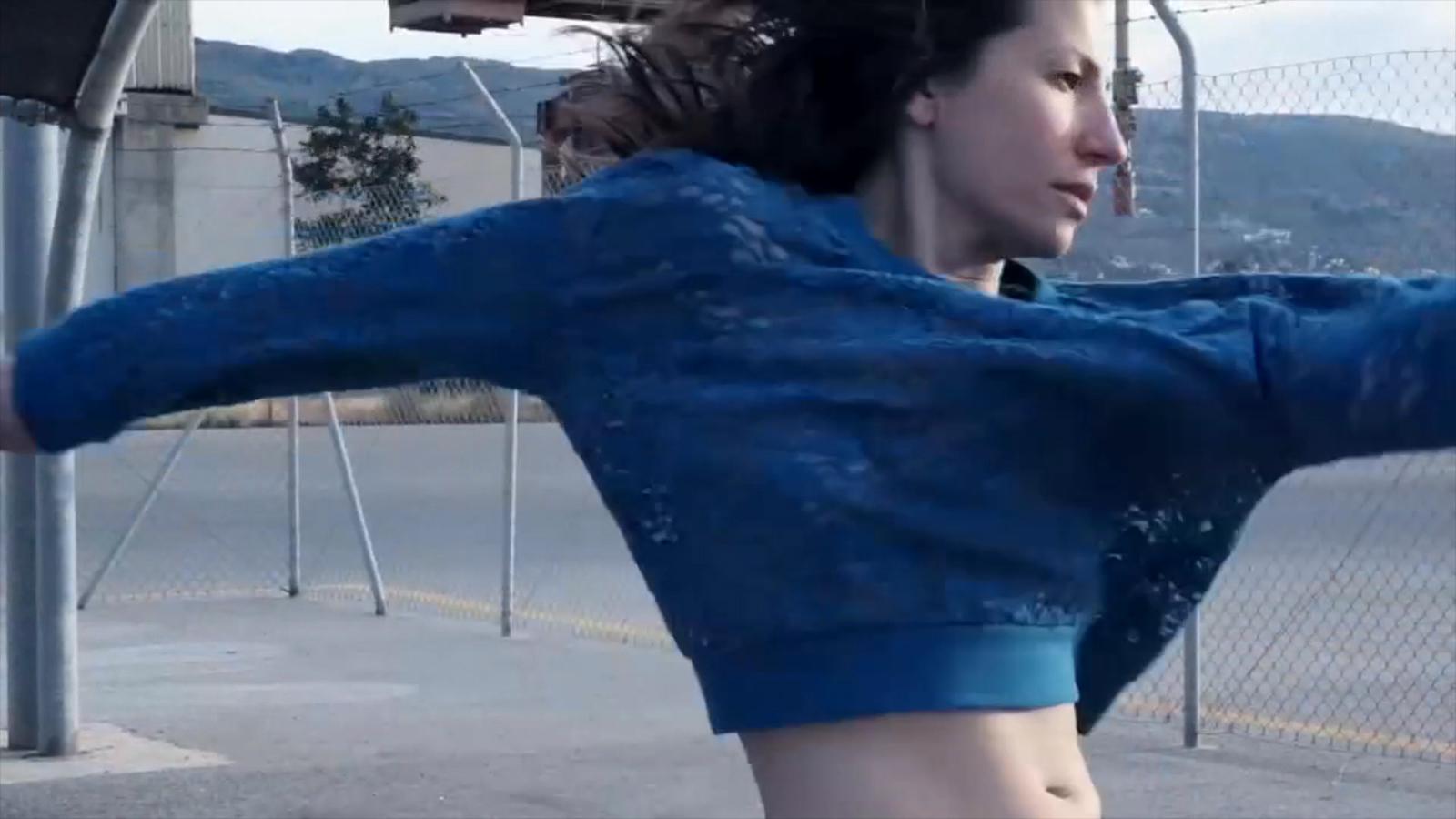 TRACE
Director: Aliki Chiotaki/Choreographer: Georgia Petrali
Greece 2014 3′ 33"
Trace is a video dance of an exploration on wind and the forces of change that this particular element may depict on body. In this interaction, the body appears as a vessel of acceptance moving in all three planes of motion in various locations and reveals an effort to reflect, embody and listen what the space may project upon it.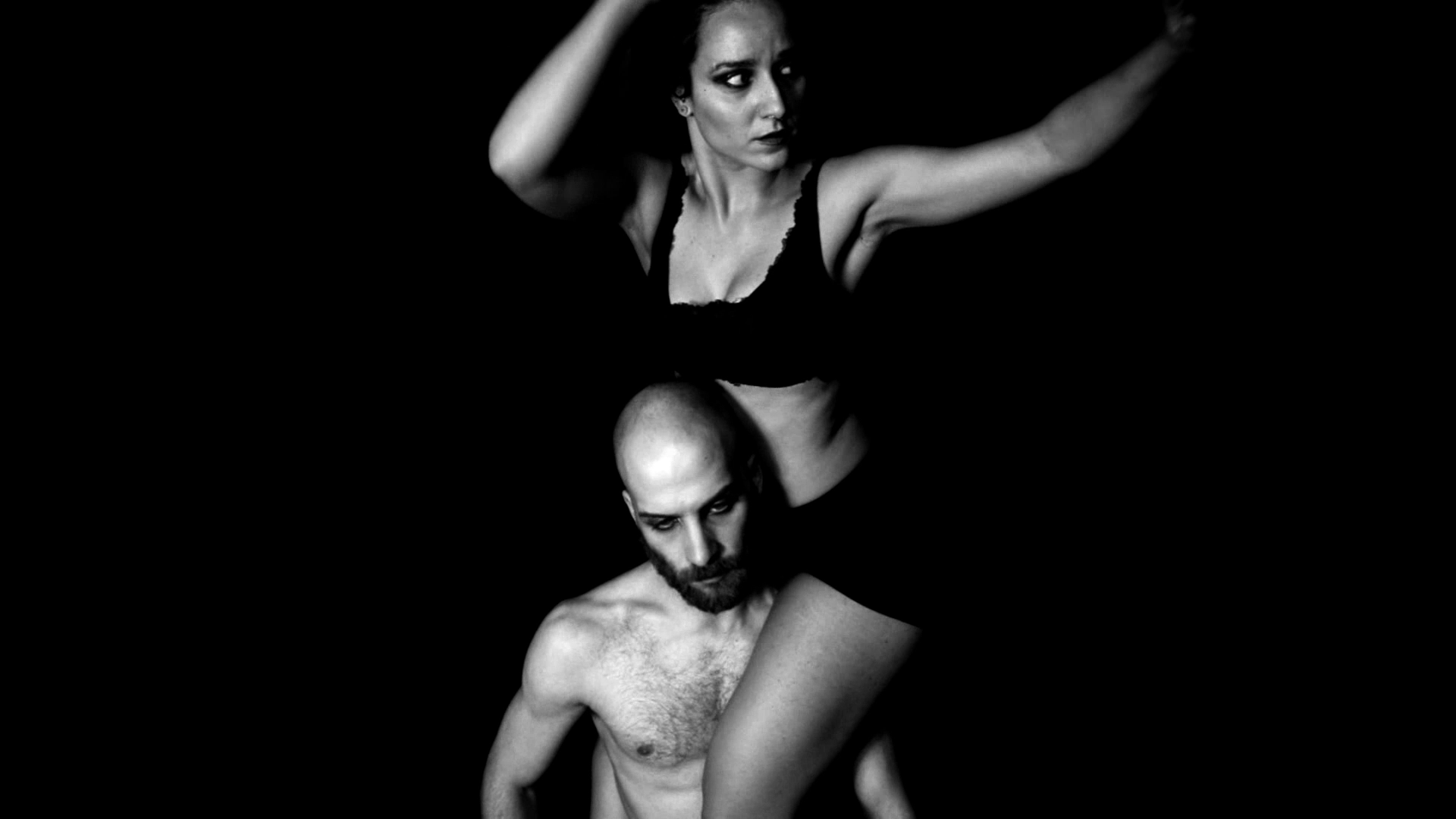 LOVE AND DEATH
Director: Chris Tourlakis/Choreographer: Fenia Apostolou/Performer(s): Kostis Tsiamagkas Andriana Theodoropoulou
Greece 2015 2′ 05"
Love and Death video dance film, choreographed by Fenia Apostolou, directed by Chris Tourlakis, produced by Lydia Lithos Dancetheatre, refers to the opposition between eros and death which constitute the two inseparable parts of Life.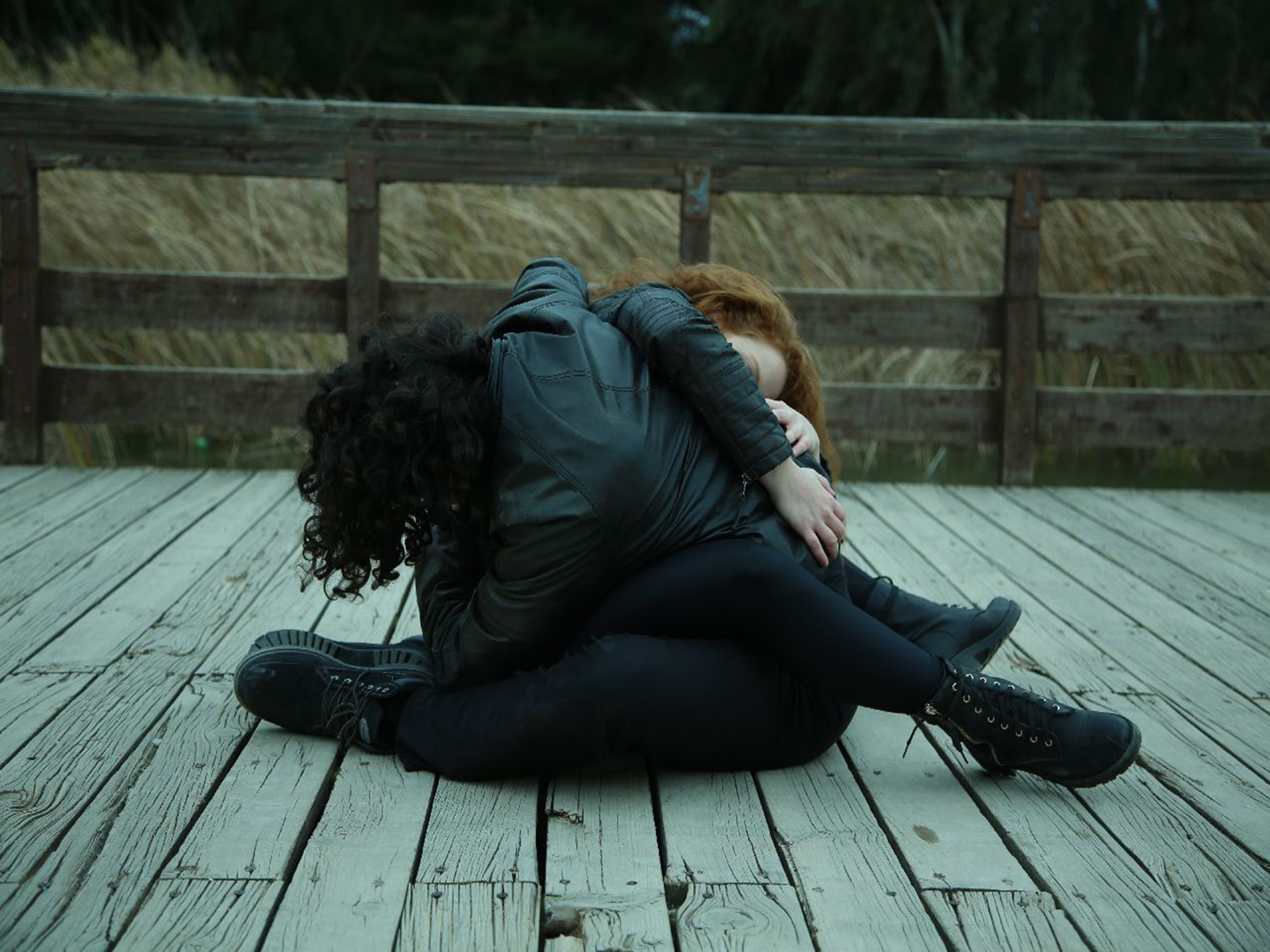 SYMBIOSIS
Director: Steven Gekas, Eleni Lazarides/Choreographer(s): Niki Paouri&Panagiotis Politis
Greece 2016 1′ 00"
"Symbiosis" is a piece made to investigate the relationship of two people as it begins and evolves through the hardships and frictions of their mundane life. Will they manage to remain unaffected?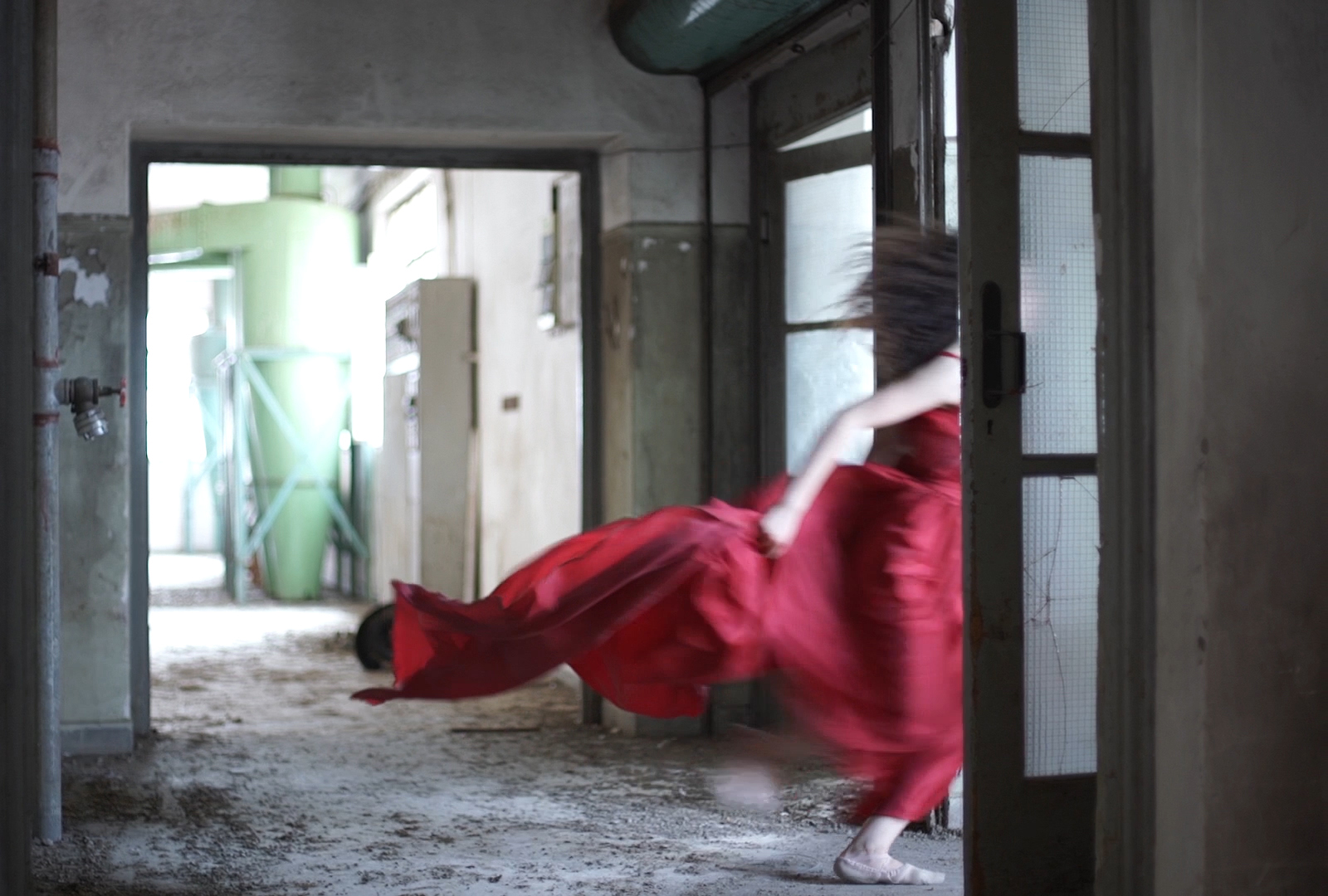 BUILDINGS AFTERLIFE
Director: Anastasia Skipetari/Choreographer: Gabriela Duta Kazoli/Performer(s): Konstantina Verrou
Greece 2015 3′ 50"
A short dance film on abandoned buildings that demand rehabilitation.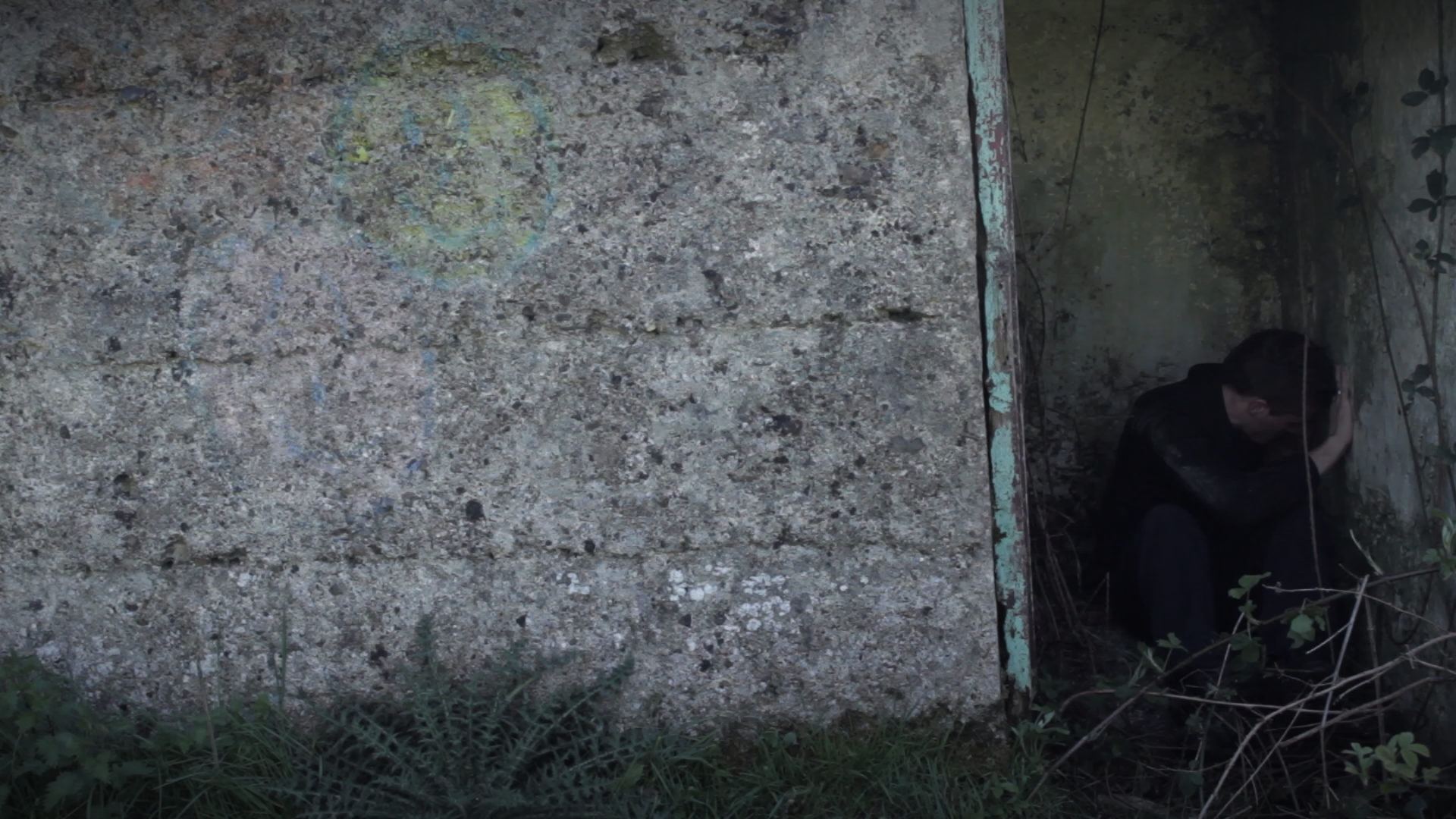 RELEASE
Director/Choreographer: Conor O'Brien
Ireland 2015 7′ 29"
A young man who struggles dealing with his emotions takes the time to look inside himself. He finds and witnesses everything that he's bottle up. He suddenly surges through a rollercoaster of emotions but in the end it's too much for him and he closes himself off once more.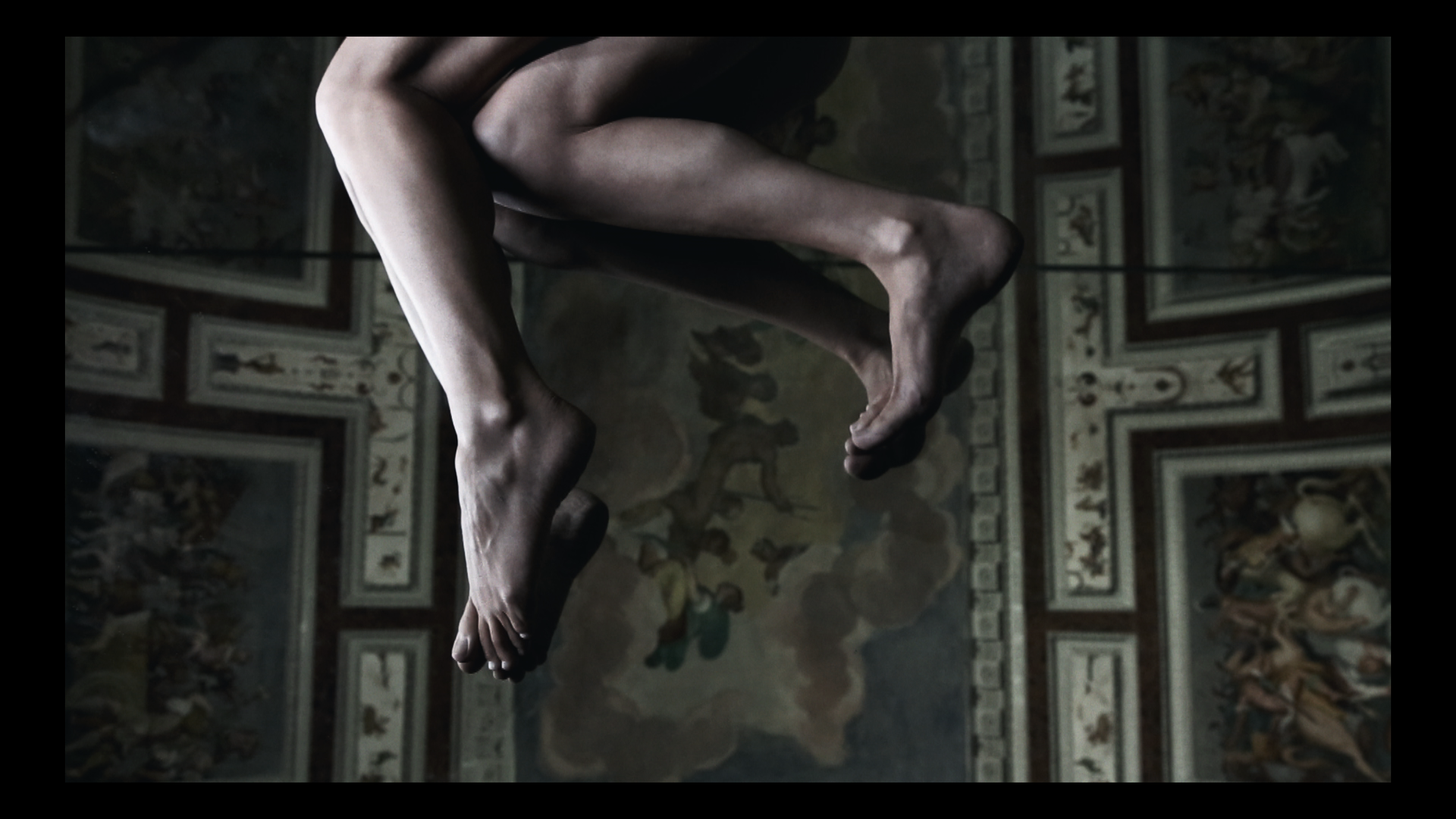 SNAGS IN PALLADIO
Director: Michele Manzini/Choreographer(s): Michele Manzini&Barbara Canal/Performer(s): Barbara Canal and Denise Brigo, Giulia Eberle, Claudia Mantese, Valentina Mantese
Italy 2015 6′ 02"
First scene: Symmetries: The Pythagorean concept that supreme beauty is <<consonance and harmony>> is a recurring theme in Plato's Philebus, presented as the order of the world and featured in the portions of the work that discuss the world. Second scene: Domestic spaces: When Valéry wrote his Faust, his concern was about introducing a bit of <<truth, an absence of life, flesh…>> to the story. Third scene: Allegories: It appears that the only thing granted to allegorical pretence is the relationship which Aristotle classifies in the category of <<likelihood function>> in his Poetics. Fourth scene: Thresholds: There is a substantial difference between boundary and threshold. Fifth scene: Measurements: The Neo-Platonic rationality that guided Renaissance artists in their quest for harmony dictated that they leave everything related to deceit and falsehoods behind: myths, tales, and poetry.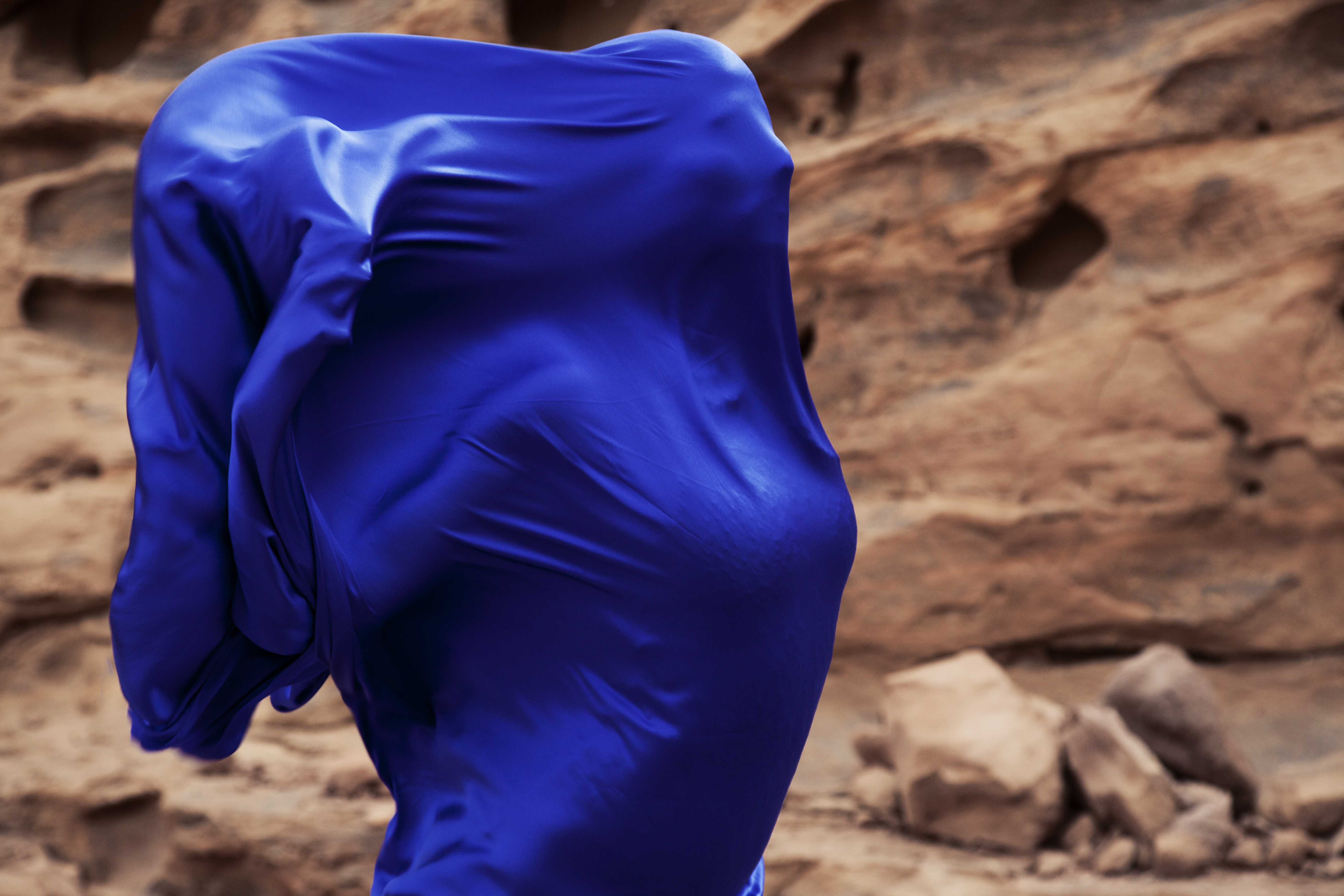 SARMAD
Director: Ali Al Saadi/Choreographer: Shireen Talhouni
Jordan 2015 6′ 30"
Sarmad is a short experimental dance film exploring the struggles of a female dancer in the Middle East who desires freedom and has to travel to the desert to find it. Much like the nature of a live performance the film can be experienced on multiple levels with the meaning of the dance and the purpose of the film open to interpretation. It is a film with a story, a visual feast, a sonic ritual, an atmosphere. Above all it is a celebration of the ephemeral nature of performance.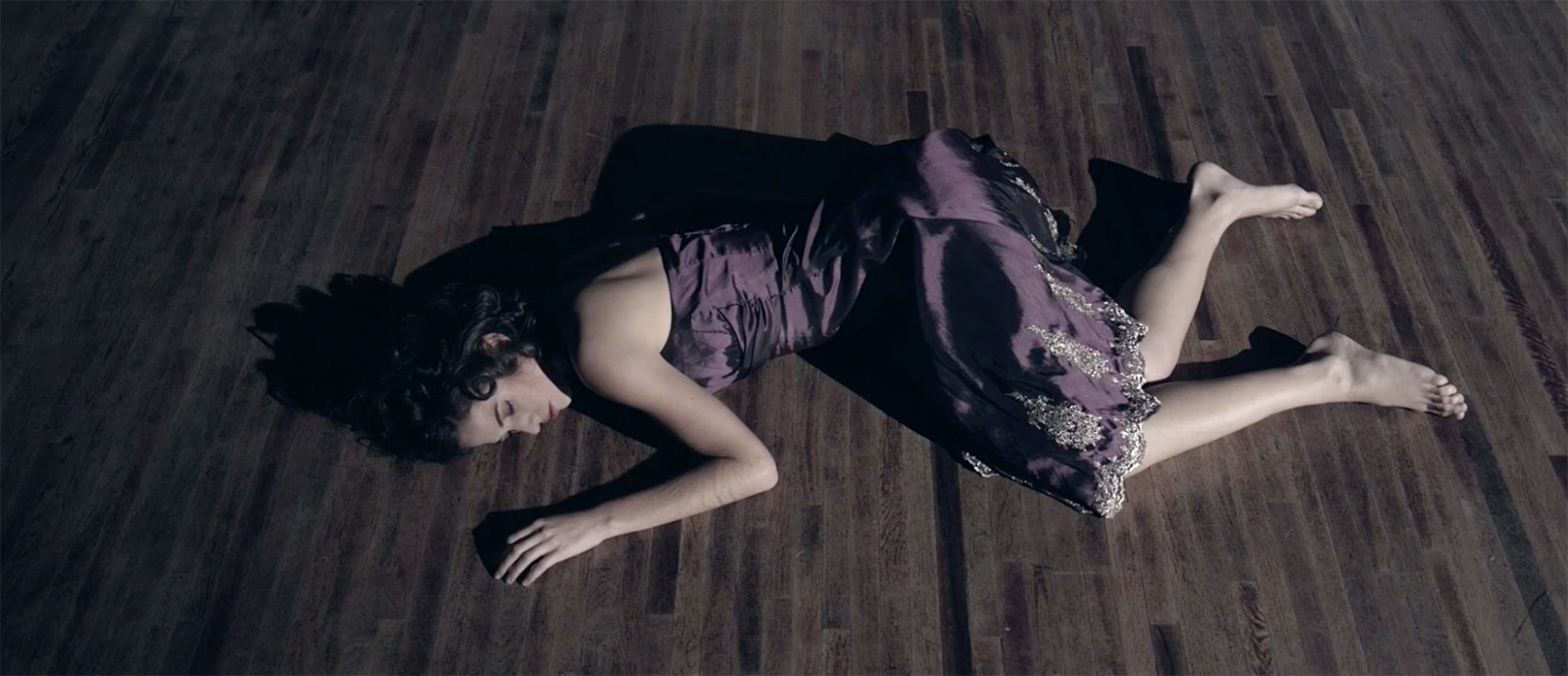 DEVENIR
Director: María Mayoral Moreno/Choreographer: Juan Antonio Velázquez/Performer(s): Marisol Cal y Mayor, Alan Fuentes Guerra, Medín Villatoro, Alejandro Palestina
Mexico 2014 2′ 49"
Devenir is a story about love, idealisation, loss, co-dependence and the continous journey to find ourselves and find love through romantic relationships that are not always what they appear to be.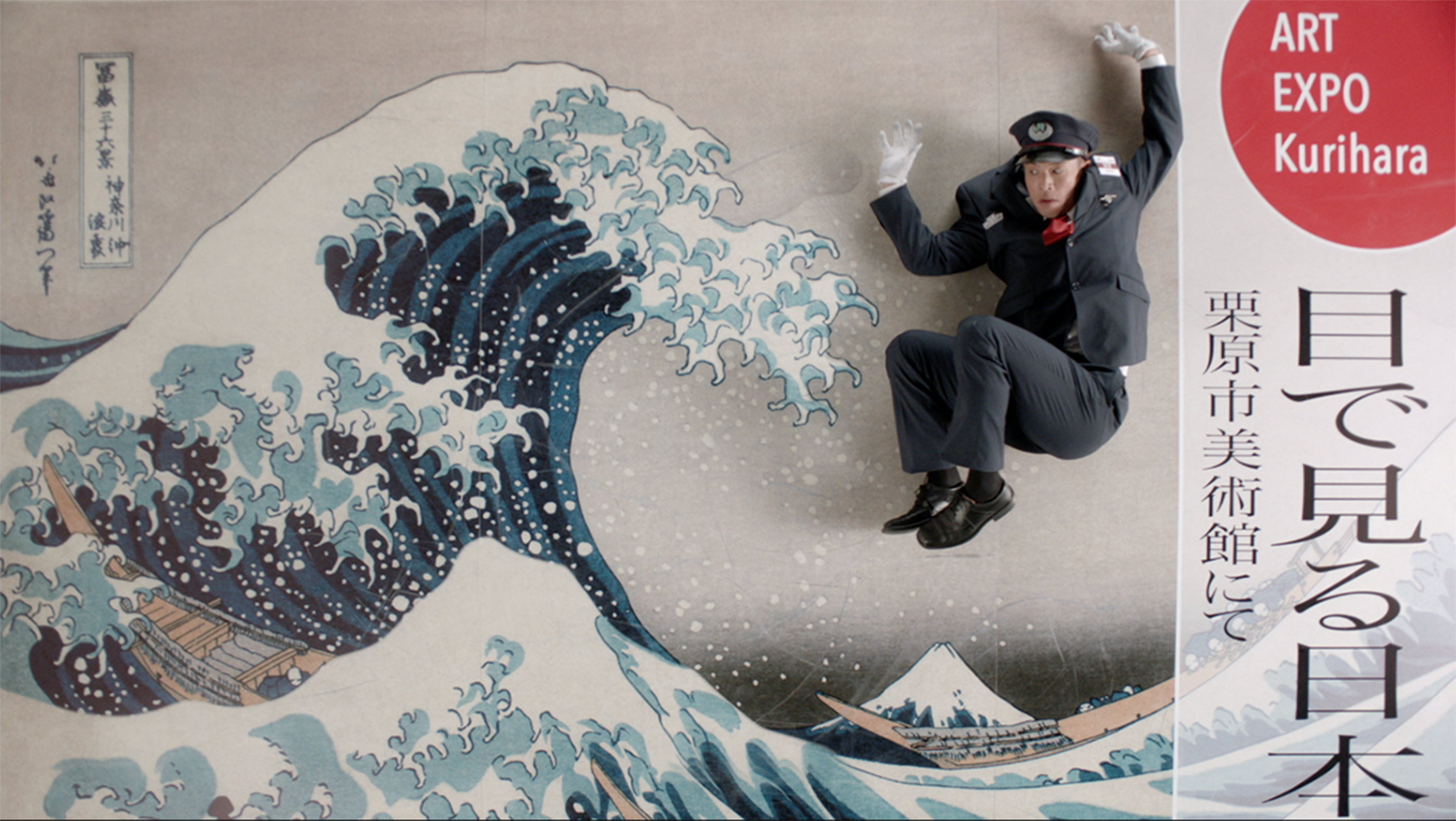 PLATFORM 13
Director: Camiel Zwart/Choreographer: Klaus Jürgens/Performer(s): Shintaro Oue, Angelle Peters, Kenzo Kusuda
Netherlands 2015 13′ 51"
Platform 13 tells the tragicomic story of a Japanese railway conductor. With his equally strong as graceful movements he keeps the biggest crowds under control. But then he ends up in his biggest nightmare: a strange new world, in which he and his signals prove unnecessary.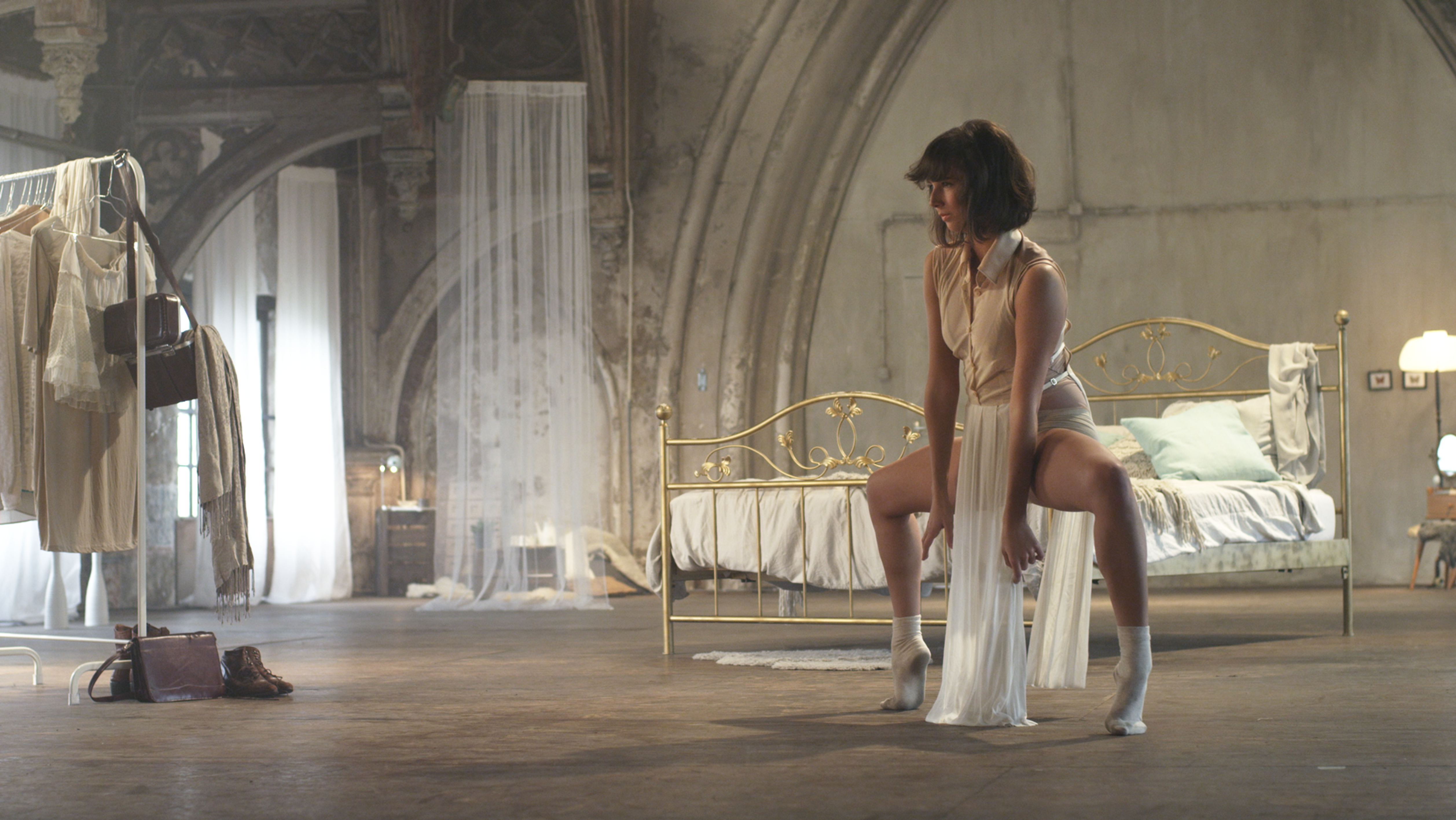 EXPOSE
Director: Moniek van der Kallen/Choreographer: Moniek van der Kallen/Performer(s): Flory Curescu
Netherlands 2015 12′ 00"
Through transparent curtains and glass ornaments a girl appears, dancing around her room carefree. Lightheartedly she moves across the floor. Until she realizes she is not alone. EXPOSE shows the joy of curiosity, initiation and enticement in the comfort of a private space. When the playful game derails, the dark side of the encounter is revealed. Innocence gives way to manipulation, fear and inner conflict.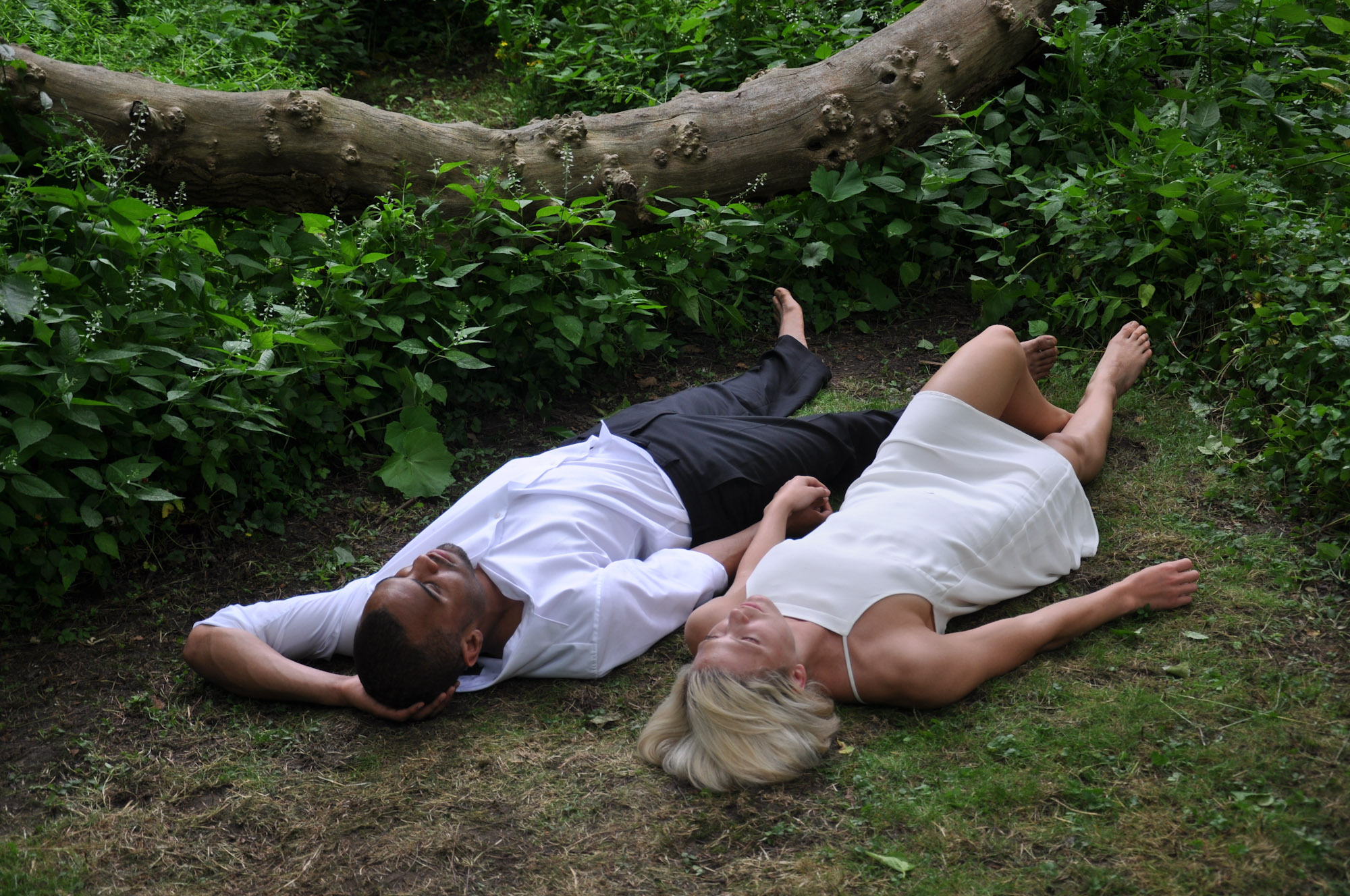 SONGS OF THE UNDERWORLD
Director: Nicola Hepp/Choreographer: Nicola Hepp/Performer(s): Célinne Moza, Reggy Deekman, Martinette Janmaat, Rolf Hepp
Netherlands 2016 6′ 00"
The bittersweet feeling of rememberance and loss is vividly portayed by dancers Rolf Hepp (the director's father), Martinette Janmaat (ex-dancer at NDT and the director's teacher) and two young dancers: Reggy Deekman and Célinne Moza. As the images of the older and the younger dancers become more mixed the spectator begins to understand that this story is not only about youth being lost.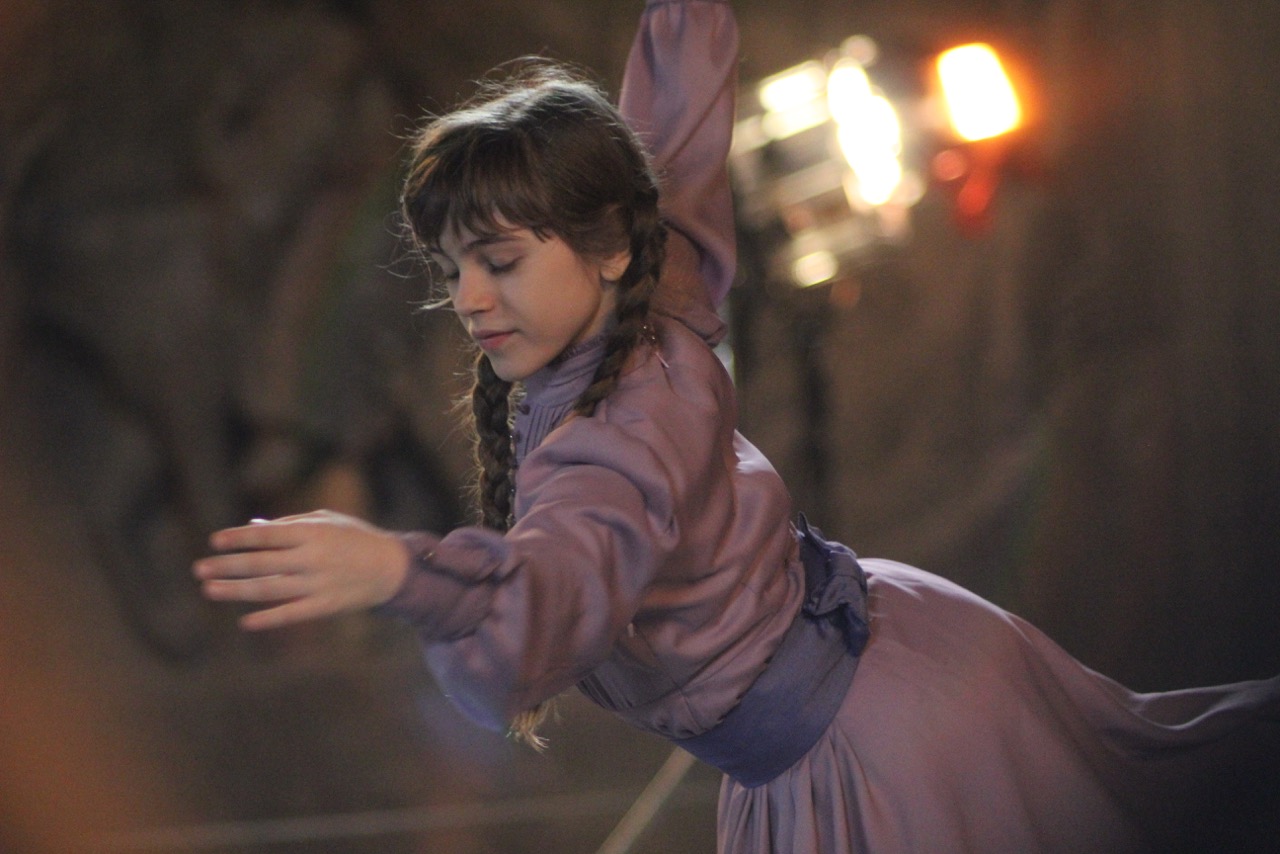 SALT
Director: Maria Lloyd/Choreographer(s): Maria Lloyd,Selena Octavia Alexandru, Ingvild Rognmo, Sian Webber, Colin Maclean, Sean Myatt/Performer(s): Selena Octavia Alexandru, Ingvild Rognmo, Sian Webber, Colin Maclean, Sean Myatt
Norway 2014 12′
A girl grows up with parents that are slowly crystallising into salt figures, how not to repeat the same mistakes and fall into the same emotional patterns as your parents. She has to create her own path in life.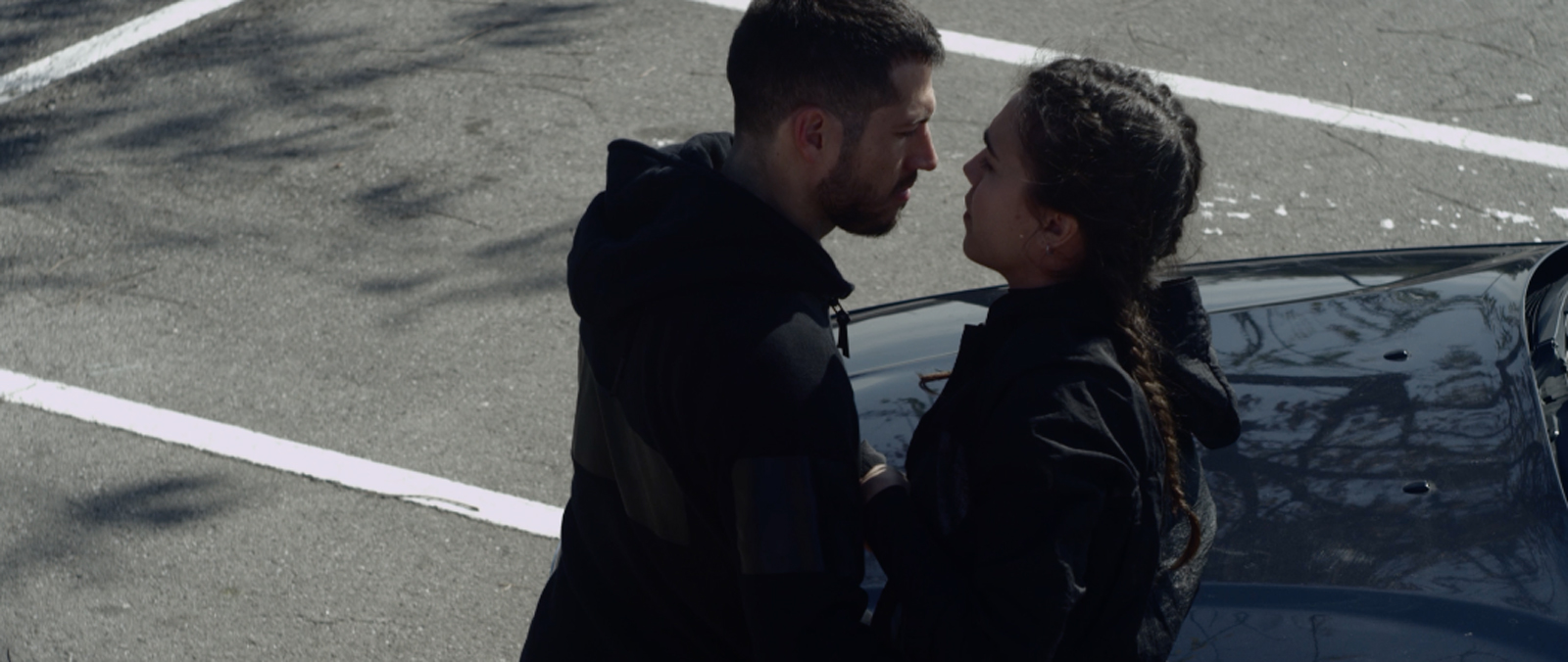 MOVE AWAY – THE LAST BREATH OF LOVE
Director: Christian Martínez/Choreographer(s): Pere Joseph Vilaplana, Maria de Acha
Spain 2015 5′ 13"
"Move Away" is a discourse on a universal topic: the resistance to the unavoidable, the moment when two people that love each other have to part ways for the mutual good. Through dance, the dancers will interpret the silent battle of the last breath of love.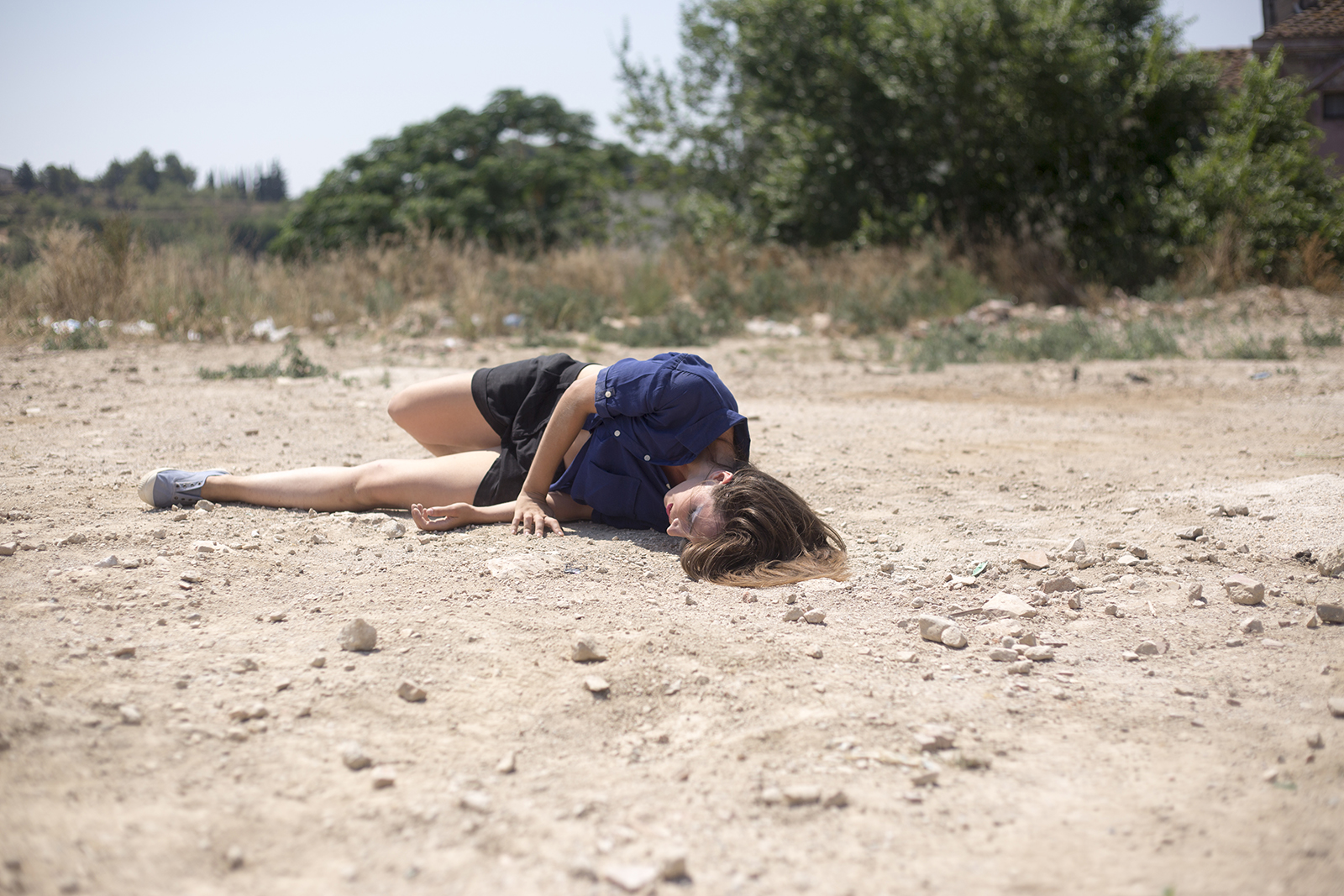 AZUL
Director: Marta Arjona/Choreographer: Gemma Güell
Spain 2015 4′ 24"
Henri Matisse worked in dance movement through color blue. Bleu, the depth color. The depth, something present in all people's heart. People, all those who leave a footprint in us and on whom we decide to be or not to be.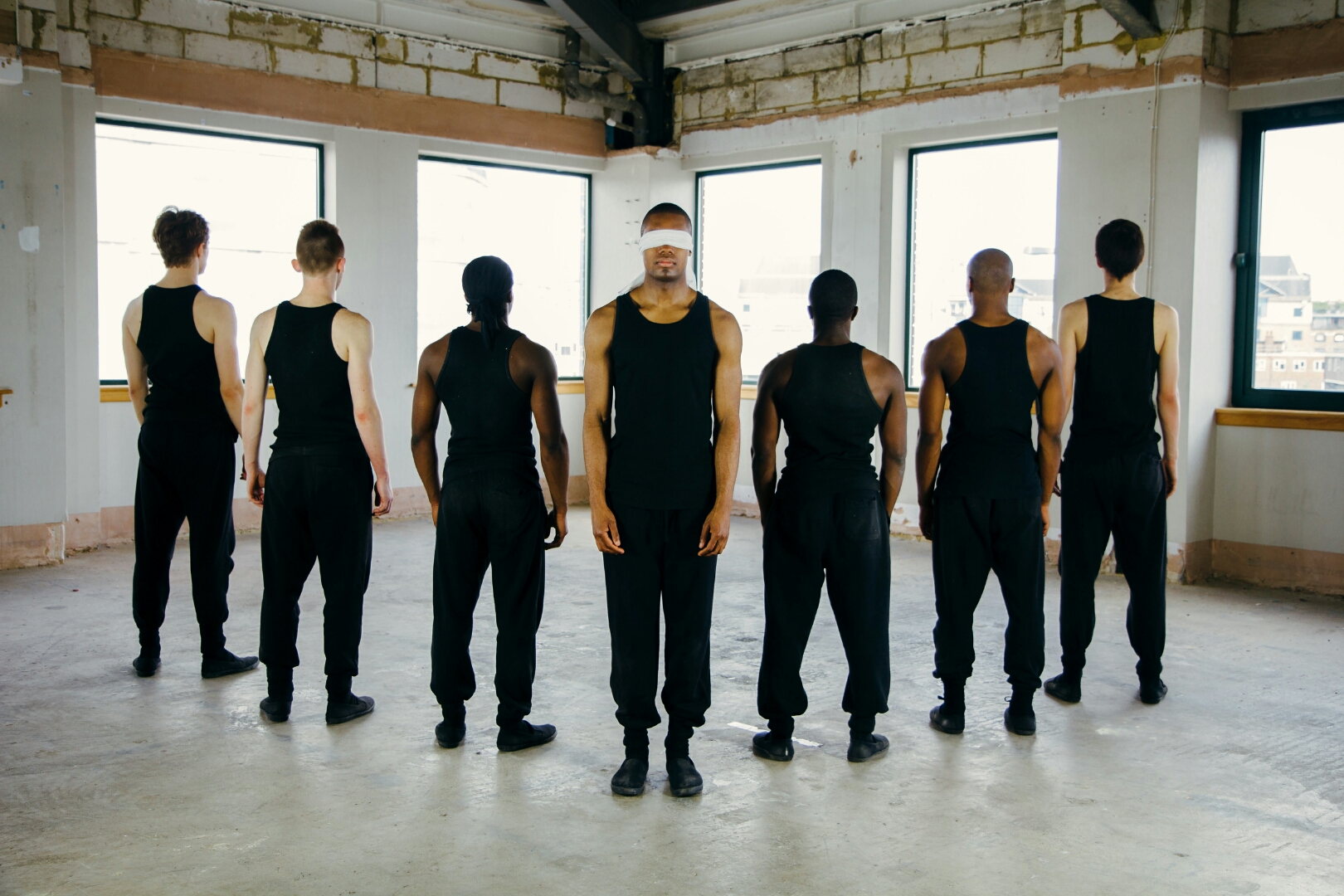 BLIND FAITH
Director: Lanre Malaolu/Choreographer: Lanre Malaolu/Performer(s): Reece Richards, Jared Garfield, Lanre Malaolu, Luke Gordon, Onyemachi Ejimofor, Sergiu Cuibus, Laurynas Godvaisa
UK 2014 5′ 26"
We are all at some point challenged in our lives with the conviction of faith. Whether it be spiritual (with God), and/or personal (self-belief). This piece explores the struggle of that conviction which ultimately leads to a cathartic release once 'Blind Faith' is realized.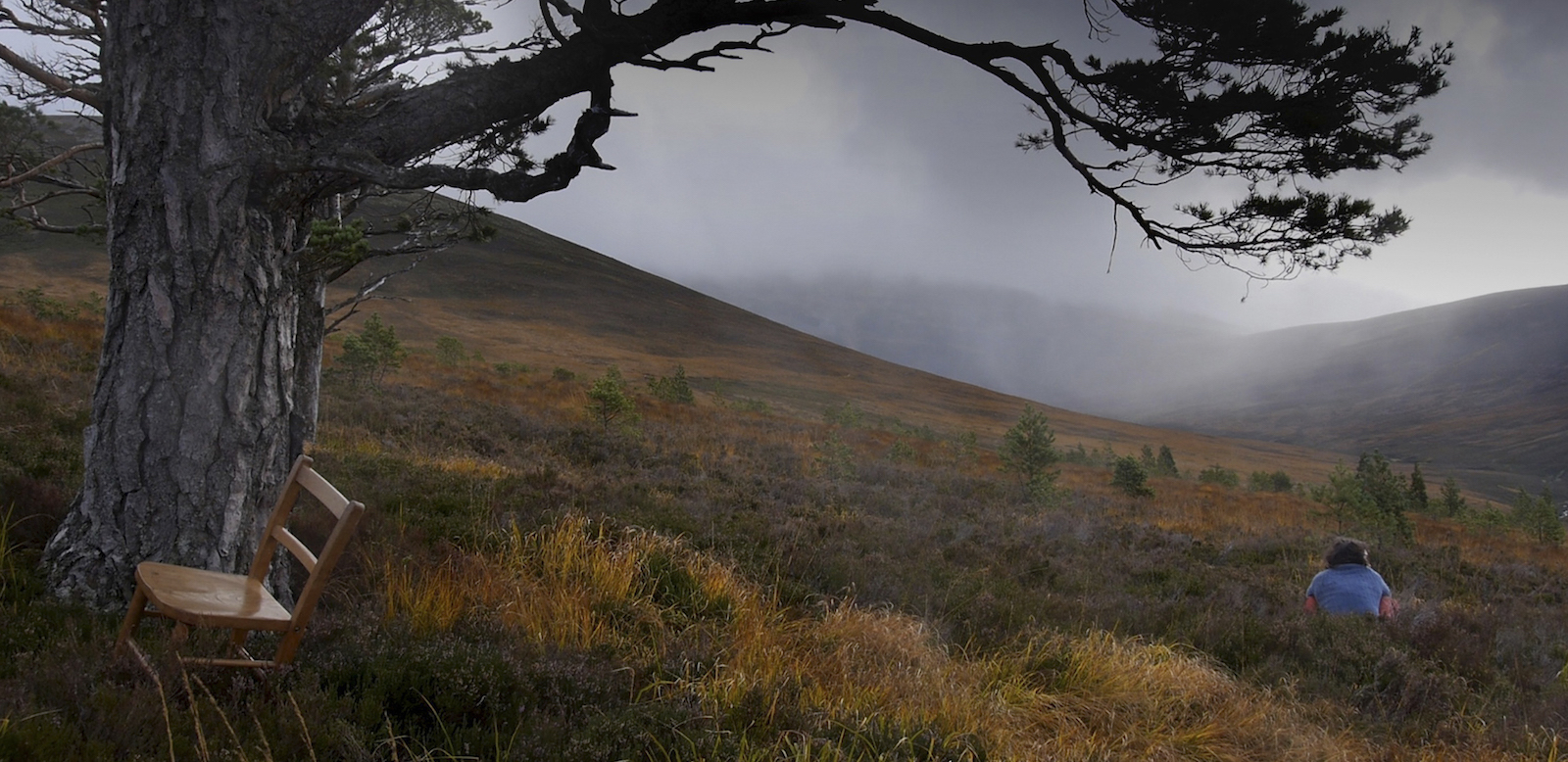 COIRE RUADTH
Director: Simon Fildes Katrina McPherson/Choreographer(s): Frank McConnell, Ruth Janssen & Robbie Synge
UK 2015 10′ 10"
The transition between not wild and wild is for most people all about a feeling and it's this very personal response that matters not lines on maps. The stepping over an invisible threshold where the shoulders relax and you smell the pine in the air, catch a glimpse of a red squirrel, watch wood ants wrestling on sun warmed rock, step over the raptor-torn remains of a Ptarmigan and lie down in the heather and stare at the clouds for a while thinking about nothing in particular.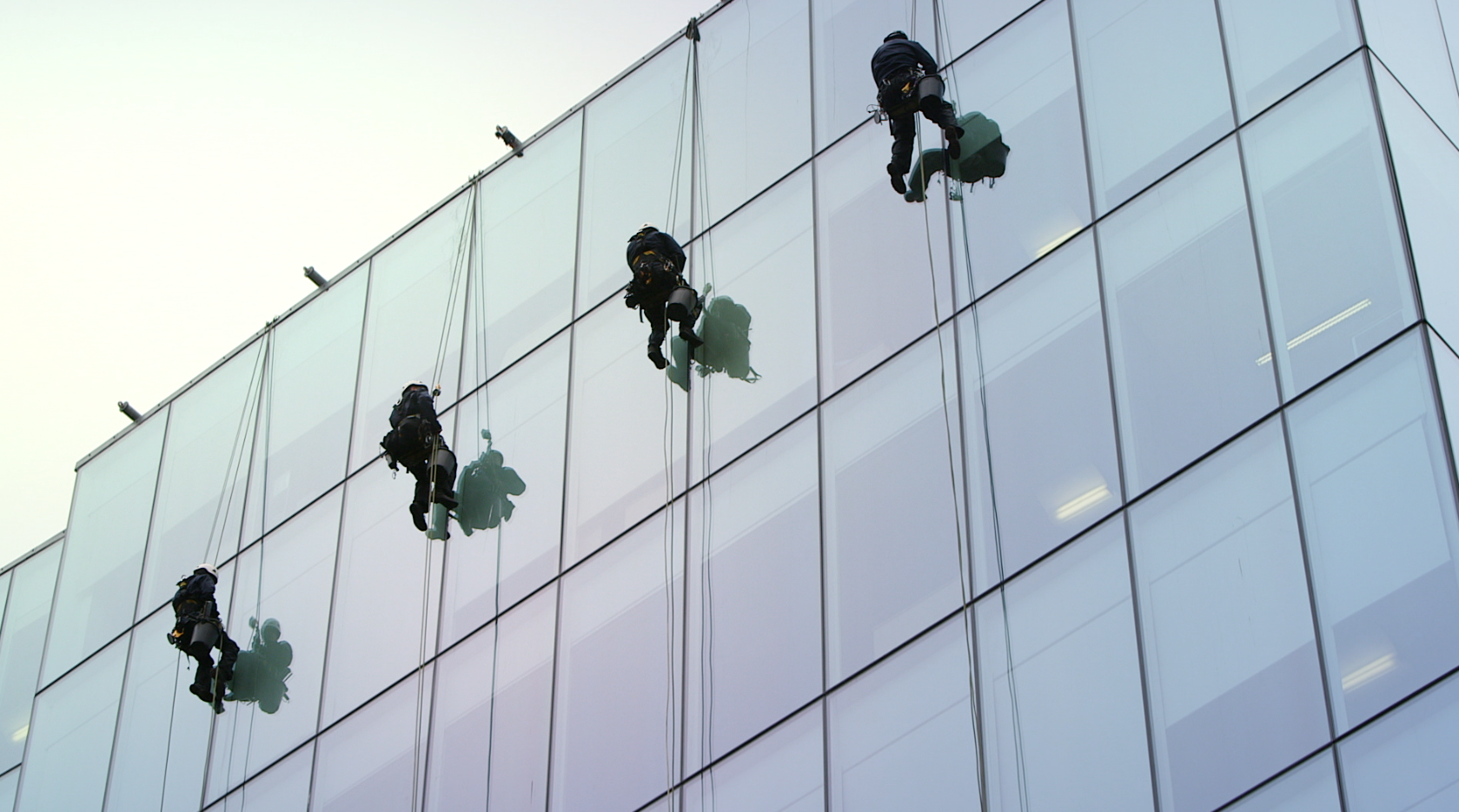 DANCING CITY
Director: Dougie Irvine/Choreographer(s): Frank McConnell, Ruth Janssen&Robbie Synge
UK 2014 4′ 47"
Buses and taxis are dancing round George Square, now in duets and now in trios; scattered across the City, window cleaners perform their ritual choreography as they reach, stretch and arc above the busy pavements; cyclists and pedestrians dance around one another casting an invisible but vibrant trail on their respective journeys; on Buchanan Street, numerous mothers pushing buggies weave an intricate pattern as they navigate through unwieldy crowds; a lone walker on Clydeside watches two trains pass with perfect symmetry whilst a chorus of lorries echoes their dance from the bridge behind; at Central Station, ticket inspectors in carefully spaced alignment repeat their sequence of gestures over and over again. Glasgow is dancing….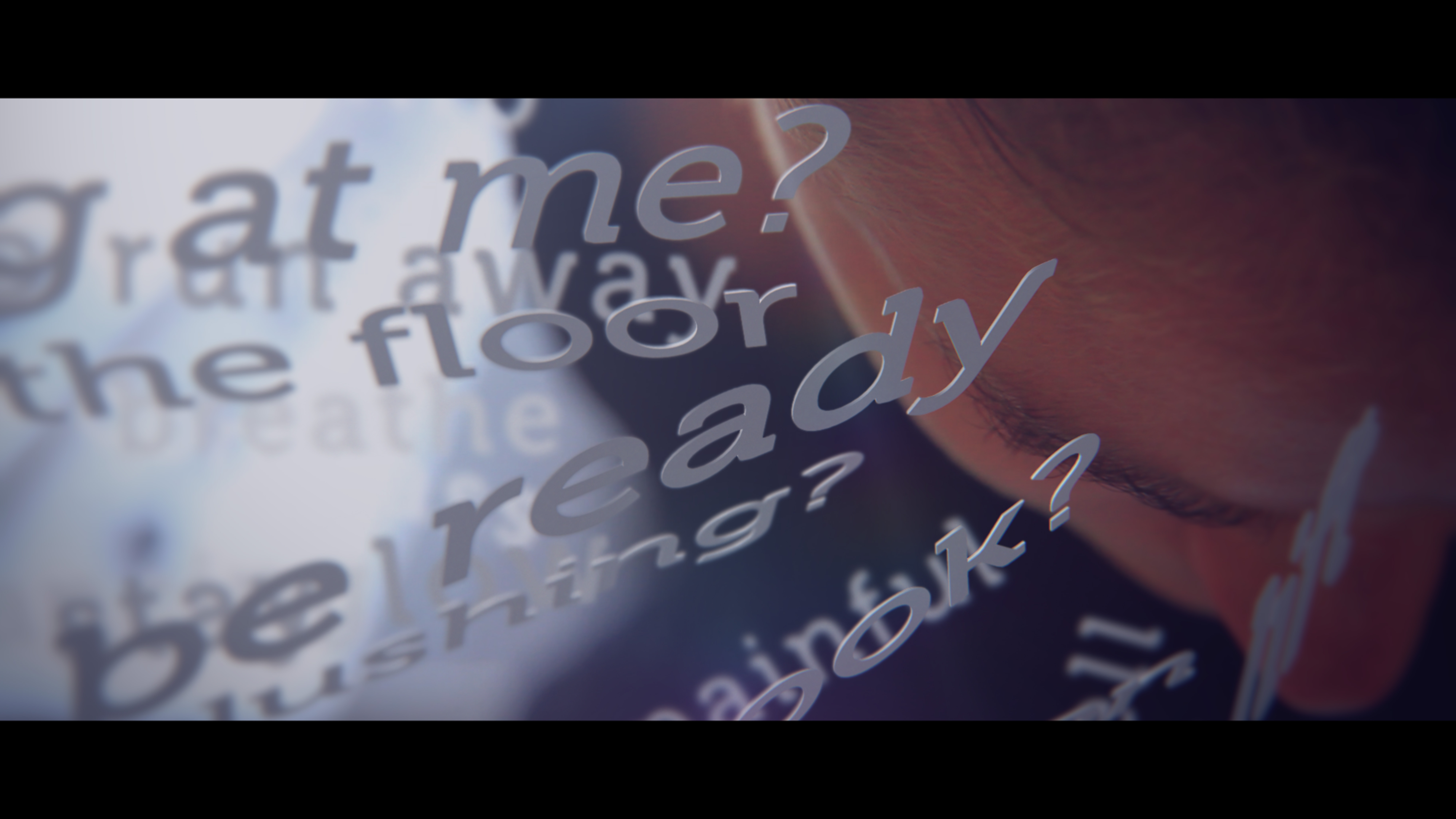 WAY OUT
Director: Vanessa Michielon&Jacopo Landi/Choreographer(s): Emanuela Boldetti, Alberto Cissello, Saara Maaria Hurme, Vanessa Michielon
Italy 2014 6′ 04"
What happens when we suspend all our actions to question them? What do we think about before performing a new gesture or encountering someone else? By making visible the immaterial layer of thoughts, the video aims at revealing the inner dimension of the dancer and at investigating the relationship between stream of consciousness and flow of movement.
Overcoming the paralysis of doubt, we can enter the state of flow, where there is no need for interruptions to reflect, because we are so involved in our actions that they follow each other in a natural way.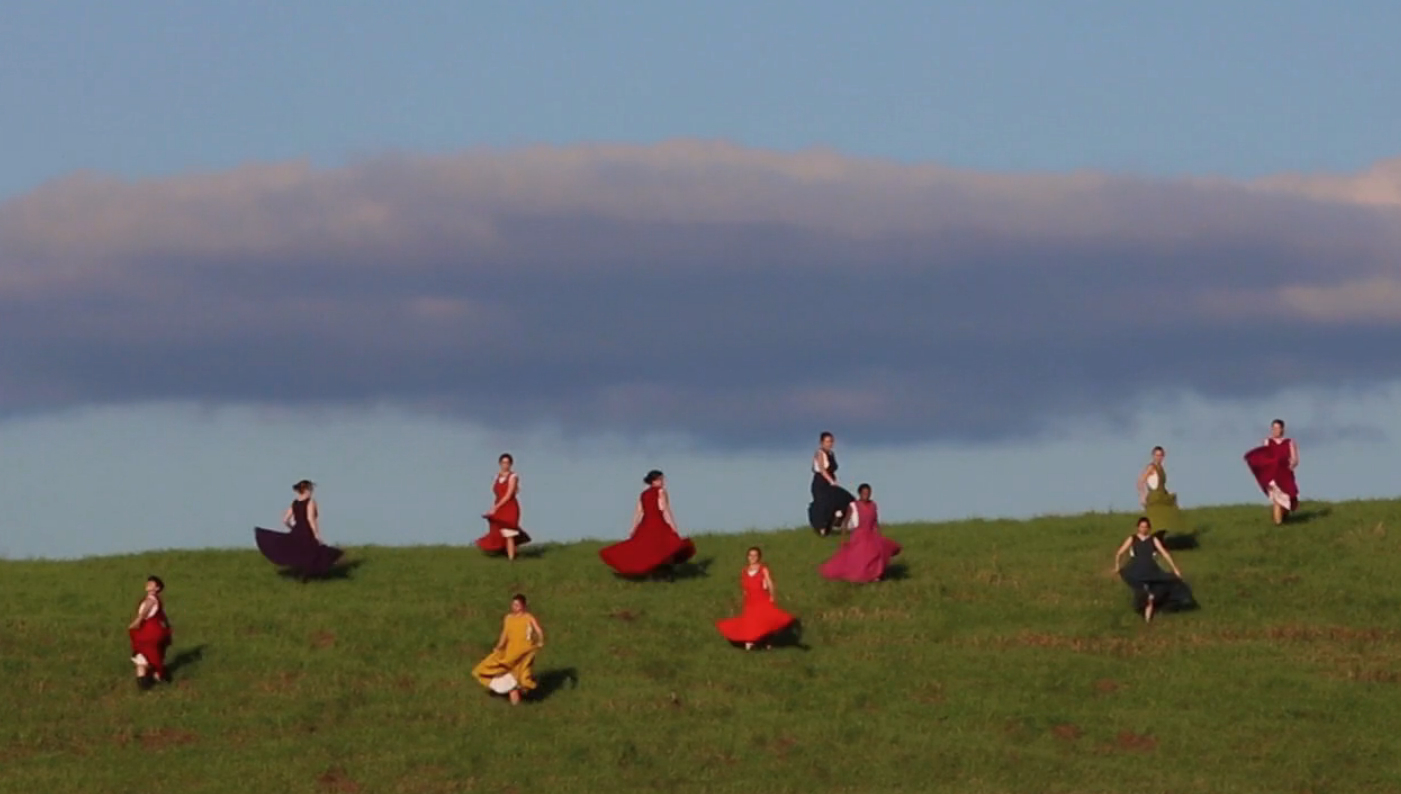 PLOW PLANT REAP
Director: Marta Renzi/Choreographer: Marta Renzi/Performer(s): members of the Slippery Rock Dance Department
USA 2015 13′ 02"
Against a majestic landscape of rolling farmland, an all-female community comes together, joining in a baptism and a roundelay. Arriving and leaving like sun and shadow, Plant Plow Reap is a celebration of the joy and order that culminate in harvest.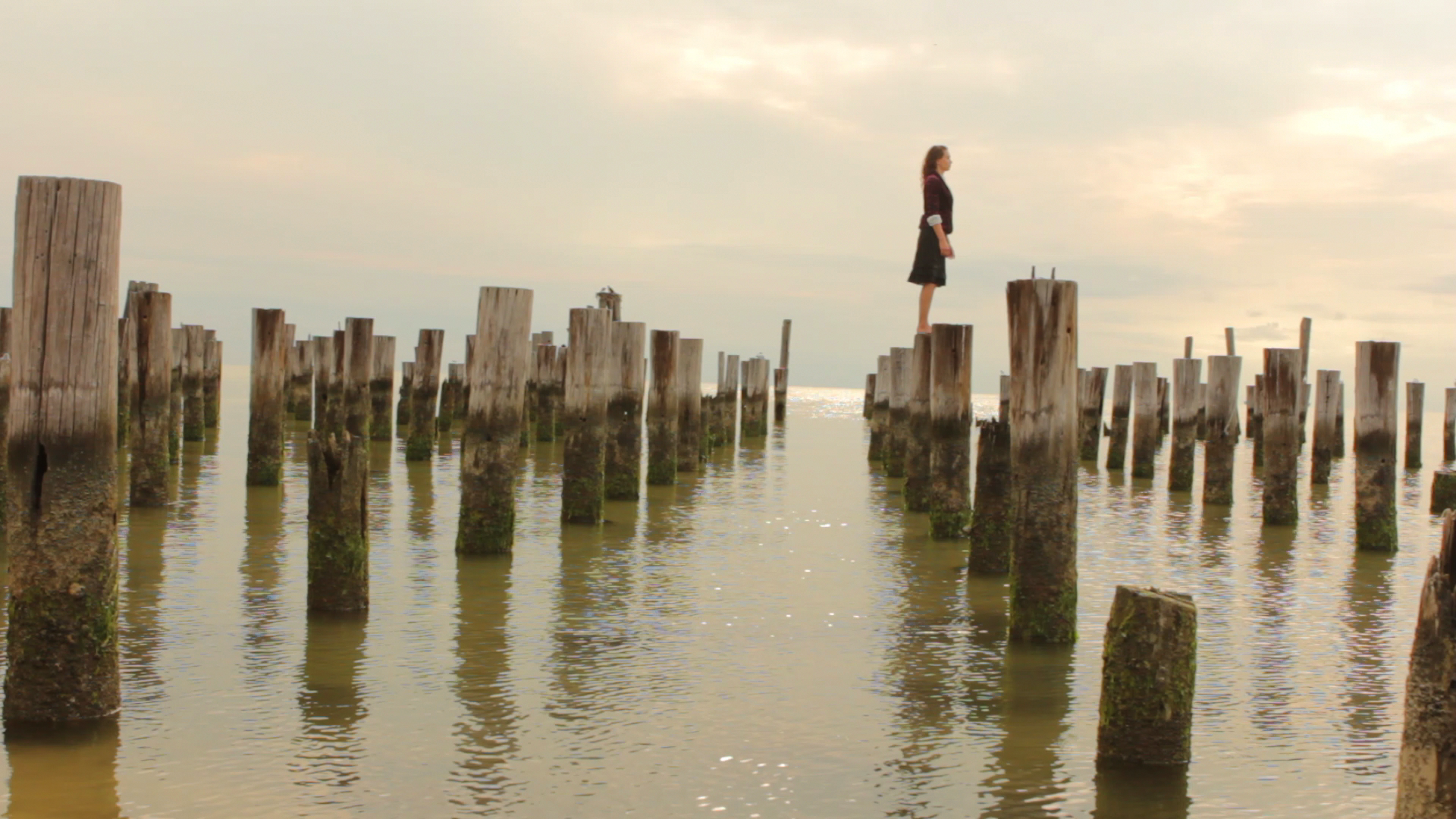 FERRY
Director: Jennifer Keller/Choreographer: Jennifer Keller/Performer(s): Jenna Liberati
USA 2014 3′ 17"
Remembering a happier past, a woman resists inevitable change at the remains of an old ferry docking station.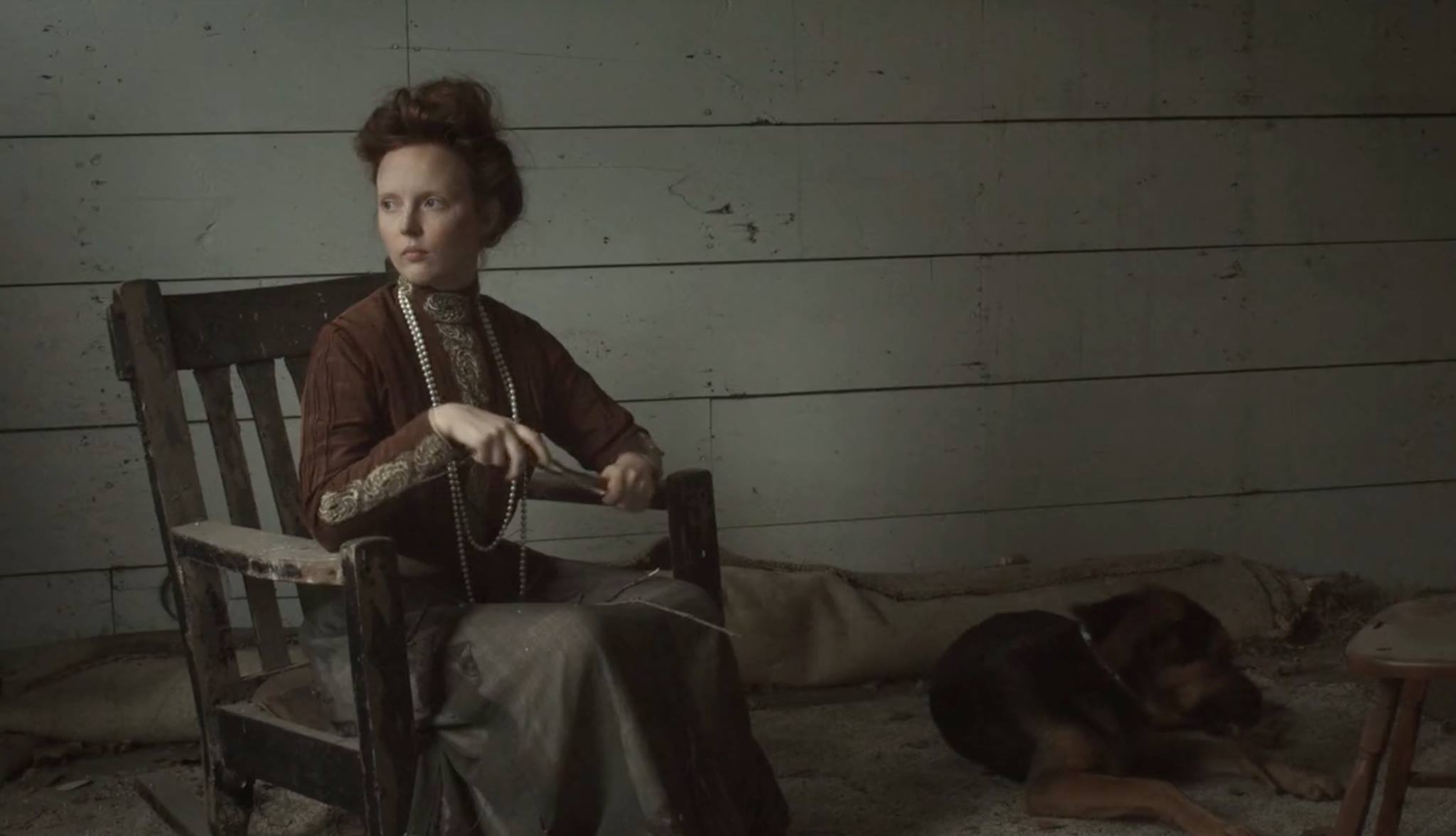 HUSK
Director: Tori Lawrence/Choreographer: Tori Lawrence/Performer(s): Emily Climer, Boogie the Dog
USA 2015 7′ 05"
Removed from context, pulled. The collective nineteenth century 'she,' a reservoir of corporeally stored knowledge. Conditioned and repeated. Gesture as inscription. How can I rewire into a new way of looking, to reveal that which is inscribed – to show the traces of culture, ritual, and the dialogue between self and environment?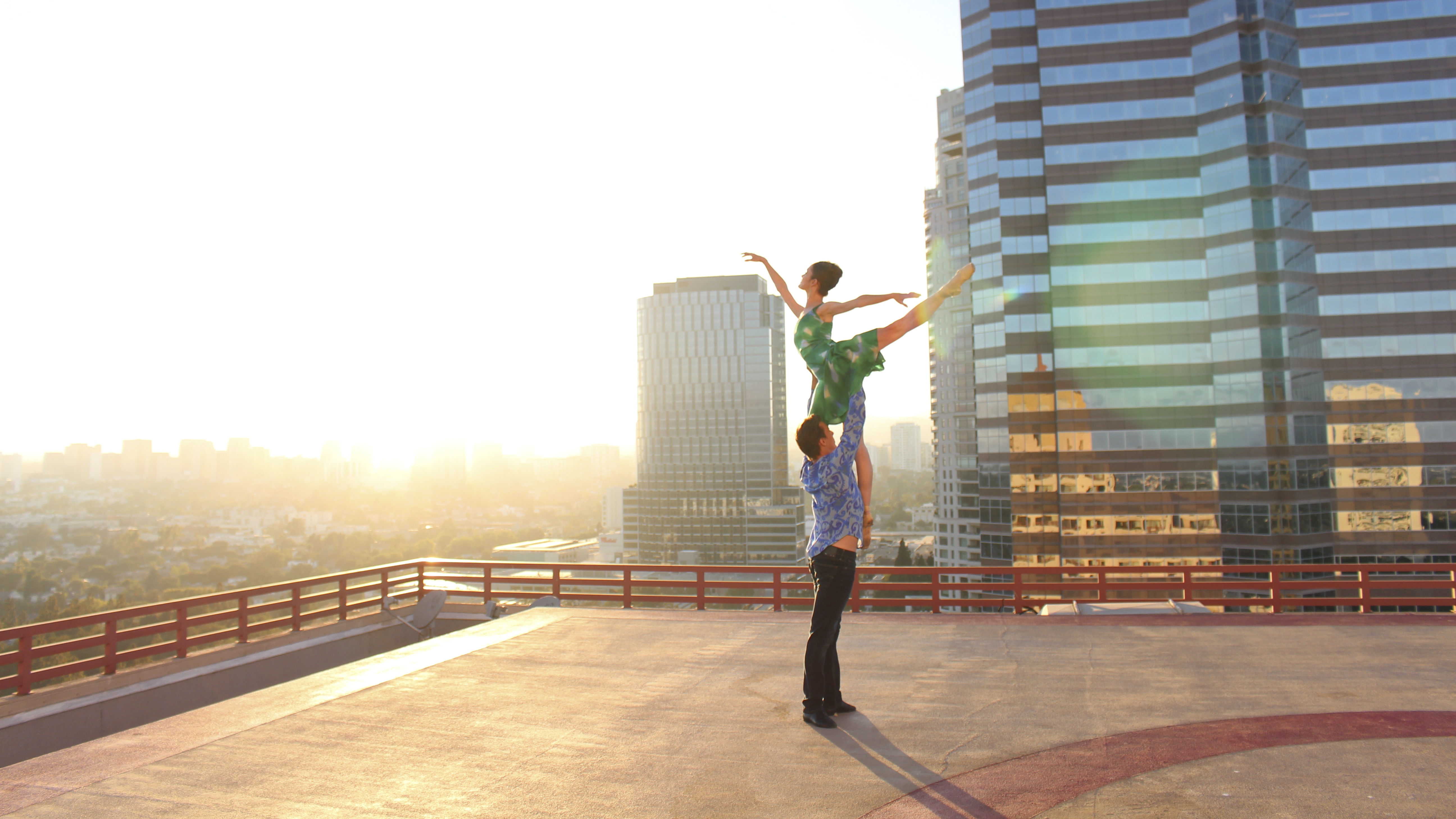 LE PASSAGE DU TEMPS
Director: Jen Guy Metcalf/Choreographer: Jen Guy Metcalf/Performer(s): Heather Leffler, Allister Dahlberg, Allynne Noelle, Alex Castillo, Gianna Jigarhan, Dan Collins
USA 2015 7′ 45"
A young woman and young man meet during the early morning on the beach. Their love begins and continues through the years. Place and time hold special meaning in their hearts.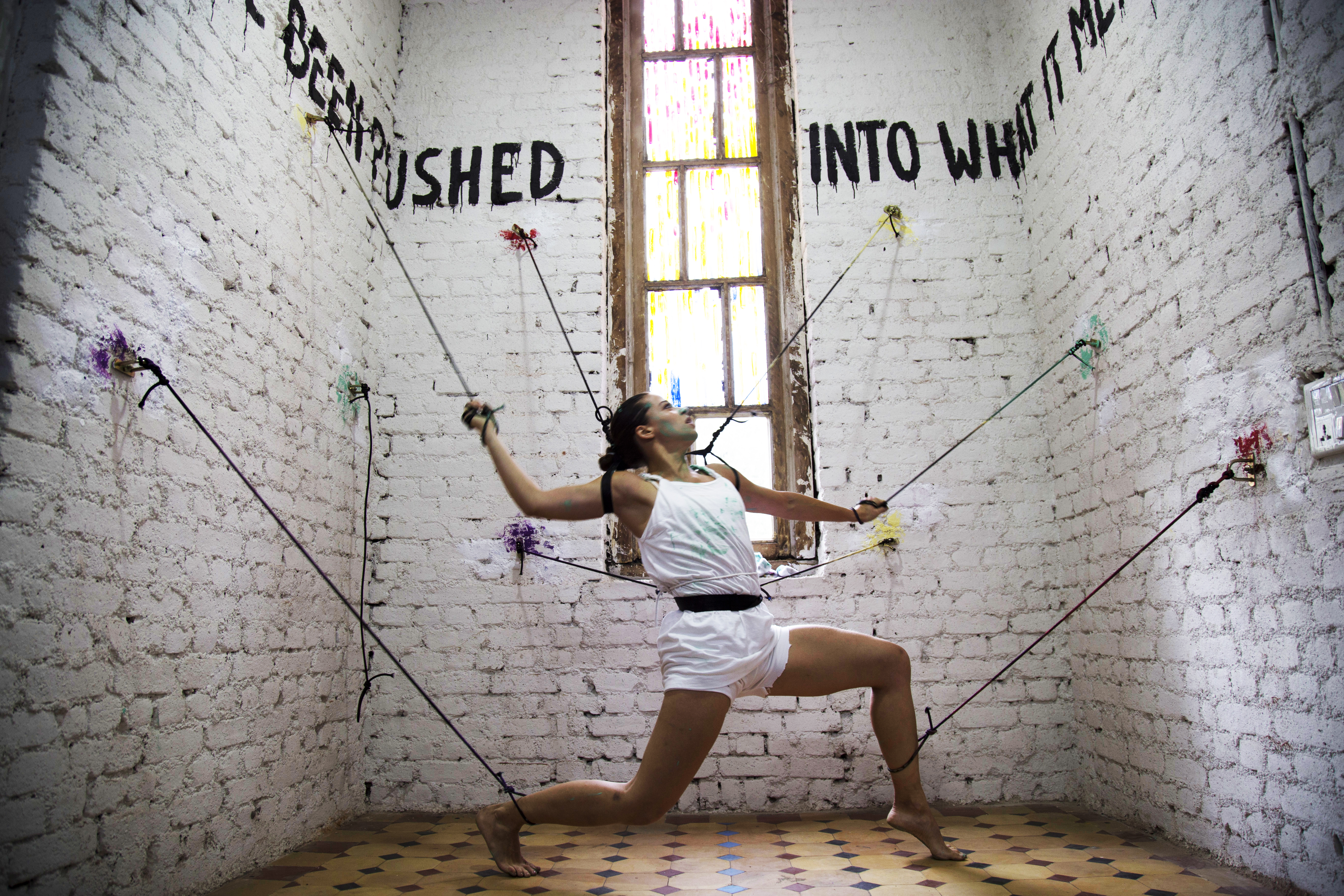 ON HER OWN
Director: Svea Schneider/Choreographer: Svea Schneider/Performer(s): Karishma Harlalka, Janhavi Pathak, Tejasvi Patil, Rajyashree Ramamurthi, Svea Schneider
India 2015 8′
On her Own is a film of a six stage site-specific dance performance that takes the audience on a journey to explore female identity and witness the creation, confinement, shedding and eventual death of four universal archetypes prescribed on the female body.Through a synthesis of choreographed movement, improvisation, sound, paint, diverse props and other artistic elements, "On her Own" rewrites the female body by placing the woman as the protagonist in creating her own identity and shedding male made conceptions of her.Additional Information The female identity is a product of century long classifications, definitions and constructs. It has been subjectified and objectified through a range of discourses. Throughout cultural, social and political history the male gaze has created a narrative for the female identity and has defined the female body through dualistic concepts. Archetypes are universal and mythical ideas inscribed on the female identity, ideas of identity that reside in the female body that have been injected into our consciousness by the male gaze.The performance moves through six different areas of an abandoned hotel in Pune/India, each time exploring a different realm of the codification, categorization and impact of confinement given to women throughout cultural, social and political history.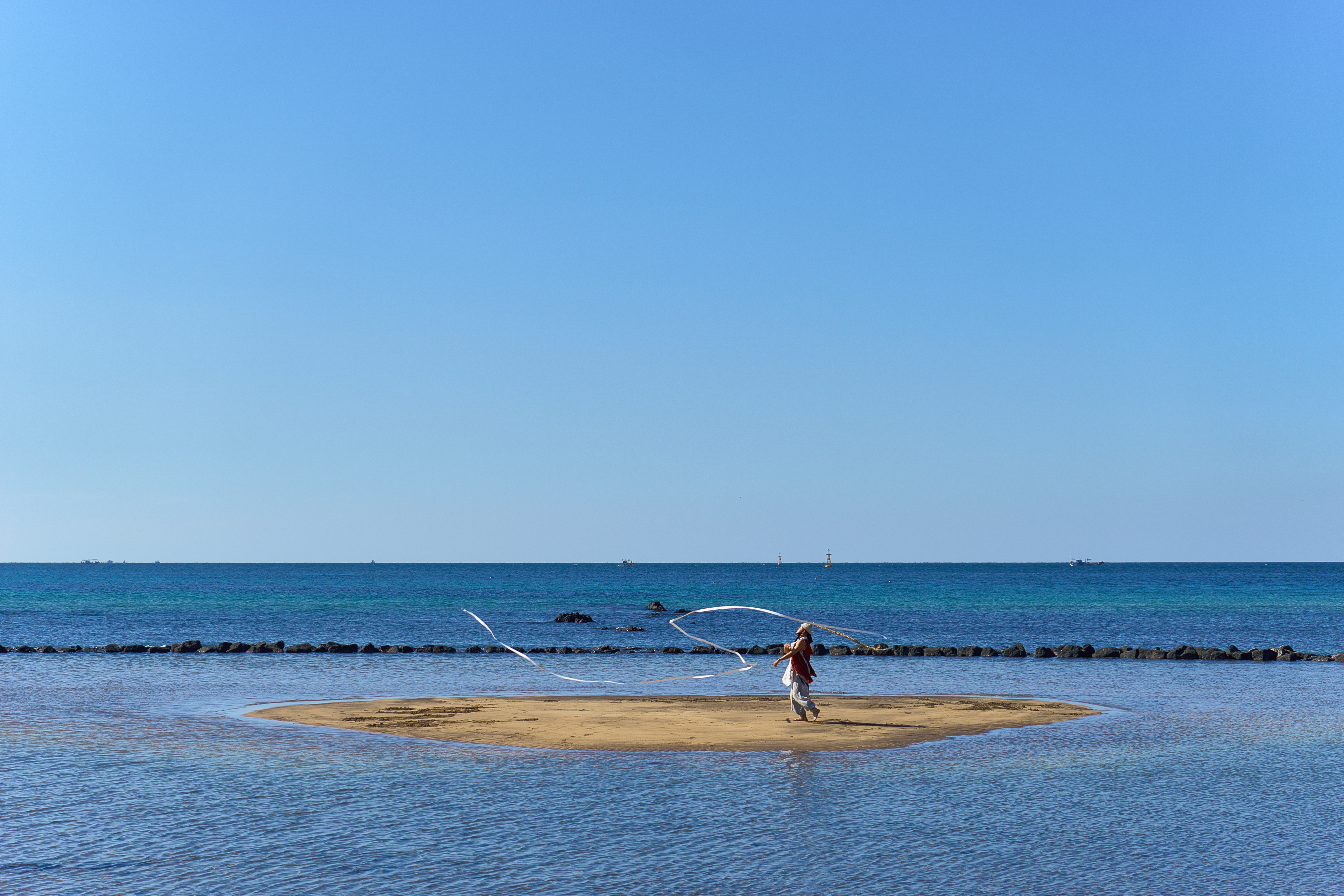 WIND, STONE AND WOMAN
Director: Kim Seongmin/Choreographer: Gilho Yang, Kim Mo Deun&Kim Misuk
South Korea 2015 14′ 20"
A white piece of thread, carried by the wind, leaves a trace in the air.A breeze of wind hovering in circles, a stone left alone on an island,The air, tinged with the scent of a woman lingering in her own place.And we, human, gather around in that place to pass down the story of our existence over and over again.