Contestants 2021
SWEDISH SELECTION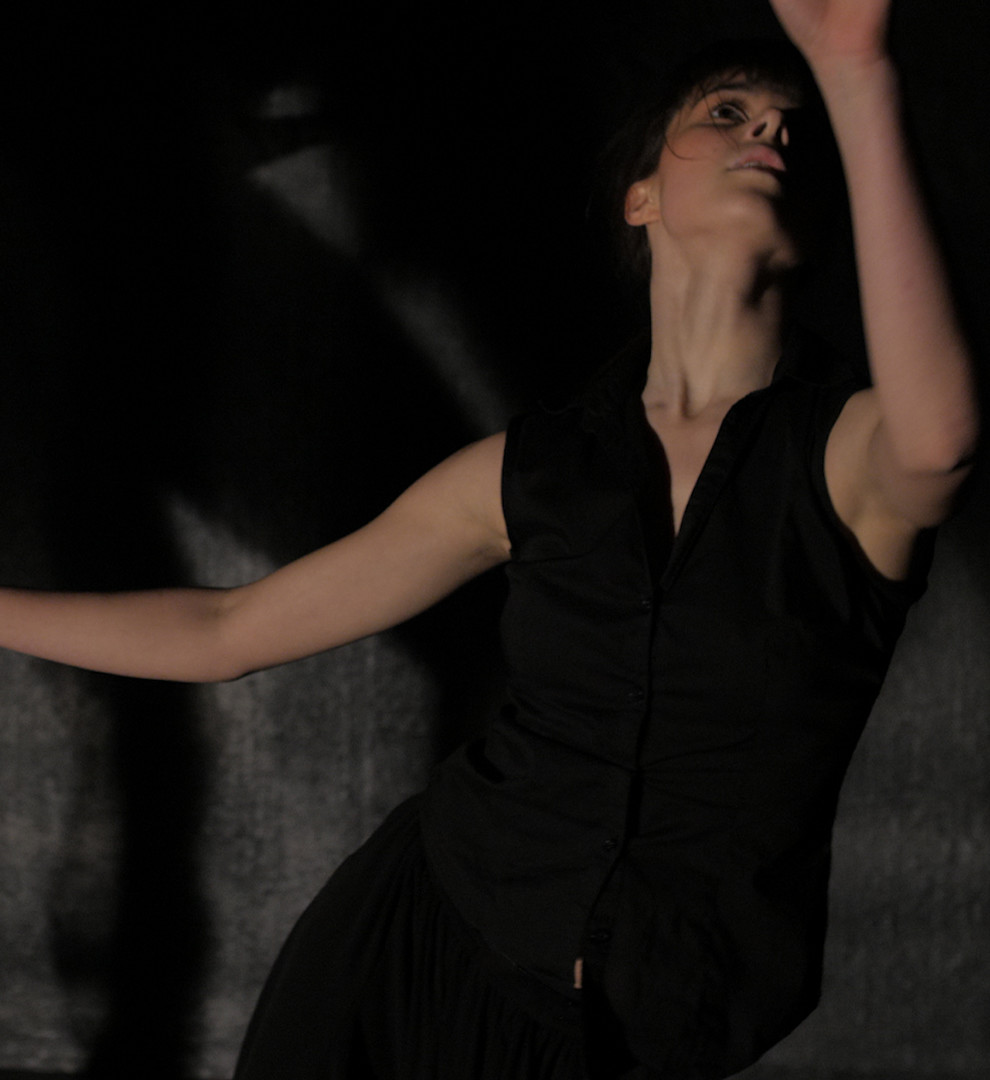 Shades – Director Madeleine Karlsson/Producer: Madeleine Karlsson & Olivia Hansson/Dancers: Sofia Calander, Tess Falk, Rebekka Haukeland, Sonia Lautenbacher, Océane L´homme, Hanae Lily, Maykel Lindström, Nathaniel Nilsson, Melissa Owen, Tahlia Paola, Noah Rengart, Ingrid Vagle, Linn Vecchiattini & Alex Öberg/Music: CoH, Alva Noto -Ryuichi Sakamoto & Frank Bretschneider.
In Shades we are invited to a place between light and dark. Embraced by dusk, perception changes and senses open up to the mysterious and unknown. Through movement of body and light interactions develop, shift, dissolve and reorganize; creating patterns that constantly moves in unpredictable and transformational ways. Stillness is overlapped by rhythmical vibrations, taking us from meditative to passionate states of being. Through touch we can start listening to the quiet, subtle inner voice of ourselves.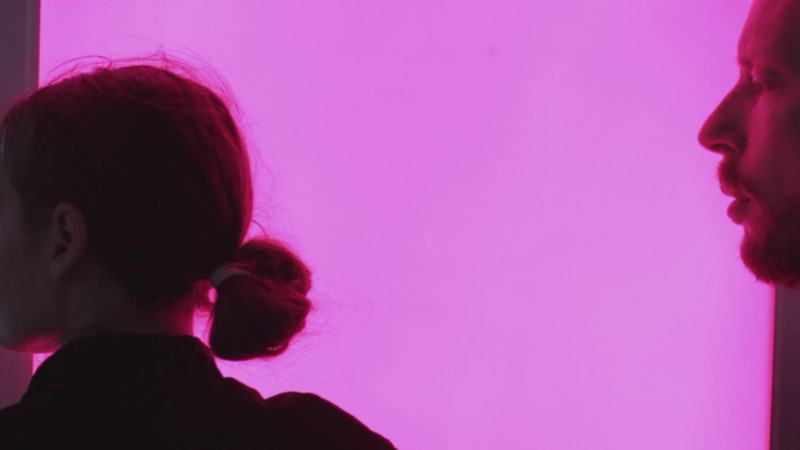 In Visible Negotiation – Directors: Iiris Laaneoks & Per Enequist/Writer: Per Enequist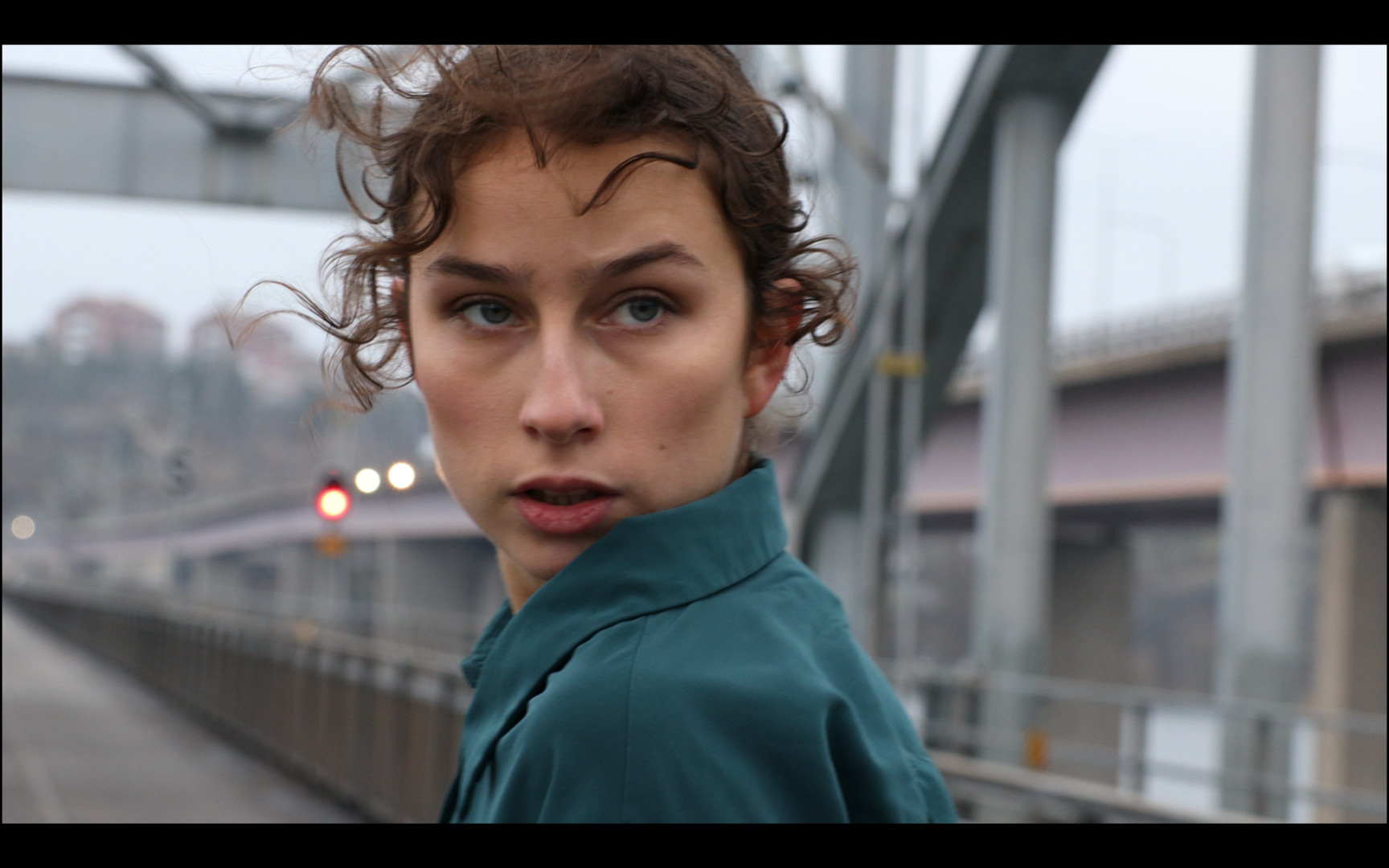 (In)separable – Director: Cameron Krogh Stone/Writer: Yubo Chen & Siri Lundh/Producers: Yubo Chen, Siri Lundh & Cameron Krogh Stone/Dancers: Panayiotis Dionysakopolous, Yubo Chen, Siri Lundh, Ulia Sikell Arnet/Music: Julia Jonas
A mosaic of encounters between strangers, lost in time, lost in space, unified by the common language of dance.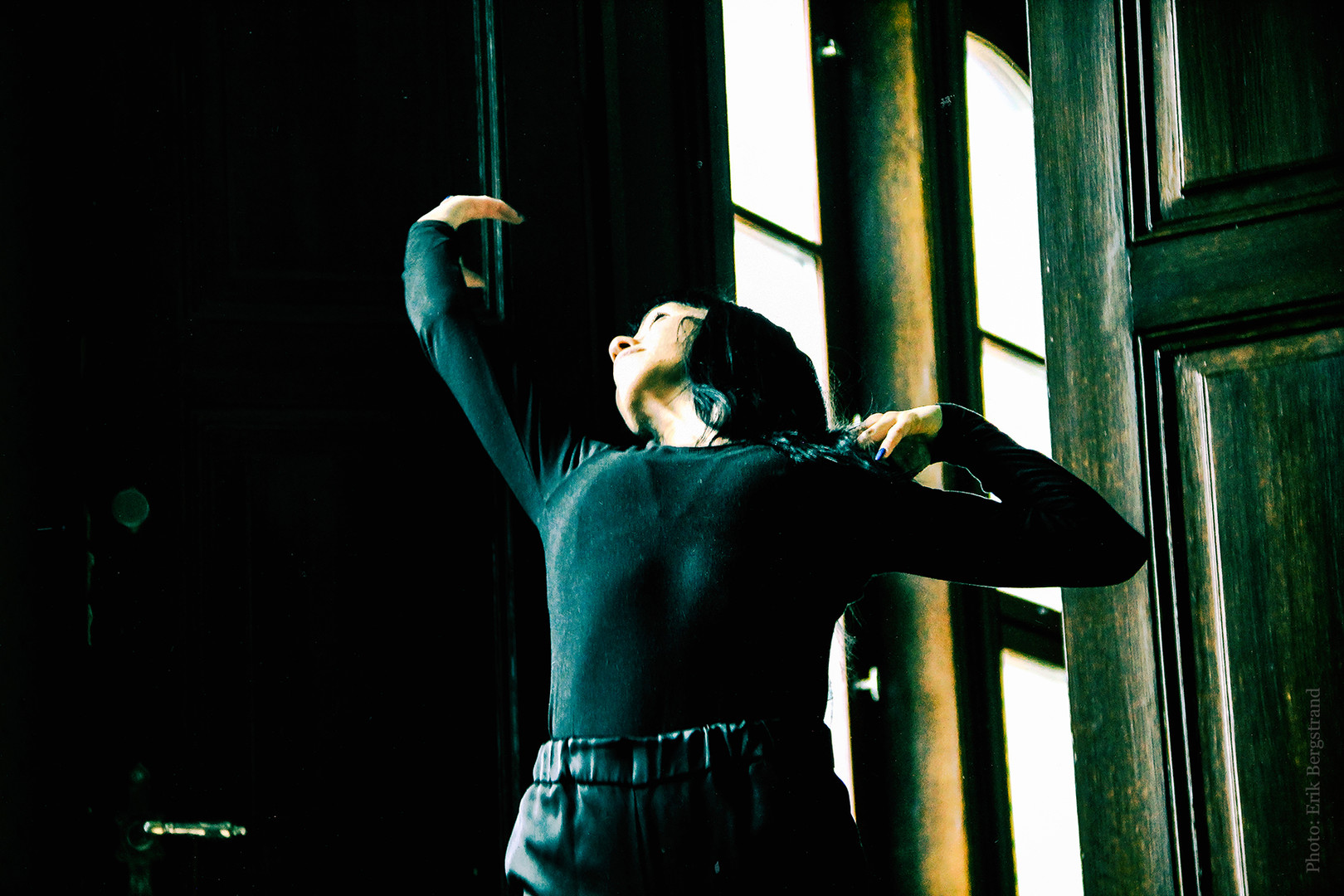 Idila – Directors: Erik Bergstrand & Milka Sakic Mennell/Dancer: Milka Sakic Mennell/Music: Martin Öhman
Alive through inner and outer movements, the film stays fluid between time and space where oxygen may not be enough.Choreographer Milka Sakic Mennell, Director and Photographer Erik Bergstrand and composer Martin Öhman take us on a collective journey through various forms of synopsis. Everything from neutralism, competition, mutualism, predation, parasitism, commensalism. Here we experience an idyll but are still left with a feeling of discomfort.
NO PHOTO
Wood – Directors: Boris Laible &
Stephanie Roser
Sometimes you discover a path without looking for it. Maybe it'll be just the one taking you on a journey into the unknown. Take that path. Let it carry you. Let time and space create themselves anew and create yourself with them. In the end the decision always lies with you. Do you stay? Return? Or journey on?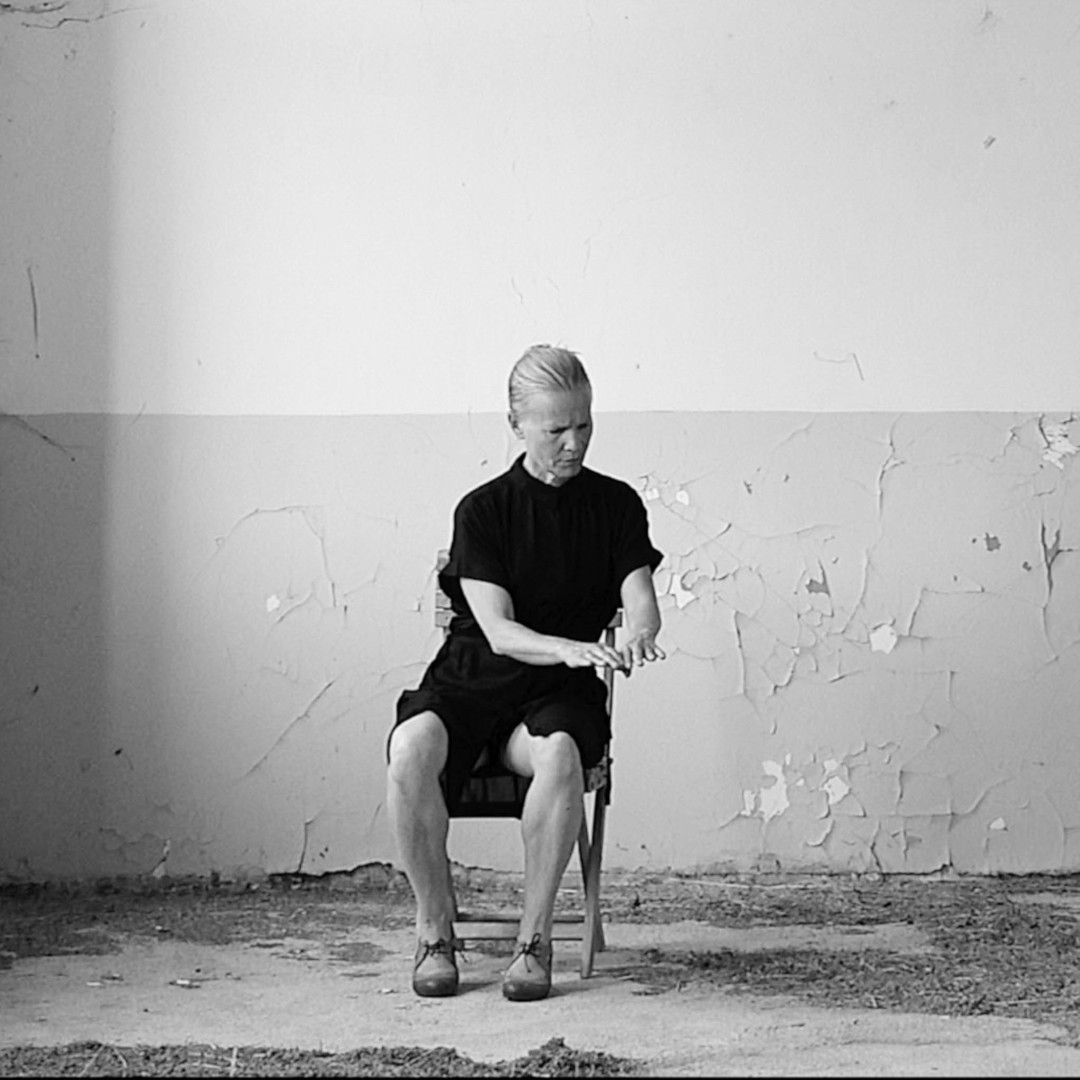 Remain – Directors: Helena Franzén & Håkan Jelk
A woman returns to her school, abandoned since many years.
What is left behind of the memories? In her dance, her memories are coming back, with sadness and joy.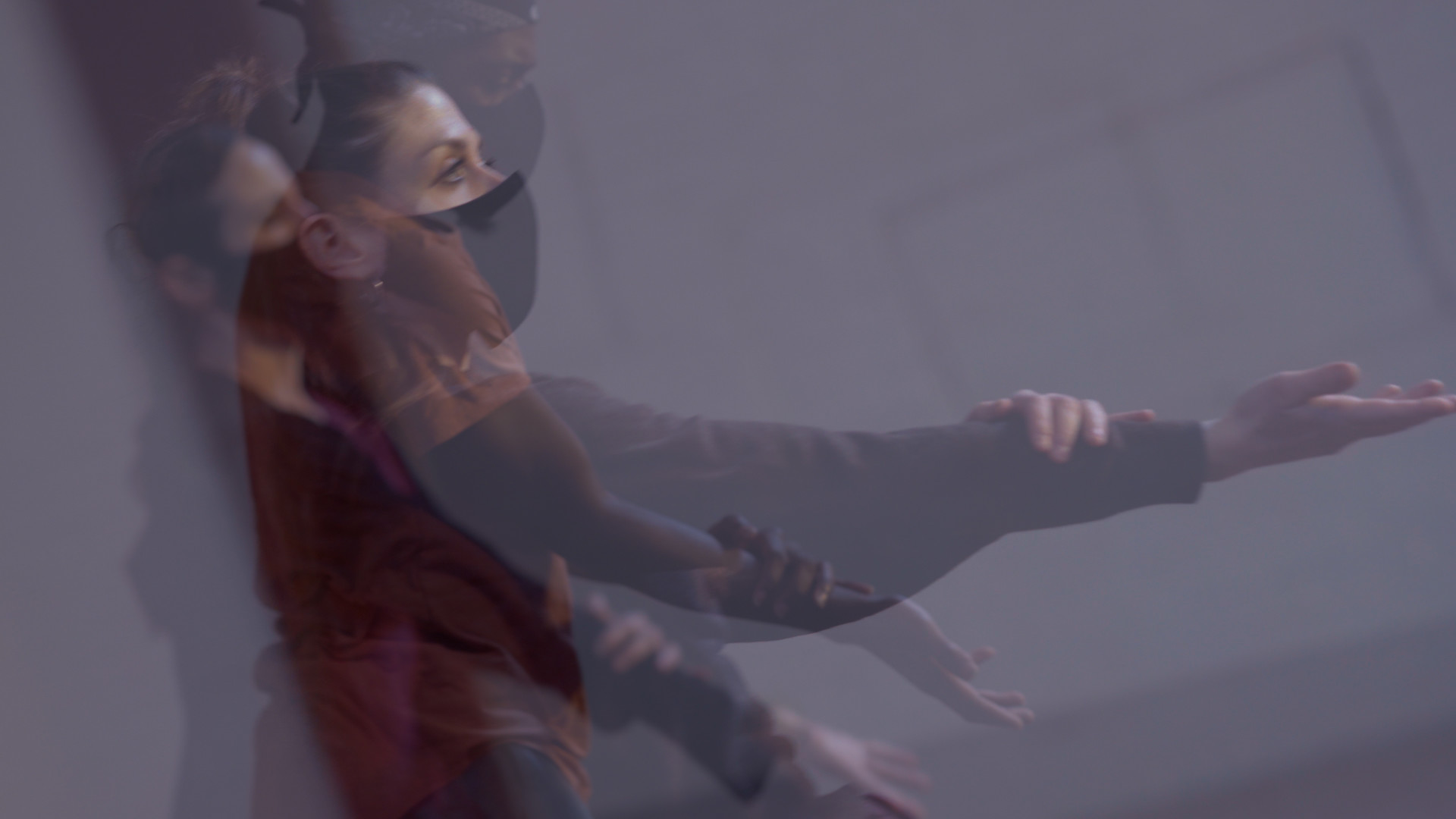 1:1 – Director Janessa Clark/Producer: Attack Theatre/Dancers: Michele de la Reza, Simon Phillips, Dane Toney, Sarah Zielinski/Composer & Sound Mixing: David Shane Smith.
Graphic by nature and interpretive by design, the title for this new work creates space to make meaning—one to one or eye to eye. It can be a mirror image, or a glance at another person. It provides a symmetry and balance for contemplation and an ambiguous chasm of spatial divide. It can be a stretch of highway traversing the long journey ahead. It can be an encounter, a barrier, a reflection.
Filmed on location at Attack Theatre's new studios space and headquarters in Pittsburgh and conceived, devised, created and captured in the difficult year of 2020, I : I is a complex web of spaces and scenes captured by cinematographer Joshua Sweeny and scored by composer David Shane Smith. In this film the viewer may find an intimate look at the performers, the journey, and perhaps themselves.
On a micro level this film explores themes of personal emergence and growth. The performers excavate experiences and memories on a journey towards new resources and ways of being.
On a macro level this film is an examination of society. We have been in a place of pain and trauma for months, years, centuries. As a people we must take a hard diagnostic look at ourselves and our past actions. This personal journey through a pandemic, systemic racism, and political divides are all stepping stones to becoming a more compassionate, inclusive world.
Close Dance – Director: Camilla Klemming & Lovisa Mattison
Winter.
Cold that penetrates and restricts the blood from warming you.
You dance alone, somehow trying to spread some heat within you, around you.
Far away a person is standing, trying to dance the pain away. Just like you.
You see each other, dance towards each other.
Are you getting warmer?
Closer.
Are we getting warmer?
People rushing by, away from the cold.
You remain, longer than ever.
You remain, closer than ever.
Is the feeling the same as before?
Now when you are close.
NO PHOTO
COMMUNION Duet # 5 – Director: Janessa Clark/Dancers: Gesine Moog (Stockholm, Sweden) & Yutaka Nakata (Lille, France)/Composer: David Shane Smith
Communion is an experimental videoart response to the isolation and uncertainty we are all facing as artists and humans in the wake of the Covid-19 crisis. Because dancers can no longer breathe together, touch, or share the experience of movement within the physical studio, communion invites pairs of dancers, separated by physical distance and the pandemic, into a digital space to commune together.
Each unique duet is created from videos by two different dancers who are separated by distance. Artist Janessa Clark combines these videos to create a duet which is set to music donated by a composer who is also working remotely. The project will continue to develop over the coming months, even as the Covid-19 lockdowns subside, and will include more dancers and composers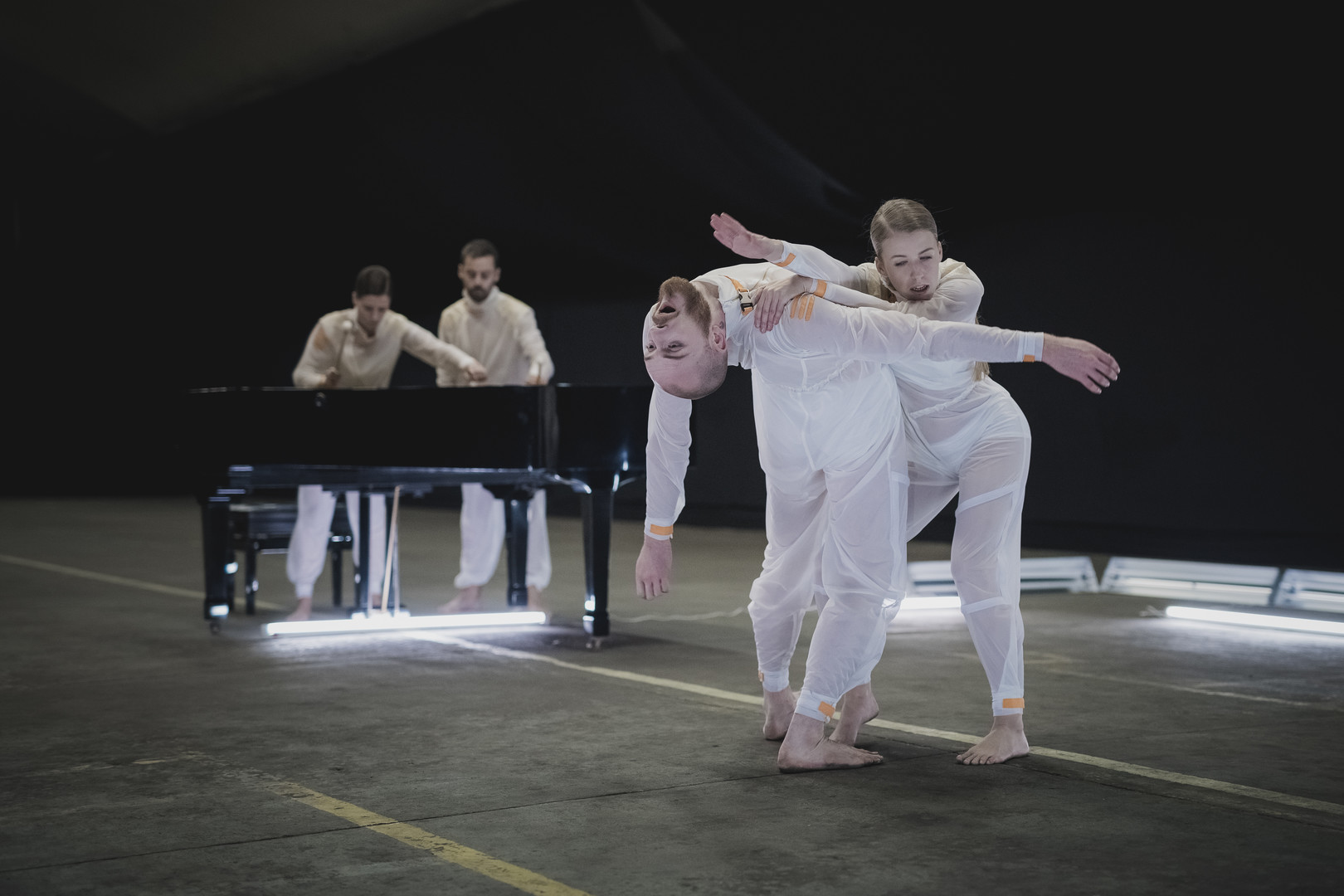 4 – Director: Mariana Palacios & Adrián del Arroyo/Producers: Mariana Palacios& Stream Movement/Choreography: Adrián del Arroyo/Dancers: Juan J. Ochoa, Sabine Groenendjik & Benjamin Behrends/Music: Mariana Palacios & Juan J Ochoa
4 is an experimental short film featuring music & dance that brings the audience to a research space to identify the source of balance and proportions in the combined art forms. Two pianists and two dancers travel together in a retro-futuristic quest for knowledge through pulse and rhythm, creating a progressive and hypnotic piece, and placing the piano as a common operating table for their interaction. The music features extended piano techniques in an intense, minimalist score.
NO PHOTO
Poká (Meanwhile) – Directors: Johan Kuurne, Minna Elif Wendin & Patrick Rydman/Dancer: Minna Elif Wendin/Composer: Patrick Rydman
In a wild and ancient forest, immersed in fleeting emotions, a mix between movement, sound and imagery emerges. Пока is a short film exploring the choreographic possibilities of fiction, while asking questions about fear as a driving force.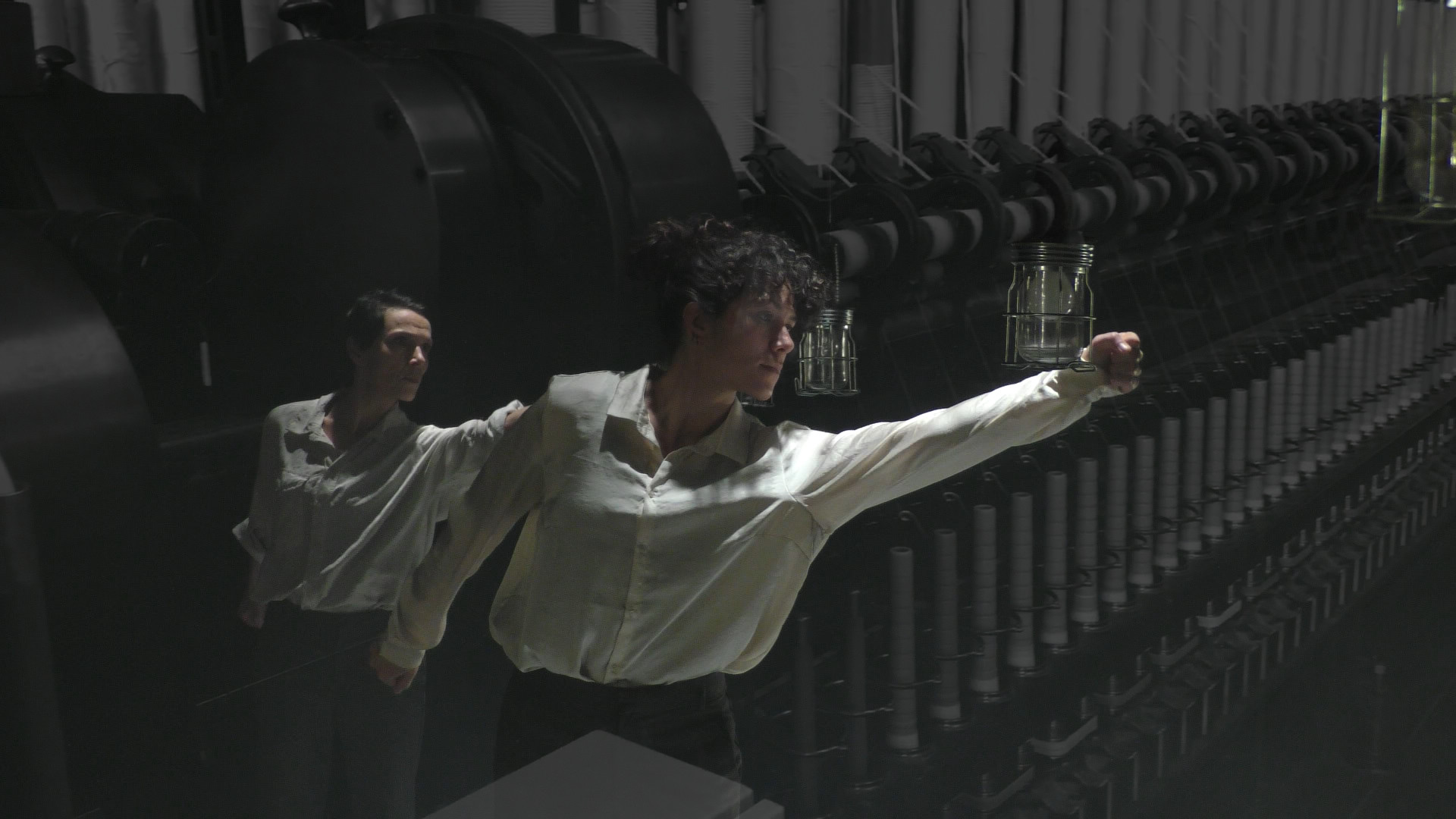 Laterland – Director Benedikte Esperi
A site specific contemporary dance and performance concept – transformed for camera – intertwined with public sites, exploring human behavior, history and current political and philosophical topics.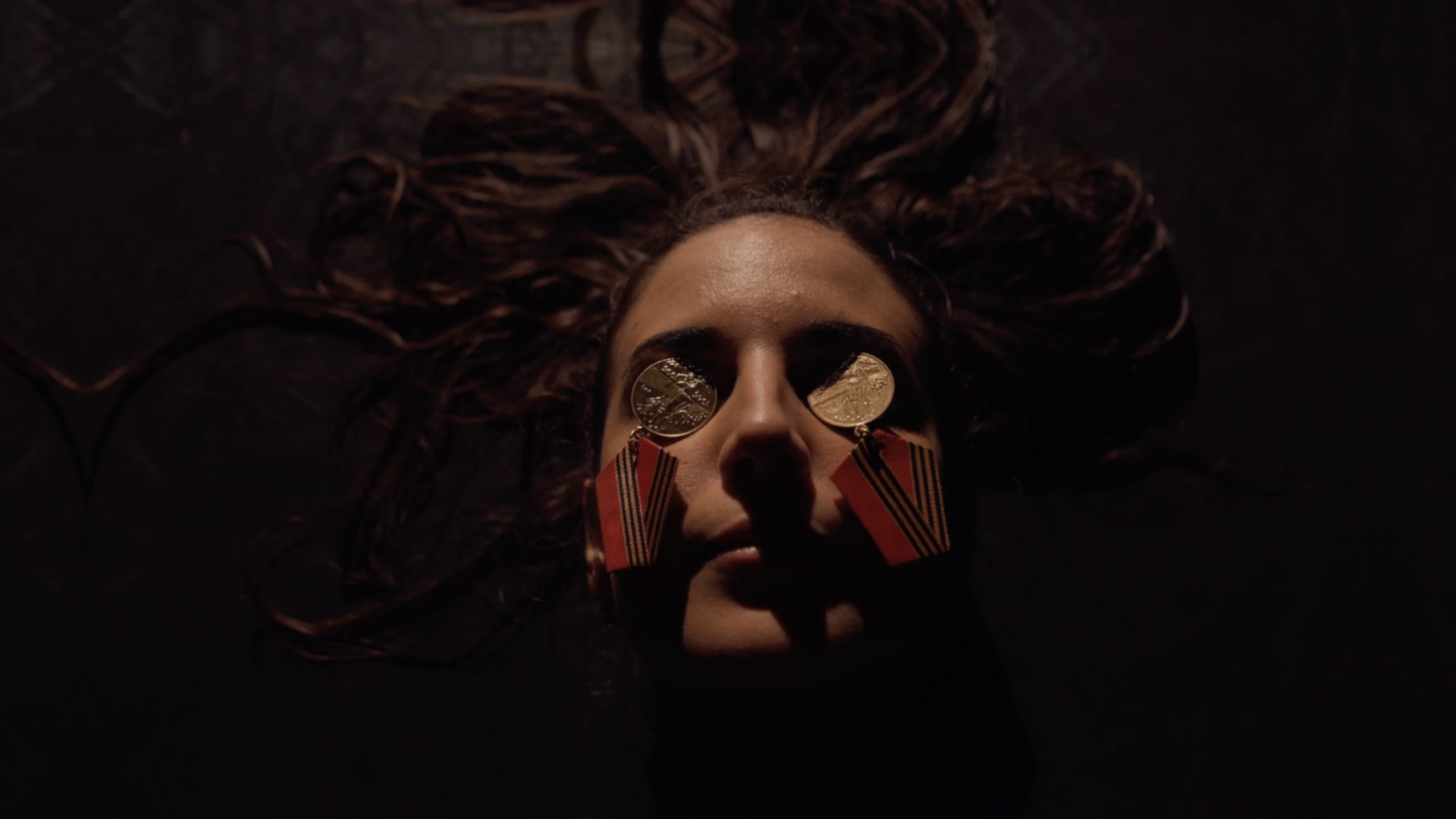 "ARTIST" – Director Max Zachrisson/Dancers: Malcolm Sutherland, Marina Sánchez Garrigós & Stefanie Pechtl/Choreography: Malcolm Sutherland
Have I made it yet? You've exposed yourself, you're vulnerable, you're on a slippery slope to nowhere in pursuit of someone else's vision of success. Your adoring fans exist only within this hollow, self-made shell of illusion. Have I made it now? You're in a constant state of bombardment and the more you try, the more you receive it. How about now? You're scared, so procrastinate a little more, distract yourself with other things. I must make it. You laugh and cry about it, a dog never catches it's tail you know. Have I made it yet?
NO PHOTO
Trin – Director: Amanda Arin/Dancers: Amanda Arin, Pauline Eddeborn & Jonna Hökengren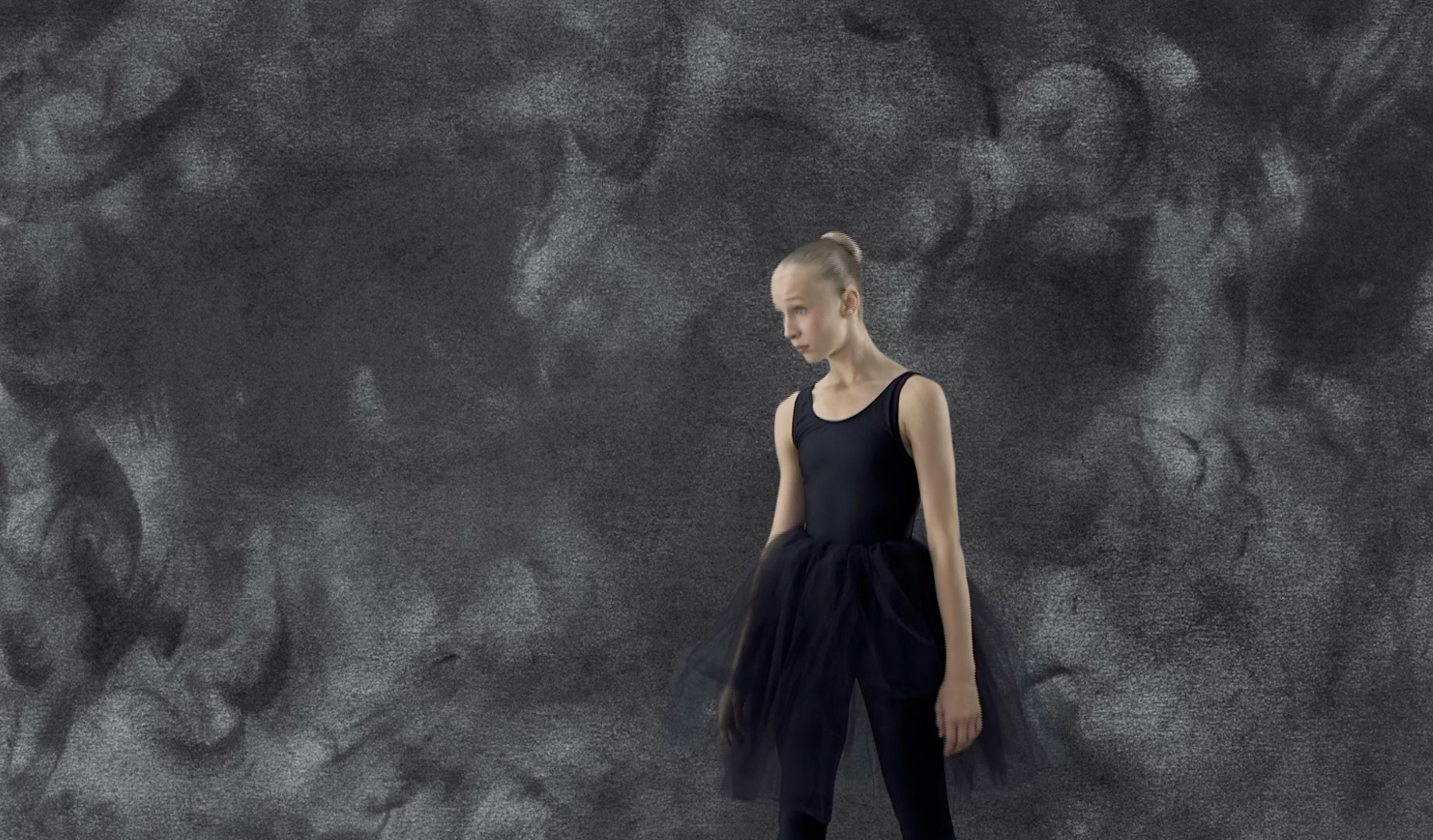 Tic tac 0,2 – Director Anna Persson/Dancer: Betty Svensson
The film TIC TAC 0.2 shows a young ballet dancer who is caught between the controlled and the uncontrolled movements. In both tics and dance exercises, there is an inherent repetition that is very energy-intensive and requires a great deal of focus and not least concentration to dampen or perform.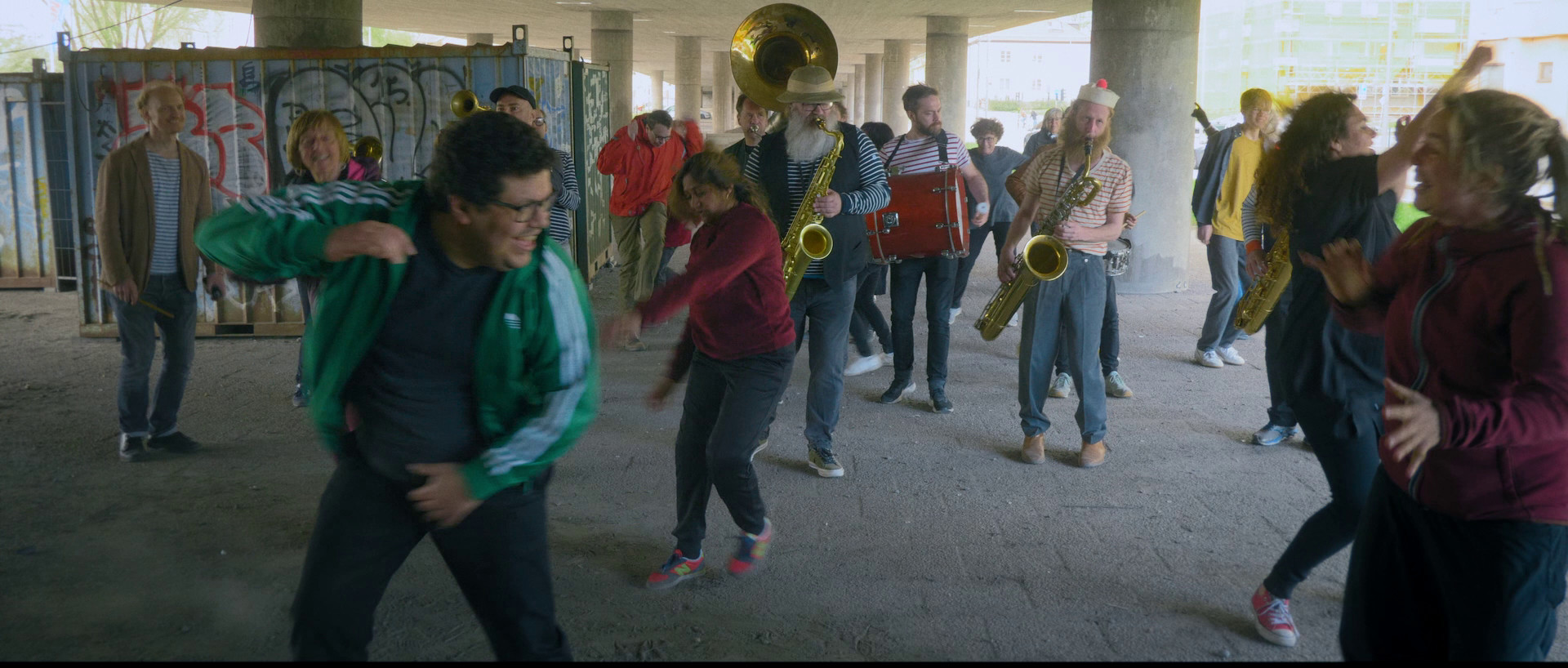 Don't Give Up – Director Janne Tavares/Performers: Eric Stern, Maia Hansson Bergqvist & Lucas Krüger
Three climate depressed parents meet dancing musicians, and learn the joy in taking action.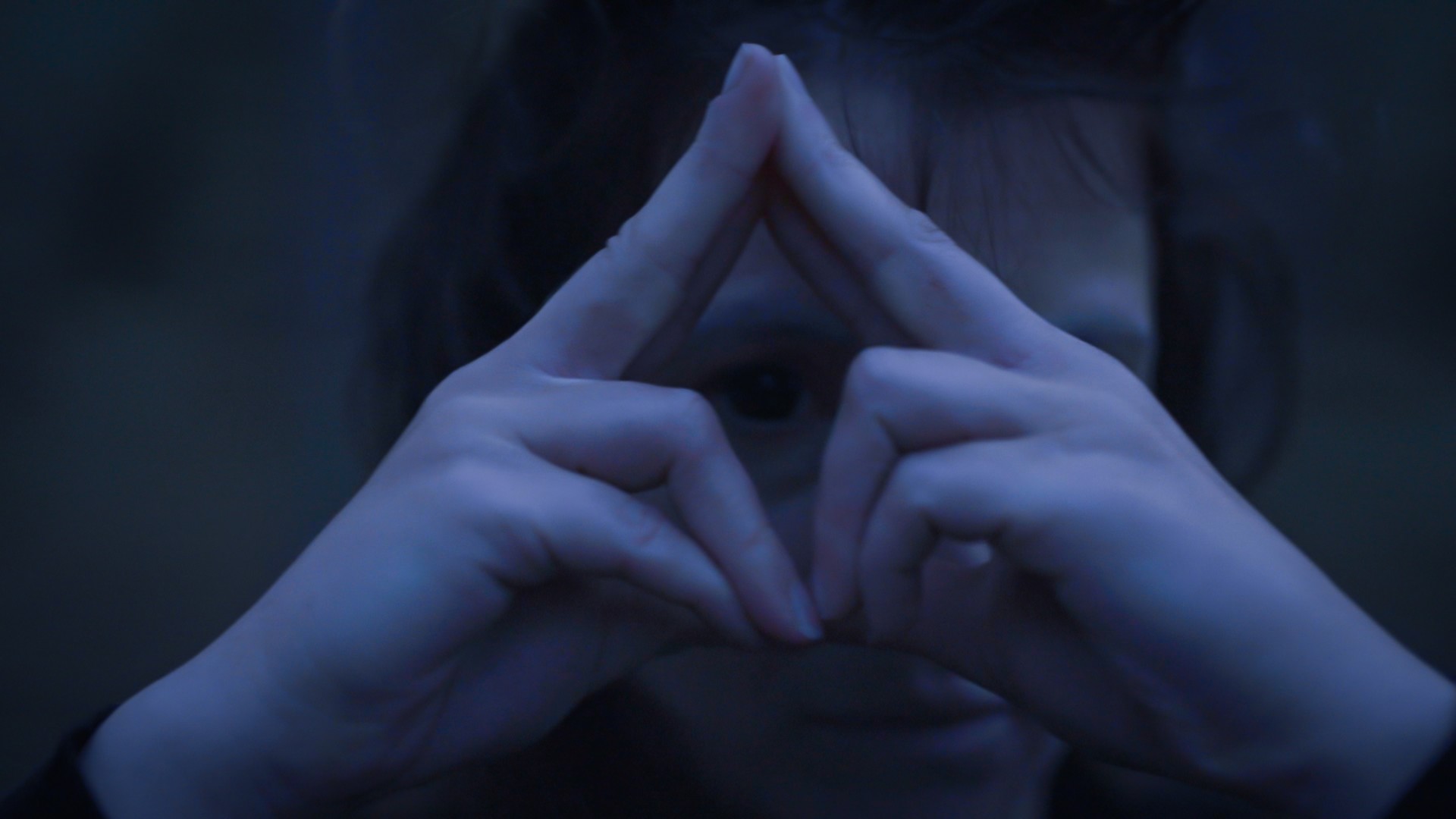 Clench – Director: Emelie Boman/Performers: Ingrid Sandström, Alessia Nylund & Emelie Boman
In this dark thriller a new genre is emerging where horror meets dance film, interlaced and exciting, in way that you probably never have seen before. When Lova doesn't come back from her bicycle ride her mother goes out looking for her. What she finds in the dark forest is far from what she could ever imagine. The search for her daughter quickly turns into a nightmare.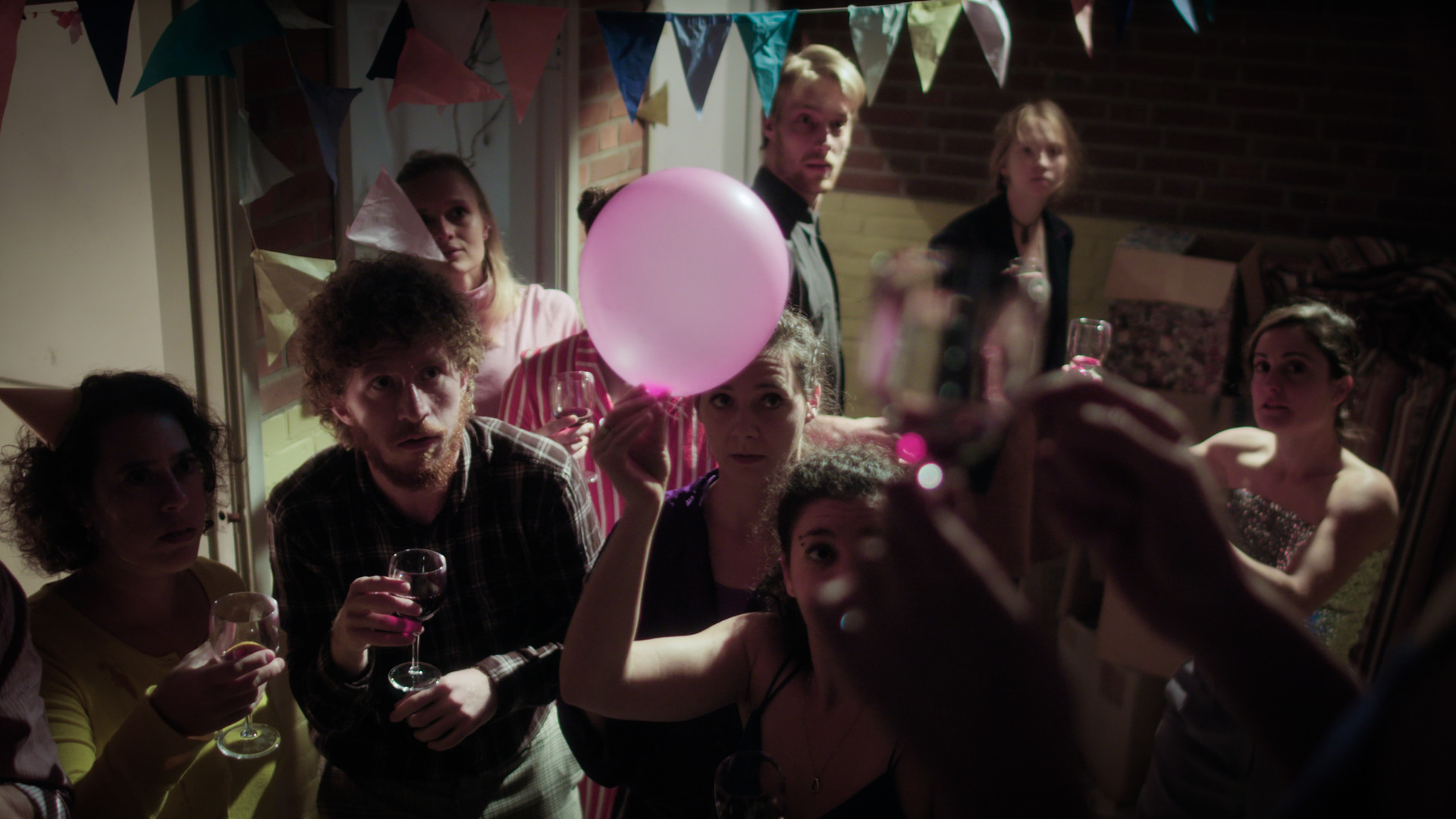 Dear tree, please don't spill on our grave – Director: Jonne Covers/Dancers: Julia Heider, Jurgen Hierck, Daan Jaartsveld, Alkis Barbas, Tijmen Teunissen, Nienke Morren, Fernanda Silva, Hellen Boyko, Noa Simons, Merel Franx, Aida Guirro Salinas & Kim Tuerlings/Music: Thomas Jaspers & Jort Terwijn
'Dear tree, please don't spill on our grave.' tells a short story about the history of humankind. In an attempt to make sense of it all, the film origins from a somewhat dry research to 'how did we get here?' and 'what is that 'here' anyway?'. Of course this lead to nothing but more questions. So here is a clunky film about adventurous Anna, who lives in a toilet, and who accidentally throws herself a surprise party.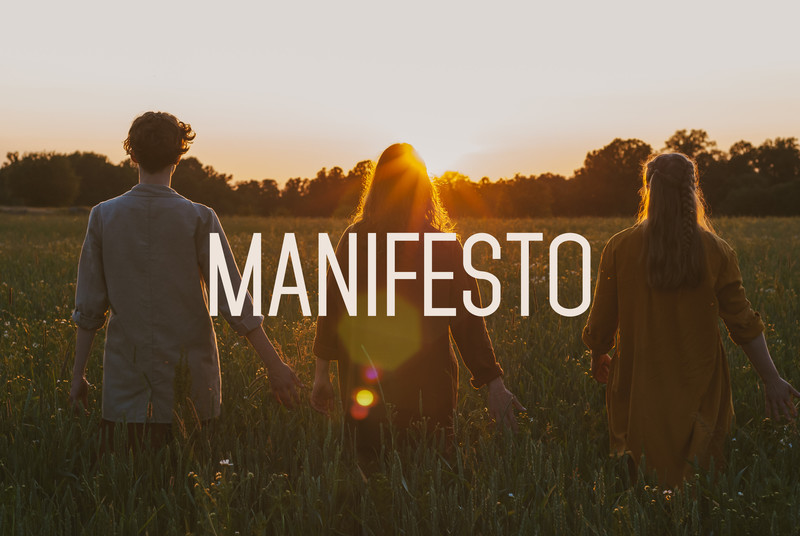 Manifesto – Director: Ana García Diego/Producer: Film i Öst & Ana García Diego/Dancers: Sosso Harryson, Matilda Larsson & Ana García Diego
This film wants to inspire people to bring back whats essential in life. "Manifesto" invite us to see human life as part of nature, and not detached from it, rising and evolving from the support of our roots. "This is our story. That of an ancient land. That of the castle and the oak. And the wheat bathed in sweat of humble people that rejoice the soul with a simple song". This film stands for women empowerment and cultural integration.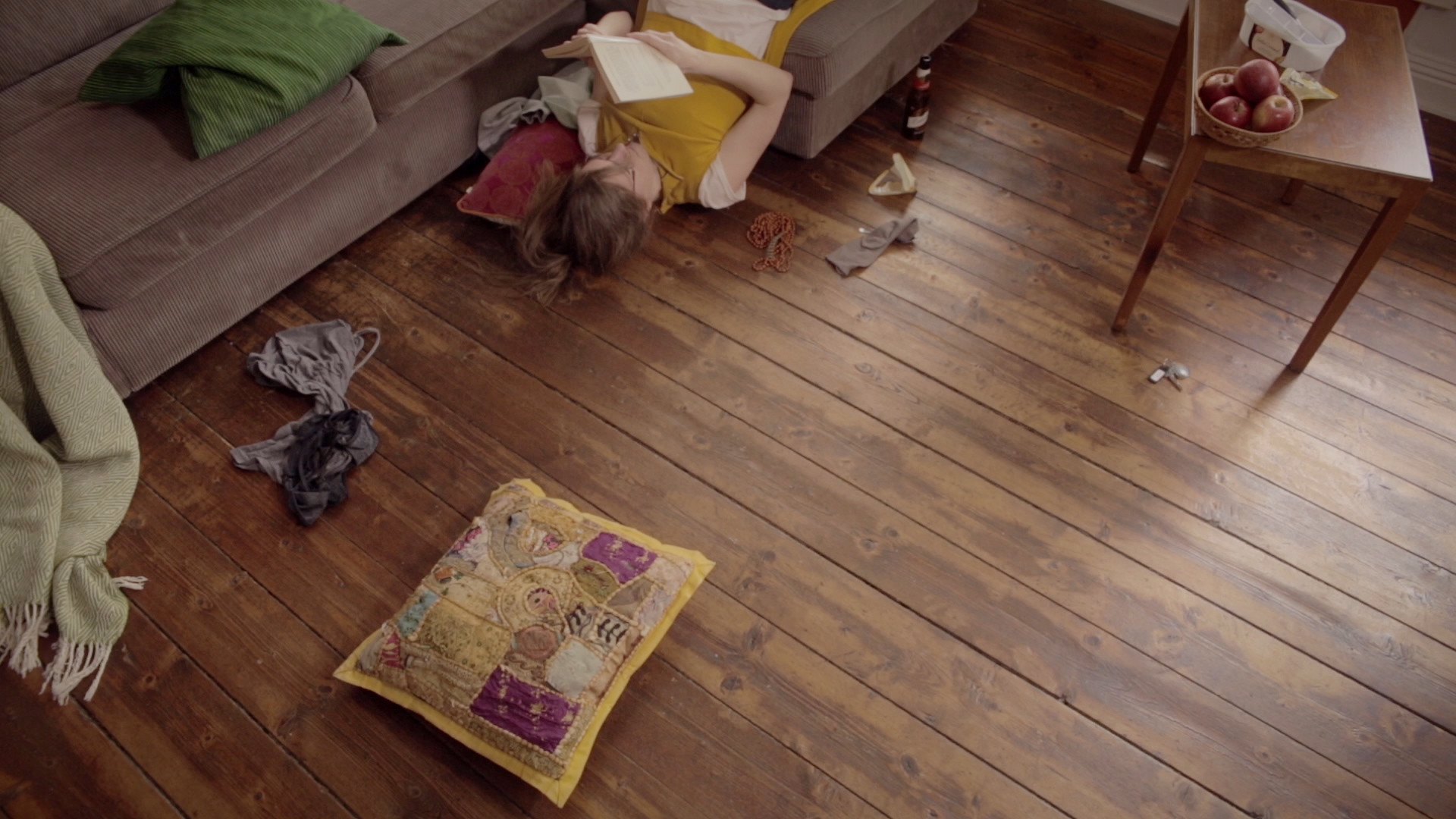 7 Steps to Inner Peace – Director: Mervi Junkkonen, Zala Pezdir
A woman is tired of her daily chores and decides to seek inner peace through a seven step program – a crash course in happiness.
INTERNATIONAL SELECTION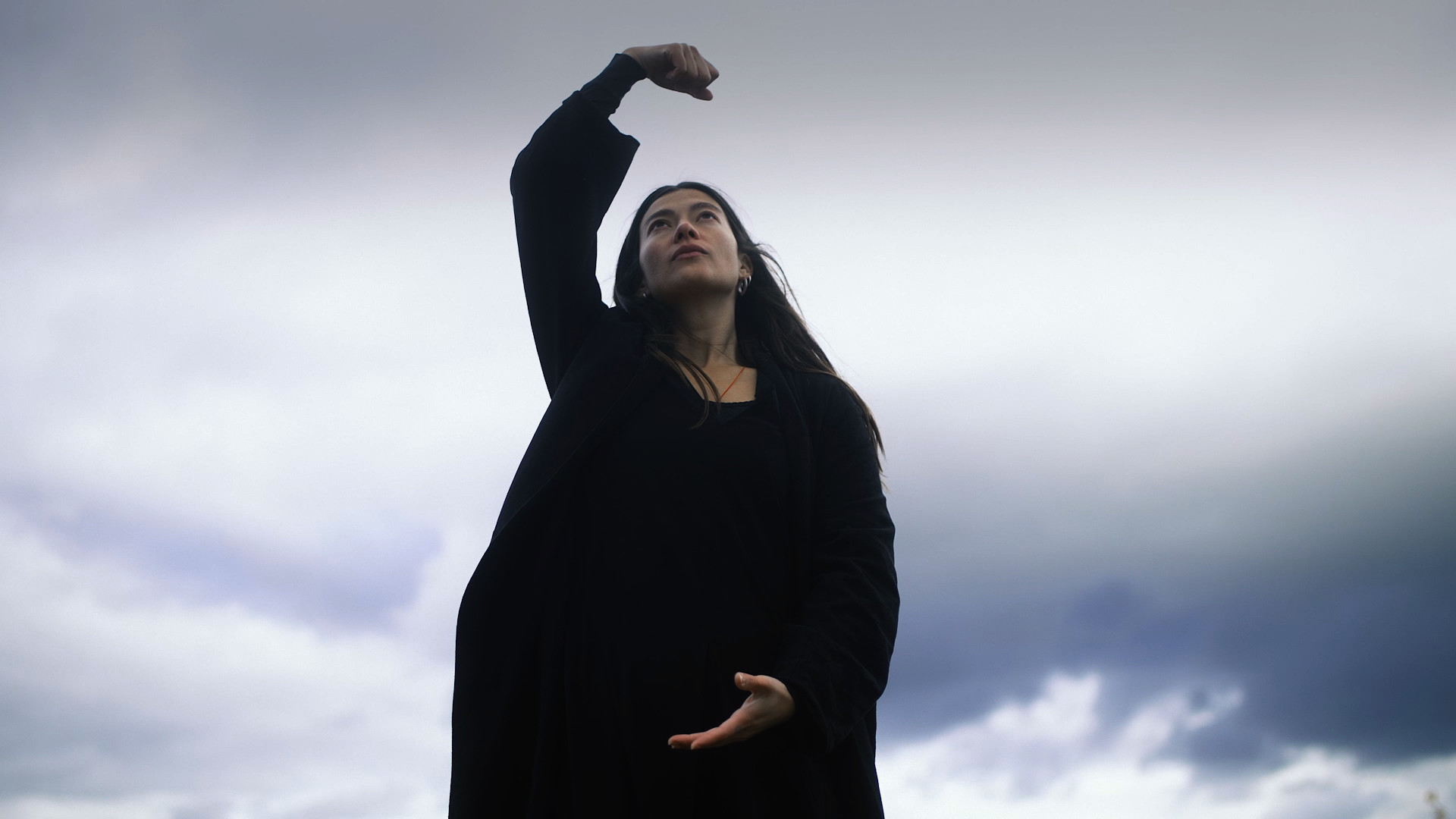 The Soft Bit – Director: Jana Irmert/Dancer: Lingji Hon
Two hands bend up, slowly at first, then sharply, as if directing the ground to lift. Up and down again, up and down. The sky hangs motionless and grey. A fist stretches up in slow motion, all tension centered overhead. Gushes hit the earth, sudden, cut off, they repeat. Like soft wings pushing against the air's resistance, arms widen and draw circles into the liquid. Waves pull through water.
With The Soft Bit, Jana Irmert explores movement, sound and image in a cinematic way. Connecting the internal and the external, the fragmented and the whole, Lingji Hon's captivating Taiji quan inspired performance forms the gravitational center, pulling the camera towards her. While Jana Irmert's atmospheric music leads the viewer into an unknown world, the imagery is embraced by an experimental montage that plays by its own rules – revealing the interconnectness of all elements.
GERMANY 2021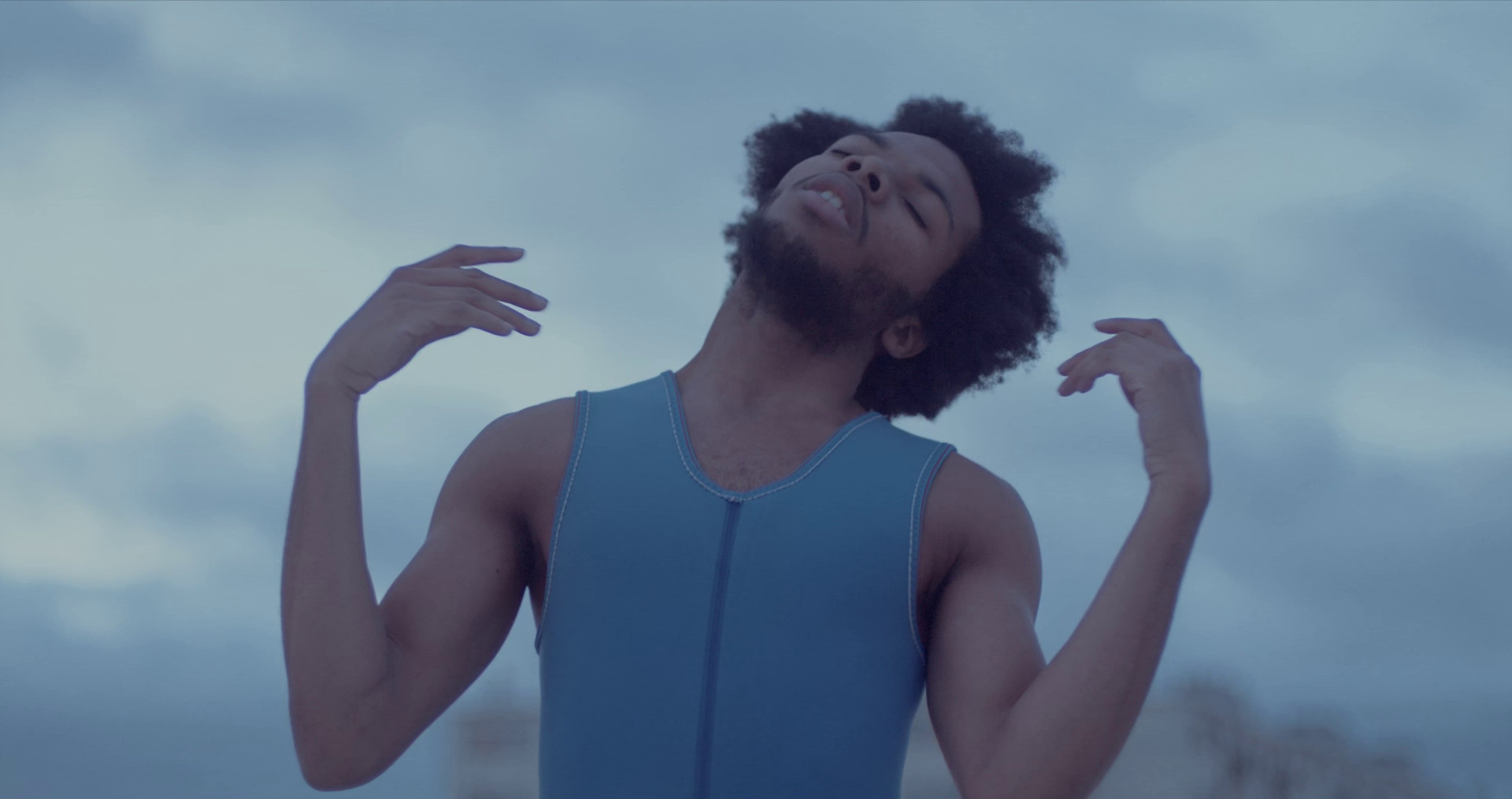 Respite – Director: Anatole Chartier/Dancer: Stanley Menthor
A young man, oppressed by the density of the city, decides to flee. He finds himself in a clear, calm space. He starts dancing, more and more intensely. Little by little, the sea will join the dance, sonically, accompanying his movements. After a crescendo ascent, close to trance, we will find him far away from urban buildings, in a clear, liberated aquatic setting.
FRANCE 2021
NO PHOTO
Soliloquy – Director: María Mayoral Moreno/Dancers: Johan Axel Del Castillo, Aura Vargas, Isabel Garrido, Alexandro Cadena, Fátima Monreal & Emmanuel Martínez
MEXICO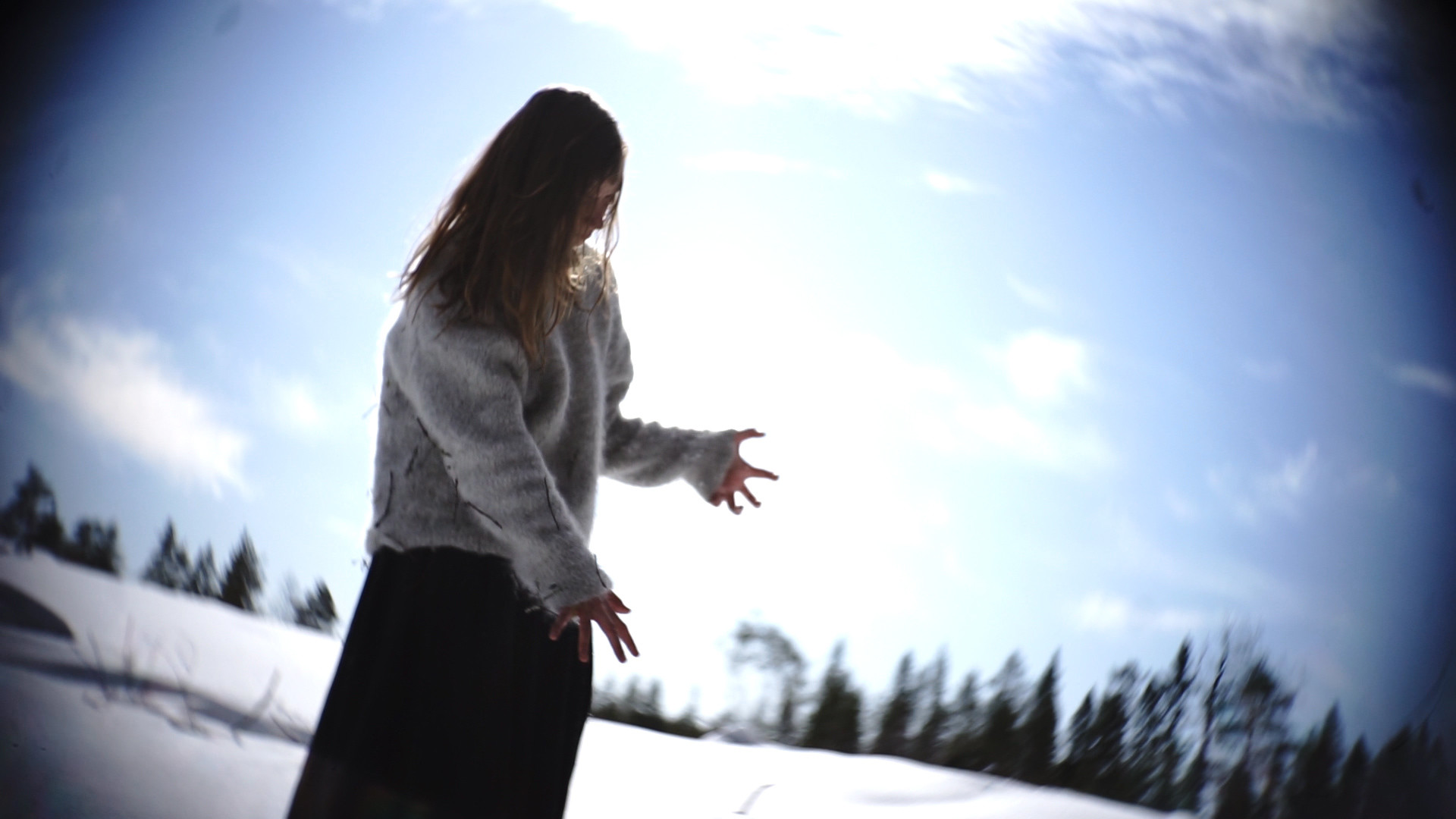 Kai puu – Directors: Maria Laitila & Marja Haapakangas
Kai puu is one of the dance videos in the project The Shape of Nature. This is a journey of two artists looking for places with an impact that makes you stop and makes you understand the longing for nature. Kai puu is a speech for and of nature.
Kai puu was filmed in March 2020 in the heartland of Martimo, near the Martimo River. While riverside skiing, the gaze drifted to the stumps which peeked under the snow cover and to the area of loggings, which glowed white in the light of spring.
Invitation by the stump was strong and demanding.
Kai puu brings out the story of the tree in its own way. It is a description of the journey, cycle and connection of the forest and humans. On the other hand, about human activity and the traces it leaves. The artwork reaches under the soil and snow cover, where there is already a new seed sprouting. New growth is under the barrenness waiting for the first contact of light and warmness.
FINLAND 2021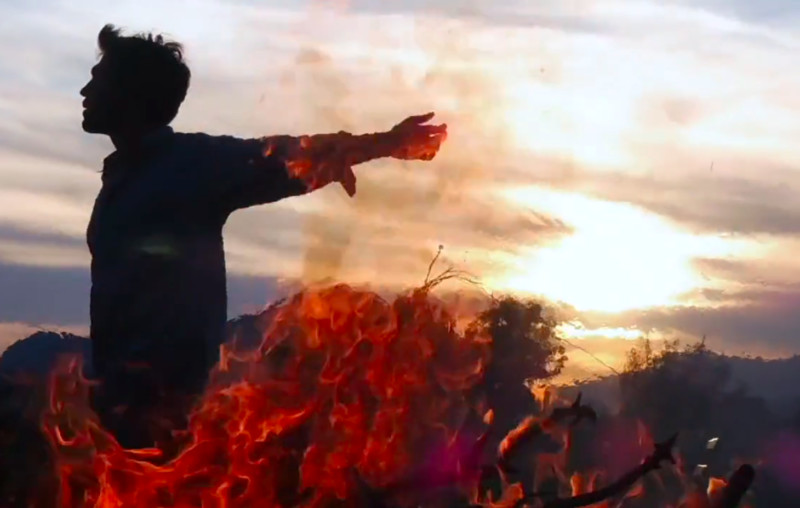 Time Flies – Director: Maëlle Poésy/Dancers: Romain Bertet & Clémence Poésy/Music: Samuel Favart-Mikcha
A man dances, alone, in a landscape buried under the sun, amongst dead cars, performing in the midst of flames.
Wandering in a time gap where seconds and centuries collide, the viewer witnesses an end of time, a burning era going up in smoke.
The voice over is declaiming quotes of Orlando, by Virginia Woolf. It's a woman's voice, Clémence Poésy's, going along as a narrative thread,
leading the spectator during this performance.
FRANCE 2020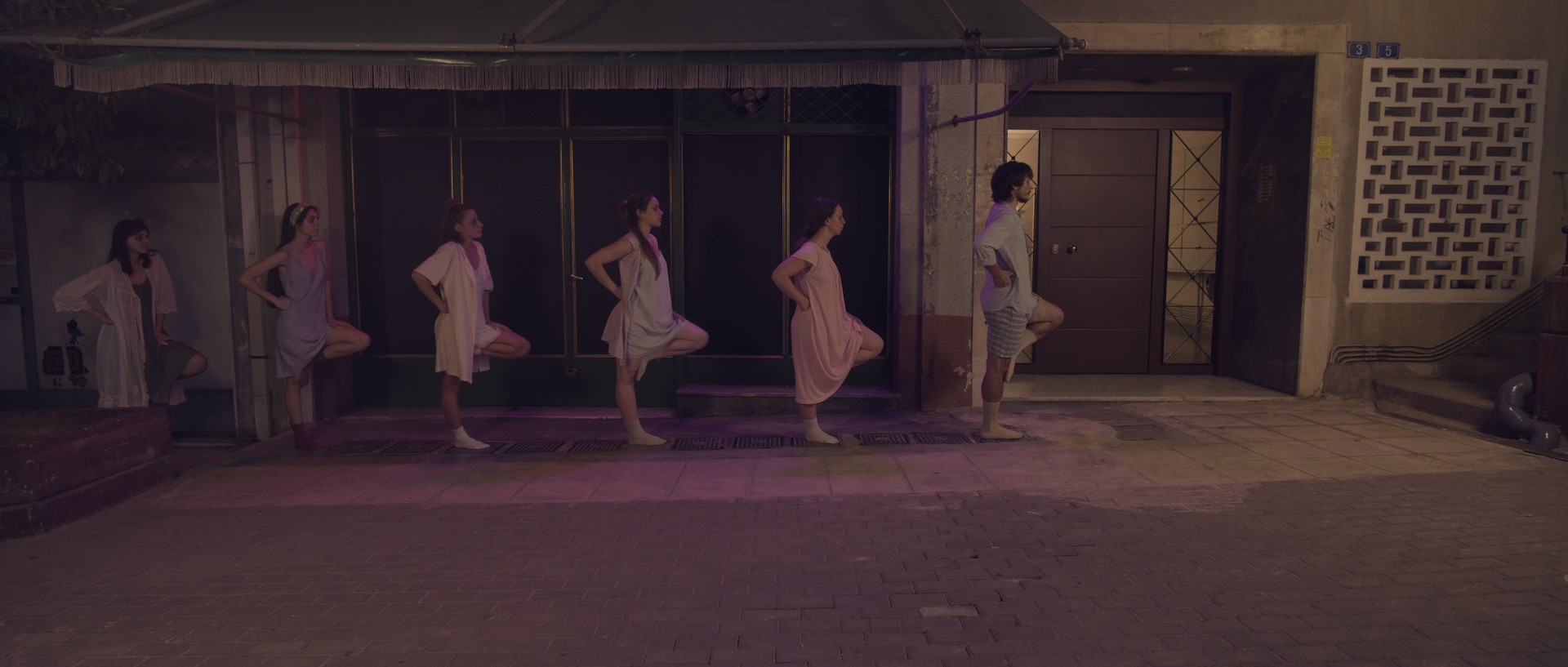 safe sLEEPING – Director: Alexandros Nouskas Varelas
Athens is asleep. Her people follow what is written, in silence, all alone. They stand outside supermarkets, banks, cemeteries, their homes. They are waiting for space to empty, waiting for everyone to be safe.
GREECE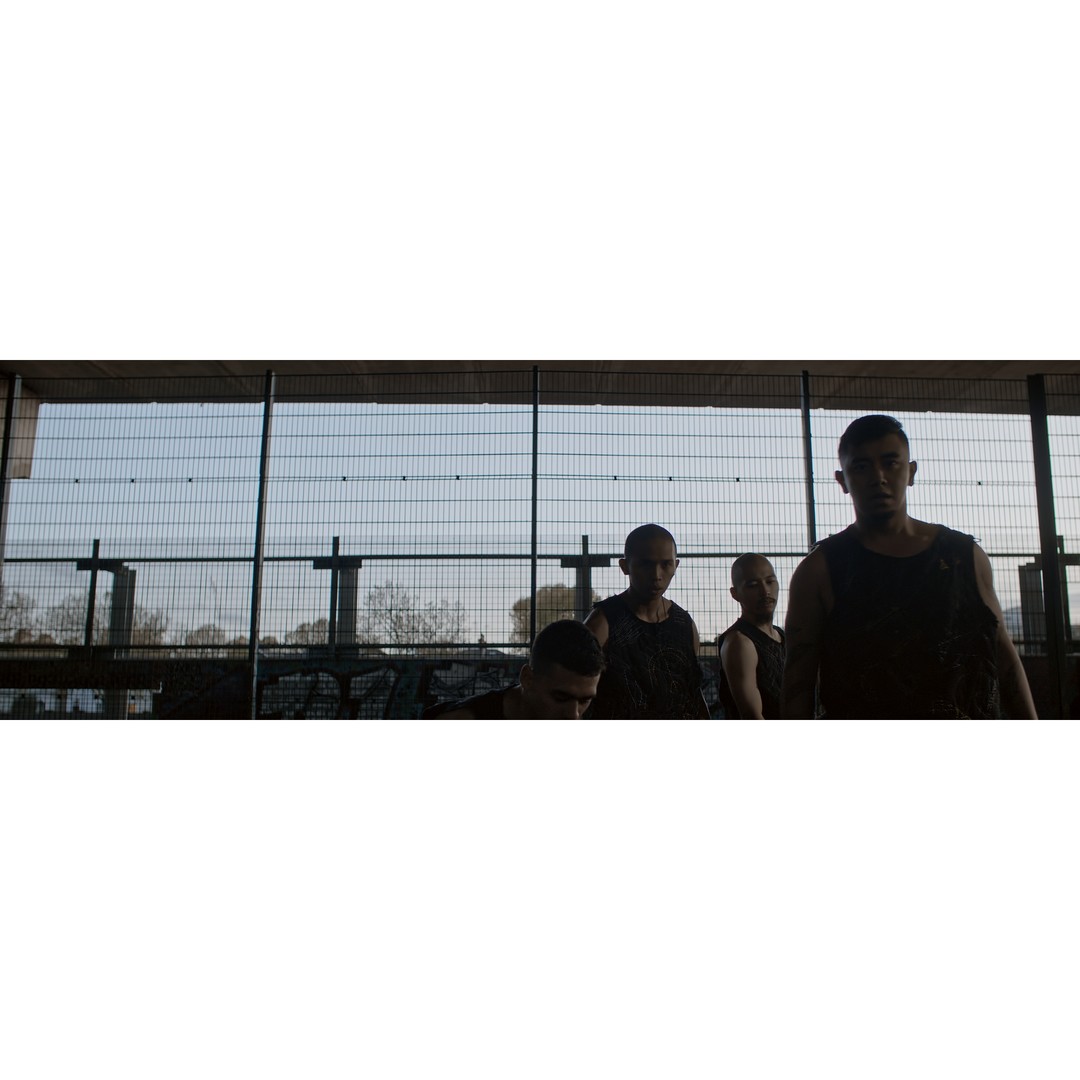 Ina Ama – Director: Omari 'Motion' Carter/Producer: The Motion Dance Collective/Choreographer: Jason Mabana
'Ina Ama' is a dance-film choreographed by Jason Mabana and directed by Omari 'Motion' Carter. The work brings Filipino culture, bodies and heritage to the forefront. From Tinikling and The Bayanihan Spirit, to family, mental health and bonding, this adaptation for screen, in collaboration with The Motion Dance Collective and directed by Omari 'Motion' Carter, allows the viewer to experience an innovative work that illustrates Filipino cultural relativism through dance.
UK 2020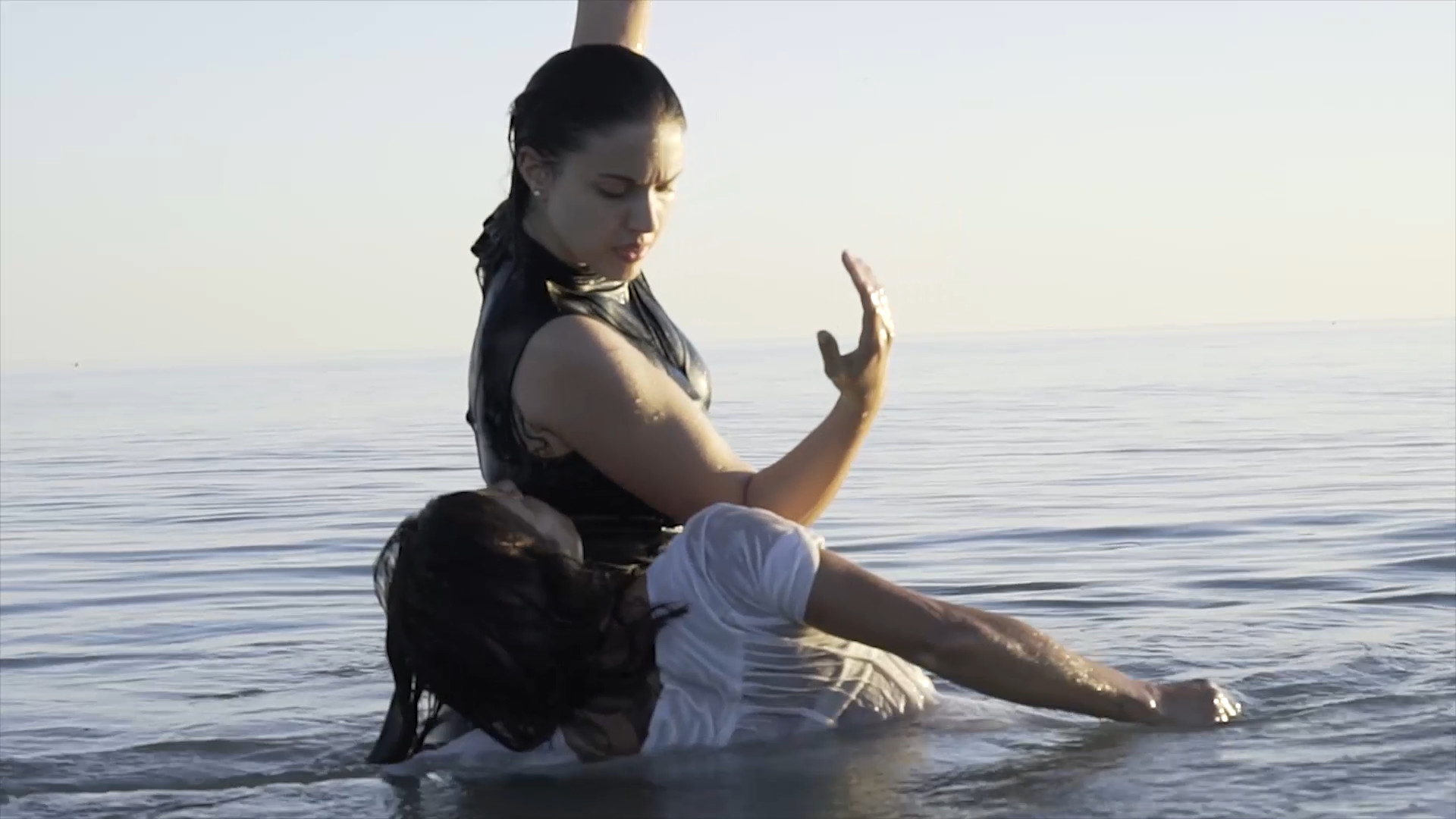 Fühlen – Directors: Giovanni Marinelli & Michele Redigolo/Dancers: Giovanna Pesce & Beatrice Bonadio
Breathe in, listen.
It's a deaf movement that marks the time involuntarily; a wave that generates and separates.
Hold your breath.
Sing.
It's a heavy sound that resists any force. A thought that cancels and unites everything.
The body is just a weight that the wind supports.
The heart is a boring machine. In spite of that, life is in them, flows back as a wave, abandons itself and returns.
Leaning unstable against nothing, of which our feeling is made.
Fühlen
ITALY 2021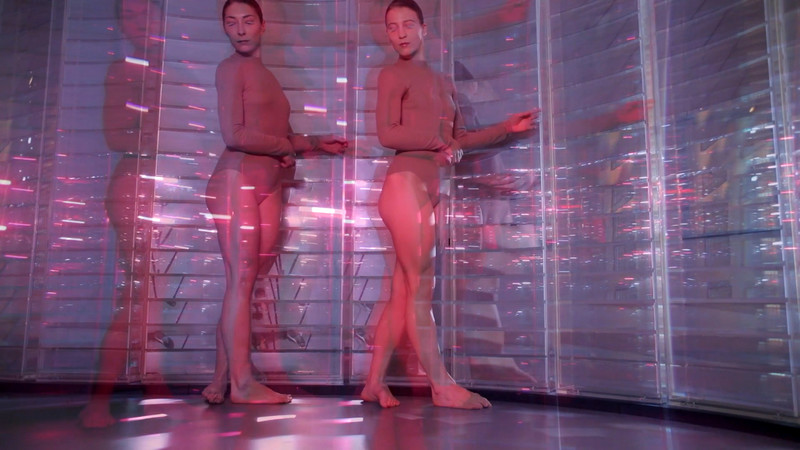 LICHTBLICKE – SPIEGELUNGEN – Directors: Denislav Kanev, James Sutherland & Zachary Chant/Producer:
De-Da Productions
/Dancers: Camilla Marcati, Anna Gorokhova & David Degano
A short dance film in collaboration with Pfalztheater, Kaiserslautern D. and the Museum Pfalzgalerie, Kaiserslautern D. Drawing inspiration from Adolf Luther's exhibition, Lichblicke – Spiegelungen incorporates installation, film dance and music on an equal basis, with neither one or the other taking precedence. This results in a sense of oneness that is driven by the concept of duality, reflection and duplicity. The culmination of which is a fascinating spiel between the human body, its similarities and its reflection against the karg, cold sober rooms of glass, mirrors and steel.
GERMANY 2020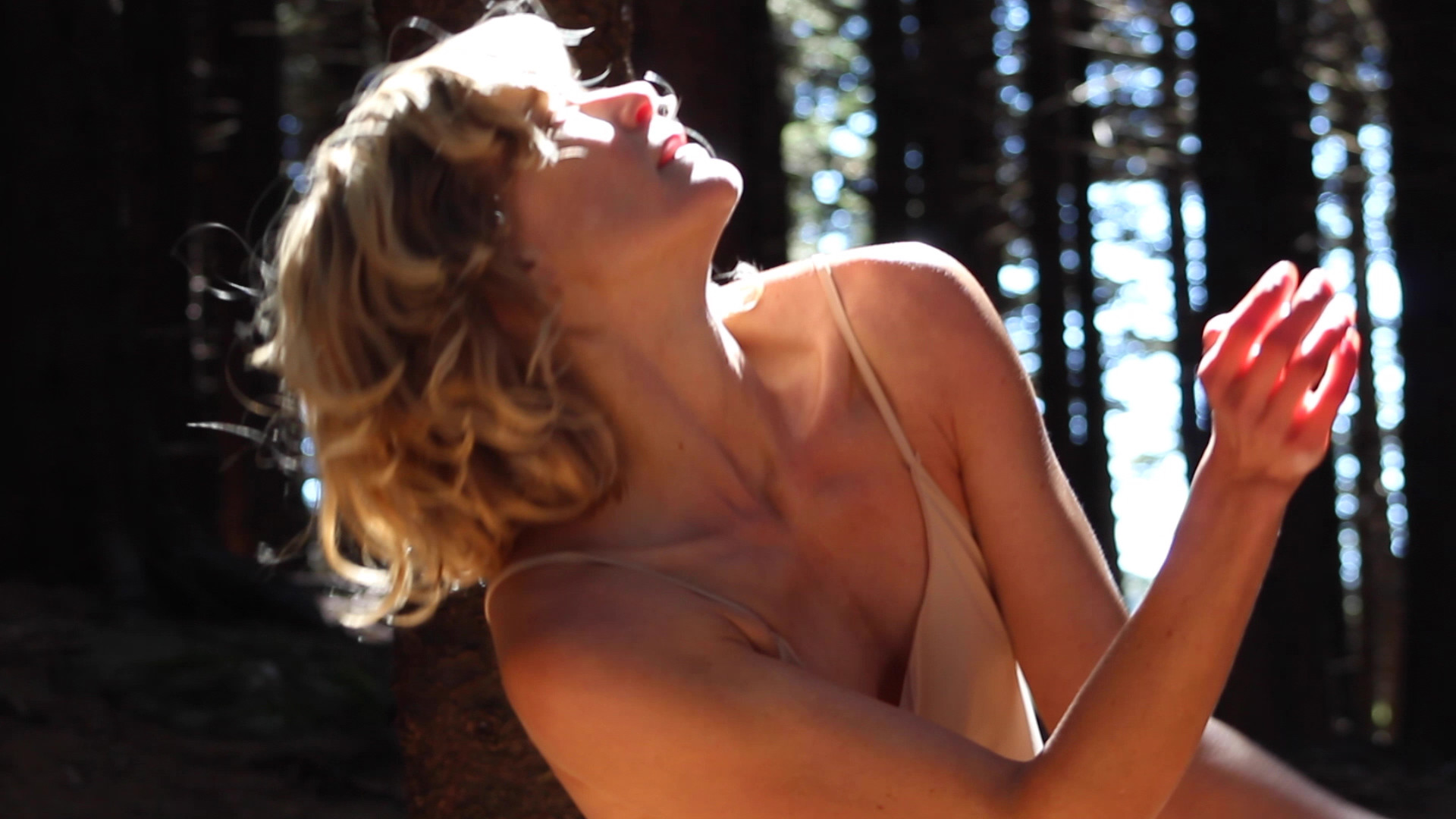 Do trees have dreams? – Director: Tiffany Santeiro
Do trees have dreams? is a site specific dance – film created by Tiffany Santeiro. She took inspiration from South African born photographer, Ari Strano's most recent work Genesis which "follows the rebirth and dawn of a new way of living after the old one has been proven to fail". Tiffany found a parallel between the grove of diseased and dying hemlocks and how human ego and arrogance is the catalyst for the systematic dismantling of the harmony and balance of nature.
This film was commissioned as part of Jacksonville Dance Theatre's production In Here / Out There 2020.
USA 2020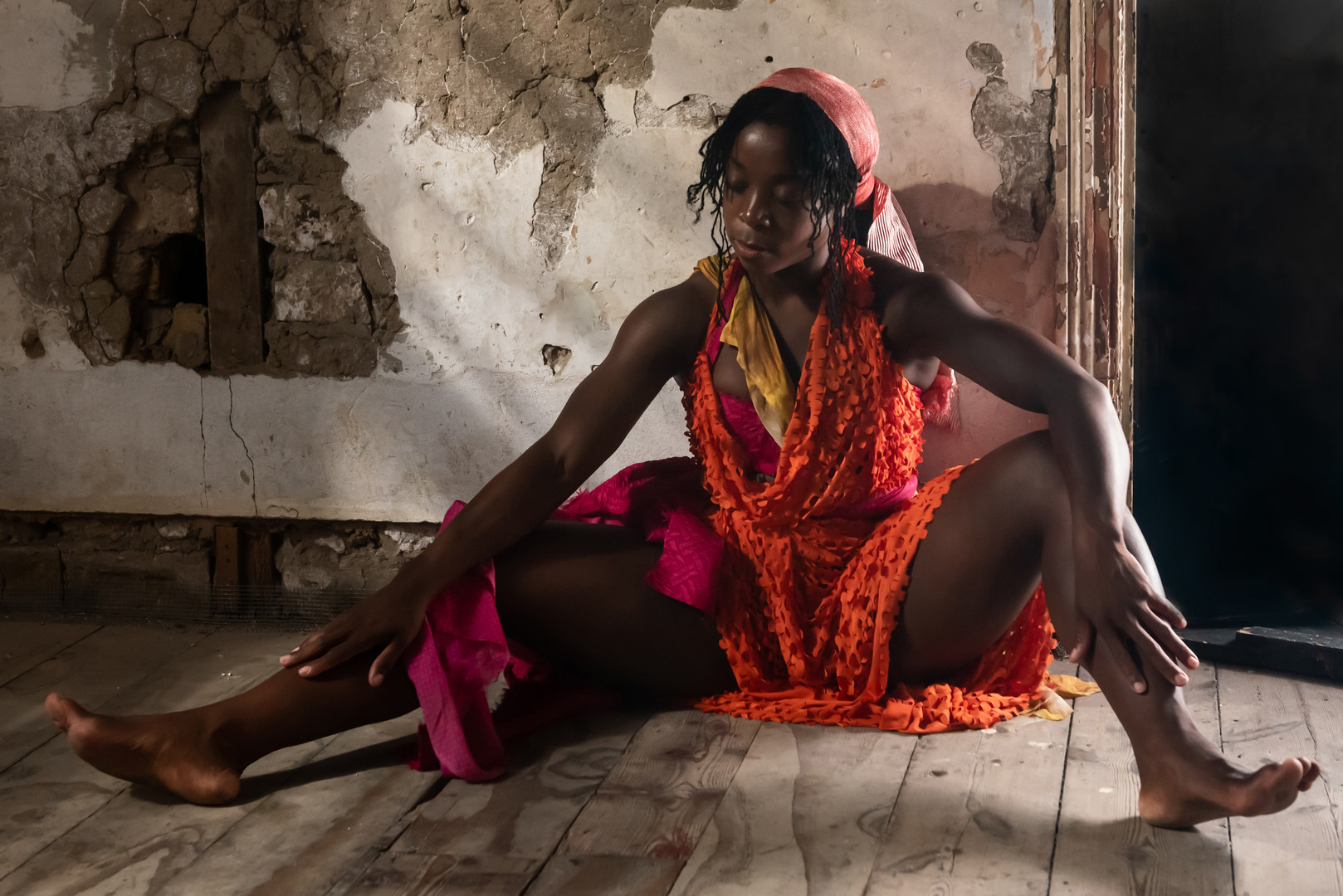 (Re)United – Director: Antoine Marc/ Producer: Alleyne Dance / Executive Producer: Grace Okereke / Assistant Producer: Alessandra Calí / Dancers: Sadé Alleyne & Kristina Alleyne
(Re)United is a heartwarming short interactive dance film.
Highlighting the strength of family connectivity; witness the anticipation, joy, fear and excitement leading up to the moment siblings reunite after being separated for over half of their lives. Witness how connectivity is not limited to the physical, but can be held together through love and hope.
Directed by award-winning filmmaker Antoine Marc, produced by Grace Okereke and performed by award-winning dancers Kristina and Sadé Alleyne.
UK 2020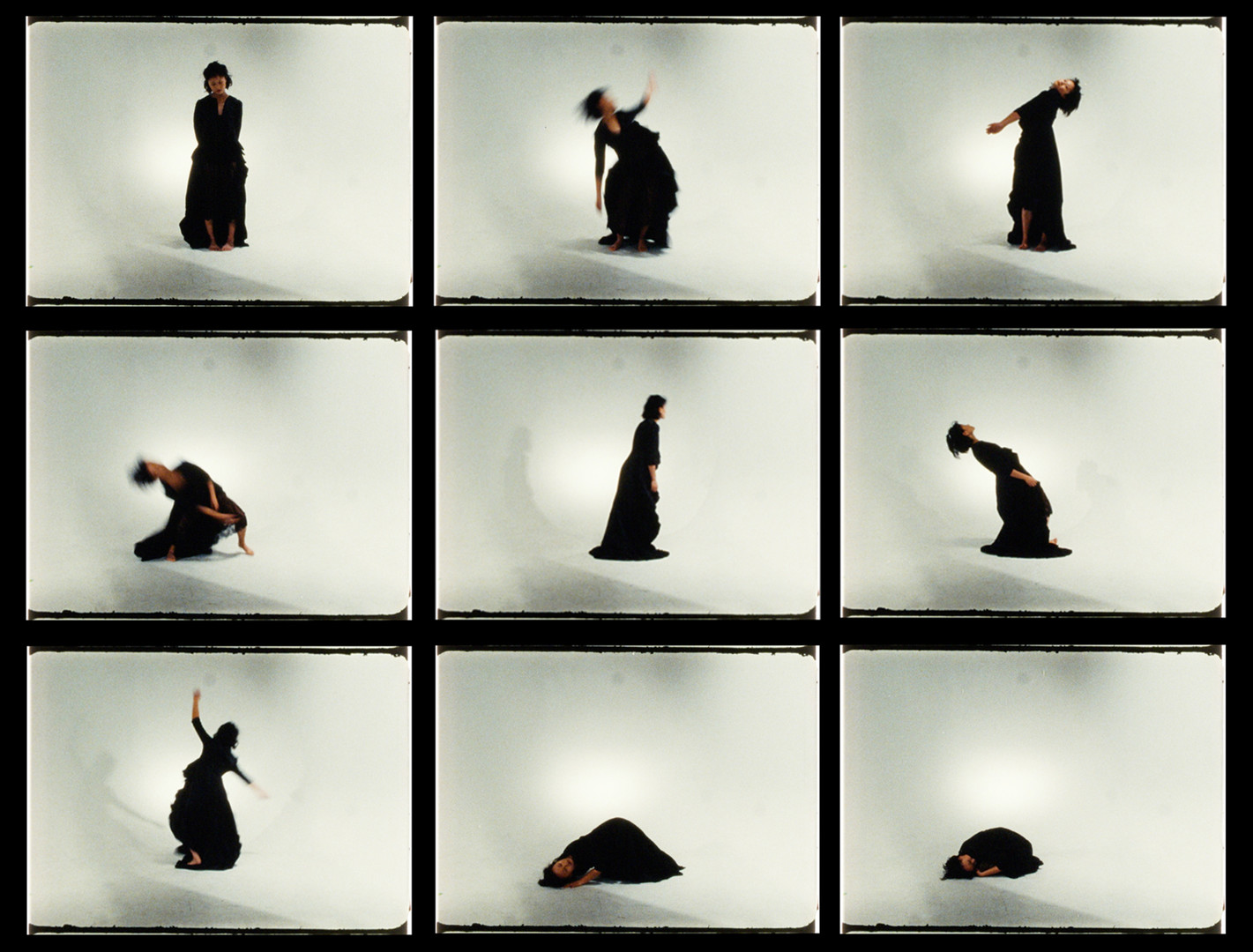 A Sand on the Seafloor – Director: Joo Young (Judy) Kim
A Sand on the Seafloor was a collaborative piece with a choreographer and dancer, Mao Chenhui, reflecting on patience. We first discussed what this word meant to us, then we imagined a grain of sand, and its patience and dependency on the waves of the ocean to be able to move. Its stillness, and erratic movements once the wave triggers it's movement. However, when the wave calms down, the sand must fall to the seafloor and wait for the next wave
USA 2021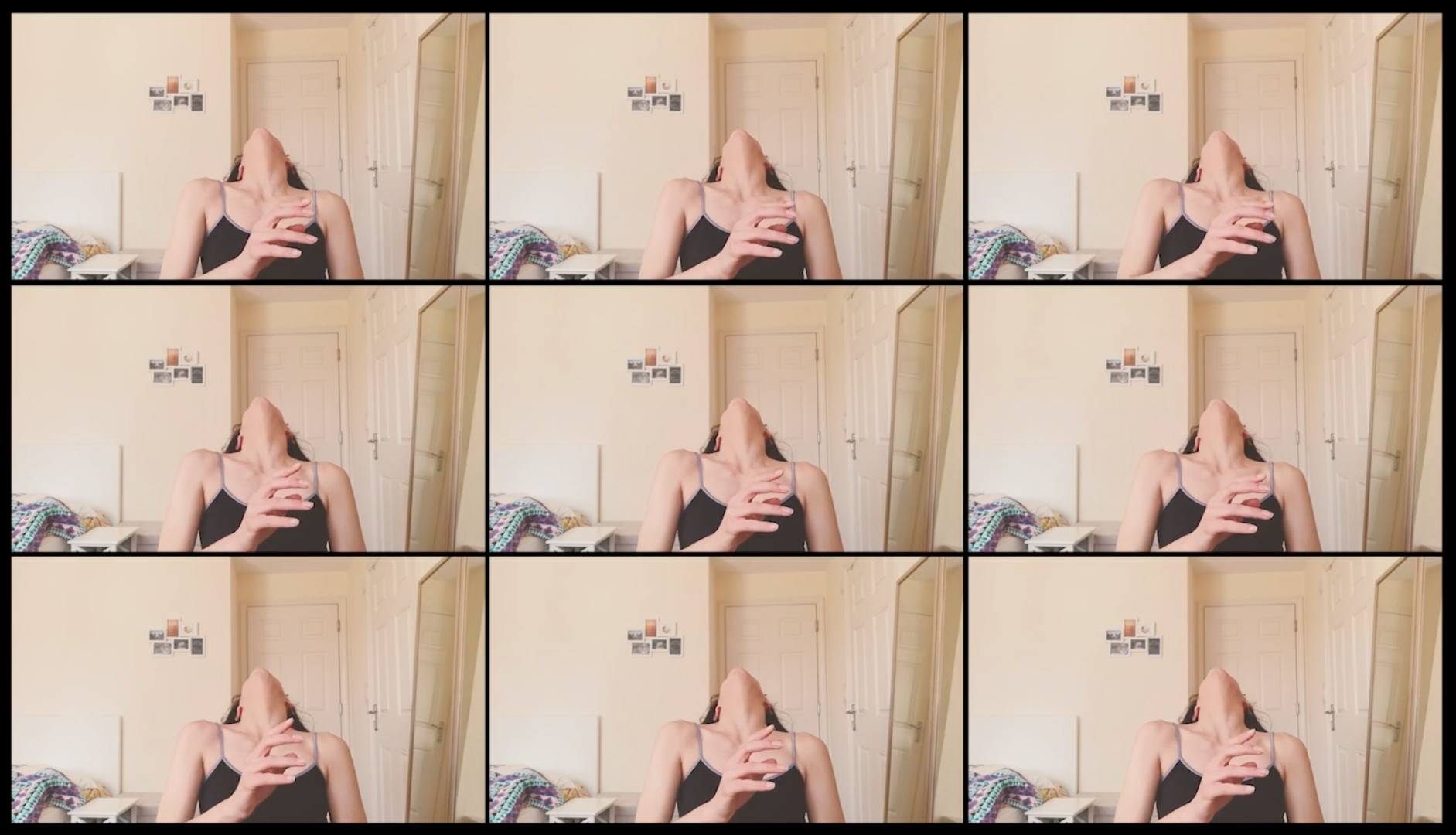 You and me – Directors: Karni & Saul/Producer: Sulkybunny/Music: micah p hinson
Isolation dance music video by karni and Saul for Micah p Hinson's brand new song You and me . inspired by home isolation connection dance and zoom culture currently present in the world. karni and Saul collaborated with 9 dancers from around the globe to create a choreography for one x 9. touching on connection and lack of it the craving for contact. and mainly our humanness. we will dance together again! soon.
UK 2020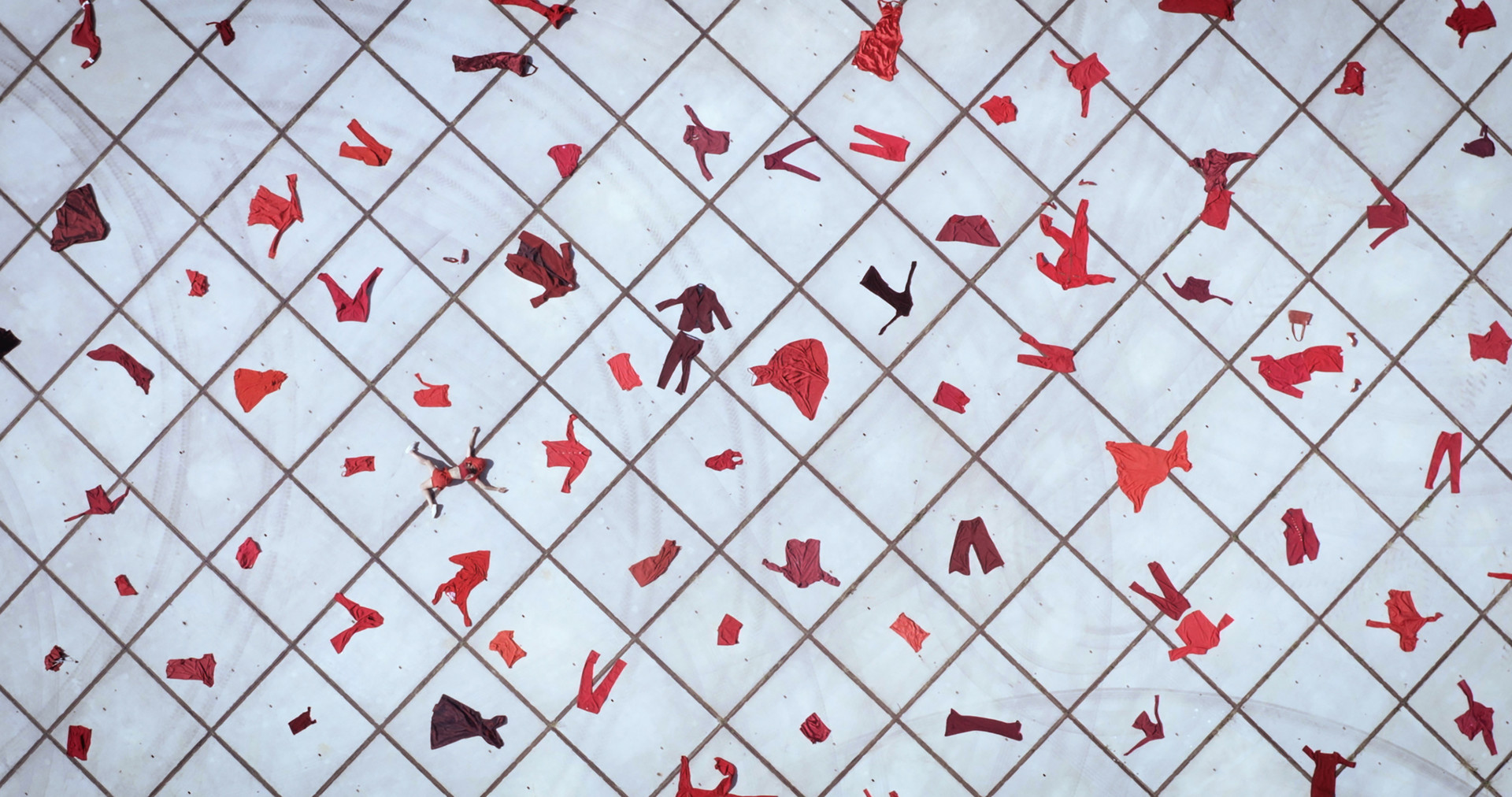 Memories of the Future – Director: Dance collective Arnhemse Meisjes/Dancers: Inbal Abir, Yeli Beurskens, Anna Fransen, Aïda Guirro Salinas, Kim Tuerlings, Henny de Wit & Mia Sav
'Memories of the Future' is a short dance film by Dance Collective Arnhemse Meisjes.
This film tells the story of one and each person at the same time. We dance a powerful life path in which experiences from the past and memories from the future emerge. They come together in the present moment. This is a human story. Your story. A story of your ancestors and your (grand)children. Do the future and the past run parallel in the present?
Everything is allowed, because everything turns; everything comes, everything passes. Like the seasons, a cycle of life and death. We fall and get up again. We turn, until the present moment is all that remains. That's what we can hold on to. Here, now. You, me, we.
NETHERLANDS 2020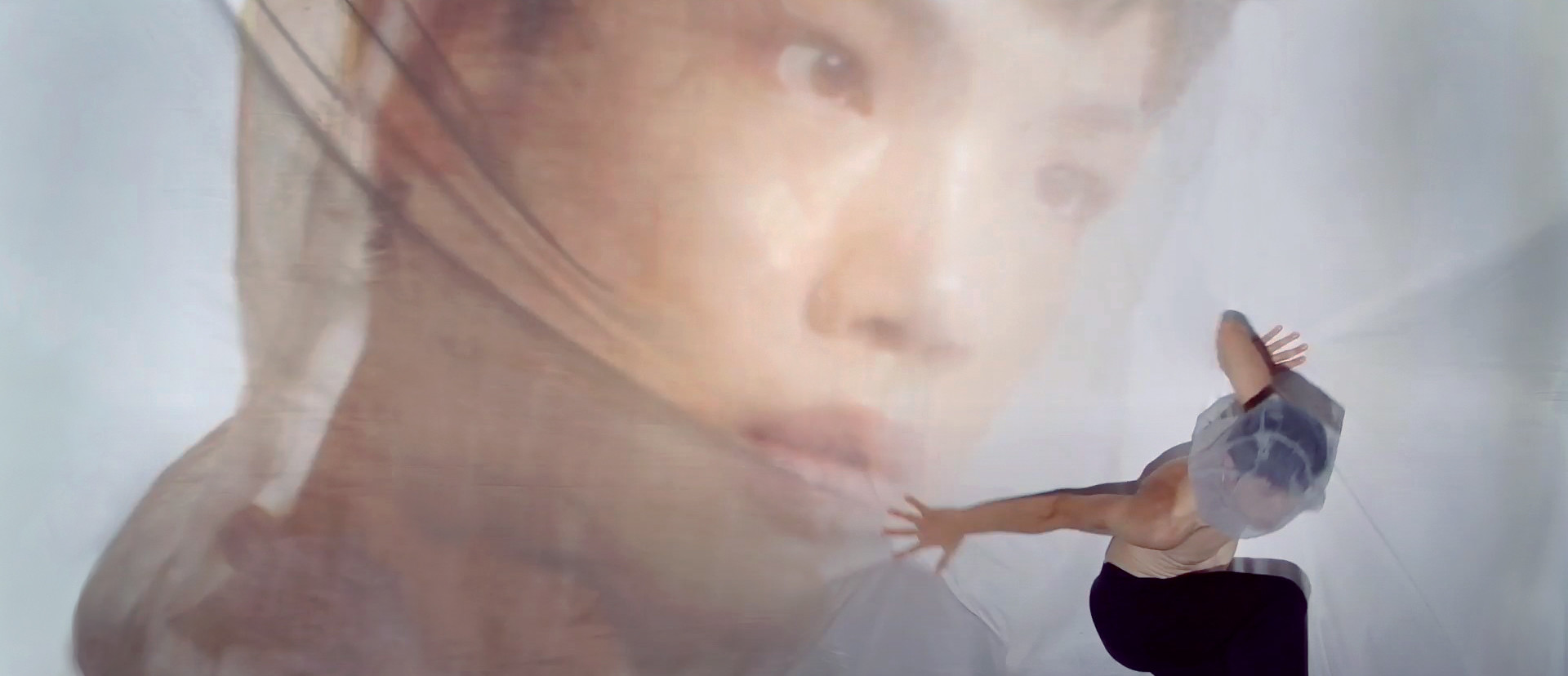 Over Here? – Director: Zelia ZZ TAN/Producer: City Contemporary Dance Company/Dancers: Elly, LAM Tsz Kwan, John, WOO Yat Hei & Nelson HIU
In a city, people are flowing ceaselessly, like a river. She wants to speak… but she can't find the right words.
Mask, no, it can be touched. It can be worn on everyone's face.
Crossing the flyovers, drifting around the corners of the world, she and he step into a rapidly changing dream. They wait at the airport, watching the surge of time and space.
Can a spoon catch all the tears? It stays on the spine and reflects light.
The harmonica is played again and again. Waves reach the coast in slow motion.
What is 'Flow'? What is 'Moving'?
HONG KONG 2020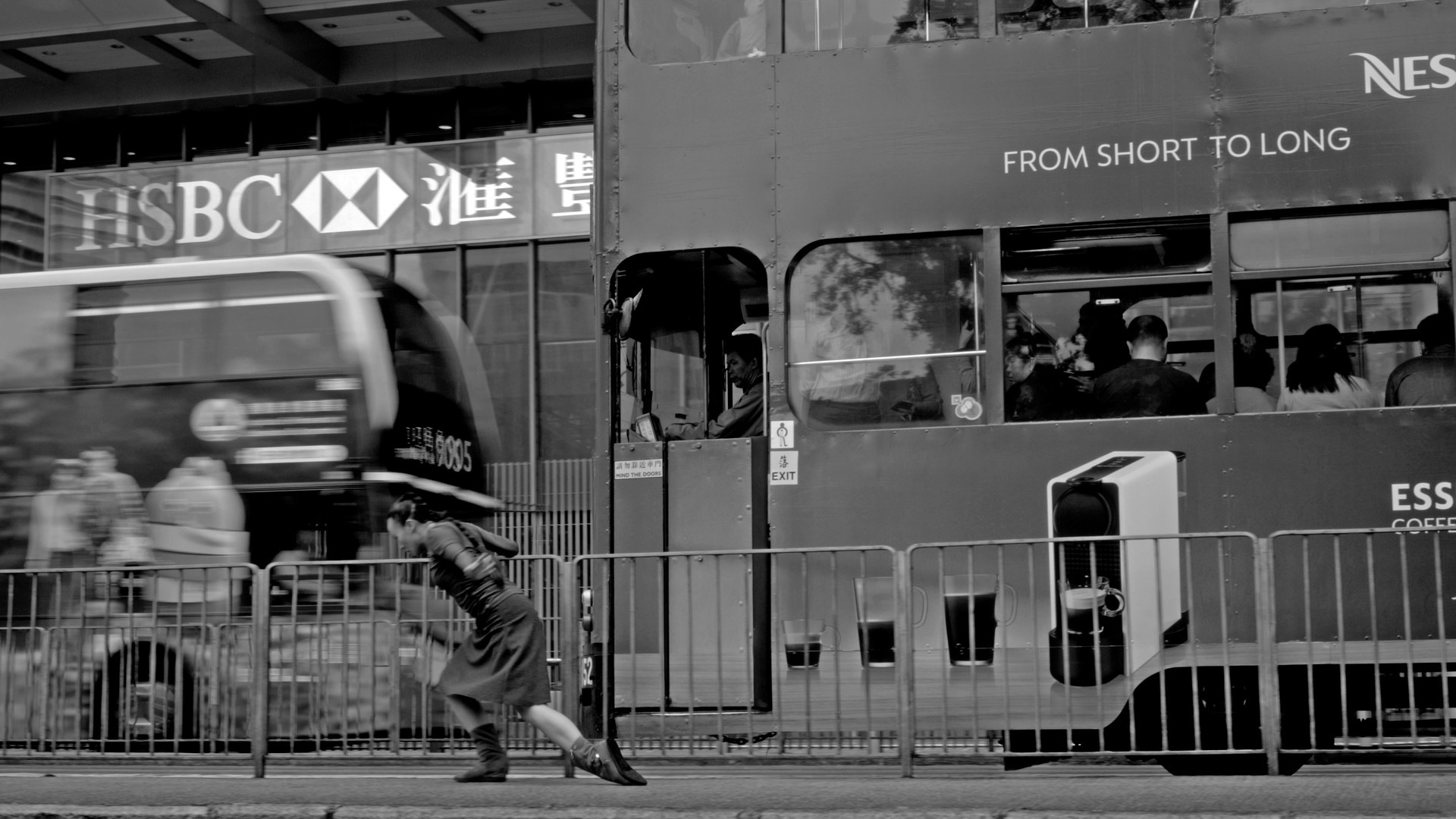 Come Rain or Shine – Director: Justyne Li/Producer: City Contemporary Dance Company & West Kowloon Cultural District Authority
In a society of extreme distortion, people lives like ants and they actually don't mind about it. Sunlight may not be inevitable, and in fact the rain may bring more clarity to the mind and body. The ant is getting more used to being abused, actually enjoying it, because rain and snow brings more vitality to them. Will it die? Maybe…but at least it walked through the path with courage and wisdom.
HONG KONG 2019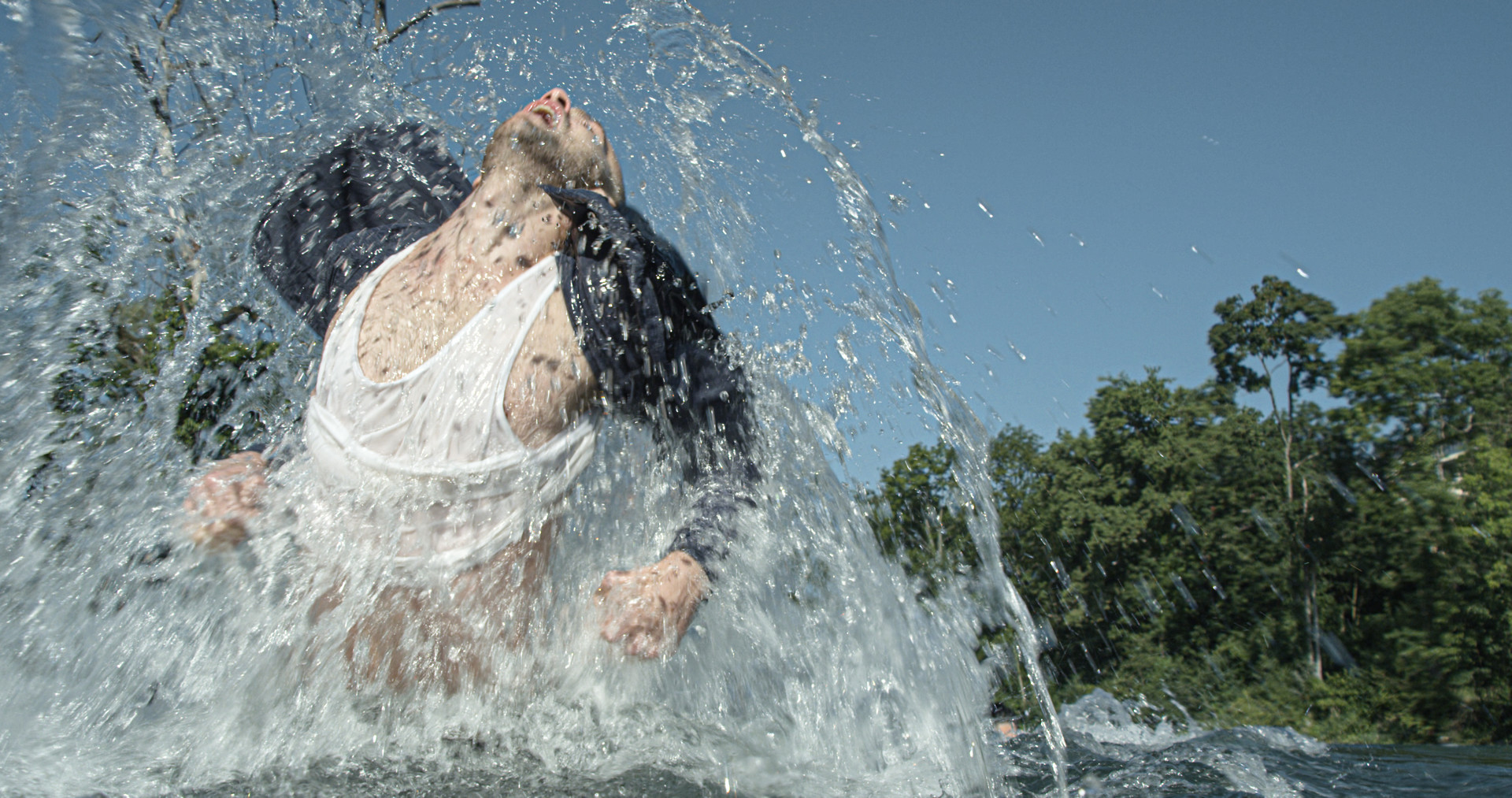 Downriver – Director: Andrea Boll/Producer: Nico Gutmann/Dancers: Ivan Blagajcevic, Andrea Boll, Chris de Feyter, Hella Immler & Emeric Rabot
SWITZERLAND 2020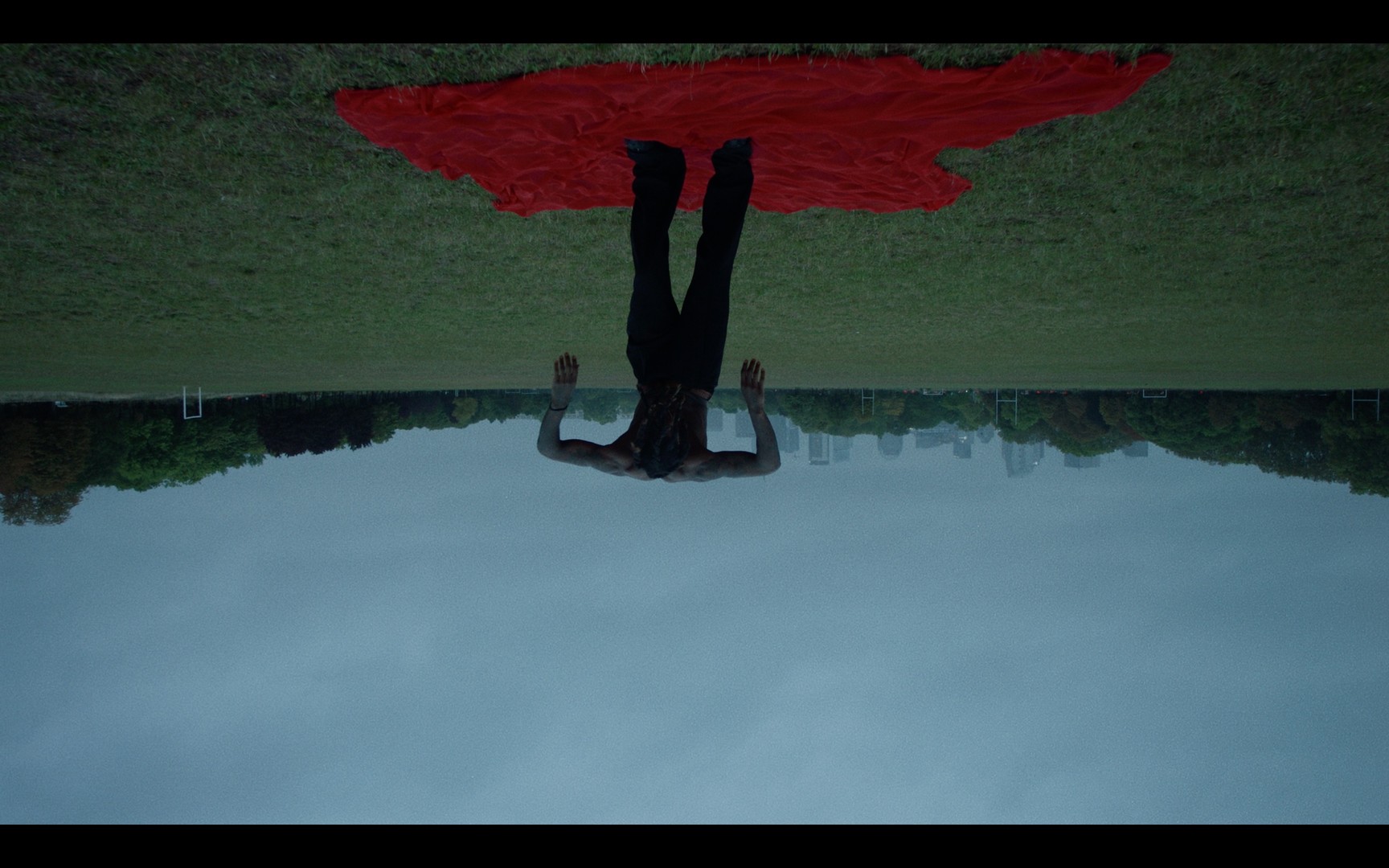 DANCE OR DIE – Director: Nathalie de Lopez/Dancer: Kevin Bago/Music: Polerik Rouvière
Conceived as a portrait film, "Dance or Die" tells the resilient story of french dancer Kevin Bago, who, because of an accident, lost sight of his left eye. "Dance or Die" carries a message of hope at a time when the world most needs it.
The short combines dance, music and poetry. It's divided into four acts, corresponding to the four verses of William Henley's poem INVICTUS, published in 1875 and cited as an inspiration by Nelson Mandela during his years in prison. The poet was himself condemned to the amputation of one of his legs. Throughout the film, the viewers watch Bago dancing while confessing the emotions he went through after the accident occurred. We hear him doubting his future as a dancer, torturing himself with second thoughts, but also finding a way to overcome these fears and become a better and stronger version of himself.
FRANCE 2020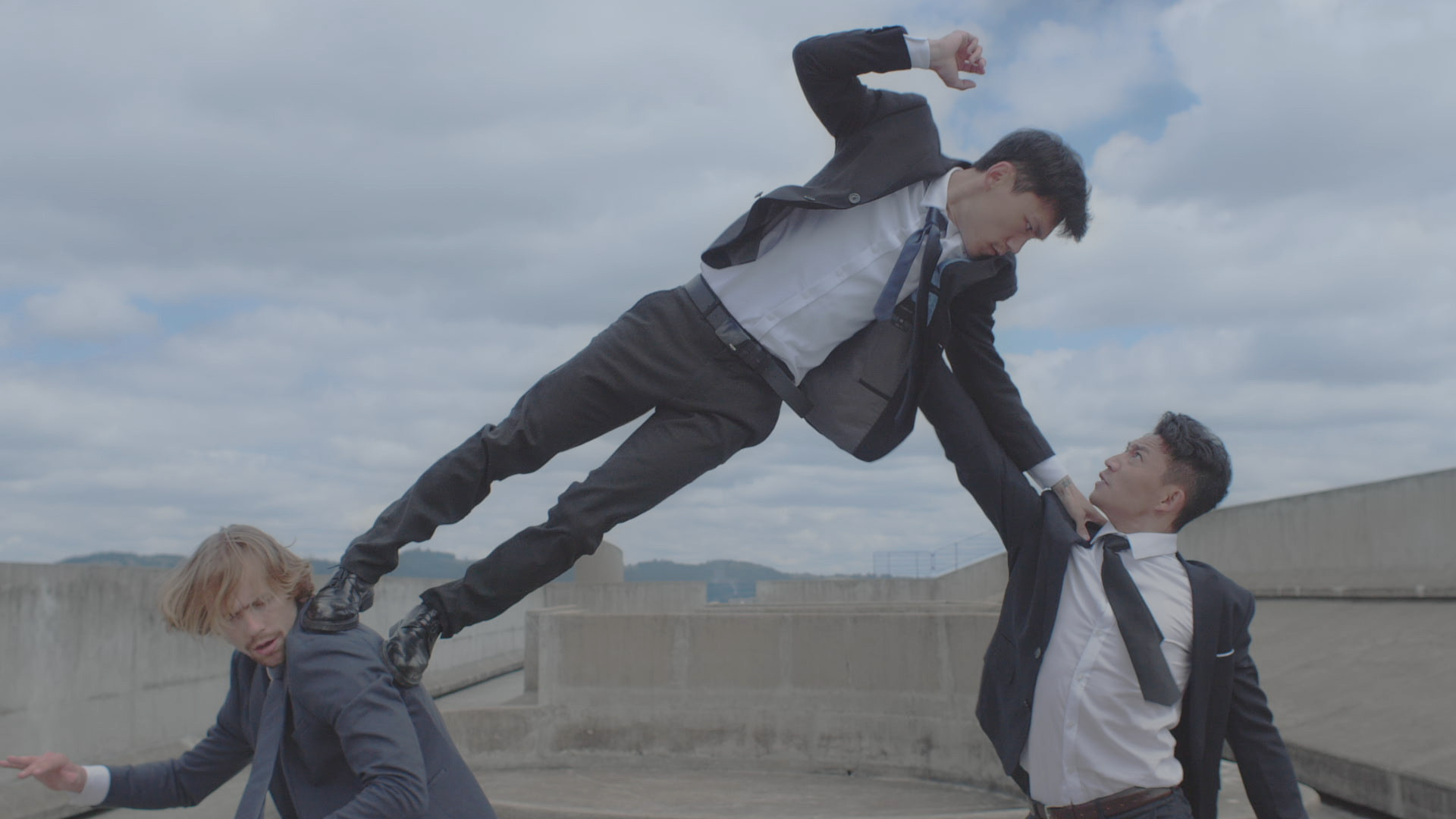 The Bait – Director: Chenglong TANG/Producers: Chenglong TANG, Huang JUN, Siyang FU & Anna ALEXANDRE/Dancers: Shifei CHEN, Zibo GENG, Théo PENDLE/Choreography: Chenglong TANG/ Composer: Xiaogang ZENG
Three characters are carried away in a frantic race. They will fight to win… But for what? What if all this was just a decoy? This dance film transposes into our contemporary world the ancestral fable of Jiang Gong, humble fisherman and great strategist of the Zhou dynasty, whose catches were caught without bait. A universal story about the loss of identity, the abandonment of oneself and the renunciation of free will.
CHINA 2020
NO PHOTO
From Tall Buildings – Director: Billy Cowie/Dancer: Luciana Croatto/ Voice: Clara Garcia Fraile
UK 2020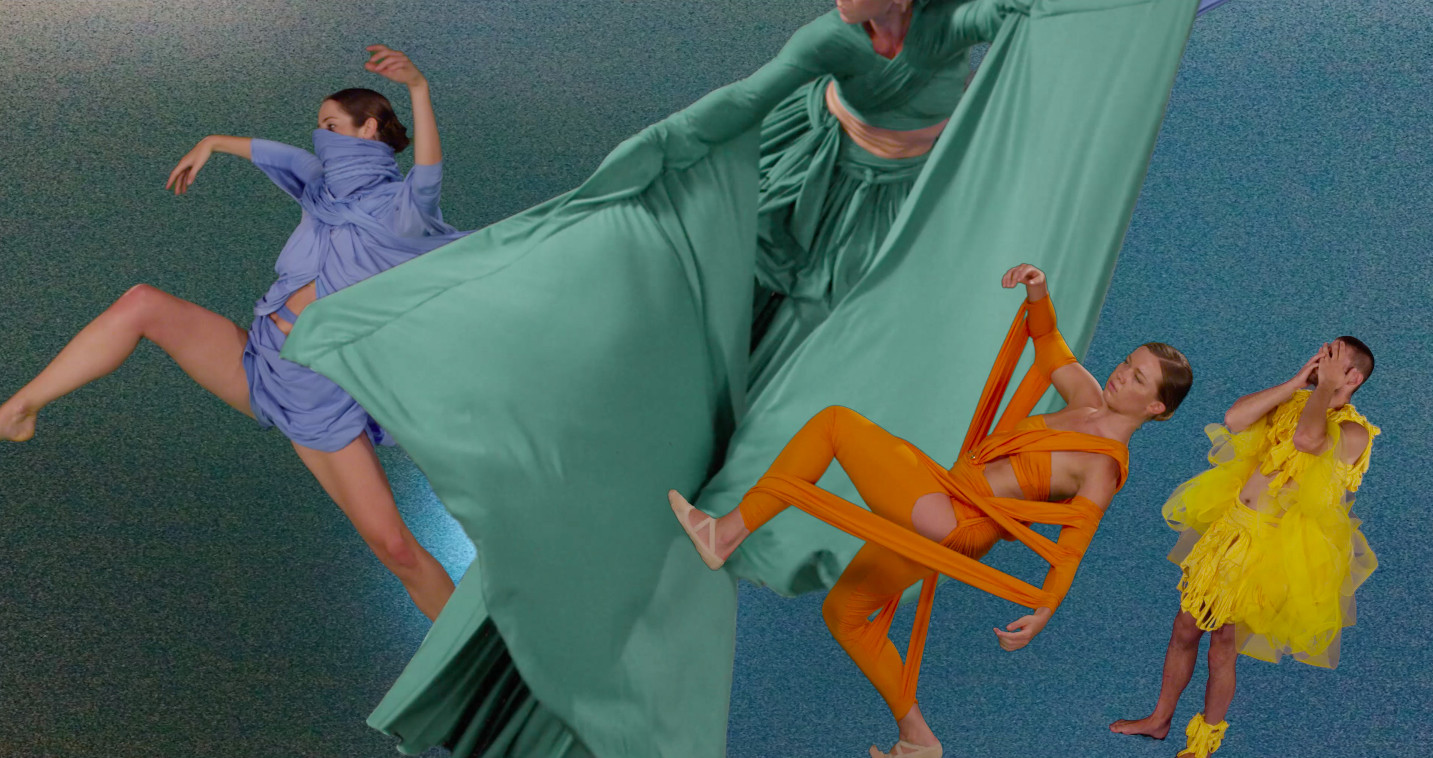 The History of Up and Down – Director: Richard James Allen/Producer: Marie-Stella McKinney
'The History of Up and Down' asks the question: what if all the seven chakras, or psychic energy centres, danced together?
AUSTRALIA 2020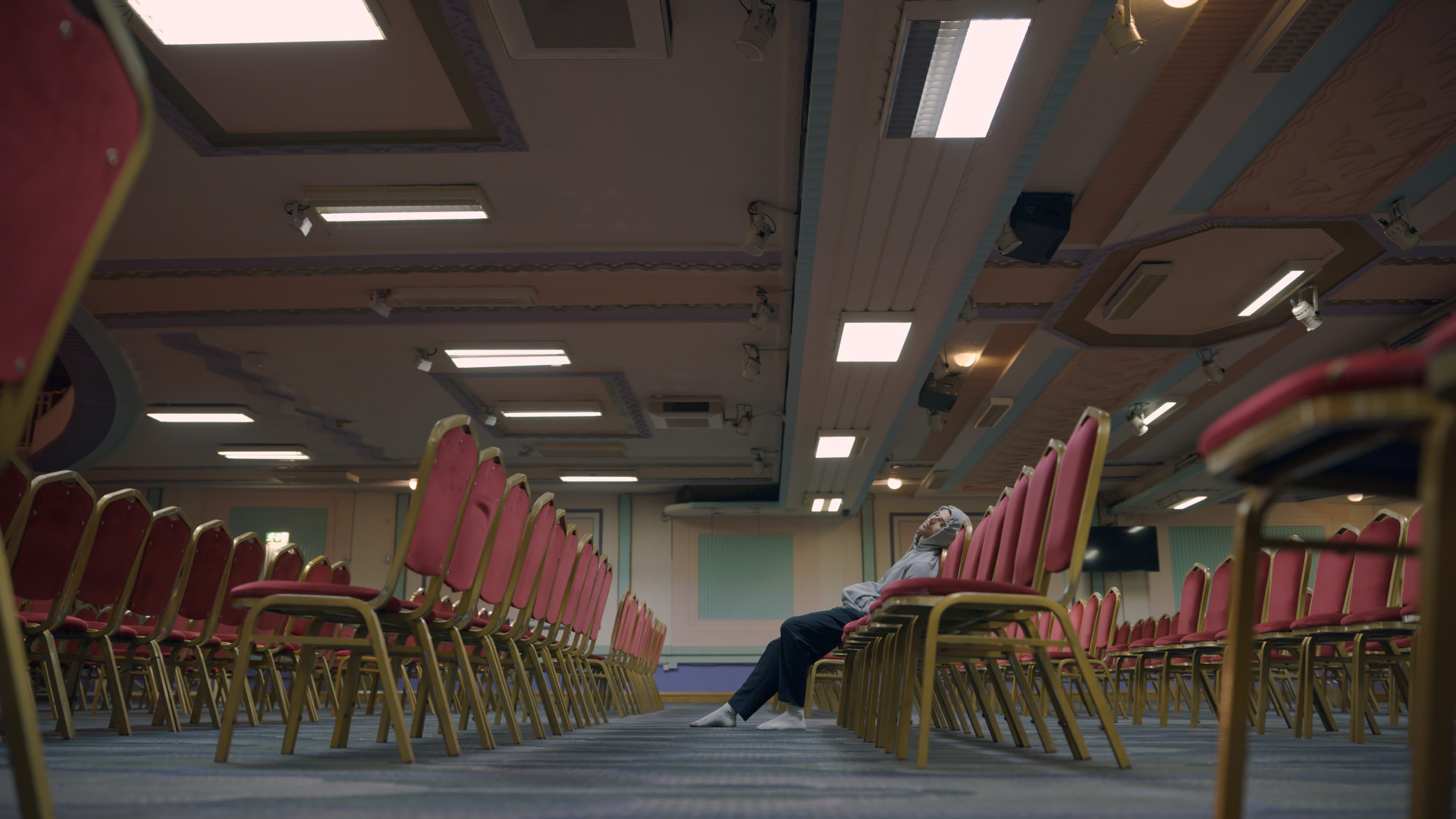 2020 Vision – Director: Jake Polonsky/Writer: Hussain Manawer/Producer: Kat Armour-Brown/ Dancer: Will Thompson
'This year revealed many things. I don't even know where to start.'
UK 2020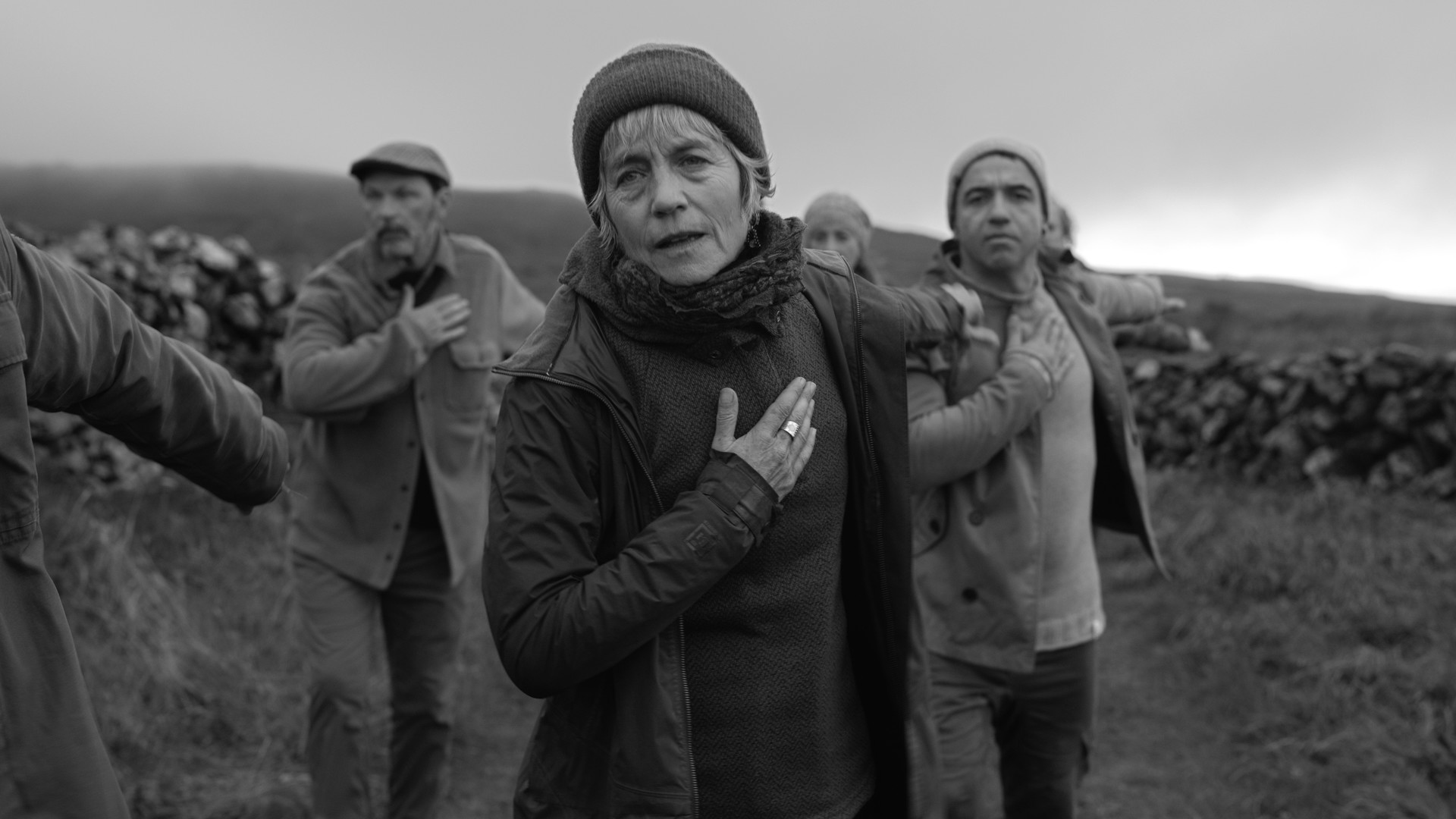 Navigation – Director: Marlene Millar/Producer: Marlene Millar & Sandy Silva/Performers: Bobby Thompson, Andrew Bathory, Sonia Clarke, David Cronkite, Dominic Desrochers, Afia Douglas, Isaac Endo, Hélène Lemay, Kimberly Robin & Sandy Silva/Composers: Jean Fréchette & Sandy Silva
Set in the spectacular Burren region of the west coast of Ireland, Navigation explores the current humanitarian crisis of displacement and dislocation that is experienced both individually and collectively. Using the land itself to explore how we navigate through unknown terrain, themes of survival and perseverance, departure and renewal emerge in a nuanced and layered interpretation of the migration experience. The rhythms, movement, vocals and landscape define and embody this exploration, featuring the performances of 10 dancers, singers and a choir of 40 participants
CANADA 2020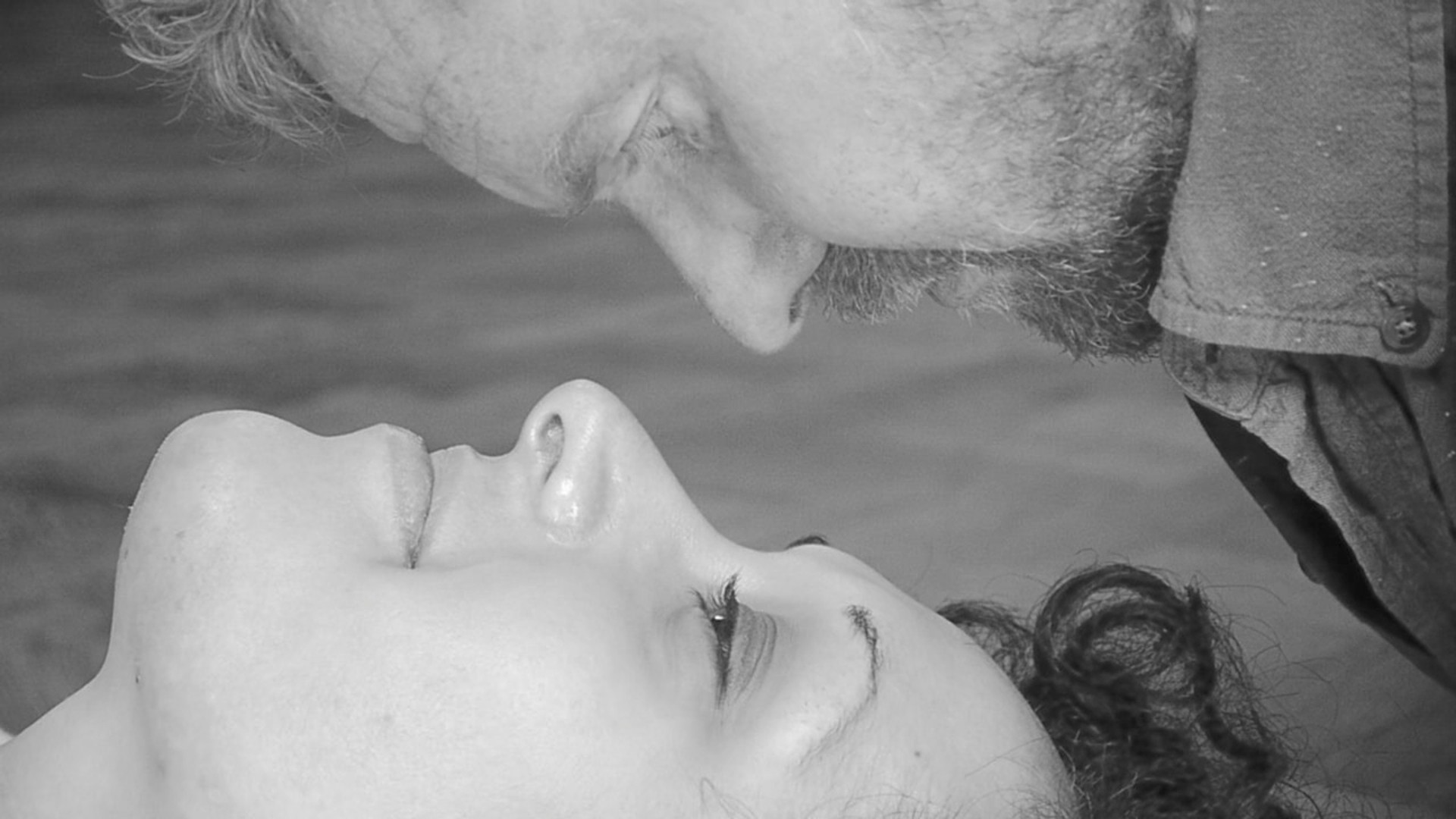 Between and Almost – Directors: Anne-Gaëlle Thiriot & Jessica Haener/Dancers: Kimberley Harvey & Mark Fitzgerald
A film that explores the intricacies and evolving nature of human relationships through the nuances of non-verbal communication.
Guided by the camera, but what do you see?
Tactile imprints and accumulating exchanges;
The smallest movement;
A shift
Towards or…?
Following the gaze;
In the stillness,
And then…
Maybe?
UK 2019

Waiting Monologue – Directors: Jarl Anders Hjelle & Hedda Faroy Lausund/Producers: Hedda Faroy Lausund & Jarl Anders Hjelle/Dancer:Hedda Faroy Lausund/Soundtrack: Chavela Vargas & Hedda Faroy Lausund
Waiting Monologue is a choreographic short film, created in collaboration between choreographer and dancer Hedda Faroy Lausund and cinematographer and editor Jarl Anders Hjelle. The film was developed to a great extent through improvisation and experimentation both in the choreographic and the cinematographic work and with a focus on site-specific principles. Through movement, music, visual effects, and composition it tackles themes such as the relationship to one's self and solitude. The choreographic language is highly influenced by gestural movement, ranging from the quotidian to the highly dramatic and absurd.
NORWAY 2020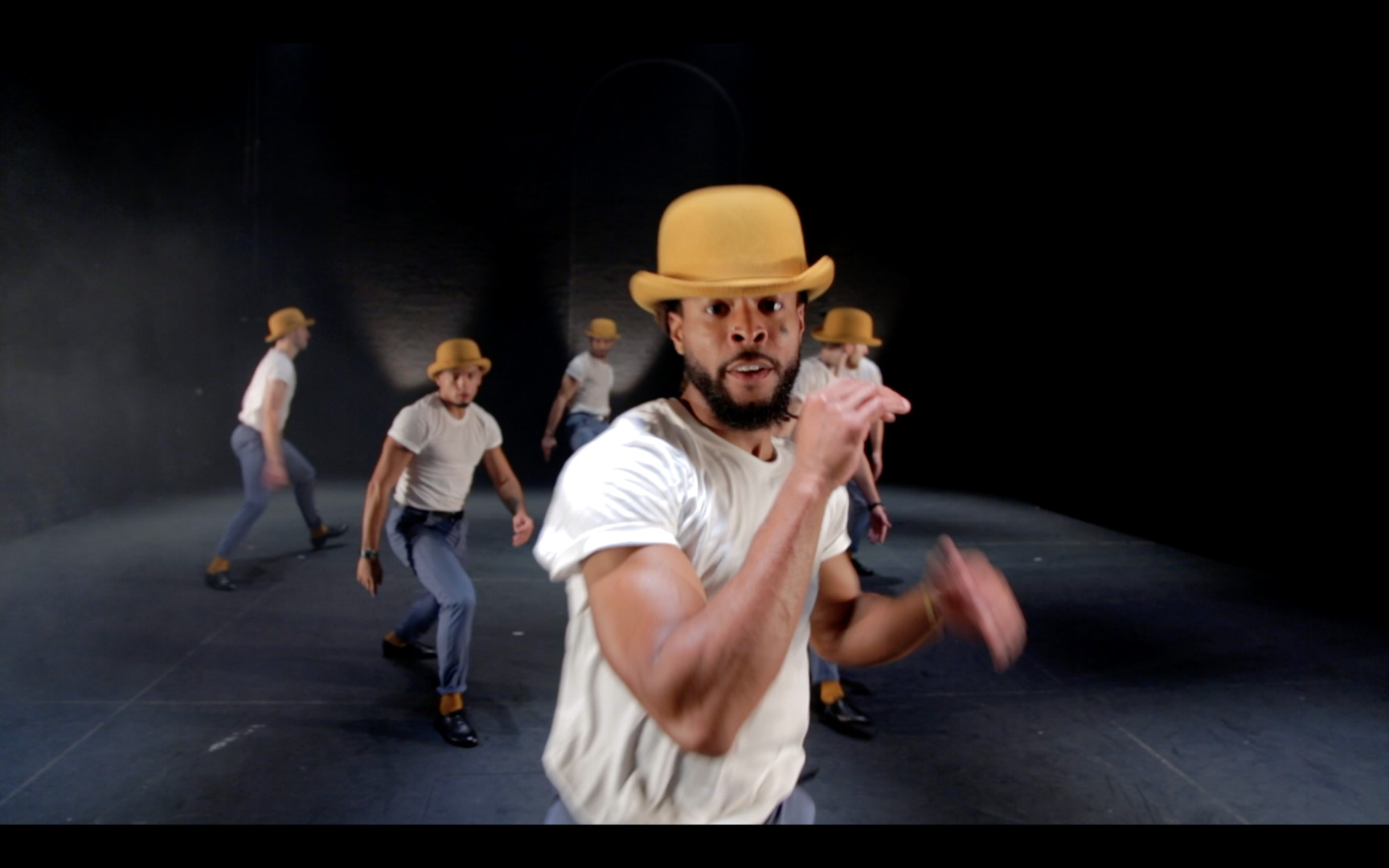 Rebound – Director: Stuart Winter/Writer: Stuart Winter/ Dancers: Robin Kent, Michael Duke, Justin Lee Jones, Lukas Hunt, Ben Brown & Daniel Monteiro
Rebound lets you plug in to the sensations dancers feel while performing. You witness the current of energy that drives movement, and the joy felt by the artists. It shows the strength and resilience of dancers as they rebound from the pandemic and breathe life back onto the stage.
UK 2020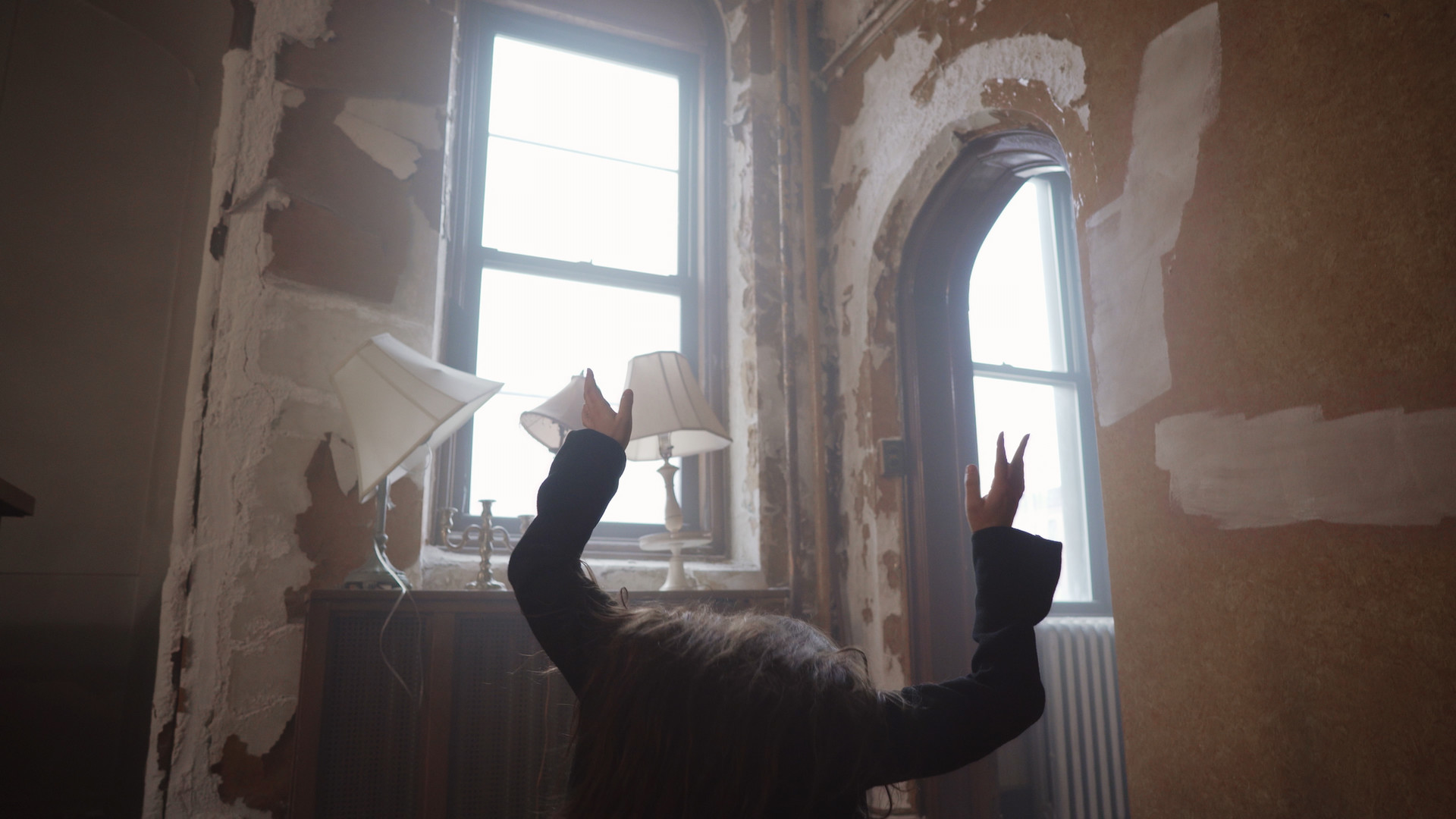 Katie Gately: Waltz – Director: Samantha Shay/Dancers: Bobbi Jene Smith & Katie Gately
Waltz is one part music video, and one part dance film, described as a "Neo-gothic mini film" by Fact Magazine, and a powerful portrait of composer, Katie Gately, also starring acclaimed dancer Bobbi Jene Smith, directed by Samantha Shay. 'Waltz' emerges off Gately's forthcoming album Loom, in dedication to Katie's mother who passed away from an aggressive form of cancer. The song 'Waltz' itself came about after spending an entire day listening to Gately's mother's favourite artist, Leonard Cohen's track "Take this Waltz" on repeat. This short film is a feverish duet, rotating around death, shot in an abandoned convent in Brooklyn NY, where Gately grew up. This film is for anyone who has wanted to spin into a circle until the ceiling became the floor.
USA 2020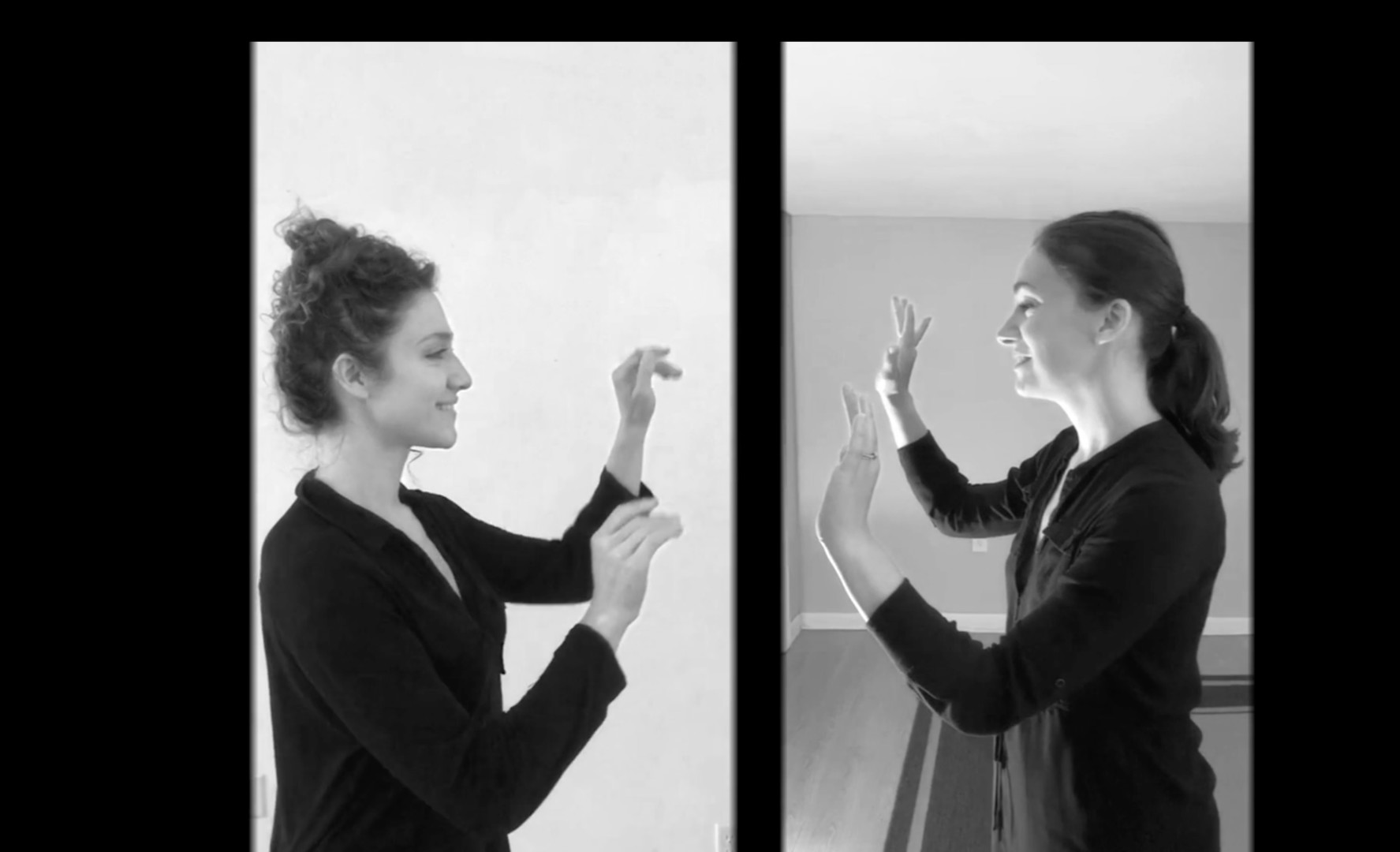 Dancing is an Old Friend – Director: Marta Renzi/Writers: Leah Barsky & Jennifer Tortorello Walker/Performers: Leah Barsky & Jennifer Tortorello Walker
Two old friends re-connect virtually. One still dances professionally, the other only for pleasure. Like their friendship, their dancing manages to transcend time and distance.
USA 2020
NO PHOTO
TEDDY – Director: James Copeman/Choreography: Sophia Melvin/Dancer: Bella Franey
A lonely building on a sunny afternoon. Enter, TEDDY.
TEDDY is a short film that follows the story of a young girl teaching herself to skateboard. The film delves into the 'rehearse and repeat' similarities between dance and skateboarding.
UK 2020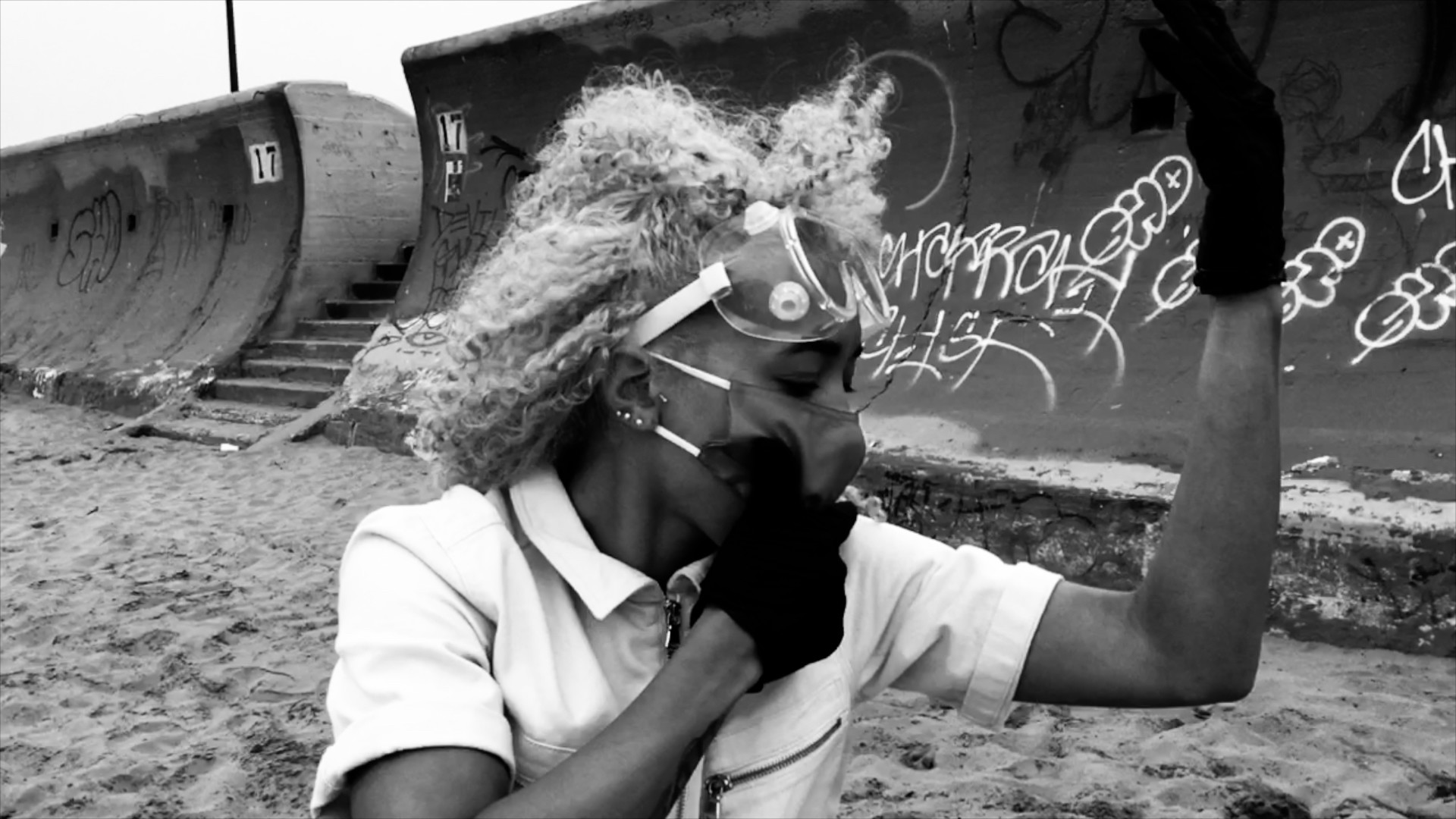 Unmarked – Director: Robert Moses/Dancers: Vincent Chavez, Cora Cliburn, Emily Hansel, Kaia Makihara, Jenna Marie & Liv Schaffer
Filmed at San Francisco's Ocean Beach, "Unmarked" is a site-specific performance for video that responds to the sense of an ending of a way of life and the callous disregard for life's loss in challenging times. The stirring text and music of Robert Moses and vocals of PC Muñoz come together to support the arresting visuals. Ultimately, the film asks: in a world where so much of what we hold dear is under siege, how can we still find inquisitiveness, release, and connection through collaborative movement?
USA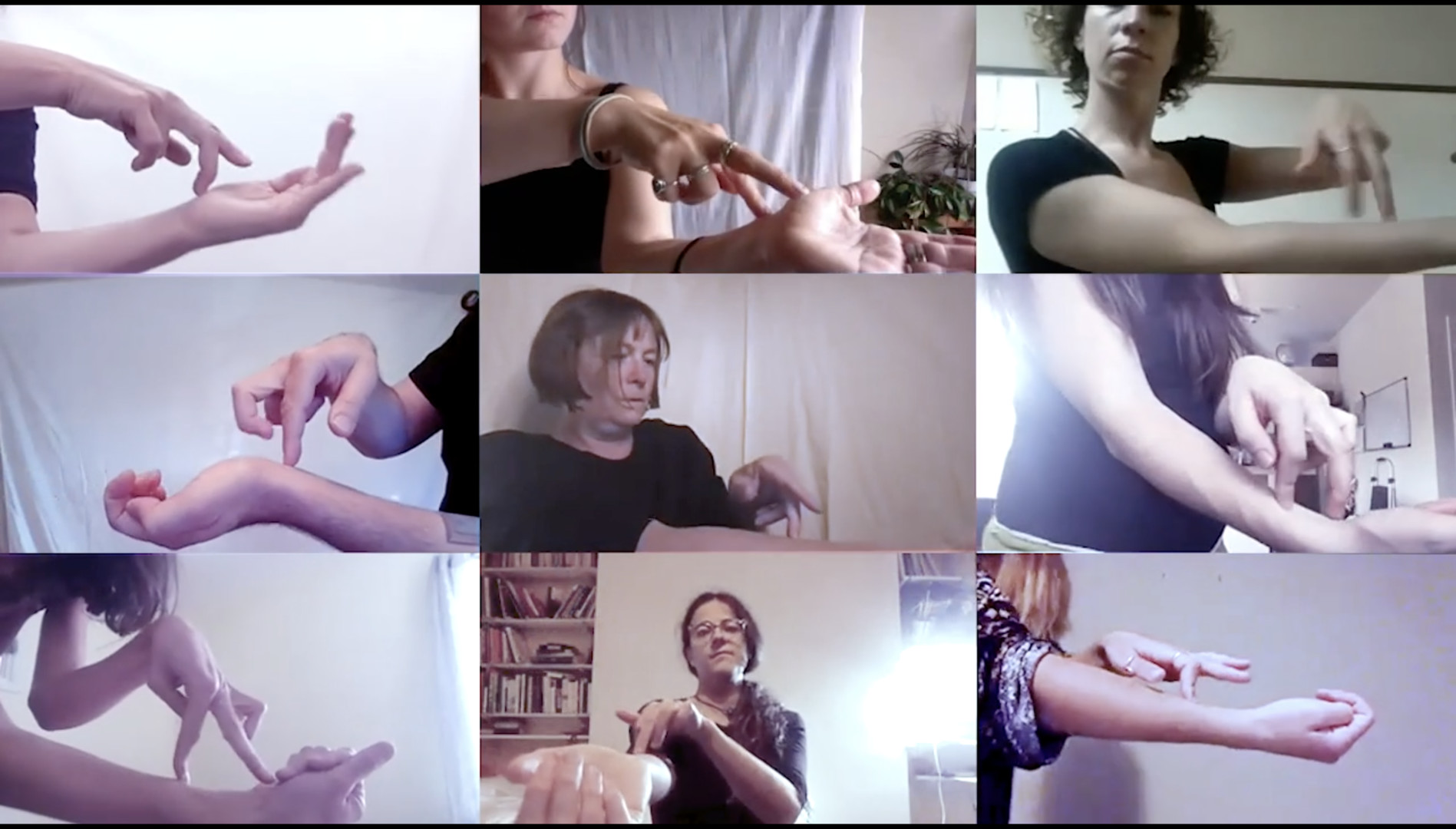 Still feel you with me – Director: Béatriz Mediavilla/Dancer: Jess Evans
Dance short film recounting a collective dance experience during a workshop led by Béatriz Mediavilla at the Portland Dance Film Festival. Shot in October 2020, during the COVID-19 pandemic with 8 dancers from around the world.
CANADA 2020
Fading – Director: Mike Esperanza/Dancer: Joel Mejia Smith
"Fading" is a short experimental dance film that captures a brief moment in time of a man trapped by the memories of a past lover. Haunted by his isolation, dreaming of his escape from a home that no longer keeps him, the front door is his only exit. Set in Los Angeles, "Fading" is a visual ode to the city, its light, its folds, its underneath and its obstacles. Quirky, queer, and poetically untamed, this dreamlike film illuminates the power of becoming, fading endlessly towards rather than away.
USA 2020
NO PHOTO
Another me in the world – Director: Yiming Fan/Choreography: Ruqi Li
With the rapid development of cities in modern society, the scope of nature is shrinking. In this context, the symbiotic relationship between humans and nature has become particularly important. The film is about when nature and the city are regarded as two independent individuals, which are originally unrelated to each other. With the rapid development of society, they tend to merge.
CHINA 2020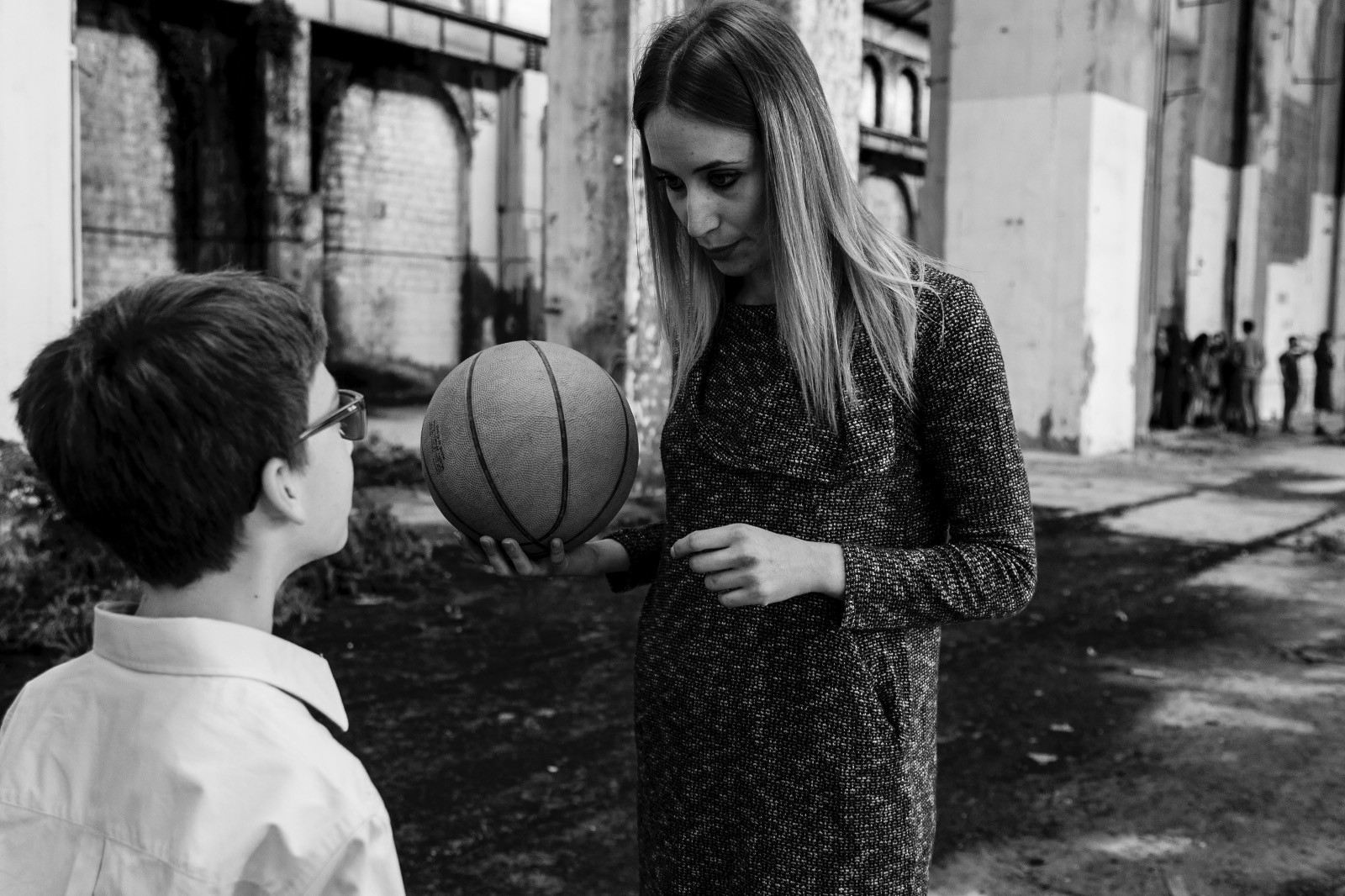 Hic et Nunc "Here and now" – Director: Emma Cianchi/Producer: Art Garage
"Here and now" is the literal translation of this famous Latin phrase attributed to Horace.
Used by several philosophical currents, it assumes meanings with different nuances, all
of which can be traced back to a simple thought: all our actions are performed here and now, in the immediacy of the present; the past and the future, however important, are memories, time flows inexorably and life is here and now. A straight line, an abandoned place in which past lives echo, a sequence plan to say that the present is the only dimension in which one really lives.
ITALY 2018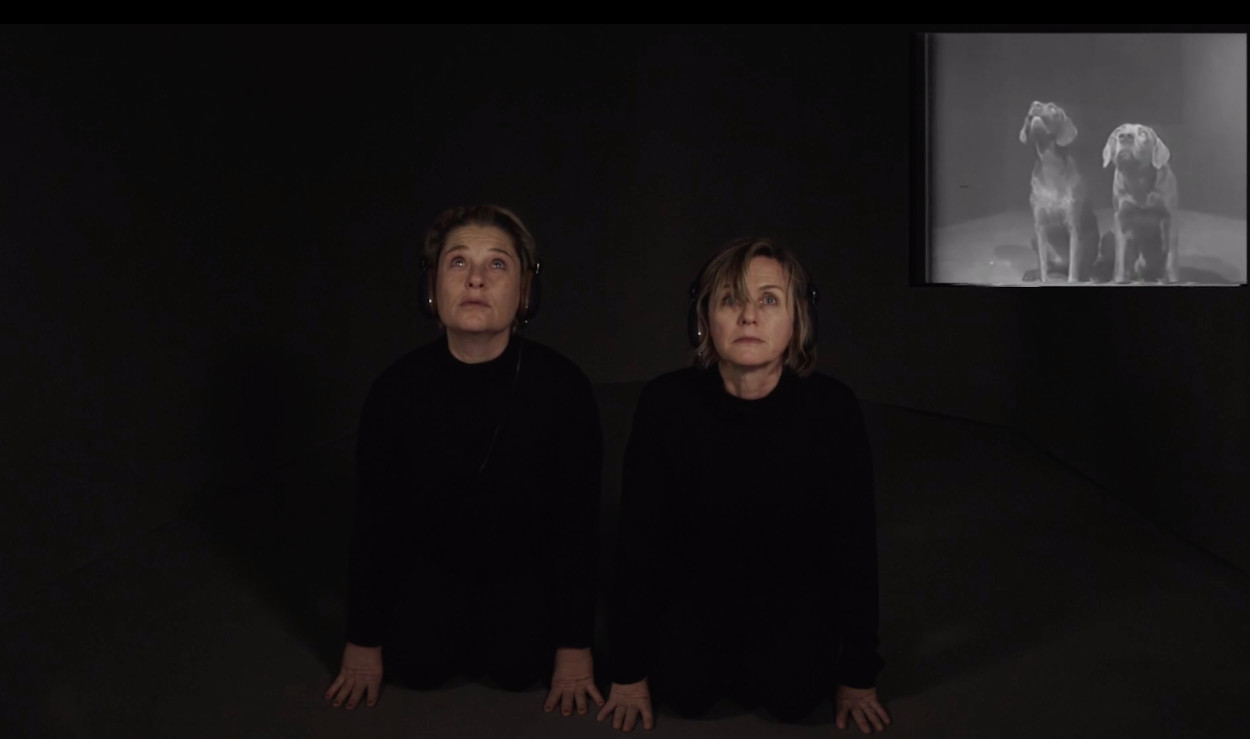 Two Dogs and Us – Directors: Andrea Lerner & Rosane Chamecki/Performers: Rosane Chamecki, Andrea Lerner, ManRay & Hooka
Two Dogs and no Ball is a new video from the duo Rosane Chamecki and Andrea Lerner, aka chameckilerner.
This new work is a reenactment from the iconic video of William Wegman, Two Dogs and Ball, where Man Ray and Hooka, two identical dogs – both Weimaraners – are seated side by side as they keenly follow a mysterious object moving behind the camera. Their behavior is utterly familiar, yet the framing and isolation of the activity makes it uncanny: each dog has an individual character, but still responds to the stimuli predictably in tune with the other. Only at the end of the video the mysterious object is finally revealed to be a ball held by Wegman's off-screen hand.
Like Man Ray e Hooka, Rosane e Andrea, have physical similarities. Like Man Ray e Hooka, Rosane and Andrea also have different personalities. Like Man Ray e Hooka, the artists often find themselves reacting in similar ways when they come across unexpected stimulus.
The idea of the project came from reviewing a series of 4 pictures taken of Rosane and Andrea around 1994. In the pictures, just like Man Ray and Hooka they respond identically to something outside of the frame that is also not revealed to the viewer. 1994 marked the beginning of their collaboration, one that is still lively to this day.
In Two Dogs and Us, chameckilerner will reshoot Wegman's film. Rosane and Andrea, like Man Ray e Hooka, will be seated side by side, reenacting precisely the same moves of the dogs in the original film of 1974. But differently from Wegman's original film, in Two dogs and Us, the mysterious object that Rosane and Andrea are following is never revealed. Differently from Man Ray and Hooka, the forces that connect Rosane and Andrea, that create such symbiotic behavior are truly complex and at times mysterious, the result of a lifetime together.
BRAZIL 2020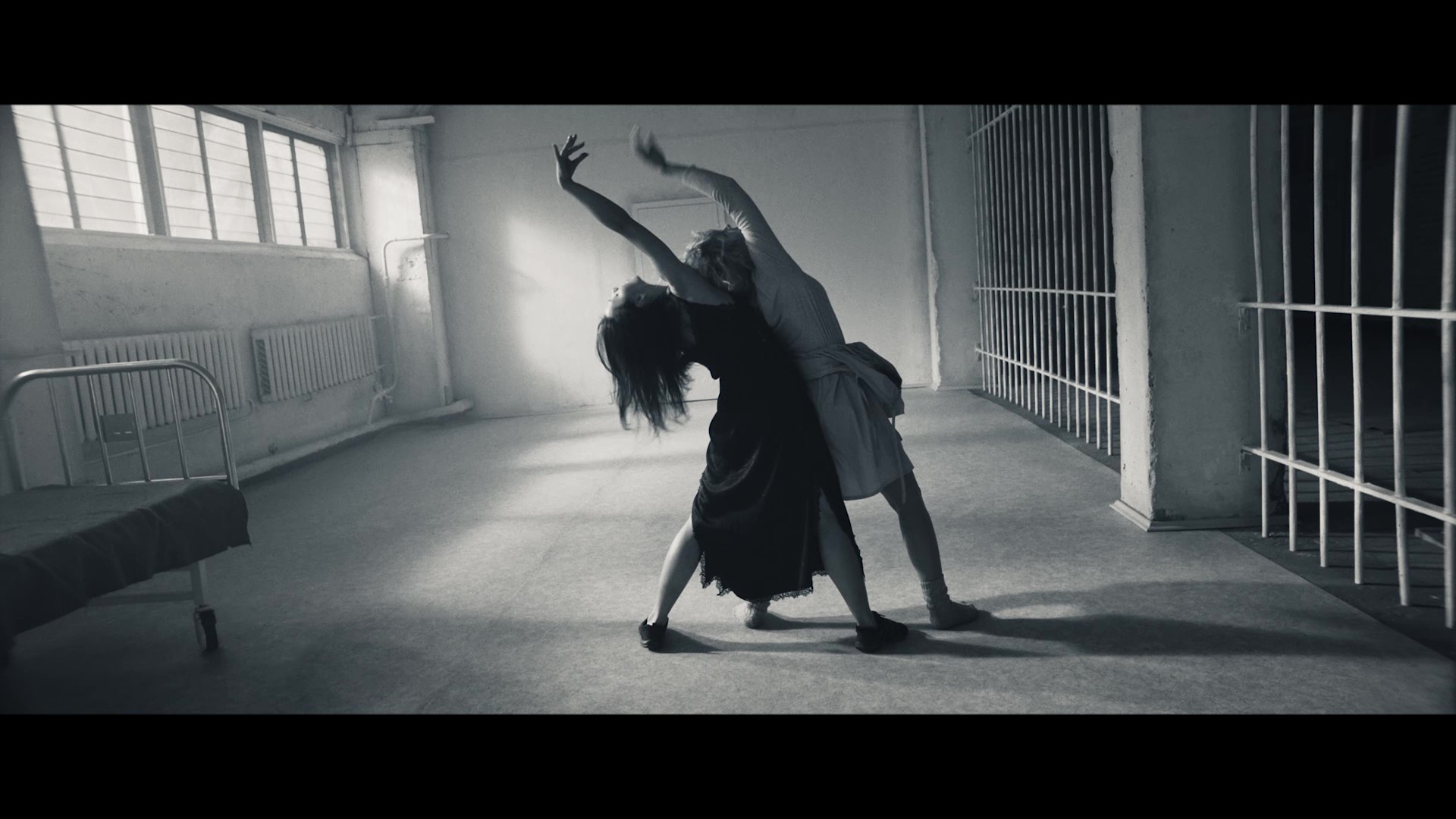 The Escape – Director: Liudmila Komrakova/Dancers: Katerina Zak & Maria Marinova
The patient in an insane asylum is given an injection to calm her down. She is left alone lying on the bed in a straitjacket overhelmed with her hallucinations and memories.  In the ward, another girl unexpectedly appears trying to bring the first one to consciousness.
RUSSIAN FEDERATION 2020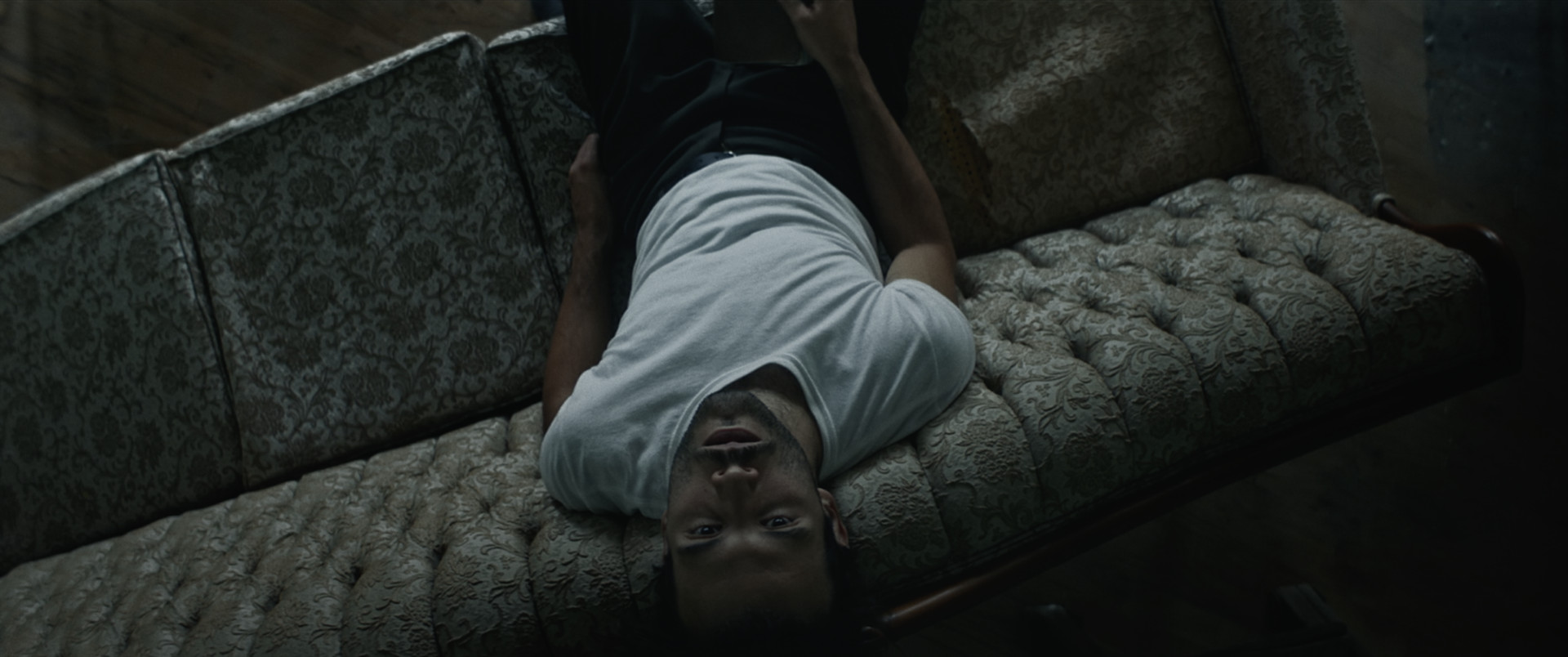 AUTONOME – MADA MADA – Director: Alexandre Richard/ Producers: Graham GS, Alexe Laroche & Alexander Bain Clarke/Dancer: Charles-Alexis Desgagné/Singer – Songwriter: Mada Mada
Montreal, 1954. An exiled author is thrown into a dance with his inner demons. Shaken by the unwavering tides of his life, a gentle touch comes to mind.
CANADA 2020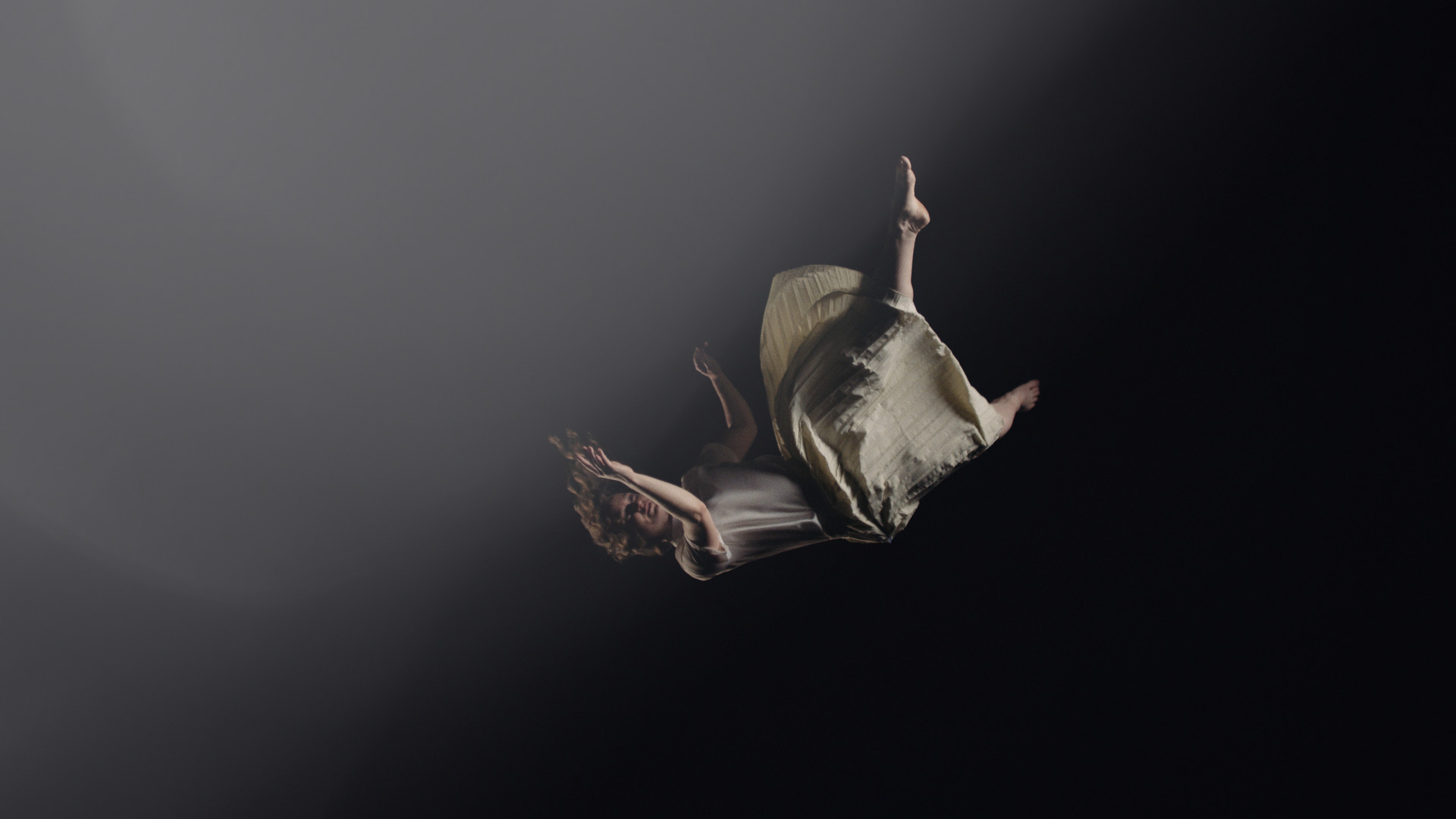 Floor Falls – Directors: Jennifer Paterson, Lewis Gourlay & Abby Warrilow/Producer: All or Nothing Aerial Dance Theatre/Dancer: Freya Jeffs
A women stands, takes a breath, and moves. Arching back extending further than seems possible, she steps forward, rising up onto the tip of her toe and over the threshold. We see blackness then she appears. Rotating and twisting, the camera and her dance around each other. She suspends, or has the floor fallen?
We focus in on her as she walks in air, gravity free, not knowing where we are, what is up and what is down. Spinning through the space, gradually we see her disappearing, focus fading and she is gone.
Floor Falls is a collaboration between award winning film makers Lewis Gourlay and Abby Warrilow of Cagoule and aerial dance choreographer Jennifer Paterson of All or Nothing Aerial Dance Theatre, featuring dancer Freya Jeffs.
This short dance for screen brings together aerial harness techniques with dance for camera.
UK 2020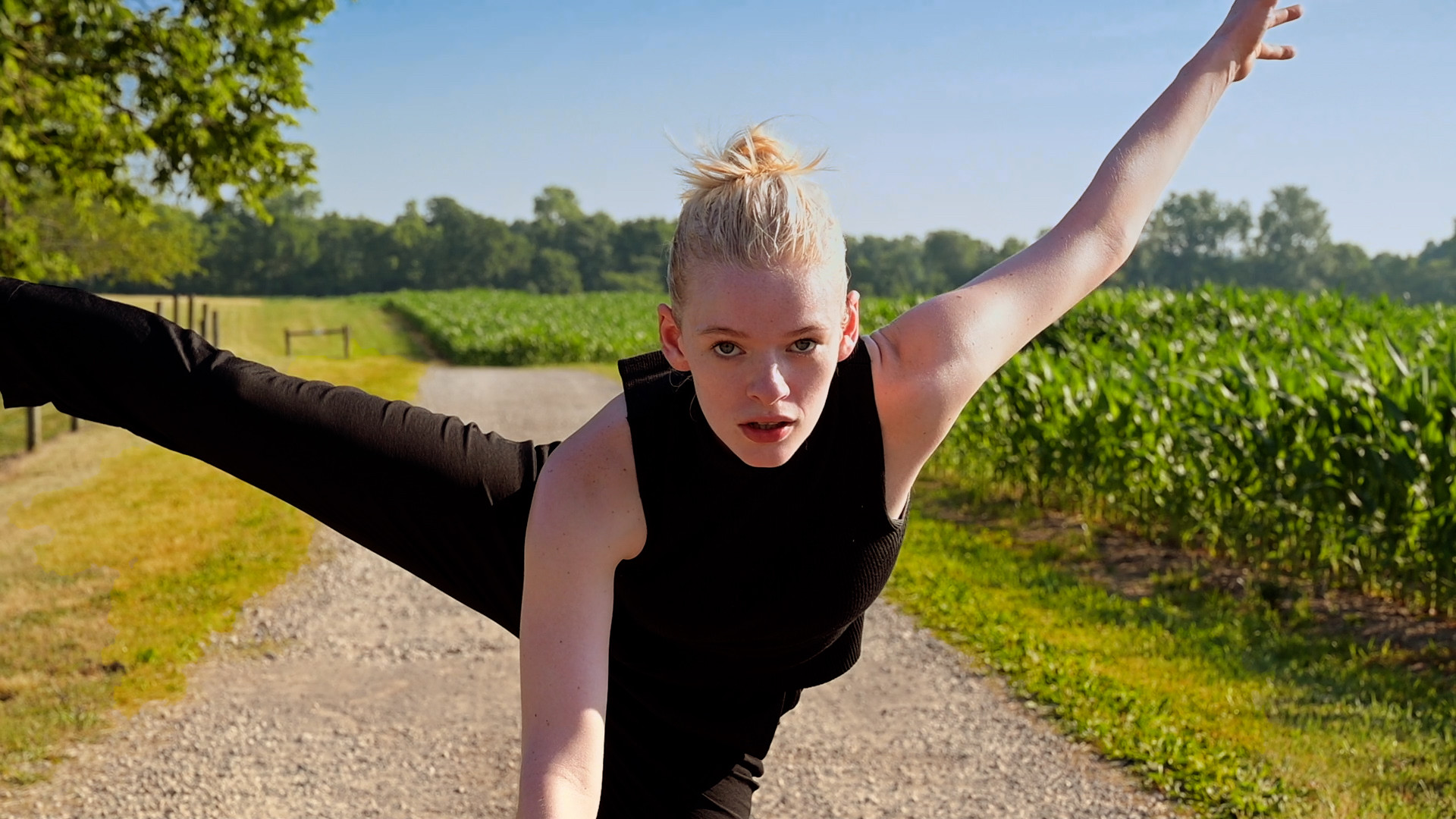 Attention Span – Director: Mitchell Rose/Dancer: Emily Arden Jones
A dancer is shot from 16 camera angles and edited at a disturbing rate. And then suddenly, nothing happens. Intrigued? Watch on.
USA 2020
NO PHOTO
Inside – Director: Thomas Seest/Dancer:Kasper Ravnhöj
Denmark 2020
1-MINUTE SELECTION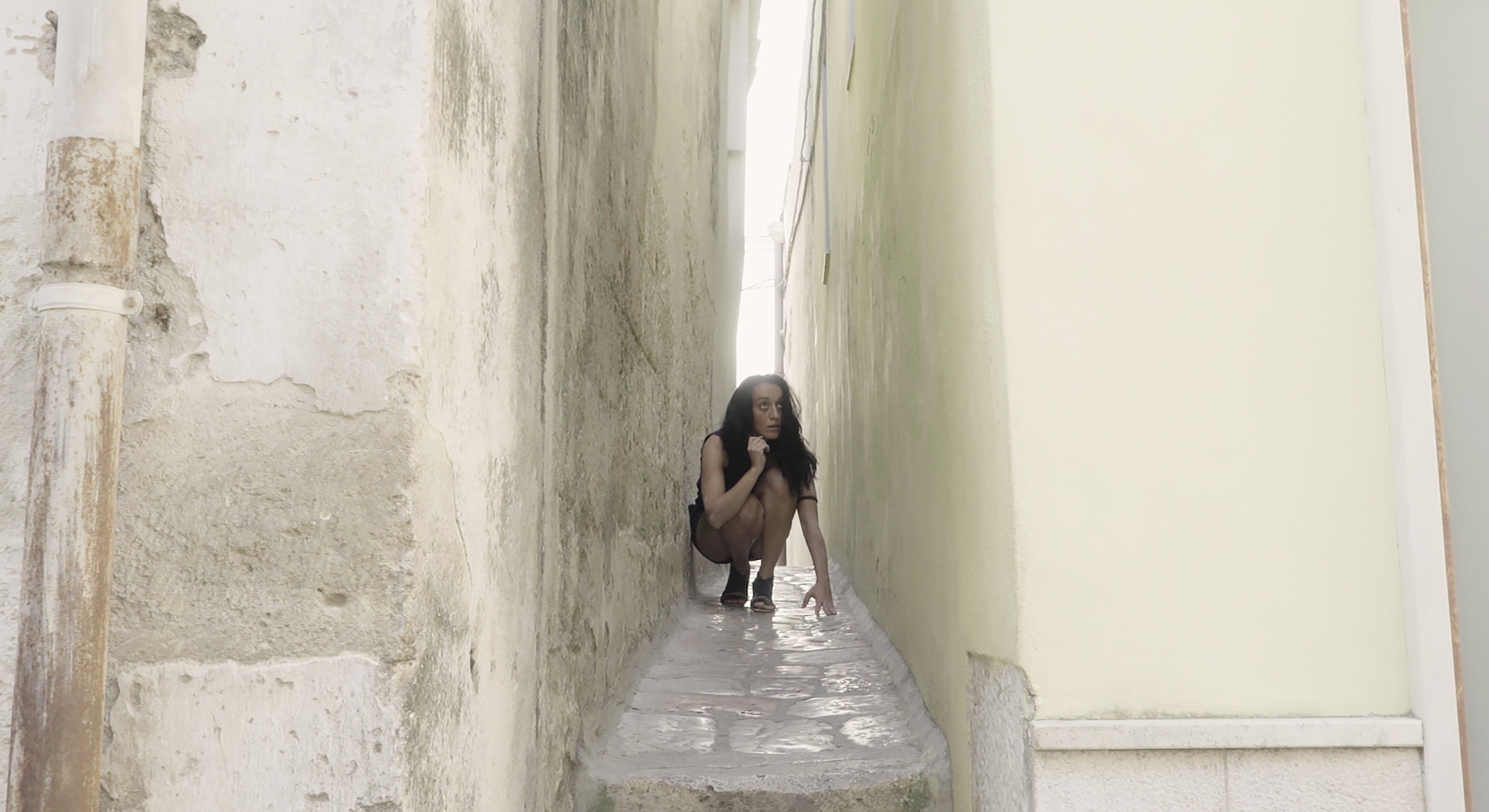 S-Guardo – Director: Angela Calia/Dancers: Angela Calia & Felix Baumann
"Sometimes we don't look at each other in the eyes. There is not enough distance, not enough space, neither the same timing, but we can still feel how we are connected." 
In Italian "Sguardo" is the act of looking. At the same time, in a lot of Italian words the consonant "s", at the beginning of the word, changes the meaning in the opposite. For example "fiducia" (trust), "s-fiducia" (mistrust). S-Guardo is an arbitrary linguistic game that we wanted to play about the difficulty of looking at each other.
ITALY 2018
NO PHOTO
Encounters at Botanical Garden – Director: Heidi Wikström/Dancer: Tuula Cox
A woman visits a Botanical Garden and encounters members of the plant and the animal kingdom.
FINLAND 2021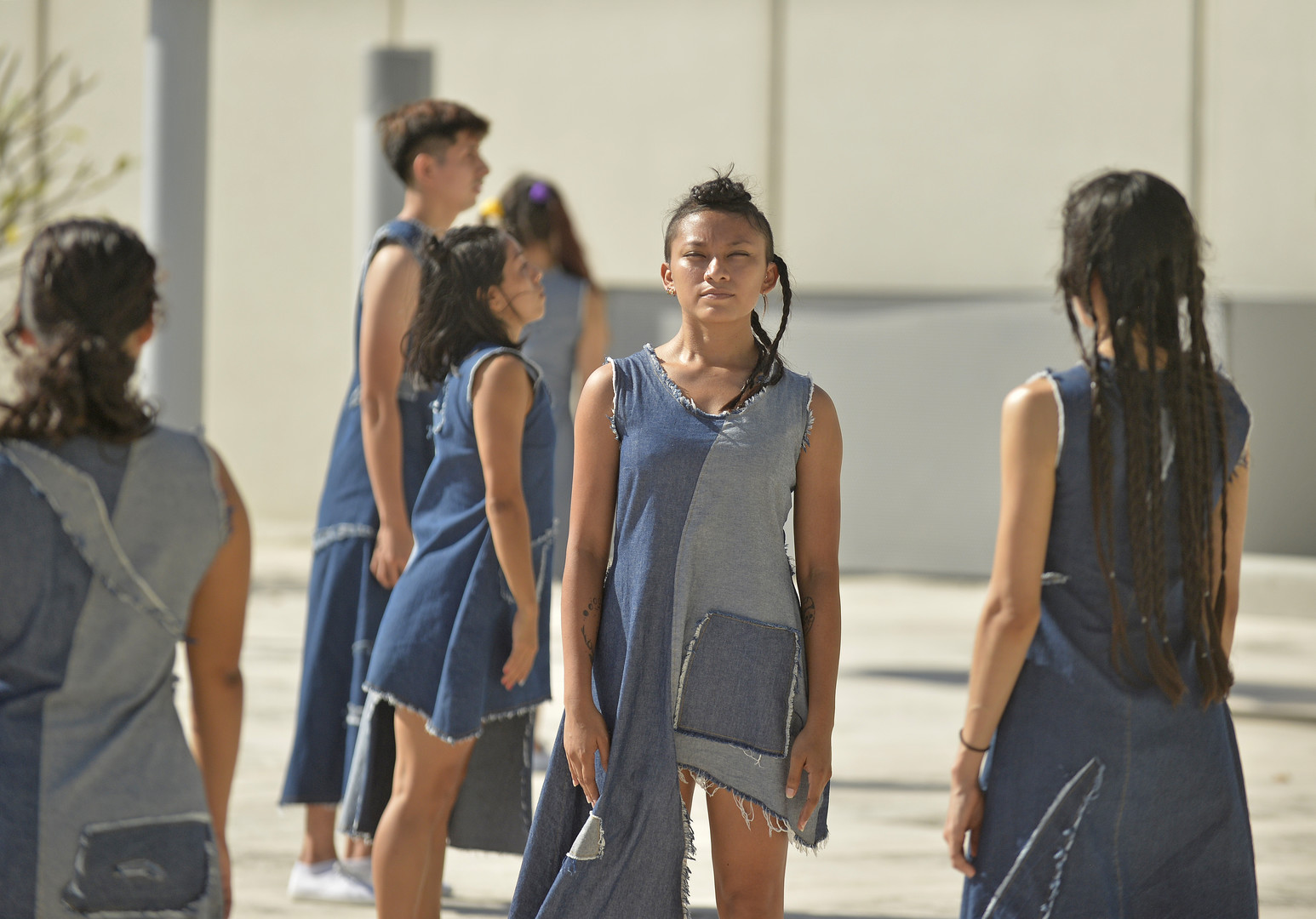 Ode to Live, Ravel's Bolero – Director: Tatiana Zugazagoitia & Atocha Crespo/Dancers: Zizinete Maravé, Yvonne Gómez, Leslie Ramirez, Liliana Aranda, Day Gonzalez, Luz Gonzalez, Mariana Ceballos, María Cantarell, Sofía Aguilar, Angie Canto, Jesus Padrón, Nicole Carrasco, Nili Yamile, Rosy Burgos, Sandy Salazar & Guillermo Burgos. 
Ode to life, Ravel's Bolero/Dance Minute, talks about a woman dancing in solitude, longing for the confinement to end and to be able to dance again in a group as a ritual of hope and celebration for life.
MEXICO 2020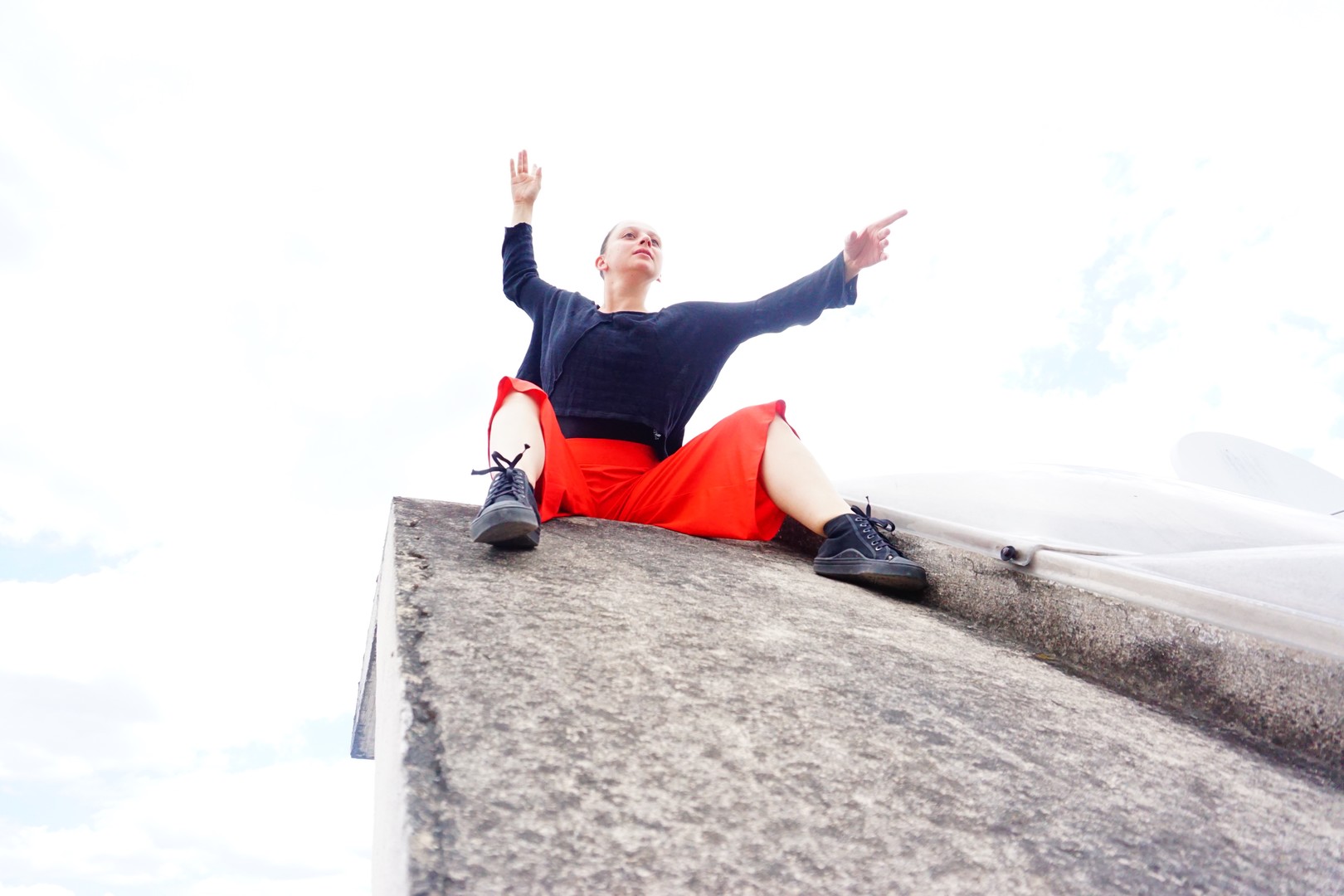 AFTER… HEAVEN – Director: Ekaterina Ignatova/Dancer: Ekaterina Ignatova
The other reality is closer than we think, between heaven and earth there is a universal and energetic point of contact, that point is the body that dances to feel free and creative, caress the air and the wind, recognize itself in the shades of heaven. Dancing with the clouds.
ECUADOR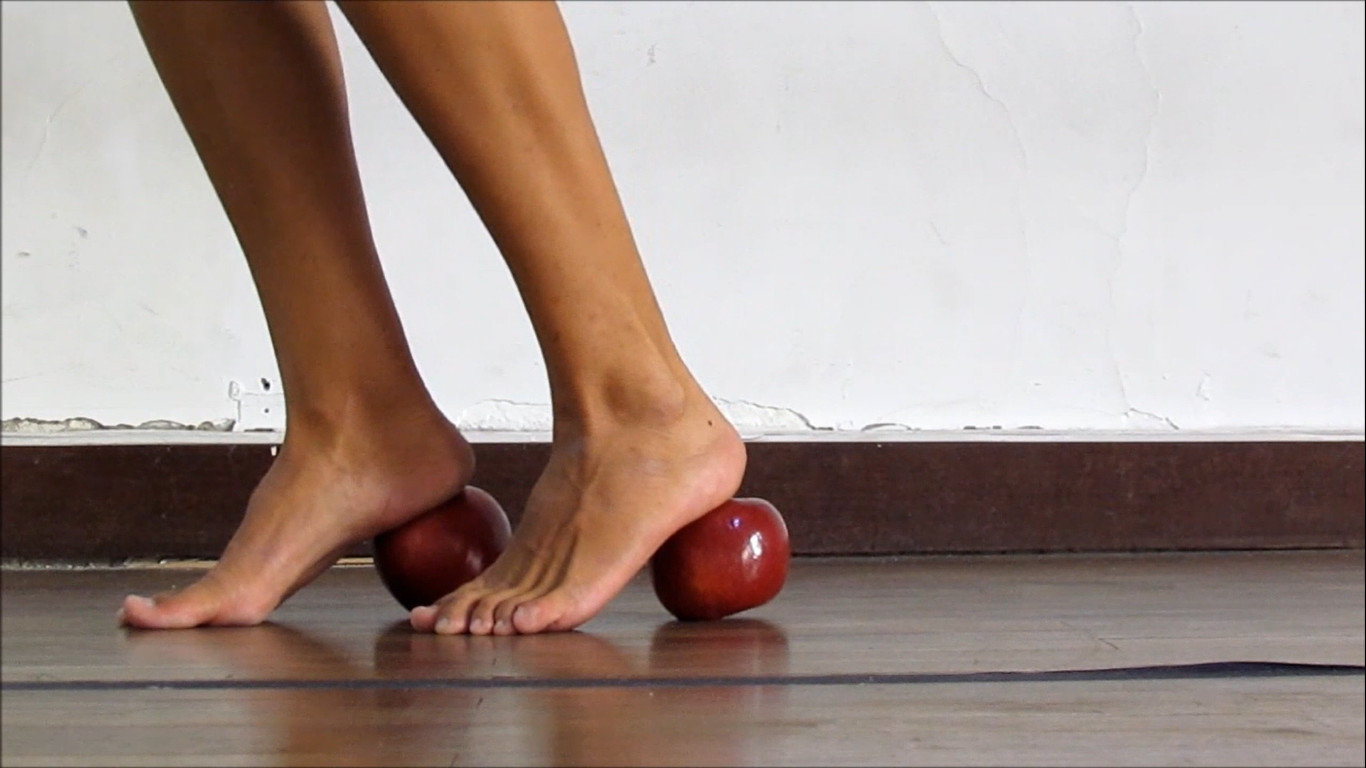 Eve's Club – Director: Gabriela Jung.
Video dance that addresses the demystified although still impactfull construction of women's image presented as a weak element of society in the representation of Eve.
BRAZIL 2020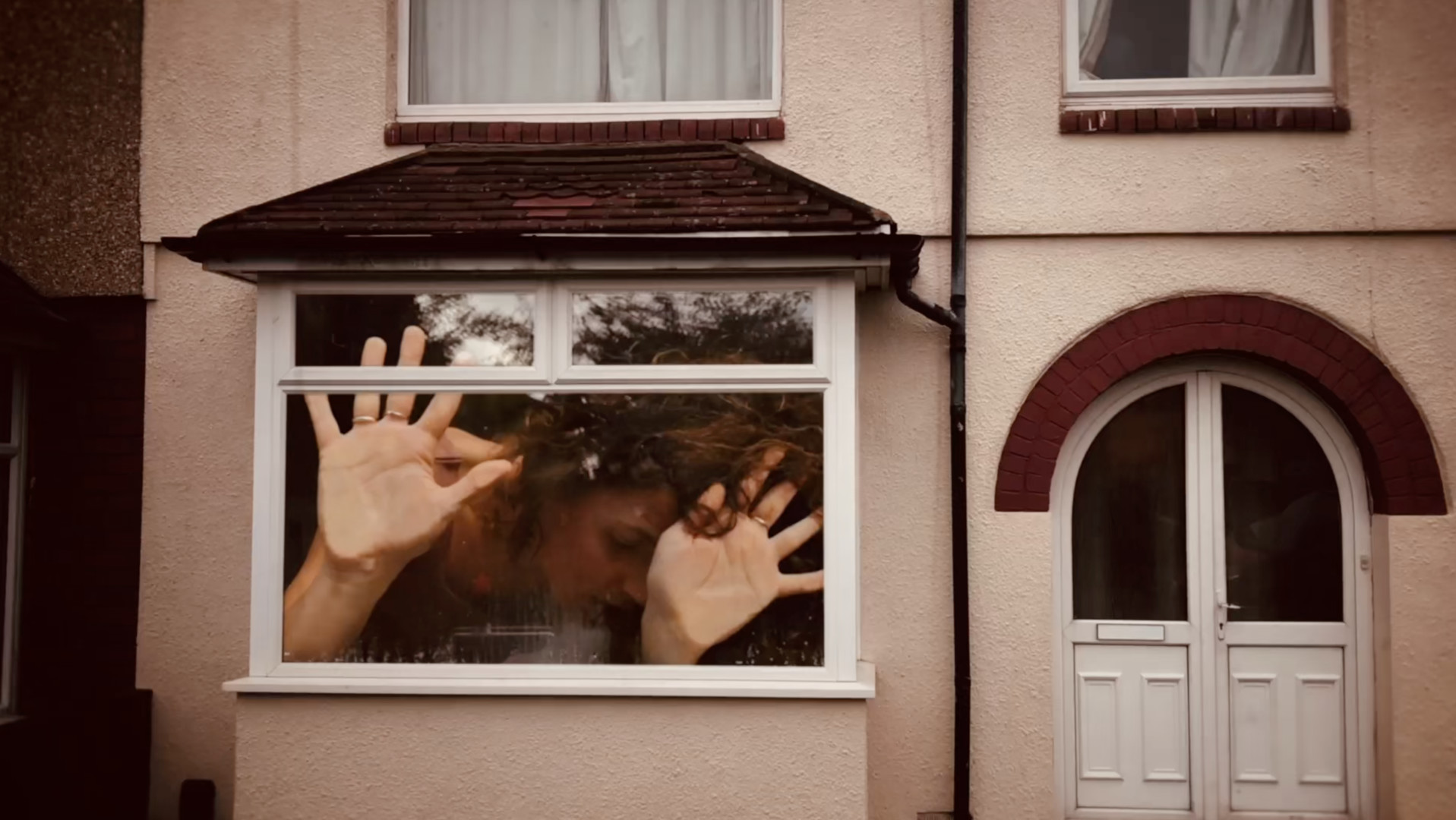 Goldfish – Director: Karni and Saul/Dancer: Natalia Iwaniec
An isolation dance film. made in 3rd uk lockdown 2021
UK 2021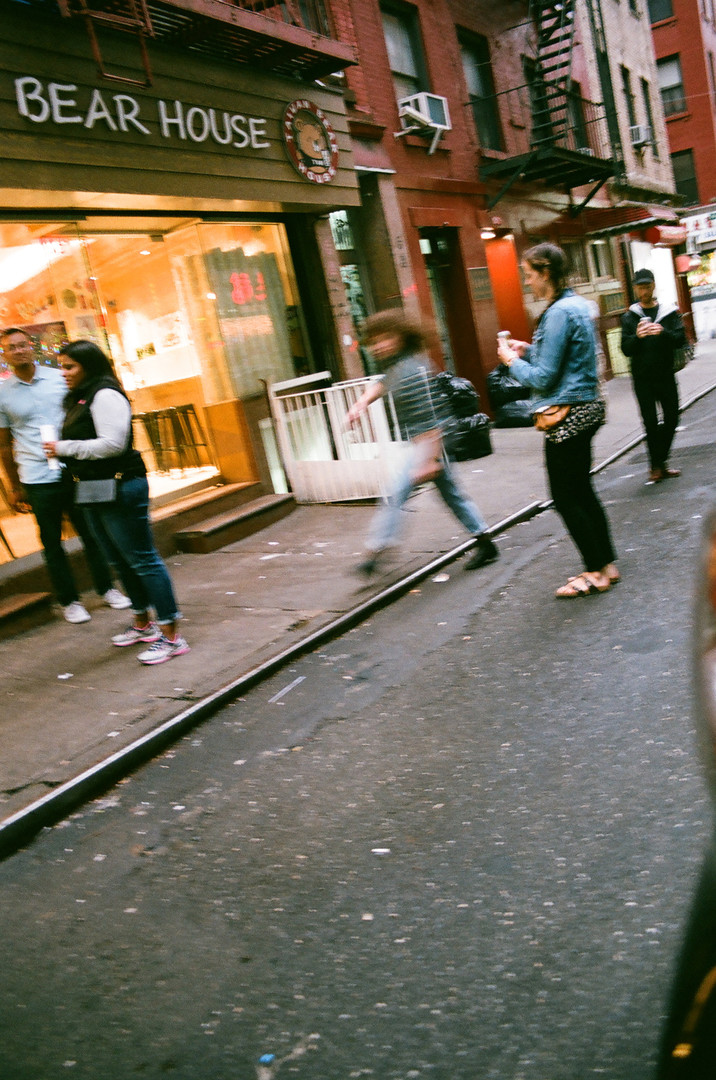 ∞ – Directors: Margaret Wiss, Robert Uehlin & Rosie Yerke/Dancer: Dakota Celeste Bouher
USA 2018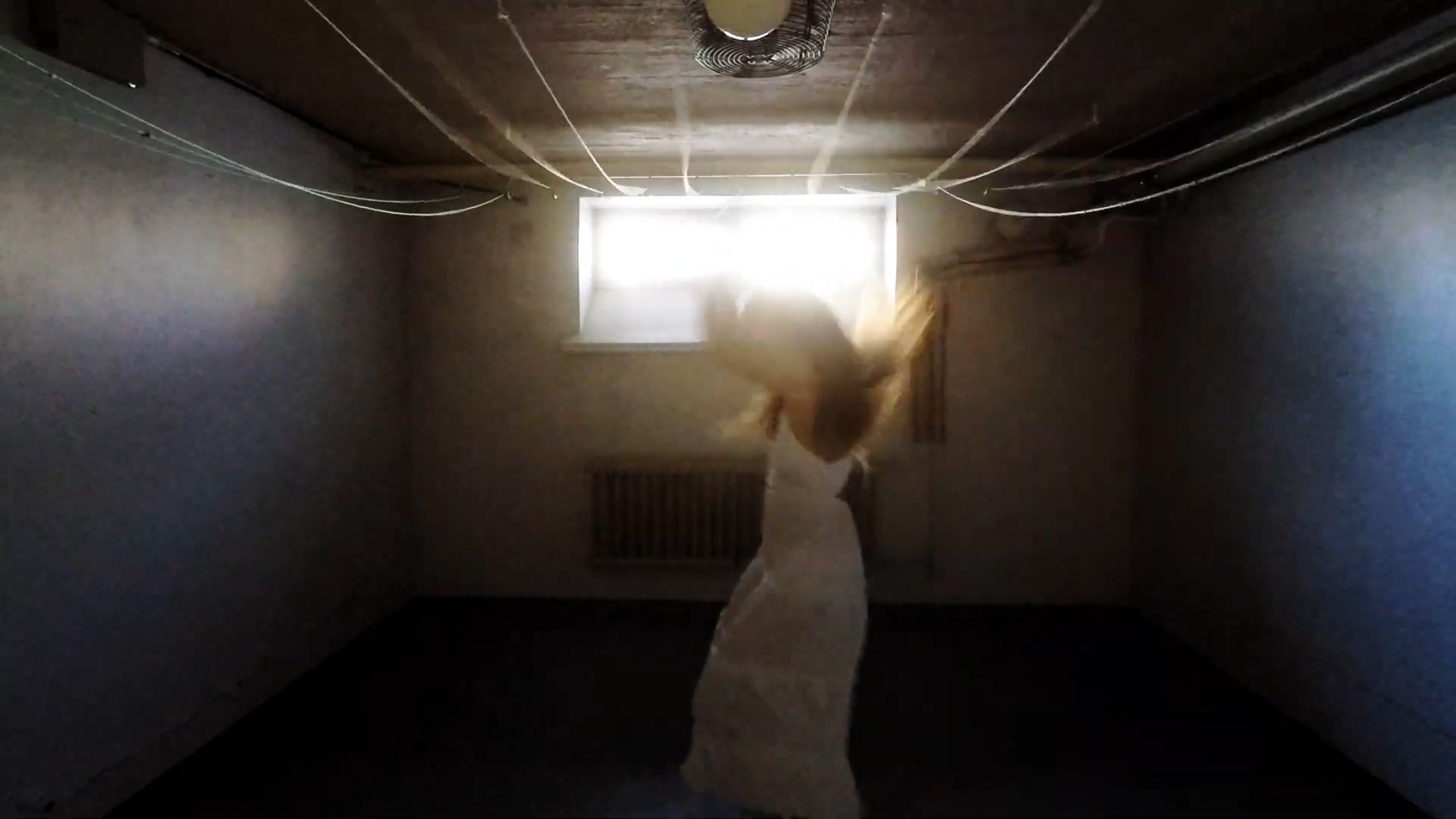 The Minute you Panic – Director: Hanna Ojala.
FINLAND 2020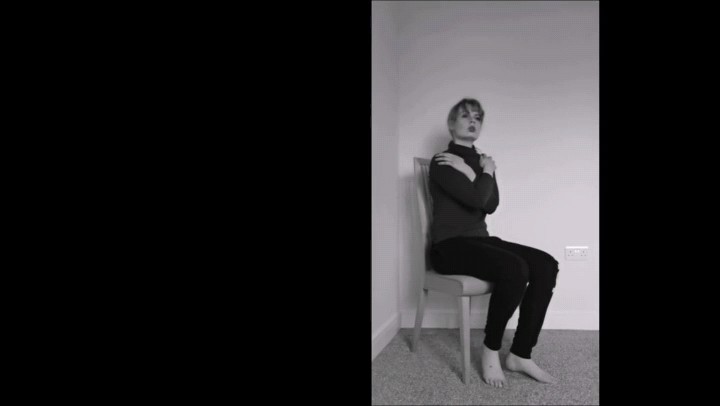 Inside – Director: Natalie Haslam/Dancer: Natalie Haslam/Poet: Henry Madd
Together with poet, Henry Madd, this short video combines spoken word with movement to explore the theme 'inside'. Created during the UK's second lockdown, myself and Henry look at how it feels to be inside: inside the house, inside the mind…
UK 2020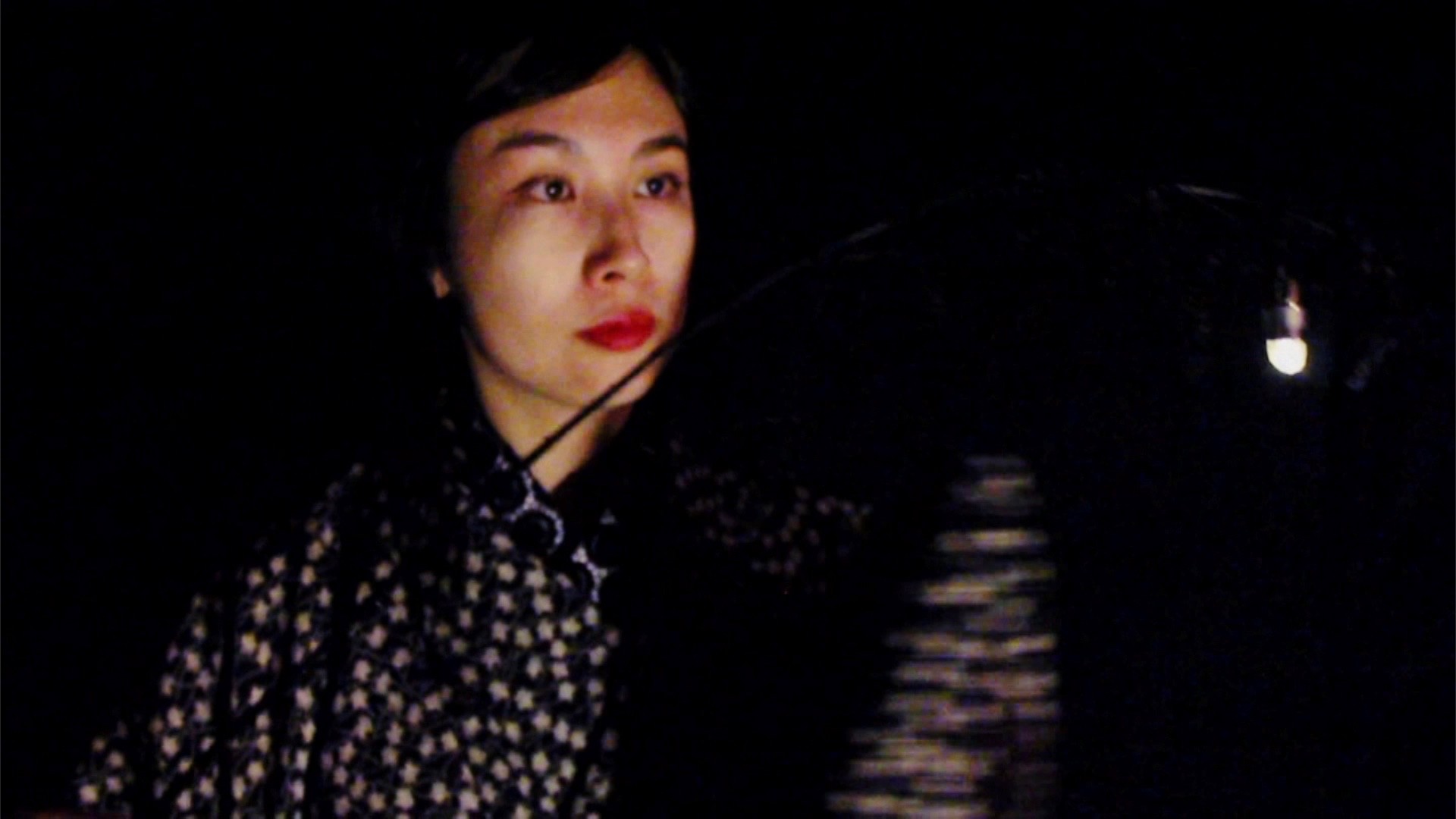 Peri – Director: Yuuki.
"Peri" is a beautiful fairy that appears in Persian mythology. In Suffolk, eastern England, Aurora are called "Perry dancer" and in Scotland Shetland Islands it is called "Perry" because the light seems to be dancing.
Even in Japan, the appearance of fireflies emitting light and flying around is sometimes called "the dance of light." It is interesting that it is common to all ages, east and west, to feel that the movement of light that is born in nature, whether it is a firefly or an aurora, is a "dance".
Japanese dances, Kamigata-mai, which is strongly influenced by Noh, is shown with a minimum motion, unnecessary movement is cut off, so that is linked to natural movement. In Japanese dance, which includes kimono and is shown as a body, the outline of the body is expanded rather than the body itself.
The aforementioned Persian mythical fairy Peri protects the immortal flowers at the far end of the world and disappears into the light in mythology. In this videodance "peri", the movement created by Kamigata-mai becomes light and dances in the air. The movement of the dancer, the pattern of the kimono, the atmosphere, the light … all the boundaries become ambiguous, and the dancer also disappears into the light like a fairy Peri. 
JAPAN 2021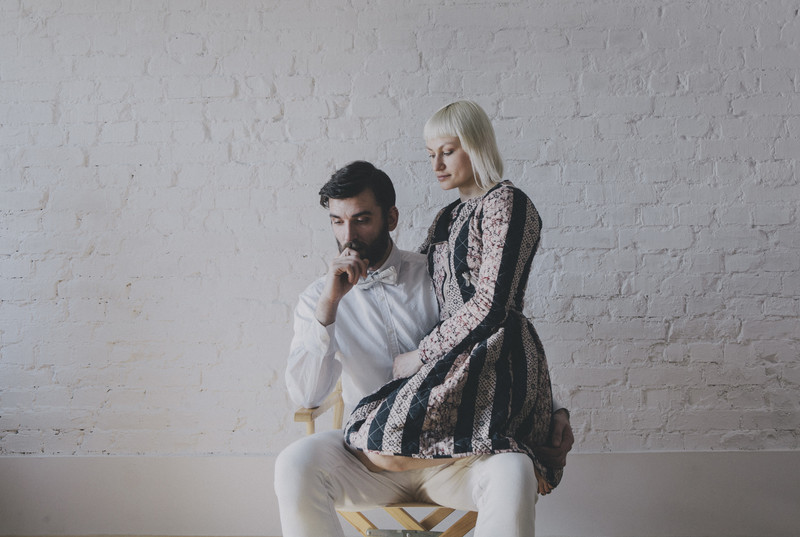 Die Schichten der Wiederverbindung – the Layers of Reconnecting – Director: Karolina Wyrwal/Choreography: Karolina Wyrwal & Krzysztof Lubka/Dancers: Karolina Wyrwal & Krzysztof Lubka
Longing for touch, embrace and human body contact were the key points explored in the story. 
It was a creative choreographic challenge. Bodies with phenomenal physical abilities are experiencing confinement and limited possibilities for contact and space. 
Given these unique global circumstances, individual creatives and companies have had to come up with new and innovative ways of continuing their work through the pandemic.
GERMANY 2021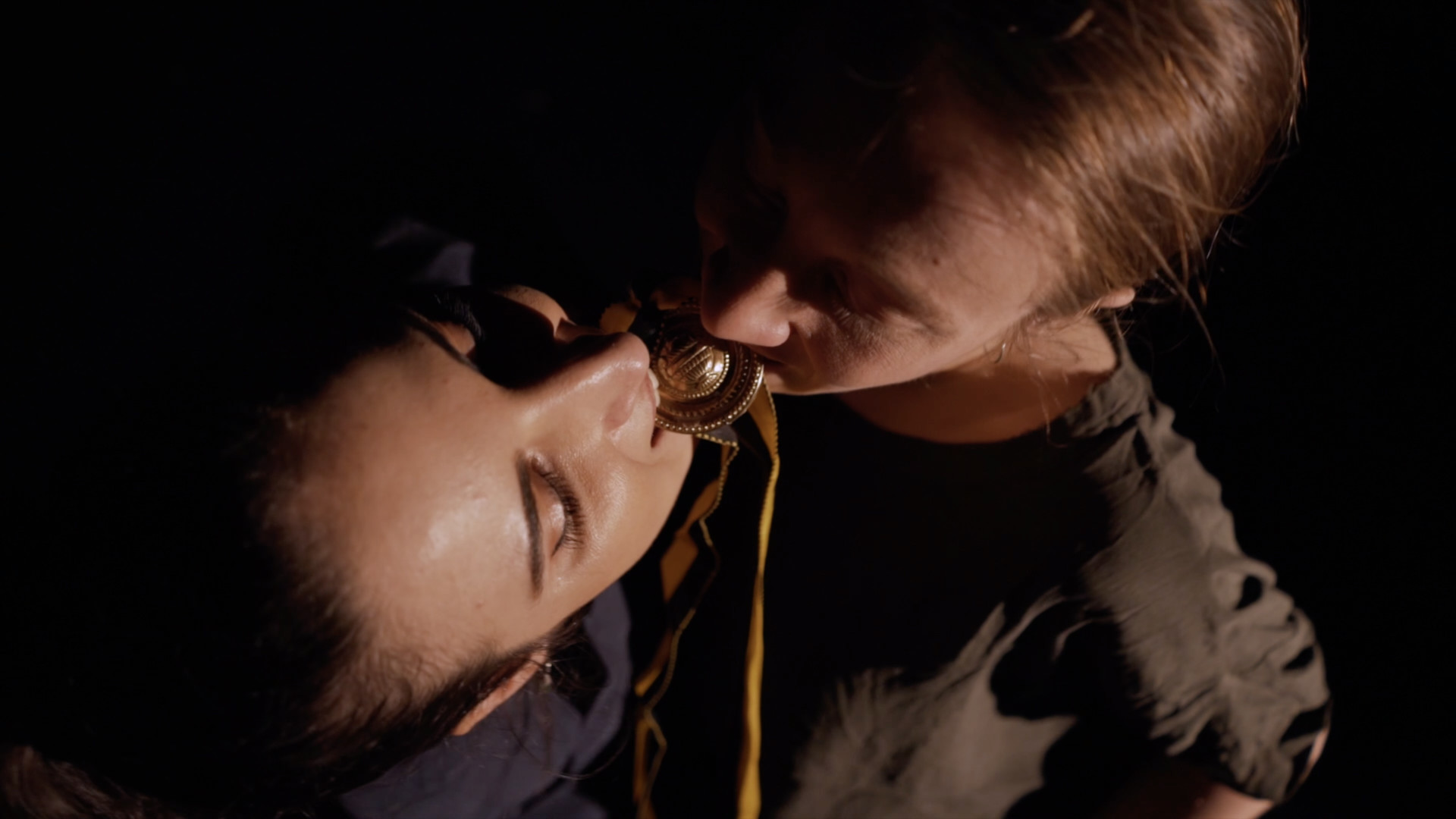 "ARTIST" – Director: Max Zachrisson/Choreographer: Malcolm Sutherland/Dancers: Malcolm Sutherland, Marina Sánchez Garrigós & Stefanie Pechtl
Have I made it yet? You've exposed yourself, you're vulnerable, you're on a slippery slope to nowhere in pursuit of someone else's vision of success. Your adoring fans exist only within this hollow, self-made shell of illusion. Have I made it now? You're in a constant state of bombardment and the more you try, the more you receive it. How about now? You're scared, so procrastinate a little more, distract yourself with other things. I must make it. You laugh and cry about it, a dog never catches it's tail you know. Have I made it yet?
SWEDEN 2020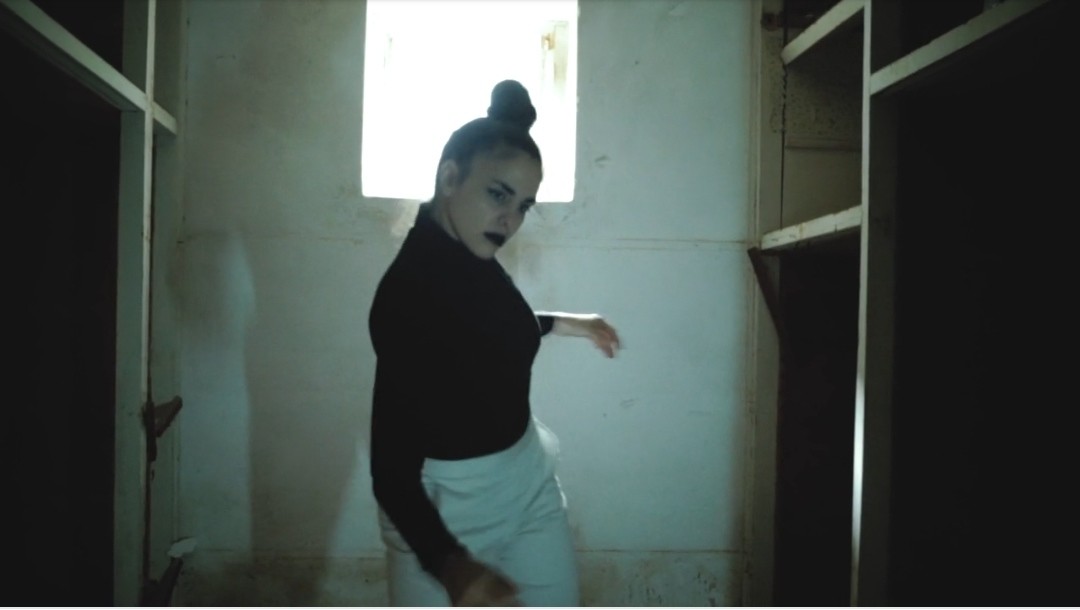 Stop Human Trafficking – Director: Antonis Skaramagkas/Dancers: Persefoni Disseaki
This project was created in order to capture – in a specific body language – the internment, the inability of free movement, expression and the deprivation of human rights, through the concept of "puppet" , stating that someone else controls and causes forced movement in an entire body or moves with robotic sequence without emotion. This reflects the repressed situation experienced by children working in illegal conditions to produce clothing products and also to any other form of Human Trafficking.
GREECE 2018
NO PHOTO
SUSPENDED – Director: Filomena Rusciano
Life stuck in an unexpected suspension.
ITALY 2020
NO PHOTO
TORMENTANGO – Director: Rodrigo Pardo/Dancers: Rodrigo Pardo & Rosalie Wanka
A classic tango song from the 30's called Tormenta (storm) is the perfect background for this dance couple on a salt flat in Argentine. Filmed on location, in one take (NO GREEN SCREEN)
ARGENTINA 2020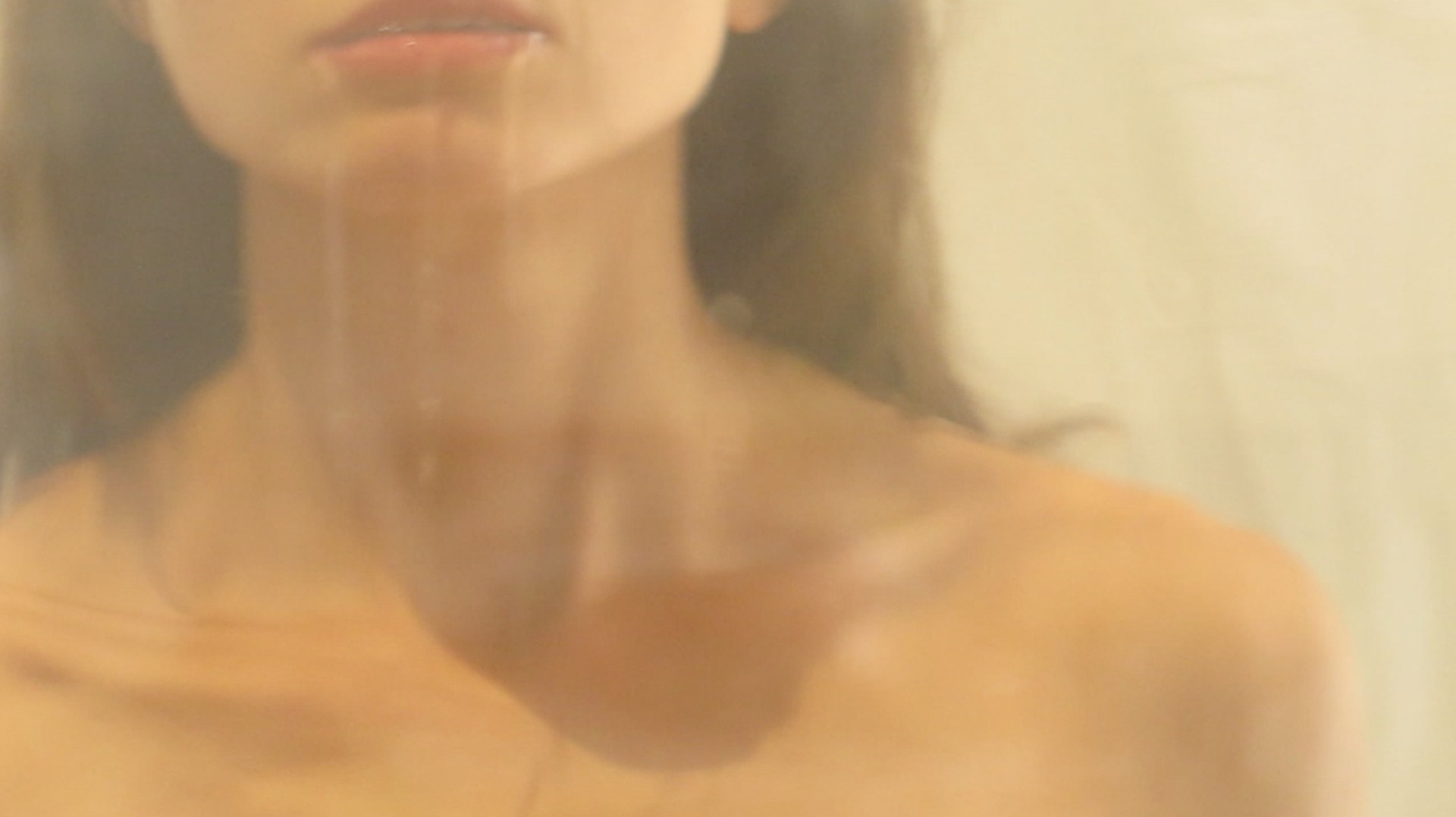 Aquatic – Director: Camila Venturelli
The video "aquatic" is part of a trilogy that emerges from the inspiration of different types of roots. The video seeks to build a non-hierarchical dance, in which the human gesture is one of the elements that compose it, and is susceptible to the affections of the encounter with what is different from itself.
BRAZIL 2020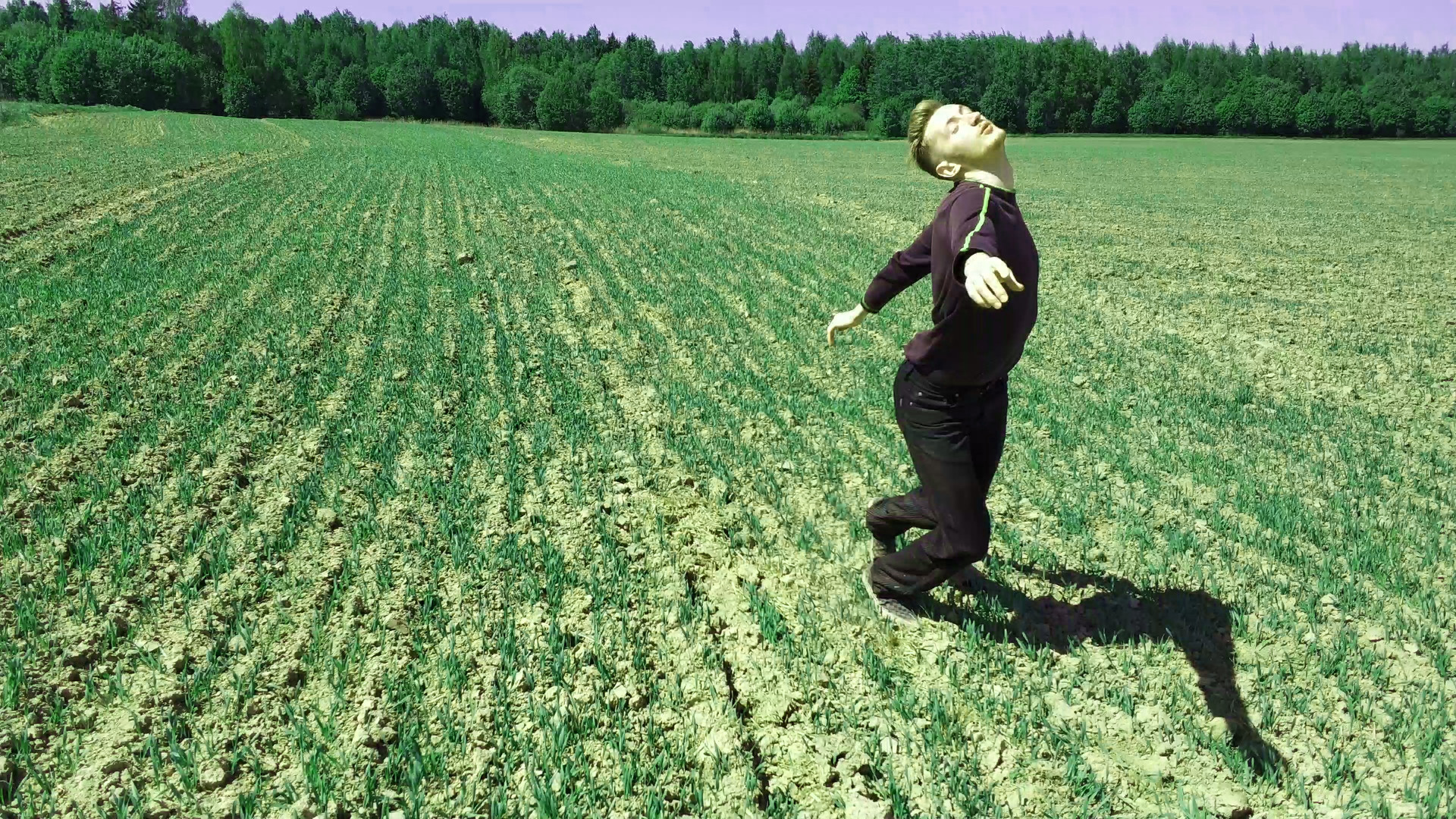 Collision – Director: Uladzimir Slizhyk.
In this short film I am questioning the notions of frame and virtuality. To what extent do we consider colors we see real? To what extent do we feel our bodies free of any frames?
BELARUS 2019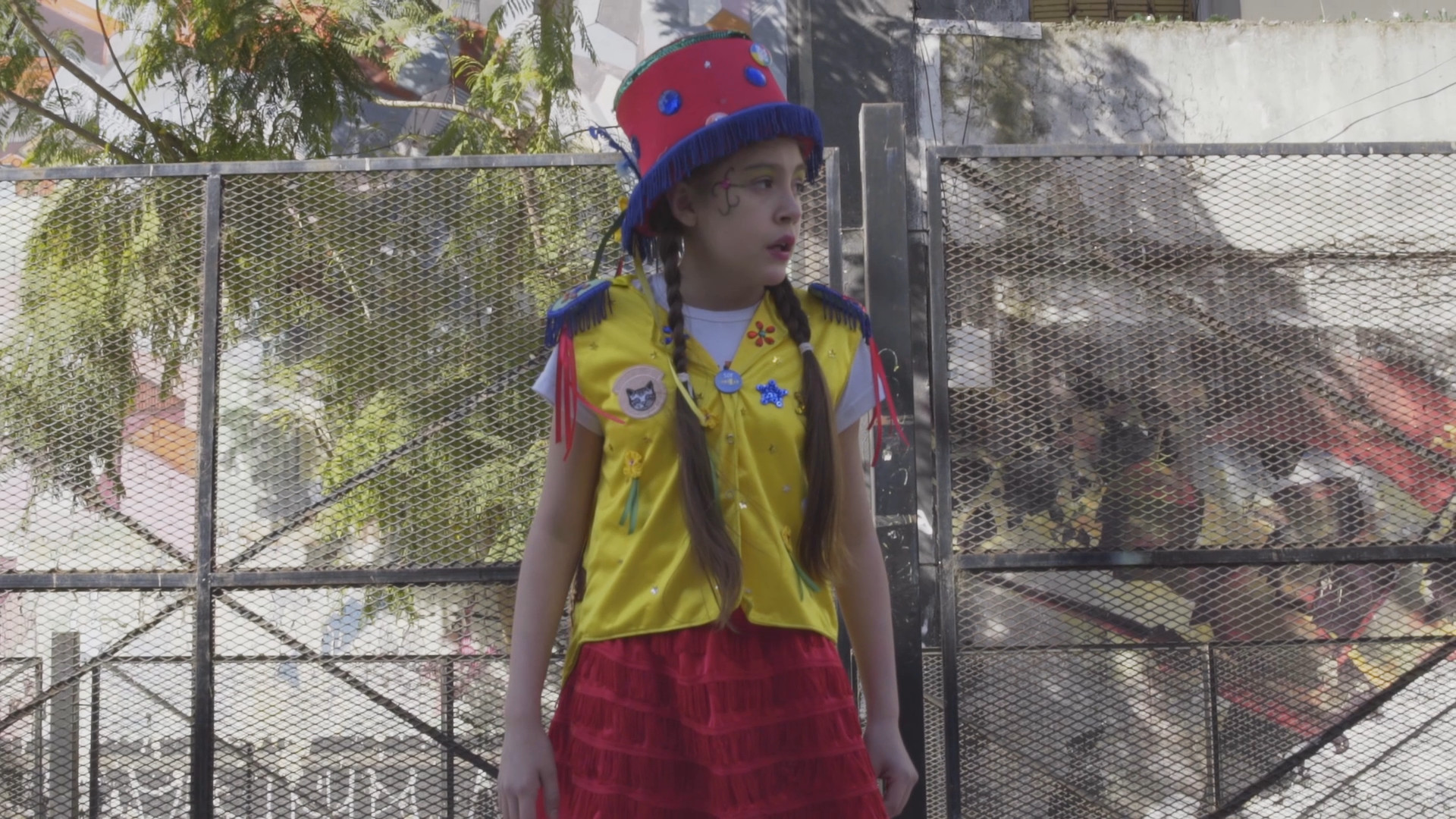 Murga – Director: Sofía Castro
The young women of the urban Murga dance group of La Boca meet for the first time after months of confinement. 
Their colorful and dynamic movements awaken the city of Buenos Aires.
ARGENTINA 2020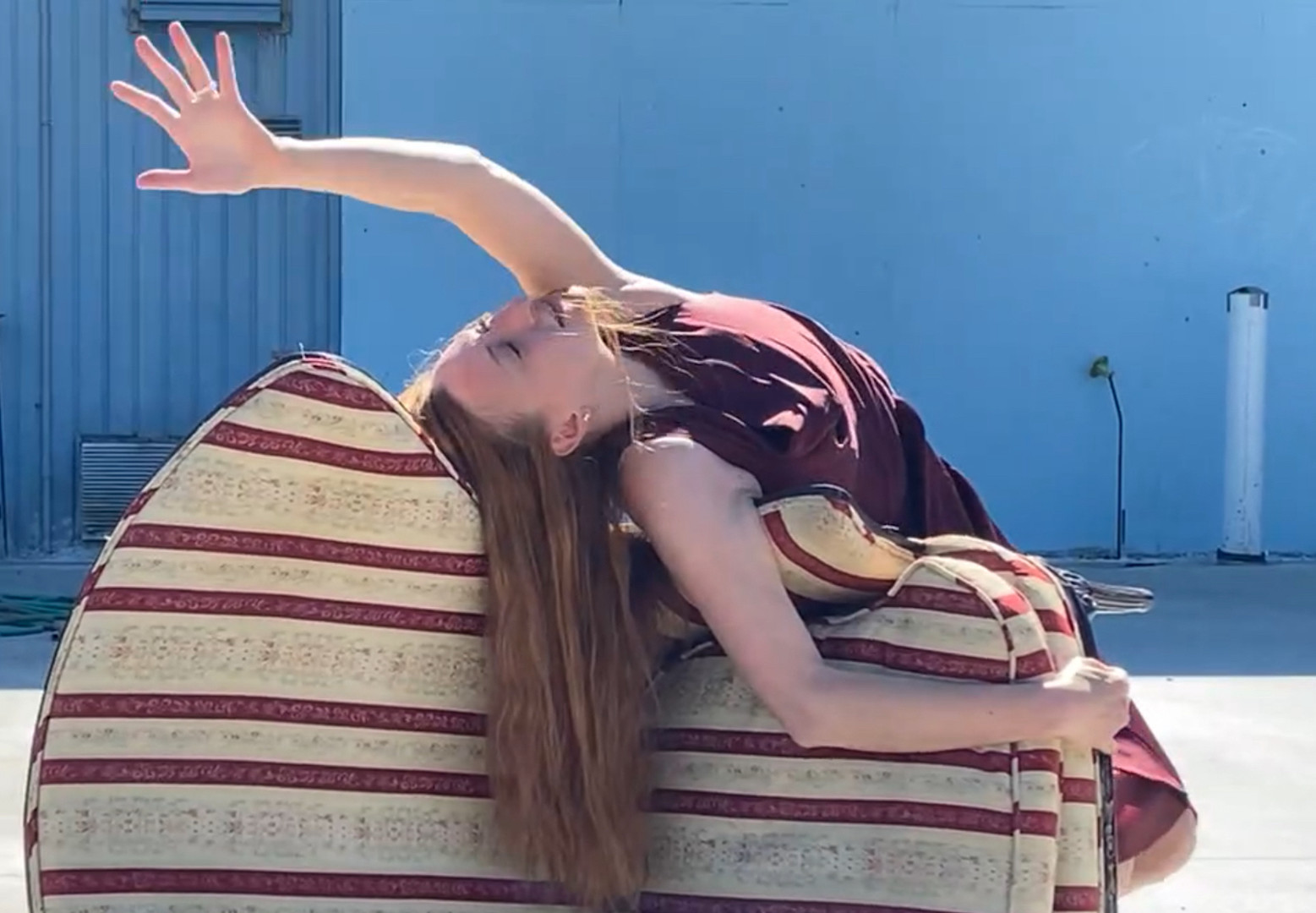 Terpsichore's Sacrilegium: a short dance film – Director: Loretta Fois/Dancer: Lauren Beirne /Music: Sposa son disprezzata by Geminiano Giacomelli, sung by D'Andrea Pelletier
In a matter of a few months, the creating and presenting of arts has undergone rapid changes. This piece looks at how our present condition has exposed the extreme precarity of the arts, and explores what happens when the performances pause, seasons are suspended, and stages go dark. From politics to a pandemic, art as a sanctuary, a balm to a fevered collective consciousness, seems like it has been abandoned by American society.
USA 2020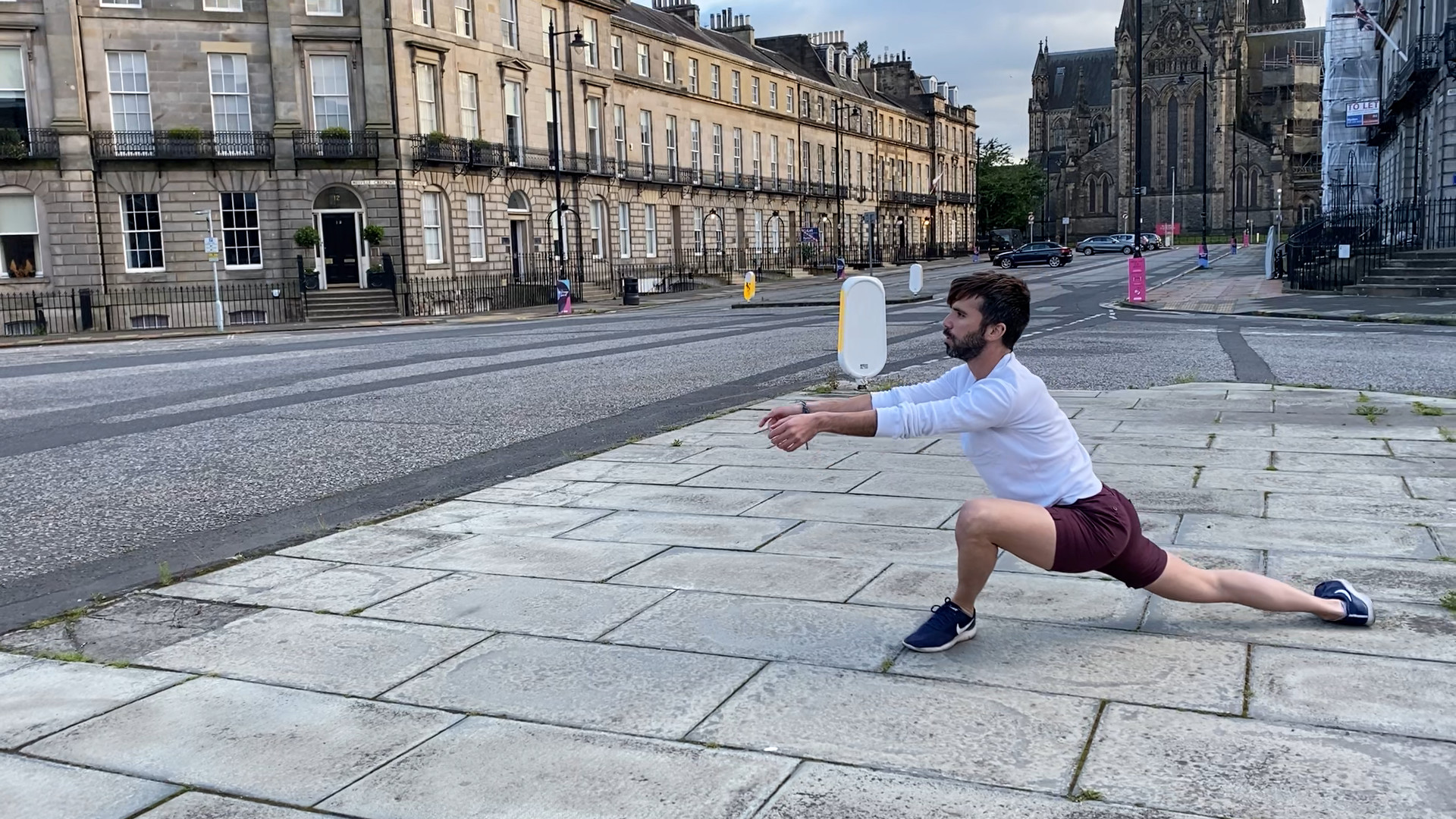 Video Project #STATE s – Director: Daniel Navarro Lorenzo
In a State controlled by power, money and fear, citizens believe they enjoy a freedom that they do not really possess. The way they move, cry, smile and wait does not belong to them anymore. Emotion does not exist, there is no place for it. Two people perform their show, twice a day, seven days a week, 365 days a year. Their movements are robotic, mechanical, there is nothing they can control because they control nothing: they have become automatons. The only thing that seems to be able to release them are the memories in which human emotion seems to be discovered through the traditional dance of previous generations that have already left.
UK 2020
NO PHOTO
Agent! – Director: Eliza Malecki/Dancers: Angela Cole
Agent! features a one minute duet that sheds a little bit of lightness and whimsy on the otherwise frustrating and mind numbing process of applying for unemployment.
USA 2020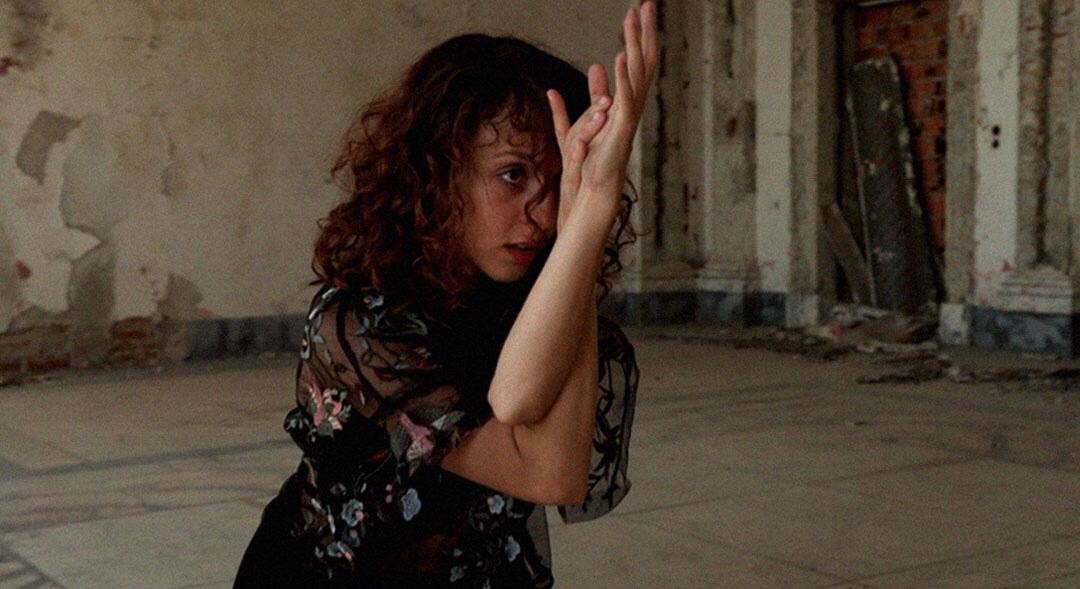 Play – Director: Gjergj Bodari/Dancer: Rosella Pellicciotti
Play is a range of intrinsically motivated activities done for recreational pleasure and enjoyment.
Play is often interpreted as frivolous; yet the player can be intently focused on their objective, particularly when play is structured and goal-oriented, as in a game.
ALBANIA
NO PHOTO
BIRD – Director: SERGIO JARAIZ
A parody documentary about seduction and gender. Social behavior as animals.
SPAIN 2020
NO PHOTO
BACK HOME – Director: Luca Di Bartolo/Dancers: Giorgia Damasco
How big is our vital space? What shapes, sounds and colors can it acquire? Through a constant search for opposites (light / dark, full / empty, sleep / wakefulness), Back Home looks at emotional perception as a vital parameter, admitting its subjectivity of manifestations in relation to the present.
ITALY 2020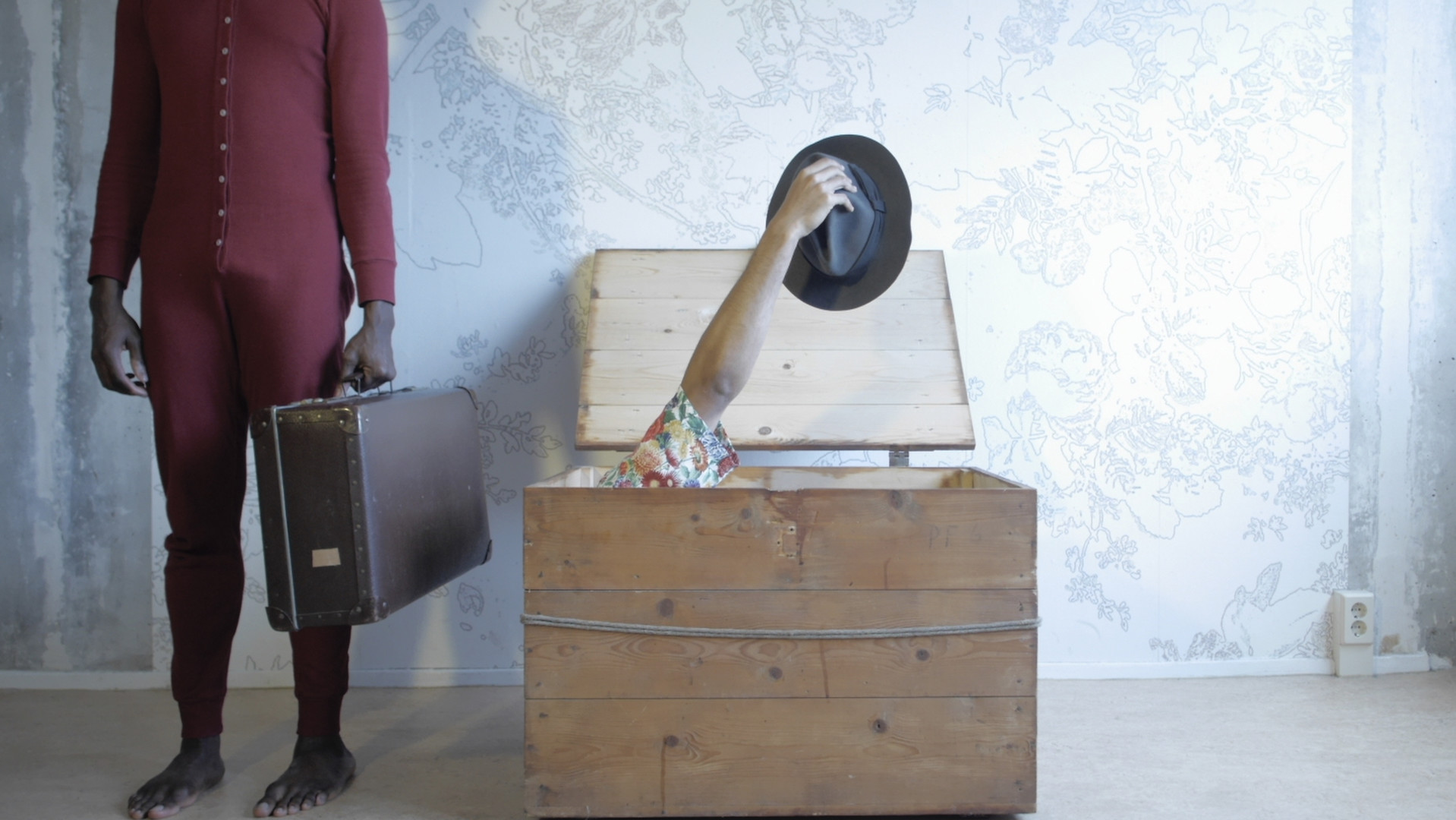 HAKO – Director: Shumpei Nemoto/Dancers: Jermaine Spivey & Luis Alberto Rodriguez
"HAKO" is created with an interest in making still photos into an animated like dance video. 
The process was very spontaneous and cooperative with two fabulous dancers.
SWEDEN 2020
NO PHOTO
Relation – Director: Mario Gonzalez
Its about the change and the love with your partner.
SPAIN 2020
GIF.DANCE SELECTION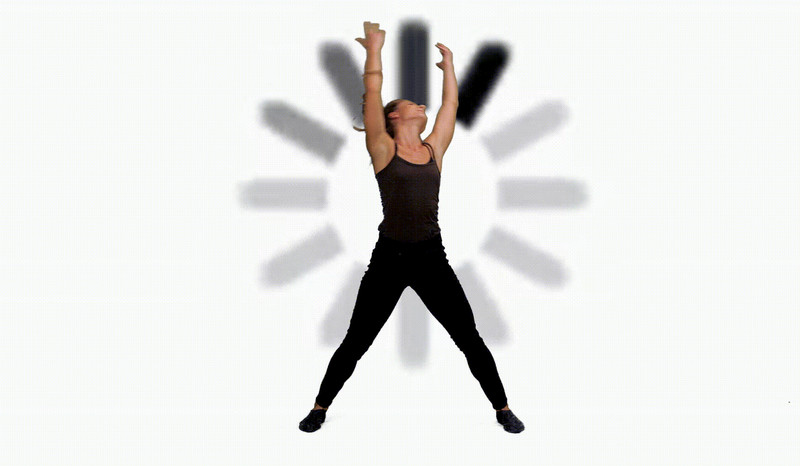 Hologram – Director: Jeremy Cone
USA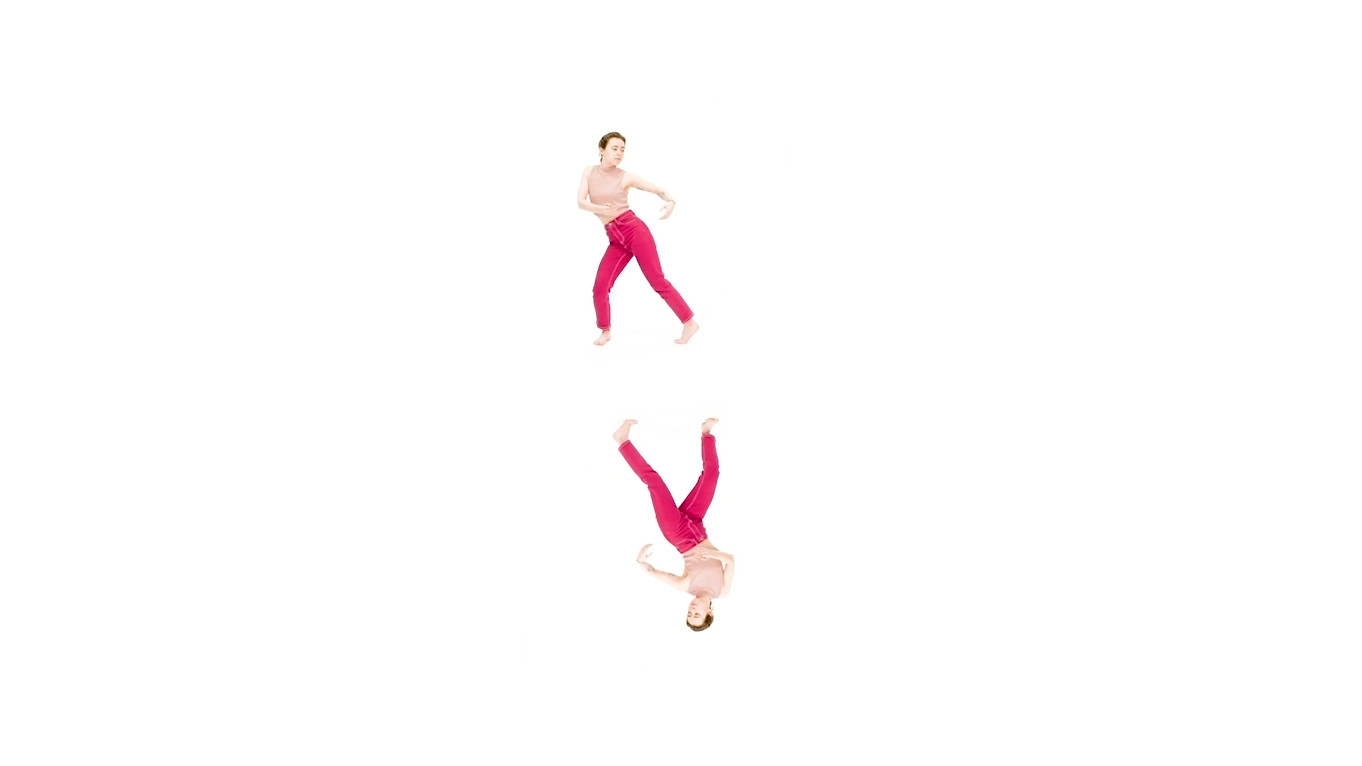 Limitless – Director: Layna Miyazaki/Dancers: Kiera Sanderson & Georgia Aiken. UK
These gifs explore the idea of time existing in an empty space. I see dance as a way to stop time for a second to be in the present. This is explored through these dancers in a void where their movements are on an endless loop.
UK