Contestants 2018
SWEDISH SELECTION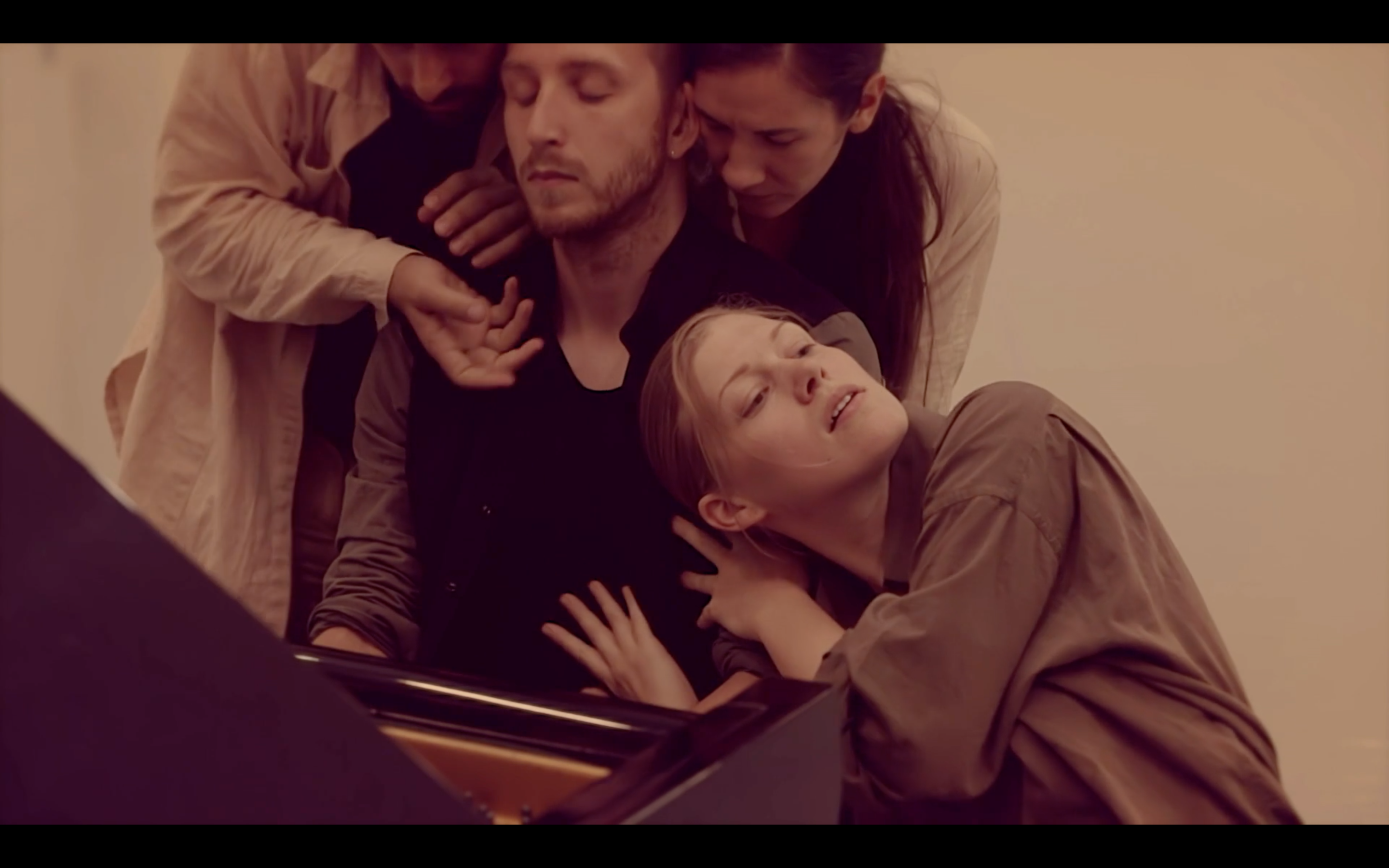 SCHUBERT VS THE MUSE: IMPROMPTU NO.3 
Artists each have their own special relationship to their muse – the magic, mysterious, unpredictable force that inspires them to create their work. And while each relationship is unique, all artists go through similar processes with their muse: at the start, a beautiful dream or idea, something vague and interesting – 'inspiration' perhaps. Then follows the hard work; which can be draining and frustrating or exciting and challenging. Artists sometimes quit here, but if they continue, they eventually reach completion – a measured, well-rehearsed calmness where everything seems to fall into place.
This short film is intended to represent that process. Whether you are creating or learning or rehearsing, you are not alone in this process, and it's never wasted effort. Trust the process, and most importantly: enjoy the process, because the truth of any work is not the end product but the work that it took to create it.
Directors: Tim Davis & We:R Performance Collective / Dancers: Rebecca Rosier, Rebecca Björling, Daniele Varallo /Musician: Tim Davis
Sweden 2017 – 6'34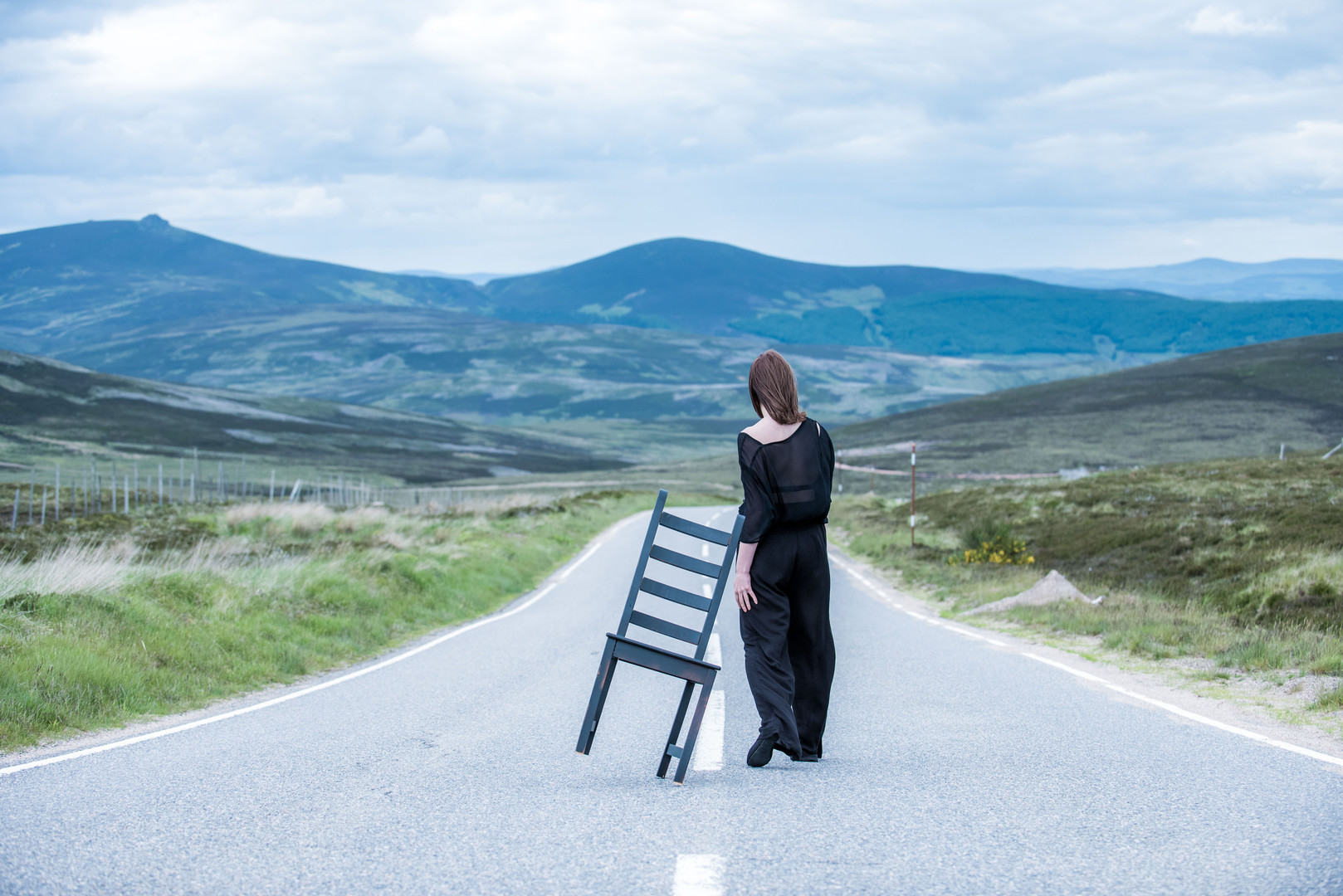 BARREN 
Continuing on from their previous collaborations choreographer Jennifer Drotz Ruhn, photographer Brian Vass and composer Stuart Docherty have once again set out to explore the remote Scottish countryside. With the objective to delve into a surreal and dreamlike space, the trio creates a solitary picture of unease and tension set in a vast, bleak landscape.
Director: Jennifer Drotz Ruhn / Choreographer & Dancer: Jennifer Drotz Ruhn / Music: Stuart Docherty
UK/Sweden 2016 – 1'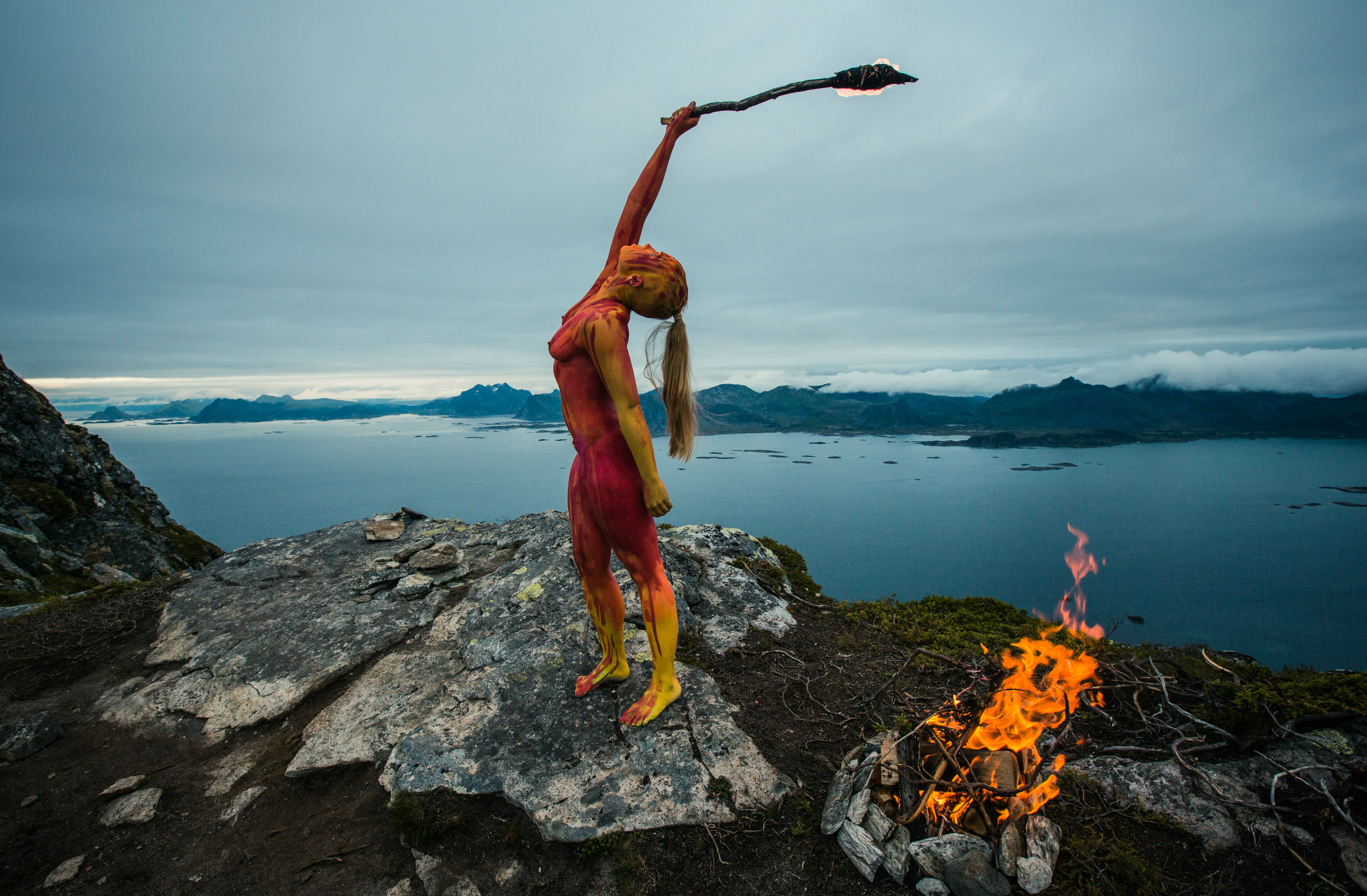 ELEMENTS 
Silence, in a dark blue swirl. Growing, towards us. Through scenes, rising out of the ashes. Stillness, morning frost. Molds the tops of the mountains. Miley horizon. Can you see the first crack? As aroused by dawn. Can you hear how everything begins? When the mountain water lives again
Directors: Linnéa Sundling, Viktor Öberg, Vilija Vitkuté and Julius Aspman / Dancer: Linnéa Sundling
Sweden 2017 – 5'36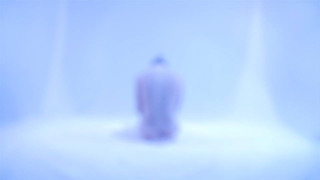 THE WAR AGAINST ONESELF 
Exhausted of trying to be who you are. Simultaneously the victim and perpetrator. As ones own parasite. A film that portrays the dorsal state of the increasingly common symptom of Chronic fatigue / depression.
Director: Karolin Kent & Donovan von Martens/ Choreographer & Dancer: Karolin Kent
Sweden 2017 – 10 ́58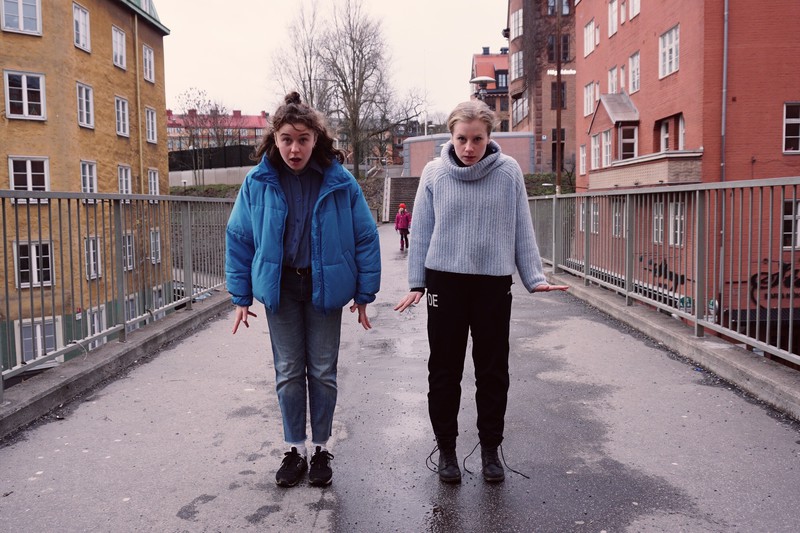 DO YOU KNOW WHAT TIME IT IS RIGHT NOW? 
Kajsa has a tendency to focus on the future, loose her mind in times ahead of the one right now. Let the present slip away. Wander in other times. Live ahead of the present moment. "What present?" she asks, and you might ask yourself the same thing. When are you ever completely present?
Director: Gabriella Engdahl / Dancers: Kajsa Nilsson and Alva Dunne
Sweden 2018 – 3'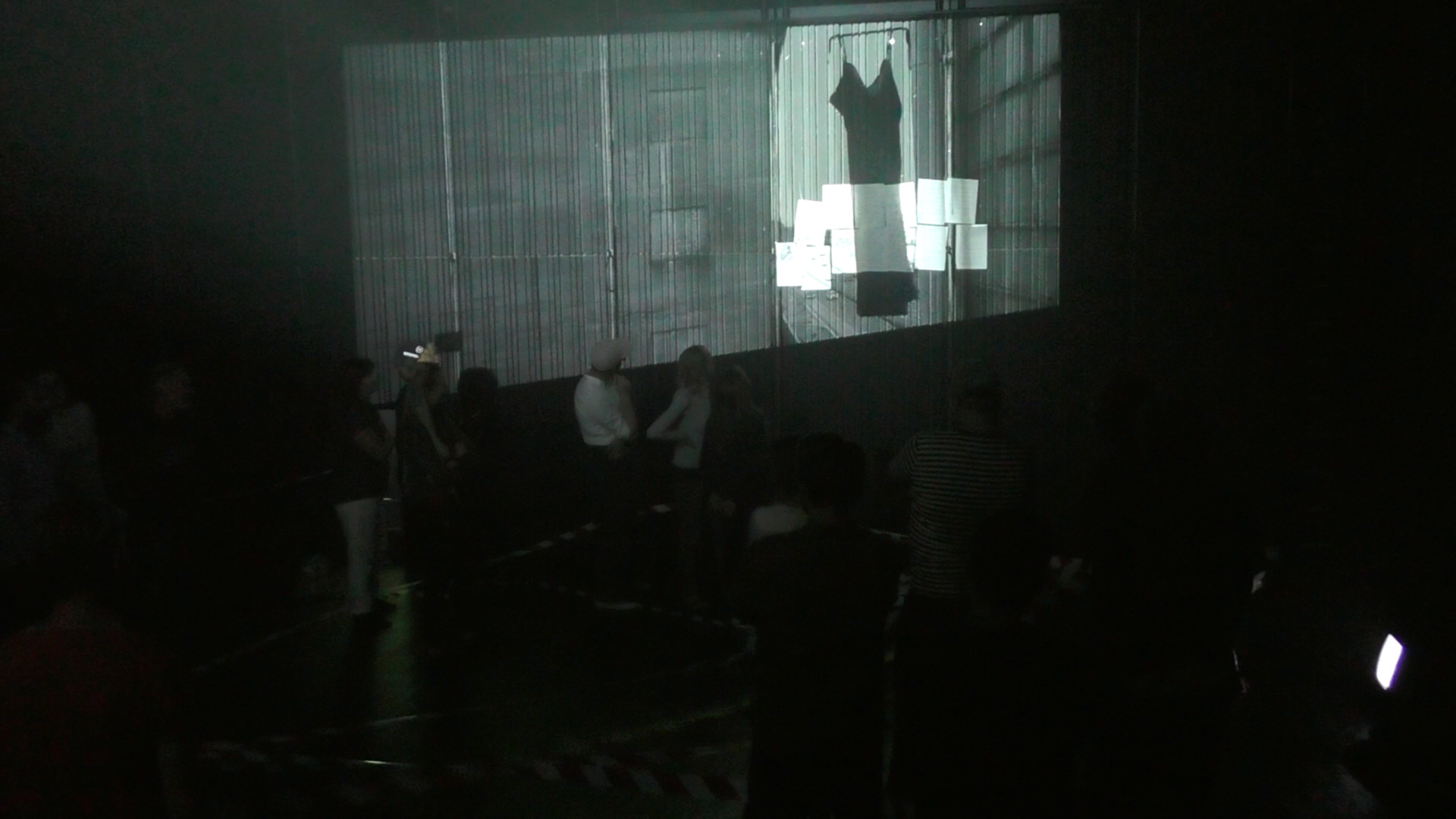 ABOUT FREEDOM 7.0 
Is the expansion of an interdisciplinary performance with the same title by Benedikte Esperi, first performed at Teater Trixter in Gothenburg at the SOLO Festival 2014. At that time it was the year of election in Sweden and freedom of speech was on the agenda. ABOUT FREEDOM has changed over time, places and contexts, exploring how freedom of speech, artistic freedom and choreographic restrictions can be articulated through numerous performative ways.
Director: Benedikte Esperi / Dancer: Benedikte Esperi
Sweden 2017 – 4'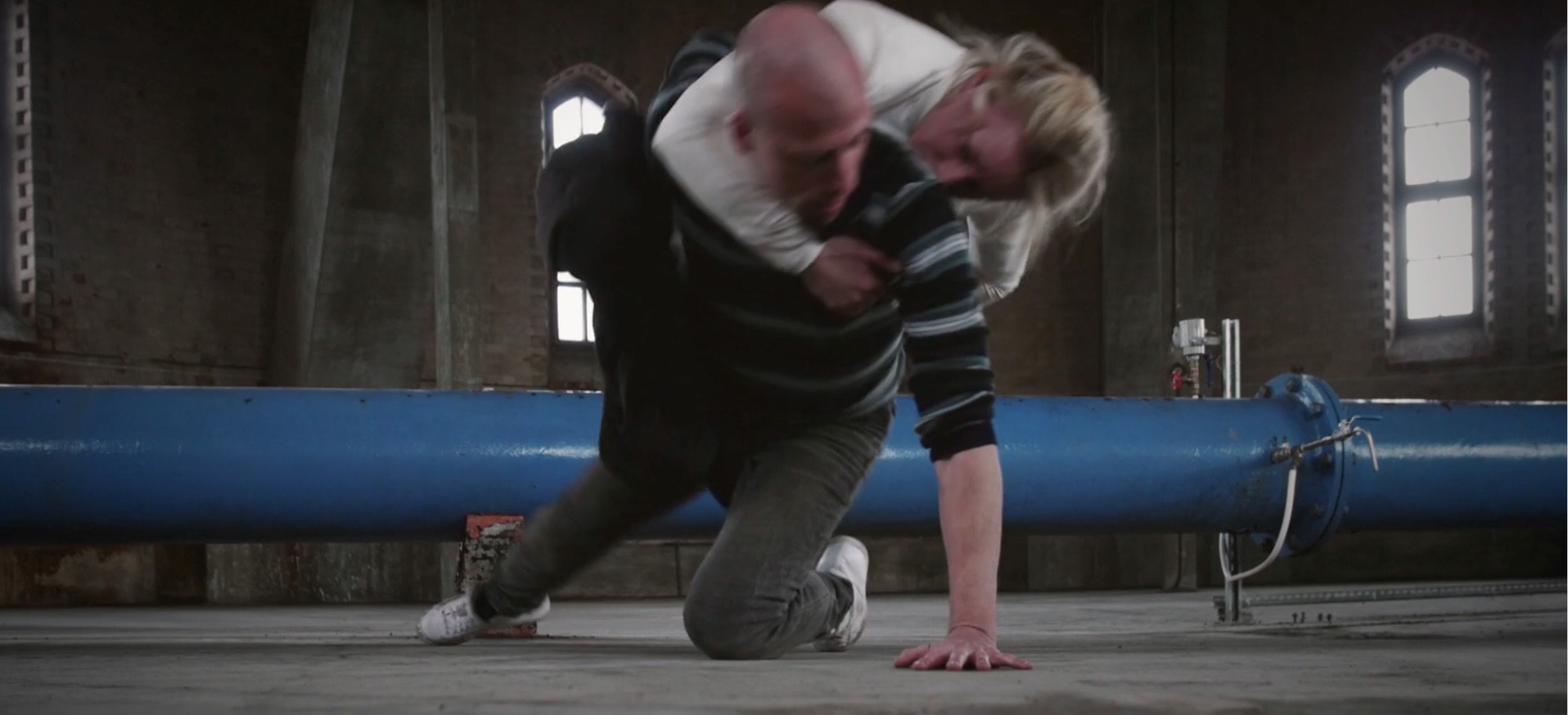 WRECKED PULSE 
A short contemporary dance film in an old water tower in Malmö, Sweden.
Director: Skånes Dansteater / Choreographers & Dancers: Madeleine Månsson and Peder Nilsson / Music: Gert Østergaard Pedersen
Sweden 2018 – 8'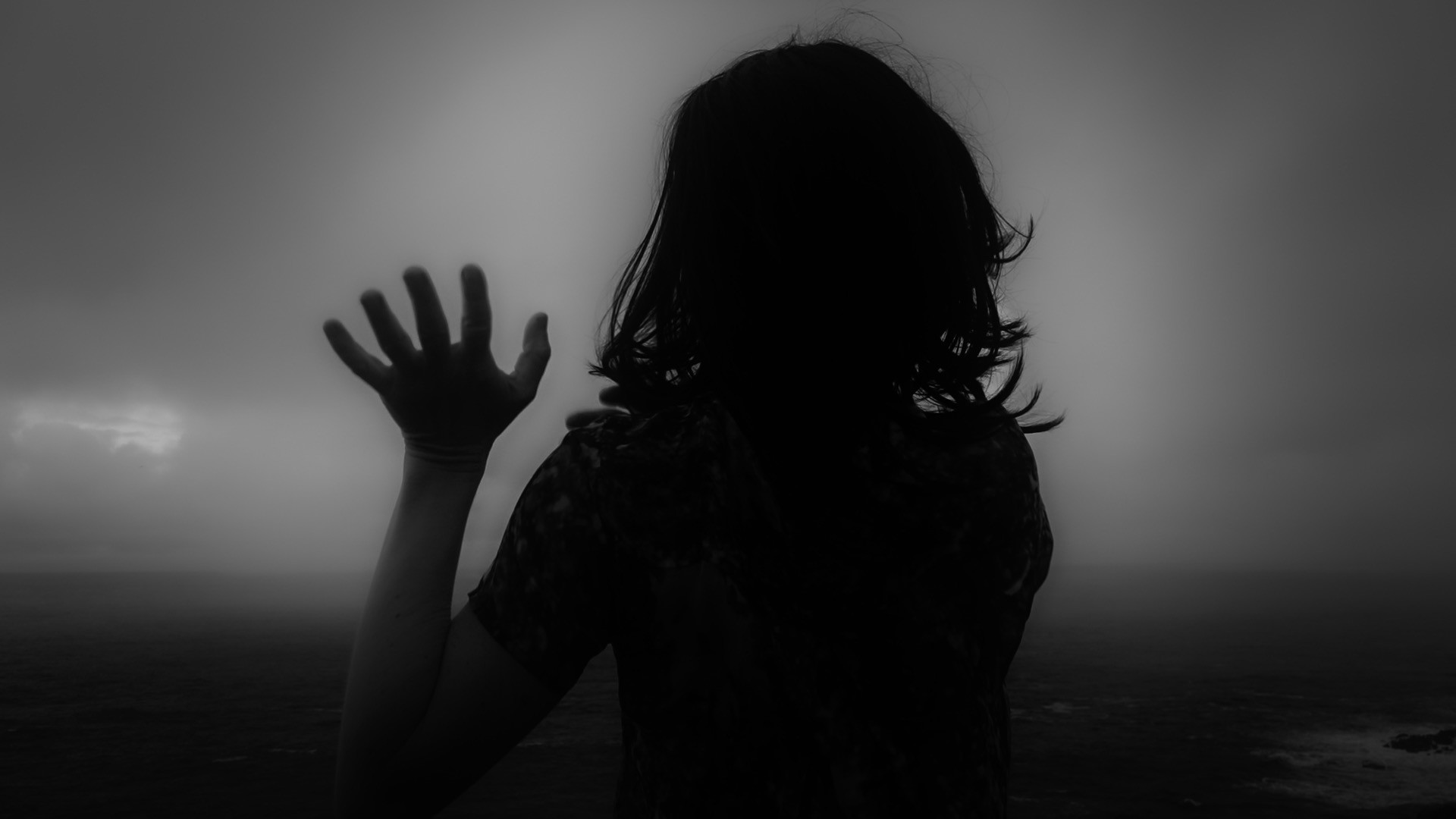 BLACK ISLAND 
Black Island is a meditative dance film where nature and mankind exists on equal terms. Together with Matthew Bournes melancholic soundscapes we follow a lonely woman on physical journey. The film was recorded on the Faroe Islands.
Directors: Helena Franzén and Håkan Jelk / Dancer: Helena Franzén
Sweden 2018 – 14'05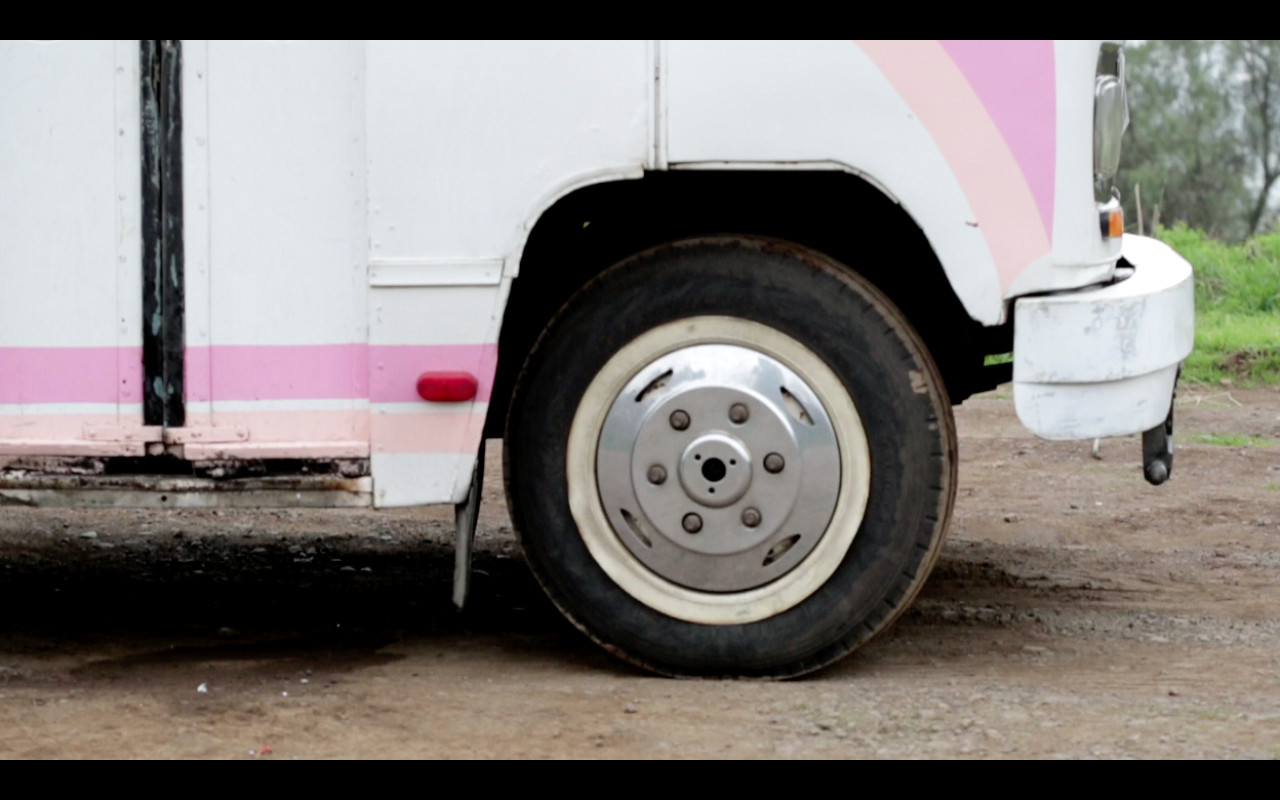 IF WE TRAVEL WE CHANGED
The journey begins and will lead us to invisible stops, to loving couples who care for themselves, adults looking for independence, will take us on paths suspended by waiting, crosses where the dance shows their cunning and stops where humanity is in doubt.
Through the dance we will show the strength of the protagonists who must stand daily in this wild world that does not stop for anyone, the perseverance they have in their lives, their intimate struggles won and lost, as well as the deep sensitivity that each of them has. A real journey in which we all go together daily, despite a certain invisibility that is created between us. The protagonists will make a trip around the city, teaching to the audience the beautiful road that leads to the real inclusion of people in situation of disability.
 Director: Felipe Lira / Dancers: Marcela Echeverria, Ignacio Rojas, Cecilia Mireta, Valeria Moena,  Manuel Morales, Constanza Bosch and Marcos Cifuentes / Music: Ricardo Lira
Chile/Sweden 2017 – 5'34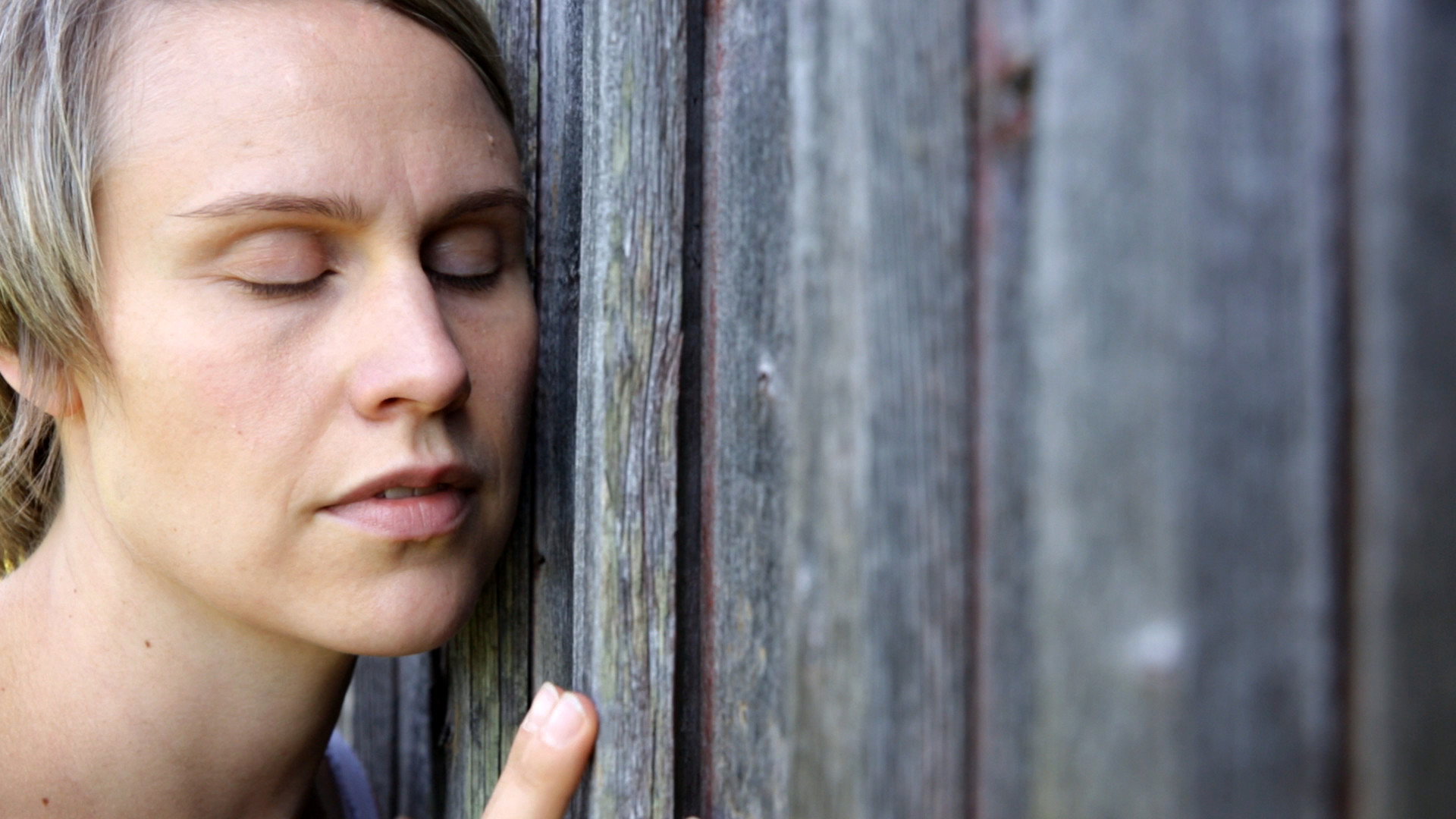 ROOTS
No matter how far you travel, your past stays with you. And it can become a source strength.
Director: Mervi Junkkonen / Choreographer: Mia Malviniemi / Sound: Stefan Backas
Sweden/Finland 2018 – 4'30
INTERNATIONAL SELECTION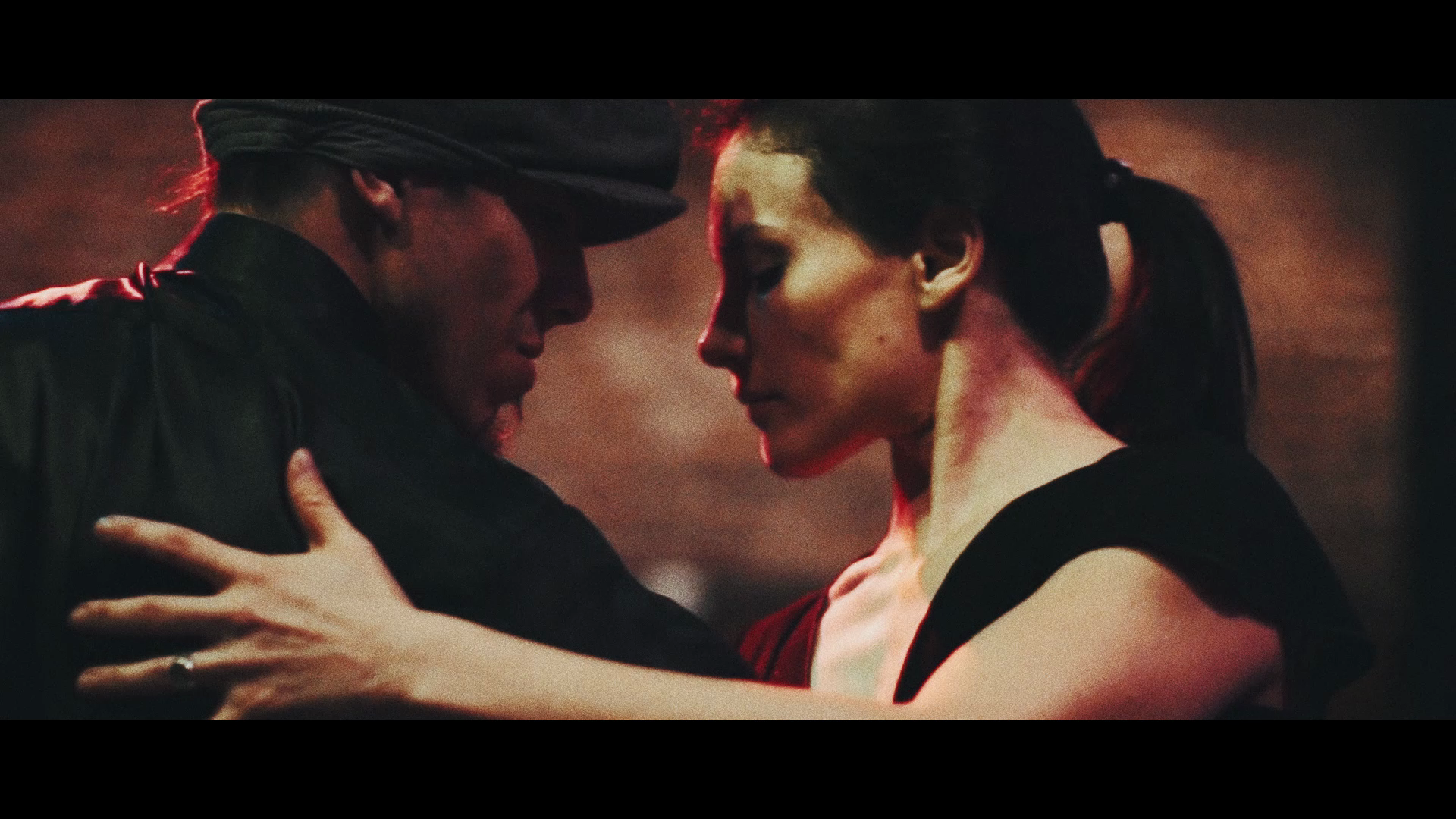 AMOR FUSION ARGENTINA
Director: Stephane Benini
France/Argentina 2017 – 3'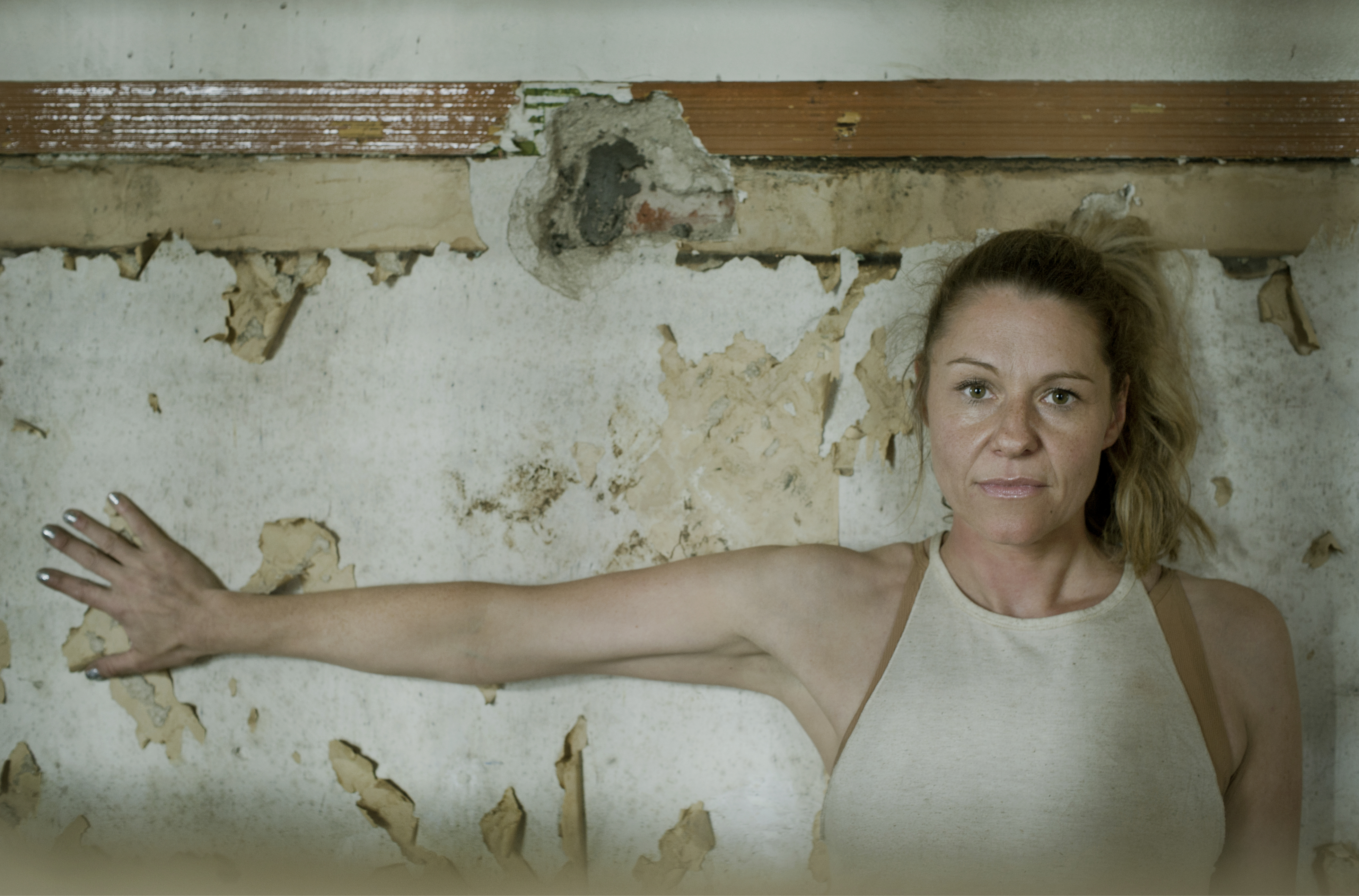 BORDERLINE
In the short documentary Borderline, we meet Lynn Shaw, a charismatic dancer from Aberdeen. After suffering a long history of turbulent life events, Lynn starts to use dance to explore her Borderline Personality Disorder.
Director: Lindsay Goodall / Dancer: Lynn Shaw
UK 2016 – 12'30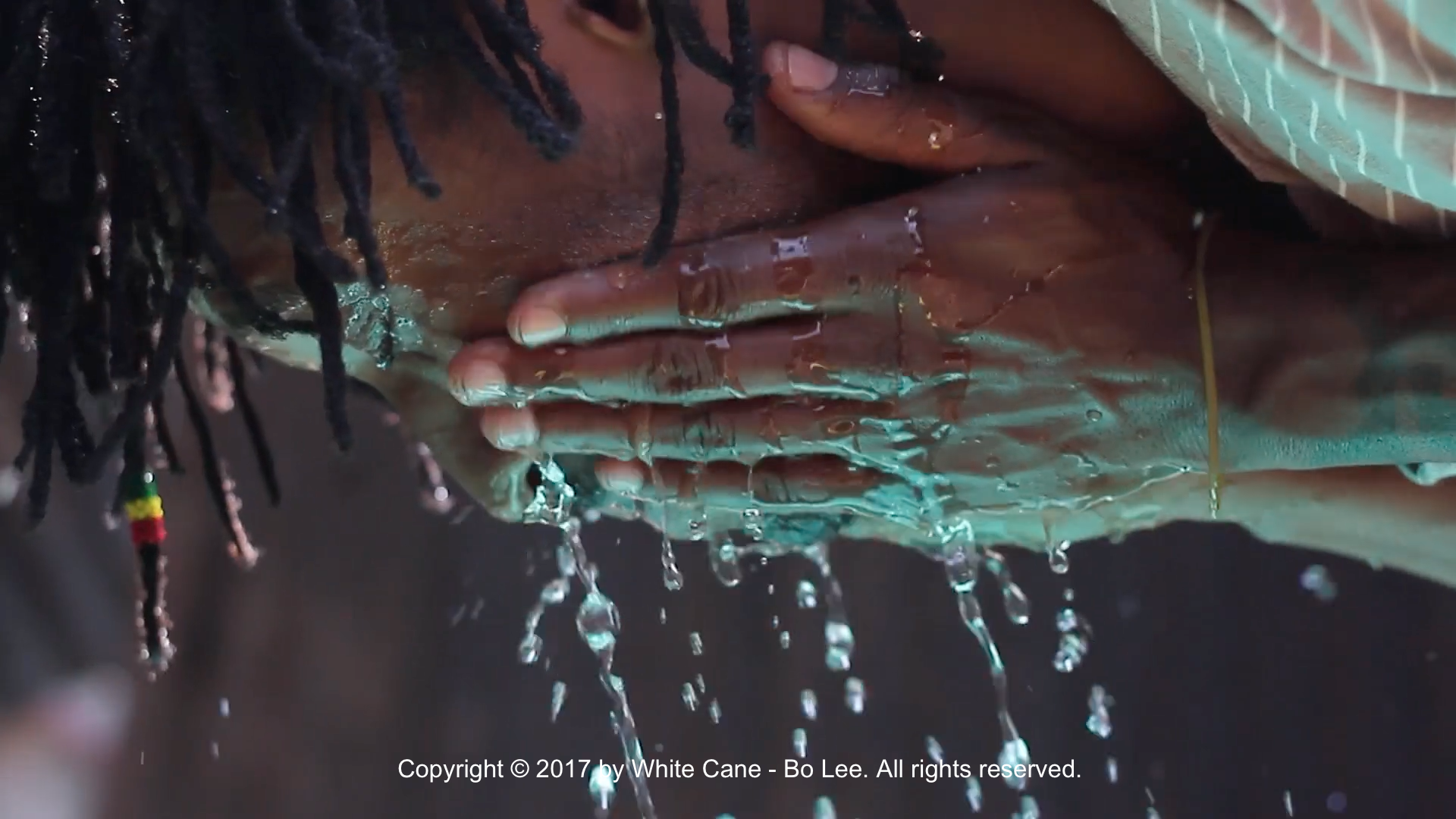 WHITE CANE
Director: Bo Lee / Dancer: Steve Ongeri
South Corea/Berlin 2015 – 8'10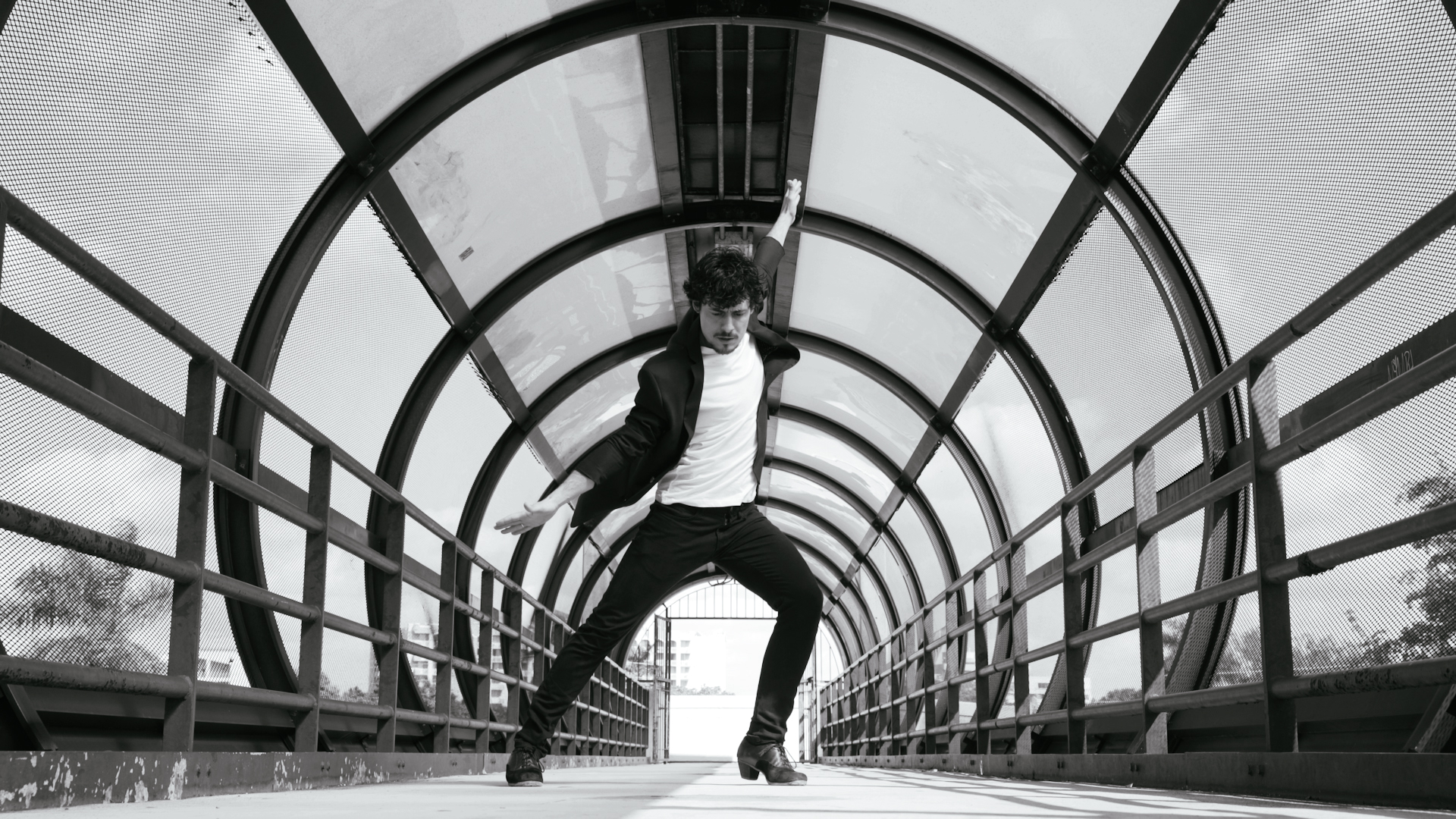 IMPETU'S FLAMENCO
Jesus Carmona's story and reflections will lead us to see the raw and sincere intimacy of this talented artist. Miami's different landscapes will serve as the stages in which Jesus will walk through, find inspiration, dance and dream.
Director: Lulo Rivero / Dancer: Jesús Carmona
USA 2017 – 5' 07
ANGELS ABOVE TOTEN
Director: Ella Fiskum and Elisabeth Rom / DancerS: Ella Fiskum,  Sudesh Adhana, Charlott Utzig And Ingrid Kvalvik Sørensen
Norway/Italy 2017 – 17'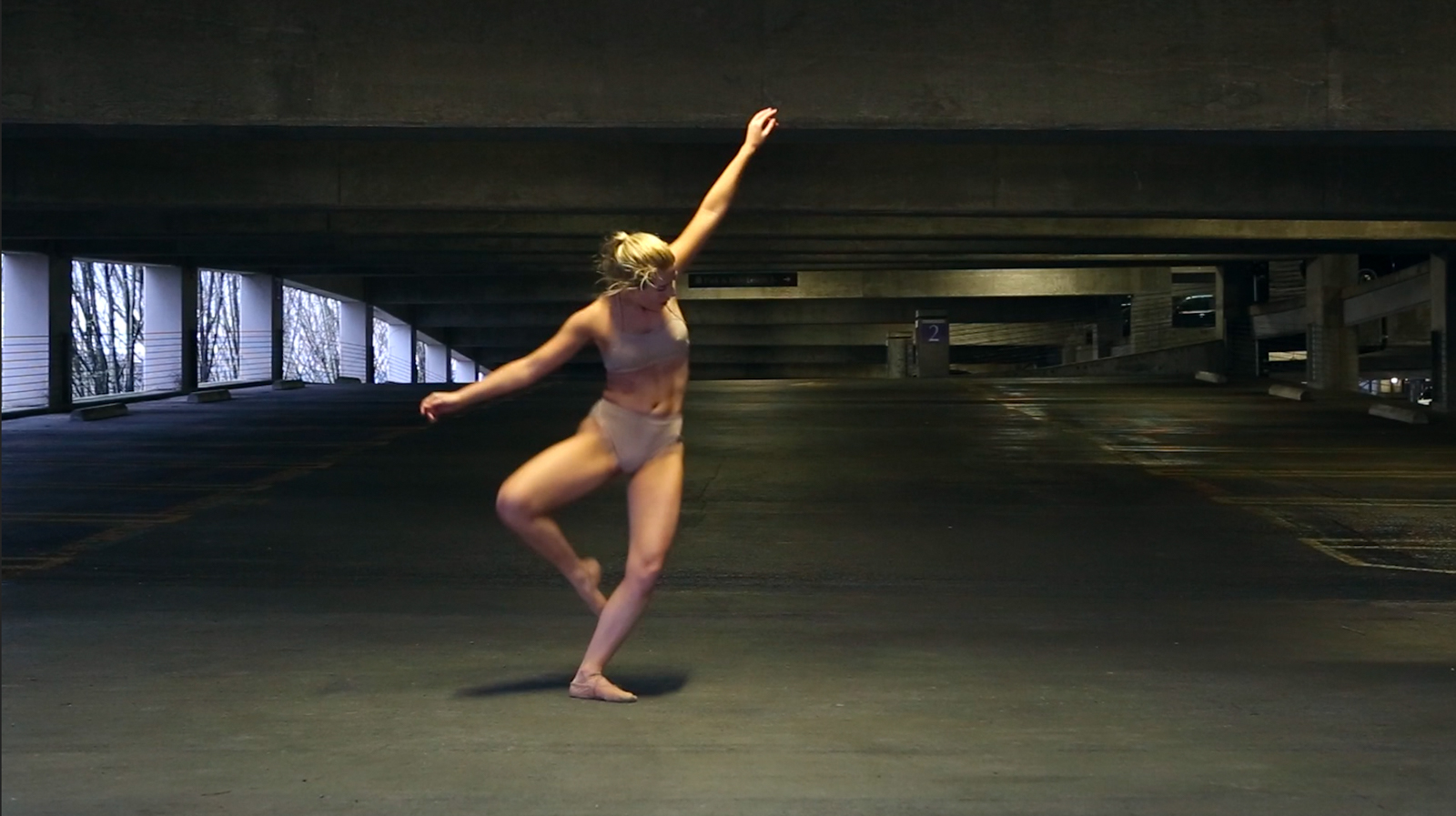 NASTY WOMEN
Combining poetry, dance, and cinematography in a campaign against gender inequality; "Nasty Woman" is a response to social injustices while advocating for change.
Director: Paige Scofield / Choreographer: Hayleyann Evers / Music: Michael Wall / Sound: Dirk Freymuth
USA 2017 – 4'25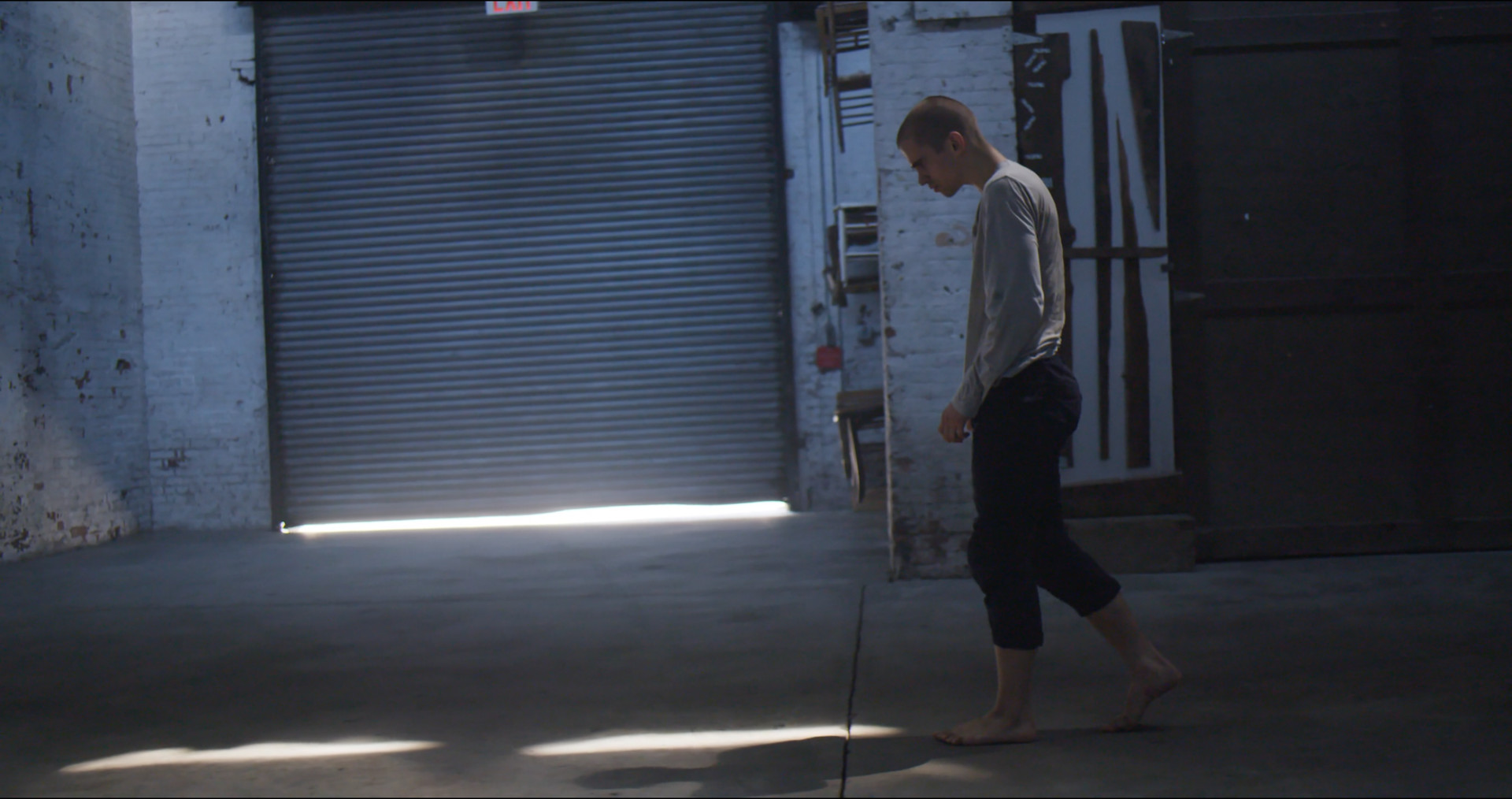 DREAMLAND
An improvised dance performance by Paul Vickers, based on the poem "Dreamland" by Lewis Carroll. Created from a unique collaborative process, wherein a poem was interpreted by a voice-over artist, who passed their work on to a composer – who created a score based on the emotional rendering of the text – the final composition of which was passed off to the dancer, allowing his movement and physicality to be a pure conduit to the emotional and thematic undertones present in the musical interpretation.
Director: Max Rothman/ Dancer: Paul Vickers
USA 2017 – 6'13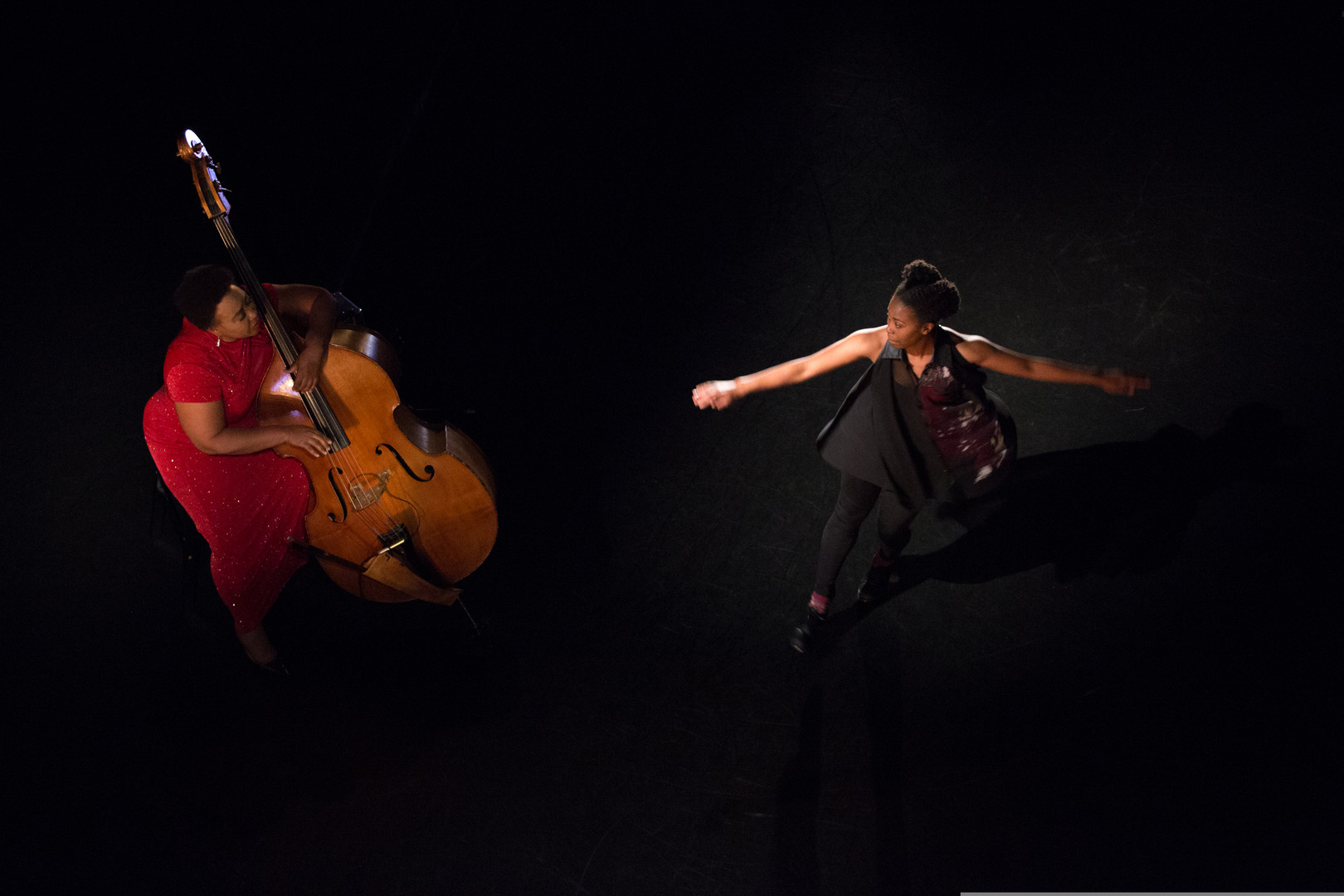 DOUBLE UP
" My heart's beating inside myself, inside yourself, the heart of the earth. I am here are you? Can you see me? Can you hear me?"
Based on a dream to bring Two Women together to create a collaboration that celebrated the joy of being alive,  "Double Up" is a powerful conversation, through music and dance : Nedra Wheeler on bass and voice, and Kyreeana Breelin tap dancer. This is the stepping stone for the creation of live performance and other projects to come.
Director: Francesca N. Penzani / Dancers: Nedra Wheeler (Bass), Kyreeana Breelin (Tap)
USA 2017  – 15'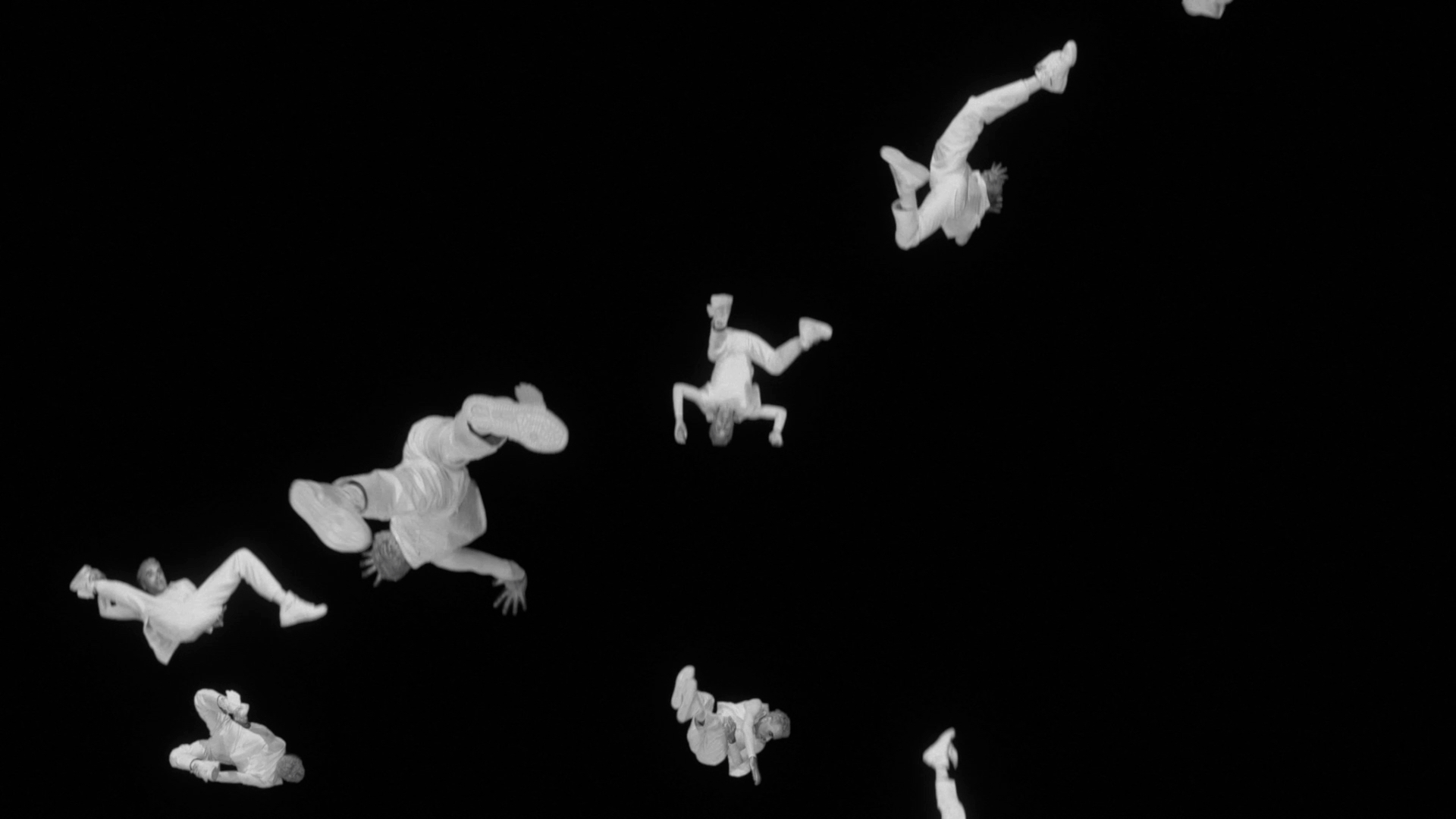 DIGITAL AFTERLIVES
A man in white-winged angel shoes awakes in infinite black to the strains of Liszt's "Dance of the Dead".
Director: Richard James Allen and Karen Pearlman / Dancer: Richard James Allen
Australia 2017 – 4'45
QUADRANT
Socially, the big sense of identity, of gender, of finding a role in the closest environment, makes us living prisoners from each other. Why is so important how we are seen? Why we take so much trouble in the fight of liking, in power and control? Gender defines us, but the comparative between men and women that marks our culture jails us. This fight between femenine and masculine duality is what QUADRANT wants to transmit, and it makes it in the alabaster's quarry la Coma-Ral, a life environment surronded by the memory of those MEN who in 1917 occuped and extracted the stone with their own hands. Year of revolutions, year of fights for achieving fonamental rights such as the equality between each others. It has been 100 years, and like Sarral is celebrating the centenary from the aperture of the first modern alabaster workshop in the village, an event that created a unique artistic tradition that today is still alive; we have to still fighthing for a fair and equal world.
Director: Marta Arjona Blasco and Mei Casabona
Spain 2017 – 8'15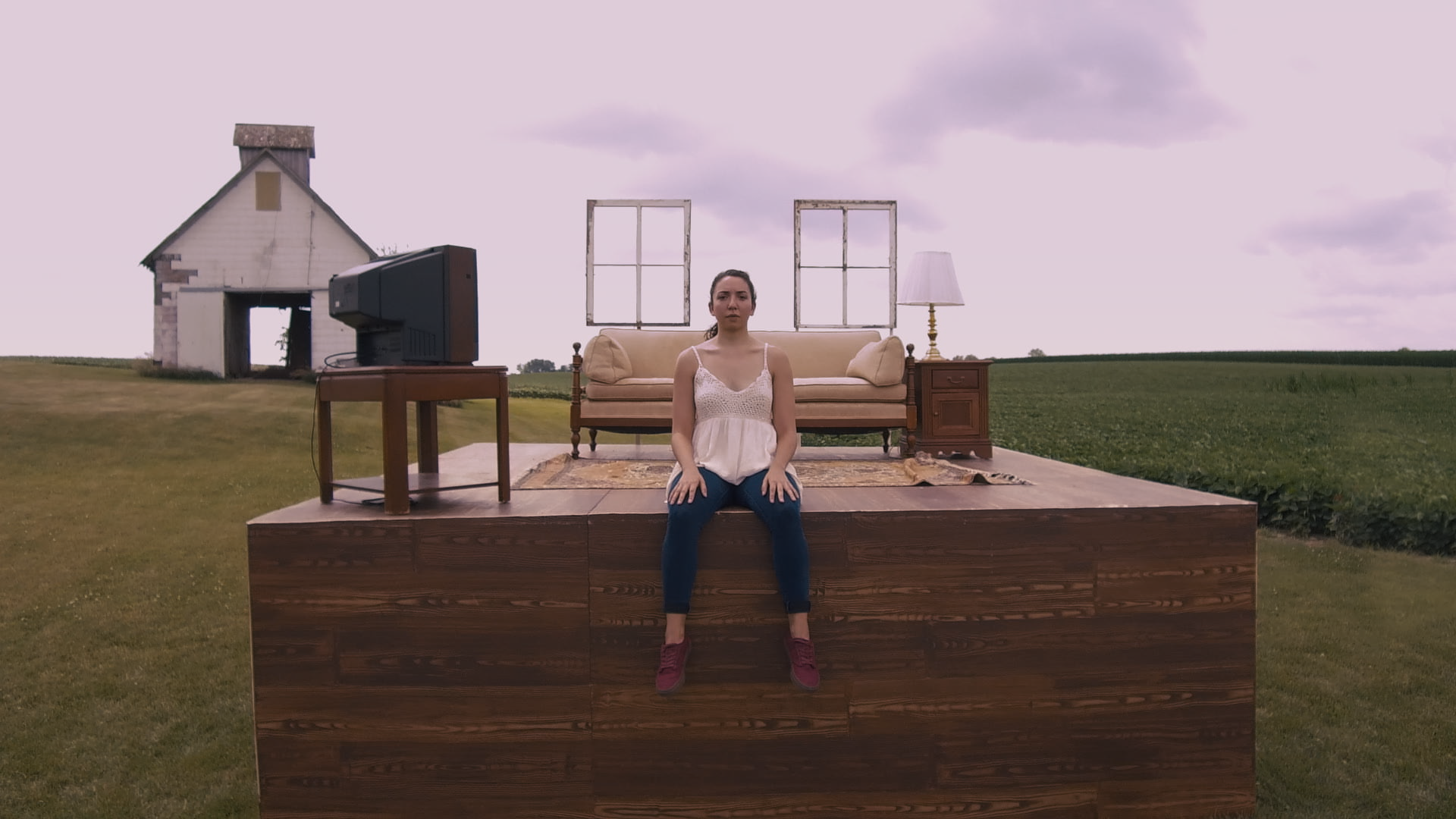 QUERENCIA
Querencia is a Spanish metaphysical concept for a place, literal and figurative, from which a person derives strength and character. This dance film explores the intersection of identity and geography. In particular, the movement and imagery examine how ideas of 'home' both play into and detract from the concept of Querencia. As a solo dancer explores both her literal and imagined surroundings, she wrestles with how her sense of identity relates to place.
Director: Sarah Wilcoxon and Quinlan Orear / Choreographers: Sarah Wilcoxon and Jocelyn Perez / Dancers: Jocelyn Perez
USA 2017 – 7'06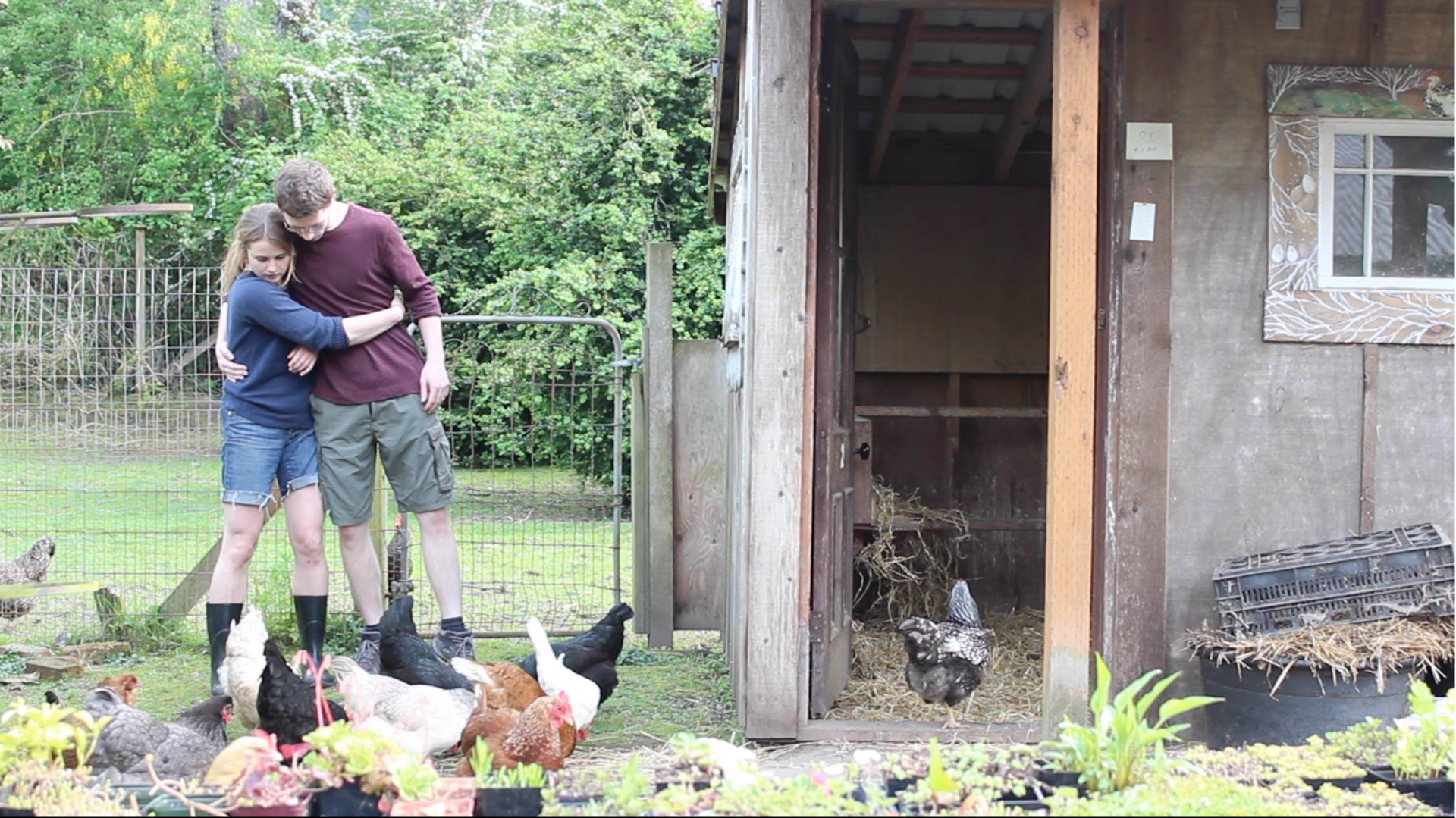 STAY
A young couple struggles with their long term passionate relationship.
Director: Pam Kuntz / DancerS: Evyn Bartlett and Cara Congelli
USA 2018 – 5'48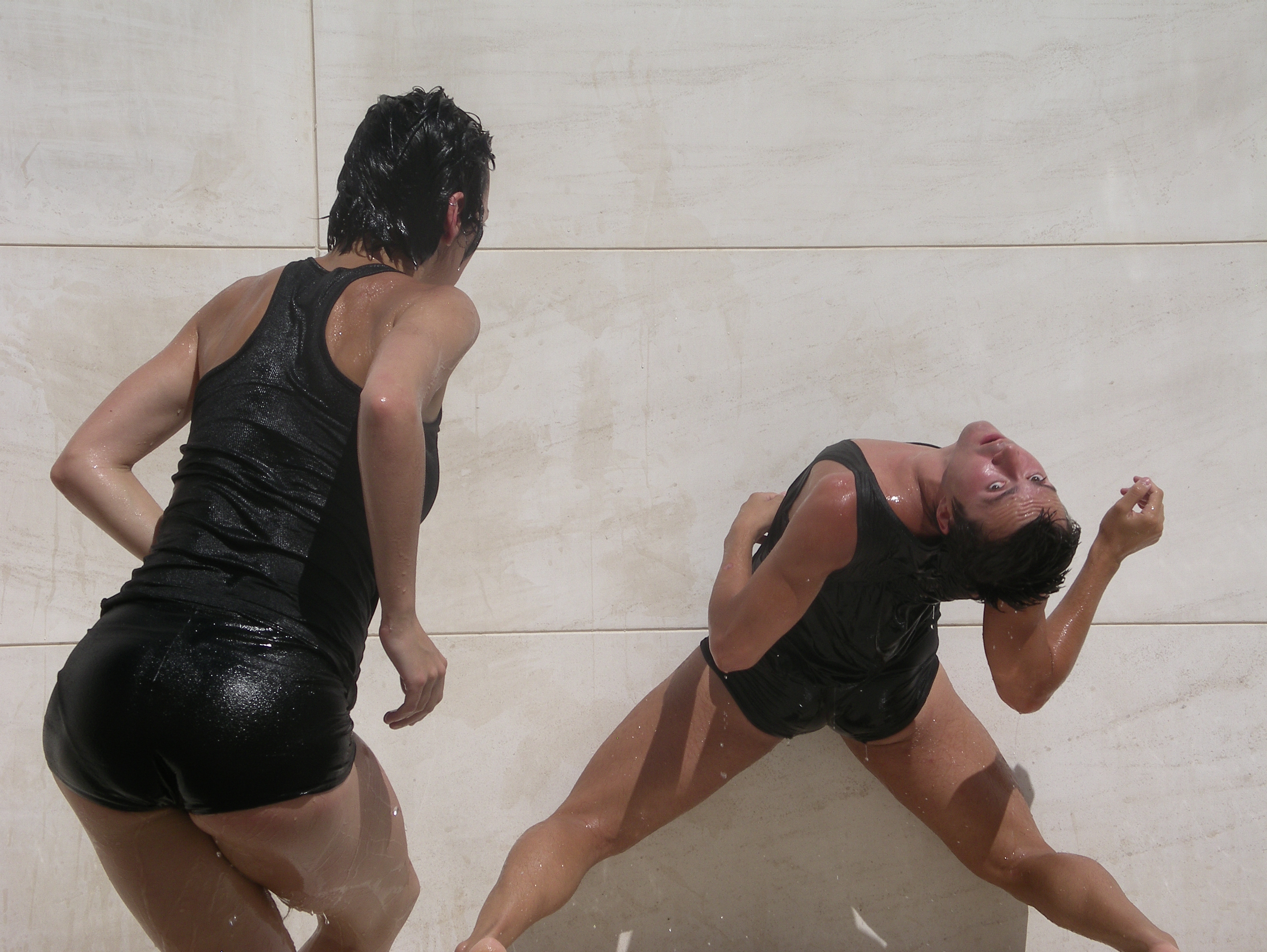 PAS DE DEUX, FROID
Two persons without home, homeless, dream and in their dream they dance together. The constant loneliness and the attraction / misunderstanding with other persons will define the choreographic relation between them
Director: Carles Pàmies
Spain 2017 – 7'50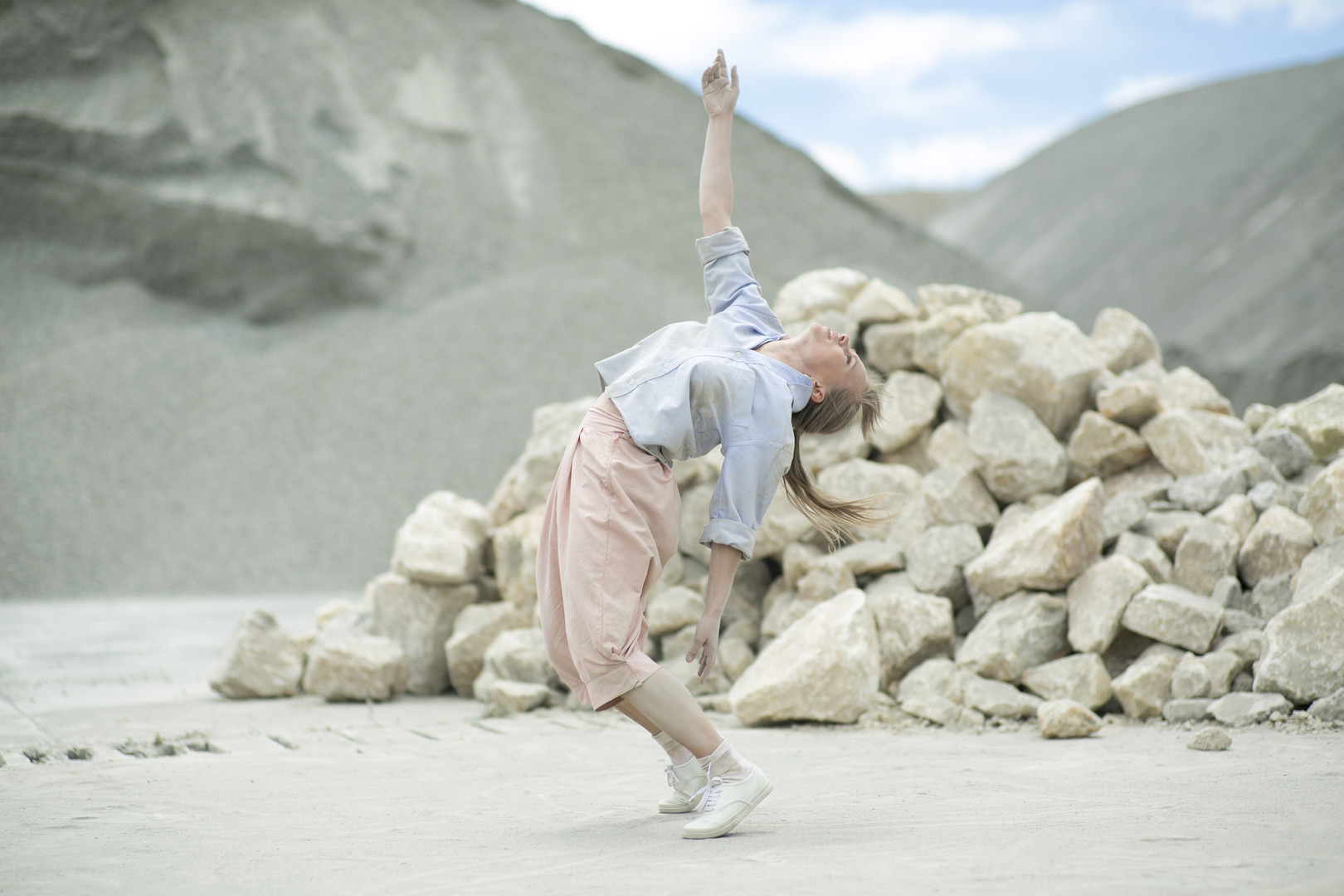 RUINS
A group of dancers move expressively in a surreal scenario filled with mountains of dust and stones. Through sound, dance movements and a magical atmosphere, "Ruins" unveils the beauty of chaos and celebrates the inherent uncertainty and instability of our lives.
Director: Rossina Bossio
Colombia 2017 – 5'42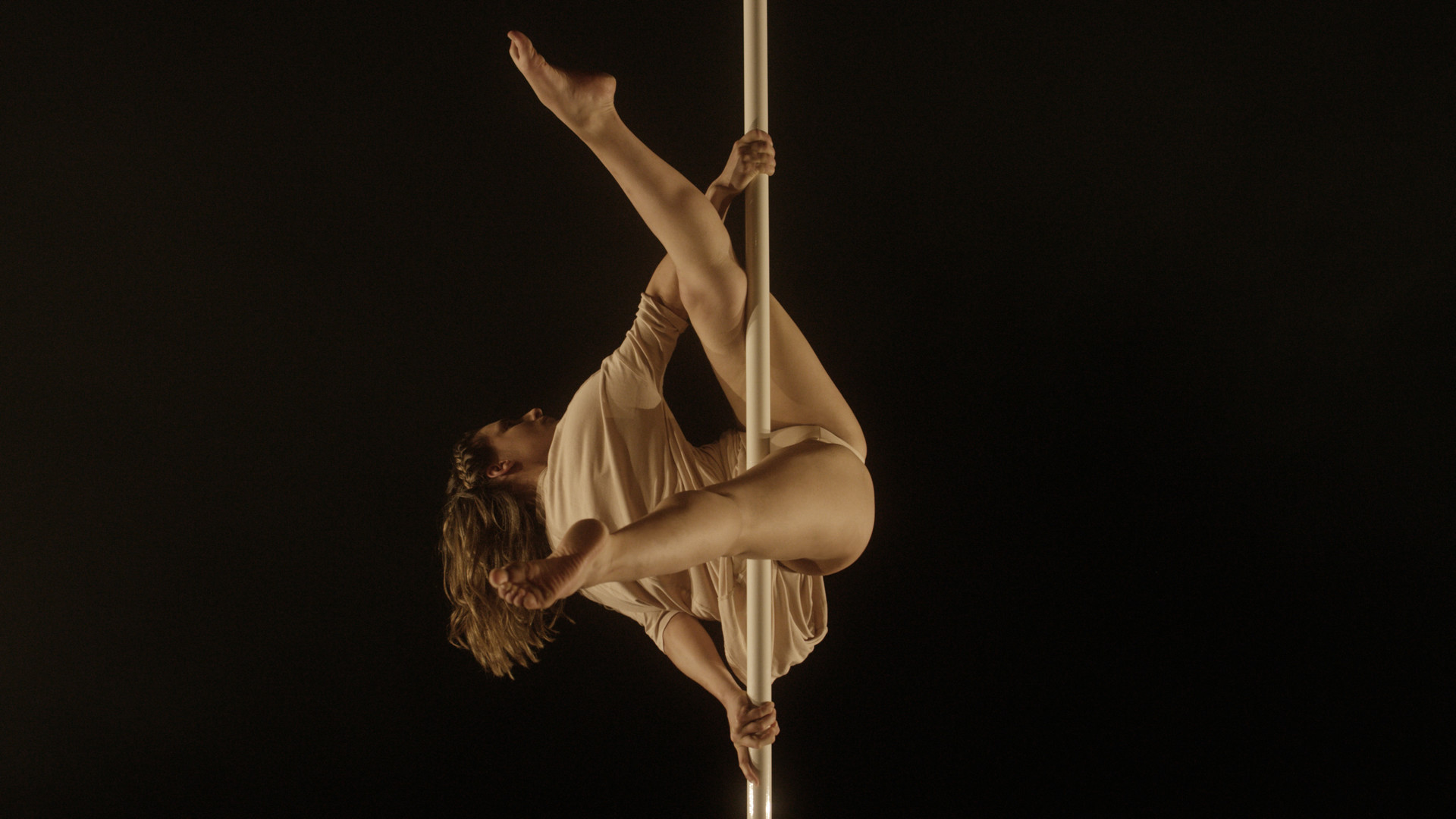 IRIS, FRAGMENT 6
Five sentifels are on patrol, when suddenly an intensity takes their bodies to an intimidation dance…
Director: Joret Maxime / Dancers: Herelle Jegoux, Diana Ivanov, Jade Ordonez, Alexandra Poupin and Vanessa Mantoan
France 2017 – 6'40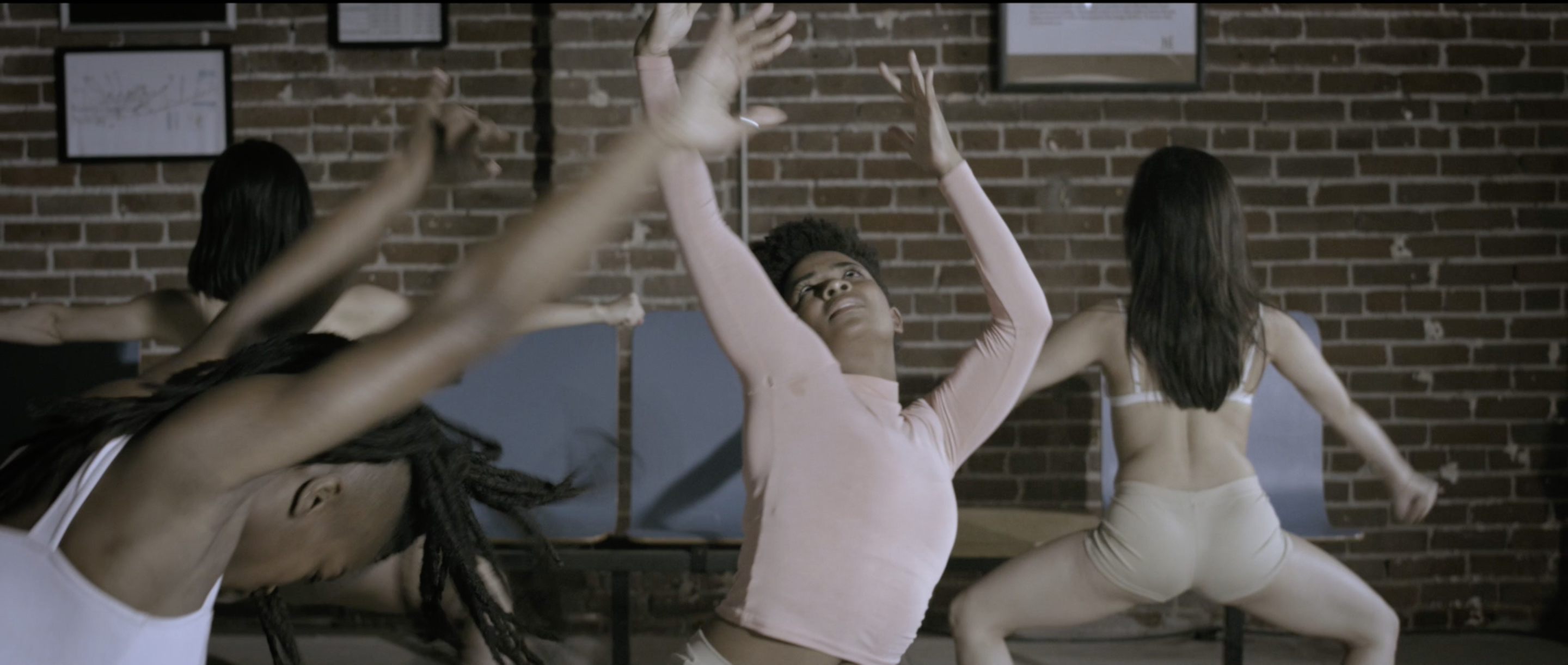 ETA
E T A combines the languages of choreography, music, and film to tell the story of one woman's journey to fight the urge to isolate herself and instead connect to those around her to build a community.
Director: Talia Shea Levin / Choreographer: Alexis Floyd
USA 2017 – 5'22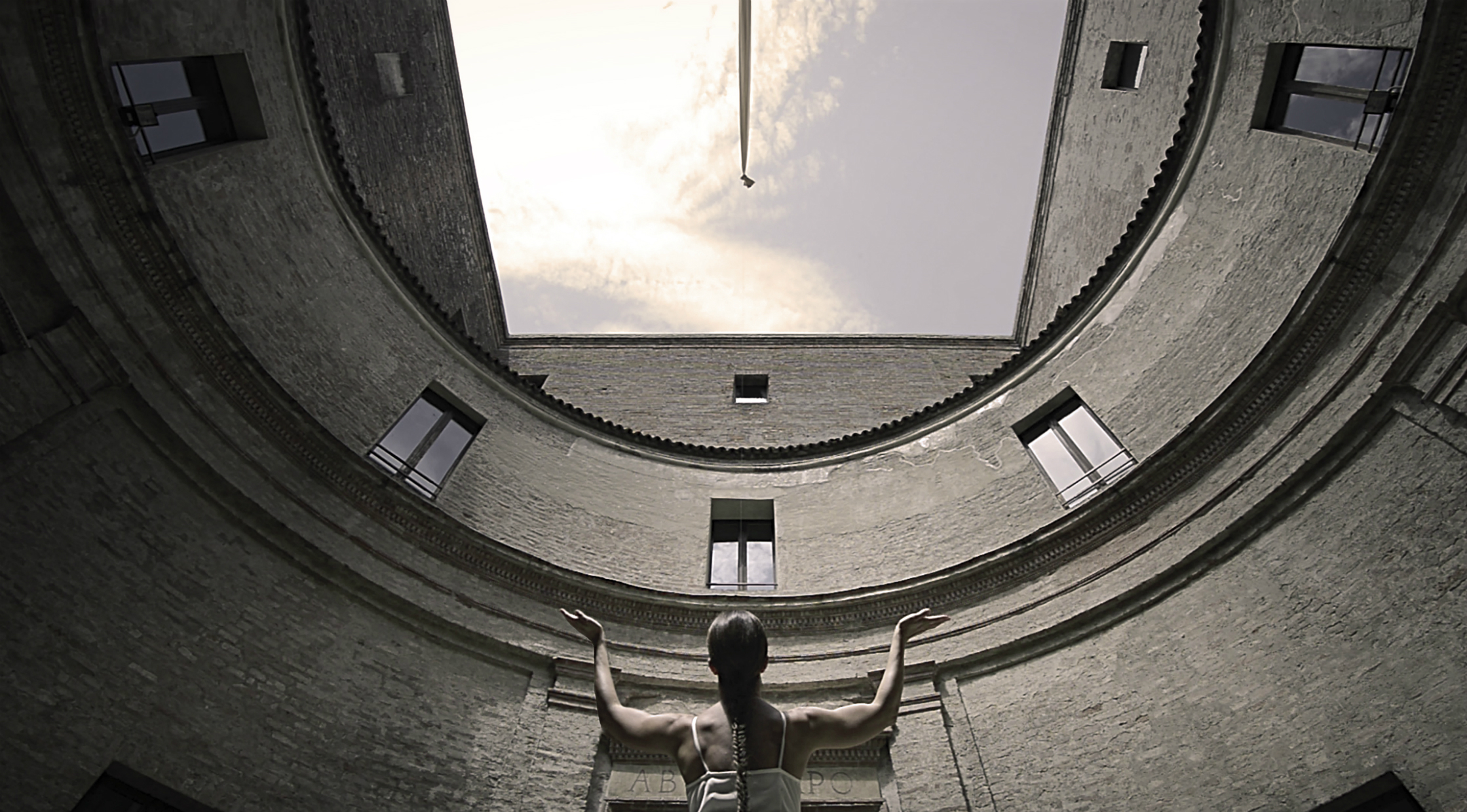 IN THE HOUSE OF MANTEGNA
First scene: Conflicts
In her Notebooks, Simone Weil wrote that "Each true statement is an error if its opposite is not thought of at the same time, and it cannot be thought of at the same time". The mediation of contradictions is only an altered image of the irreconcilable polarities that, instead, make up reality. But thinking about the unthinkable leads us to a place that reason has never managed to penetrate. To be exact, it leads us to atopy, to "that absence of a place" that offers us a different measurement of the world. A trajectory towards overcoming the idea of harmony that, even before Weil, had been undertaken by Dostoyevsky in all its highest metaphysical tension. A reality that always reveals itself as a contradiction, dismemberment, a place in which contraries coexist and interweave in an arabesque where everything is present and nothing is excluded. From the fragment by Heraclitus where "War is the father and king of all" to Plato's Socratic drama where we are challenged to think like "Knights on an open field" and to Nietzsche's precept to "Do philosophy with a hammer" or Heidegger's Kampf. Like an underground river, the line of belligerence crosses the whole of Western thought. This is because the thing itself is fundamentally polemical, as well as the truth that is referred to: the conflict existed before the participators in it.
Second scene: A Border
A limit, a boundary.
A prison, an earthy and opaque shell. This is the body Plato talks about in Phaedo, inaugurating philosophy as an act that ought to put the body itself to death by blocking the "barbaric mud" of the passions enclosed in it.
But do there exist borders that are not, as Melville said, porous or frayed? Does there exist a final border that we cannot cross? In an essay dating from 1935 and titled De l'évasion, Emmanuel Lévinas reminds us how contemporary literature too has tried to evade the imperative of this cumbersome presence. There then appear to us the images of Kafka's bodies that collide and torment; of Gabriele D'Annunzio's orgies as an attempt to raise ourselves above the limits of the body; of Georges Battaille's lacerated bodies. The protagonist of Abraham Yehoshua's The Return from India is, with surgical passion, the destroyer of borders. His obsession is with the endless body of the Mother, the opposite of the body politic, of her hierarchy and her primacy as a parent, which is the image and metaphor for the State and its organization about which Foucault was to argue at length. But the checkmate on that body happens at its borders. Once it has established a boundary this, rather than excluding, generates mixtures: a boundary is the place where there converge, beat, and swash the waves from outside and inside. In his essay Die Verneinung Freud wrote, "this is the outside and I want to incorporate it; this is the inside and I want to spit it out". But, with a stroke of genius, it was to be Friedrich Nietzsche who found an opening, the beginning of a possible path, by defining the body as a plurality with a single sense: "… a war and peace; a flock and a shepherd". A gap where the body and its reasons are both a limit and an overflow, a boundary and indefiniteness.
Third scene: Extremes
Perhaps it was Novalis who first thought of an atopic knowledge, of a knowledge that does not dwell in any defined place. Due to this he had to hypothesise a limit that was not a boundary between the things of the world but was inside the things themselves: "… to fluctuate between extremes that it is necessary to unite and divide. From this point of view, every situation is sparked off by this fluctuation…". For him, everything is contained in it: both object and subject. When translating Sophocles' Antigone he was to identify himself with the internal tensions of tragic thought, where he was to discover that "… there are many boundless things, but nothing is more boundless than mankind…". Tragedy is excess, tragedy is the dissolution of boundaries. For tragic thought male and female, the divine and the human, eros and thanatos are all elements of an antinomy in which being and non-being are opposed. But it is the very dissolution of those boundaries that opens an endless horizon within things, thus transforming every possibility into reality: of the self and the other which never are but that can become. Hölderlin wrote that possibilities can come about in the place of reality's greatest instability: "reality everywhere".
Fourth scene: Vertigo
Man is the being who knows about his own death. He carries it within himself like a bud or like a vice. Eros, Thanatos, and the body. Perhaps this is the vertiginous odour that the embraced bodies feel in the depths of their respiration. Bodies waiting for the end, as though the present were a limit that has in itself the pestilential topicality of death. This is, as Simmel has written, the "power of the formal fascination of boundaries"; this is the intoxication of the modern "impatient time" that assailed Aragon on his journey to Paris. The fascination of a boundary is the fascination "of a beginning that is at the same time an end; the fascination of novelty and, at the same time, of fragility". At the boundary every form is the same thing and, at the same time, the cessation of each thing. This is also the place where life intersects with death. The space in which the fragment by Heraclitus flashes, resounding within ancient tragedy, and that has once again begun to launch tenuous rays from the words of Rilke and Proust. But it is also the place where, perhaps, it is possible to overcome the inexpressibility of the body which, according to Heidegger, checkmated his own philosophy, the inexpressibility of the body which, as Lévinas has written, has checkmated all Western philosophy.
Fifth scene: Silences
Appearance does not hide the essence but reveals it in its very finiteness. A face chooses a mask, not to hide itself, but to reveal itself. At a certain point the truth of a mask meets the truth of the face over which it is placed, over the nakedness that the face could not bear. It is on that mask that my silent gaze rests, and the other at once becomes an object of my universe. The body's being is paradoxical because it is the obstacle that I have to overcome in order to be in the world, but at the same time it is the tool for overcoming this obstacle. It is through this very paradox that I can recognise that I exist as a being known by others as an example of the body, and what defines me is that continuous "outside" my "inside".
Sixth scene: Nudity
Albrecht Dürer, in a 1505 drawing, revealed absolute nudity: only a light hat keeps his hair above his wide-open eyes in this excessive vision without precedents. Rembrandt exposed his opaque face on which is reflected only the shadow of death. Egon Schiele pushed himself to a nudity that borders on flaying, almost as though only the lacerated body could have a meaningful relationship with the world. However, not all nudity is shameful and the bringer of scandal. It is so when in it there is an ostentation of our being, of our final intimacy.
Jean-Paul Sartre's Being and Nothingness was to go far further. Shame emerges when our intimacy, our self, becomes the object of someone else's gaze, a gaze that is also revealed in the presence of the objects that surround us, in the sound of a door opening, in the echo of steps that are coming near. In that moment I am not the one who possesses the world through the gaze I project on it. I am looked at, I am possessed by another gaze that reaches me, my intimacy, my being myself, through my inexorably exposed body. But it was to be Charles Baudelaire who defined a cognitive possibility linked to shame and nudity in My Heart Laid Bare. There not even a loving relationship can open up communications with the other, there, where not even complicity can arrive, a resolution can be arrived at with the display of oneself. This is my naked body, this is my denuded heart. On my flesh can be read the wounds and scars that contact with the world, of which I cannot talk, has inscribed on me, like the needles of the monstrous machine in Kafka's In the Penal Colony.
Director: Michele Manzini / Dancer: Barbara Canal
Italy 2017 – 6'36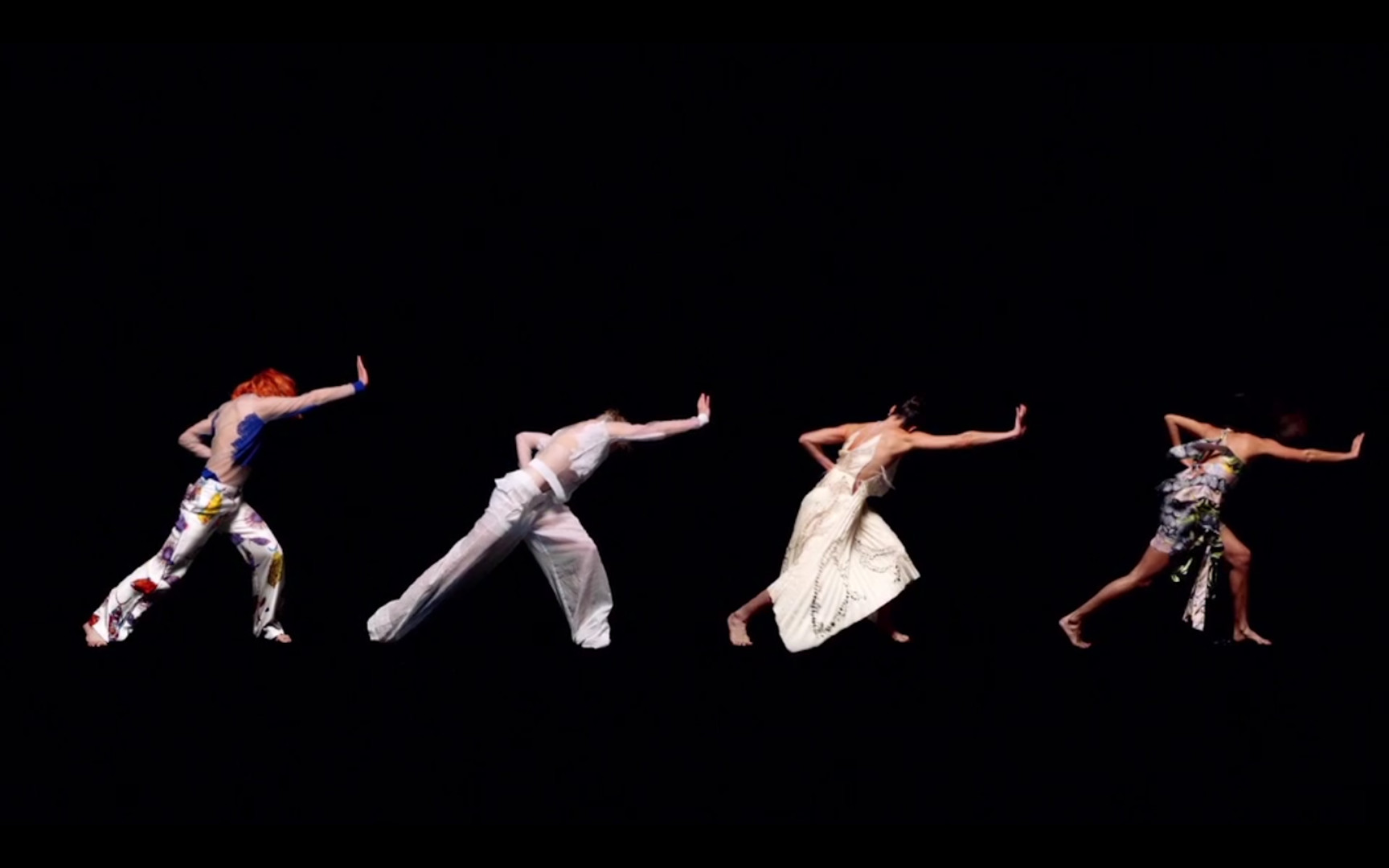 CHIMERA
Inspired by Greek mythology, French filmmaker Steven Briand has collaborated with choreographer Cathy Ematchoua to create this breathtaking short of acrobatic dance performances in highly aesthetic kaleidoscopic movements.
Director: Steven Briand / Dancer: Cathy Ematchoua
France 2016 –  1'37
THE DÉRIVE
An exploration of social and cultural issues. A dancer moves among the people in an old bazaar in Tehran capturing the responses and reactions. Dance is prohibited in Iran.
Director: Tanin Torabi
Iran 2017 –  7'39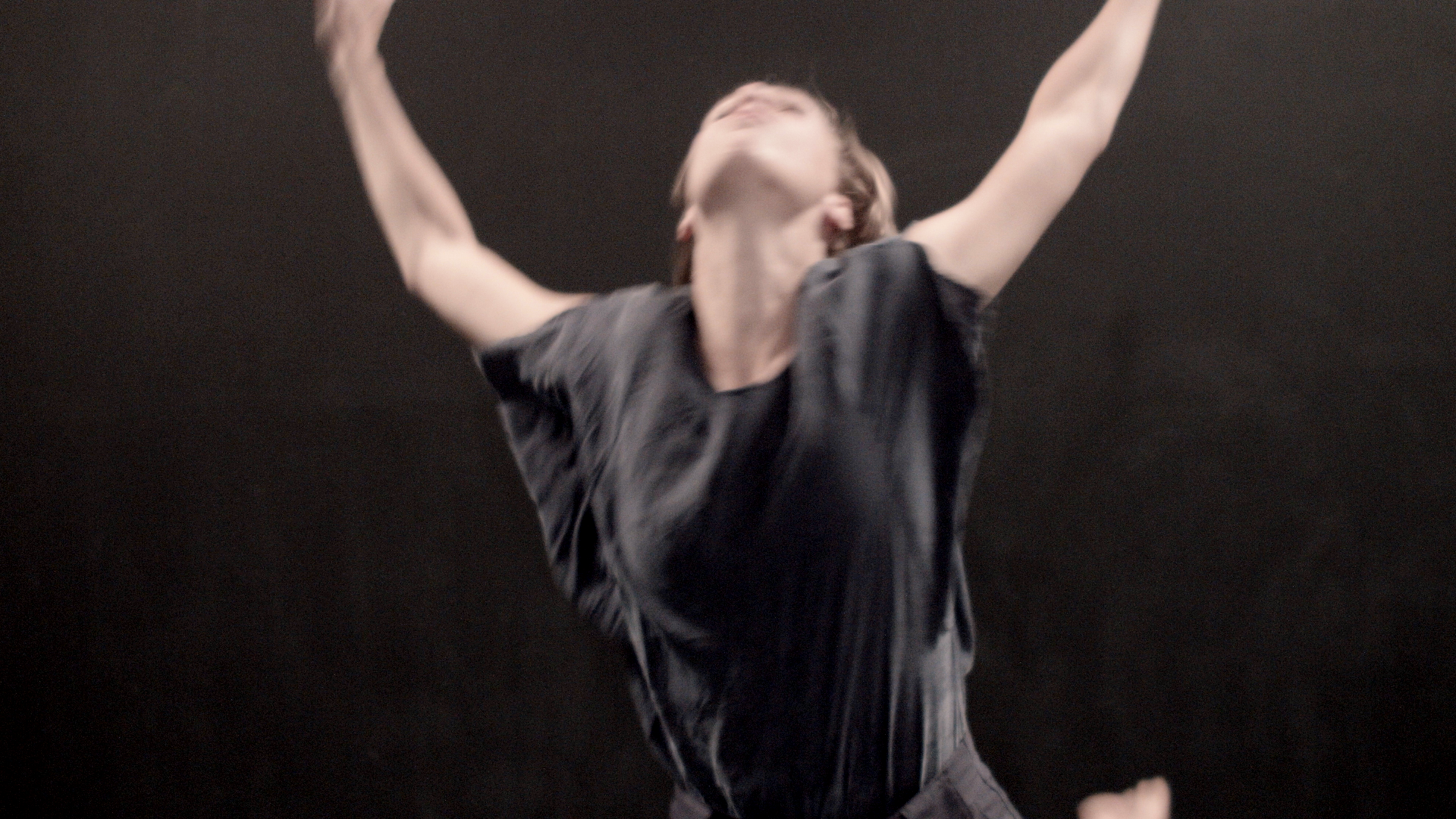 SOLUS
SOLUS is a short dance film created from a questioning of our aim for the perfect, the alike and the synchronous
SOLUS is an experiment about perfection. It is an experiment rooted in the striving for the synchronous and the aim for being alike or to live up to certain standards that we experience in the world of today in terms of physical appearance, social status, career and personal life.
All roles are performed by the same dancer, which serves as an experiment on synchronicity and being alike as well as it serves as a subtle, poetic and symbolic comment on our time.
SOLUS is the latest in a series of artistic comments on society by Danish choreographer Simone Wierød, who uses her choreographic practice as a tool to understand and debate the present time.
With SOLUS, she wishes to address a debate on the aims and ideals of modern society with an experiment that takes current tendencies to the extreme, with a poetic, physical and choreographic approach.
Director: Simone Wierød / Dancer: Anna Stamp Møller
Denmark 2017 – 4'30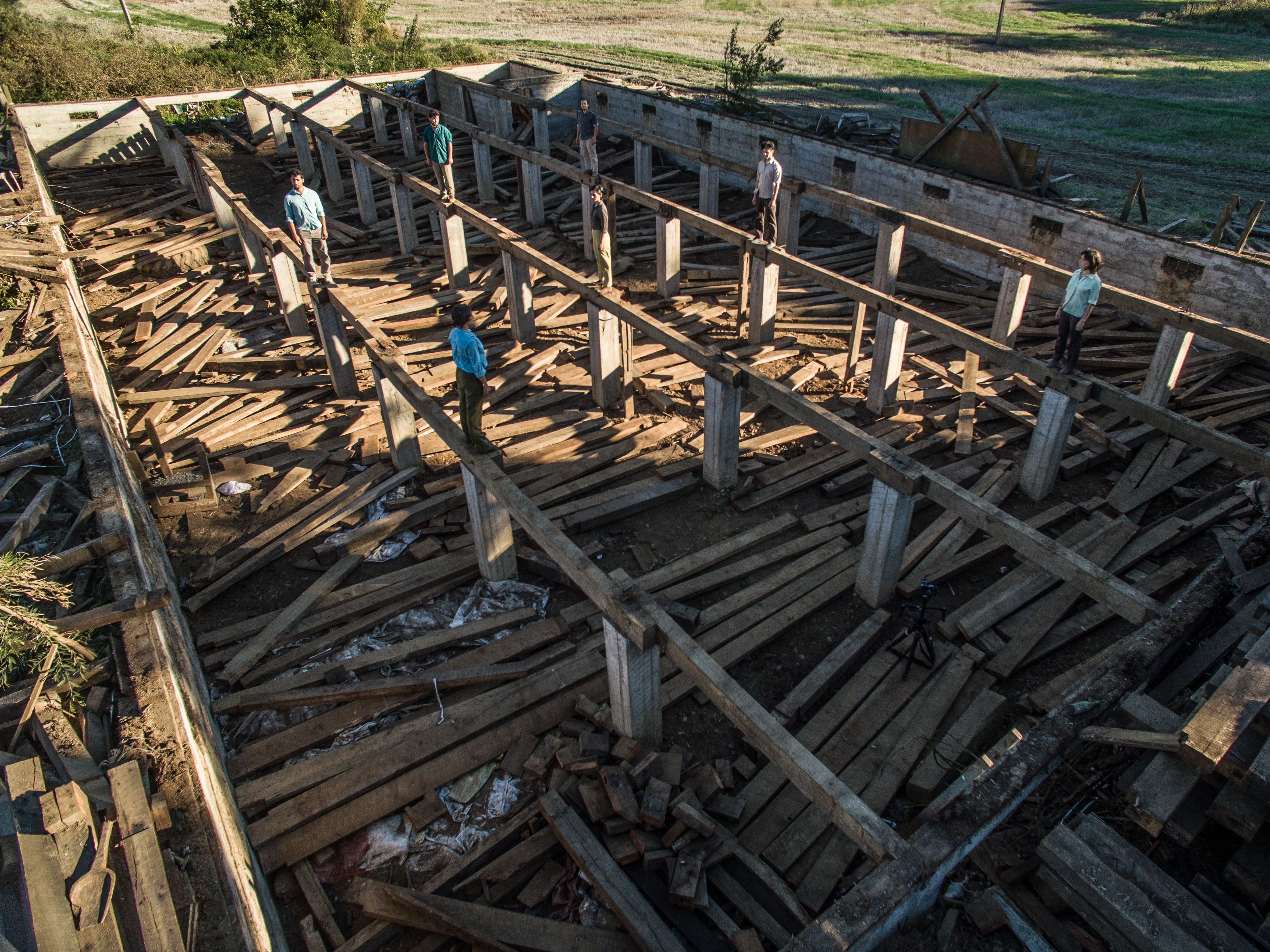 MANADA
Manada is the first part of a series of dance works videos, which aproaches this concept, in order to observe ourselves in our own group behaviors and regain the sense of link, through movement. It is at the same time a question, that hopes to answer, if dance is a privileged place to reach this condition, inquiring in the insistence of movement.
Manada, is a symbolic and poetic journey, of a group of people who live collectively the transformation of their habitat.
Director: Patricia Campos and Francisco Ríos / Dancers:
Chile 2017 – 10'49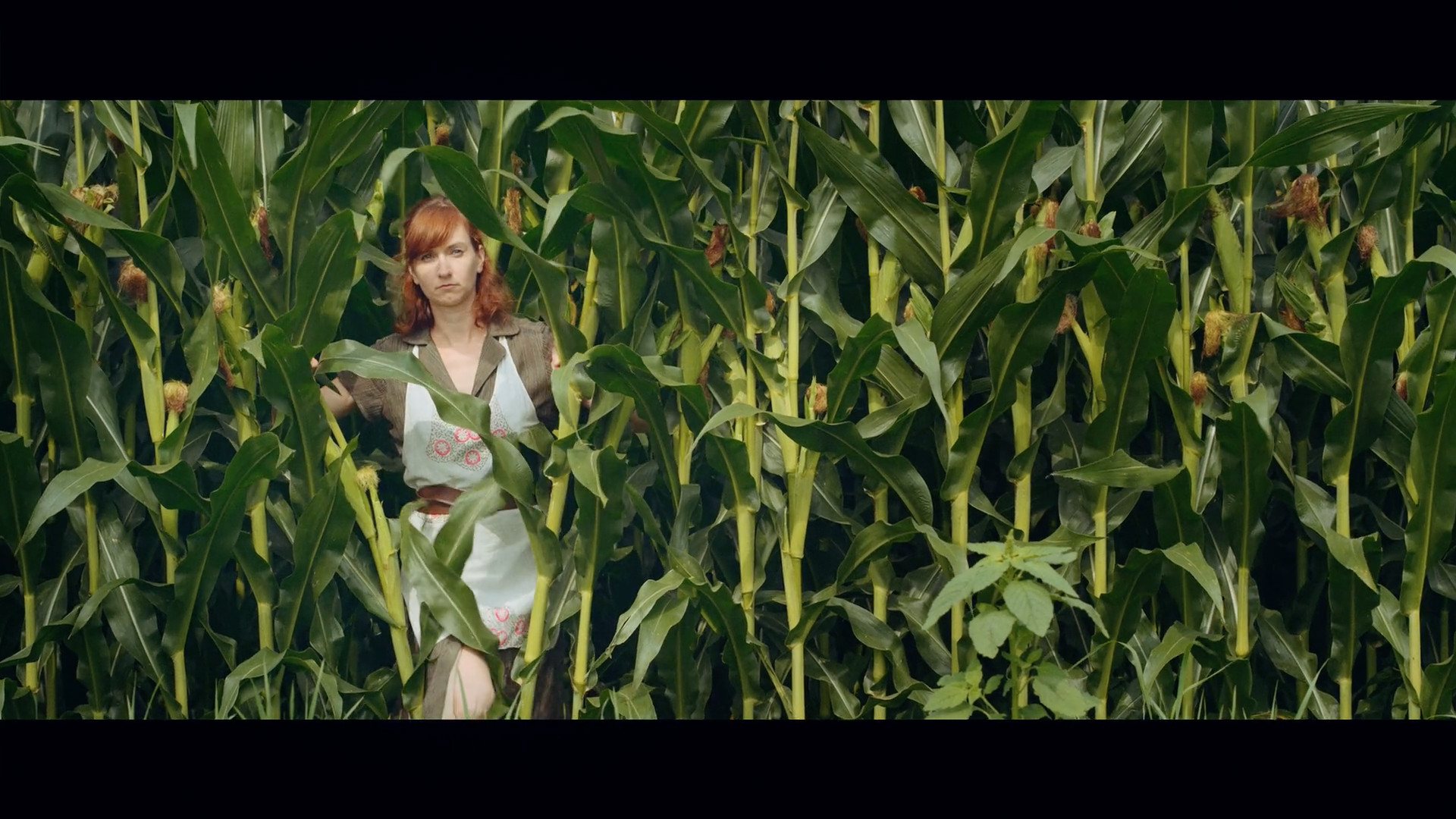 THE WAYWARD WIND
The Wayward Wind uses movement and humor to turn the idea of the "rambling man" on it's head.
Director: Steve Delahoyde & Monica Thomas / Choreographer: Monica Thomas / Dancer: Angela Luem, Danielle Gilmore and Michael O'Niell / Music: Carl Sondrol.
USA 2017 – 3'37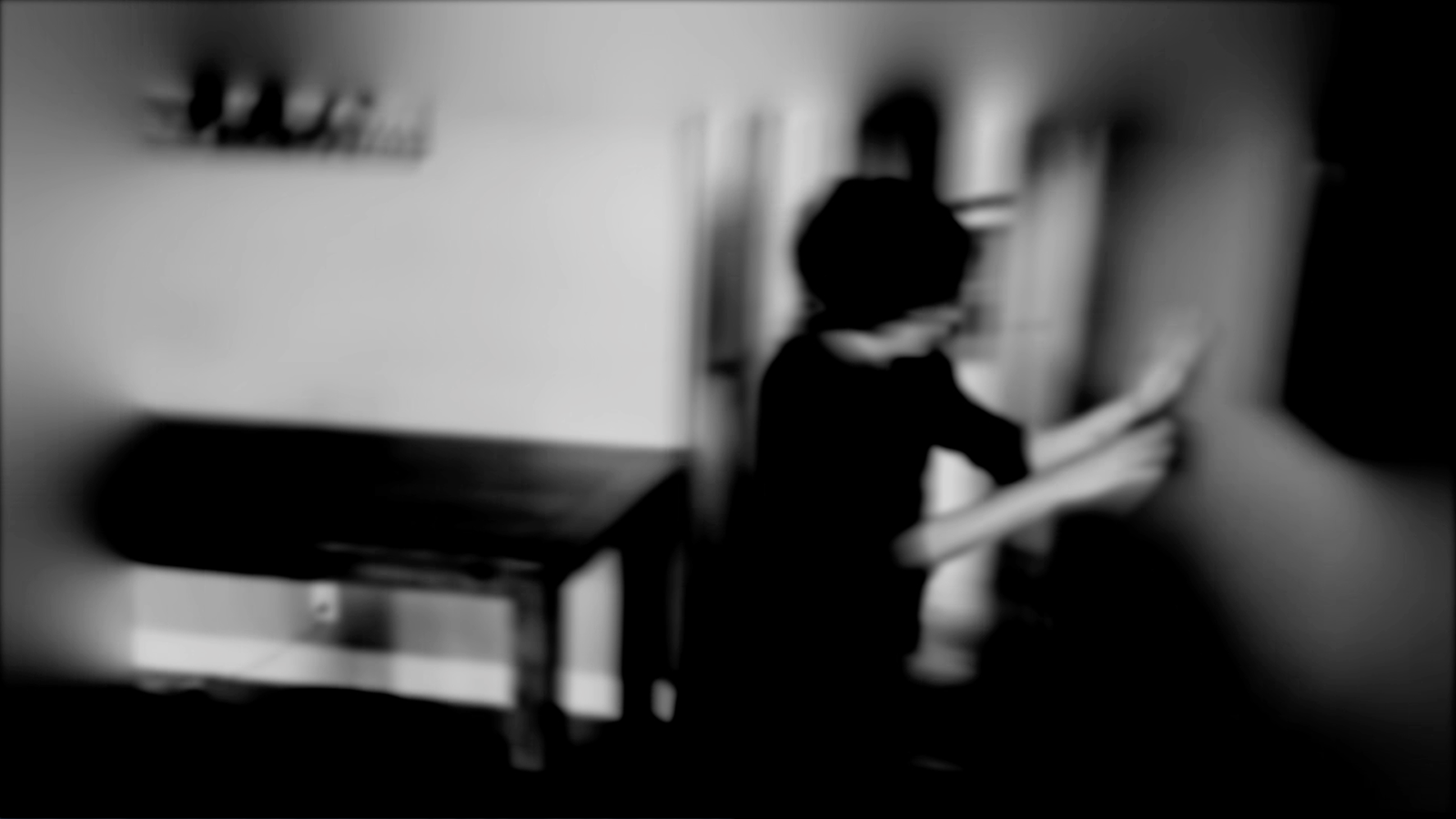 IN A FOG
San Francisco's ever-present fog is the inspiration for this otherworldly and ethereal study of dance, light and space.
Director: Peter Litwinowicz / Choreographer: Lizz Roman / Dancers: Chris Black, Sonsherée Giles, Megan Lowe,  Jamie Nakama, Linda Phung, Rowena Richie, Becky Robinson-Leviton, and Sonya Smith
USA 2017  – 3'14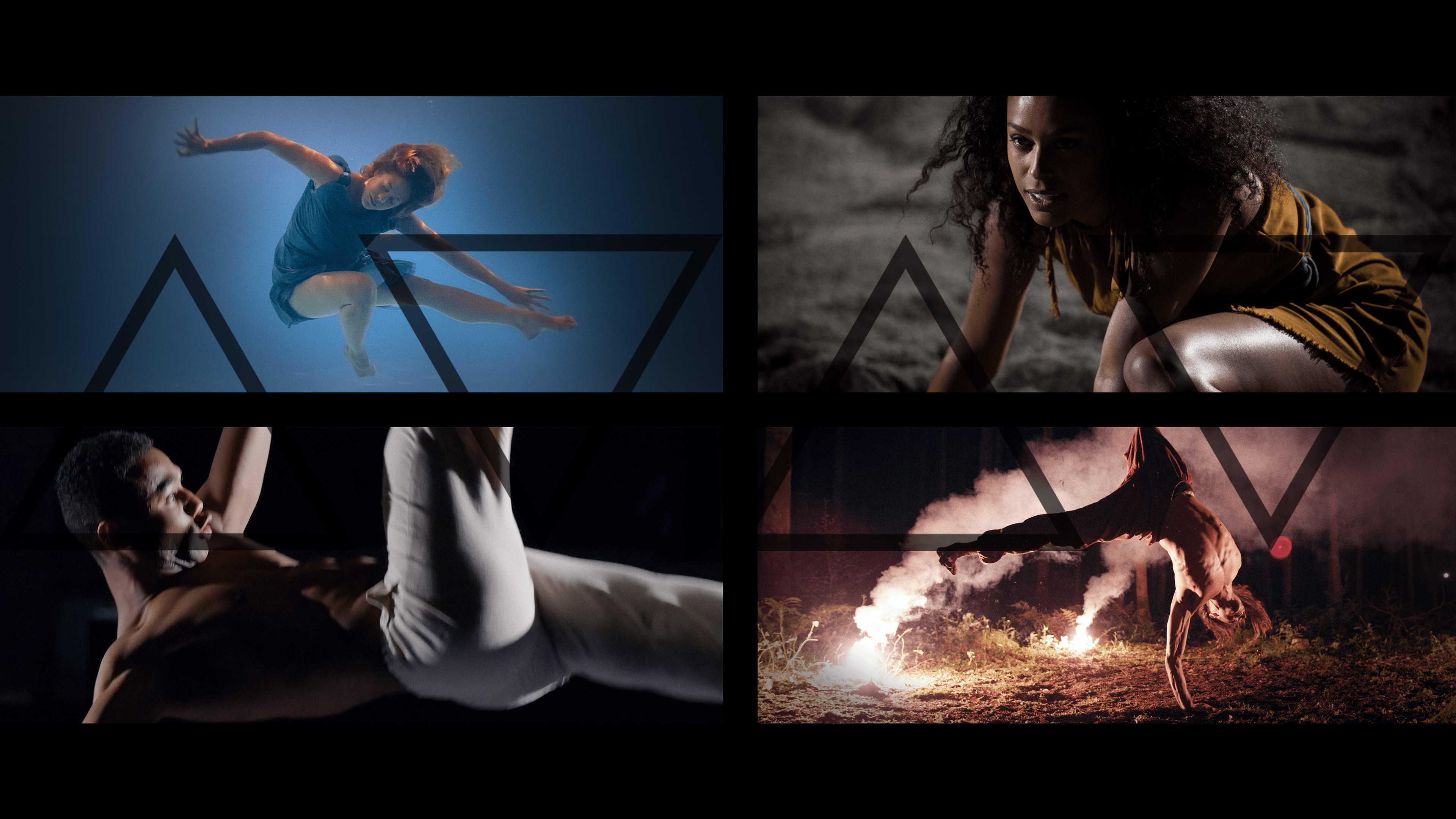 AKASHA
Akasha: the all-embracing fifth element. It moves effortlessly on the shores of the world. It overcomes gravity, explores the deepest of waters and fuels with its power the eternal flame of life. Akasha knows no space, no time, no fixed form.
This high-tension dance short offers the viewer a surreal encounter with the sovereign of earth, air, water and fire. Akasha is embodied by four different performers who move to the futuristic song Ants by Los Angeles based musician edit. His quintessential electronic music contrasts heavily with the metaphysical theme of the film. The result is a vibrant and ephemeral glimpse into the powers of the universe.
Director: Sean Wirz/ Choreographer: Hannah Rocchi / Dancers: Jelena Pfister, Simon Progin, Annina Biesold and Nadir Josi
Switzerland 2017 – 4'46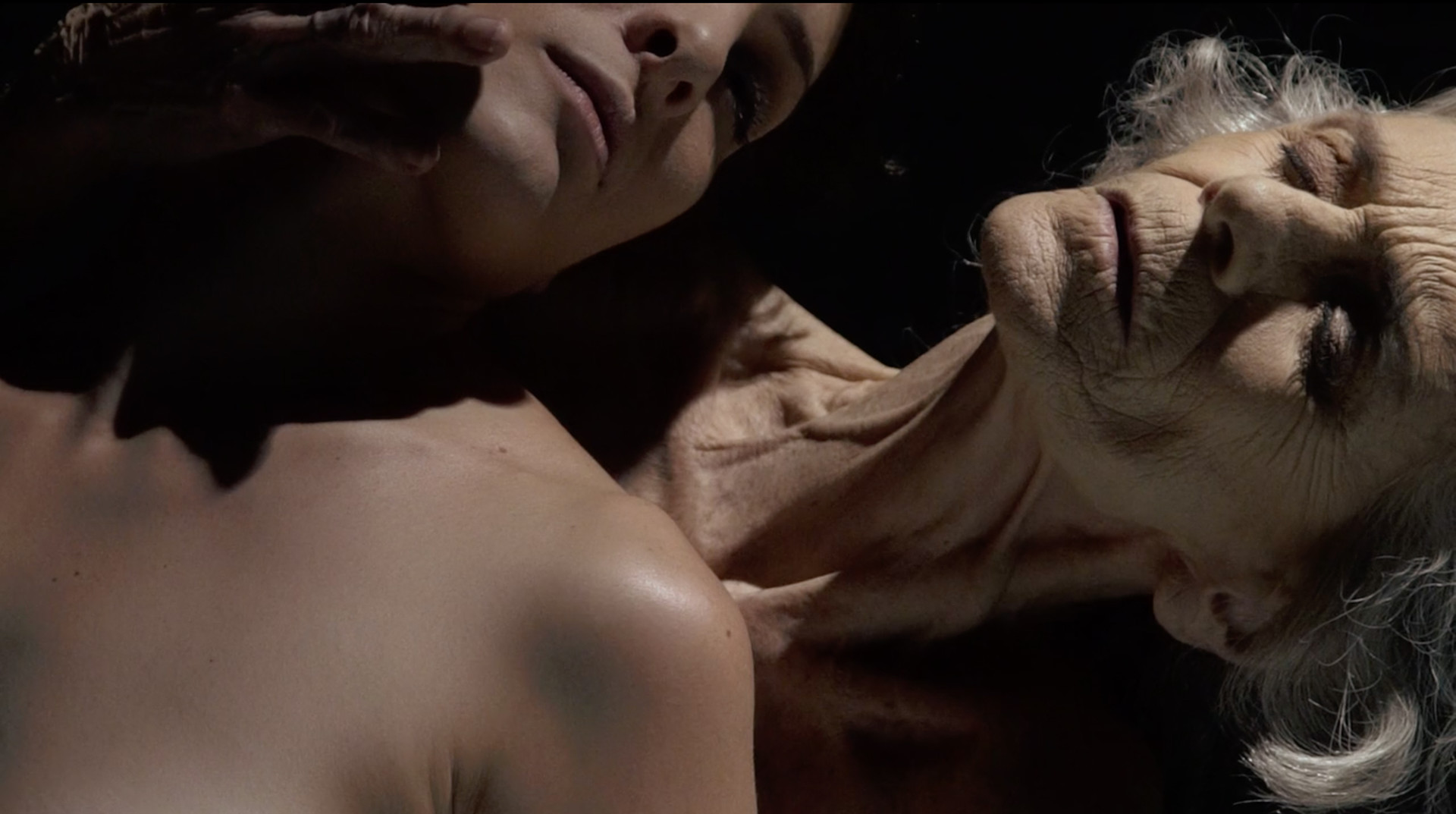 VANITAS
We do not share pains and failures. So vanity is the price to be paid. Such a move made vanity a virtue, no longer the capital sin of pride. Bringing among its characteristics immortality. We are the civilization that put death aside. Therefore, the idea of VANITAS is to exhort the viewer to consider mortality. Pondering about death is, paradoxically, pondering about life and the "temptations." There is no end. This is the drama.
In Bosch's hell, she was condemned to look at her own reflection. Forever. Condemned by her vanity, she is vanity. She wanders through the darkness of the Garden of Earthly Delight. She is empty. She is Vanitas.
A latin noun that means "empitness" and "vanity. And thus travel to a view of earthly life and the worthless nature of all earthly goods and pursuits. Paying for the sin of vanity.
Director: Vinícius Cardoso / Choreographer Monica Thomas DancerS: Vera Valdez and Irupé Sarmiento
Brazil 2017 – 5'50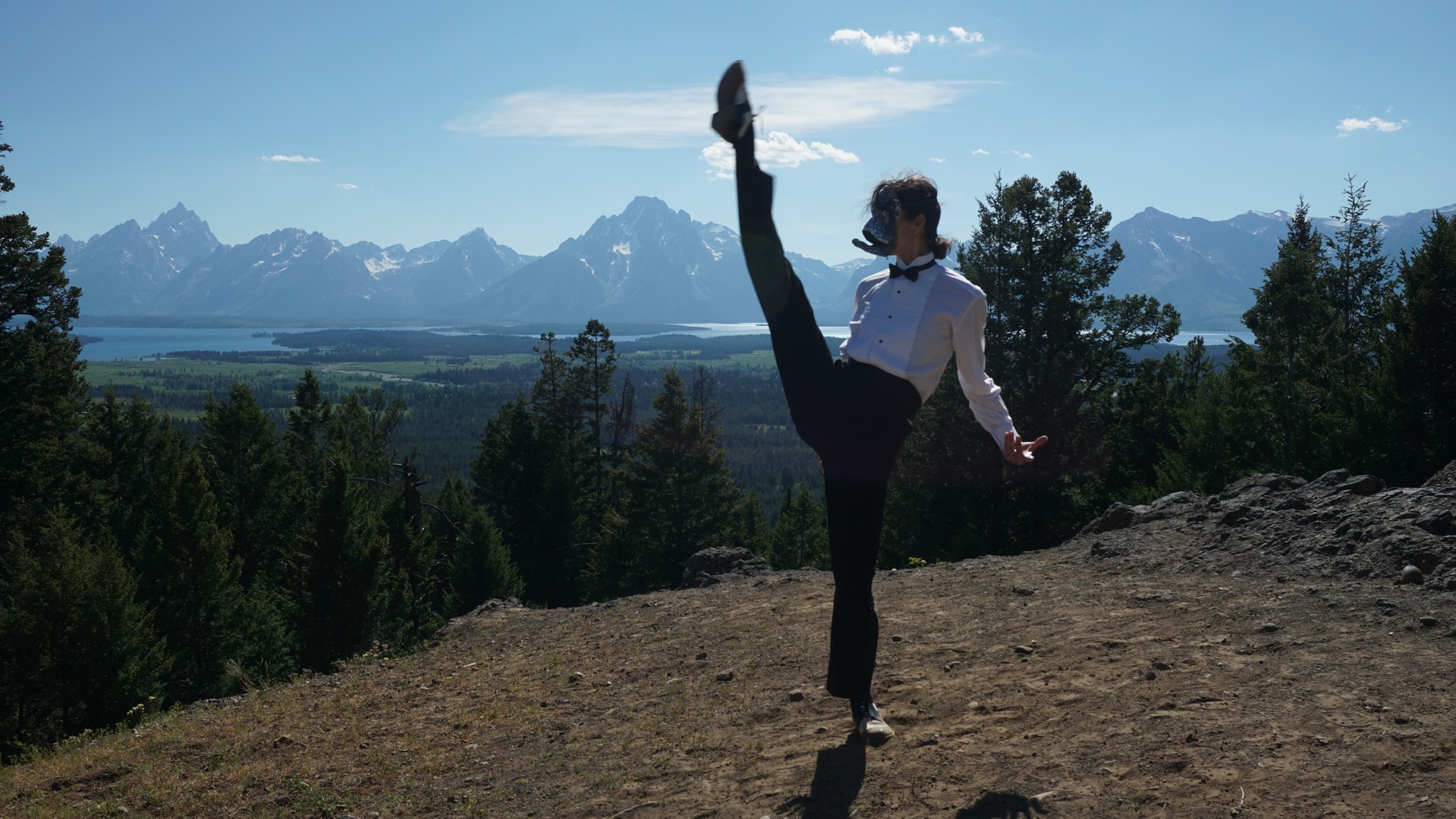 INTERSTATE
This short dance film features a mysterious and ambiguous masked figure embodying both animalistic and human characteristics as it travels across the country in search of home and self. InterState is an investigation of identity, migration, and displacement, set against the backdrop of America's most dramatic and dynamic landscapes. From Seattle and St. Louis to Mt. Rushmore and variously magnificent national parks, InterState explores the connection (or lack thereof) between living organisms and habitat, at every turn questioning the idea of a "natural environment." What do we carry with us when we move—literally? Each new location, each new scene provides an opportunity for the soloist to unearth a symbiotic way of moving in relation to the environment while simultaneously maintaining a sense of self, physically holding onto idiosyncrasies regardless of place, space, or time. By the film's end, the audience is caught up in the soloist's journey, bound to the rhythmic sense of timing created as the singular body carved space—and identity—in each terrain it inhabited.
Directors: Ilana Goldman and Gabriel Williams/ Choreographer and Dancer: Ilana Goldman
USA 2018 – 5'35
BLOWN AWAY
From the firing of the first electrons to the cosmic journey across space. Blown Away traces the genesis and impact of sound waves on a waiting listener.
Director: David Masters / Dancer: Dion Pratt
USA 2017 – 2'24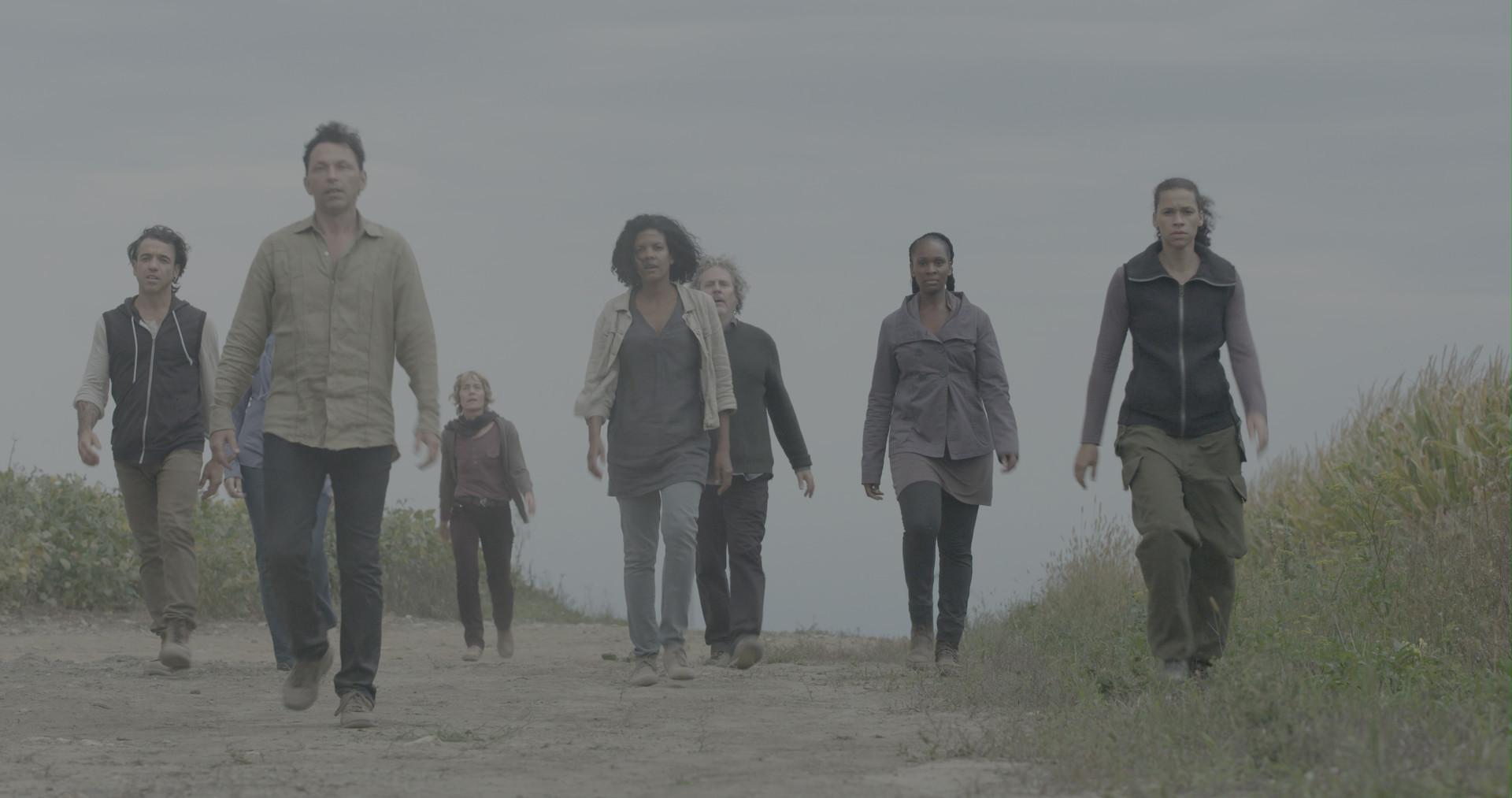 PILGRIMAGE
Nine dancers and singers travel across open farmlands, parched roads, and moonlit fields to find refuge in an abandoned place of worship. Through a complex series of Turkish usul patterns designed to ignite emotional states of journey and light, the group finds connection within their company and solace in the sheltered space.
Director: Marlene Millar / Dancers: Andrew Bathory,Sonia Clarke, David Cronkite,Afia Douglas,Helene Lemay, Kim Robin, Sandy Silva, Dominic Desrochers, Bobby Thompson
Canada 2017 – 10'38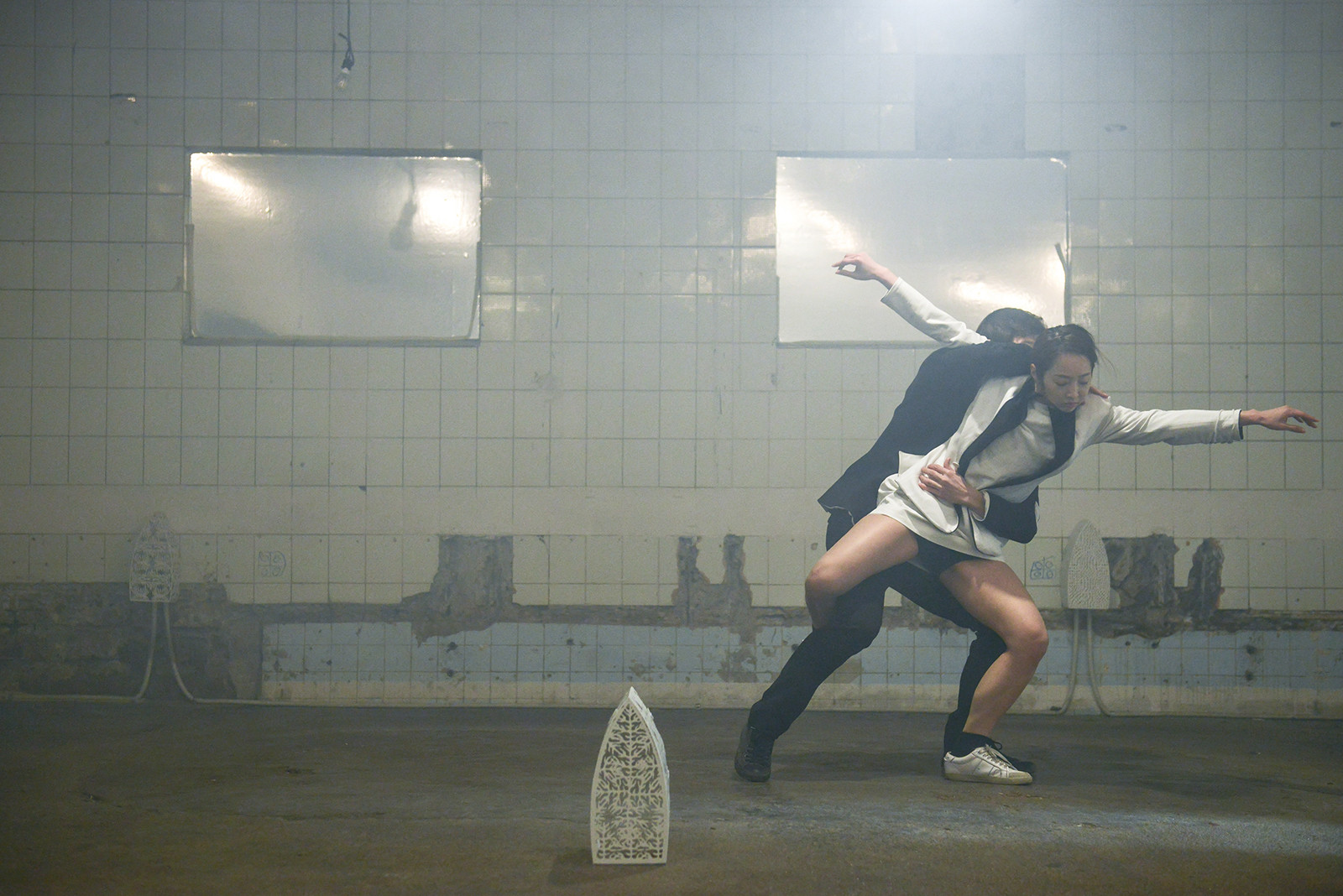 JAMAIS VU
Director: Kim Modeun / Dancer: Kim Modeun and Kim Taehee
South Korea 2017 – 7´30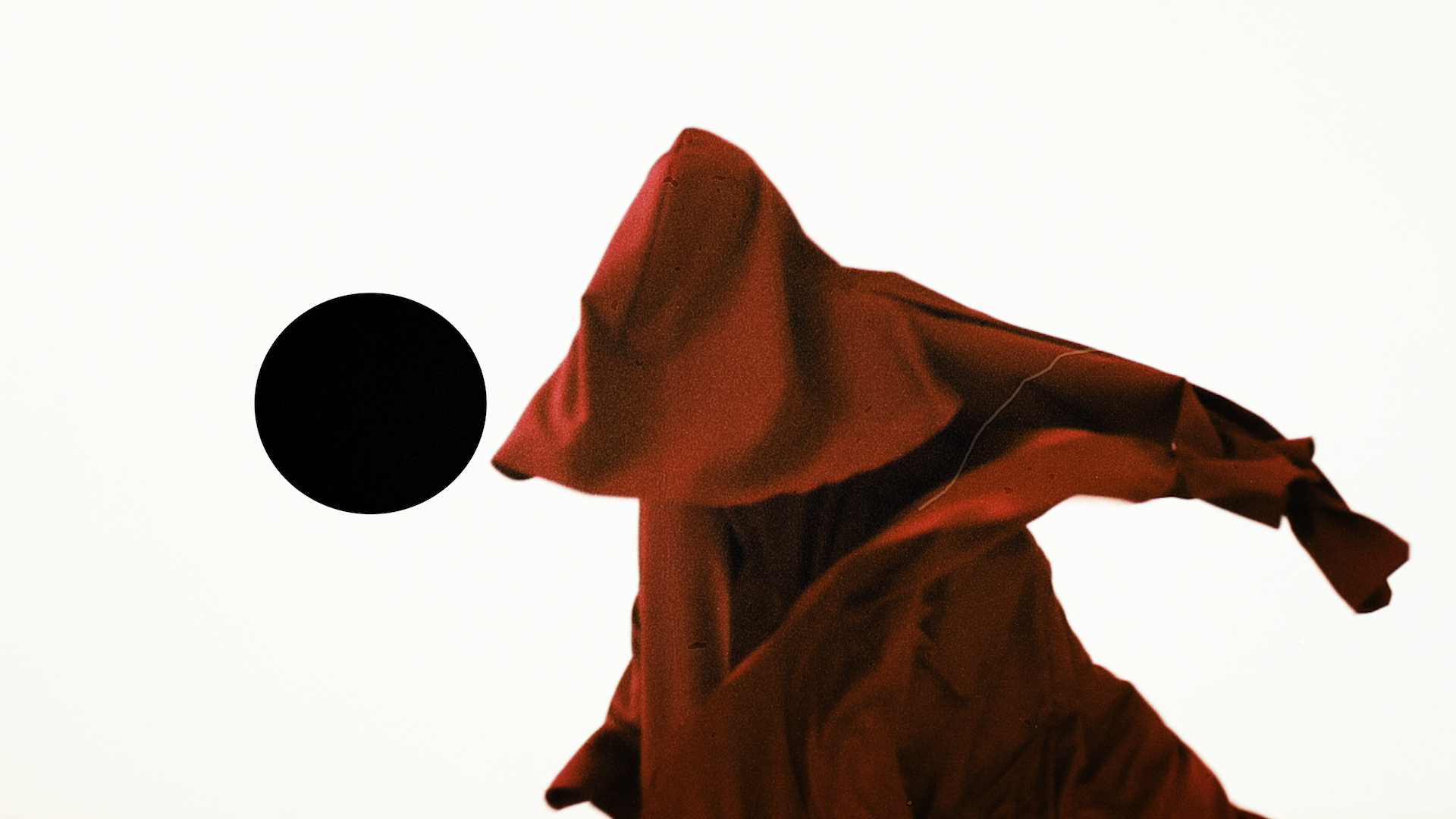 BLEEDING AND BURNING
An orbit of red and black. Coordinated by the assembly to reach a new galaxy. Neither dance nor editing and collage Encounter of the human and the form in a paréidolie universe.
Director: Guilaume Marin / Dancer: Guilaume Marin
Canada 2017 – 2'36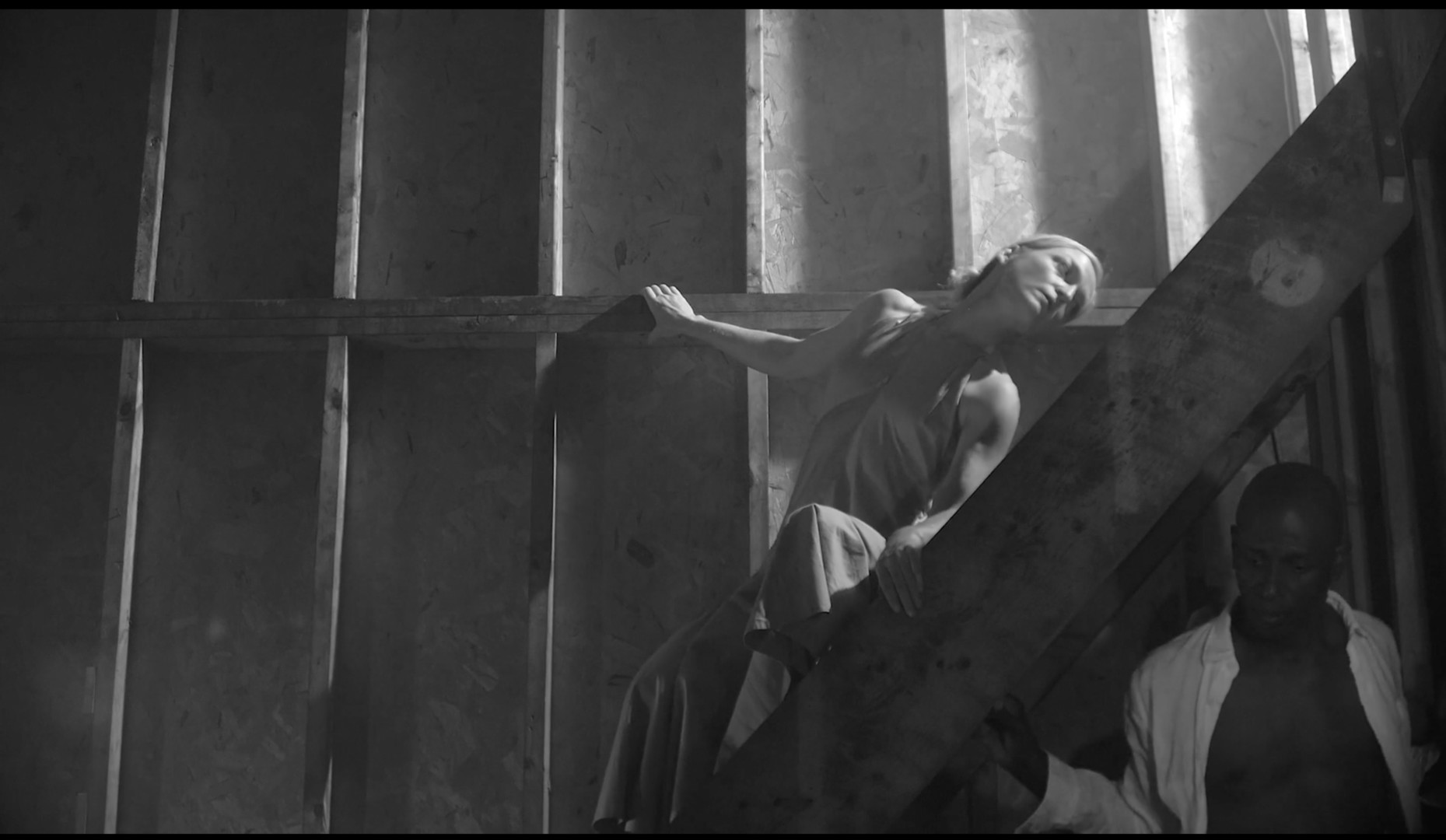 IN SEARCH OF LOST TIME
A man and a woman inhabit the same surreal location though not, apparently, at the same time. Marta Renzi directs this black-and-white meditation on memory and absence, joined by long-time collaborators Charles Caster-Dudzick (camera), as well as Aislinn MacMaster & David Thomson (performers).  With a nod to the sound score for Andrei Tarkovsky's Stalker and a location inspired by Joelle Bouvier and Regis Obadia's La Chambre.
Director: Marta Renzi / Dancers: Aislinn MacMaster and David Thomson
USA 2017 – 8'44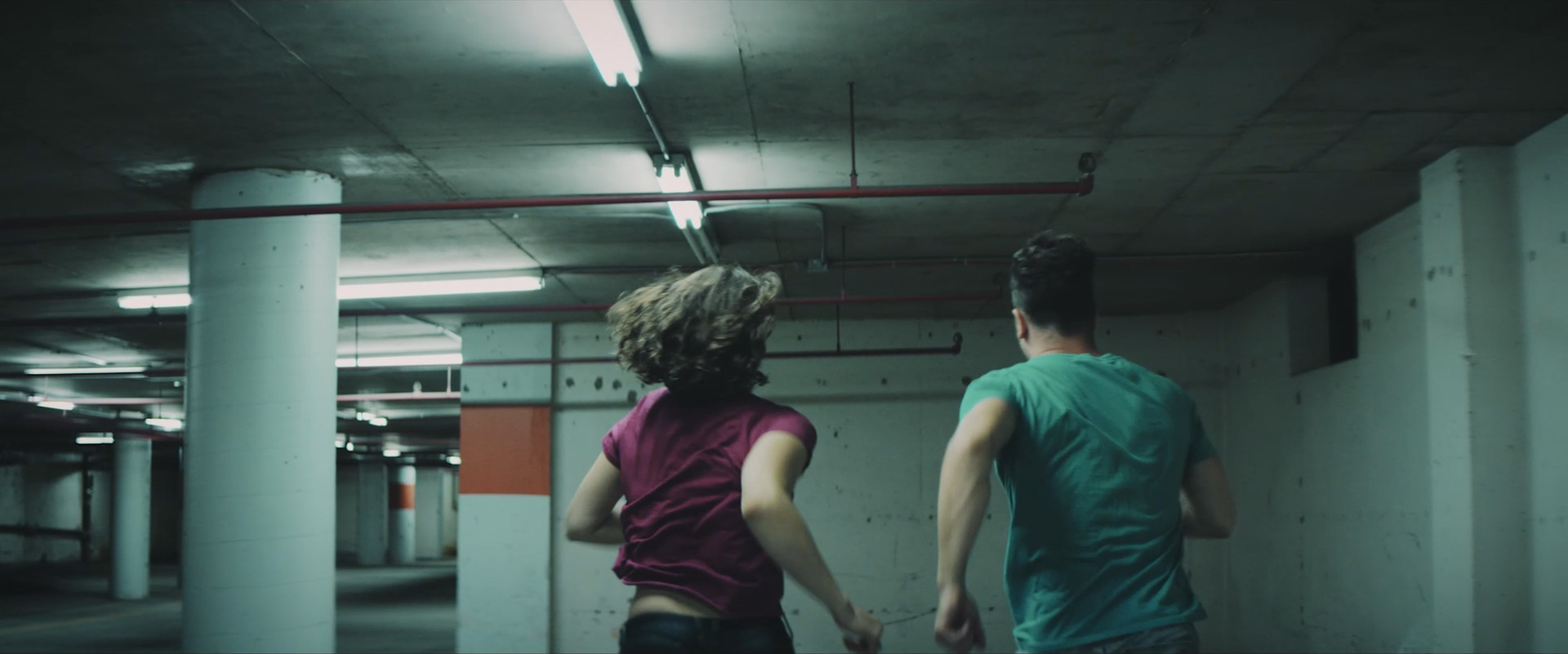 DON'T FIGHT IT
A man and a woman get to know each other by play fighting. As attraction builds up, they try not to break the rules of the game. What starts as something fun and legit becomes increasingly tensed and risky. What happens when each of them wants to push the boundaries but can't indulge at the same time? It's all fun and games until someone loses one's mind.
Director: Eve LeClair / Dancers: Simon-Xavier Lefebvre and Eve LeClair
Canada 2017 – 6'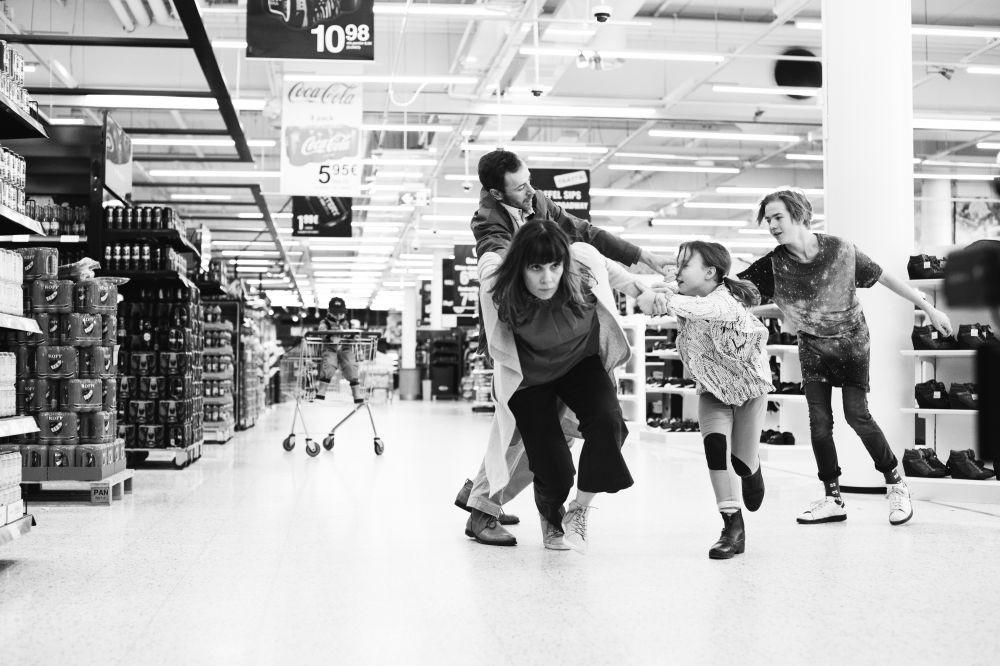 THROUGH THE SUPERMARKET IN 5 EASY PIECES
In this dance film a family tries to manage through the weekly grocery shopping without disintegrating. The moment they enter the supermarket the children go off in separate directions and the parents face the ovewhelming load of merchandise under the time pressure of a closing store. Will they be able to gather the supplies for existence and still come out of the store with all the children? The story is also a metaphor to the five classical elements earth, air, fire, water and aether, of how they strive into different directions but still keep together as one.
Director: Anna Maria Joakimsdottir-Hutri / Choreographers: Maria Saivosalmi and Andrius Katinas / Dancers: Jenni-Elina von Bagh, Andrius Katinas
Finland 2017 – 8'40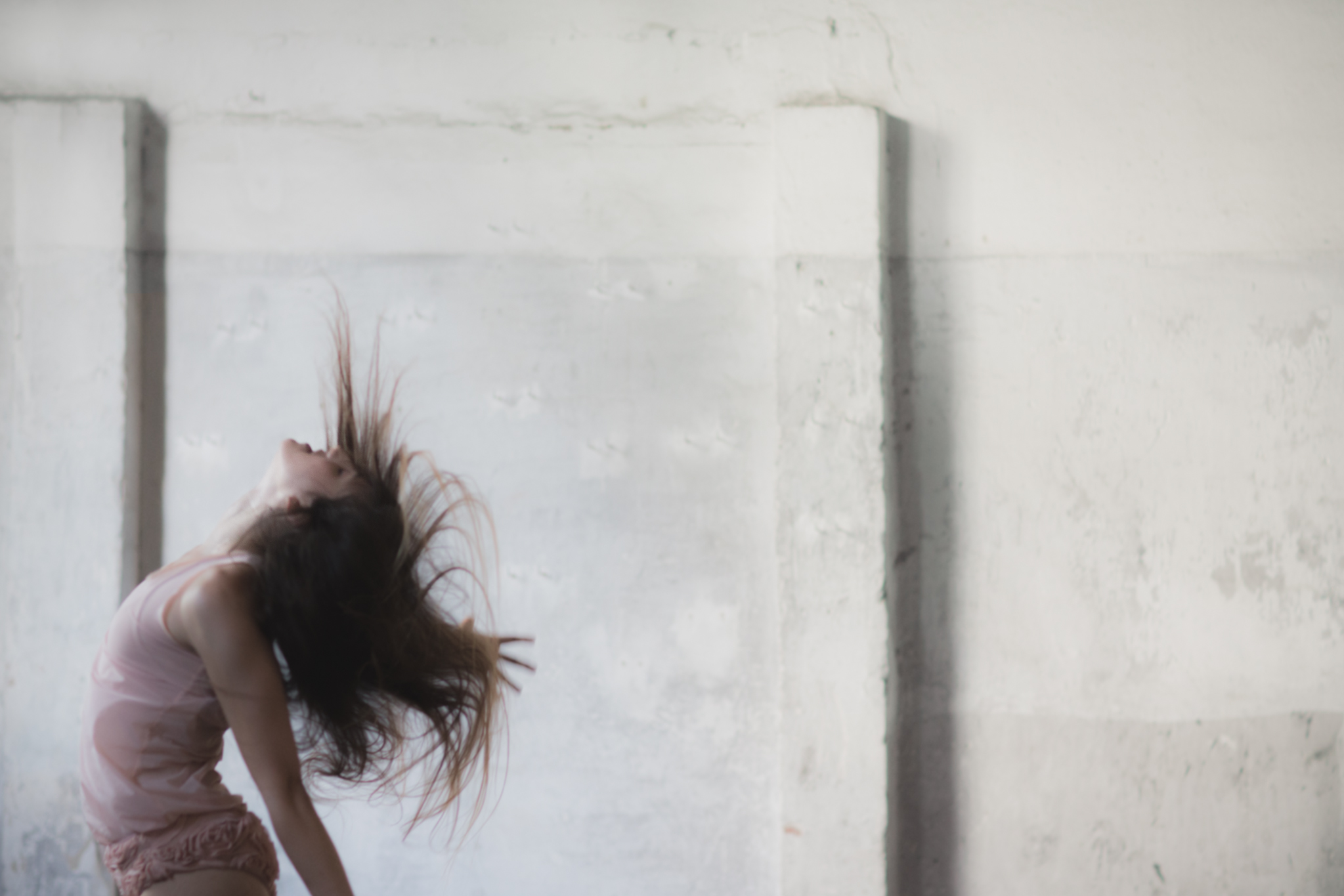 HOME ALONE
Featuring the Bat Sheva Dance Company ensemble, this short film imparts an atmosphere of "parental absence" as the dancers make creative use of the space – an abandoned building, combining planned and improvised choreography.
Director: Adi Halfin
Israel 2013 – 2'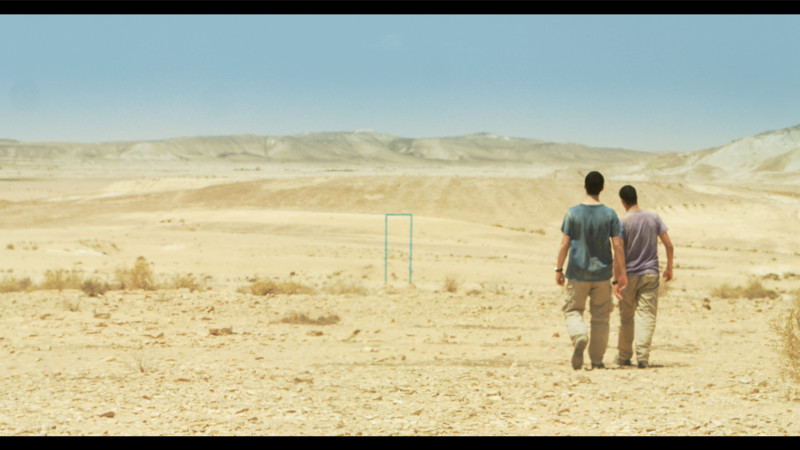 SHIVTA
SHIVTA is a short dance film telling a cinematic and kinetic exploration of two lost desert wanderers. In a form of Fata-Morgana, a doubtful portal appears in the distance.  Curiosity takes over and the two, as the narrative rolls forward, find themselves bewitched and possessed by a celestial fortune teller.
Director: Or Meir Schraiber / Dancer: Or Meir Schraiber, Ori Ofri, Bobbi Jene Smith, Matan Kohn and Omri Drumlevich
Israel 2017 – 10'58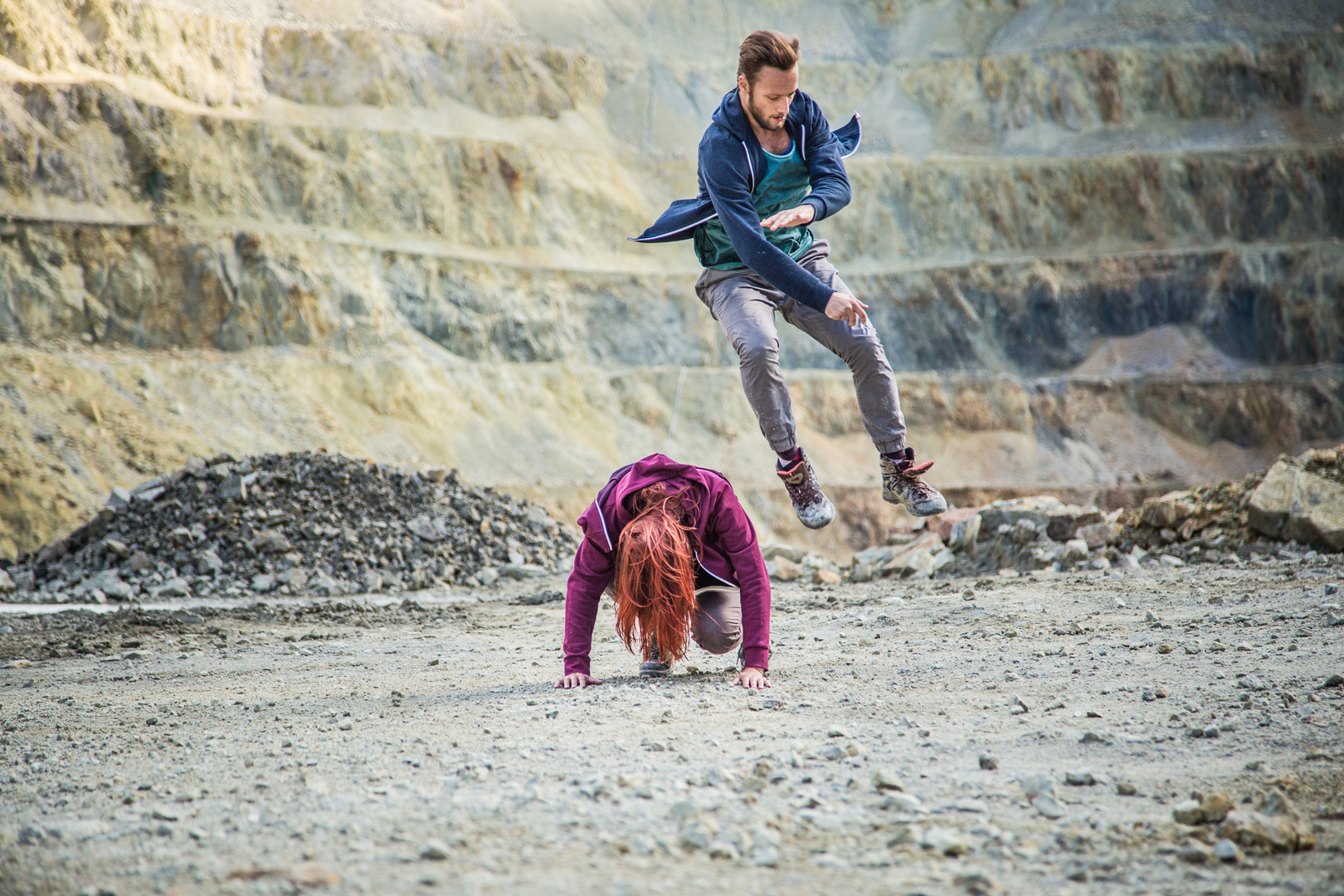 SONDER
A visual abstract poetry of the human being confronted with nature, the machine and himself.
Director: Simona Deaconescu / Choreographer: Simona Deaconescu / Dancer: Simona Dabija, Diana Bejan, Razvan Stoian, Galea Bobeicu, Denis Bolborea
Romania 2016 – 12'20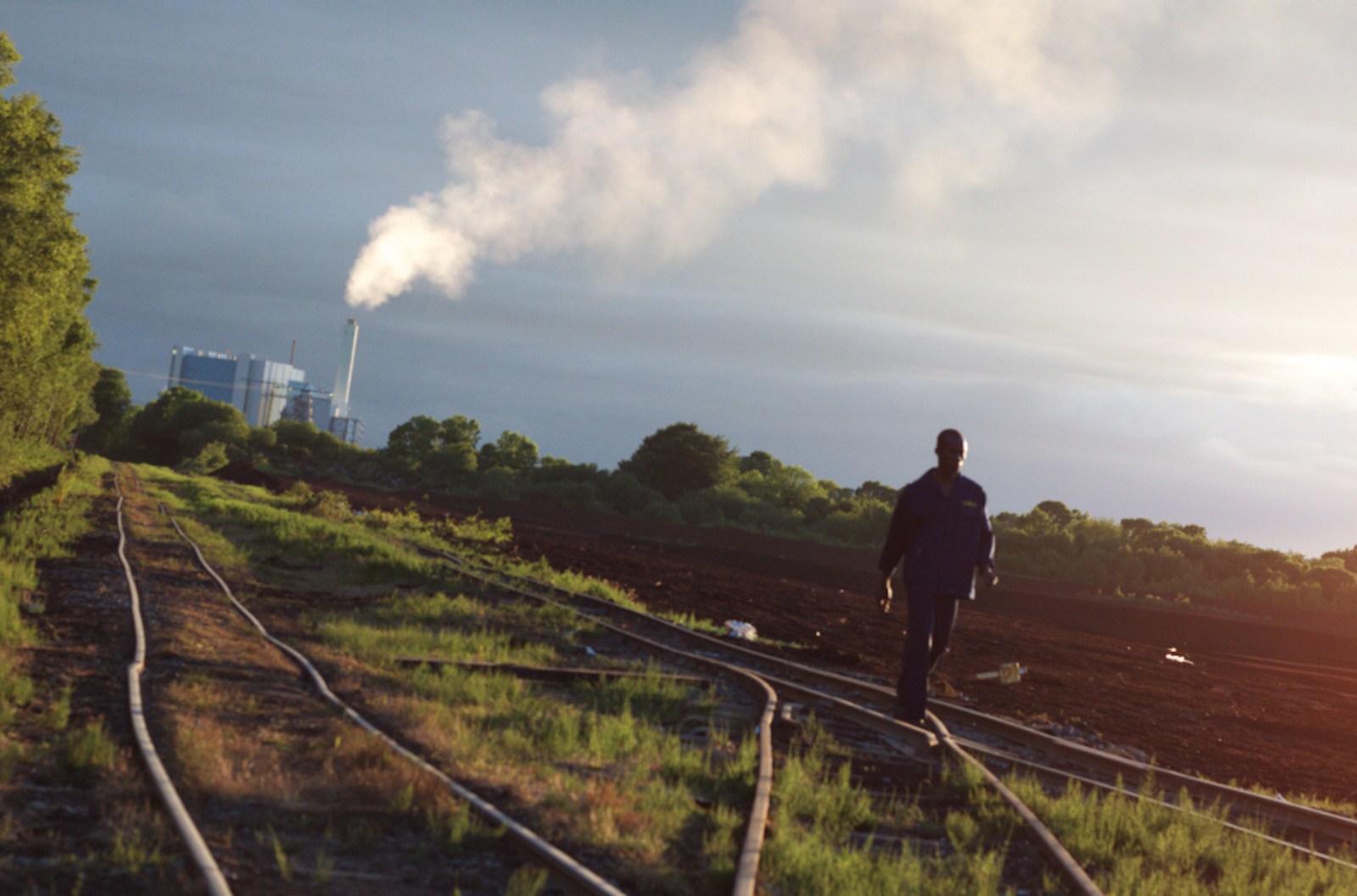 KEEPING TIME
Director: Steve Woods / Dancer: Fernando Anyang'a
Ireland 2014 – 10´40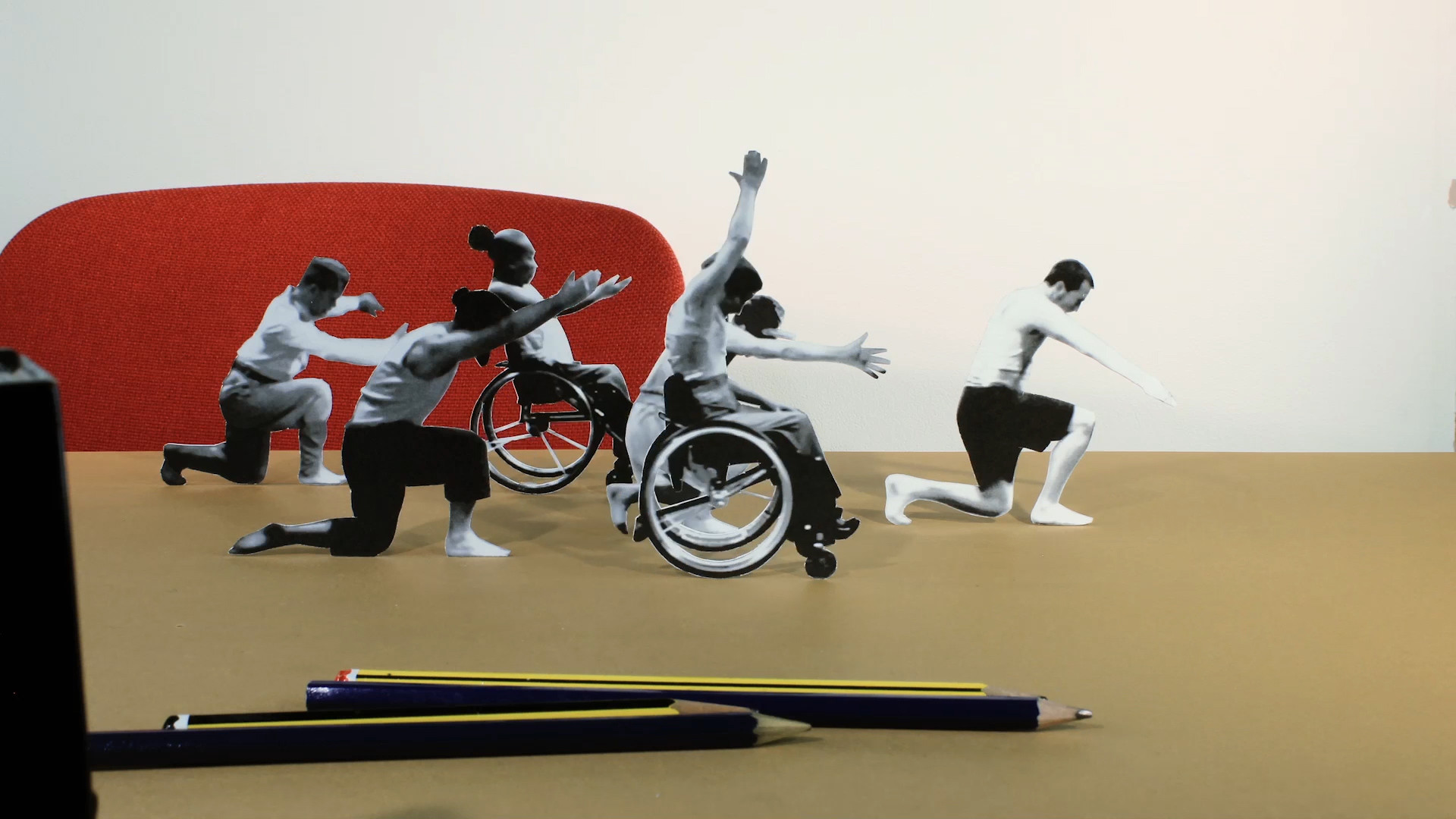 STOPGAP IN STOP MOTION
Photographs of performers in a disabled and non-disabled dance company come to life. The individual artists dance out of the photos and across table tops until the whole company meet and perform in unison. Completed in 2016, this is a promotional film for Stopgap Dance Company.
Director: Stephen Featherstone/ Dancer: Stopgap Dance Company
UK 2016 – 4´40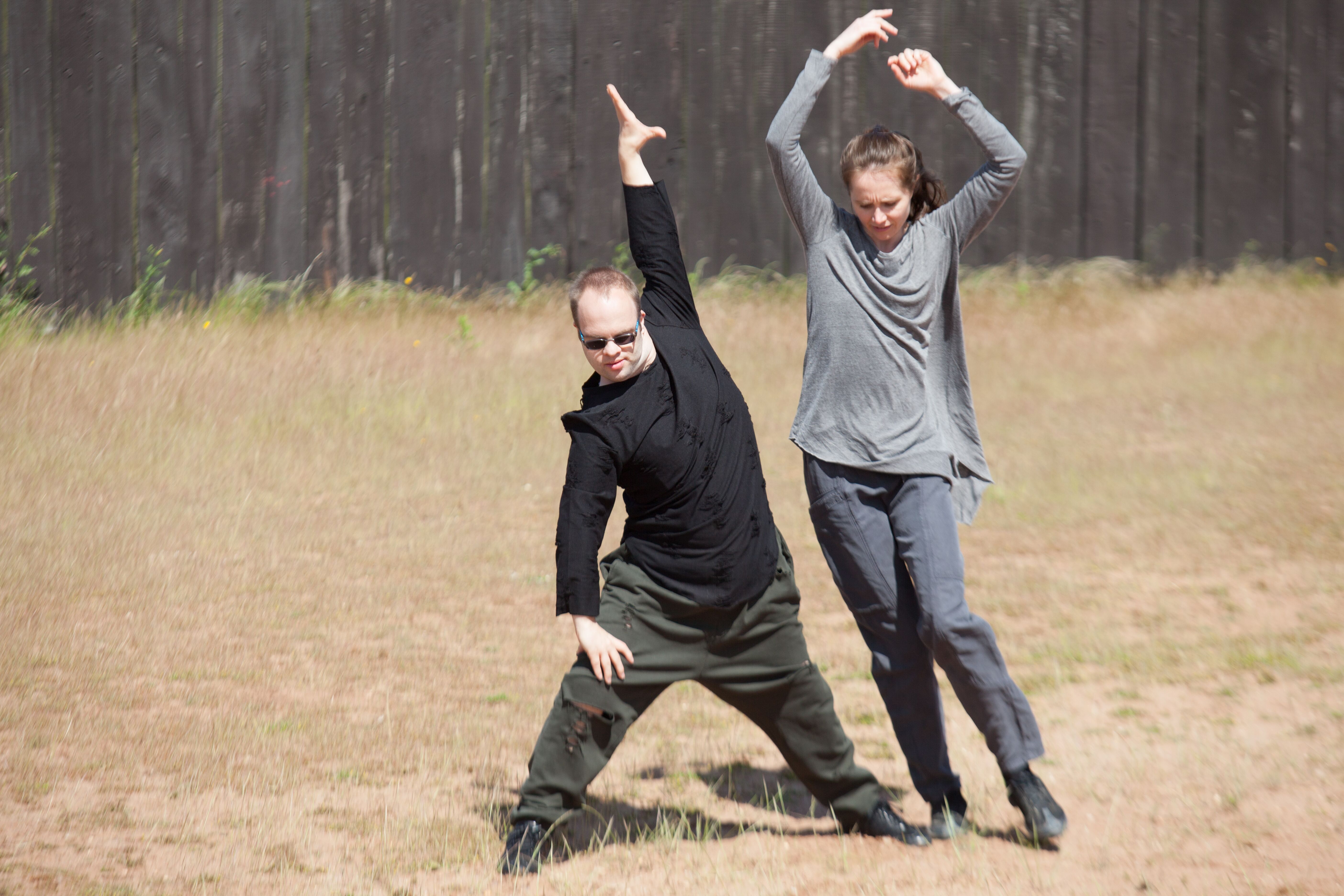 FREEFALL´S TRILOGY (WHERE WE ARE, FREFALL AND ONE FINE DAY)
WE ARE HERE
A short dance film that explores notions of identity where the search to belong unites you as one.
Director: Sima Gonsai / Choreography: Lee Fisher / Music: Richard Syner / Dancers: Freefall Dance Company and Birmingham Royal Ballet principle dancers.
UK 2018 – 7'10
ONE FINE DAY
This short dance film presents a collection of rhythmic and witty scenarios capturing the adventurous world of Freefall Dance Company.
Director: Sima Gonsai / Choreography: Lee Fisher, Keith Youngson and Jenny Murthy / Dancers: Freefall Dance Company
UK 2015 – 7'05
FREEFALL
Dance for Camera film featuring Freefall Dance Company, and was commissioned by Mencap as part of their 2012 Cultural Olympiad project, We Dance.
Director: Sima Gonsai & Babis Alexiadis / Dancers: Freefall Dance Company
UK 2012 – 4'32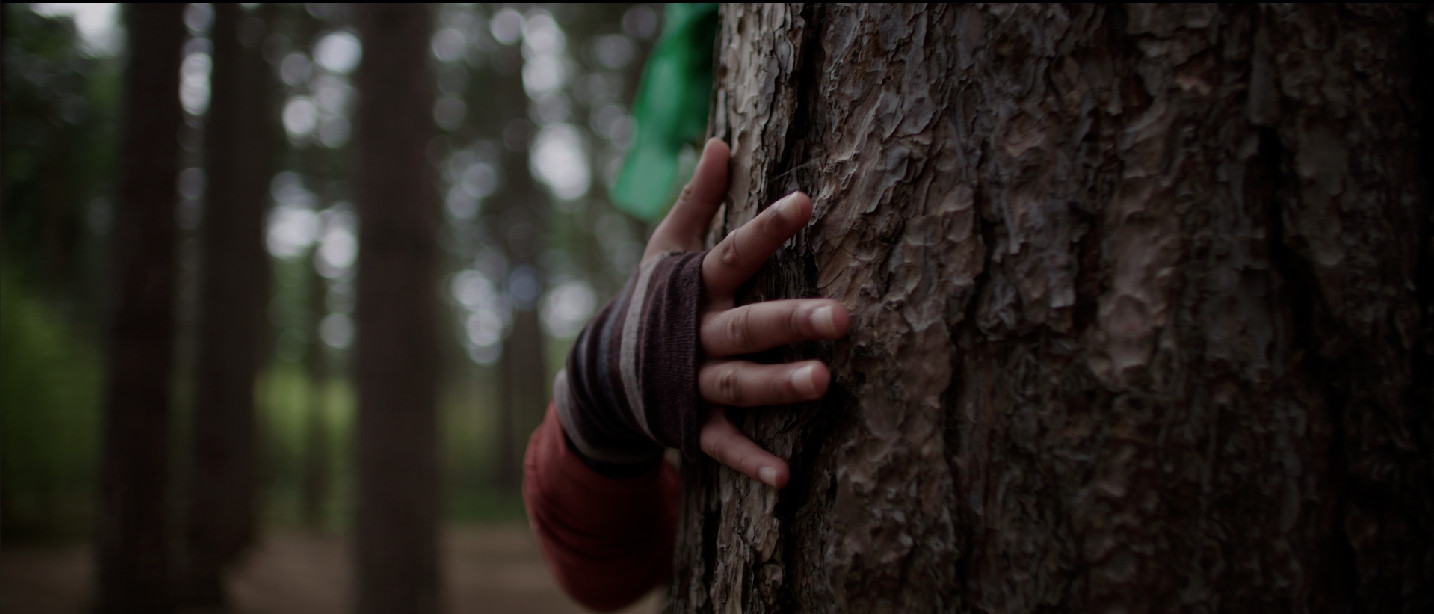 SWARM
A mysterious group of figures find one another in the woods. They unite in dance and, as the evening falls, reveal their true identities.
Director: Emma Miranda Moore/ Dancers: Carmela Birch, Georgina Bradley, Brandon Brereton, Holly Collins, Ossie Crick, Scooter Crick, Tyra Egbri, Shea Finkelstein, Imogen Inkster, Kai Keenan-Felix, Taylor Keenan-Felix, Saira Lennard, Ishan Mahabir-Stokes, Malik Sahebekhtiari, Emma Zajdlic
UK 2017 – 9'23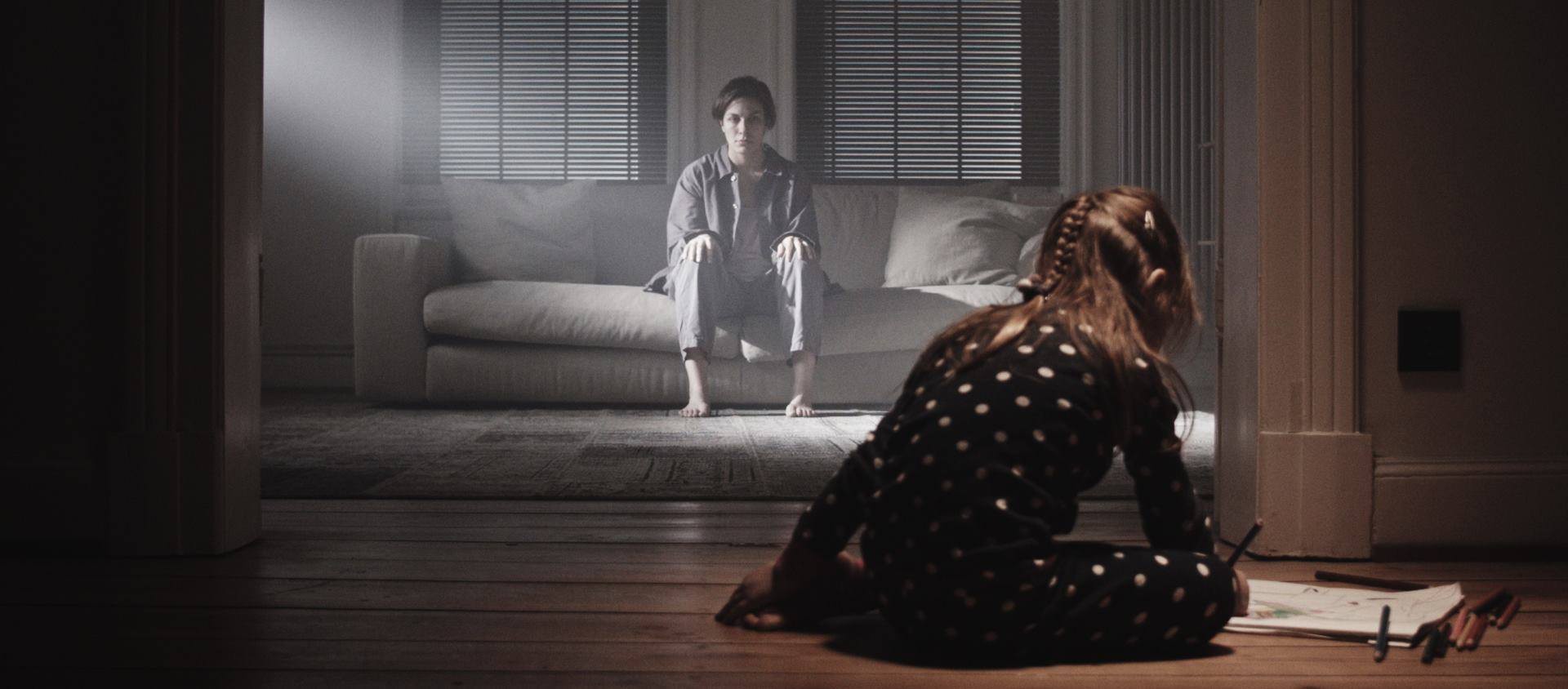 COLD
COLD is about the suffering of a mother, who is not able to feel love for her child. no matter how hard she tries. She falls into a depression, where she hardly finds a way to move on…
Director: Sven Niemeyer / Dancer: Jules Matberg
Germany 2017 – 6'15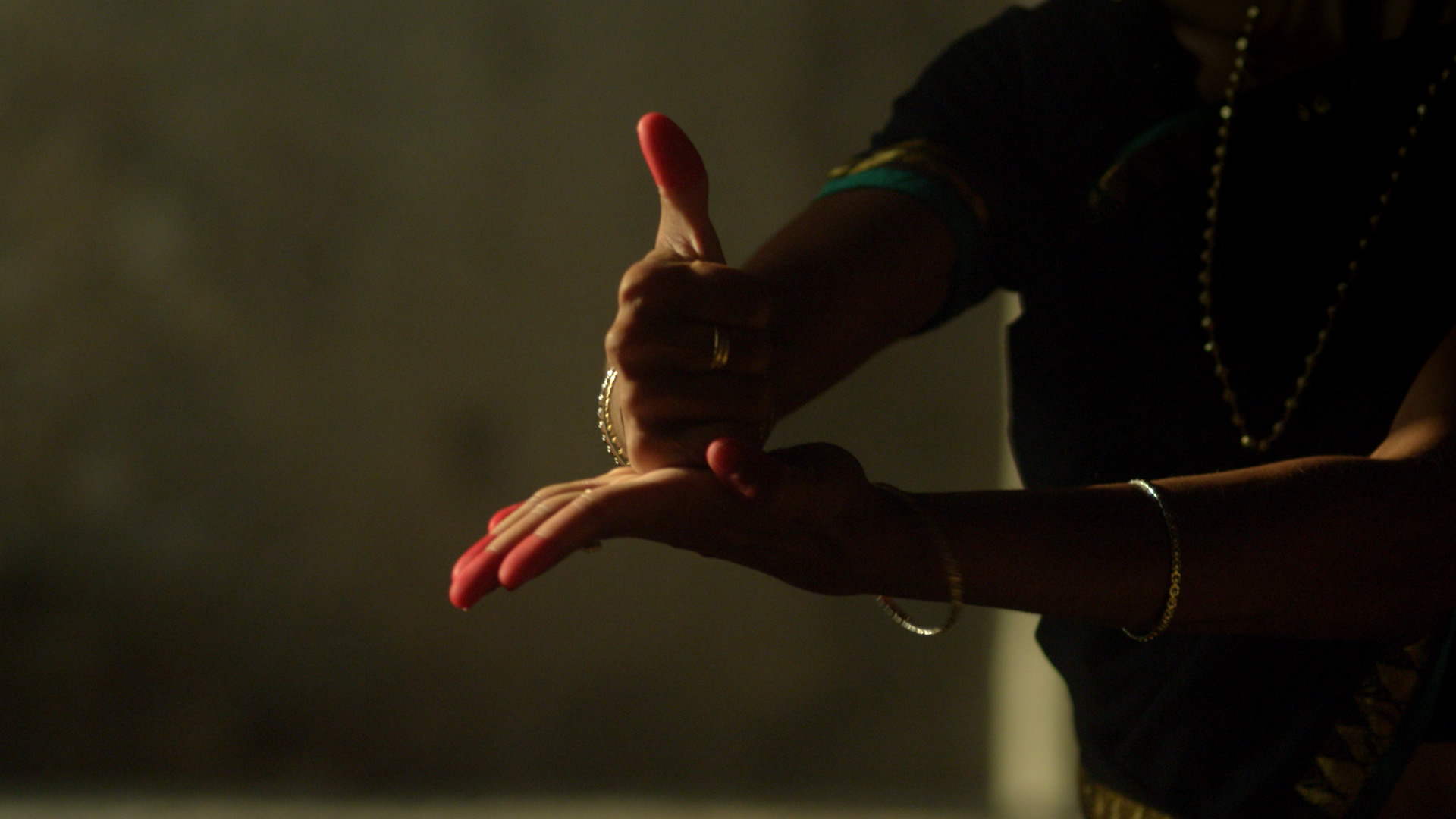 BHAIRAVA
Bhairava evokes facets of Shiva, the Lord of Dance, as both the destroyer of evil and the guardian of time. He is fierce and drives terrible deeds, but he is also the Divine Protector and Supreme Guardian; his intention springs from pure compassion. In this work, carried by a strong and deeply evocative musical score and by the singular energy of the ancient site of Hampi, dancer and choreographer Shantala Shivalingappa embodies the presence and distinctive qualities of Bhairava. With her technical mastery and refined expressivity, she alternates between moments of precise symbolic gestures and more abstract body language surging from the powerful and omnipresent persona of Bhairava, creating a vivid incarnation of the deity.
Director: Marlene Millar and Philip Szporer/ Choreographer and Dancer: Shantala Shivalingappa
Canada 2017 – 13'45
1-MINUTE SELECTION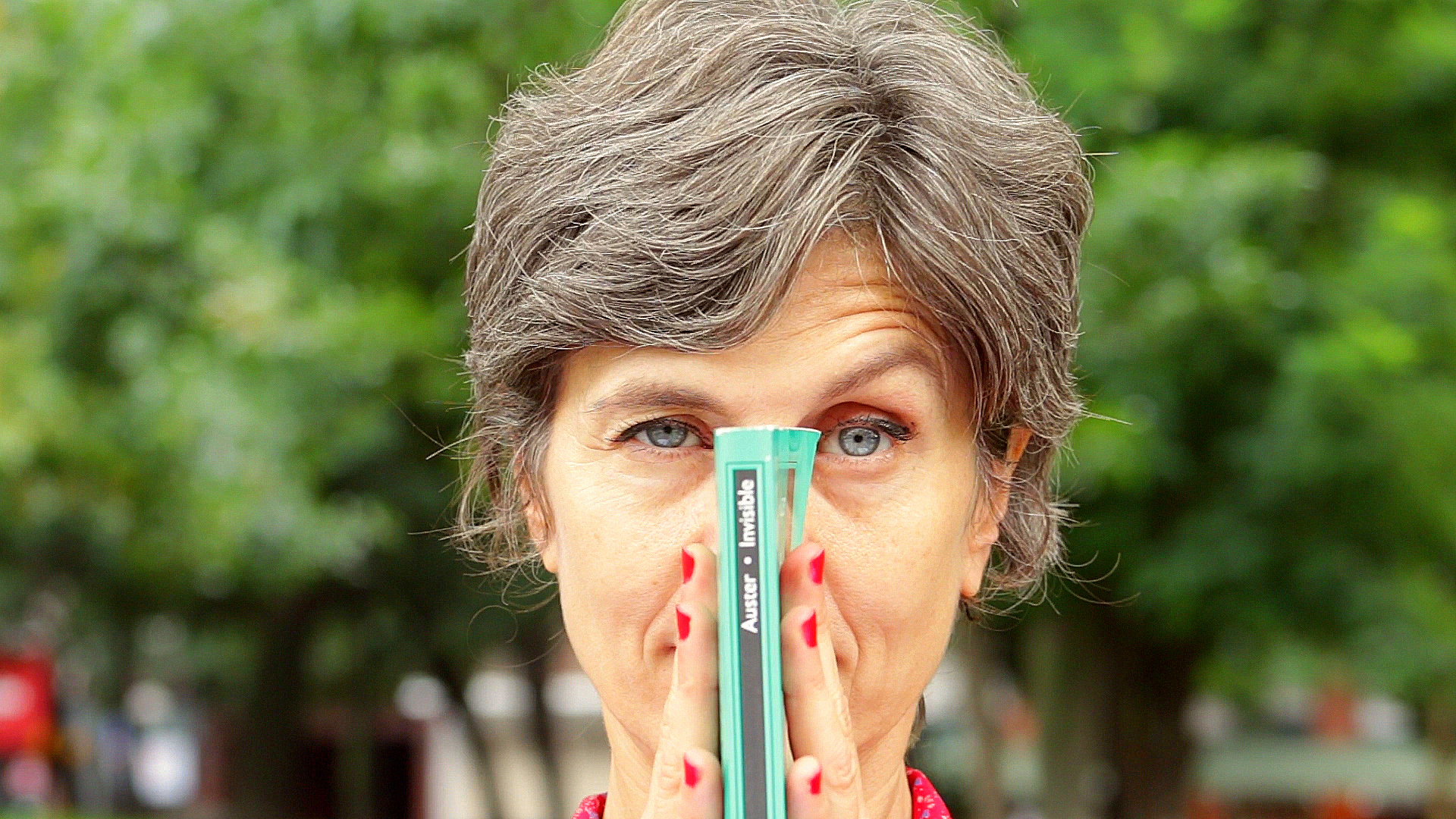 SUDDENLY 
A lady in her forties sitting in the park. Suddenly  the impulse of movement appears. She  tries to control it but then timidly  she lets it develops. It simply happens..
Director: Carolina De Luca / Choreographer: Caro De Luca and Virginia Vargas
Argentina 2017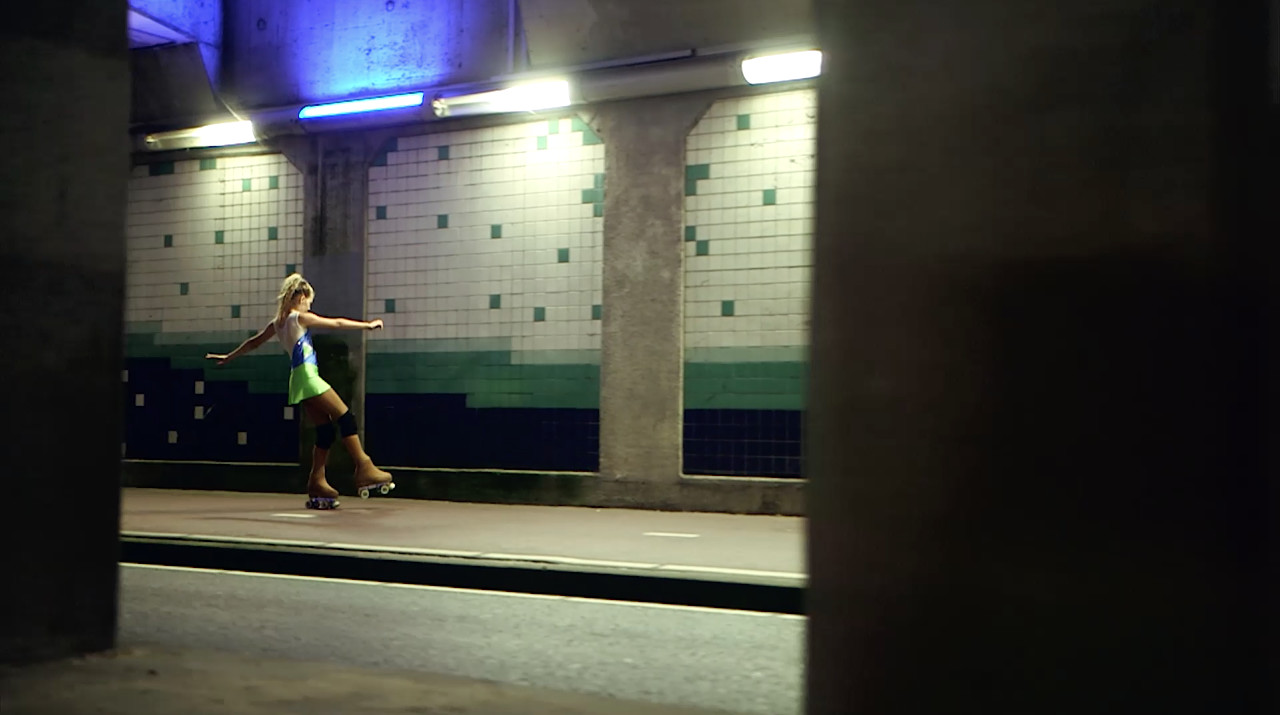 STATE OF STILLNESS 
Director: Camiel Zwart/ Dancer: Robin
Netherlands 2017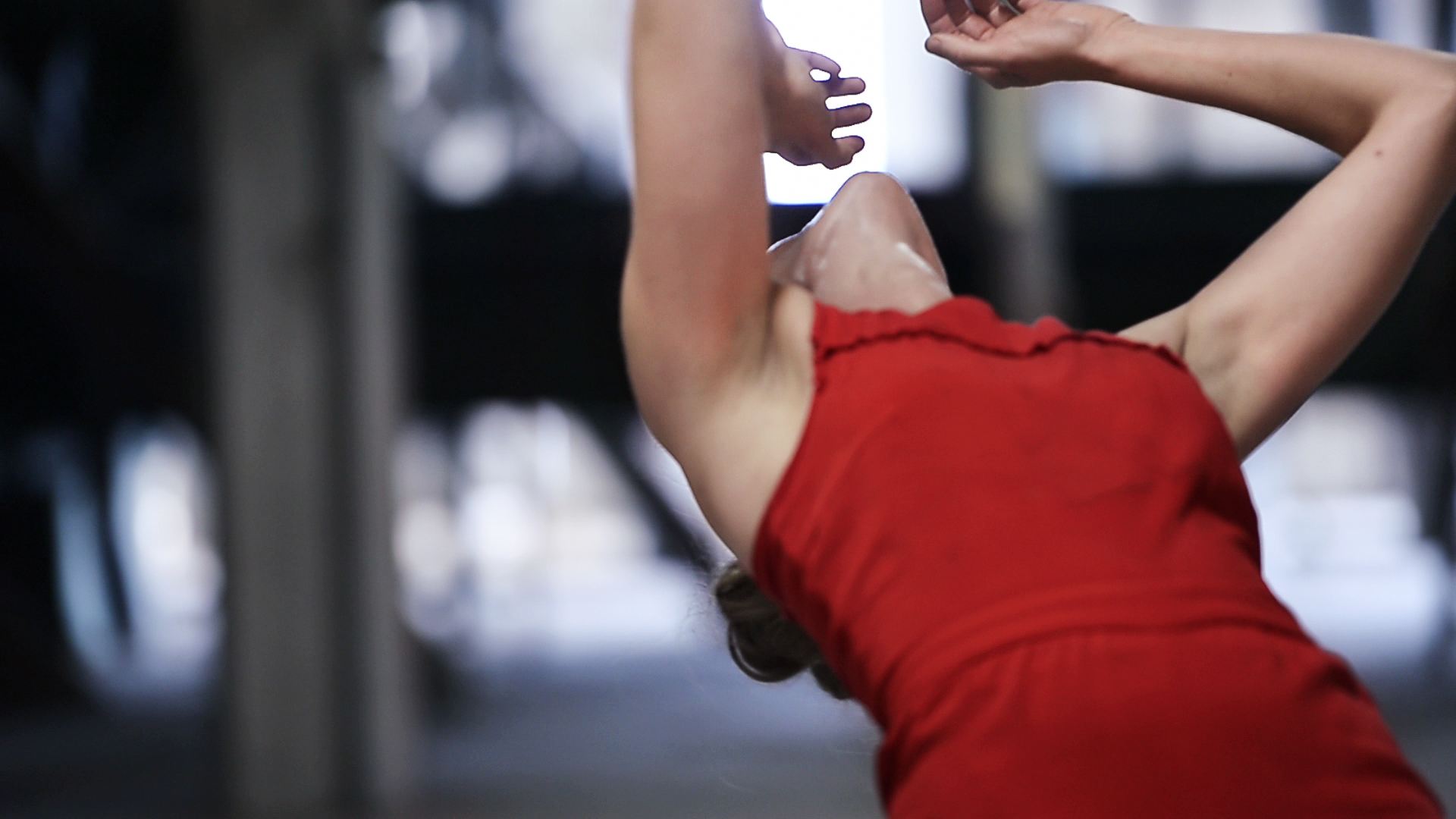 RHYTHMANIA
RHYTHMANIA is a short dance screen taking its startingpoint in the genre of Swedish folk music and dance and its relation to rhythm and groove as concepts of togetherness, communication, desire and compulsion. As well as the risk taking and friction that those acts put at stake.
Director: Anna Öberg, José Figueroa, Anders Löfberg / Dancer: Anna Öberg / Musi: Anders Löfberg
Sweden 2017 
METAMORFOSI 
Dancing. The exploration of the world and of ourself to understand the ultimate meaning of movement. Fierce battles fought against our demons to experience our fears. A brief and eternal journey towards the unknown to reach a small moment of freedom.
Director: Jacopo Benini / Dancers: Nicola Manzoni, Simone Benini and Viola Gasparotti
Italy 2017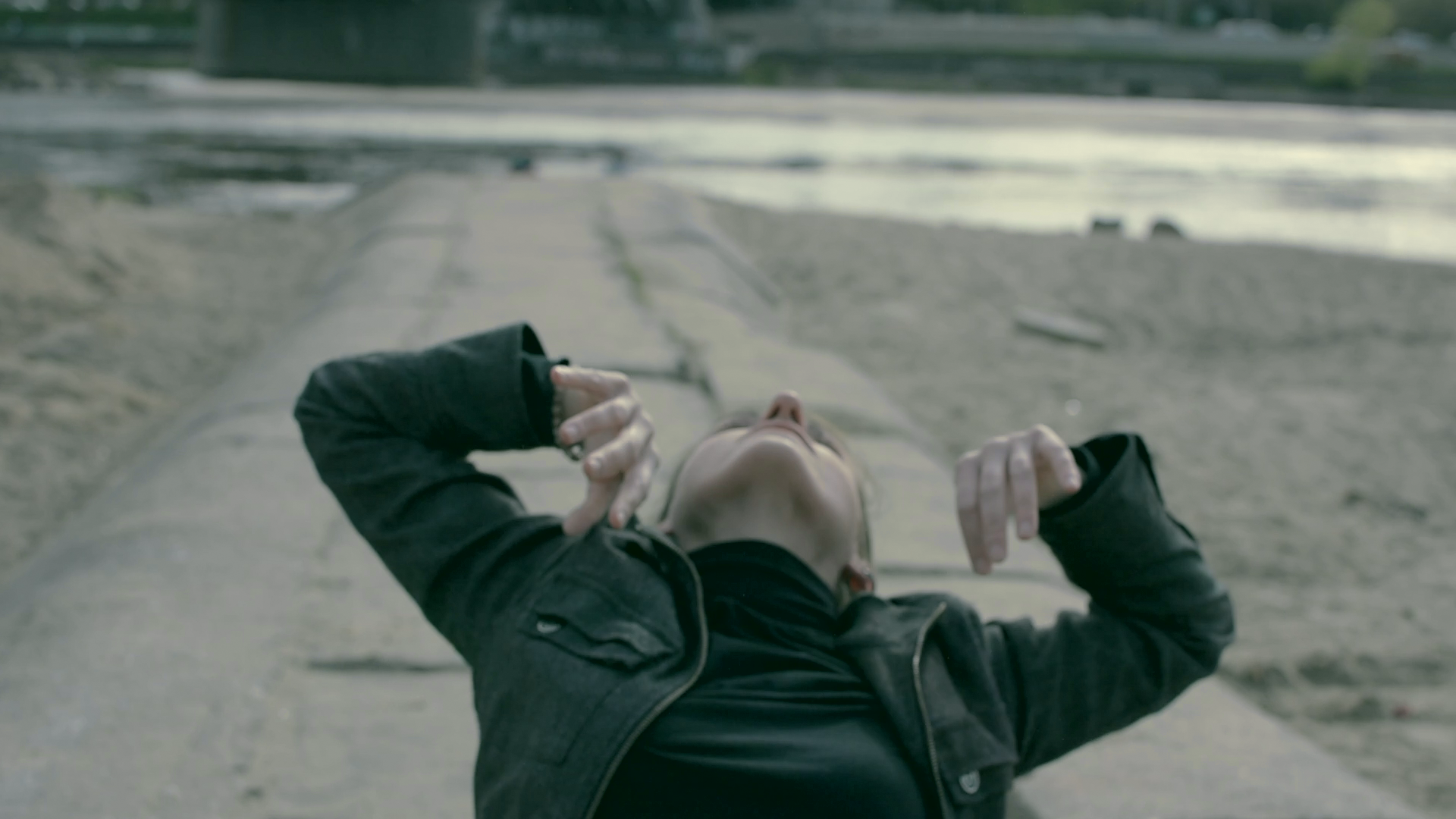 CITY TISSUE 
Marta Kosieradzka sees the city as a living body, it is created by people and shaped everyday from the beginning by their dreams, actions and desires.
Warsaw is a city with very complex and rich history,  it is often called "The city that survived it's own death", suffering plenty of historical events (WW2, Uprisings, Communism…). She always thinks if a city can rise from something like that to what it is today it shows amazing hope and ability to rebuilt the city tissue.
Director: Eva Campos Suárez / Choreographer and Dancer: Marta Kosieradzka / Music: Dorota Bąkowska-Rubieńczyk
Poland 2017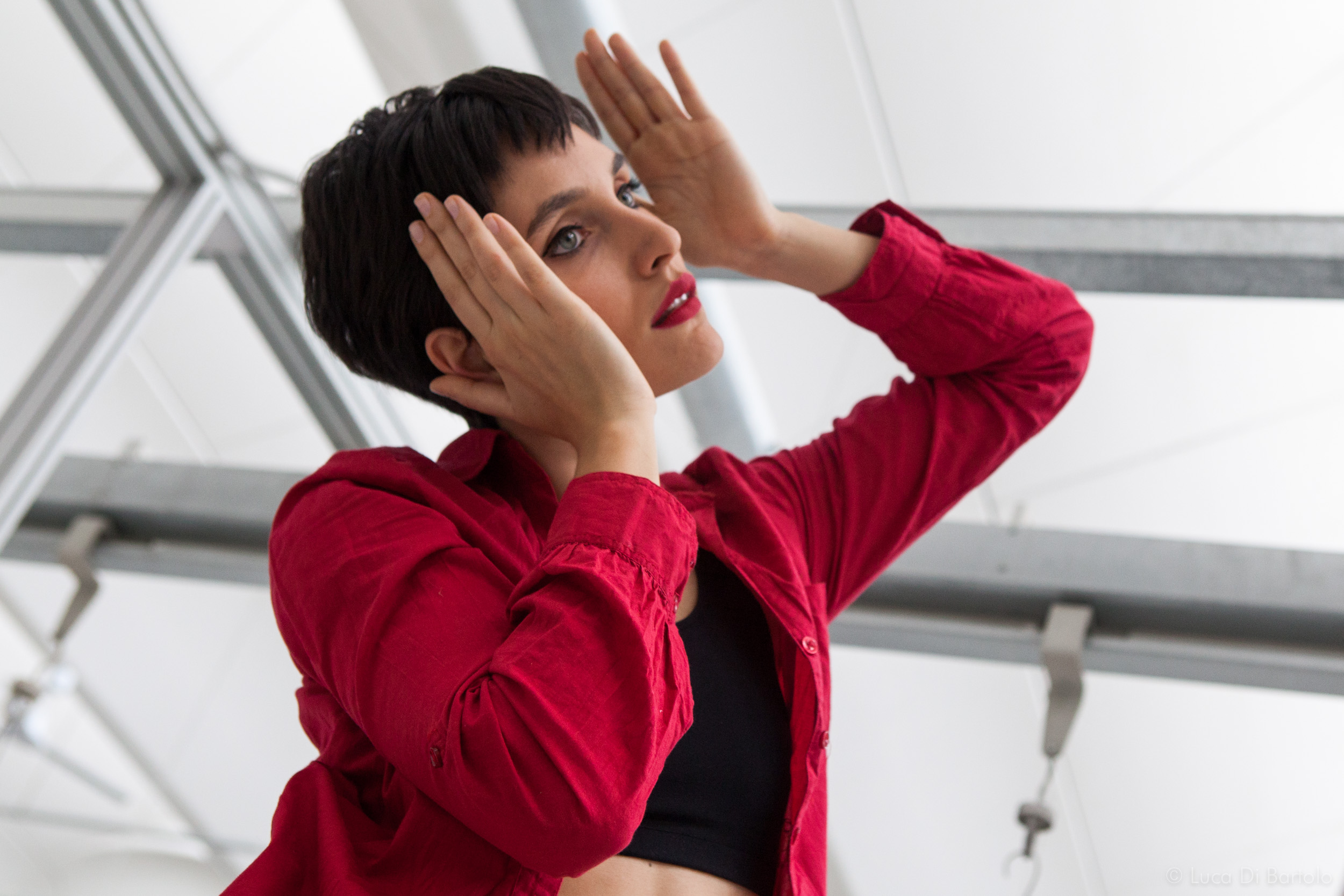 SECOND ACT RED MOTION/BONAVERI
The dancer Eva Calanni dialogue with inanimate shapes in the BONAVERI Unipersonale production line, leading world company in the manufacturing of high fashion mannequins.
Director: Luca Di Bartolo / Dancer: Eva Calanni / Music: Diego Morga
Italy 2016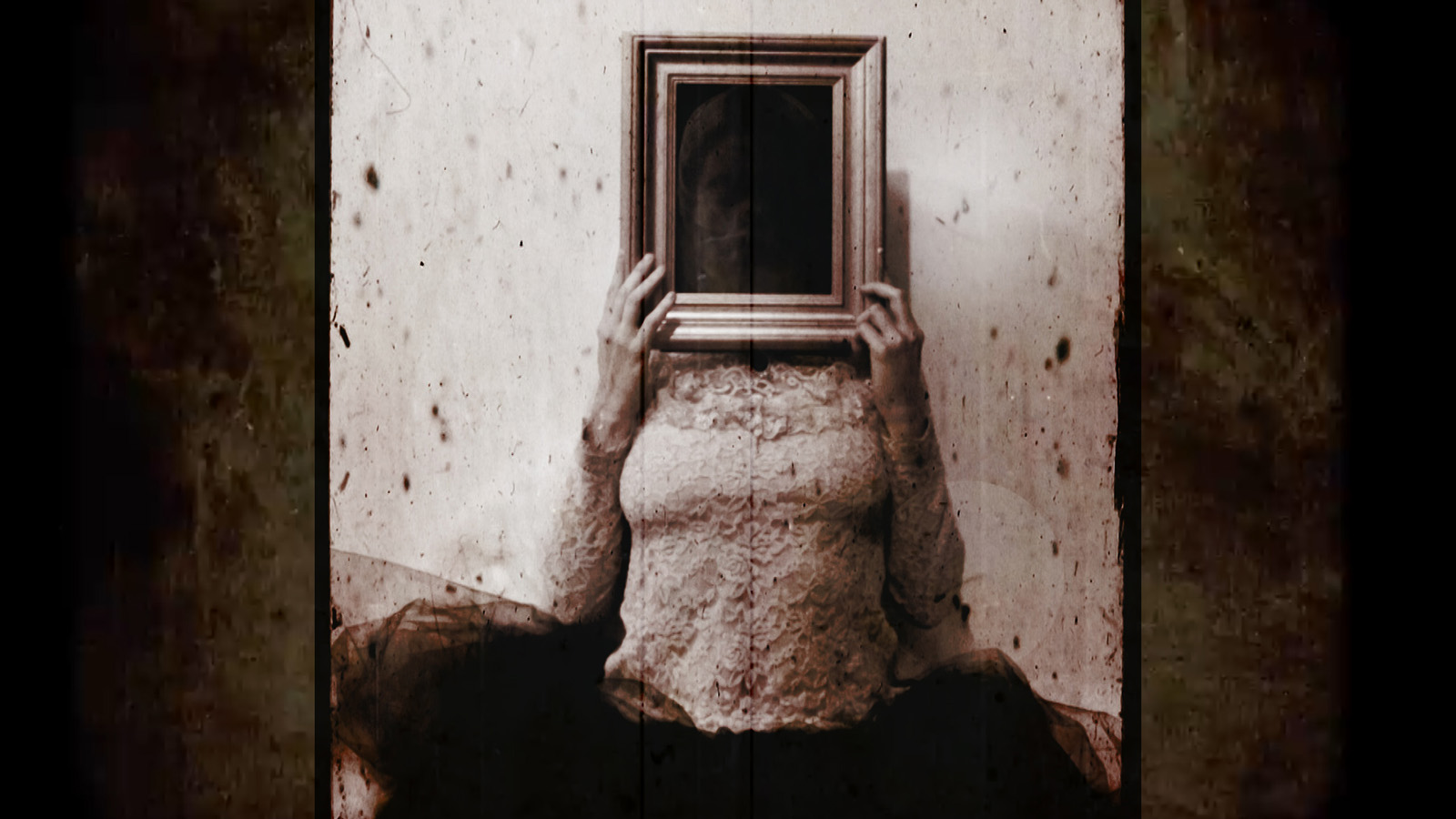 A CUPPA WITH ANCESTORS
"Come in, take a seat, the kettle's on : I think we should have a quiet word;
But be careful what you say about my choices 'cause it takes less than a minute for an agitated, unsettled cup to overflow…and then you will accuse me again of being libertine, rebellious, angry, simpering and unnatural".
A one minute video dedicated to the deviant, extravagant, whimsical, insolent, indocile, irritable, naughty, talkative, incoherent, depressed, chatty, simpering, flirtatious, unconventional, irascible, impulsive women interned in Sant'Antonio Abate mental hospital during Italian Fascism. Women who have not been able to "fulfill" the roles of mother- housewife- fieldworker as imposed by the oppressive patriarchal society.
Director: Fenia Kotsopoulou / Choreographer and Dancer: Fenia Kotsopoulou / Sound: Fenia Kotsopoulou
Greece 2017

BODY OF KNOWLEDGE
In my experience, almost everyone who grows up in Asia, especially in Taiwan, is under academic pressure. There is keen competition surrounding academic performance. We are expected to go to the library, study and research, gather knowledge and obtain higher educational degrees over taking part in regular physical exercise.
Body of Knowledge can be seen as mimic ontology for this observation, or, otherwise described, a playful study through its representation in dance of the phenomenon of competitive pursuit of knowledge and its relation to the underlying principles of human experience.
The concept of Body of Knowledge draws from the interplay between the sum of immaterial and evolving human knowledge and its physical manifestations that propel human progress. These physical manifestations can be represented by the expressions of the human body. By using the body in this way we counter the utilitarian attainment of knowledge – our purpose is reflective, unnecessary. In this way my film is more than a collection of physical terms and corporal information, or a reading list of flesh and blood.
It is a game played from a book within a library.
Director: YunTing Tsai / Dancer: YunTing Tsai, I-Hsin Hung
Taiwan 2018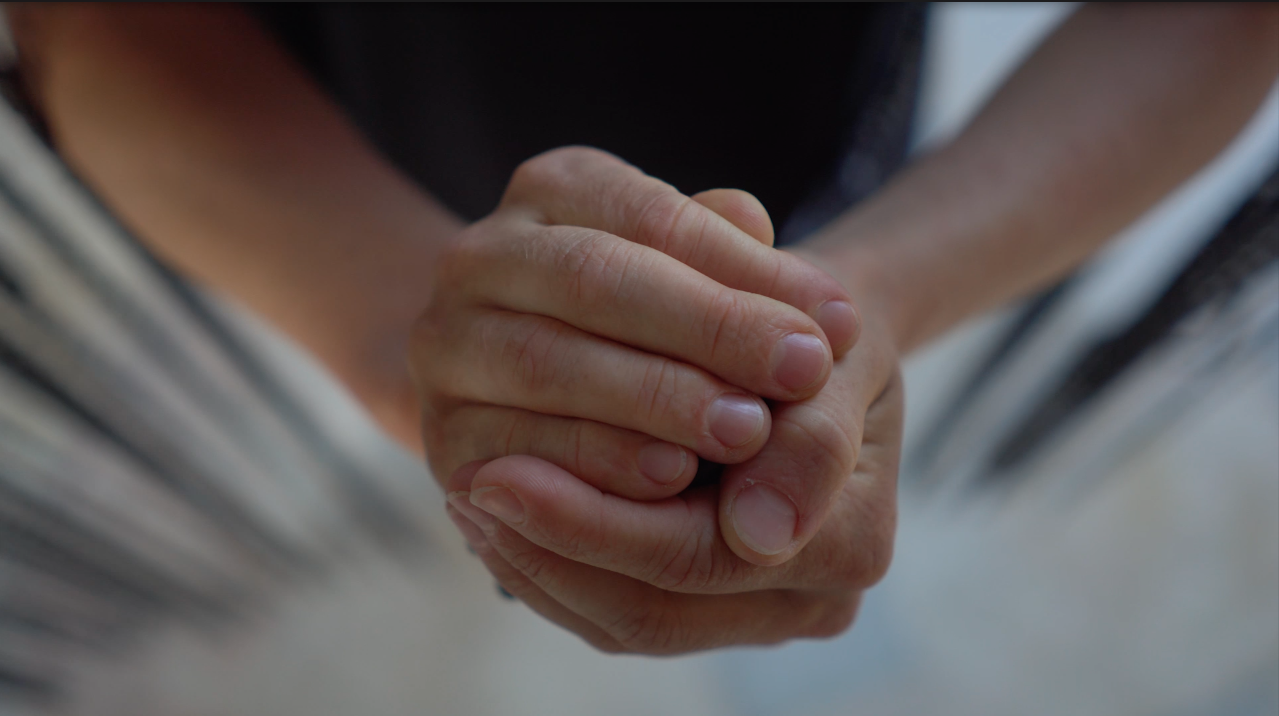 INTERVENCIÓN INTERVENIDA 
Let yourself to the wind, to the light, the moment. Get attracted, locked-in, invited, caressed, choked, seduced, loved, lightheaded, surrounded, trapped, released, hypnotized. Feel yourself, breath, surrender. An intervention with 'Black Pearls Curtain', 2004 by Olaf Nicolai.
Director: Franziska Lisa Wolf  / Choreographer and Dancer: Franziska Lisa Wolf / Music: Domenico Mangione
Germany 2017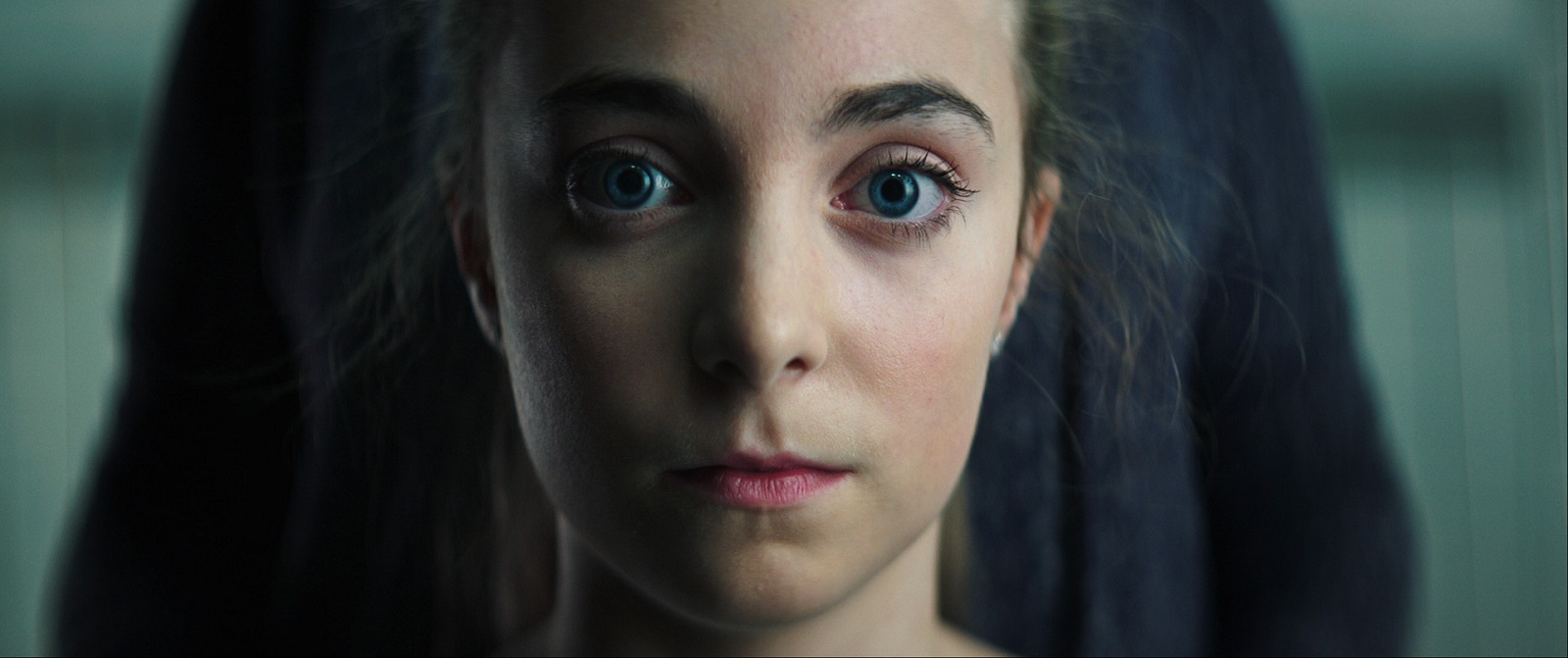 POLLYANNA
A young girl's internal struggle is expressed through a contemporary dance.
Director: Roman Gubin / Dancer: Josie Hadden / Music: Baron Creighton
Canada 2017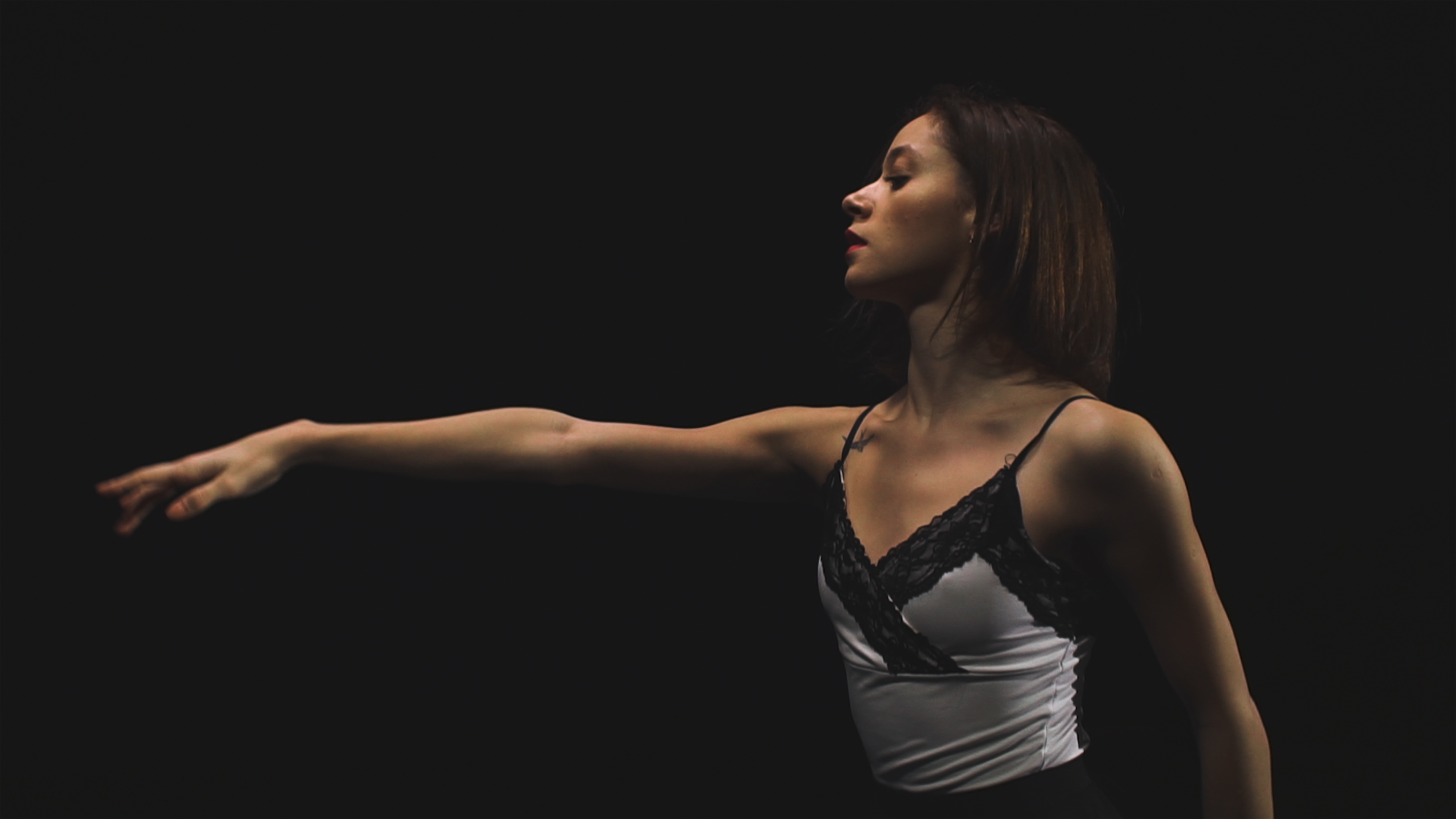 DREAM
There is a squeezed woman and her spirit inviting her to dance. Who wants to be a woman?
Director: Emrullah Özcan / Dancer: Sultan Menteşe
Turkey 2017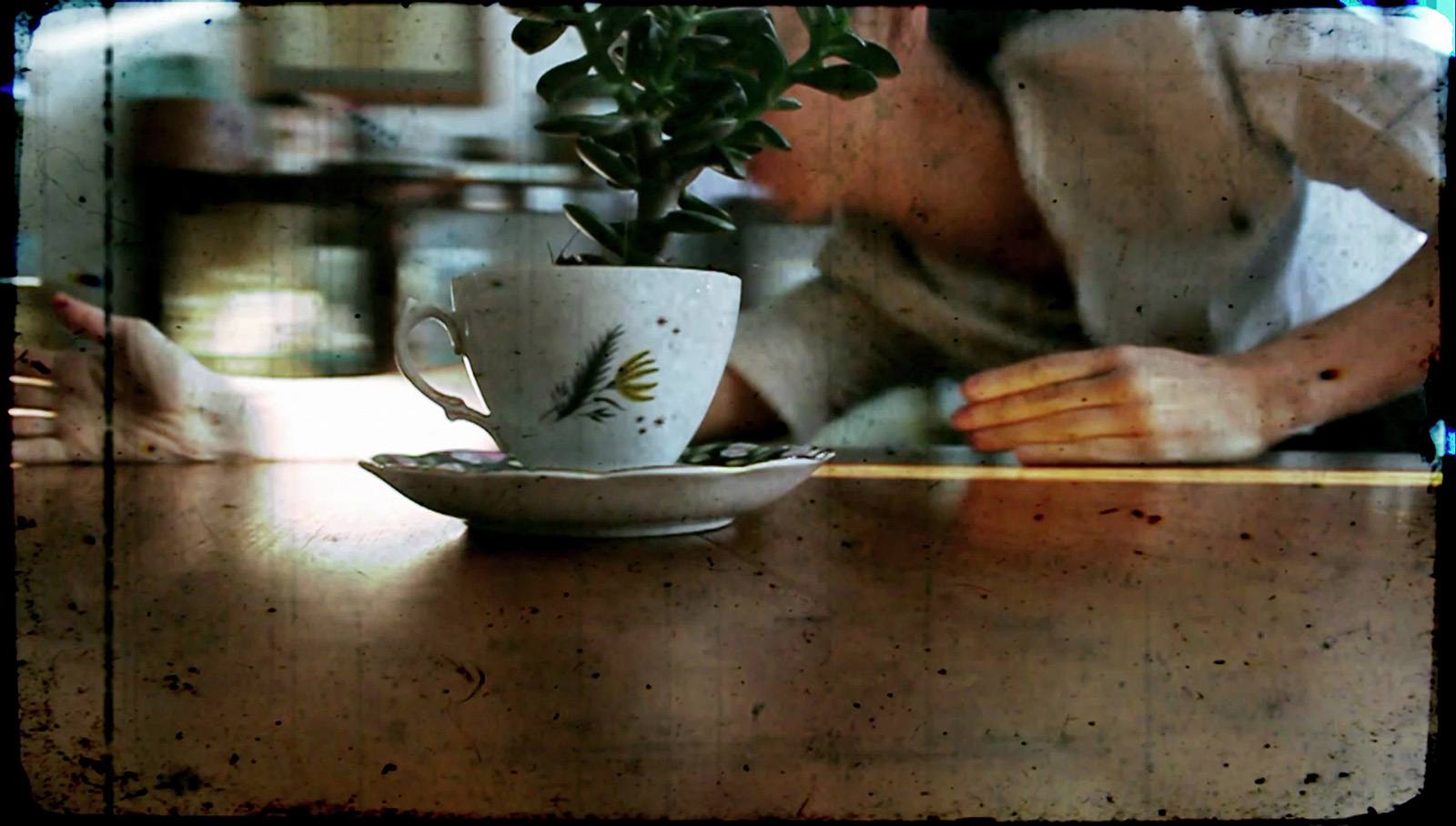 CARRIEGE RETURN
Single shot where the camera follows the dancer while the dancer follows the camera and both draw circles around the table of memories. The old gramophone and its repetitive rhythm create another cyclical movement. Does such a thing as a straight line exist?
Director: Fenia Kotsopoulou and Daz Disley/ Dancer: Fenia Kotospoulou / Music&Sound: Pitman's Gramophone Course of Typewriter Keyboard Instruction – part 1 courtesy of Chinstrap Music https://creativecommons.org/licences/by-nc-sa/3.0/
United Kingdom 2017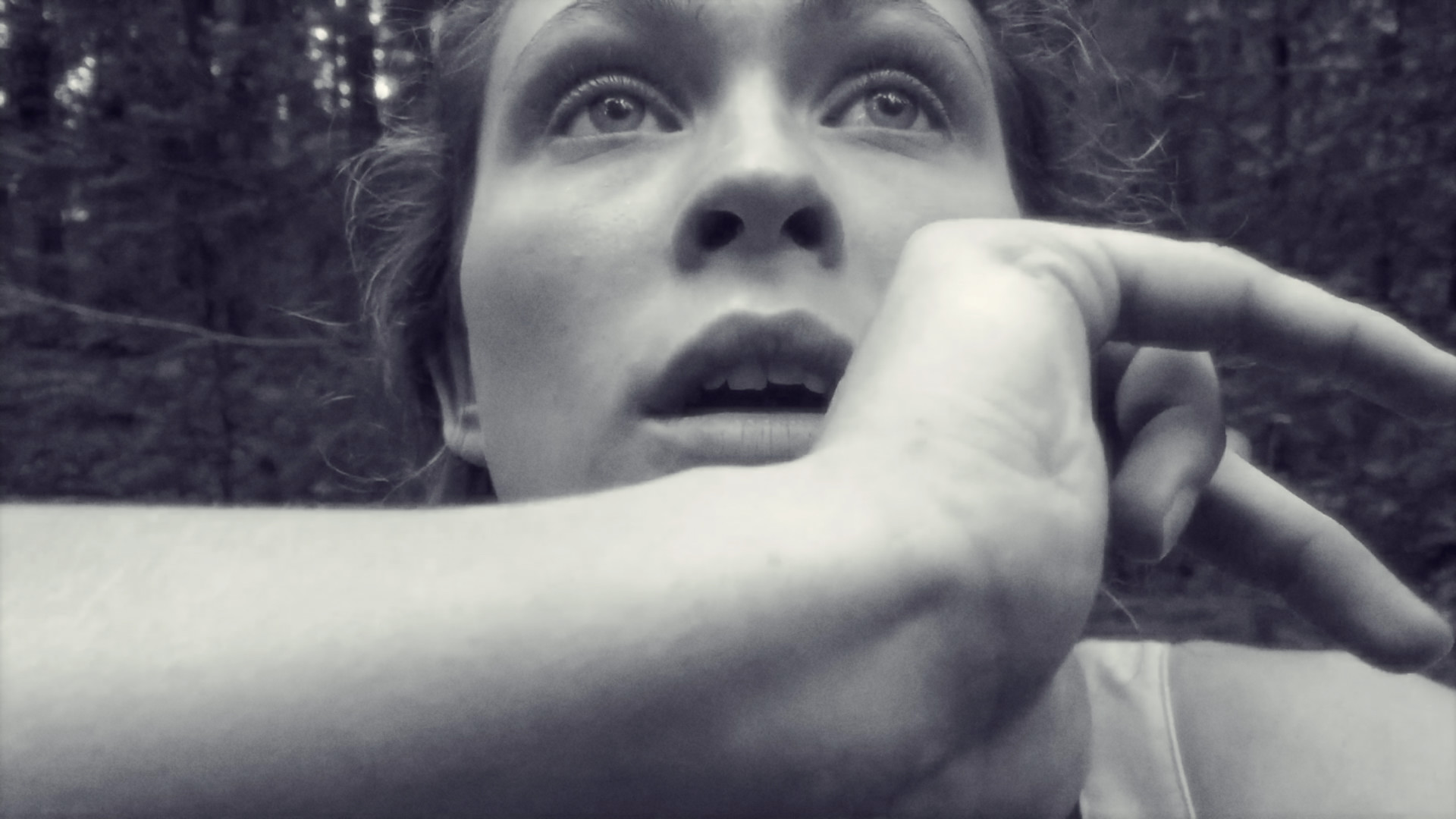 BREATHE
A moment of seeing on the outside what exists on the inside.
Director: Nicola Hepp / Dancer: Célinne Moza / Sound: Koen van Baal
Netherlands 2017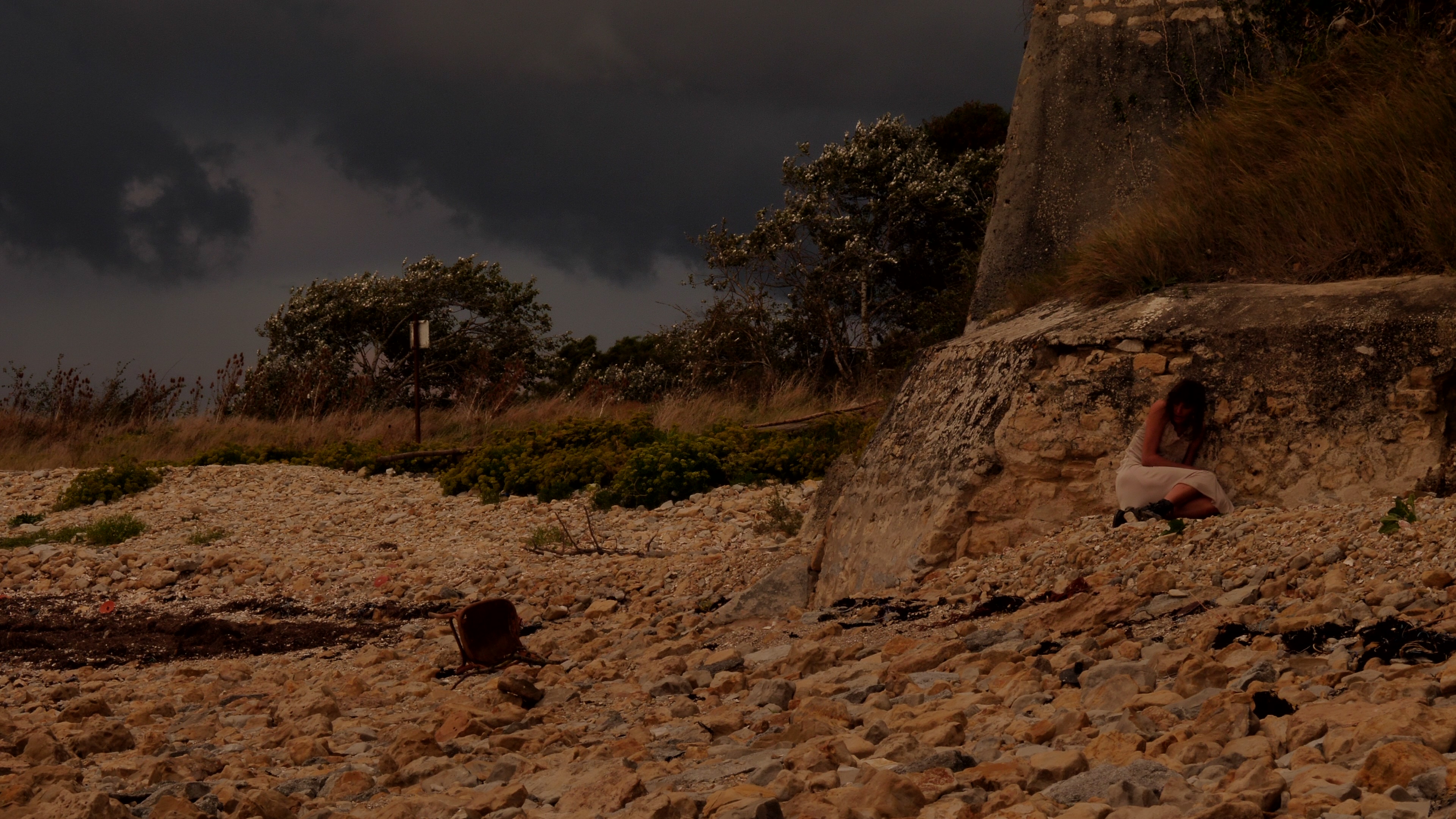 CONTRE VENTS
A woman with a chair, roaming against the wind, in transit to disappearance. (contre vents = against winds)
Director: Blas Payri / Dancer: Lorenza Di Calogero
Spain 2018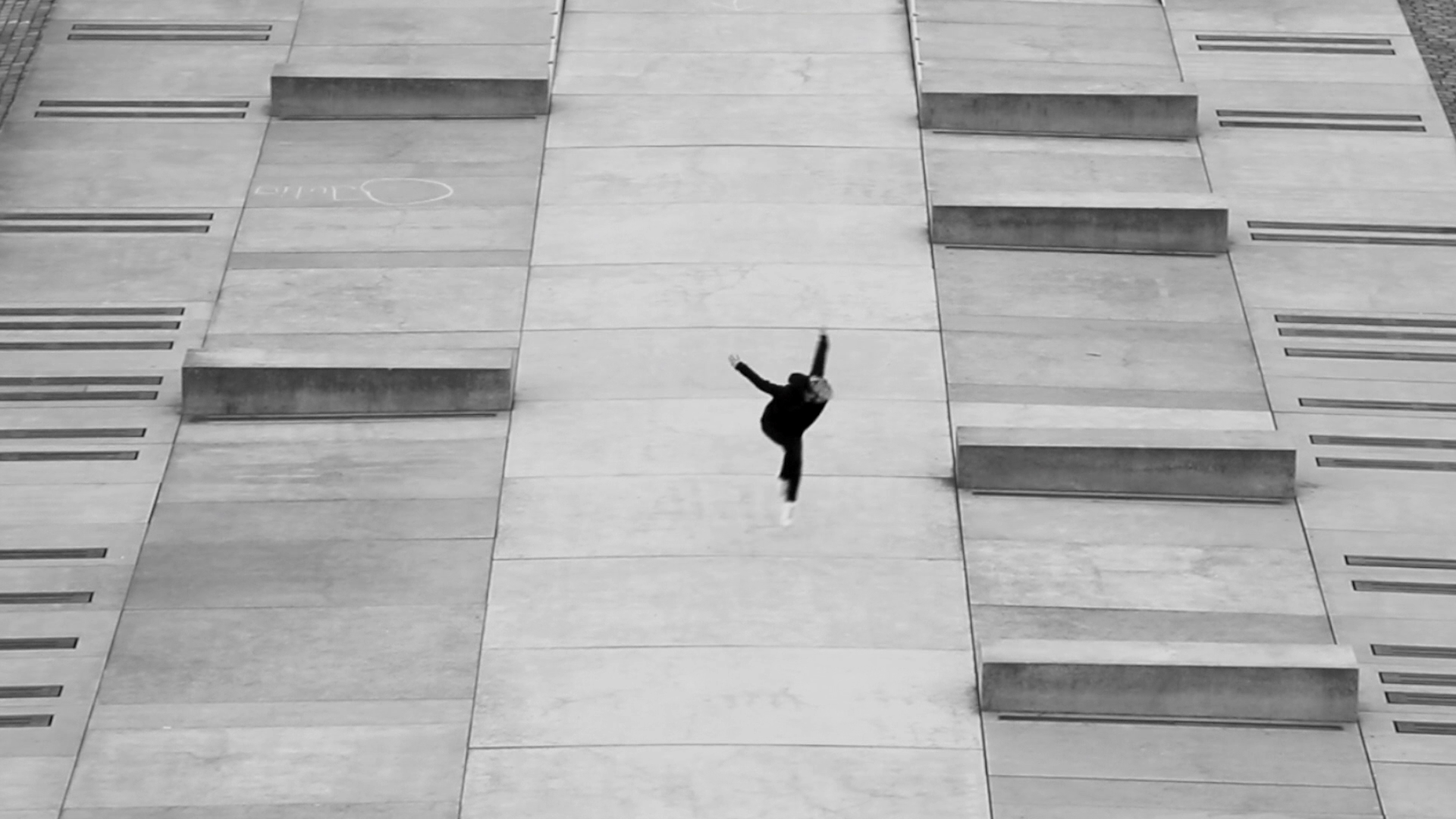 TIME DILATION
In the theory of relativity, time dilation is a difference of elapsed time between two events as measured by observers either moving relative to each other or differently situated from a gravitational mass or masses.
A clock at rest with respect to one observer may be measured to tick at a different rate when compared to a second observer's clock. This effect arises neither from technical aspects of the clocks nor from the propagation time of signals, but from the nature of space-time.
Director: Gjergj Bodari / Dancer: Lucas Kruse Kristiansen
Germany 2017
GIF_DANCE SELECTION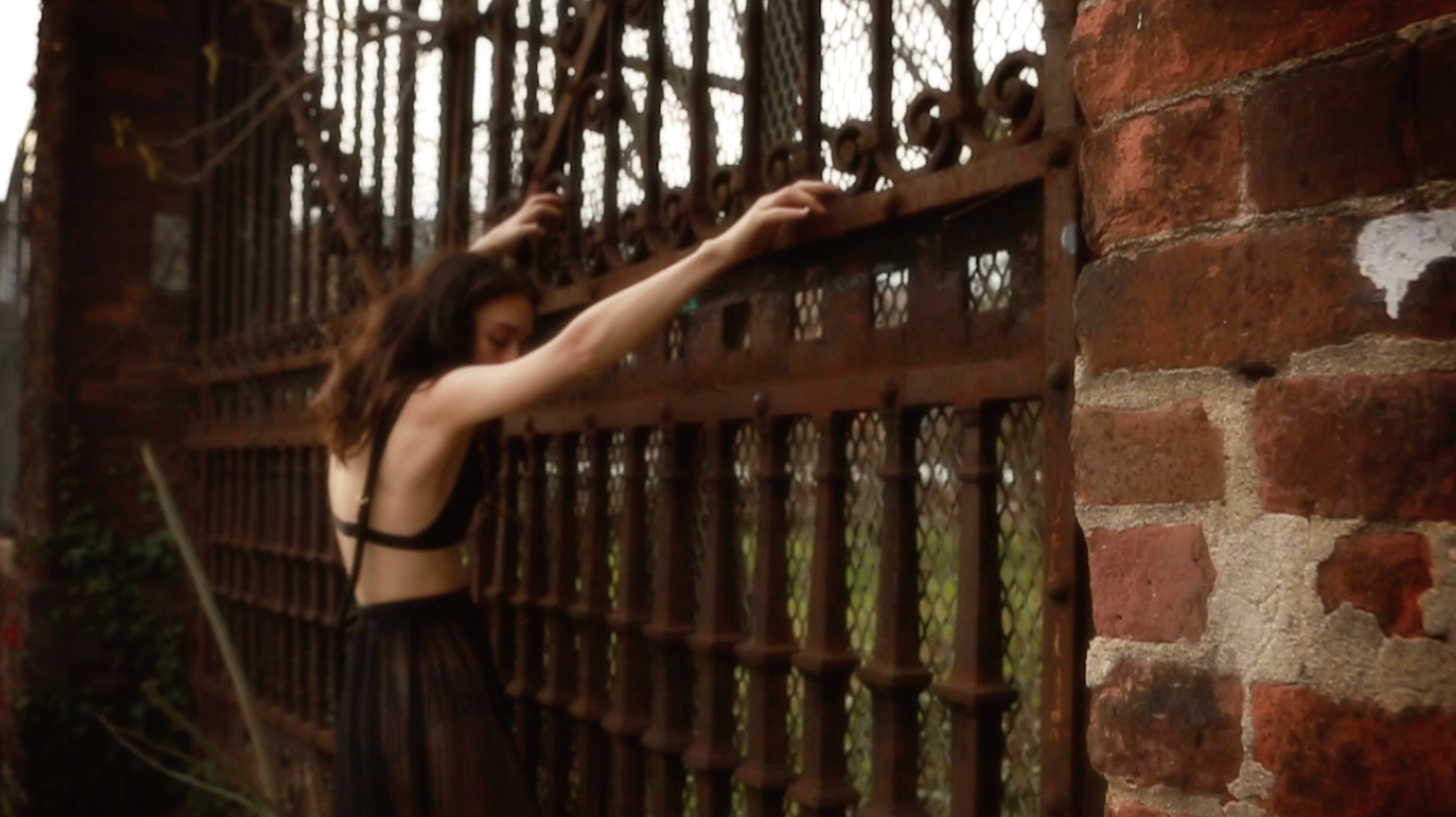 ALEXZ
Director: Erica Shires / Dancer Alexzandria Jade
USA 2018
(photo)
TRAVERSÉE GIF
Director: John Degois
(photo)
CITYBIKE
Director: John Degois
(photo)
LES VIEUX
Director: John Degois
(photo)
STASIS
Director: Jenna Mazur
Canada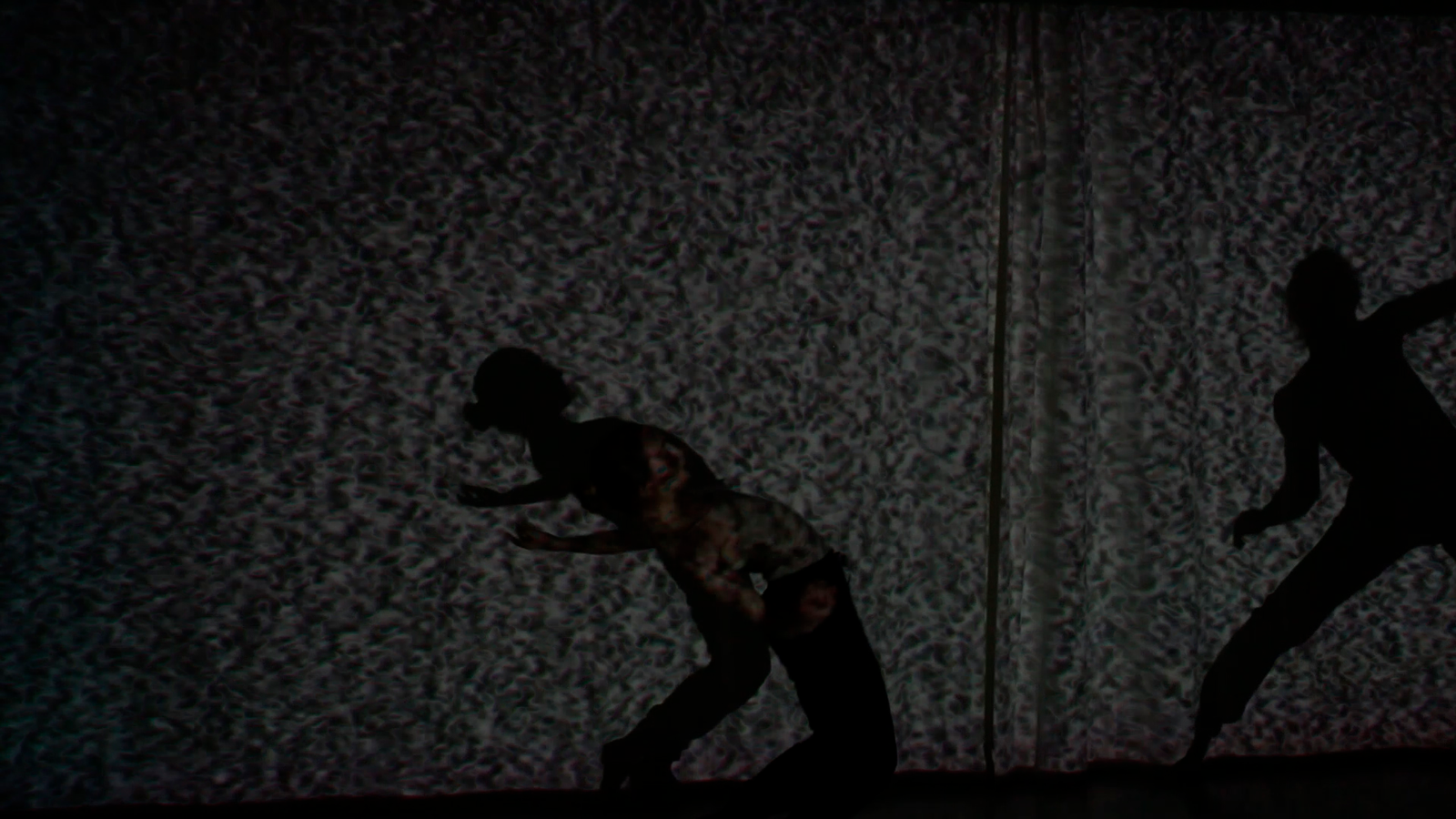 SHADOW PLAY
Director: Jenna Mazur
Canada