The winners of Stockholm ScreenDance Festival and ScreenDance Residency 2017!
April 28, 2017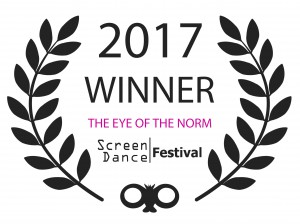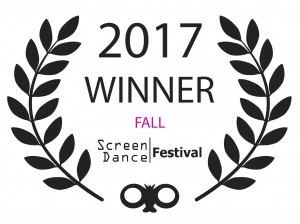 Congratulations from ScreenDance Festival jury: Allyson Way Wanselius, Sofi Lagergren, Anders Bohman, Klara Berggren and Cyntia Botello
Winner:
THE EYE OF THE NORM
Directors: Helene Karabuda and Alfons Karabuda / Dancers: Per Holmberg, Linnéa Backgård, Destiny af Kleen, Karin Ahlinder, Mary Hagman, Anna Westerberg, Tomas Börsbo, Helene Karabuda
Sweden 2016 – 11 ́02
The jury's motivation:
En dansfilm som tar upp ett aktuellt och viktigt ämne med stil och känsla. Den beror och stannar kvar i medvetandet, oförutsägbar, inkluderande och generös.
A dance film that takes up a current and important subject with style and feeling. It touches and stays in consciousness, is unpredictable, inclusive and generous.
Winner:
FALL
Directors: Virpi Pahkinen, José Figueroa / Dancers: Virpi Pahkinen, Oskar Landström
Sweden 2016 – 4 ́20
The jury's motivation:
Förtrollande och vacker dansfilm som lockar in åskådaren till en dynamisk och organisk upplevelse där rörelsen möter naturen i ett vackert samspel.
Enchanting and beautiful dance film that captures the spectator into a dynamic and organic experience where the movement meets nature in a beautiful interplay.
The jury wants to give a special mention to:
HER
Director: John Wannehag / Dancer Stephanie Troyak
Sweden/Israel 2016 – 1 ́
The jury's motivation:
Rakt på sak och under en minut med hög puls och tempo kastas man in i en virvelvind av rörelse i gränslandet mellan koreografi och dynamisk dans.
Straight to the point and under a minute with a high pulse and tempo the spectator is thrown into a whirlwind of movement in the intersection between choreography and dynamic dance.
Important Notice!
We wil be screening the films at:
DANSMUSEET
Saturday 29 April 18.00-21.00 during the Culture Night
Sunday 30 April 12.00-16.00 (nonstop)
BIO RIO
Sunday  10.30 during Filmfrukost: Dancer
Program ScreenDance Festival
April 25, 2017
Today arrive our program!
Here you would find day by day all the dance films selected to our festival 2017!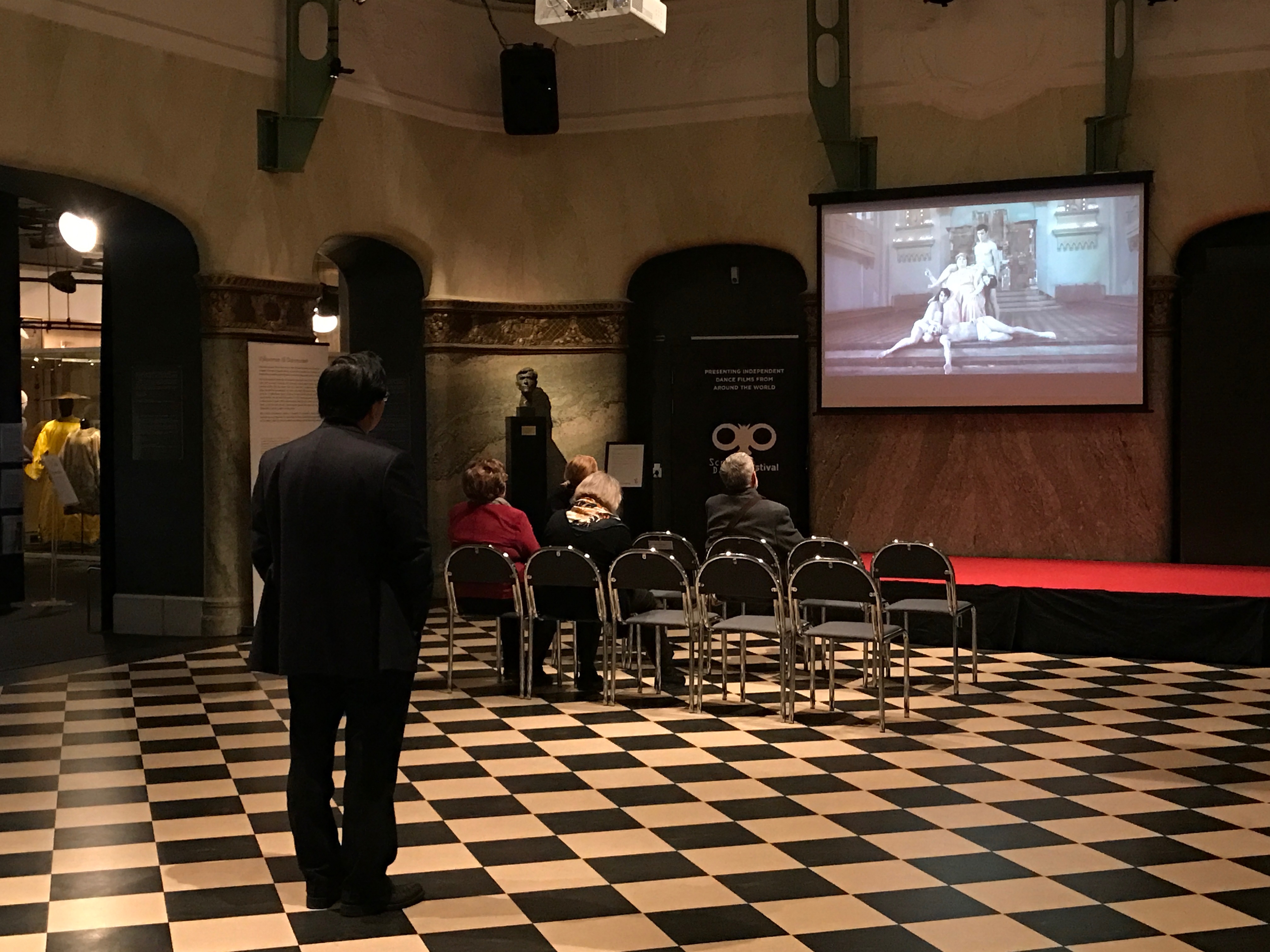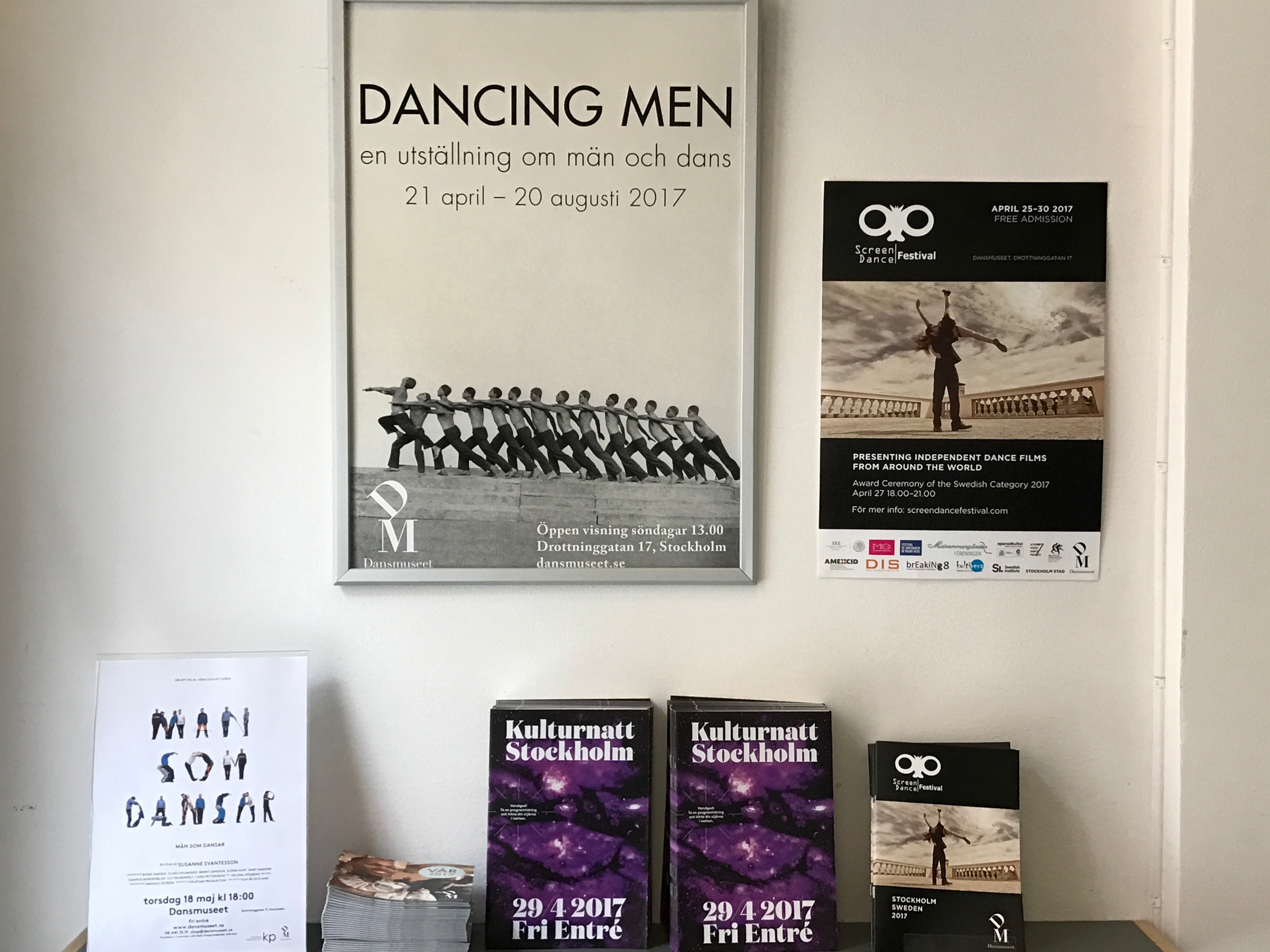 ScreenDance Festival 2017 (April 25 – 30)
April 13, 2017
Welcome to the 4th edition of ScreenDance Festival at Dansmuseet / Rolf de Maré Museum of Movement in Stockholm! ScreenDance Festival screening independent dance films from around the world. Enjoy the selected films for free Tuesday April 25 – Sunday April 30. We are looking forward to see you!
FREE ADMISSION
Venue: Dansmuseet, Drottninggatan 17, Stockholm
Tuesday April 25
11.00 – 17.00 (nonstop) Festival Bestias Danzantes (Chile) and Festival de Videodanza de Palma (Spain)
Wednesday April 26
11.00 – 17.00 (nonstop) Festival Breaking 8 (Italy) and Athens Video Dance Project (Greece)
18.00 – 20.00 Maries Attitude – Documentary premiere in Stockholm. PRE-BOOKING of tickets at shop@dansmuseet.se before April 24th.
In collaboration with Ditta Produktion. More info in this event: www.facebook.com/events/1395396337189502/
Thursday April 27
11.00 – 17.00 (nonstop) Screenings of the 1–Minute Selection
18.00 – 19.00 Screenings of the International Selection: SHORTS 1
20.00 – 21.00 Screenings of the Swedish Selection and Awards: ScreenDance Festival 2017
Friday April 28
11.00 – 17.00 Screenings of the International Selection: SHORTS 2
18.00 – 19.30 Screenings of the International Selection: SHORTS 3
20.30 – 21.30 Screenings of the International Selection: SHORTS 4
Saturday April 29
18.00 – 21.00 (nonstop) Screenings of the Swedish Selection
Sunday 30 April
12.00 – 16.00 (nonstop) Screenings of the Swedish Selection
25 – 30 April 2017
Screenings GIF_Dance Selection displays at the Dansmuseet front window (nonstop)
ScreenDance Festival 2017 is organized in collaboration with Dansmuseet and with the support of Stockholms Kulturförvaltning.
www.screendancefestival.com
www.dansmuseet.se
Maries Attitude – Documentary premiere at ScreenDance Festival
April 3, 2017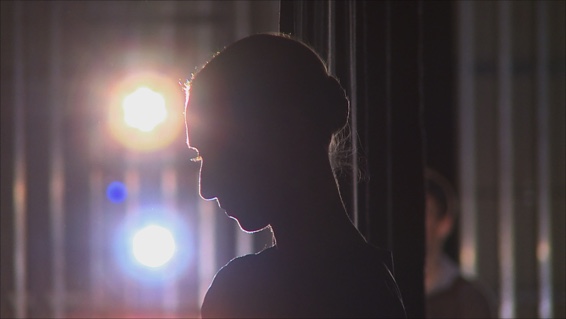 Welcome to MARIE´S ATTITUDE at Dansmuseet.
Wednesday 26th April 18.00.
Free admission. Pre-book at shop@dansmuseet.se before April 24th.
Schedule:
Kl 18.00 Screening of Marie's ATTITUDE (93 min – English subtitles)
Kl 19.40 Conversation with the director Kersti Grunditz Brennan and Marie Lindqvist, Royal Swedish Opera dancer.
The evening ends with the festival mingel at Dansmuseets Bistro Rolf de Maré.
MARIES ATTITUDE is a feature documentary about Swedish ballerina Marie Lindqvist, a great artist who remains quietly devoted, driven by the love of dance.
The film follows Marie closely during the last four years of her dancing career at the Royal Swedish Ballet and on tour. It is filled with up-close rehearsals, performances and her own thoughts about her artistic process, at home with her daughter and at work. Over the four years the film also tracks her mental preparation for the end of her career and how her thinking changes as the day draws near. In the film principal dancer Marie Lindqvist participates in the ballet gala Intensio with Daniil Simkin, does Kenneth MacMillan's Manon, The Chosen One in Bejart's Rite of Spring, Apartment by Mats Ek, Julia's mother in Juliet and Romeo by Mats Ek, has a part created for her by Marcia Haydée and more. Through unique access and extensive filming at the Royal Opera in Stockholm, the film taps the soul of dance from a dancer's perspective.
The Garbo-like Marie Lindqvist gives us an exclusive peek into her artistry. Meet Marie's Attitude.
Organized in collaboration with Dansmuseet, Ditta Produktion and the support of Stockholms Kulturförvaltning during ScreenDance Festival April 25th-30th.
Venue: Dansmuseet, Drotnningatan 17, Stockholm.
Workshops på Sportlovet!
February 27, 2017
Vill du lära dig att göra dansfilm under sportlovet eller känner du någon som vill lära sig?
Är du mellan 16 och 25 år!
ScreenFestivalen i samarbete med Studio Ung på Midsommarsgården bjuder till en 2-dagars screendance workshop.
Onsdag 1 mars 13.00 – 16.00
Torsdag 2 mars 15.00 – 19.00
Du behöver inte kunna dans eller filmteknik. Kom som du är!!
Gratis!
Adress
Besöksadress:
Telefonplan 3
Hitta hit
Med tunnelbana: Ta röd linje mot Fruängen/Mörby Centrum och stig av vid station Telefonplan. Stationen har en uppgång med två utgångar, välj den rakt fram. Här svänger du höger och går över ett övergångsställe, nu är du på torget där vi huserar, i samma hus som Telefonplans Bibliotek och Hemköp.
Med bil: Kör E4:an och ta avfarten vid trafikplats Västberga.
Söderifrån: välj tredje avfart i rondellen.
Norrifrån: välj första avfart i rondellen.
Kör rakt fram genom kommande rondell. Vid trafikljus längre fram ser du ett stort gult hus till höger intill Hemköp, det är Midsommargården. Parkera på gatorna eller välj höger i korsningen och ta sedan första höger. Detta är en infartsparkering då vi inte har några egna parkeringar att erbjuda.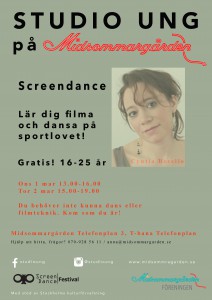 Selection process International, 1-Minute and Gif_Dance selection
February 12, 2017
Who will lead the curatorial process of the international, 1-Minute and Gif_Dance selection?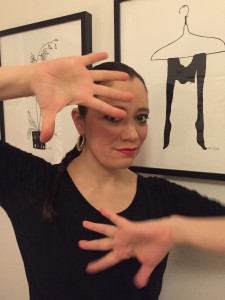 Cyntia Botello (SWE/MX)
Works as freelance dancer, choreographer and filmmaker. She is the festival director for ScreeenDance Festival. Currently in a Master program in Contemporary dance didactics at the School of Dance and Circus, Stockholm.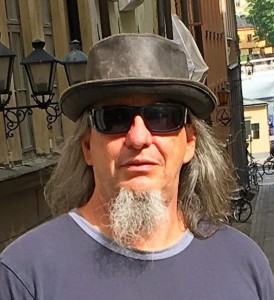 Thomas Brennan (SWE/USA)
Works as Post Production Supervisor, Colorist at Stockholms Dramatiska Högskola since 2015 and as Colorist, Post Producer at TheFlock AB since 2010.
He worked as Video Technical Director at San Francisco Opera 2007-2010 and Live Event Technical Director as Freelancer 1996-2010.
He studied BA American Civilisation, Boston University.
Soon we will reveal the jury members of the Swedish Selection.
Keep following us for more news!!
Newsletter February 2017
February 12, 2017
This February ScreenDance Festival and Dansmuseet will start the collaboration with CinemAfrica:
See you at Dansmuseet, Drottninggatan 17, Stockholm.
---
February 21st: Workshop in Screendance. The workshop will explore the creative possibilities of screen dance. We work with motion and explore everyday events in relation to our bodies. The workshop is a great opportunity for everyone to try to do dance film. The films of the workshop will be presented with other films in CinemAfricas program, February 23rd between 18.00–19.30.

Registration: before February 10th.
Duration: 4 hours.
Maximum: 15 participants.
Minimum age: 15
Equipment: Mobile phones, editing program Pinnacle pro or iMovie.
Venue: Dansmuseet, Drottninggatan 17, Stockholm.
Contact: Cyntia Botello, phone: 070-3803997, info@screendancefestival.com
Time: 17.00–21.00.
Price: 150 kr, 100 kr for students
February 26th, BLACK BALLERINA Documentary.
BLACK BALLERINA tells the story of several black women from different generations who fell in love with ballet. Six decades ago, Joan Myers Brown, Delores Browne and Raven Wilkinson faced racism in pursuit of careers in classical dance. Today, young dancers of color continue to face formidable challenges breaking into the overwhelmingly white world of ballet. Moving back and forth in time, this lyrical, character driven film shows how far we still have to go and stimulates a fresh discussion about race, inclusion and opportunity across all sectors of American society.Producer/Director: Frances McElroy, 2015.Sunday 18.00 (60 min).
Pre book your place at: shop@dansmuseet.se or
call 08-4417651.
Venue: Dansmuseet, Drottninggatan 17, Stockholm.
Free entrance.More information at:
dansmuseet.se
cinemafrica.se
You can find the whole program at:
http://cinemafrica.se/wp-content/uploads/2017/01/CA_Programblad_2017.pdf
---
More news coming up! Soon we will reveal who are the members of the jury selecting the dance films for the International, Swedish, 1-minute and Gif.Dance Selections for the Screen Dance Festival 2017.
Remember March 1st. This is the notification date for those screenings selected to our festival in april!
All the best
Cyntia Botello
Director
ScreenDance Festival, Stockholm
Excellent news!
January 16, 2017
We are so grateful that we received cultural grants from Stockholm city. Thank you so much!
Now we can continue to develope Screen Dance Festival and also go on tour with the films in the 2017 program.
We invite you to continue following us and visit the screenings coming up in different new venues. Remember that ScreenDance Festival will take place the 27-28th of April at Dansmuseet, Stockholm.
Workshop in collaboration between CinemAfrica, ScreenDance and Dansmuseet.
January 12, 2017
During CinemAfrica´s festival February 22 – 26th 2017 ScreenDance will be doing a workshop in screen dance.
Tuesday, February 21 at 5 PM – 9 PM.
Do you want to know more about this workshop? Find all the information at: https://www.facebook.com/events/1746764228976466/
Newsletter january 2017
January 11, 2017
Thank you all of you who has followed our ScreenDance Festival in Stockholm, Sweden during 2016. Now it is time for some news, upcoming events and screenings for this year 2017!
Our festival want to thank our partners Loikka Dance Film Festival (FIN), Dansehallerne/ScreenMoves (DK) and DansiT/Multiplié Dance Festival (NO) during the partnership in the Nordic dance film competition #60secondsdance. This partnership has come to an end. We say thanks to our partners and ScreenDance Festival is looking forward to new collaborations and partnerships during 2017!
As you may know this is the fourth year in a row, ScreenDance festival is calling for submissions to our programme April 24th – 29th in Stockholm and in our touring programs in Sweden and abroad during 2017-2018. We are looking for International and Swedish dance films with the duration of maximum 15 minutes. We have also two new cathegories the 1-Minute Selection and our brand new Gif.Dance Selection for moving images in choreography serial and continuius movement in dance. We are searching for pieces that inhabit and explore space and movement.
Please remember our Open Call:
Dates & Deadlines
October 1, 2016 Opening Date

January 31, 2017 Regular Deadline

March 1, 2017 Notification Date
Upcoming events and screenings!
February, Stockholm
ScreenDance Festival in collaboration with Cinemafrica and Dansmuseet. More information will be sent to you in our next Newsletter on February.
Follow us on Twitter, Facebook and website for further information.