Program DANSFILM & SAMTAL 17/9 2015
September 9, 2015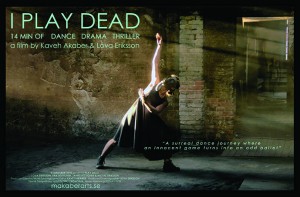 Fokus Skandinavien
Torsdag 17 september,
Insläpp från 17.30,
Fri entré
18.00 Filmprogram
Me – Story of a Performance av Filmskapare: Jopsu Ramu/Koreograf: Johanna Nuutinen (FI) 2013 – 7' 30''
Tofino av Filmskapare/Koreograf: Jennifer Drotz Ruhn (SE) 2014 – 3' 36''
Cell av Filmskapare: Anders J Larsson/Koreograf: Nelly Zagora (SE) 2014 – 9'46''
Distant voices av Filmskapare/Koreograf: Linda Birkerdal (NO) 2015 – 1'
Noste av Filmskapare: Marko Rohr/Koreograf: Teemu Liakka (FI) 4' 17''
Spindelvev av Filmskapare/Koreograf: Anna Einemo Froysland & Berit Einemo Froysland (SE) 2014 – 7' 51''
Upp till Dans av Filmskapare/Koreograf: Sara Lindström (SE) 2014 9'
Ready to Surrender av Filmskapare/Koreograf: Mari Carrasco (SE) 2014 – 7' 17''
I Play Dead av Filmskapare Kaveh Akaber/Koreograf: Lova Eriksson (SE) 2013 – 14'
Under pausen visas filmer från den internationella tävlingen "60secondsdance".
19.30 Samtal
Henrik von Sydow samtalar med filmaren Kaveh Akaber och koreografen Lova Eriksson av filmen "I Play Dead".
* Henrik von Sydow: Henrik von Sydow är sedan sju år tillbaka SVT:s inköpare av musik, dans- och kulturprogram. Han har särskilt ansvar för programpunkterna Musik special och Veckans föreställning.Genom åren har han som f.d programpresentatör medverkat i SVT:s Danskväll i intervjuer med bl.a Madeleine Onne, Mats Ek och Petter Jacobsson.Henrik har tidigare studerat musik och dansvetenskap.
ScreenDance i Calcutta
September 3, 2015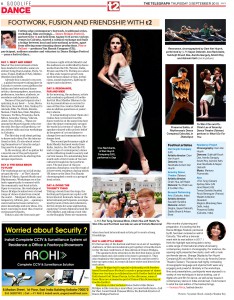 A great article by The Telegraph about our collaboration with Vanessa Mirza director of Dance Bridges Festival!